Our family's favourite Szechuan Chicken recipe, made with crispy chicken and packed with authentic Sichuan flavour. With this recipe, you can create your own restaurant-quality Sichuan Chicken with minimum ingredients!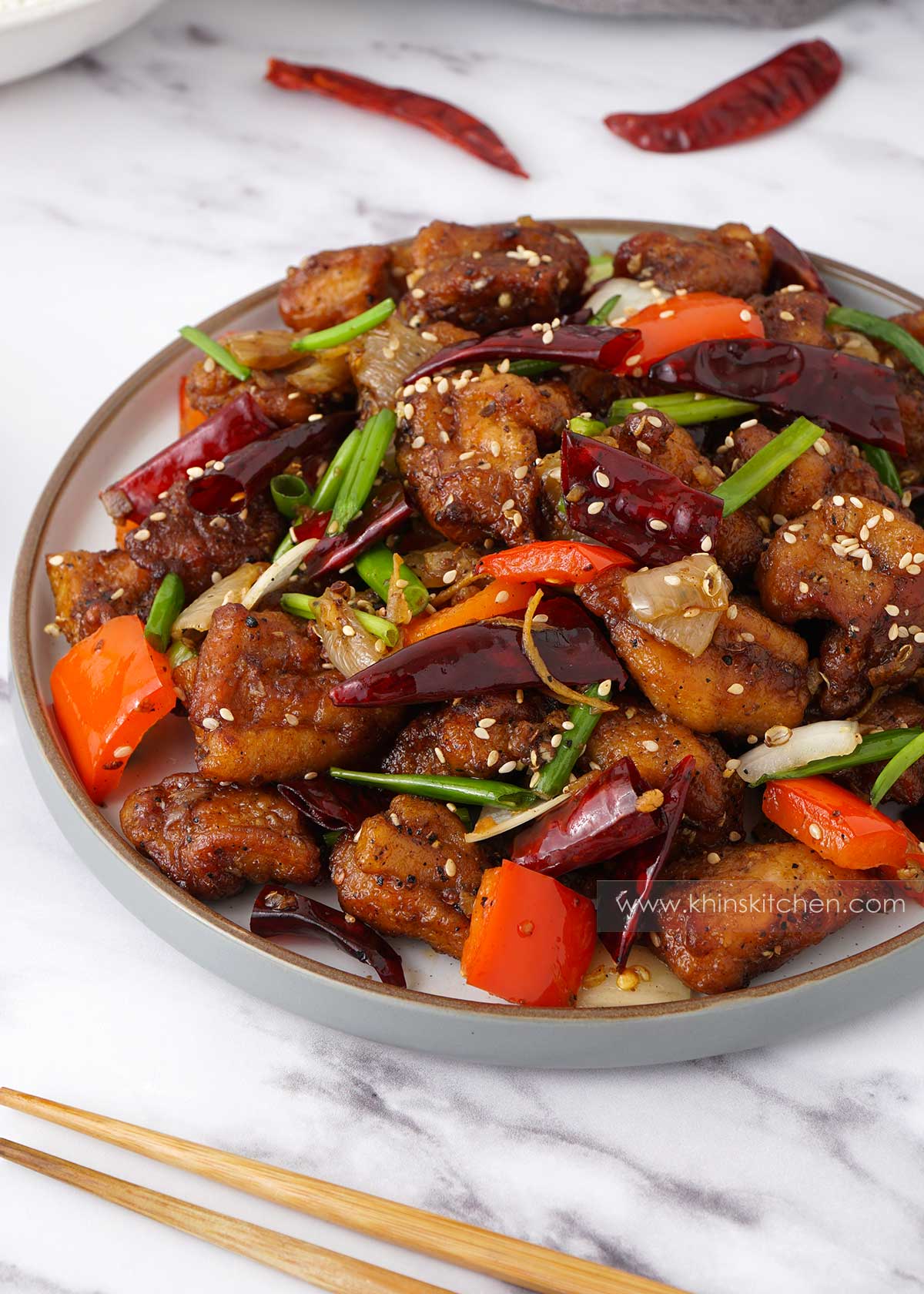 This dish is one of my favourite dishes to order from a Chinese restaurant. A perfect combination of spicy, sweet and savoury flavour in one dish. If you like Sichuan Chinese cuisines, you'll definitely love this one.
Jump to:
What is Szechuan Chicken
Szechuan chicken is known as Sichuan Mala Chicken or Chongqing Mala Chicken. In the Chinese language, it is called La-zi-ji, which means dried spicy chilli chicken. It's popular in China, Chinese restaurants and takeaways in UK, United States, and across the world.
Compare to Kung Pao and General Tso's Chicken, this dish is spicier. It has a unique flavour of Sichuan peppercorns and Sichuan dried red chillies. The cooking method and ingredients can be slightly different depending on the restaurant and family own recipes. In this recipe, I'll be sharing how to make a dry spicy stir fry version that we love.
Ingredients
Stir Fry Ingredients: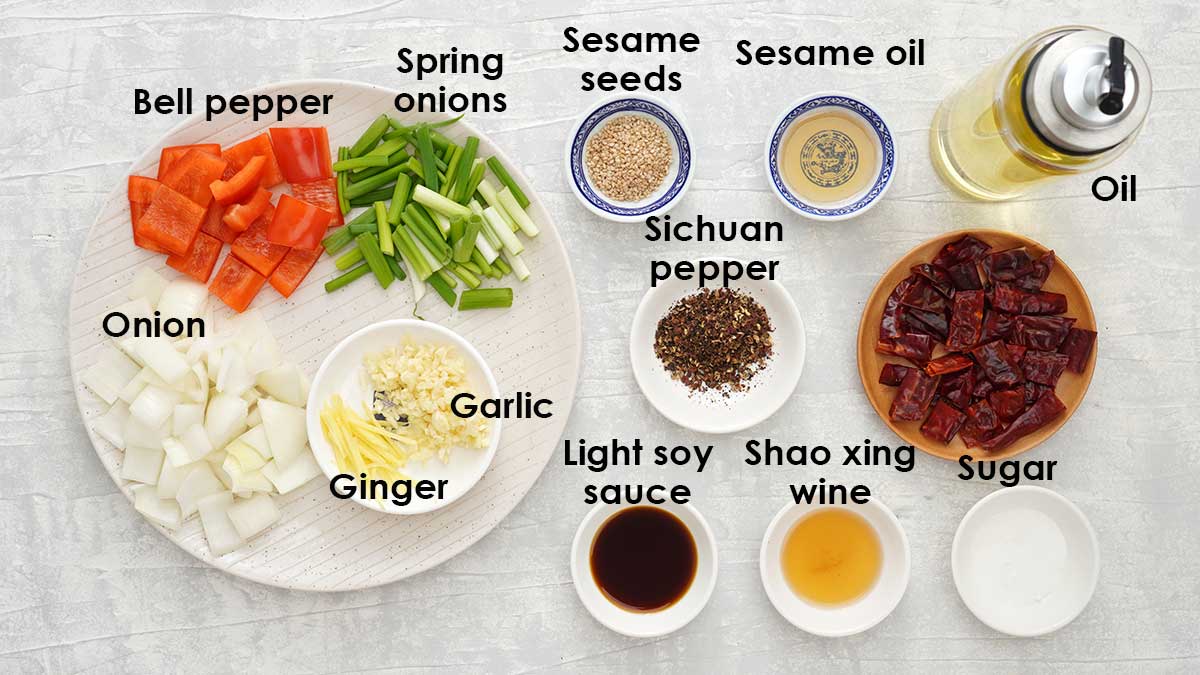 Chicken Marinade: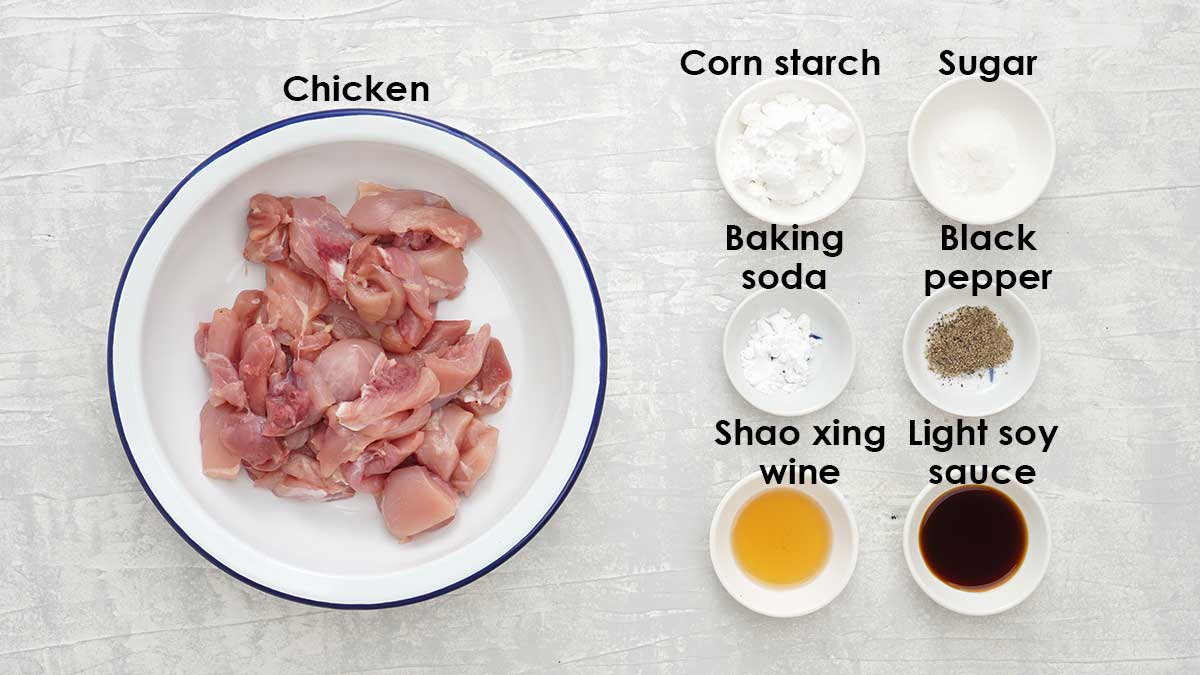 There are only 3 ingredients that might not be familiar to everyone, Sichuan peppercorns, Sichuan dry red chilli, and Shao Xing wine. Most of these ingredients are available at Chinese or Oriental grocery stores.
Sichuan Peppercorns - is also called Hua Jiao in Chinese language. Widely used in Sichuan Chinese dishes like Ma La Hot Pot, Ma La Xiang Guo. It has a subtle tingling, numbing, pungent taste. A bit of refreshing citrus aroma. This is the key ingredient of this whole dish. As you need to use only a very few amount, one packet last for few months. You just need to store in an air-tight jar to keep it dry. Any substitute for Sichuan peppercorns? I haven't found any ingredients that is quite similar to Szechuan peppercorns, but if you cannot get it, you can simply add crushed black pepper.
Sichuan Dry Red Chilli - are fragrant, citrus, medium-hot chilli pepper with thin skin. If you cannot get Sichuan chillies, you can substitute with any medium-hot dried long red chilli.
Shao Xing Wine/ Shao Hsing Wine - is a Chinese cooking rice wine, stronger than vinegar and milder than alcohol. Adding a splash of Shao Xing wine in marinade takes out all the unpleasant smell of the meat or seafood. You can also add in soup, broth or stir fries. A must have ingredients if you love Chinese cooking.  
Frying oil - you can use vegetable oil, corn, sunflower, canola, etc. Chicken pieces can be either shallow fry or deep fried.
How to make it
You need to follow 3 simple steps to make this dish perfectly.
Marinade the chicken with soy sauce, Shao Xing wine, black pepper, sugar, corn starch, and baking soda.
Shallow fry the chicken pieces until crispy golden brown.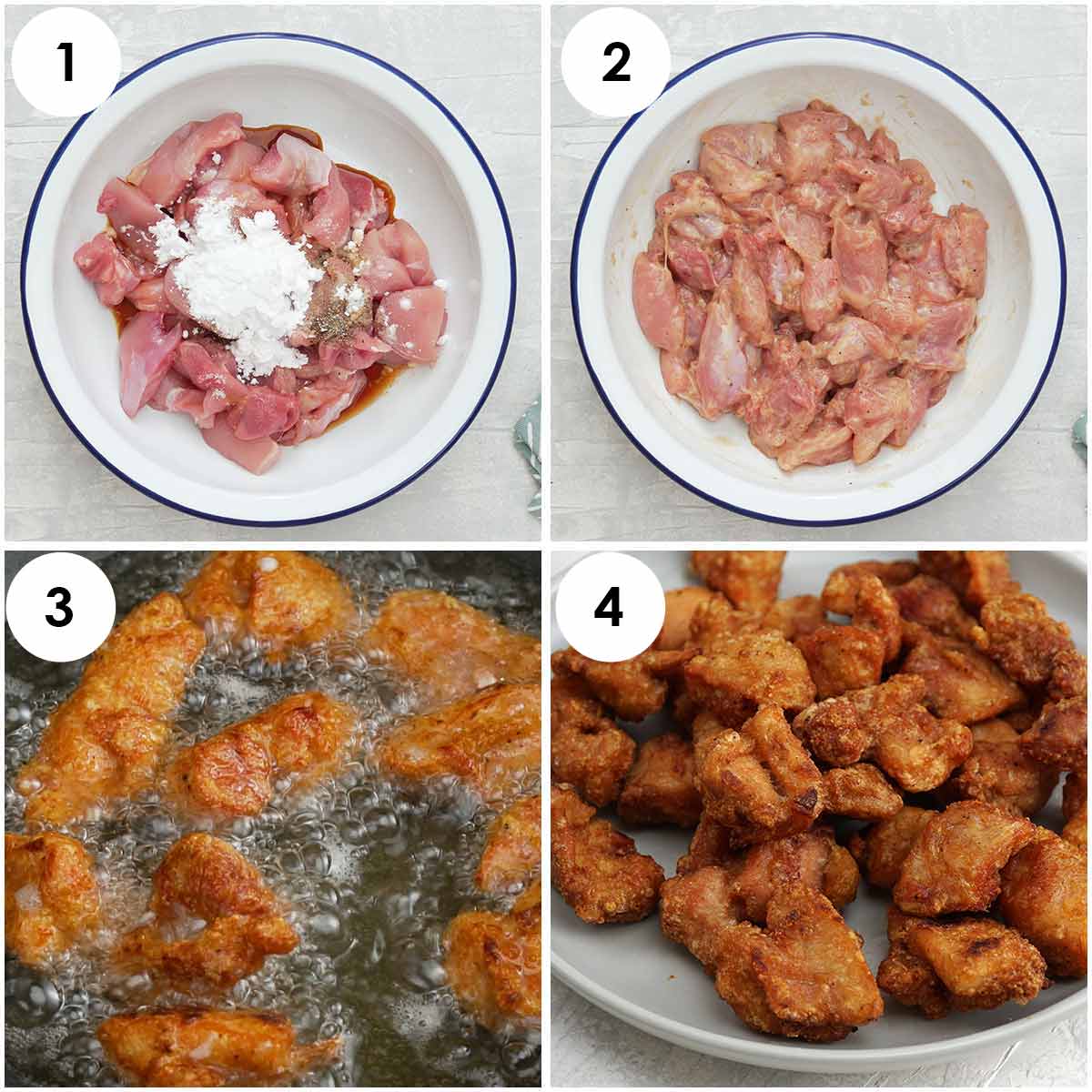 3. Toss the vegetables, dried red chillies, Sichuan peppercorns, seasoning sauces, and fried chicken pieces together.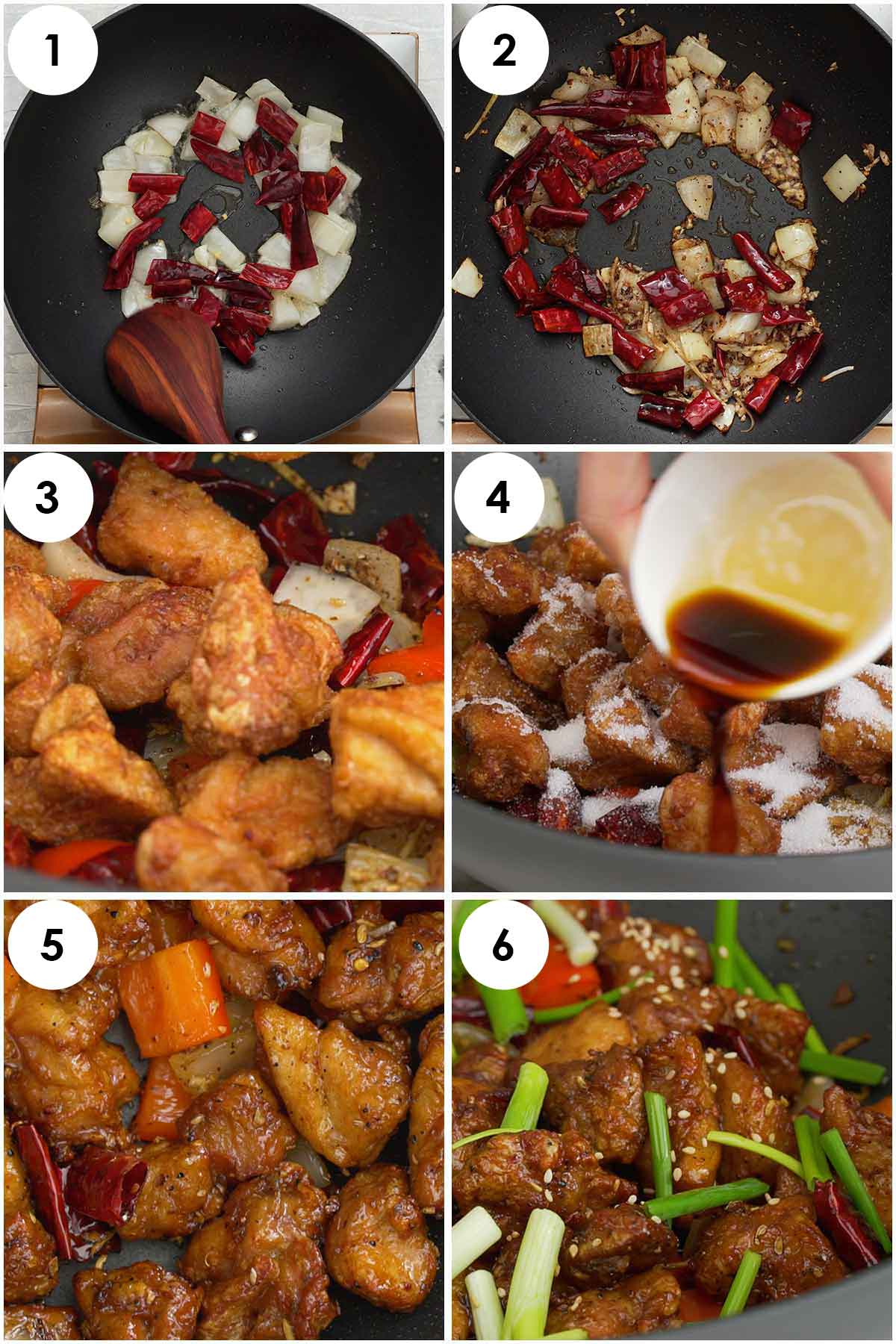 What to serve with
You can simply serve up with plain rice, egg fried rice or noodles. Or pair it with Chicken Corn Soup, Prawn Spring Rolls, Crispy Fried Wonton Crispy Shredded Orange Beef, Beef Lo Mein or Prawn Fried Rice and make it a wholesome dinner.
FAQ
How spicy is Szechuan Chicken?
This dish is medium-spicy for those who can eat spice. Sichuan chillies are not extremely peppery like bird eye chillies. You can add the whole chillies or remove the seed. The tingly numbing heat of Sichuan peppercorns can be adjusted by not eating it in whole or crushed before adding.
What is Szechuan Style?
Szechuan Style cuisines always appear in Chinese restaurants and takeout menus which is usually sweet and spicy, bold, garlicky, pungent flavour. The subtle taste of Sichuan peppercorns and chillies makes the Szechuan dishes unique.
What is the difference of Szechuan Chicken and Kung Pao Chicken?
This dish can be called dry stir-fry dish as very less in sauce and the chicken pieces are fried until crispy before tossing with the seasonings. Kung Pao chicken is also a Sichuan Chinese cuisine which is more saucy and nutty in flavour. Cube chickens, peanuts, vegetables are stir fry together with chillies and seasonings. Both dishes consists Sichuan peppercorns and Sichuan dried red chillies. Only the cooking method and ingredients add-on are slightly different.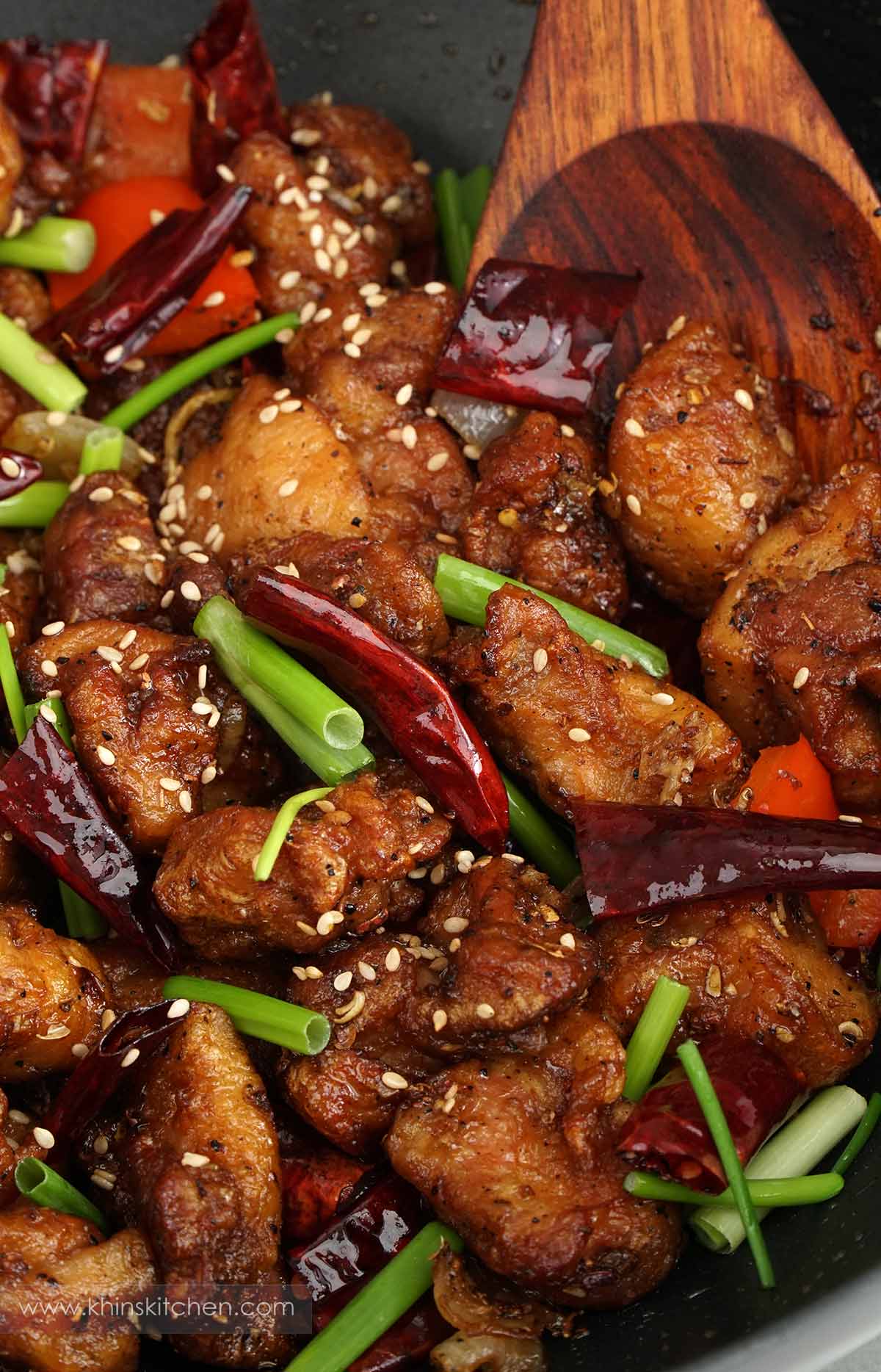 Why you need to try this recipe:
You can recreate restaurant quality dish with minimum ingredients.
No need special equipment or wok skills. You can create with non-stick wok, pan or skillet that you already have at home.
Budget friendly starter or main dish that you can serve a crowd.
( Double the ingredients if you are making for crowd or meal prep. )
As you make at home you can adjust the spiciness by adding less or more chilli intake according to your preference.
More Chinese Takeaway Recipes: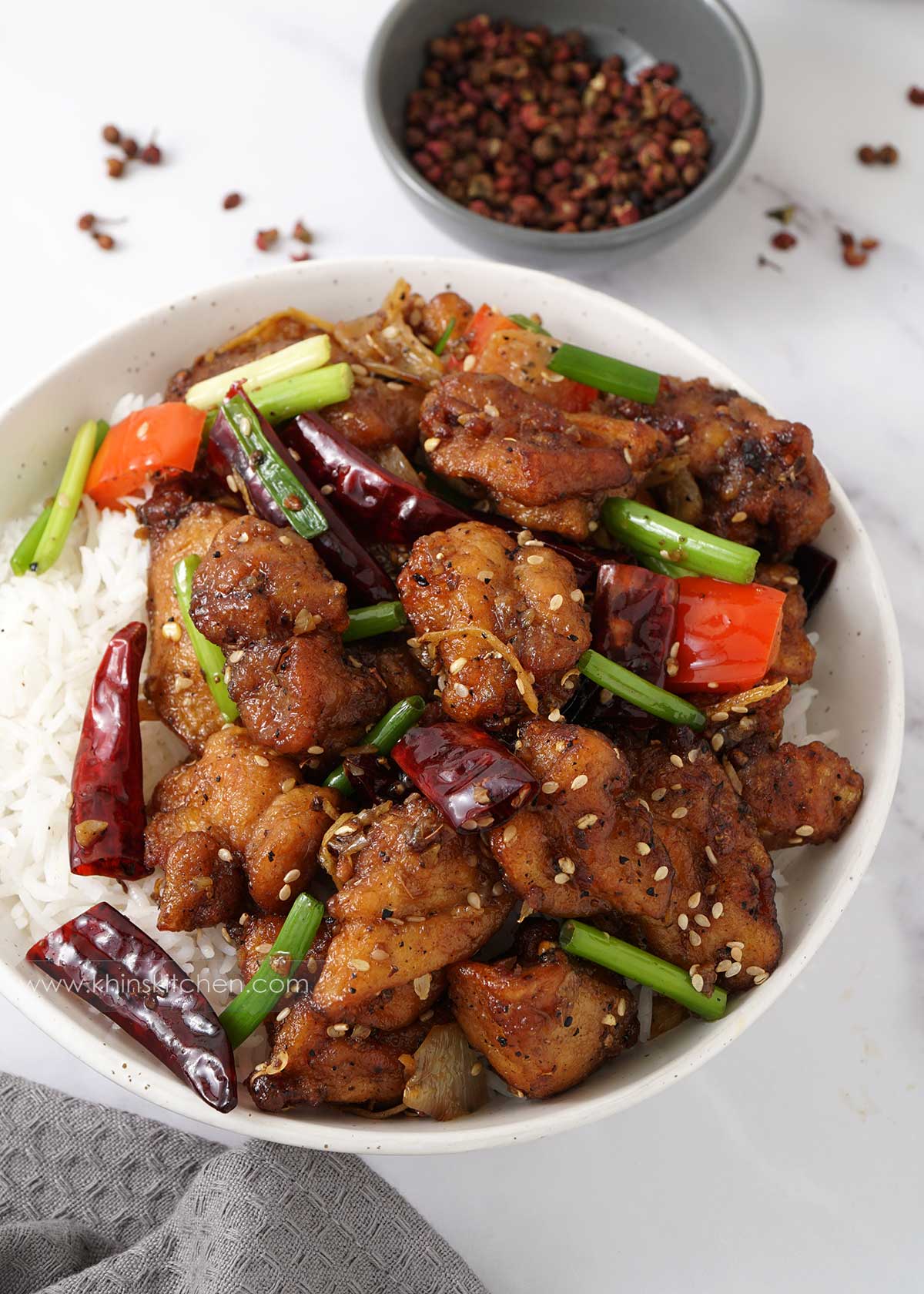 Keep updated with new recipe:
We are on social media Facebook, Instagram , YouTube ( New recipe video every week ) and Pinterest ( Pin your favourite recipes ). If you've tried this recipe, please share your comment or post on social media and tag me. I would love to see your creations and feedback.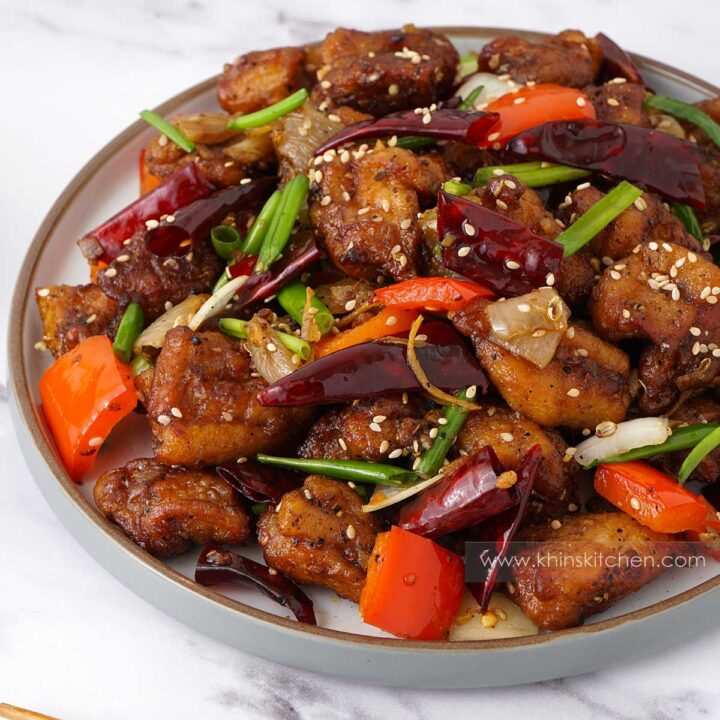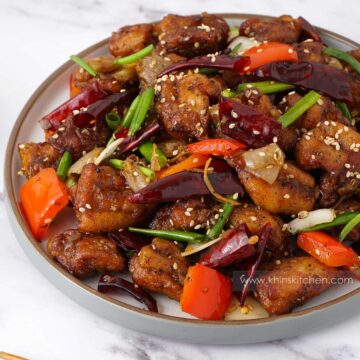 Szechuan Chicken Recipe
Easy Szechuan Chicken Recipe with crispy coated chicken tossed with vegetables, dry chillies, Sichuan peppercorns and flavourful seasonings.
Print
Pin
Rate
Ingredients
500

g

Chicken thigh

boneless skinless ( cut into bite-size cubes )

1

Onion

cut small dices

1

Bell pepper

cut small squares

1

tbsp

Garlic

finely chopped

1

tbsp

Ginger

cut into thin strips

3

Spring onion

cut into 1" pieces

1

tsp

Sichuan peppercorns

toasted and grinded into fine coarse, see in note

8

Dried red chilli

deseeded and cut into 1cm pieces, details in note

1

tbsp

Sesame seeds

2

tbsp

Oil

for stir fry

Oil for shallow frying

add 1 - 1½ cup of oil according to your pan size
Chicken Marinade
2

tsp

Sugar

1

tbsp

Shao Xing wine

Chinese cooking rice wine, see details in note

1

tbsp

Soy sauce

¼

tsp

Black pepper powder

½

tsp

Baking soda

3-4

tbsp

Corn starch

or potato starch
Seasonings
1

tbsp

Sugar

1

tbsp

Soy sauce

1

tbsp

Shao Xing wine

1

tsp

Sesame oil
Instructions
First marinade the chicken with sugar, soy sauce, Shao Xing wine, black pepper, baking soda and corn starch. Mix it well to combine evenly and set aside for 15 minutes and prepare the vegetables.

To shallow fry the chicken pieces, heat the wok/pan into high heat about 350°F, add oil about 1" high. Add the chicken pieces and fry for 5-6 minutes until crispy golden brown by turning sides. Then remove from oil and set it aside.

Leave 2 tablespoon of oil in the wok, add chopped onions and stir fry few seconds with medium-high heat. Then follow with the dried chilli and continue stir fry for another 1 minute.

Add chopped garlic,, ginger and stir for few seconds, then follow with the crushed Sichuan peppercorns and toss well with other ingredients.

Place the fried chicken back in, pour the soy sauce, Shao Xing wine, sesame oil and sugar. Combine well with everything.

Turn off the heat and add spring onions and sesame seeds. Toss well and transfer to serving plate.
Notes
Ingredients Variation & Add-on
Protein - You can swap chicken thigh with chicken breast, tender beef steak, prawns or pork. 
Vegetables - You can add extra stir fry vegetables like snap peas, carrots, broccoli, etc.
Nuts - Roasted peanuts, cashew nuts or walnuts can be added for nutty flavour.
Sesame seeds & oil - You can omit it if you have certain allergy. 
Shao Xing wine - is a Chinese cooking rice wine, can be substitute with Japanese mirin or dry sherry. If you want to make it non-alcohol version you can omit Shao Xing wine or add a splash of rice vinegar. 
Oil - Use vegetable or any neutral flavour oil for both shallow fry and stir fry. 
Sugar - Sugar is added to balance the spicy, sweet and savoury taste. You can omit sugar or substitute with brown sugar, or sweetener. 
Tips:
To reduce the chilli heat, cut and deseed the chillies or add them into whole without cutting. So you can avoid biting chillies but the flavour will be in the dish.
Toast the Sichuan peppercorns with low-medium heat in a pan before grinding, to brighten up the aroma. 
Can you make it saucy?
Mix all the seasoning ingredients and add extra 1 tbsp of Tobanjan ( Chinese Chilli Bean Sauce ),

¼

cup chicken stock or water, 1 tsp corn starch in a mixing bowl. Mix well and pour it after stir frying the veggies, then toss together with the fried chicken pieces. 
Baking/ Air Frying Option:
Instead of shallow frying, you can bake or air fry it. Spray generous amount of cooking oil over the chicken pieces with pre-heated oven or air-fryer about 350°F( 177° C) and fry/bake it until crispy golden brown. Flip halfway through. 
Nutrition
Calories:
419
kcal
|
Carbohydrates:
13
g
|
Protein:
23
g
|
Fat:
30
g
|
Saturated Fat:
6
g
|
Polyunsaturated Fat:
7
g
|
Monounsaturated Fat:
14
g
|
Trans Fat:
1
g
|
Cholesterol:
123
mg
|
Sodium:
744
mg
|
Potassium:
434
mg
|
Fiber:
2
g
|
Sugar:
8
g
|
Vitamin A:
1179
IU
|
Vitamin C:
42
mg
|
Calcium:
51
mg
|
Iron:
2
mg