Family favourite quick recipe on how to make King Prawn Fried Rice with eggs and peas. Packed with flavour and a great dish to serve for Chinese fakeaway dinner!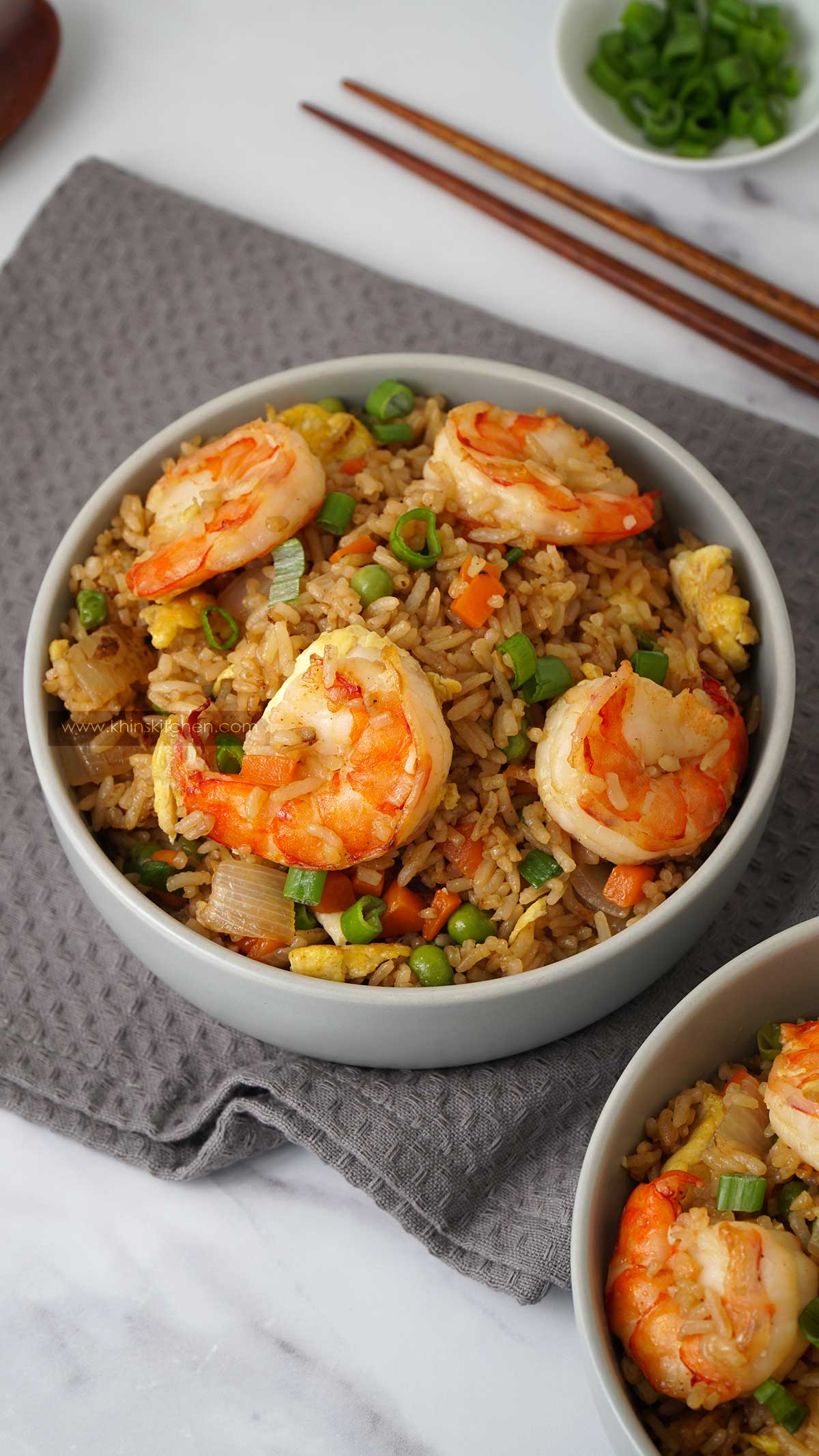 If you love fried rice, you will definitely love our Basil Fried Rice, Chicken Fried Rice, and Spicy Fried Rice recipe too!
Jump to:
In UK restaurants and takeaways, it's also called special fried rice or king prawns fried rice. Basically, made with prawns, chicken, vegetables, and soy-based stir fry sauces.
Fried rice has been my comfort food since my childhood and my dad taught me how to make proper Chinese fried rice. It looks simple yet there are some tips and tricks you might want to know if you want to make your own authentic Chinese restaurant-style fried rice at home. 
Essential Ingredients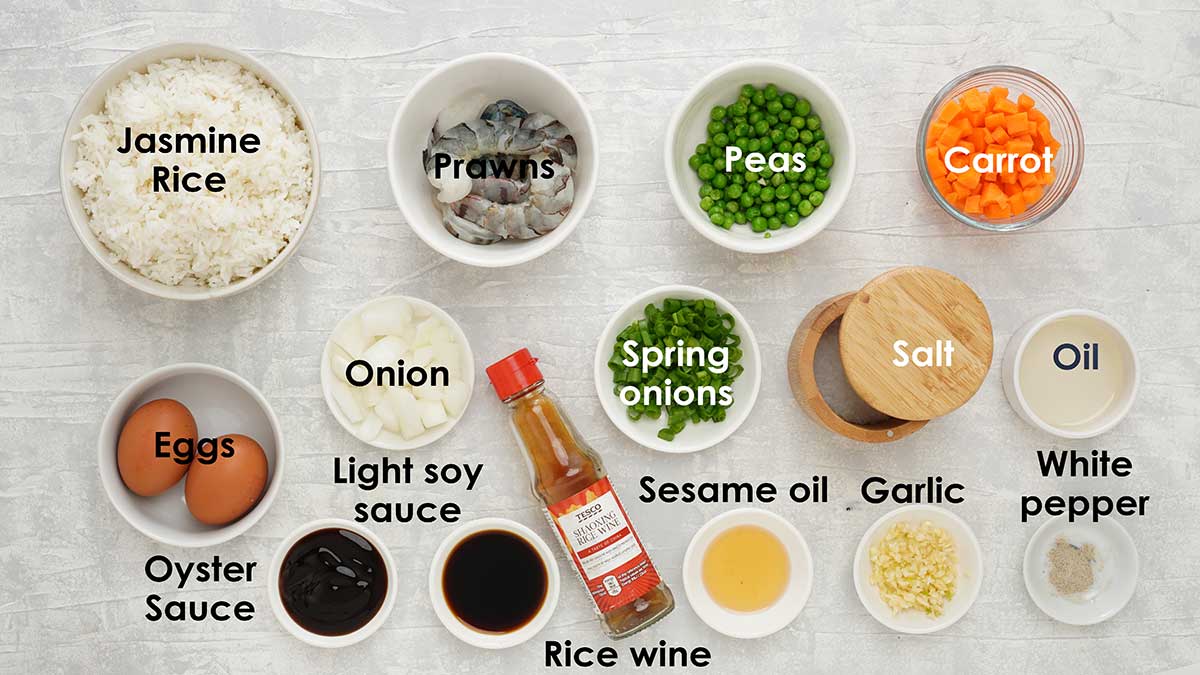 Protein – I am using large tiger prawns for this recipe. Simply season the prawns with salt, white pepper and a splash of Shao Xing cooking wine.
You can swap with other meat and seafood like king prawns/shrimps, squid, scallop, fish balls, boneless chicken thigh/breast as a substitute or an add-on.
Vegetables – I am not adding many varieties of vegetables since I want to bring out more of the flavour of prawns. I am adding only green peas carrot cubes and spring onions.
Seasoning – the right amount of soy sauce, oyster sauce and sesame oil is essential for the authentic flavour of the Chinese fried rice. As many of you has asked which soy sauces or oyster sauce brand is best for Chinese cooking, we usually use Lee Kum Kee brand sauces in our recipes which is widely available across UK, Europe, the US and most counties across the world.
Cooking oil - Vegetable oil is the perfect oil to make fried rice that has no flavour in it. Most Chinese restaurants and takeaways use vegetable oil in their stir-fries and deep fry dishes. Or you can use any neutral flavour oil-like, sunflower, grapeseed or canola oil.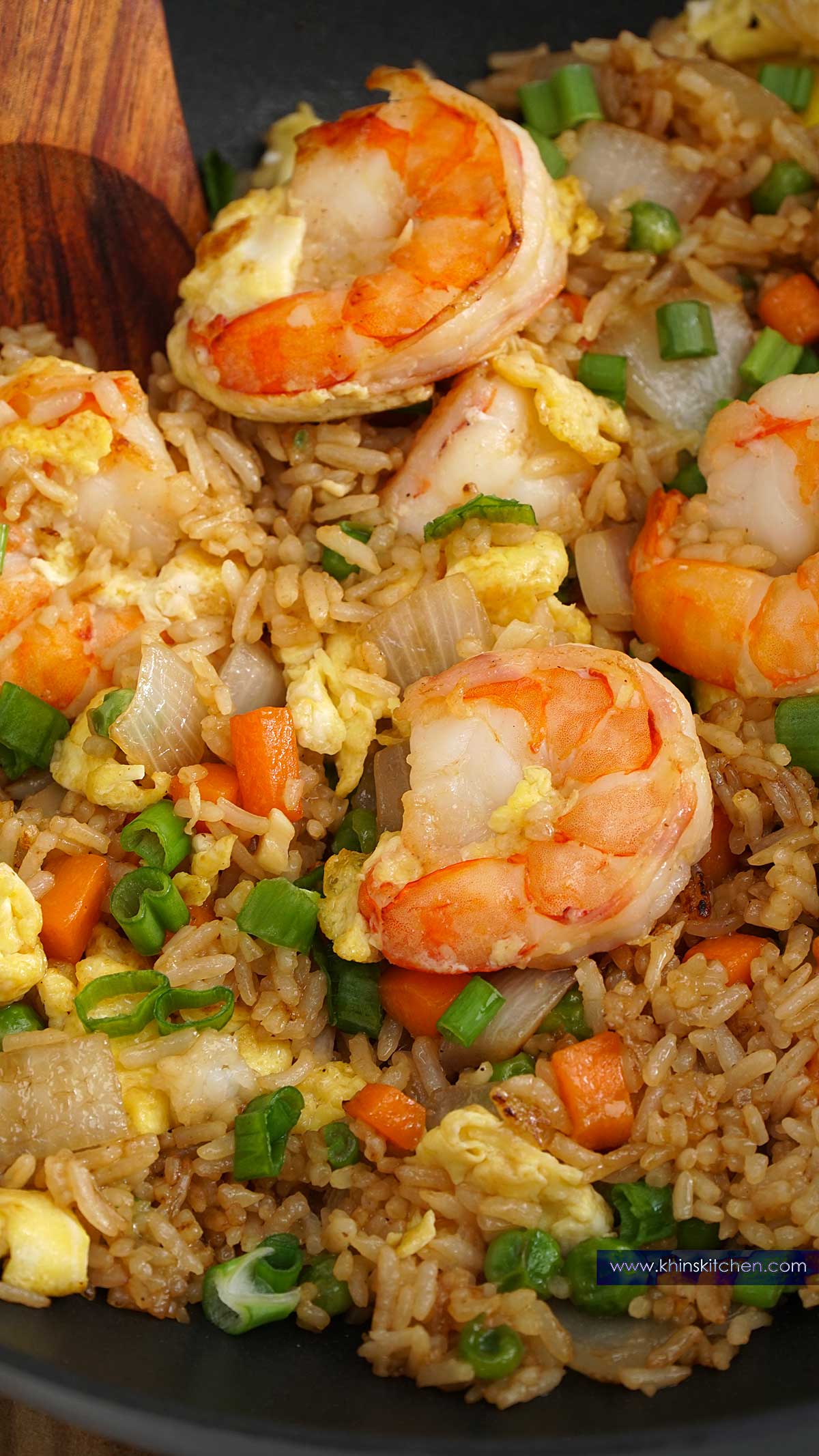 How to make prawn fried rice
You will need to follow 5 simple steps to create restaurant-quality fried rice.
First stir fry the seasoned prawns for few seconds and follow with the chopped garlic and cook for 1-2 minutes.
Push the prawns to one side, add the whisked egg and let it set for few minutes and scramble it into small pieces. Remove from pan and set it aside.
Drizzle more oil in the remaining wok and stir fry the vegetables by adding the hard ones first.
Follow with the rice, pour the stir fry sauce over the rice. Stir fry with high heat for 2-3 minutes until cooked through.
Place the fried egg and prawns and toss well to combine everything evenly. Sprinkle chopped spring onions before serving.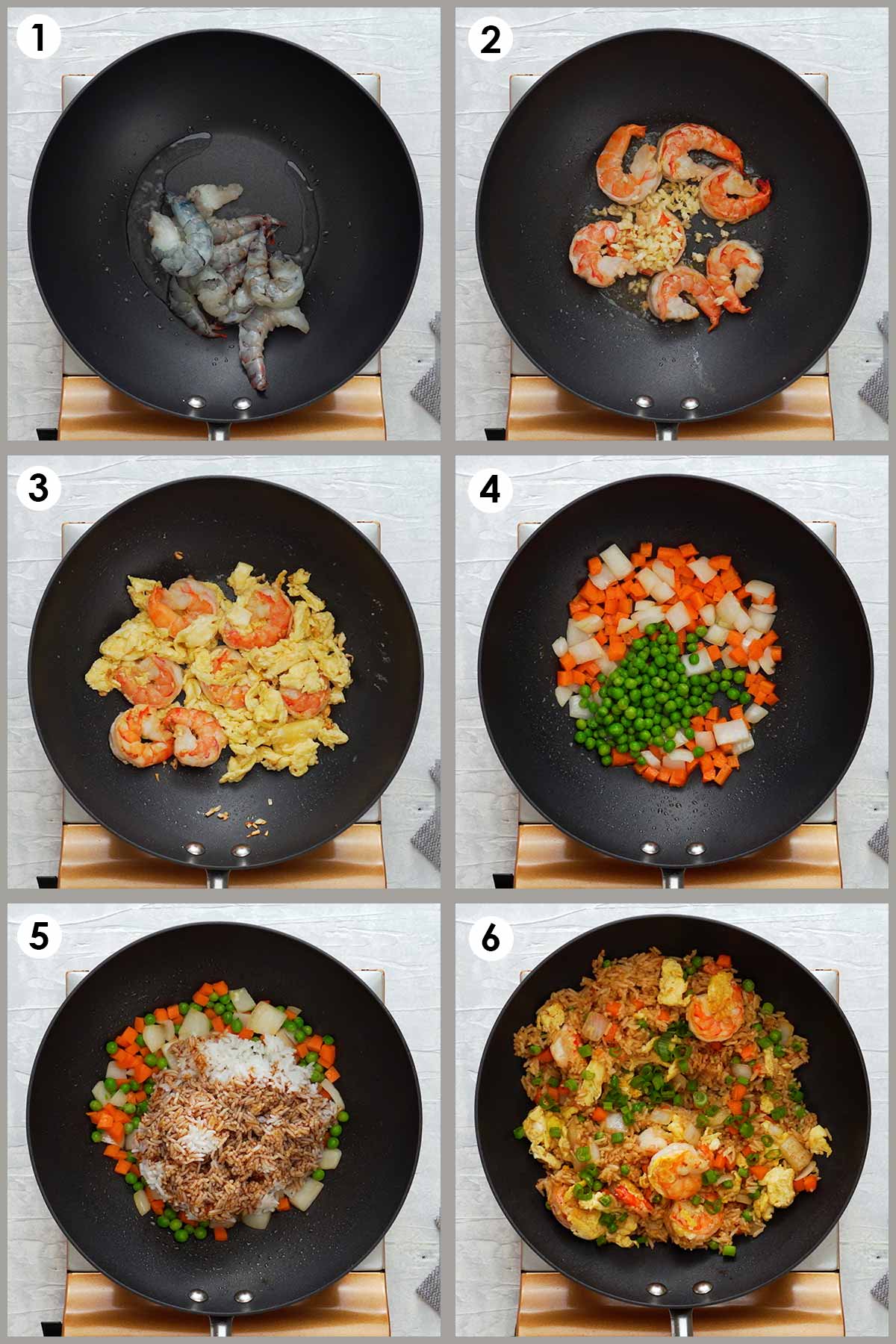 Frequently Asked Questions
What rice is best for Chinese fried rice?
That's one of the most asked questions on my blog and videos posts. If I have to choose one rice, I would choose Jasmine rice which is also used in famous Thai and Chinese restaurants. Thai jasmine rice is a long-grain rice with pleasant popcorn and pandan-like fragrant, widely used in Chinese cooking and Oriental Asian rice recipes.

If you can't find jasmine rice you can use any long-grain white rice, basmati or even medium-grain rice. Only the fragrant will be slightly different. You can still create tasty fried rice with what you can get.
Can you make it spicy?
To make Thai style spicy prawn fried rice, use fish sauce instead of soy sauce and add chopped bird-eye chillies or dried chilli flakes after frying the vegetables.
How to cook jasmine rice?
Grew up as an Asian, we eat rice on a daily basis. There is no rules or exact same ratio or equipment to cook rice. You can either cook, with or without a rice cooker. Water ratio and cooking time can vary, depend on the rice you chose. Here is how we usually cook jasmine rice at home:
Simple Steps to make perfect jasmine rice:
1. Wash rice two to three times with water until the water is almost clear then drain the water out. ( You can use a mesh strainer or colander to drain the rice. ) Washing rice is important to remove the excess starch from the rice grains which creates a fluffy rice result.
2. Rice Cooker - Place washed rice and water in a rice cooker, once it's cooked let it sit for 15-20 minutes. Then gently fluff with a rice spatula. ( Rice to water ratio is 1:1 )
Or Stove Top - Add washed rice and water in the medium-size saucepan. Bring it to boil with no lid on. Then reduce to low-medium heat, close the lid and cook for another 12-15 minutes until no water left. Remove from heat and let it sit for 15-20 minutes. Then gently fluff with a rice spatula. ( Rice to water ratio is 1:1¼ )
Note 1 cup of jasmine rice yields about 3 cups of cooked rice.
Pro Tips:
It is important not to use freshly cooked rice. The moisture is what we don't want in our prawn fried rice. It's best to use a day old cooked rice but you can use the rice which is cooled down for hours as well. You can spread the freshly cooked rice in a large tray or container and leave it in the open air for hours to remove the moisture.
Use large wok or pan to give the enough heat to the rice and all ingredients. If you are cooking for crowd, cook in batches if needed. Do not overcrowd the pan.
What to serve with dish?
You can simply serve this on its own or pair it with Hot and Sour Soup, Spring Rolls, Crispy Taiwanese Fried Chicken, or Crispy Shredded Orange Beef and make it a wholesome banquet dinner.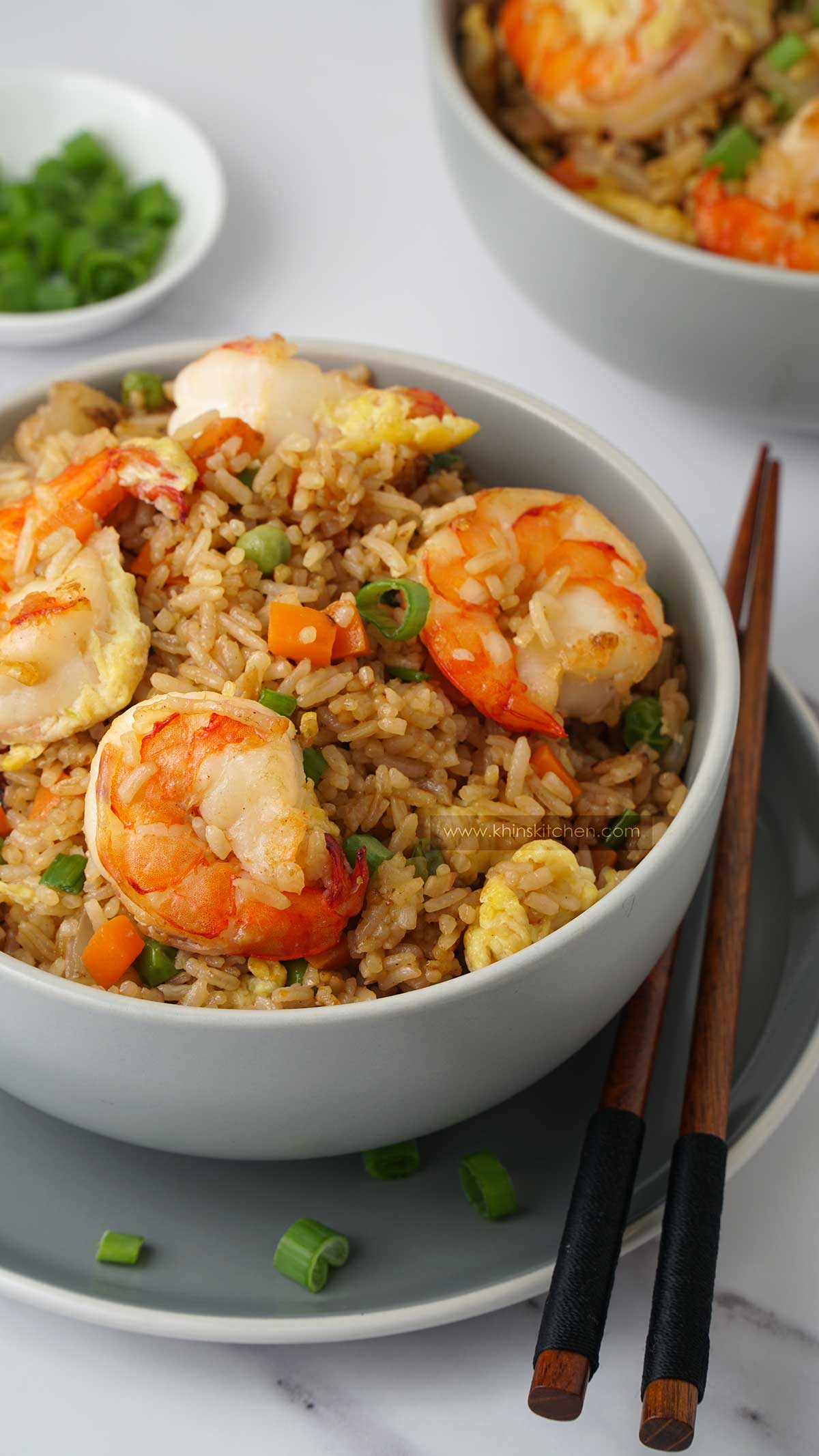 Best Chinese Fakeaway Recipes:
Keep updated with new recipe:
We are on social media Facebook, Instagram , YouTube ( New recipe video every week ) and Pinterest ( Pin your favourite recipes ). If you've tried this recipe, please share your comment or post on social media and tag me. I would love to see your creations and feedback.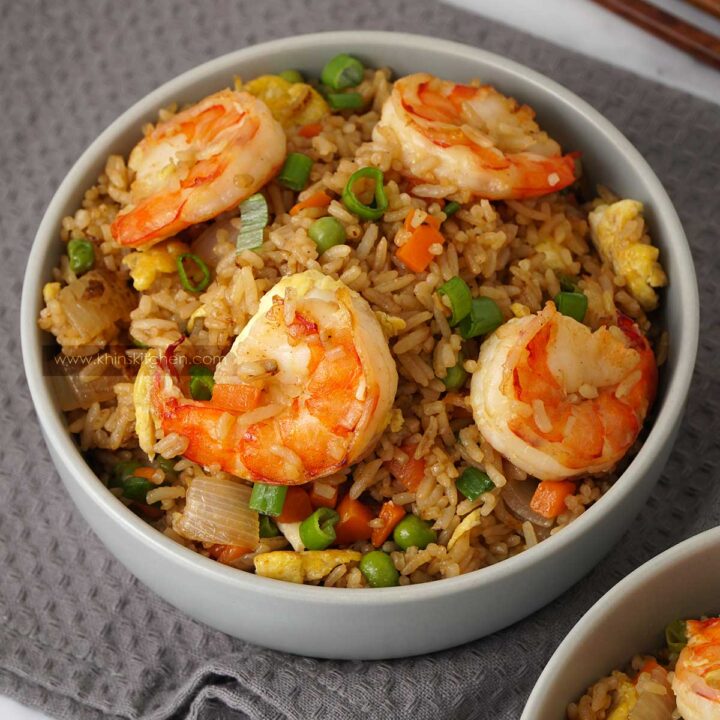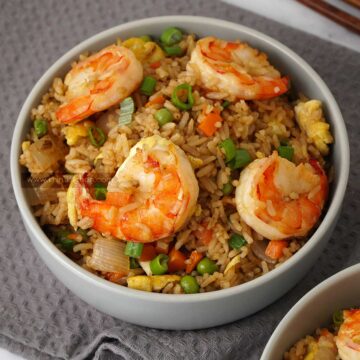 Prawn Fried Rice
Ditch the takeaway and make restaurant-quality flavourful prawn fried rice at home! Take under 20 minutes to make everything from scratch.
Print
Pin
Rate
Ingredients
3

cup

Cooked rice

about 200g ( or one heap bowl cold rice ) see details in note

200

g

Tiger prawns

Or king prawns ( peeled and deveined )

¼

tsp

Salt

¼

tsp

White pepper powder

or black pepper

1

tsp

Shao Xing Cooking Wine

see details in note

2

Egg

whisked

1

tbsp

Garlic

Finely chopped

½

Onion

Cut small dices ( about 50 g / ½ cup )

1

Carrot

cut small dices ( about 50 g / ½ cup )

½

cup

Green Peas

Frozen green peas ( about 50 g )

2

Spring Onions

( Scallions ) Cut thin slices

2

tbsp

Vegetable oil

Or neutral flavour oil
Stir Fry Sauce
2

tbsp

Oyster Sauce

2

tbsp

Light soy sauce

Or regular soy sauce/ all purpose soy sauce

1

tsp

Sesame oil

¼

tsp

White pepper

or black pepper
Instructions
First season the prawns with salt, white pepper and Chinese cooking wine and set it aside. Add a pinch of salt in the eggs, whisk and set it aside.

Heat the wok/pan into medium-high heat, add 1 tbsp of oil, stir fry the prawns for few seconds and follow with the chopped garlic. Cook for another 1-2 minutes and push it one side of wok.

Drizzle 1 tsp of oil and add the whisked eggs in. Once the egg is set in the bottom, scramble it into small pieces. Remove the prawns and egg from wok and set it aside.

In the remaining wok, add 1 tbsp of oil add chopped onions and stir for few seconds, then add the carrots and green peas and cook for 2 minutes or until cook through.

Next add the rice and pour the sauce over the rice and fry with high heat for 2-3 minutes or until the sauce dry out. Place the prawns and eggs back in the wok and toss well to combine everything evenly and continue stir fry for another 1 minute.

Turn off the heat and sprinkle the chopped spring onions. Transfer to serving to serving plate and serve immediately.
Notes
Rice -  A day old cooked Thai jasmine is best for making Chinese fried rice. You can use any long-grain or medium-grain rice. 
Shao Xing Wine - is a Chinese cooking rice wine. You can substitute with Japanese mirin, dry sherry. For non-alcohol version, you can omit cooking wine. 
Nutrition
Calories:
647
kcal
|
Carbohydrates:
80
g
|
Protein:
30
g
|
Fat:
22
g
|
Saturated Fat:
13
g
|
Polyunsaturated Fat:
2
g
|
Monounsaturated Fat:
4
g
|
Trans Fat:
1
g
|
Cholesterol:
290
mg
|
Sodium:
2445
mg
|
Potassium:
529
mg
|
Fiber:
4
g
|
Sugar:
4
g
|
Vitamin A:
6160
IU
|
Vitamin C:
19
mg
|
Calcium:
141
mg
|
Iron:
3
mg