Quick and Easy Beef Chow Mein recipe for busy weeknights. Ready in 15 minutes! Made with minced beef ( ground beef ), straight to wok noodles, plenty of vegetables and delicious homemade sauce. Quicker, tastier and healthier than takeaway chow mein, plus budget-friendly and kid-friendly too!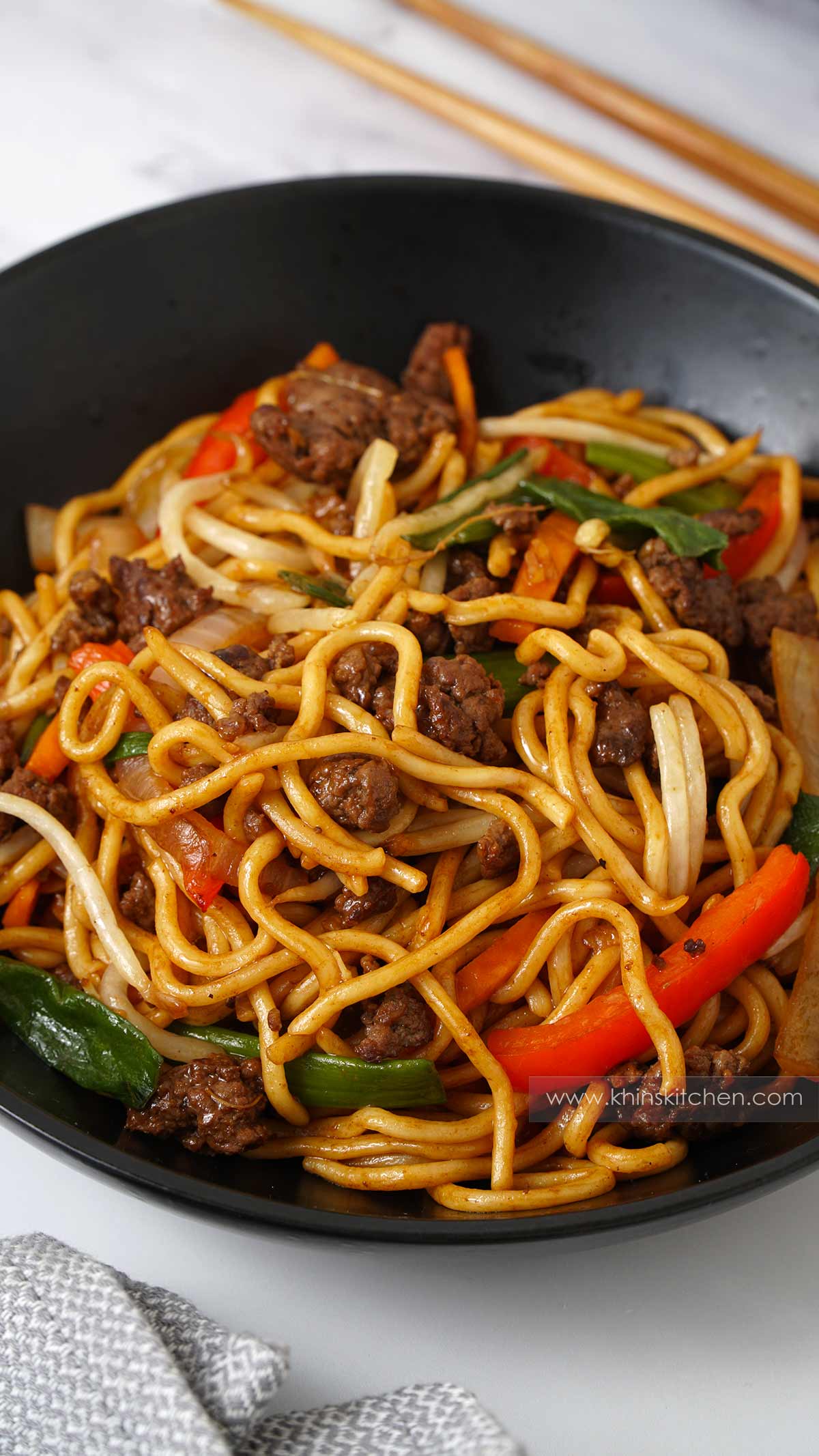 A fantastic way to use up your beef mince and noodle packets in your pantry. One of the best crowd-pleasing dishes and so easy to cook everything in one pan.
Jump to:
Beef Chow Mein in 15 Minutes?
Chow Mein is one of the most popular Classic Chinese noodle dishes. Noodles, protein, and vegetables stir fry that everyone loves. We love to make with chicken or beef steak thin slices with egg noodles and crisp colourful vegetables. And of course, with the delicious homemade sweet and savoury homemade sauce. It usually takes at least 30 to 40 minutes to prepare everything from scratch.
But the question is how to make it at home when you have only 15 minutes? Here is the perfect shortcut chow mein recipe for you! You don't need extra time to marinate the beef or boil the egg noodles. All you need is one large wok/pan and the simple ingredients listed below. You can create better than takeout easy beef chow mein in no time!
Ingredients You Need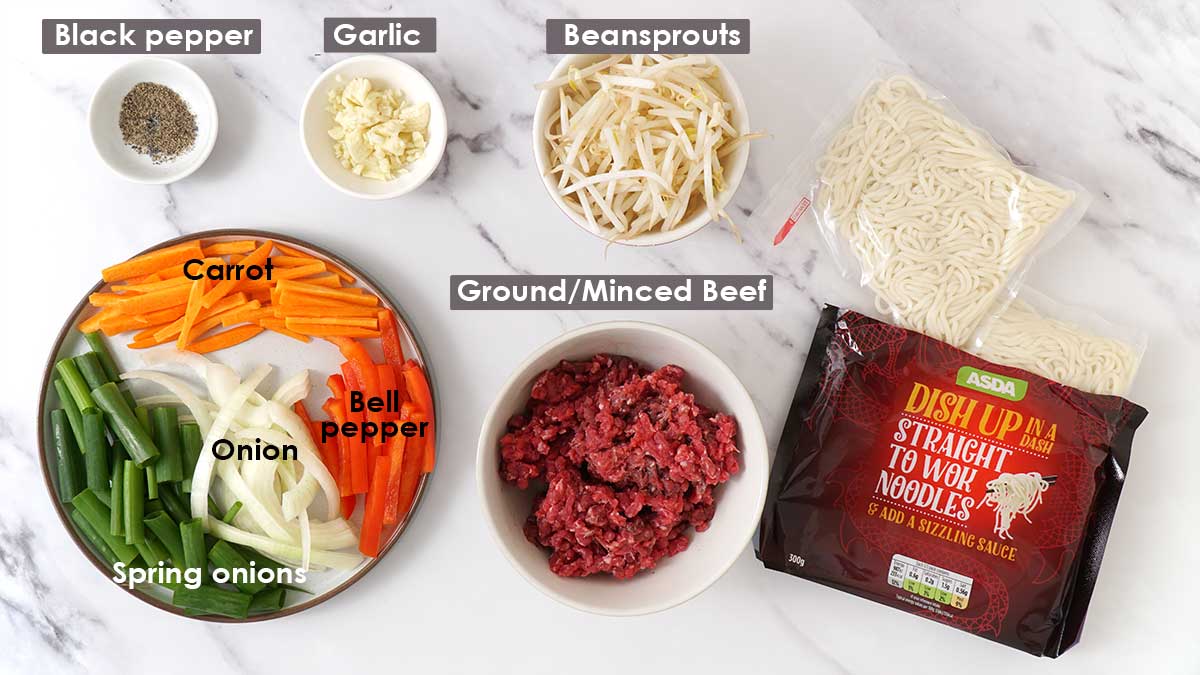 Beef Mince ( Ground Beef ): Why beef mince? Because we love it and it is so fast and easy to cook when you have very little time to prepare dinner. You don't need plenty of time to prepare the meat velveting process like other classic Chinese beef stir fry recipes. Season the beef mince with a splash of sauce mixture and ready to stir fry in no time.
If you love beef mince recipes, you will definitely like our favourite Mongolian Ground Beef and Chilli Pepper Beef ( Ground Beef ).
Protein variation: You can swap with other types of minced meat like chicken thigh, lamb, pork, etc. For vegetarian or vegan options, you can add minced tofu or Quorn mince.
Noodles: In this recipe, I use straight-to-wok noodles, instead of classic egg noodles. These noodles are widely available in most supermarkets and groceries across the UK. I've been asked so many questions by my friends, how to use these noodles in the most delicious way. Turning it into chow mein is the best way! You can just add them straight to your stir fry or blanch them to loosen up a bit before you stir fry them.
What other noodles can be used? You can use fresh lo mein or egg noodles, dried egg noodles, ramen noodles or yakisoba noodles. Or if you have so many instant ramen packets left in your pantry you can use up those too. Discard the seasoning packets and boil the noodles by the packet instructions but make sure not to boil it too soft as you need to stir fry them again.
Vegetables: Classic chow mein vegetables are cabbage, carrot, bell pepper, onion, spring onions, and bean sprouts. But this is a very versatile dish that you can add any of your favourite stir fry vegetables.
Chow Mein Sauce: You can call this sauce a universal stir fry sauce which you can add to most of your stir-fries. Made with 4-ingredient basic sauces, oyster sauce, light soy sauce, dark soy sauce, Shao Xing wine, plus a dash of sesame oil for toasty flavour. You can make this sauce in a large batch and store it in an air-tight jar for later use. It usually lasts up to 7 days in a fridge.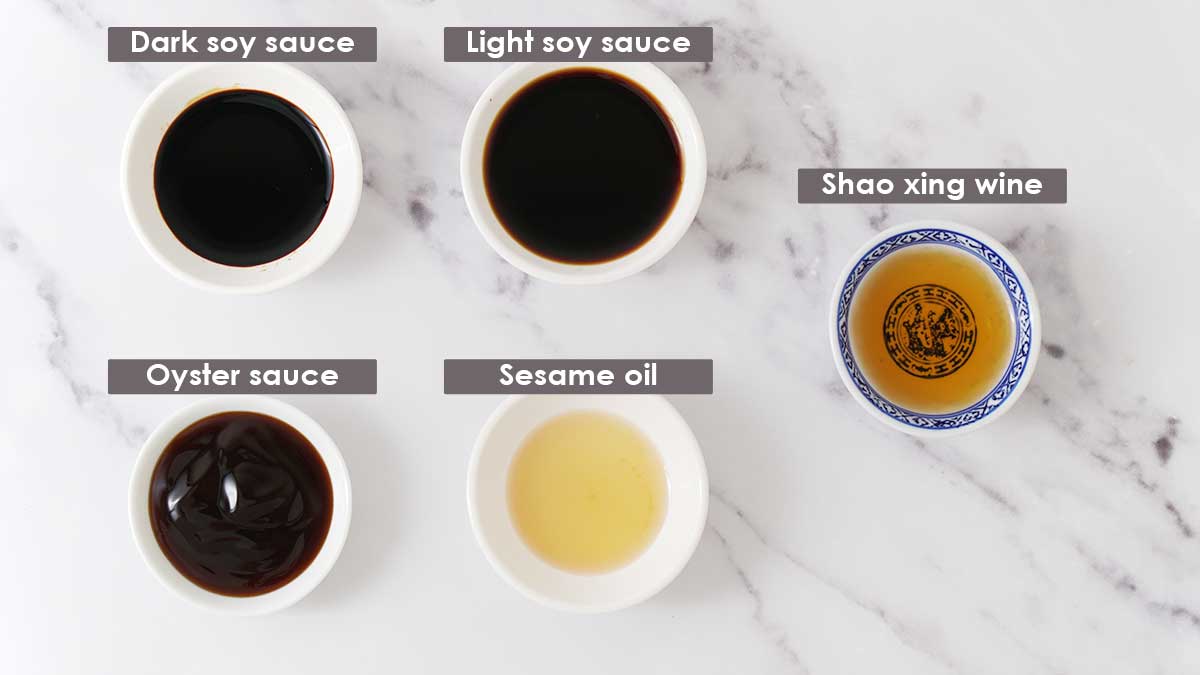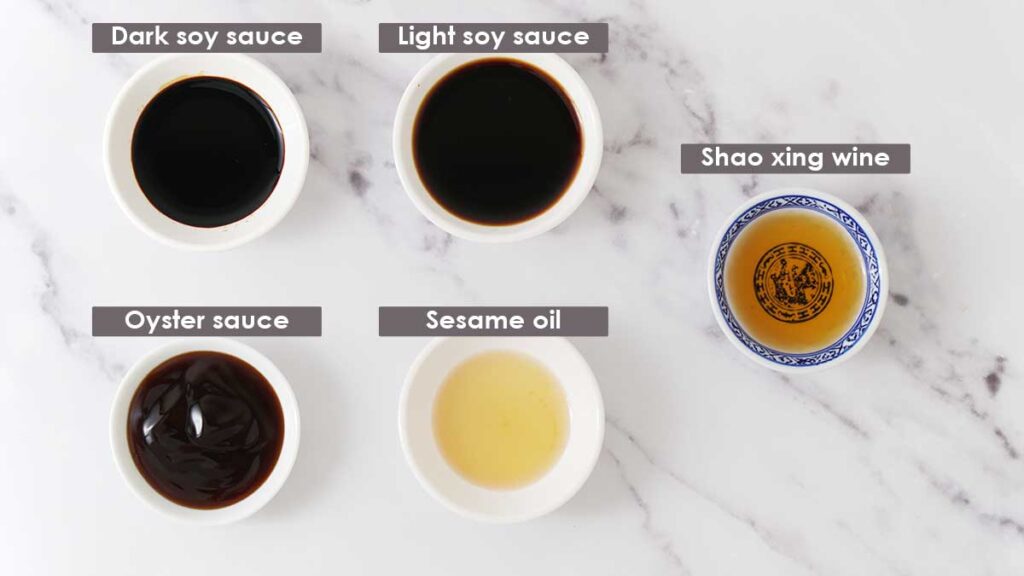 How To Make It
As this is a very fast cooking process, you need to gather all ingredients, chop up the vegetables, before you heat the wok. Here are the simple steps: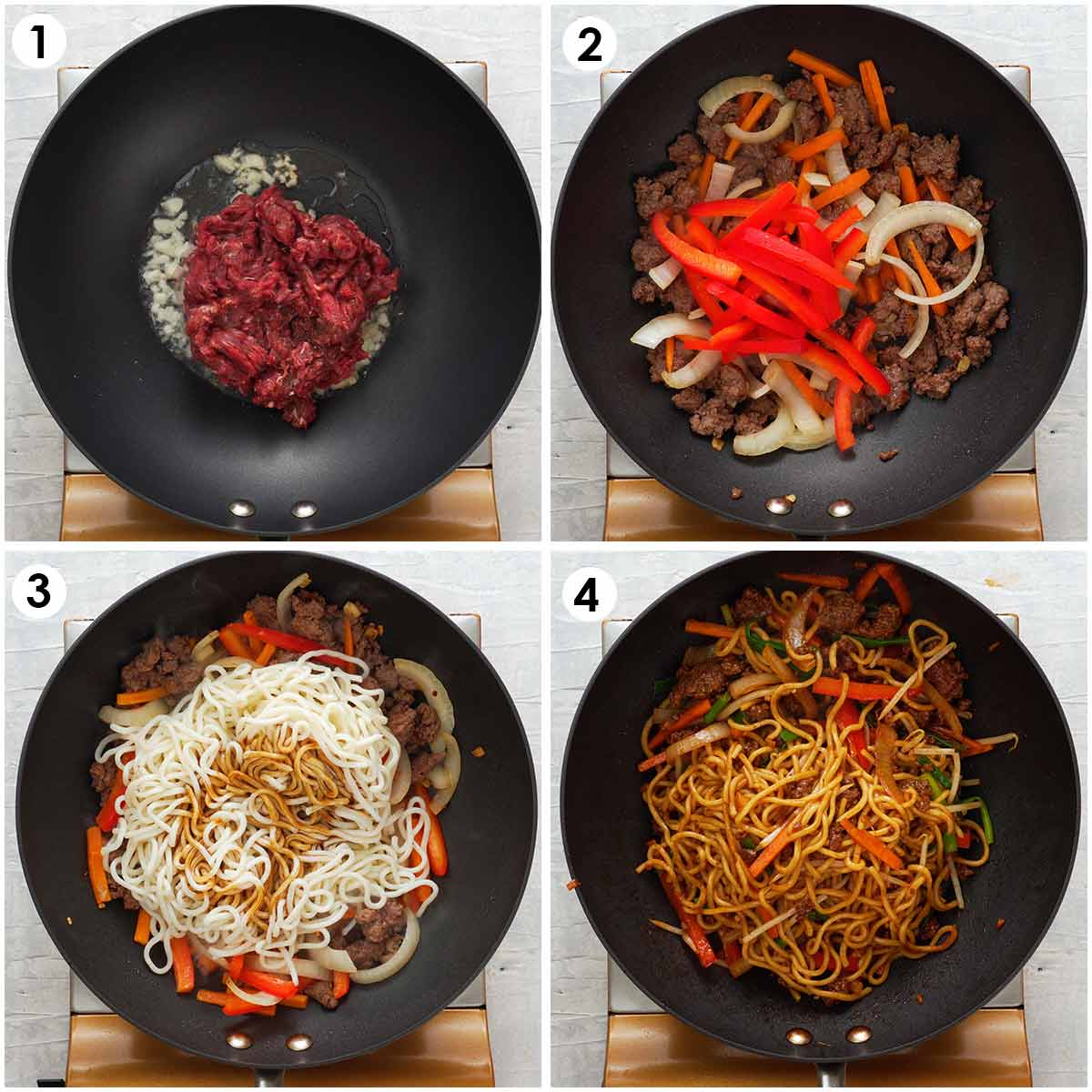 Mix the the sauce ingredients in a bowl. Chop up all the vegetables, blanch the noodles with hot water and drain the water out. Set it aside.
Season the mince beef with a splash of sauce mixture.
Heat the wok over medium-high heat and stir fry the garlic and beef mince. Cook until no longer pink. Follow with the onion and hard vegetables.
Then add the noodles and pour the sauce in. Continue stir fry with meidum-high heat for 2-3 minutes and later add the soft vegetables like bean sprouts and spring onions. Toss well to combine everything evenly.
Noodle Prep Tips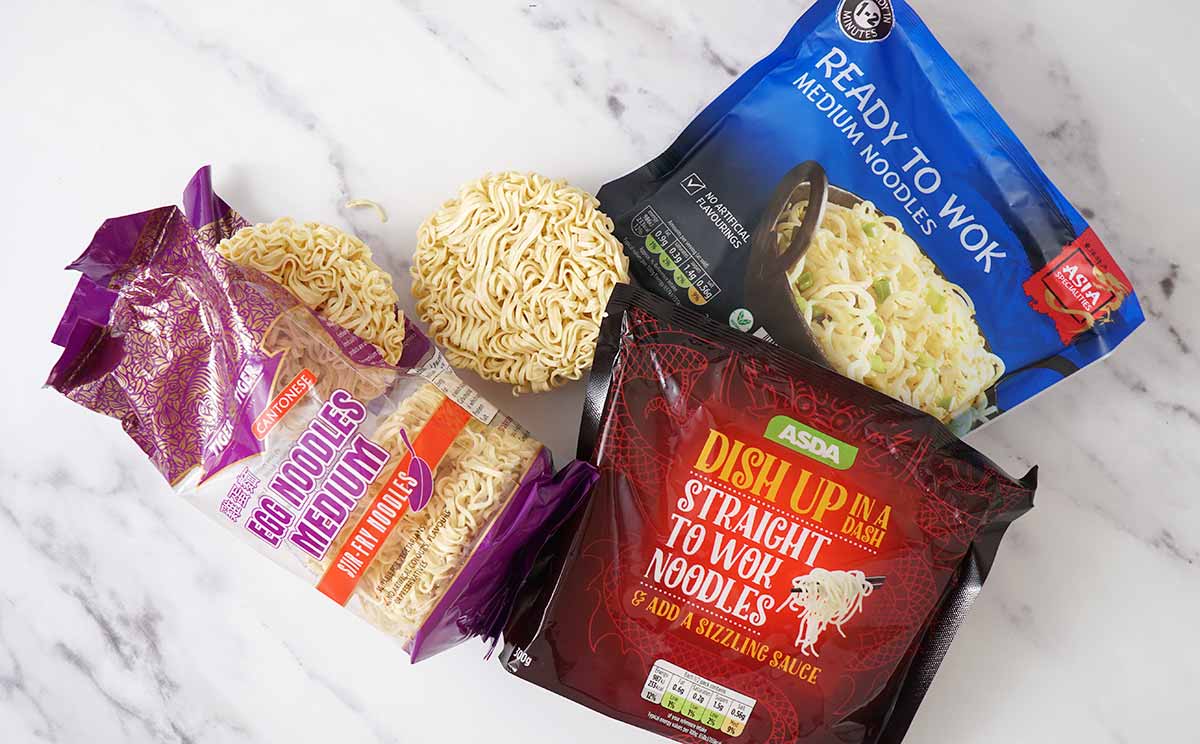 Straight-to-wok Noodles - blanch the noodles before you add in your stir fry. Soak the noodles in hot boiling water for 1-2 minutes, loosen the noodles gently with chopstick or tong. Drain the water out and rinse with cold water. By blanching the noodles it is less likely to break the noodles and excess oil from the noodles are removed by the hot water.
Same method can be applied to preparing straight-to-wok Udon or Yaksoba noodles.

Dried Egg/Wheat Noodles - Depend on the noodle thickness, you will need to boil in hot boiling water for 3-4 minutes or according to packet instructions. Drain hot water and rinse the noodles with cold water. Do not over cooked the noodles as they need to be add in the stir fry again.
Ramen/Instant Noodles - You can use these noodles and the preparing process is same with above dried noodles. Rinse with cold water after boiling them.
Fresh Egg Noodles - If you use fresh noodles, you can simply cut into desire length and add it straight to the wok, without any prepation.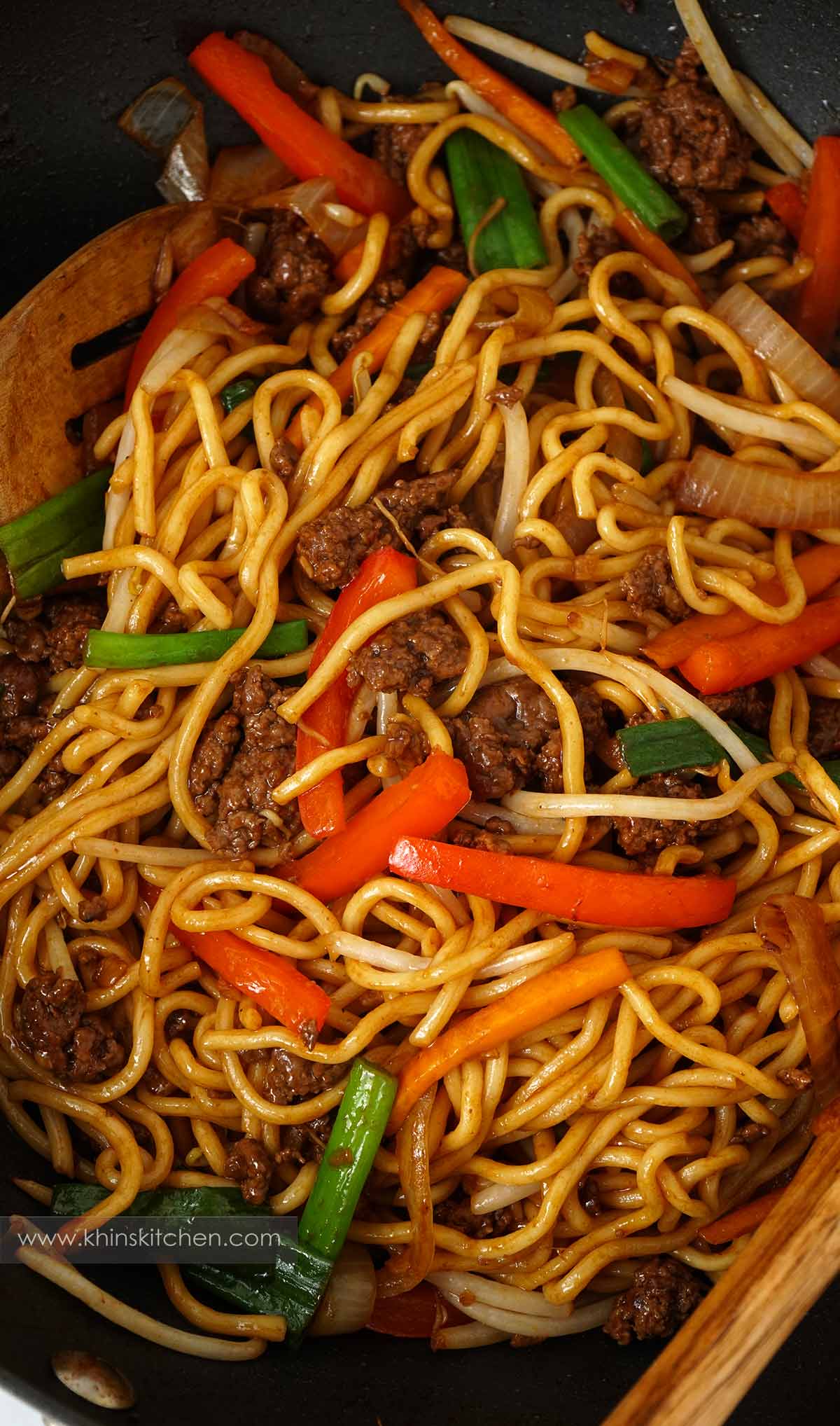 Frequently asked questions
How to make healthier Chow Mein?
It is healthier when making it at home. You know what you are adding and you can adjust the amount of oil, sugar and avoid unhealthy seasoning ingredients. To make it less oily and healthier, you will also need a good quality large non-stick wok/pan. A non-stick pan needs to use lesser in oil and you can still create a perfect crisp chow mein. Don't over-crowd the pan and fry the noodles in batches if needed.
How to make beef chow mein like takeaway?
Takeaway-style beef chow mein is made of perfectly tenderized tenderize beef slices, yellow egg noodles, crisp vegetables and savoury stir fry sauce. Check out my step by step instructions on how to make a Classic beef chow mein recipe that tastes just like you've had at your favourite Chinese restaurant.
How to make plain chow mein?
Plain chow mein is a Chinese stir fry noodle that is served as a side or main dish. A very popular vegetable noodle in Chinese takeaway and restaurants. Basically, our plain chow mein recipe ( Fried Noodles with vegetables ) is made with egg noodles, cabbage, carrot, bean sprouts, light soy sauce, dark soy sauce, oyster sauce, Shao Xing wine and sugar.
Traditional or Non-stick Wok/Pan
For everyday home cooking and quick stir fry recipes, we use a non-stick wok which is so much easier in cleaning and need lesser in oil. No need to worry about sticking at the bottom. You just need to make sure to fry over medium-high heat and leave enough space for the noodles and other ingredients to toss together well. Never overcrowd the wok.
If you love 'wok hei', a charred smokey flavour of wok stir-fry, you will need a traditional Chinese-style wok like carbon steel or cast ion wok. But it takes time to season the wok properly and you need some practice in handling the wok. If you have large skillets, you can use them as a wok substitute. I'll also share a blog post soon on how to season the wok perfectly. So stay tuned!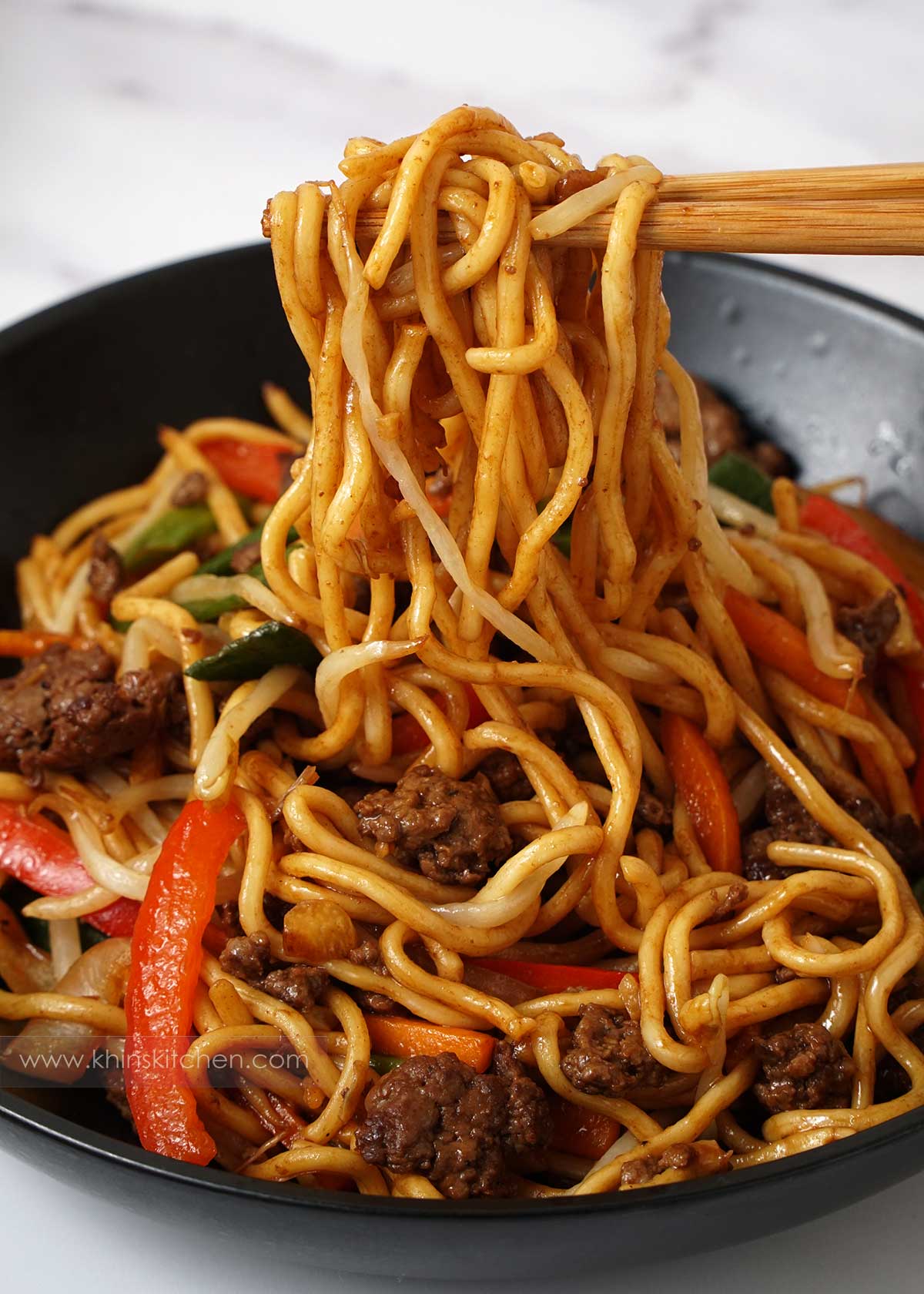 More Chinese Noodle Recipes
Keep updated with new recipe:
We are on social media Facebook, Instagram, YouTube ( New recipe video every week ) and Pinterest ( Pin your favourite recipes ). If you've tried this recipe, please share your comment or post on social media and tag me. I would love to see your creations and feedback.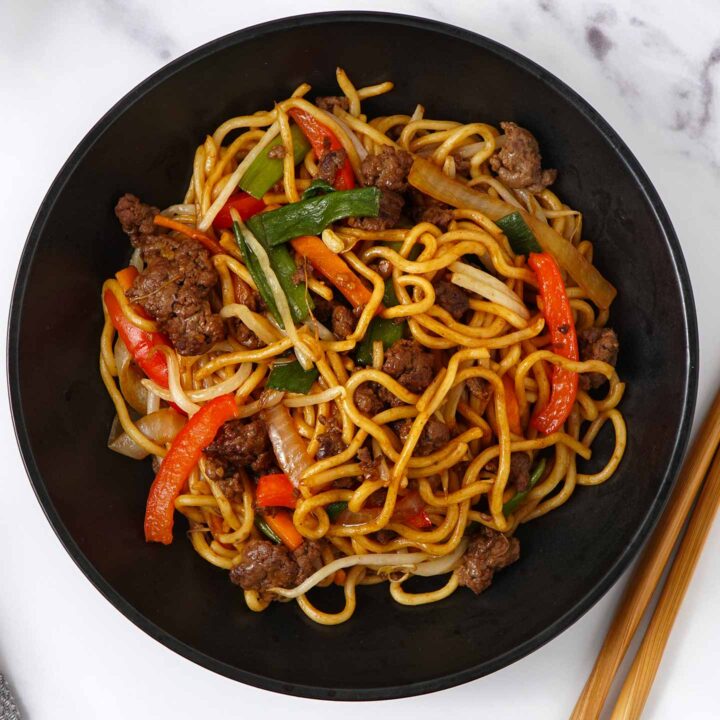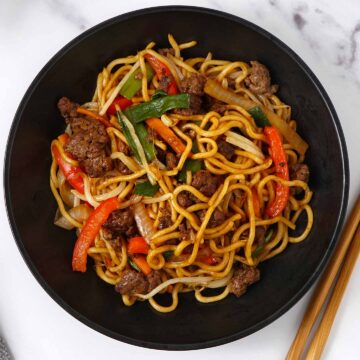 Easy Beef Chow Mein
Quick and Easy Beef Chow Mein Recipe with ground beef ( mince beef ), vegetables, and homemade chow mein sauce. Healthier, tastier and faster than ordering from takeaway!
Print
Pin
Rate
Equipment
Large non-stick wok or pan
Ingredients
250

g

Mince beef

(Ground beef)

300

g

Noodles

straight-to-wok noodles (see details in note)

½

Onion

Cut thin slices

1

tbsp

Garlic

Finely chopped

½

Bell pepper

Cut thin slices

1

Carrot

Julienned

100

g

Bean sprouts

3

Spring onions

Cut into 2" pieces

½

tsp

Black pepper

Or white pepper powder

2

tbsp

Vegetable oil

or neutral flavour oil
Stir Fry Sauce
3

tbsp

Oyster sauce

1

tbsp

Dark soy sauce

3

tbsp

Light soy sauce

1

tbsp

Shao Xing wine

see details in note

1

tsp

Sesame oil
Instructions
In a small bowl, mix all the stir fry sauce ingredients, mix well and set it aside. Season the mince/ground beef with two tablespoons of stir fry sauce mix and black pepper. Mix it well and set it aside.

Soak the noodles in hot boiling water for 1-2 minutes and loosen them gently with a chopstick or tong. Drain the water out and rinse with cold water and set it aside.

Heat the wok/pan over medium-high heat, drizzle 2 tablespoon of oil, add garlic and stir for 10 seconds. Add the beef mince and stir fry the beef for 3-4 minutes until no longer pink.

Follow with the onion, carrot, pepper and stir fry another 1-2 minutes then place the noodles in.

Pour the sauce over and noodles and combine well with other ingredients evenly.

Continue stir fry with medium-high heat for another 1-2 minutes until and add the spring onions and bean sprouts.
Notes
Ingredient Variations
Mince Beef ( Ground Beef ) - Lean beef mince or less in fat content goes well for this recipe. You can swap with chicken, turkey, lamb, or pork mince.
Noodles - Straight-to-wok noodles are used in this recipe, but I blanch with hot water to loosen up the noodles. You can either use fresh or dried noodles.  If you use dried noodles, prepare the noodles by the packet instructions and rinse with cold water after boiling. Do not overcook the noodles. 
Vegetables - You don't need to add everything that I add, swap with any favorite veggies. Or you can even add stir fry mix vegetable packets for convenience. 
Shao Xing wine - Can be substitute with Japanese mirin or dry sherry. For halal or non-alcohol cooking, you can avoid it or substitute it with halal Mirin or a splash of rice vinegar. 
Light soy sauce - Regular soy sauce or all-purpose soy sauce can be also used for a salty and savoury flavour. 
Dark soy sauce - is to bring more colour to the dish. If you don't have it in hand you can skip it. 
Sesame oil - is for the toasty flavour. If you have an allergy you can omit it. 
Vegetarian Options
Oyster Sauce - Substitute with vegetarian oyster sauce ( available in Lee Kum Kee brand ) or Hoisin sauce. 
Protein - Add tofu or Quorn mince as a substitute.
Nutrition
Calories:
710
kcal
|
Carbohydrates:
75
g
|
Protein:
33
g
|
Fat:
31
g
|
Saturated Fat:
17
g
|
Polyunsaturated Fat:
2
g
|
Monounsaturated Fat:
10
g
|
Trans Fat:
1
g
|
Cholesterol:
52
mg
|
Sodium:
3609
mg
|
Potassium:
748
mg
|
Fiber:
5
g
|
Sugar:
6
g
|
Vitamin A:
4159
IU
|
Vitamin C:
36
mg
|
Calcium:
78
mg
|
Iron:
7
mg