Easy King Prawn Chow Mein recipe made with king prawns, egg noodles, loads of vegetables, and quick chow mein sauce. The best homemade prawn noodle stir fry everyone will love! Ready in 20 minutes and incredibly delicious!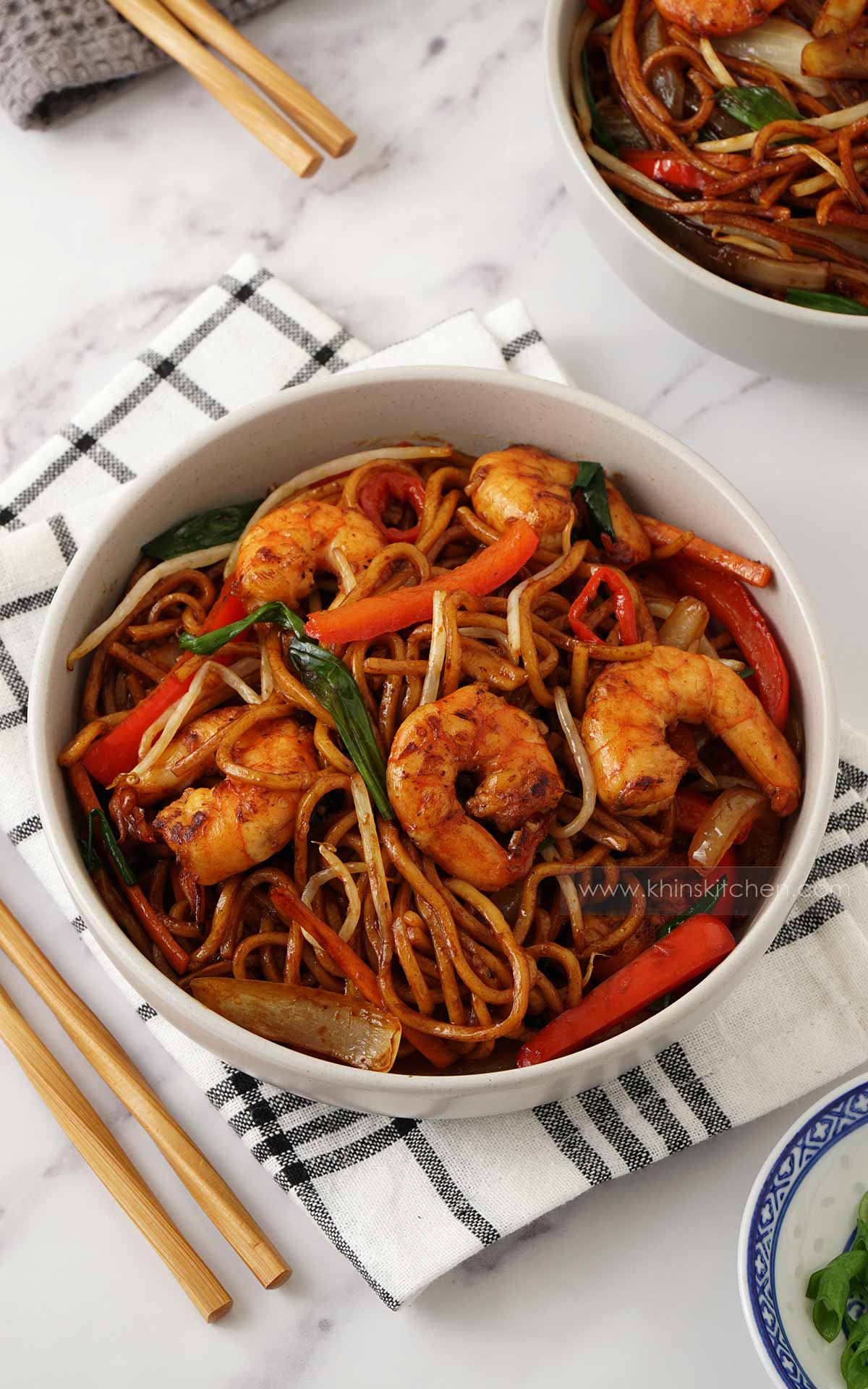 When you have very little time to prepare dinner, what do you cook? I love to make quick chicken chow mein, or prawn fried rice. In this post, I'll be sharing our family's all-time favourite recipe.
Jump to:
What is King Prawn Chow Mein?
Chow Mein is one of the most popular Chinese noodle dishes that everyone loves! Basically, prawn chow mein is a noodle stir fry with colourful crisp vegetables and prawn tossed in delicious stir fried sauce. If you are finding prawn noodle stir fry with simple ingredients and easy cooking steps, this is the right recipe for you! No special ingredients or equipment are needed. All you need is a large wok or frying pan, supermarket ingredients, and cupboard-friendly Oriental sauces.
Why you should try this recipe
It's tastier, faster and healthier than regular takeaway chow mein.
Minimum cooking time, 20 minutes!
Made with supermarket and pantry friendly ingredients!
Ingredients and sauces can be customized to your preference. This recipe is flexible/adaptable.
Serve the crowd with minimum budget, plus you get loads of prawns when you make it at home!
Ingredients You Need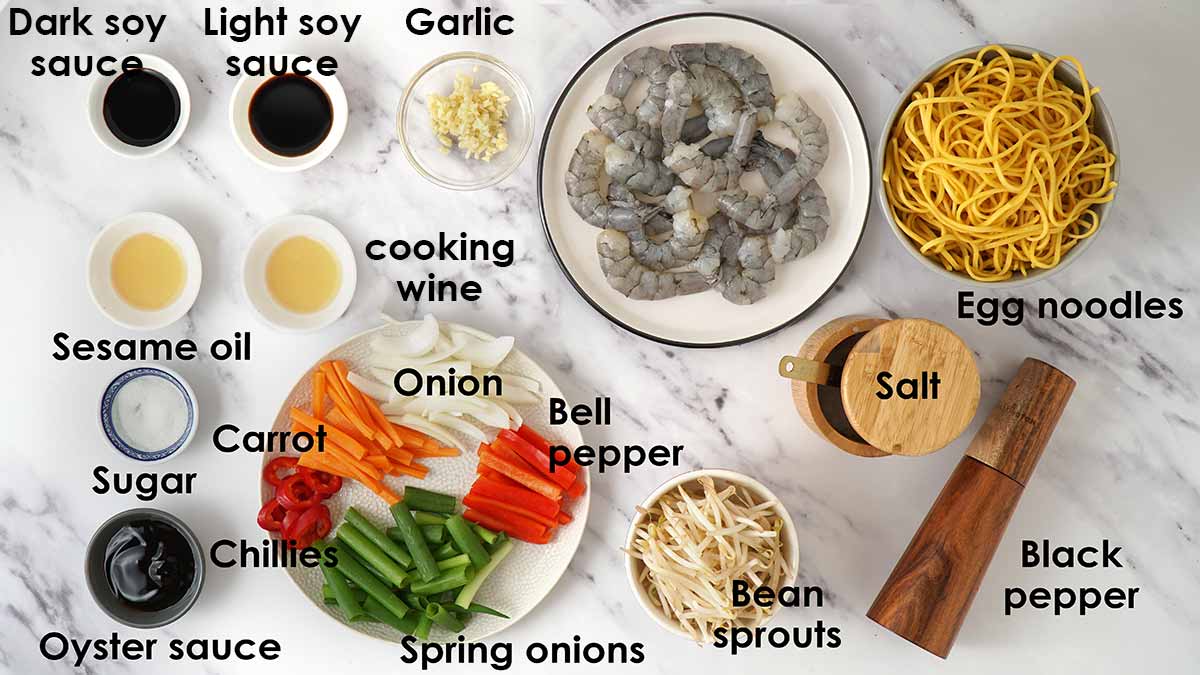 Prawns/Shrimp: King prawn is commonly used in seafood chow mein in the UK. Large jumbo king prawns, king prawns, tiger prawns, or even white prawns work well. Prawns should be peeled and deveined.
Can I use cooked prawns? Fresh prawns are the sweetest and taste best, however, if you cannot get fresh prawns, you can use frozen cooked prawns. Defrost the prawns according to the packet instructions and add in the wok after stir-frying the garlic and vegetables.
Other protein choices: You can also add chicken, pork, or any of your favourite protein cut into small pieces. Quorn meat and firm tofu can be added for vegetarians.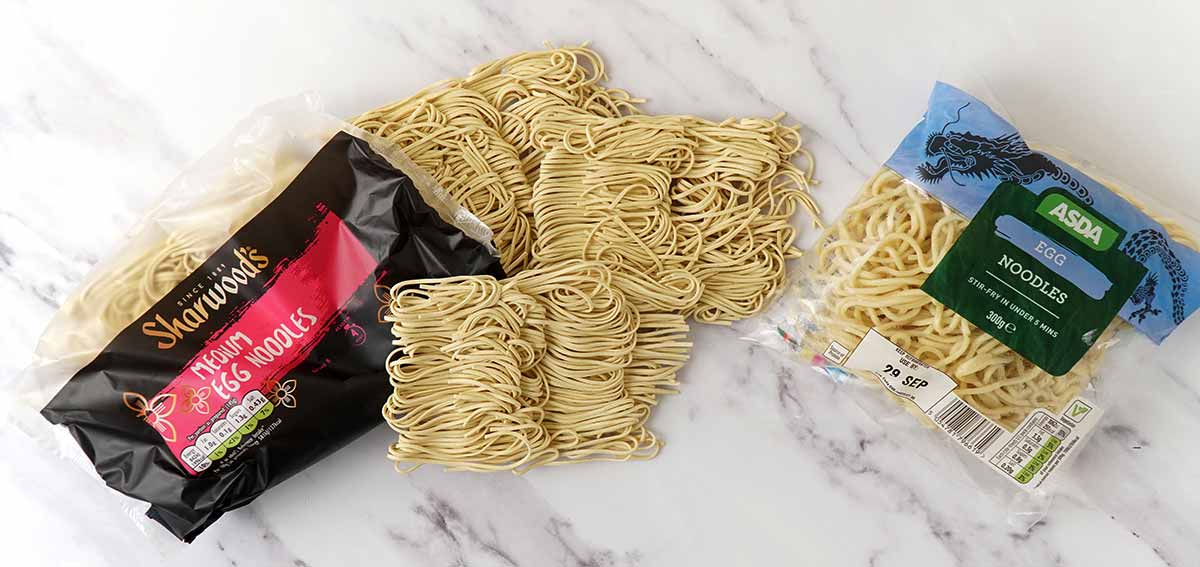 Egg Noodles: I used fresh egg noodles in this recipe which is easy to buy in most supermarkets. You also use medium-thick dried egg noodles or feel free to use ramen noodles, yakisoba noodles, any noodle packet left in your pantry.
Stir Fry Sauce: Make a classic chow mein sauce with oyster sauce, light soy sauce, dark soy sauce, sesame oil, and sugar. This is a basic stir fry sauce that you can add to any stir fry dish. We use this sauce mixture in most of our stir fry recipes.
Vegetables: Bean sprouts, onions, carrots, spring onions, cabbage are commonly used vegetables in takeaway style. Swap with your favorite stir fry vegetables and add the hard vegetables first before you add your noodles.
How to make prawn noodle stir fry
Gather all ingredients before you start heating the wok. You can also check out our step-by-step cooking video instructions in the recipe card.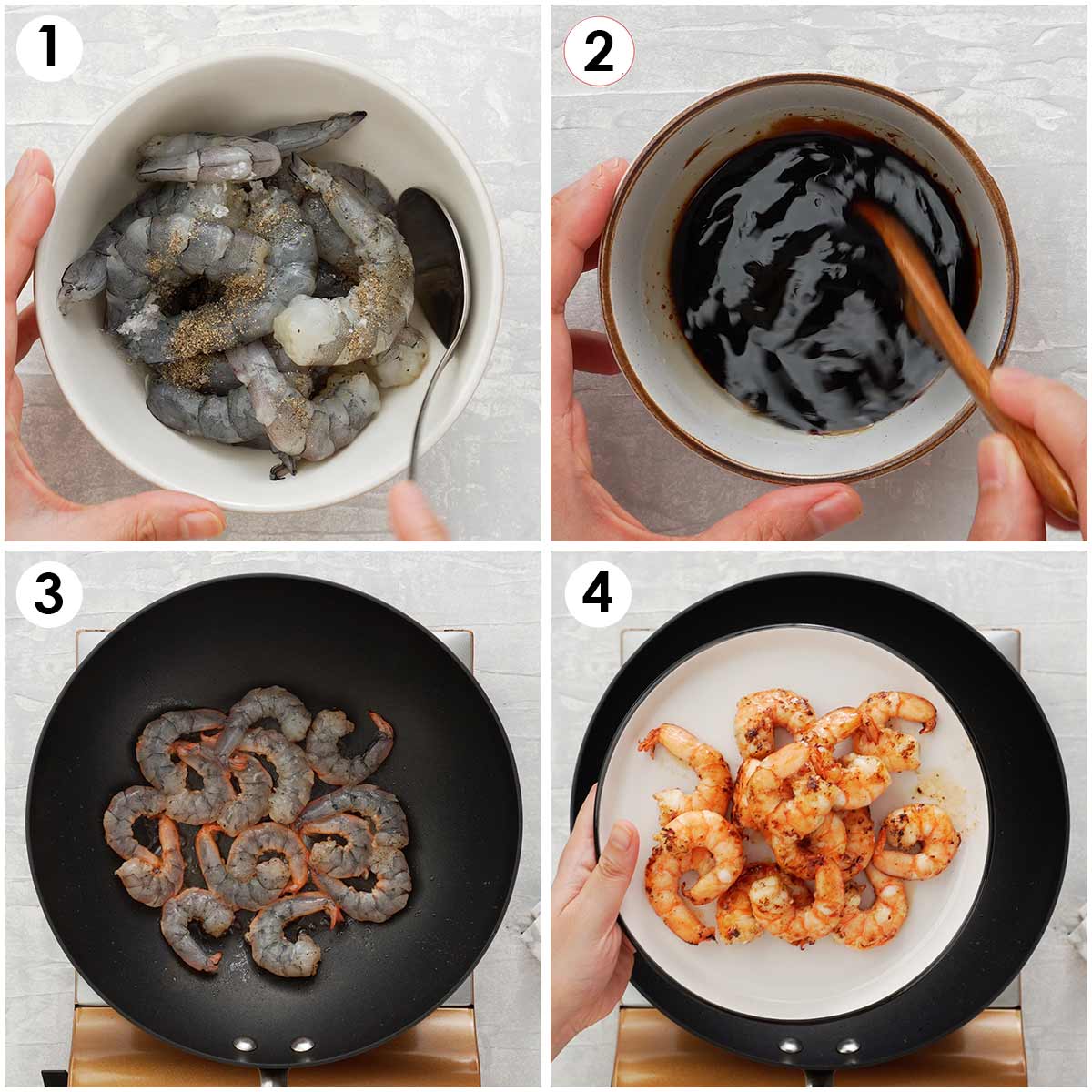 First, season the prawns with salt, pepper and a splash of Shao Xing wine.
Mix all the stir fry sauce ingredients in a small bowl and set it aside.
Heat the large wok/pan into medium-high heat and stir fry the prawns for 2-3 minutes until cooked through.
Remove the prawns from wok and set it aside.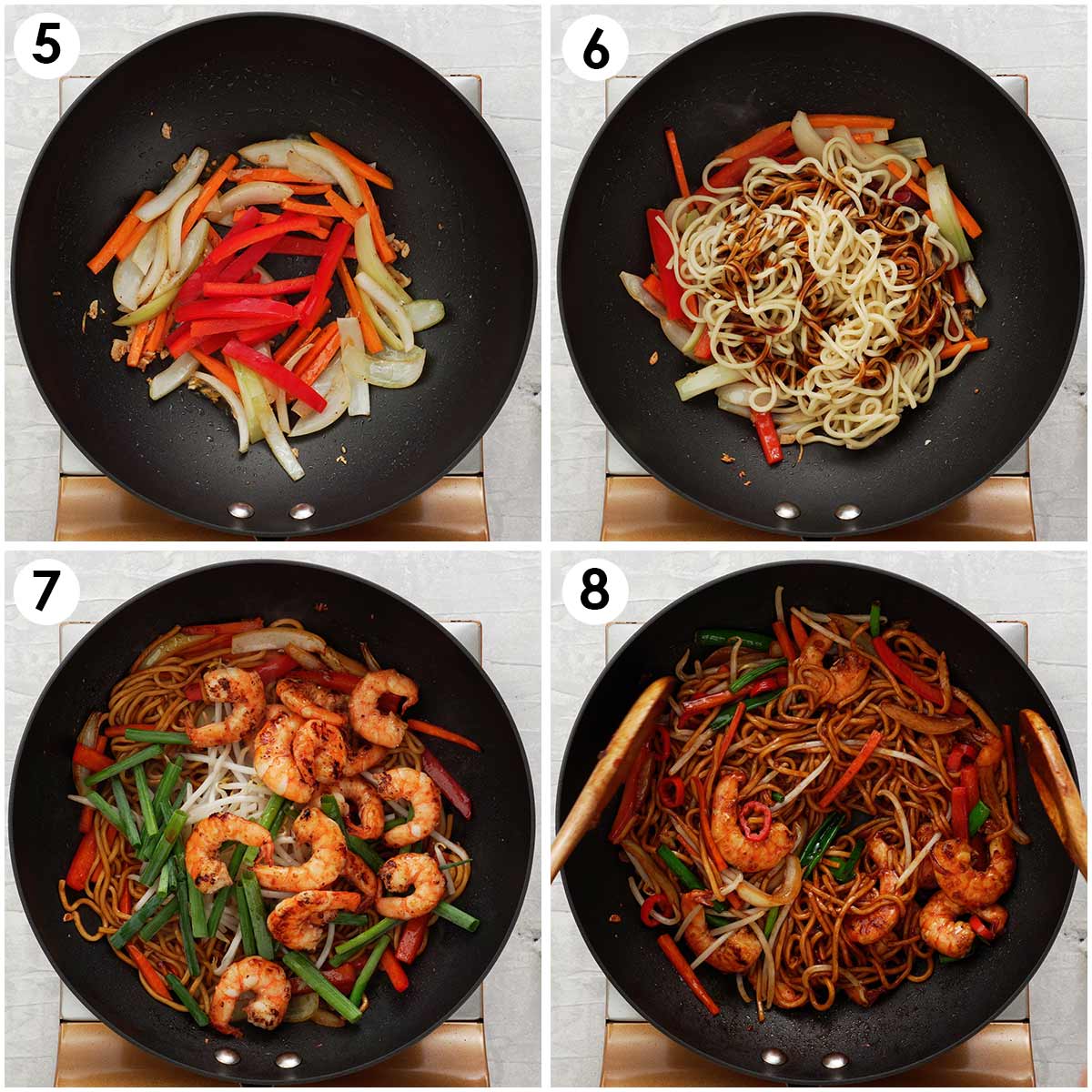 In the remaining wok, drizzle more oil and stir fry the garlic for few seconds and follow with the onion, carrot and bell pepper. Cook for 1-2 minutes.
Next add the noodles and pour the sauce over the noodles. Cook over medium-high heat for 2-3 minutes.
Place the cooked prawns back in the wok, along with spring onions, chilli slices and bean sprouts.
Toss well to combine everything and stir fry for another 1-2 minutes. Transfer to serving plate and serve immediatly.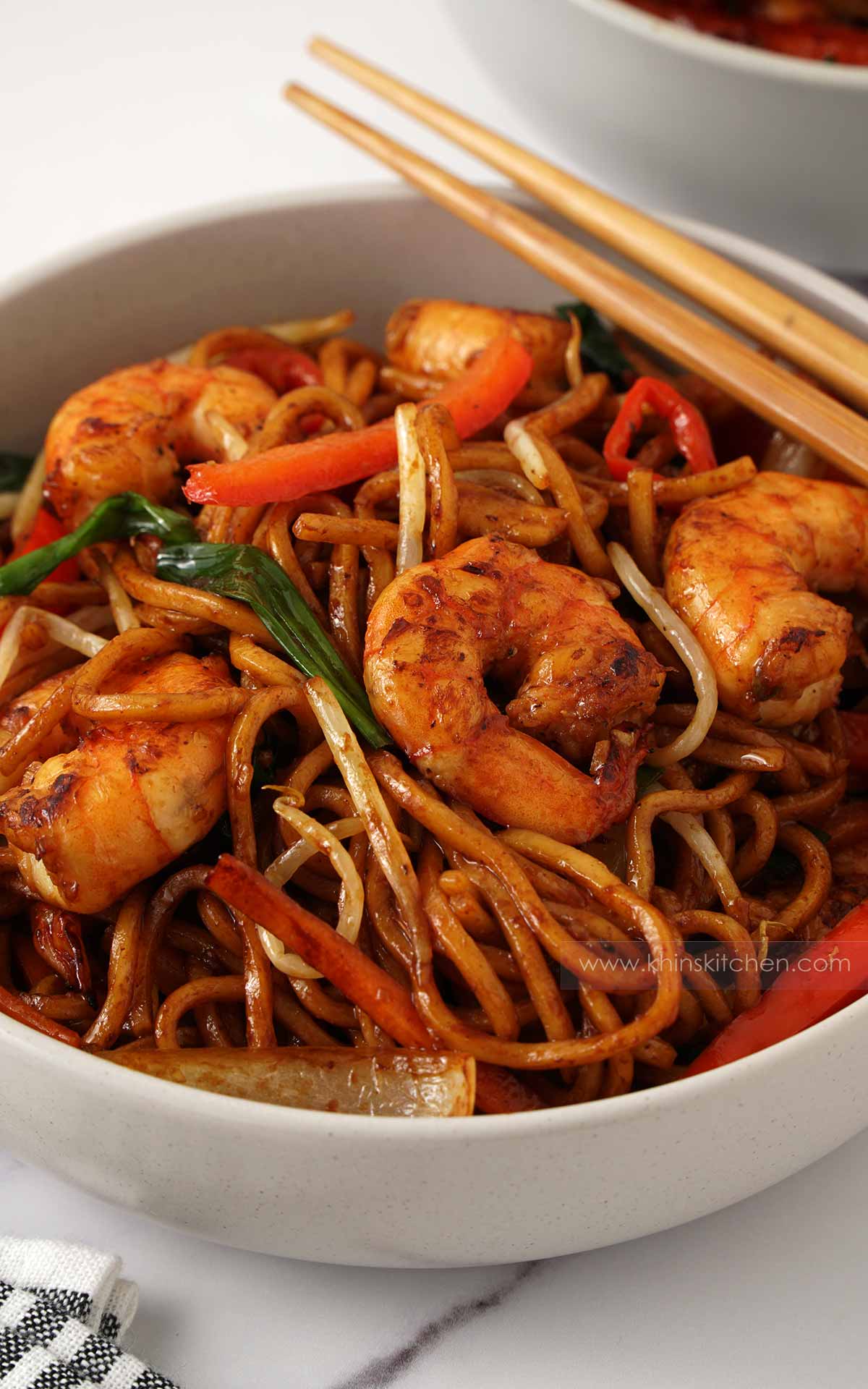 Top tip
Always rinse the bean spouts with water even the packaging says its washed, for extra safty. If I have time, I remove the bean sprouts tail as I love to have it without tails. But that is quite time consuming and is totally fine to eat with tails.
Sometimes the supermarket fresh noodles are very oily, you can rinse with hot water, drain the oily water out. Then rise with cold water again to stop the cooking process and prevent the noodles from too soft.
Do not overcrowd the pan, make sure the pan is hot enough to prevent it from soggy.
If you are making for crowd, fry with batches if needed.
FAQ
What is authentic king prawn chow mein?
Chinese restaurants and takeaway style are usually made with the same ingredients and sauces that we cook at home. The main difference is the wok they use. Authentic Chinese restaurants and takeaway chow mein are cooked with high heat traditional Chinese wok which creates the unique wok flavour called ' wok hei '.
Do you need a Chinese wok to make this dish?
If you don't have it at home you don't need to! Use any large non-stick wok or pan to give enough space and heat for stir fry ingredients.
Can you store or reheat it?
It tastes best when freshly cooked. However, you can store it in a fridge in an air-tight container for up to 2 days. Reheat in the microwave or over the stovetop for 1-2 minutes until piping hot just before serving.
More Stir Fry Noodle Recipes
Keep updated with new recipe:
We are on social media Facebook, Instagram , YouTube ( New recipe video every week ) and Pinterest ( Pin your favourite recipes ). If you've tried this recipe, please share your comment or post on social media and tag me. I would love to see your creations and feedback.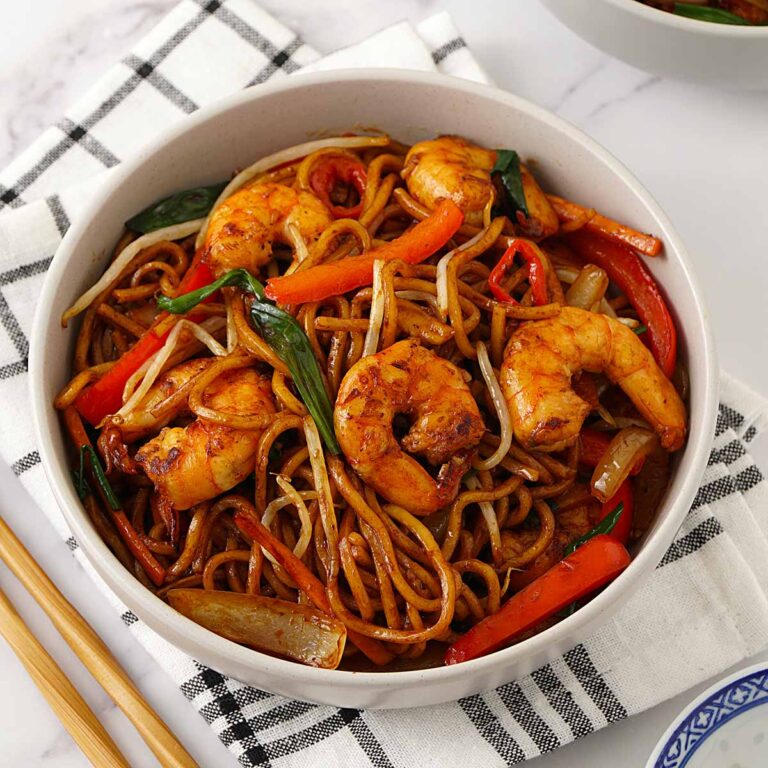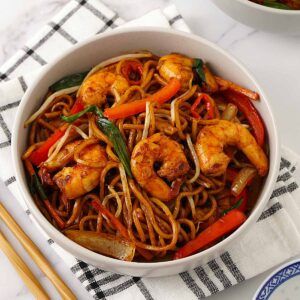 Prawn Chow Mein
Easy Prawn Chow Mein recipe made with Jumbo King Prawns, egg noodles, and delicious stir fry sauce. You can make your own at home in 20 minutes with simple ingredients! Faster and tastier than ordering from takeaway!
Print
Pin
Rate
Ingredients
250

g

Prawns

King prawns, tiger prawns/shrimp ( peeled and deveined )

¼

tsp

Salt

¼

tsp

Black pepper

1

tsp

Shao Xing wine

Chinese rice cooking wine ( optional )

300

g

Egg noodles

Fresh/cooked egg noodles

1

tbsp

Garlic

Finely chopped

½

Onion

Cut thin slices

1

Carrot

Julienne

1

Bell pepper

Julienne

3

Spring onion

Cut 2" pieces

120

g

Bean sprouts

1

Red chilli pepper

Optional, Cut thin slices

2-3

tbsp

Vegetable oil
Chow Mein Sauce
2

tbsp

Light soy sauce

2

tsp

Dark soy sauce

4

tbsp

Oyster sauce

1

tsp

Sesame oil

1

tbsp

Sugar
Instructions
First, season the prawns with salt, black pepper, and Shao Xing wine. Boil the dried noodles by the packet instructions or use fresh egg noodles. Mix all the chow mein sauce in a bowl and set it aside.

Heat the large wok/pan into a medium-high heat, drizzle a tablespoon of oil. Saute the prawns for 2-3 minutes or until prawns clour changed, then remove from pan and set it aside.

In the remaining pan, drizzle 1-2 tablespoons of oil, and saute the chopped garlic for few seconds with medium heat. Then follow with the onion slices, carrot, and bell pepper slices. Stir fry for 1 minute.

Next add the noodles, pour the sauce mixture, toss well and cook for 2-3 minutes over medium-high heat.

Place the cooked prawns back in the wok, follow with spring onions, bean sprouts, and chilli slices. Toss well until all the ingredients combine evenly and cook for another 1-2 minutes.

Transfer to serving plate and serve immediately.
Notes
Prawns/Shrimp - You can use any of your favourite tiger prawns or king prawns, peeled and deveined. 
Cooked prawns - If you used frozen cooked prawns, defrost the prawns by the packet instructions and add the prawns after stir-frying the vegetables and follow with the noodles. 
Noodles - Use fresh egg noodles or dried egg noodles. If you use dried egg noodles, cook the noodles by the packet instructions but make sure not to overcook them and rinse with cold water after boiling. 
Shao Xing wine - is a Chinese cooking rice wine that eliminates the fishy odour of seafood and creates a nice aroma. You can omit it if you wish to make it a non-alcohol or halal version. 
Vegetables - Bean sprouts, carrots, and onions are classic chow mein vegetables. Feel free to customize the vegetables according to your preference.
Oyster sauce - Oyster sauce add tasty umami flavour to the dish, you can substitute with vegetarian stir fry sauce. ( available in Lee Kum Kee brand ) 
Chow mein sauce - is a basic Chinese stir fry sauce that you can also add to other stir fry dishes. You can make extra sauce, store it in an air-tight jar and keep it in the fridge for later use. 
Nutrition
Calories:
555
kcal
|
Carbohydrates:
90
g
|
Protein:
35
g
|
Fat:
7
g
|
Saturated Fat:
2
g
|
Polyunsaturated Fat:
2
g
|
Monounsaturated Fat:
2
g
|
Trans Fat:
1
g
|
Cholesterol:
218
mg
|
Sodium:
1469
mg
|
Potassium:
830
mg
|
Fiber:
7
g
|
Sugar:
12
g
|
Vitamin A:
4972
IU
|
Vitamin C:
83
mg
|
Calcium:
133
mg
|
Iron:
4
mg