Crispy Chilli Beef is a fried shredded beef steak tossed in sweet, spicy and savoury homemade sweet sauce. This recipe is a popular Chinese takeaway style shredded beef strips with a delicious sweet chilli kick. You will be amazed by how quick and easy to make at home with simple ingredients!
I love making restaurant style recipes at home and share it with friends. Here is more of our family's favourite stir fry beef and steak recipes you might want to try :
- Salt and Pepper Beef ( Chinese takeaway style salt and pepper seasonings )
- Shredded Beef ( Classic Chinese recipe )
- Pepper Steak Stir Fry ( Stir fry steak slices with black pepper sauce )

Sometimes it can be very disappointing when the takeout dishes are heavily battered and too sugary. I tried and tested this recipe at home and and succeeded this recipe and taste better than my favourite restaurant! My friends and family really enjoyed this recipe and I highly recommend to try at your home. I can guaranteed that your guest will definitely impressed by your Chinese cooking skills. If you know the right amount of ingredients and follow the simple instructions, you can achieve the restaurant quality cuisine, way better than your local takeout.
3 Simple Tips
Coating (The Batter) : To make the Chinese crispy beef batter you will need only 2 ingredients corn starch/flour and one egg. That's it! Here is my answers for frequently asked questions.
Why corn starch/flour? Corn starch/flour is the key ingredients to keep the coated skin airy crisp texture. So I highly recommend to use corn or potato starch/flour as a coating.
Can I use plain flour? Plain flour or regular all purpose flour is not recommended, as the gluten from the flour can soften the coating. You will not achieve the crisp texture.

The Marinade : Use nice tender steak cut for this recipe, like sirloin, tenderloin, rib-eye, rump steak, etc. Season the steak slices with soy sauce, ginger garlic paste, sesame oil, sugar and white pepper.
If you wish to use cheaper cut, tenderise it by adding half teaspoon of baking soda and half teaspoon of corn starch in the marinade. It's a Chinese method of tenderising meat and also known as meat velveting.
The most important part is how to cut the steak ? Check the direction of the meat grain direction first, then slice it against the grain into thin slices.

Crispy Chilli Beef Sauce : To achieve the well balance sweet chilli sauce, you will need soy sauce, sugar, vinegar and ketchup as a base sauce. Add sweet chilli sauce for a kick of chilli flavour and extra vibrant taste. As many of you have asked, which brand to use, I usually use Blue Dragon or Mae Ploy sweet chilli sauce for this recipe. As these sauces are available in all most all supermarkets and online.
This Dish is Very Versatile
You can toss the fried beef strips with sweet chilli sauce and serve it on its own. Or you can pair it vegetables like broccoli/carrot and make it into crispy chilli beef with broccoli/carrot. Or make ultimate crispy beef salad by tossing with any of your favourite crunchy vegetables.
How to make Crispy Chilli Beef Recipe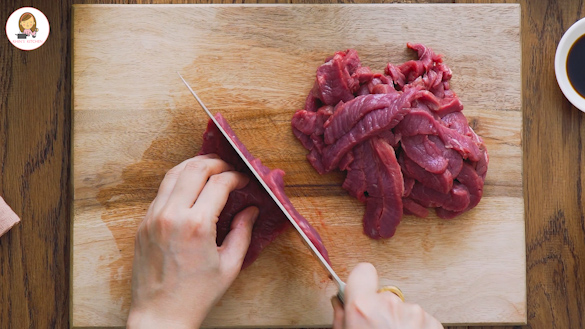 First of all, cut the steak into thin strips against the grain.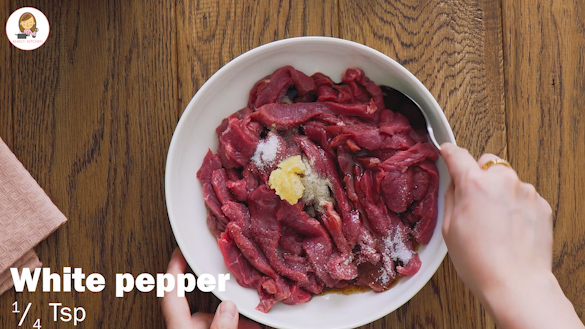 Mix all the ingredients from the marinate list and rest it for at least 15mins. You can leave it longer if you have more time.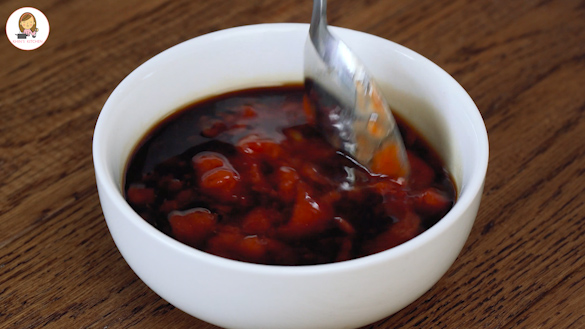 Combine all the sauce ingredients in a mixing bowl and set aside.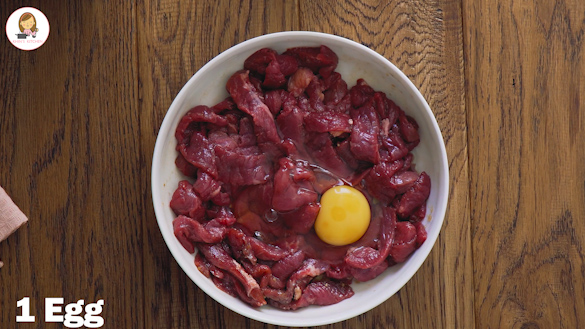 Add one egg into marinated beef slices and mix it well.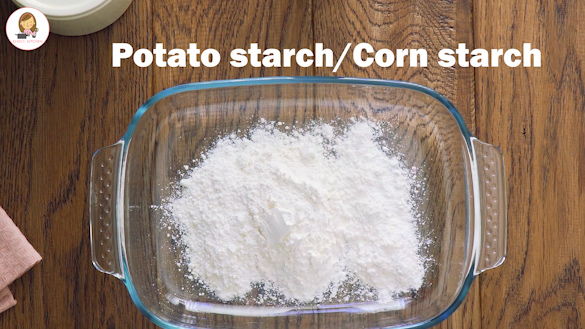 Coat the beef strips with corn flour in a tray. If the flour is not enough, add more flour if needed.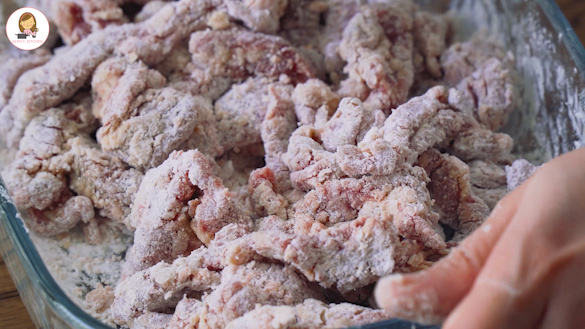 All strips should separated and coated well.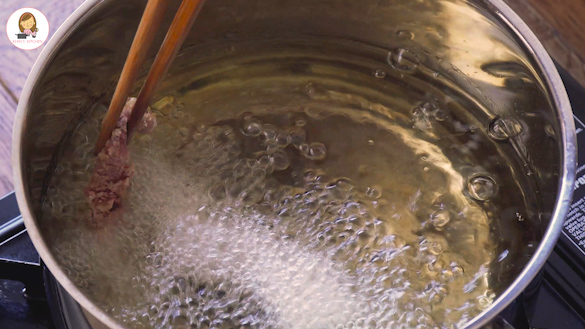 Fry with pre heated oil about 350° F for 1-2 mins until crispy golden brown. Remove from oil and transfer to paper towel or cooling rack.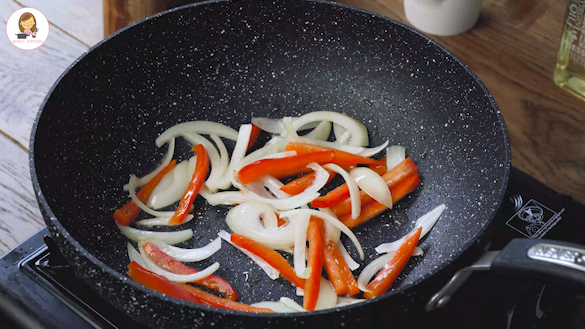 Toss the vegetables with medium high heat for a few seconds.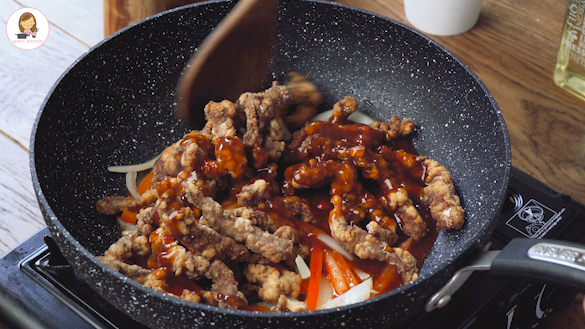 Place the fried beef strips and sauce mixture in. Follow with fresh chilli and spring onions, toss all ingredients with high heat for one to two minutes.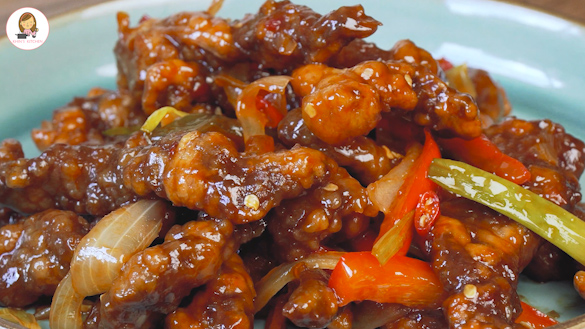 Transfer to serving plate. Serve immediately!
How to Serve This Dish
Serve it as a starter/savoury snack with Chinese tea or your favourite cold drink. I love to have it with simple steamed rice, fried rice or stir fry noodles and make it a main meal.
More of My Delicious Chinese Stir Fry Recipes
Watch How to Make It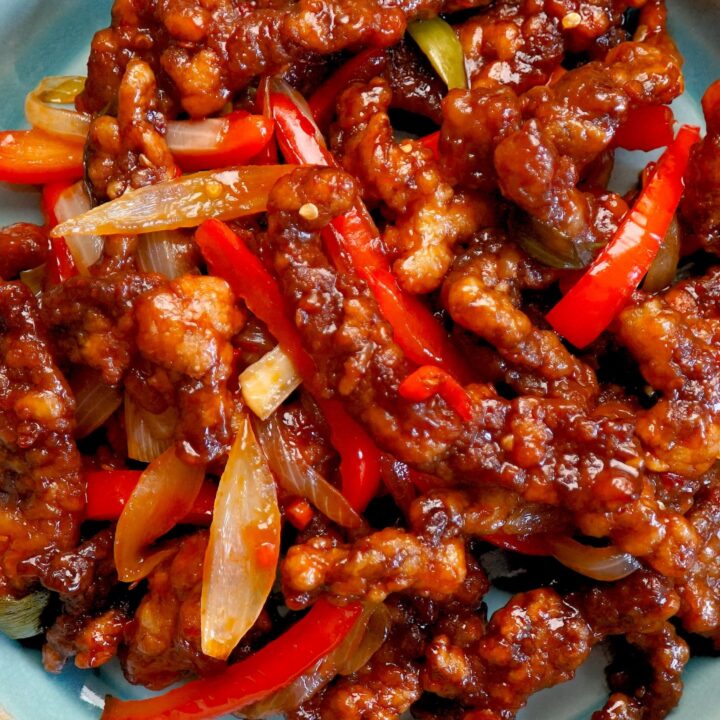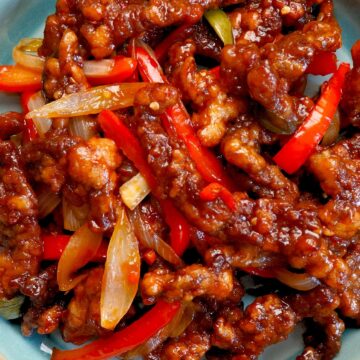 Crispy Chilli Beef with Sweet Chilli Sauce
Fried beef steak and fresh vegetables tossed in sweet chilli sauce. Better than takeout crispy chilli sweet beef recipe can be prepared in no time.
Print
Pin
Rate
Ingredients
INGREDIENTS
200

g

Rump/Sirloin steak

( or any tender steak cut )

1

Egg

1

cup

Corn/Potato Starch (Flour) 

½

Sweet Onion

½

Bell Pepper

2-3

Spring Onions

2-3

Birdeye/hot chillies
Marinate for Beef Steak
1

tbsp

Light soy sauce

1

tsp

Ginger garlic paste

1

tsp

Sesame oil 

½

tsp

Sugar 

¼

tsp

White Pepper 
Stir Fry Sauce
3

tbsp

Sweet Chilli Sauce

2

tbsp

Ketchup

2

tbsp

Light soy sauce

1

tsp

Vinegar

( white or rice )

1

tbsp

Sugar

½

tsp

Salt 
Instructions
Cut beef into thin strips. Marinate the beef strips with the all ingredients in the marinate list. Mix well and marinate for 15 mins.

In a small bowl mix all the ingredients from the stir fry sauce list and set aside.

Break one egg into the the marinated beef strips. Mix well.

Coat the beef strips with corn/potato flour. Make sure all the beef strips are seperated. Toss the excess flour out before frying.

Heat the oil into hight heat about 350 F. Add the coated beef and deep fry for 1-2 mins till crispy.

Remove from oil and transfer to paper towel or cooling rack.

Heat the wok/pan to medium high heat. Drizzle a tablespoon of oil, add the cut onions and stir for few seconds. Then add the pepper slices, stir well.

 Add the fried beef strips. Pour the sauce mix, add the spring onions and fresh chillies. Stir well to combine all ingredients with high heat for 1- 2 mins.

Transfer to serving plate. Serve immediately!

Match with hot steamed/cooked rice or stir fry noodle. Perfect as a savory snack too!
Notes
The provided nutrition facts are approximate and can be vary based on several factors.
Nutrition
Serving:
484
g
|
Calories:
798
kcal
|
Carbohydrates:
105.68
g
|
Protein:
37.56
g
|
Fat:
26.75
g
|
Saturated Fat:
7.466
g
|
Polyunsaturated Fat:
4.987
g
|
Monounsaturated Fat:
10.887
g
|
Trans Fat:
0.009
g
|
Cholesterol:
381
mg
|
Sodium:
1343
mg
|
Potassium:
1202
mg
|
Fiber:
3.1
g
|
Sugar:
29.47
g
|
Vitamin A:
1444
IU
|
Vitamin C:
201.6
mg
|
Calcium:
111
mg
|
Iron:
7
mg
If you've tried this recipe, please leave a comment and give rating! I would love to see your creations, tag me on social medias and follow me on social medias Facebook, Instagram and Pinterest for latest updates.
You can try out my another shredded beef recipe (the winner recipe!) in below link.