Lightly battered crispy salt and pepper chicken with a chilli twist. These crispy bites are fantastic as a savoury snack or serve over rice as a delicious meal. Especially great with a Chinese tea or a can of cold drink. You can find salt and chilli chicken in all most all Chinese restaurants and takeout in UK. Its usually serve over a stir fry noodle or a steamed rice.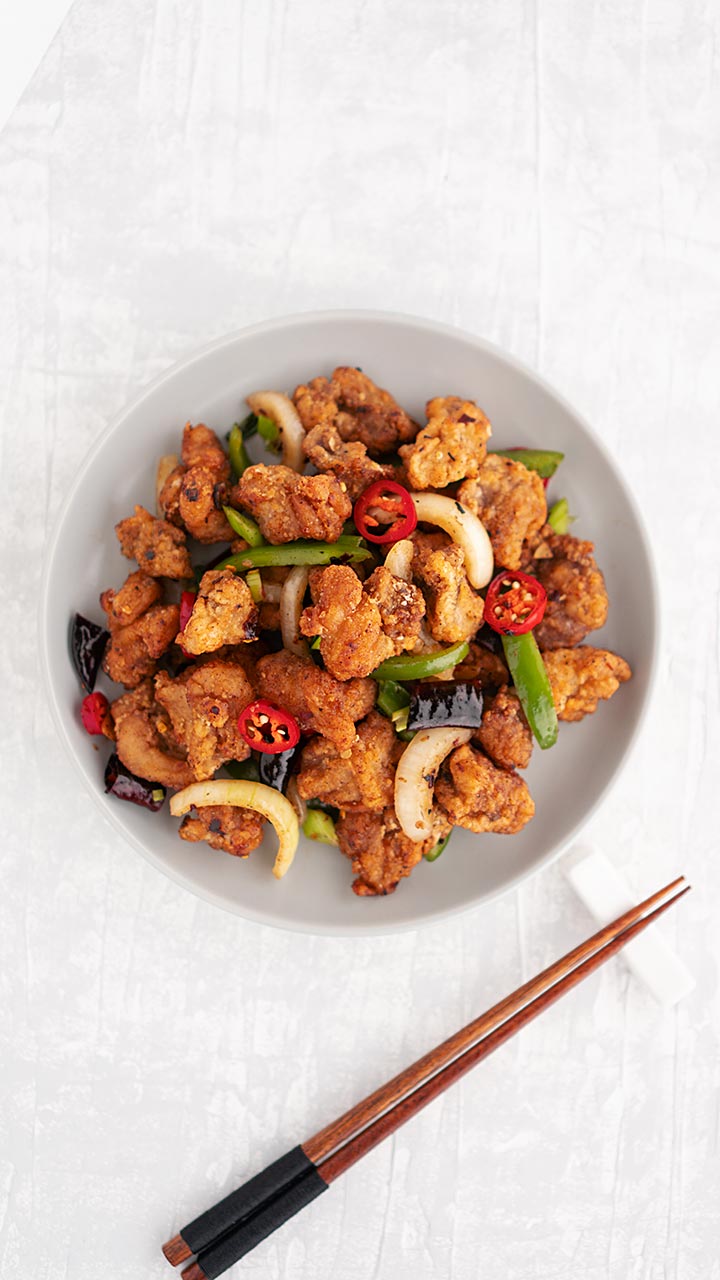 I love this dish when it is fresh cook, over a bed of steam rice. No one can resist the ultimate combination of aromatic spices and crisp chicken pieces and vegetables. Everyone who has tried this dish can tell you how tasty and addictive it can be. If you haven't try yet, I highly recommend to try at home.
When you make at home you can customize just how much spices, chilli and vegetables you want. Learn our simple tips and make your own salt and chilli chicken better than restaurant. You will find it much easier than you have imagined.
I've learned this recipe from our Chef, the time we used to open takeaway shop in London. My recipe is not exactly same like he used to make because I add some extra chilli and make some adjustment according to my taste. My friends and family really enjoyed this recipe whenever I make at home.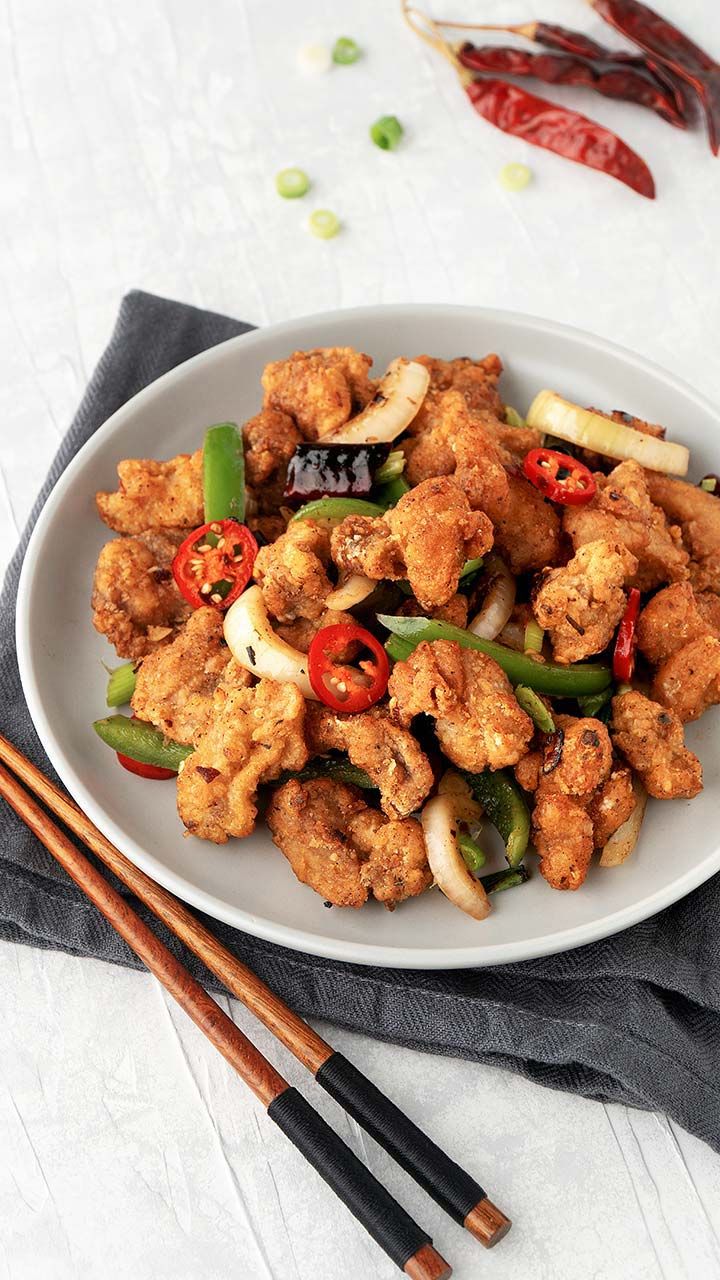 WHAT MAKES CRISPY SALT AND CHILLI CHICKEN SO SPECIAL:
A perfect crowd pleasing dish, party snack, starter or go-to main meal.
Outside batter is so light and super crispy, but the inner meat is so juicy and tender.
So satisfying and addictive. Unstoppable to take another bite!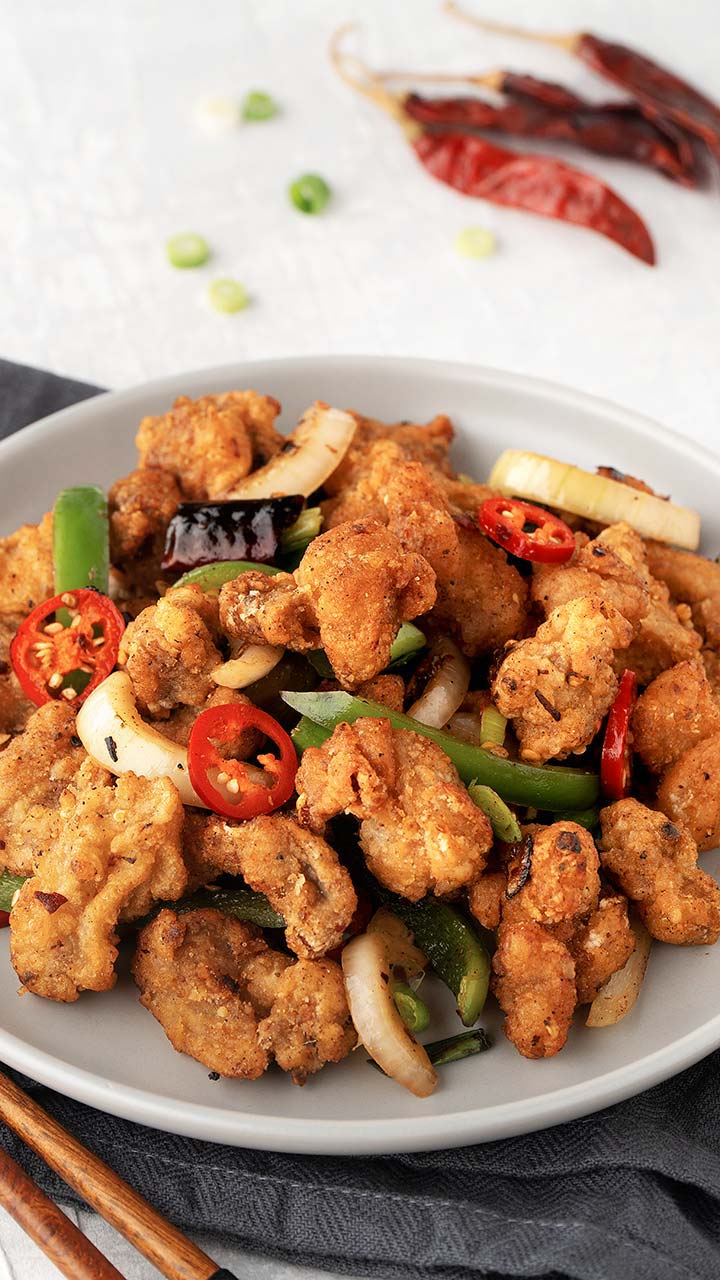 4 SIMPLE STEPS TO MAKE PERFECT SALT AND CHILLI CHICKEN:
You need only 4 simple steps to make this restaurant style dish.
Marinate the chicken pieces with soy sauce, garlic, baking soda and sesame oil.
Coat with corn starch to make it extra-crunchy coating.
Deep fry until crispy golden brown.
Toss with vegetables and seasoning spice mix.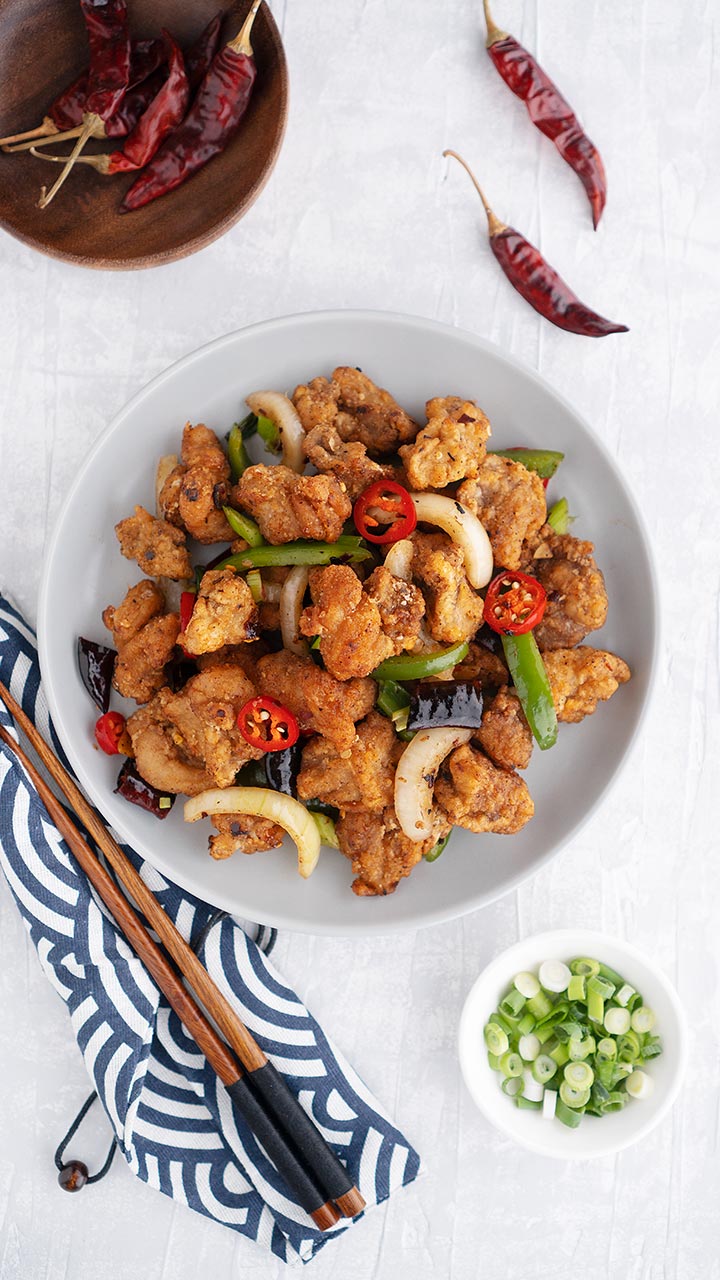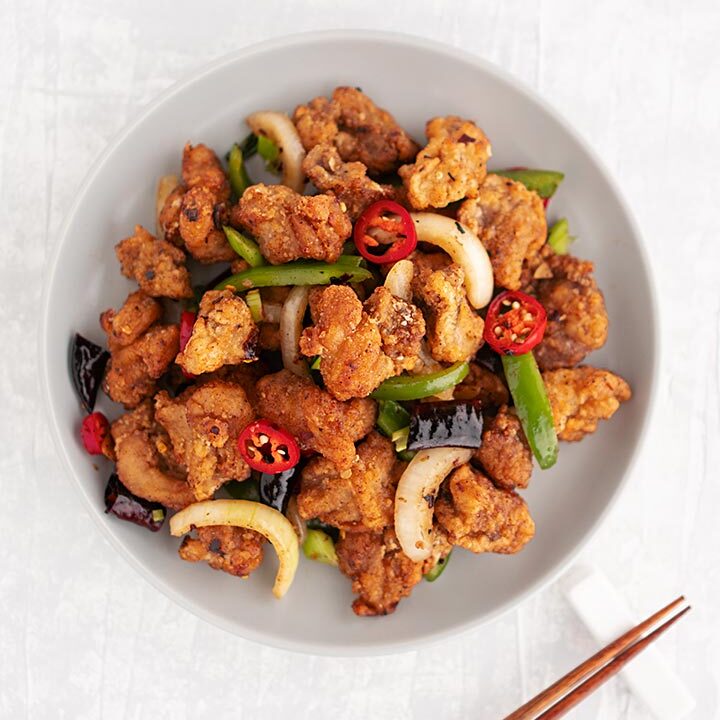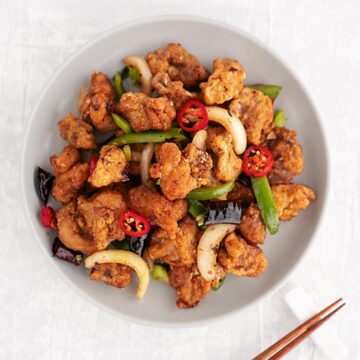 Crispy Salt and Chilli Chicken
Lightly coated crispy chicken tossed with crisp vegetables and aromatic seasonings.
Print
Pin
Rate
Ingredients
250

g

Boneless chicken thigh

1

cup

Corn starch (flour)

½

Sweet onion ( cut thin slices )

½

Green pepper ( cut thin slices )

2-3

Dry red chillies ( cut half and deseeded )

1

tsp

Crushed chilli flakes

1

Fresh red Chilli ( cut thin slices )

2

Spring onions ( cut thin slices )

2-3

Garlic cloves ( chopped or sliced )

Oil for frying

( Sunflower, canola, peanut or any neutral flavoured vegetable oil )
Marinade for chicken
1

tbsp

Soy sauce

1

tsp

Sesame oil

¼

tsp

white pepper

1

tsp

Garlic paste (finely grated garlic)

¼

tsp

Baking Soda
Spice Mix
½

tsp

Salt

½

tsp

Black pepper powder

¼

tsp

Chinese five spices

¼

tsp

Chicken powder

(optional)
Instructions
First of all, cut the chicken thigh into small bite size pieces. Mix the chicken pieces well with the soy sauce, sesame oil, garlic paste and baking soda. Set aside and marinate for at least 15 minutes. If you have more time you can let it sit for more time.

Cut into half and deseed the dry red chillies. Cut all the vegetables into thin slices.

In a small bowl, add all the spice mix ingredients, mix well and set aside.

Coat the marinated chicken pieces with corn starch(flour). Make sure each chicken pieces separated and well coated. Toss the excess flour out before frying.

Heat the oil to about 350°F. Deep fry the chicken pieces until crispy golden brown. Remove from oil and set aside.

In a large wok or pan, drizzle 1 tablespoon of vegetable oil, fry the garlic with medium heat for few seconds, then add the dry chilies and stir for few seconds. ( Dry chilies can burnt very quickly, you need to stir very quickly and add the next ingredients. )

Follow with the crushed chillies and onion, pepper and fresh chilli slices. Stir well for 1 minute.

Add the fried chicken pieces back in the wok, sprinkle the spice mix in. Toss well to combine all ingredients evenly.

You can serve over steamed rice or stir fry noodle and make it a meal or serve on its own as a savoury snack. Enjoy!
Notes
If you want to taste exactly like your favourite takeout, you can add chicken powder in the spice mix. But that is totally optional, you can skip it if you don't like chicken powder.
You can adjust the amount of dry chillies, crushed chillies and fresh chilli according to your spice level. 
This recipe can serve up to 2 person as main meal Or up to 4 person as a side/appetizer. 
I have many more other crispy chicken recipes that my friends and family enjoyed. You can find it here :