Authentic Szechuan Chinese Style Kung Po King Prawn recipe made with jumbo king prawns, spicy, sweet, slightly sour, savoury delicious sauce. The taste of hotness and sweetness combined together in the sauce makes this dish so special. Serve over a bed of plain rice or noodles. Restaurant quality Kung Pao Prawn ready in 20 minutes!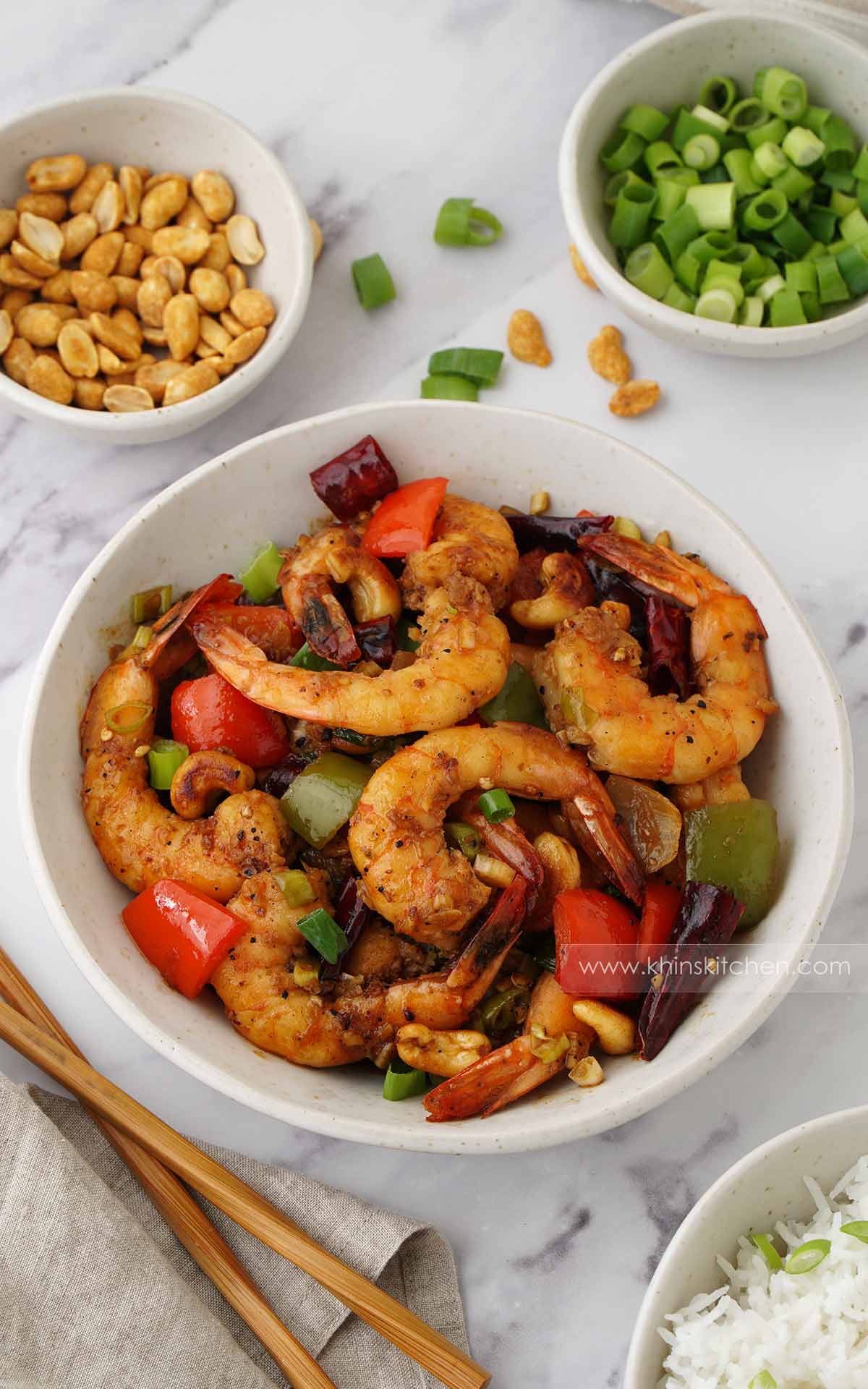 If you love to cook delicious Chinese prawn recipes at home, you will definitely like our Crispy Honey Shrimp, Prawn Fried Rice, and King Prawn Chow Mein recipes.
Jump to:
Origin of this dish
Kung Pao Prawn/shrimp is a sister dish to Kung Po Chicken and the cooking method is very similar in general. Aromatic Sichuan chilies and Sichuan peppercorns are key ingredients to make this authentic Szechuan-style cuisine and also the savory stir fry sauce includes the unique Chinese black vinegar. This dish is slightly different from UK Chinese Takeaway recipes which are usually made with battered fried king prawns tossed in thick, sweet, and savory sauce.
Maybe you might already know that Kung Pao or Gung Pao chicken is originated in Sichuan province, China. It is a popular dish across Asia and is found often on family dinner tables. Originally, Kung Po was made with Chicken but it can also be made with prawns, shrimp, pork, beef, tofu, any meat, or seafood of your choice.
Once you know the recipe and how to make the sauce, you will find it very fun to cook with different varieties of protein and vegetables. In this recipe, I am sharing our recipe on how to cook gong bao prawns with cashew nuts with simple and easy cooking steps. Create your own delicious Chinese dinner at home with minimum ingredients.
Ingredients you need
Prawns, Sichuan peppercorns, Sichuan dried chilies, soy sauce, sugar, and Chinese black rice vinegar are essential to prepare this dish and the rest will be the regular vegetables and kitchen ingredients. Following is the quick guide on ingredients and the detailed measurements will be on the recipe card at the bottom of the page.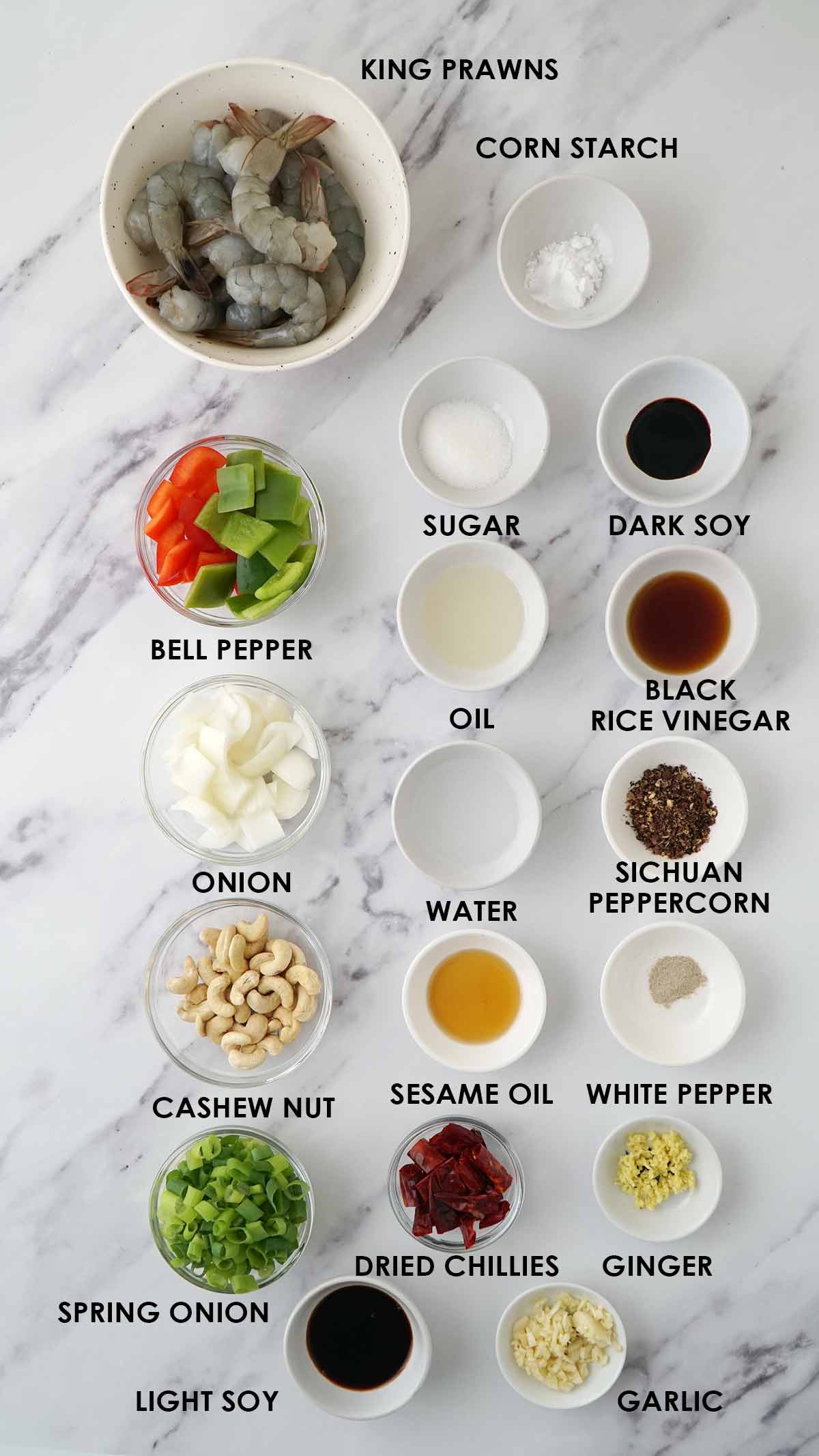 Prawns/Shrimp - You can use king prawns, jumbo king prawns, tiger prawns, regular white prawns, or shrimp for this recipe. Peel and devein the prawns and pat dry the prawns with a paper towel before seasoning them. Highly recommend adding fresh prawns instead of cooked prawns as the sweetness of fresh prawns tastes best with the dish. Readymade cooked prawns can be a bit rubbery when you toss them with sauces and less in flavor.
Sichuan Dried Chilies - If you cannot find Sichuan chilies easily, use your favorite dried long red chilies mild or hot. You can use whole dried chilies instead of the flakes to lessen the hotness. Use dried chilies flakes for the intense smoky heat but make sure not to burn them. As chili flakes can be burnt easily.
Sichuan Peppercorns – Widely used in Sichuan Chinese cuisines and highly recommended to add to this Authentic Kung Pao Prawn recipe. Freshly grounded Szechuan peppercorns give a hot, citrusy, tingling and numbing feeling that will make you want more after one bite.
Roasted Peanuts or Cashew Nuts - Crunchy golden peanuts are one of the key ingredients of this dish. You can also use the ready unsalted roasted peanuts or pan roast the raw peanuts to crispy golden perfection to add into the stir fry just before plating.
Ginger & Garlic - For a hot garlicky aroma, this recipe needs a generous amount of freshly chopped ginger and garlic.
Vegetables - Do not need a lot of vegetables. Just onions, bell peppers, spring onions, or scallions enhance the flavor and colour of the garnish.
Kung Pao Sauce – Make sure you have light soy sauce, dark soy sauce, sugar, Chinkiang Chinese black rice vinegar, and sesame oil.
How to make Kung Po Prawn in 20 minutes?
Firstly, season the prawns with soy sauce and ground white pepper. Mix all the stir fry sauce in a small bowl.
Pan roast the cashew nuts with a drizzle of oil. Once the cashew nuts are crispy golden, remove from heat and set aside.
In the remaining pan, stir fry the marinated prawns for only about 1-2 minutes. Then remove pan and set aside.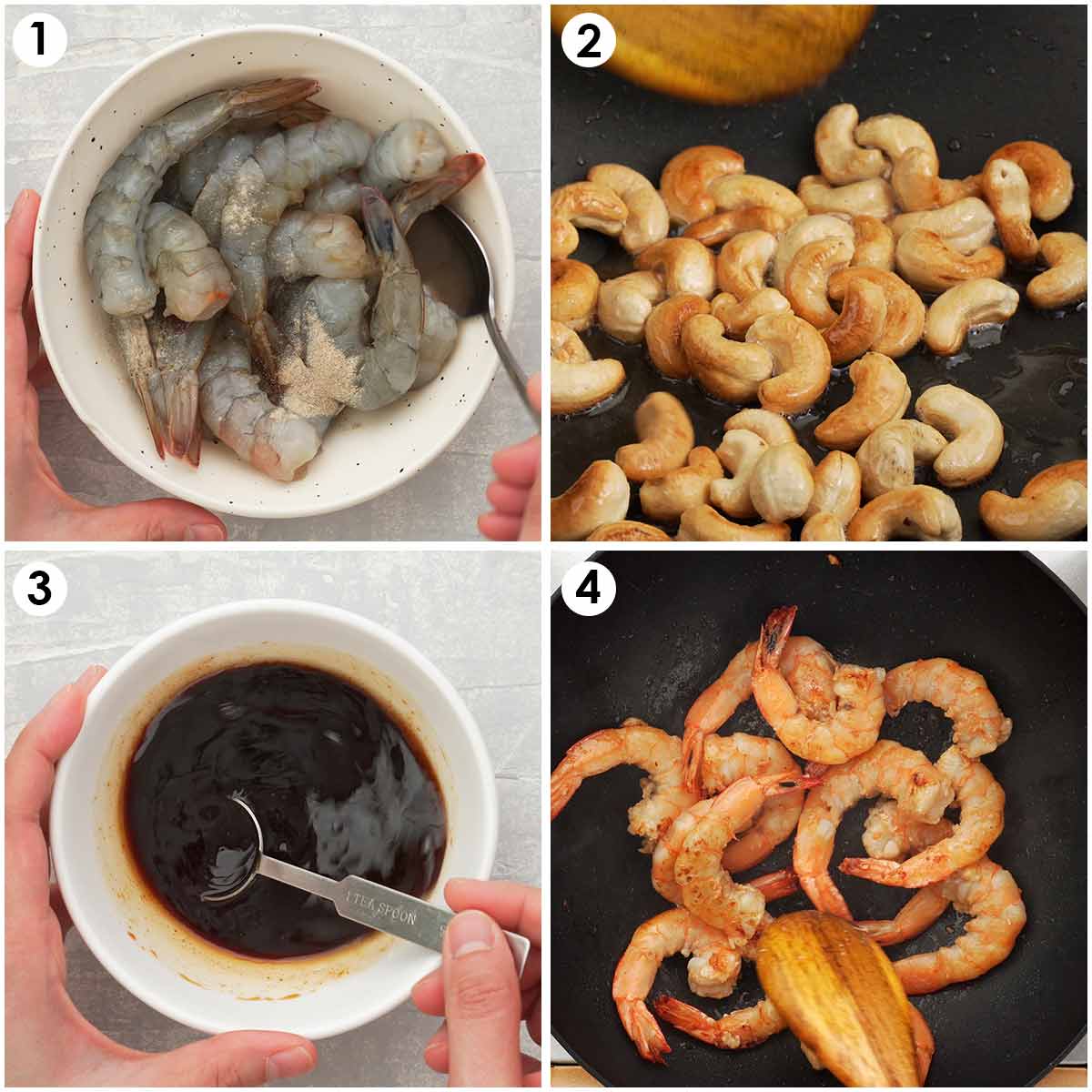 Add the onion dice, and dried chilies and stir fry for a few seconds. Follow with ginger, garlic, and Sichuan peppercorns. Add bell peppers and toss for a few seconds.
Place the fried prawns back in the wok and pour the kung pao sauce in.
Once the sauce is thick and glossy, finish with roasted cashew nuts, and spring onions. Combine well everything evenly.
Turn off the heat and transfer to the serving plate. Serve with plain rice or noodles.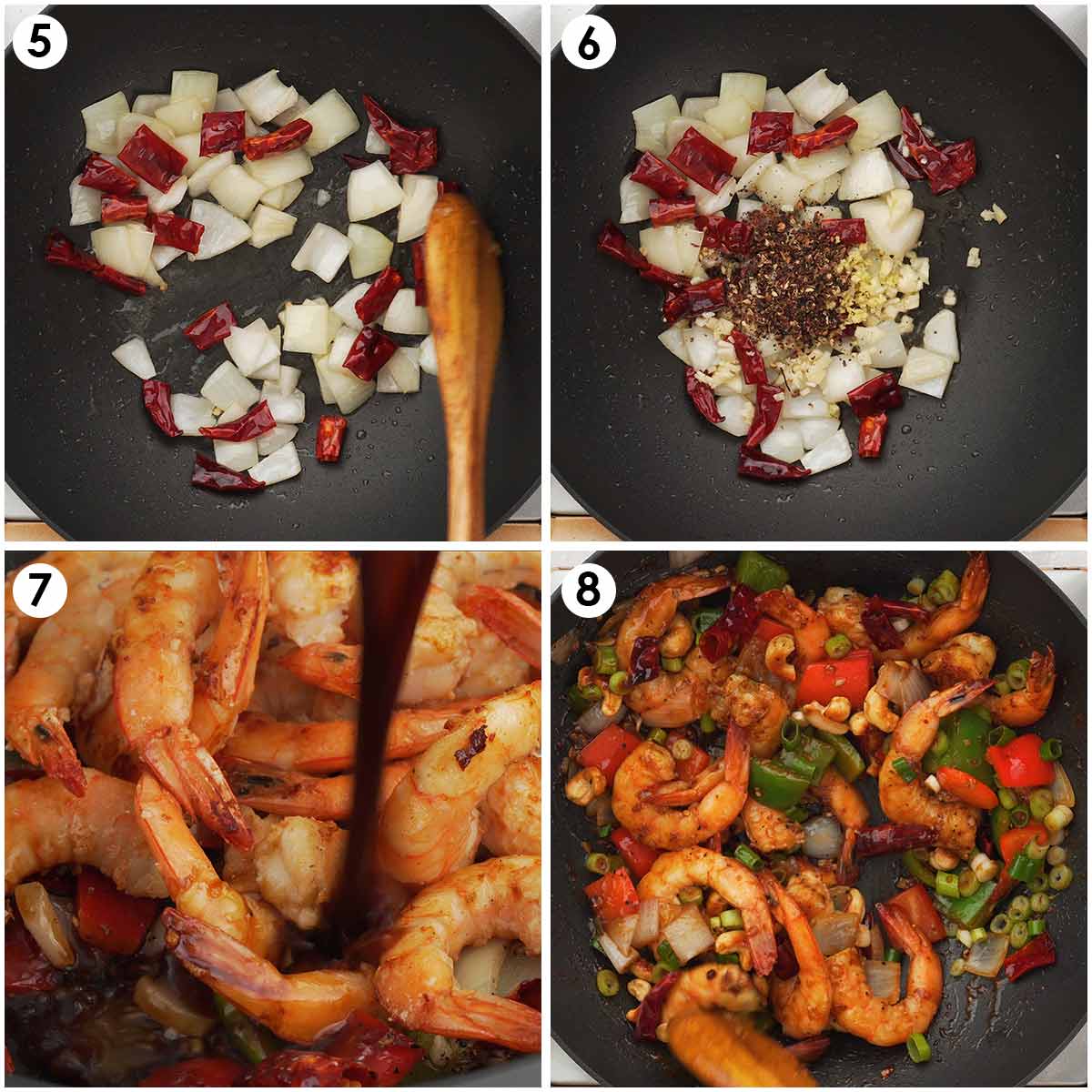 Pro Tips
Do not add the Sichuan peppercorns in whole as it can be a very hot and irritating numbing sensation if you bite it in whole. Crush the peppercorns with a mortar pastel or grinder in to medium or fine corse to your preference.
Toast the Sichuan peppercorns before crushing them to release more fragrant.
Use a large pan or wok to give enough space and heat for all ingredients.
Use high heat to stir fry the prawns quickly to achieve the juicy tender result. Overcooked prawns can be tough and rubbery.
Prepare all the stir fry sauce ingredients in one small bowl and also gather all chopped vegetables before you start cooking for a smoother and faster stir-fry process.
Do not toast the cashew nuts with high heat as they can burn easily. Pan roast with low heat and turn sides continuously. Remove from heat once they start turning to brown.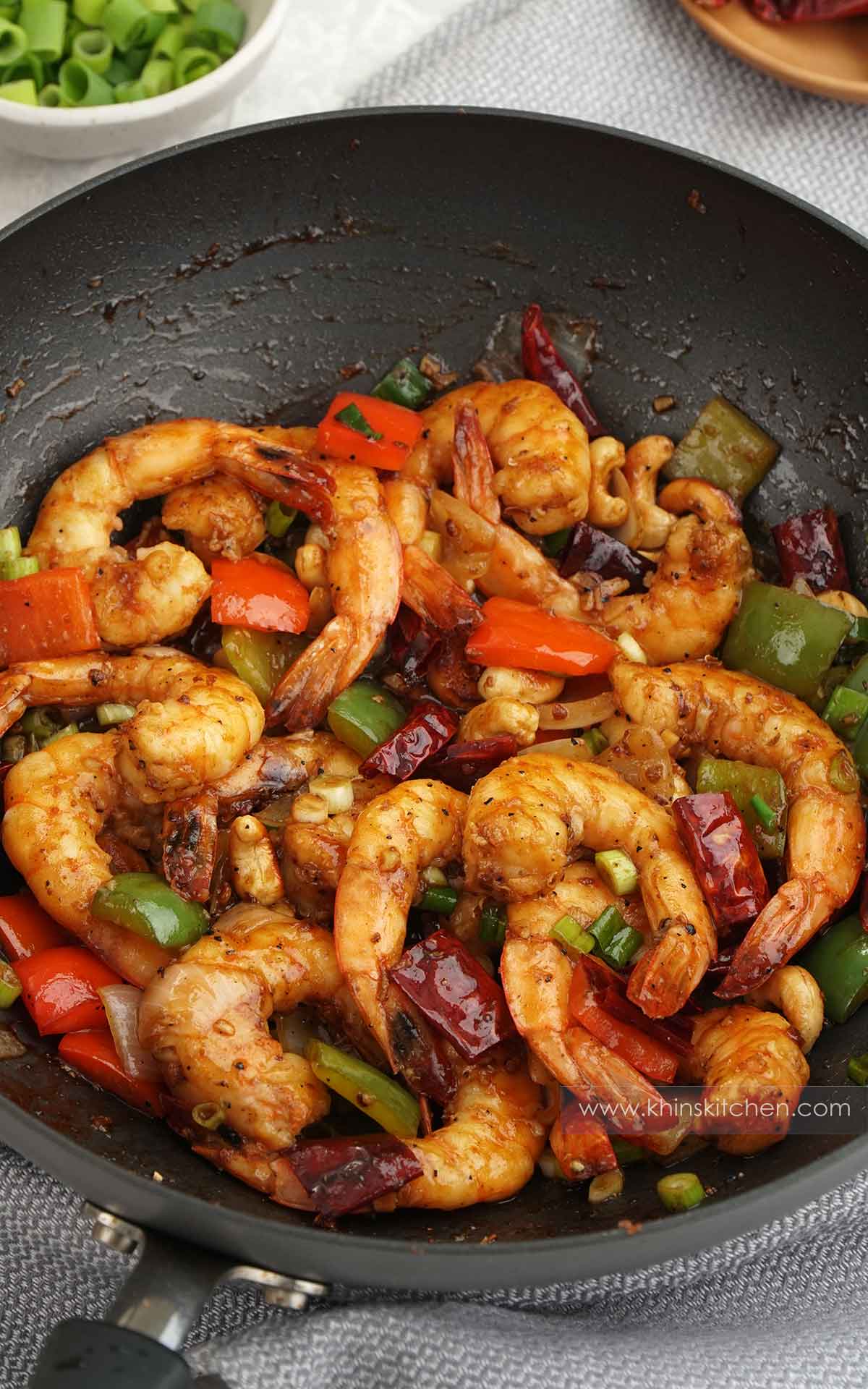 Frequently Asked Questions
Is Kung Po Prawn spicy? What does it taste like?
Kung Pao Shrimp is a hot and spicy Sichuan Chinese dish. The taste is spicy, sweet, sour, and savory at the same time. The amount of Sichuan peppercorns and dried chilies can be adjusted to your preference.
Can you make it ahead?
You can prepare all the vegetables, kung pao sauce, and prawns one day ahead and keep them in the fridge. Make a stir fry just right before serving.
How do you make Takeaway Style Kung Po King Prawn?
Kung Pao Prawn Takeaway recipe is very similar to Peking prawns which are made with fried battered prawns tossed in a sweet, spicy, savory sauce. UK Takeaway-style Kung Pao sauce is usually made with Hoisin sauce/hot bean sauce, soy sauce, tomato ketchup, sugar, dried chili flakes, or chili oil and do not contain any Sichuan peppercorns. Prawns are seasoned with salt, and pepper and coated with cornstarch, and deep fry until the coating is crispy then tossed together with roasted peanuts, plenty of vegetables, and the thick sauce. Spices and taste are modified to Western taste.
What to serve with this dish
We love to serve it with plain jasmine rice, egg fried rice, or stir fry noodles. You can also pair it with other soups or appetizers and make it a complete dinner. Following is a handful of classic Chinese recipes that you might like to serve together with Kung Pao Shrimp.
Stay updated on new recipes:
We are on social media Facebook, Instagram, YouTube ( New recipe video every week ), and Pinterest ( Pin your favourite recipes ). If you've tried this recipe, please share your comment or post on social media and tag me. I would love to see your creations and feedback.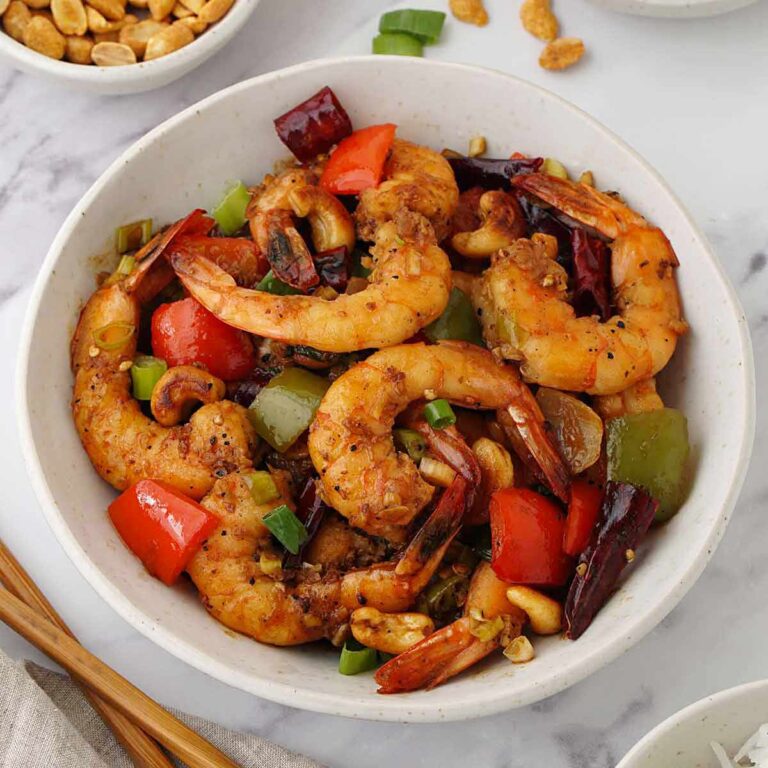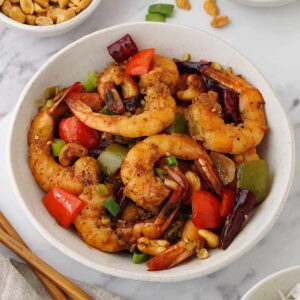 Kung Po King Prawn
Quick and easy Kung Pao Prawn recipe made with king prawns, crunchy cashew nuts, Sichuan peppercorns, dried chillies and savoury sauce.
Print
Pin
Rate
Equipment
Large wok or pan

( use traditional carbon steel wok or non-stick wok )
Ingredients
300

gram

King prawns

About 10.6oz, Peeled and deveined

½

Red bell pepper

Cut small squares

½

Green bell pepper

Cut small squares

½

Onion

Cut small dices

1

tbsp

Garlic

Finely chopped

½

tbsp

Ginger

Finely grated

3-4

Spring onions

8-10

Dried chillies

Sichuan chillies or any long red dried chillies ( cut and deseeded )

1

tsp

Sichuan peppercorns

Toasted and grinded into coarse

4-5

tbsp

Raw cashew nuts

Or peanuts

3

tbsp

Groundnut oil

Or vegetable oil
Prawn seasonings
1

tbsp

Light soy sauce

Or all-purpose soy sauce

¼

tsp

White pepper
Stir Fry Sauce
2

tbsp

Light soy sauce

1

tsp

Dark soy sauce

1

tbsp

Chinese black rice vinegar

Chinkiang vinegar, see detailed in note

1

tbsp

Sugar

1

tsp

Corn starch

1

tsp

Sesame oil

2

tbsp

Water
Instructions
Season the prawns with soy sauce and white pepper and set it aside. Mix all the stir fry sauce in a small bowl and whisk until sugar dissolved.

Heat the wok/pan into low-medium heat. Sautee the raw cashew nuts with a teaspoon of oil until crispy golden brown. Remove from the pan and set it aside.

In the remaining wok/pan drizzle 1 tablespoon of oil and stir fry the marinated prawns over medium-high heat for 1-2 minutes. Once the prawns are charred and 80% cooked, removed from heat and set it aside.

Drizzle 2 tablespoon of oil and stir fry onion and dry chillies over medium high heat for a few seconds. Follow with the chopped garlic, ginger, and Sichuan peppercorns. Toss for a few seconds until fragrant then add the bell peppers.

Place the cooked prawns back in the wok and pour the sauce in.

Once the sauce is thick and glossy, turn off the heat and stir in toasted cashew nuts and spring onions.

Remove from heat and transfer to serving plate. Serve immediately with plain rice or noodles.
Notes
Chinese Black Rice Vinegar - also called Chinkiang vinegar or Zhenjiang vinegar is made from black glutinous rice. The flavor is fruity, slightly sweet, and mildly acidic. Instead of black rice vinegar, you can use regular rice vinegar or apple cider vinegar. 
King Prawns - Use king prawns, tiger prawns, shrimps, or seafood of your choice. Prawns should be peeled and deveined and pat dry with a paper towel before adding seasonings. 
Sichuan/Szechuan peppercorns - It has a hot numbing sensation and unique flavour. If you cannot get Sichuan peppercorns, you can add freshly ground black pepper to taste. 
Nutrition
Calories:
362
kcal
|
Carbohydrates:
19
g
|
Protein:
26
g
|
Fat:
22
g
|
Saturated Fat:
4
g
|
Polyunsaturated Fat:
6
g
|
Monounsaturated Fat:
10
g
|
Trans Fat:
1
g
|
Cholesterol:
161
mg
|
Sodium:
1133
mg
|
Potassium:
612
mg
|
Fiber:
3
g
|
Sugar:
8
g
|
Vitamin A:
1186
IU
|
Vitamin C:
46
mg
|
Calcium:
110
mg
|
Iron:
3
mg