Crispy Shredded Orange Beef Recipe with crispy beef steak and flavourful, sweet, sticky, tangy and savoury orange sauce. If you love our Crispy Chilli Beef and Crispy Shredded Beef recipes, you will definitely like this orange beef recipe!
This sweet, juicy and savoury beef dish is one of my favourite American-Chinese style takeout dishes. Its orangey sauce is unique and the flavour alone can be mouth-watering. Hope you all will try to make this orange beef dish at home and love it as much as I do. I am drooling while writing this!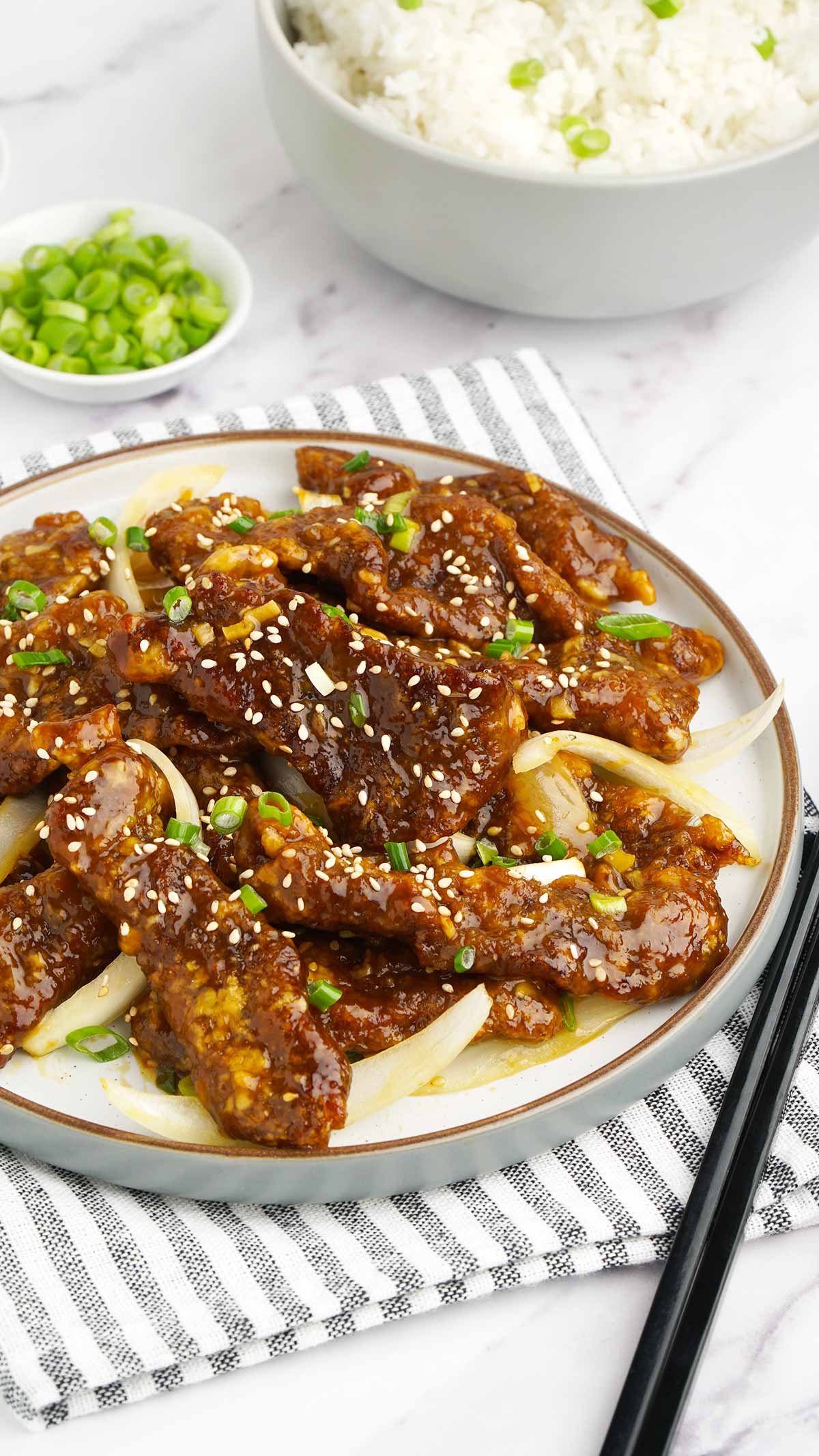 What is Orange Beef?
The dish was originated in Hunan province, China. It has become a popular Chinese takeout dish especially for its sweet and sour sauce and tender beef. The sauce can be prepared either sweet or mildly spicy according to your taste.
In America and other parts of the world, people recreated this dish into different versions but one thing they all have to stick to is the orange juice and orange zests which make this dish unique.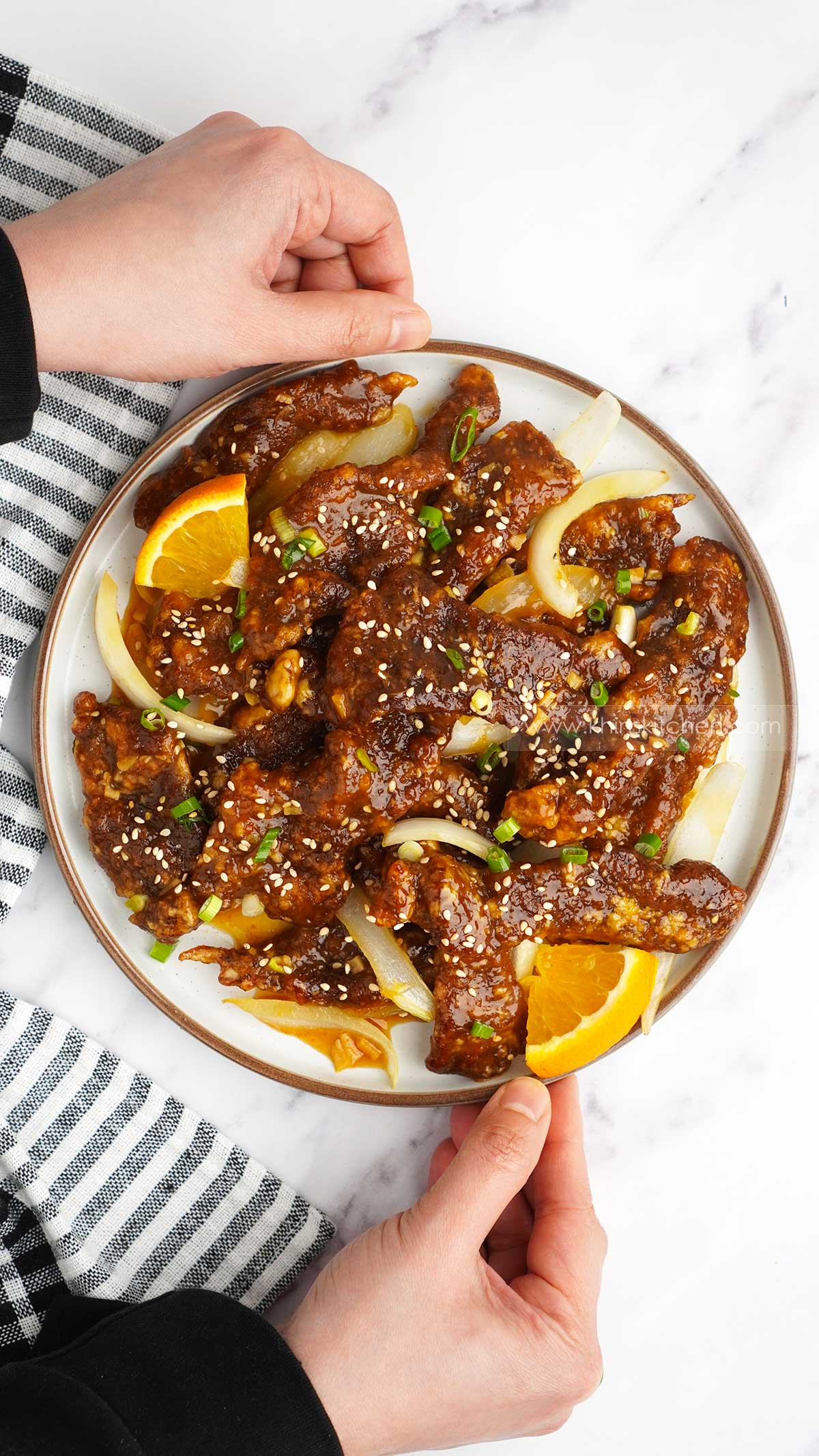 What ingredients do you need?
Though some Asian dishes can have a lot of unfamiliar ingredients inside for you sometimes, I always try to keep my recipes simple. You just have to make sure to have all these basic ingredients if you want the taste which is almost identical to the original Chinese takeout or restaurant dish.
Beef – Sirloin or flank steak is perfect but any tender part of the beef will be good to go. Slice across grain into thin slices or thin strips for better texture.
Beef marinate – It's important to marinate the beef for at least about 15-20 mins with soy sauce, sesame oil, white pepper, sugar and baking soda before cooking. Don't worry if you are not using the expensive steak, this marinate process will tenderize the most steak whichever part you are using.
Not a beef fan? Try out our Crispy Orange Chicken Recipe!
Orange Sauce – The sauce ingredients are quite simple and pantry friendly. You just need light soy sauce, freshly squeezed orange juice, brown sugar, chicken stock. Add corn starch to create the sticky, glossy sauce.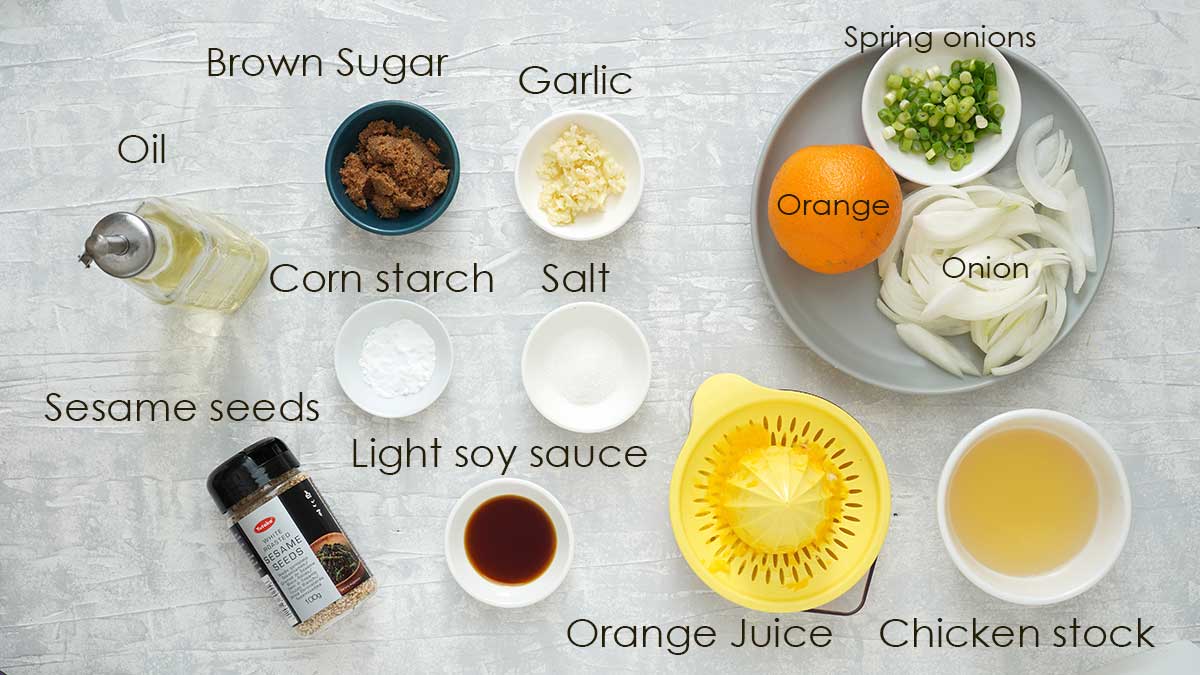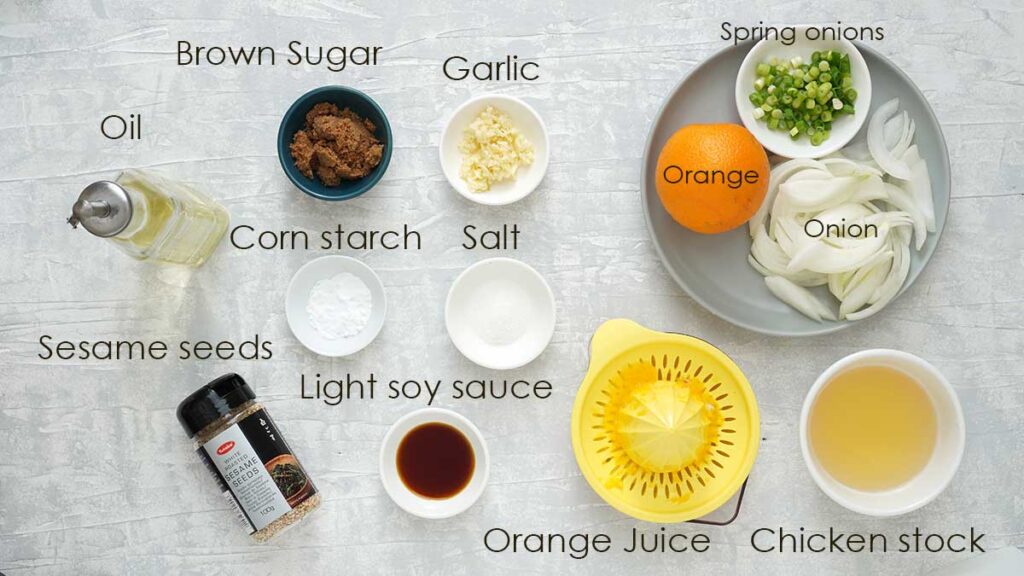 Deep Frying Beef - Why do you need to deep fry the beef? If you wish to taste exactly like the crispy beef you've had at your favourite Chinese restaurant, you need to deep fry it. Fry the coated beef quickly before tossing with the sauce will achieve the classic Chinese restaurant quality orange beef strips. That melt in your mouth! You will love it! 😋🥢
What oil is best for deep frying? Use neutral flavour oil like sunflower, canola, grapeseed, or vegetable oil, etc.
Which temperature is best for deep frying beef strips? Make sure to fry with pre-heated oil, temperature about 350'F to prevent the beef strips from greasy, soggy or breaks apart.
Can you reuse the fried oil? Strain all the crumbs out from the oil with the mesh strainer and once it cool, store in a dry clean jar/bottle. You can reuse in your stir fries or curries. If your fried oil is too dark, cloudy or thick, do not reuse it.
Here are the frequently asked questions and answers:
How to make extra sauce? Simply double the sauce ingredients.
How to make it extra crispy? We usually add egg in our crispy beef recipes to keep the meat moist and tender. But the egg in the coating can be a bit soften the texture but I do not recommend to skip the egg white in this recipe. Here is my 2 top tips for my friends who loves super crisps beef coating : Double fry the beef strips and toss with the half reduced sauce.
1. Fry the beef until float, once it float, remove from oil and set aside for 4-5 minutes. Then double fry it again until crispy about 2-3 minutes but do not over cooked the beef. As it can toughen and dry the beef strips.
2. Reduce the sauce to half before you add the fried beef strips to prevent it from soft and soggy.
Can you shallow fry or air fry it? For my friends who want to skip the deep frying method, you can shallow fry with less oil. It won't be super crisp, but you can still create with what you can do!
To air fry - Spray generous amount of cooking oil over the coated beef strips, then fry until coating is crispy.
Can you prep-ahead? It tastes best to serve freshly cooked.
If you are preparing for guests, you can fry the beef ahead and toss with the sauce later. Here is how we usually make at home: Fry the beef with high heat until float then, remove from oil and set it aside. Once you are ready to serve, double fry the beef in pre-heated high-heat oil for 2-3 minutes until the coating is crispy. Then toss with the reduced orange sauce!
Can you make it more spicy? Spicy Orange Beef Recipe: Add dried red chilli flakes in the sauce mixture or add bird eye chilli or hot red chilli pepper slices after adding the sauce.
How to serve this dish
Nothing beats a bowl of warm steamed rice for this dish. The sauce and the steamed rice perfectly match! You can add also add steamed vegetables of your choice as sides.
More Of Our Favourite Chinese Takeaway Recipes: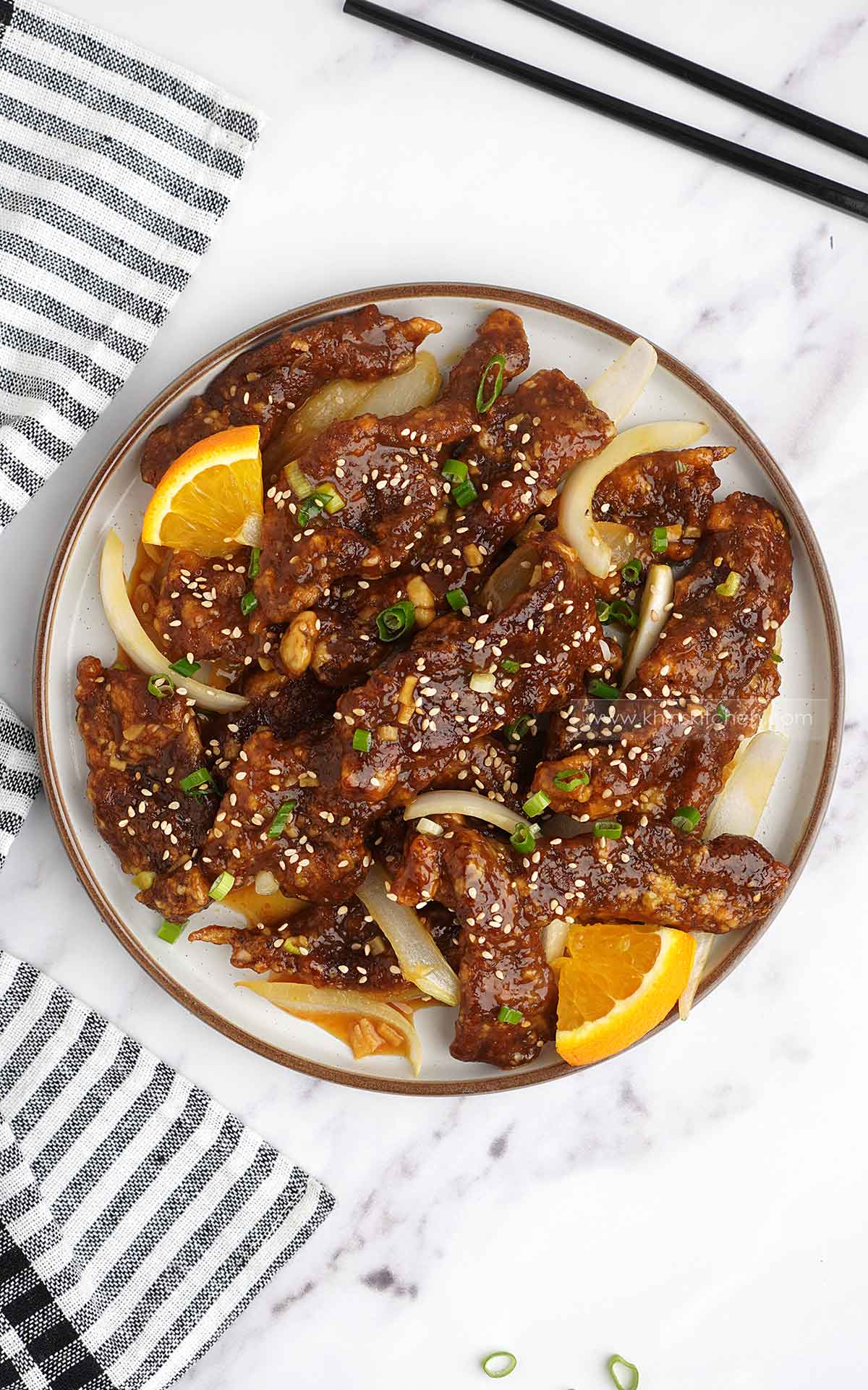 If you enjoy our recipe, please leave a comment and give us a rating! If you've tried this recipe, tag me on social media, I would love to see your creations! Follow me on social media Facebook, Instagram and Pinterest for the latest updates.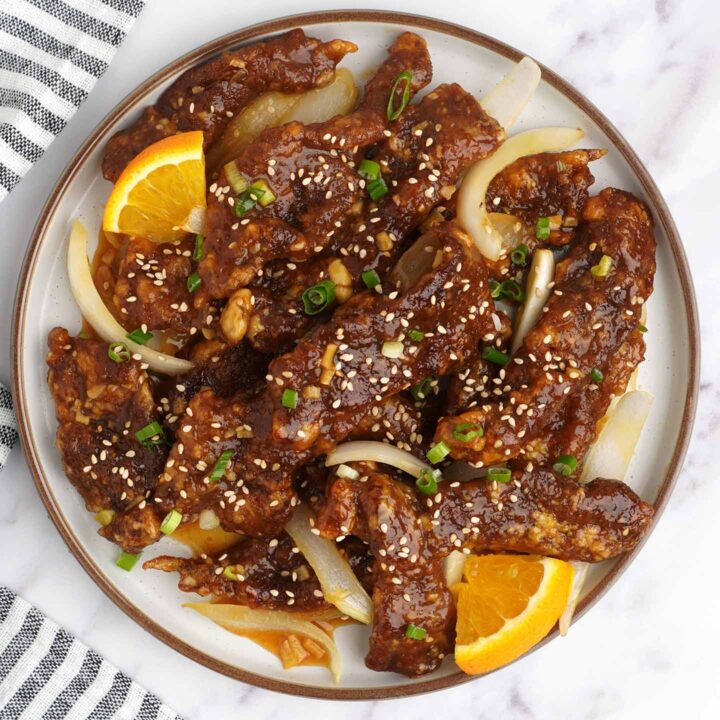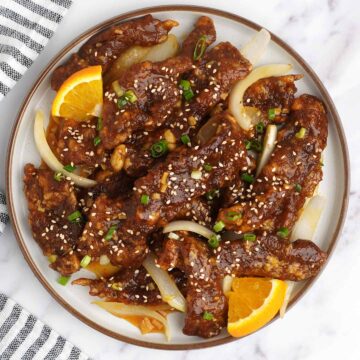 Crispy Shredded Orange Beef
Crispy shredded beef slices tossed with sweet, sticky and tangy orange sauce. Serve with a bowl of steamed rice or stir fry noodles and make it a perfect dinner!
Print
Pin
Rate
Ingredients
250

g

Beef steak

cut thin slices ( flank, rump, sirloin or ribeye steak ) (about 8.8 oz)

½

Onion

cut thin slices

1

tbsp

Garlic

finely chopped

1

cup

Corn starch

or potato starch ( add more flour if needed )

1

tbsp

Oil

vegetable or neutral flavour oil

1

Egg white

Vegetable oil for frying

( or neutral flavour oil, sunflower, canola, grapeseed, etc )

Toasted sesame seeds

to serve

2

Spring onions

chopped
Beef Marinade
1

tbsp

Soy sauce

light soy sauce or all-purpose soy sauce

1

tsp

Sugar

¼

tsp

White pepper powder

¼

tsp

Baking Soda

1

tsp

Sesame oil
Orange Sauce
2

tbsp

Light soy sauce

2

tbsp

Brown sugar

1

Orange juice fresh

( fresh squeezed juice from 1 orange) about ½ cup

½

cup

Chicken stock

( low sodium ) or vegetable stock or water

1

tsp

Corn Starch

or potato starch

1

tsp

Orange Zest

( Optional ) see details in note
Instructions
First cut the beef steak into thin slices or strips, against the grain. Marinade with soy sauce, sugar, white pepper, sesame oil and baking soda. Set aside for 15-20 minutes.

In a small bowl, mix all the sauce ingredients and set it aside.

Break one egg white into the marinated beef mix it well. Then dredge the beef slices in the corn starch. Make sure each beef slices are separated and coated well. Toss the excess flour out before frying.

To deep fry the beef, heat the oil into high-heat about 350° F. Fry the coated beef slices for 2-3 minutes, until the coating is crispy. Remove from oil and transfer to paper towel or cooling rack.

In a large wok or pan, add 1 tablespoon oil, heat the pan to medium heat, add chopped garlic and stir for few seconds. Follow with the onion and stir for 1 minutes.

Pour the sauce mixture in and stir well until the sauce starts to get thicken. Place the fried beef, toss well to combine the beef and sauce evenly. Turn off the heat and sprinkle toasted sesame seeds and chopped spring onions.

Transfer to serving plate, garnish with orange wedges, toasted sesame seeds and spring onions. Serve immediately with plain rice, egg fried rice or stir fry noodles.
Notes
Ingredients and spices that you can add extra to orange sauce: 
Orange Zest - Add 1 teaspoon of orange zest in the sauce mixture if you like the zesty flavour in the sauce. 
Dried red chilli flakes - To give a bit of chilli heat to the dish you can add half teaspoon of dried red chilli flakes in the sauce mix. 
Extra vegetables that you can add:
Bell pepper, chilli pepper, carrots, snow peas (mangetout) or sugarsnaps are ideal to add to this dish. After adding garlic toss the vegetables for 1-2 minutes, then follow with the sauce and fried beef. 
Nutrition
Calories:
299
kcal
|
Carbohydrates:
56
g
|
Protein:
4
g
|
Fat:
6
g
|
Saturated Fat:
1
g
|
Trans Fat:
1
g
|
Sodium:
1126
mg
|
Potassium:
325
mg
|
Fiber:
2
g
|
Sugar:
13
g
|
Vitamin A:
777
IU
|
Vitamin C:
16
mg
|
Calcium:
36
mg
|
Iron:
1
mg