Easy Prawn Spring Rolls Recipe – anyone can make it at home with simple everyday ingredients. Crispy skin outside, juicy prawns, and veggies fillings inside.
These rolls are perfect as an appetizer, side, or savoury snack. We usually served with chilli dipping sauce and have with Chinese tea or Jasmine tea. What I love about spring roll is, it's very versatile. You can add any of your favourite protein and vegetables.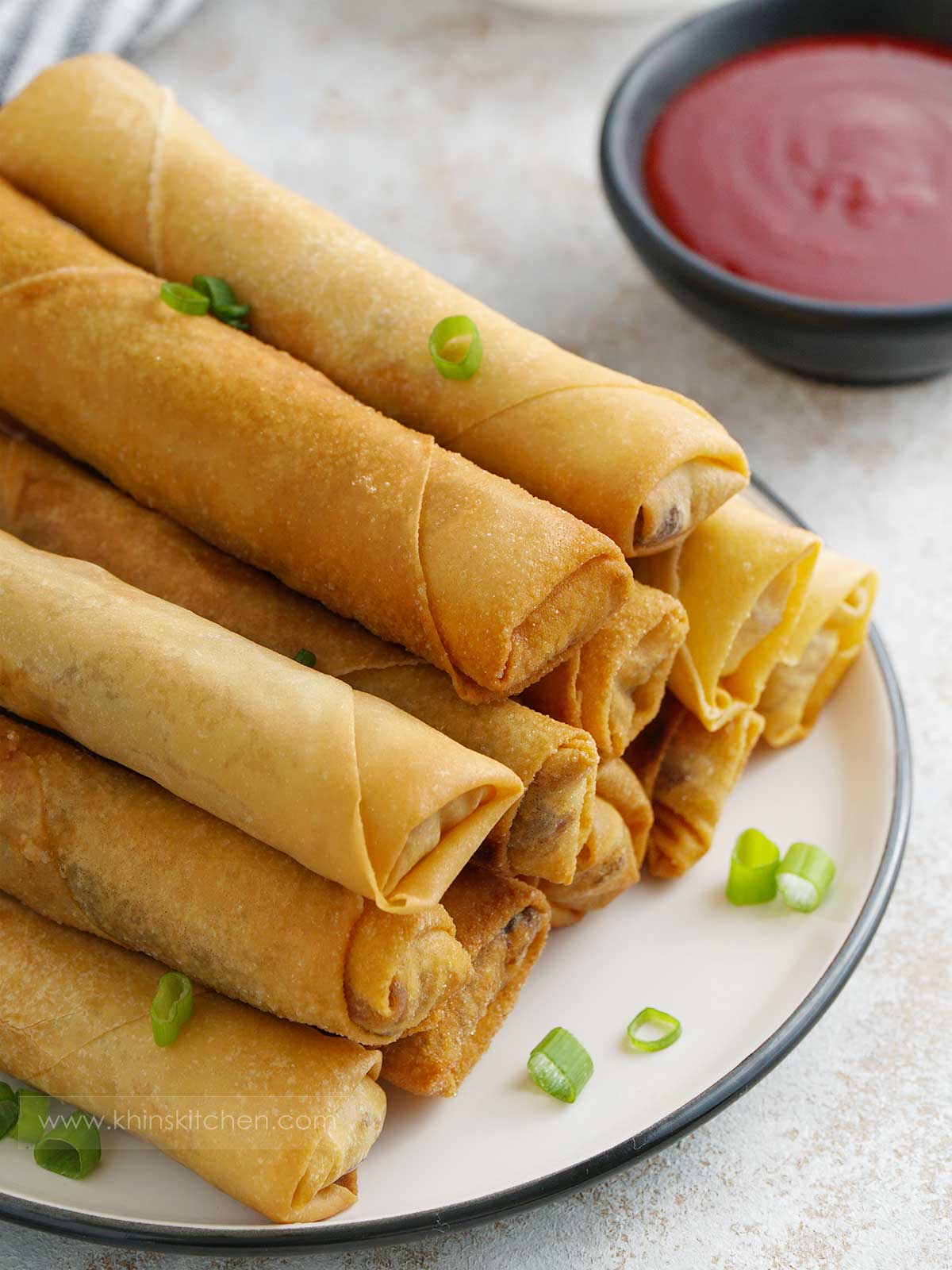 For this recipe, all you need are spring roll pastry sheets, prawns(shrimp), carrots, cabbage, mushroom, and basic seasonings. These homemade rolls are non-greasy, taste way better than takeaways!
If you've tried my Thai Spring Rolls and Chicken Spring Roll recipes, you will find them very similar. Only the ingredients are slightly different.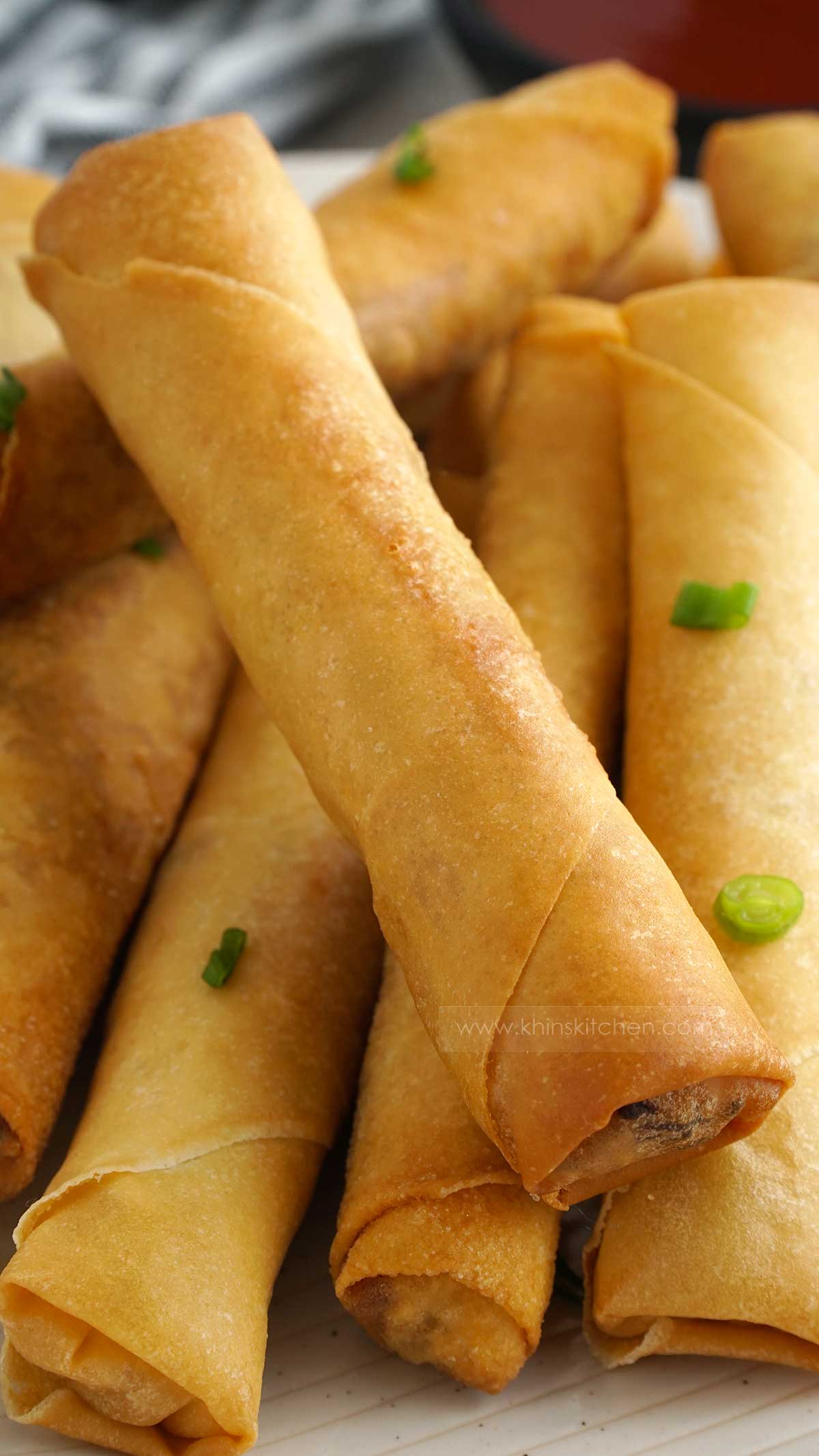 3 Simple Steps:
1. Stir fry the prawns, and vegetables and cool down completely before wrapping. ( Drain the excess liquid out. )
2. Wrap the fillings in the spring roll wrapper and seal it with flour glue.
3. Deep fry with hot vegetable or neutral flavour oil until crispy golden brown. Tips: For air fry or baking option, spray or brush a generous amount of cooking oil on the rolls and air-fry or bake until crispy golden brown.
Prawn Spring Rolls Ingredients: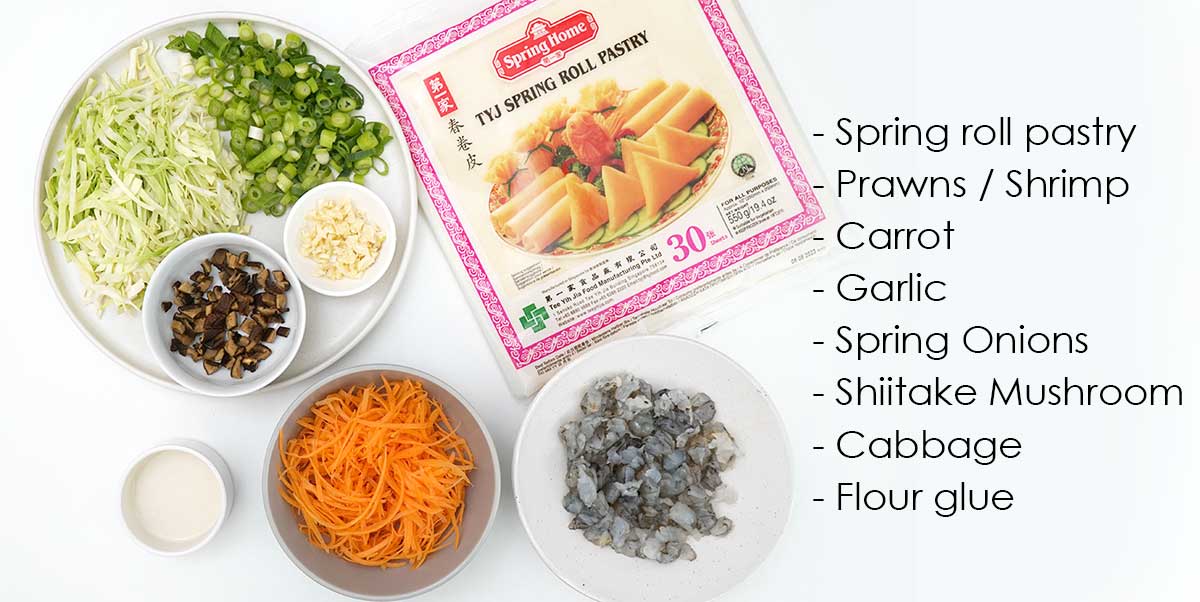 Spring Roll Pastry: It's also called spring roll paper or wrapper in some packaging, TYJ brand spring roll pastry is widely available in UK, US supermarkets freezer sections, and Asian grocery stores. It's a basically made with wheat flour, salt, and water.
In Asian countries like Thailand, China, Burma, Vietnam, you can find fresh spring roll paper in the wet market, which is usually made with rice flour. You can add your favourite fillings and wrap them in the fresh rice paper and serve it up straight away, without deep frying.
Spring roll wrapper substitute: You can use egg roll wrappers or Vietnamese rice paper sheets but the texture will be different. Egg roll wrappers are made of egg, flour and water and thicker then spring roll paper.
Vietnamese rice paper sheets can be used by soften the sheets with water first, then add the fillings, you don't need the flour glue as the rice paper sheets are sticky enough to hold the rolls in shape.
Shiitake Mushroom: I use dried Shiitake mushroom in this recipe. To prepare the mushroom, soak them in warm water for 15 minutes then gently squeeze the water out. Chop into small pieces.
If you wish to add fresh mushroom, you can either use fresh shiitake mushroom, button mushroom or white mushroom.
Vegetables: You don't need to add exact same vegetables or the amount. You can also add extra vegetables like beansprouts, sweet corns, Chinese chives, etc.
To make it vegetarian version: Substitute prawns with tofu or Quorn mince and use vegetarian oyster sauce ( available in Lee Kum Kee Brand ) instead of regular oyster sauce.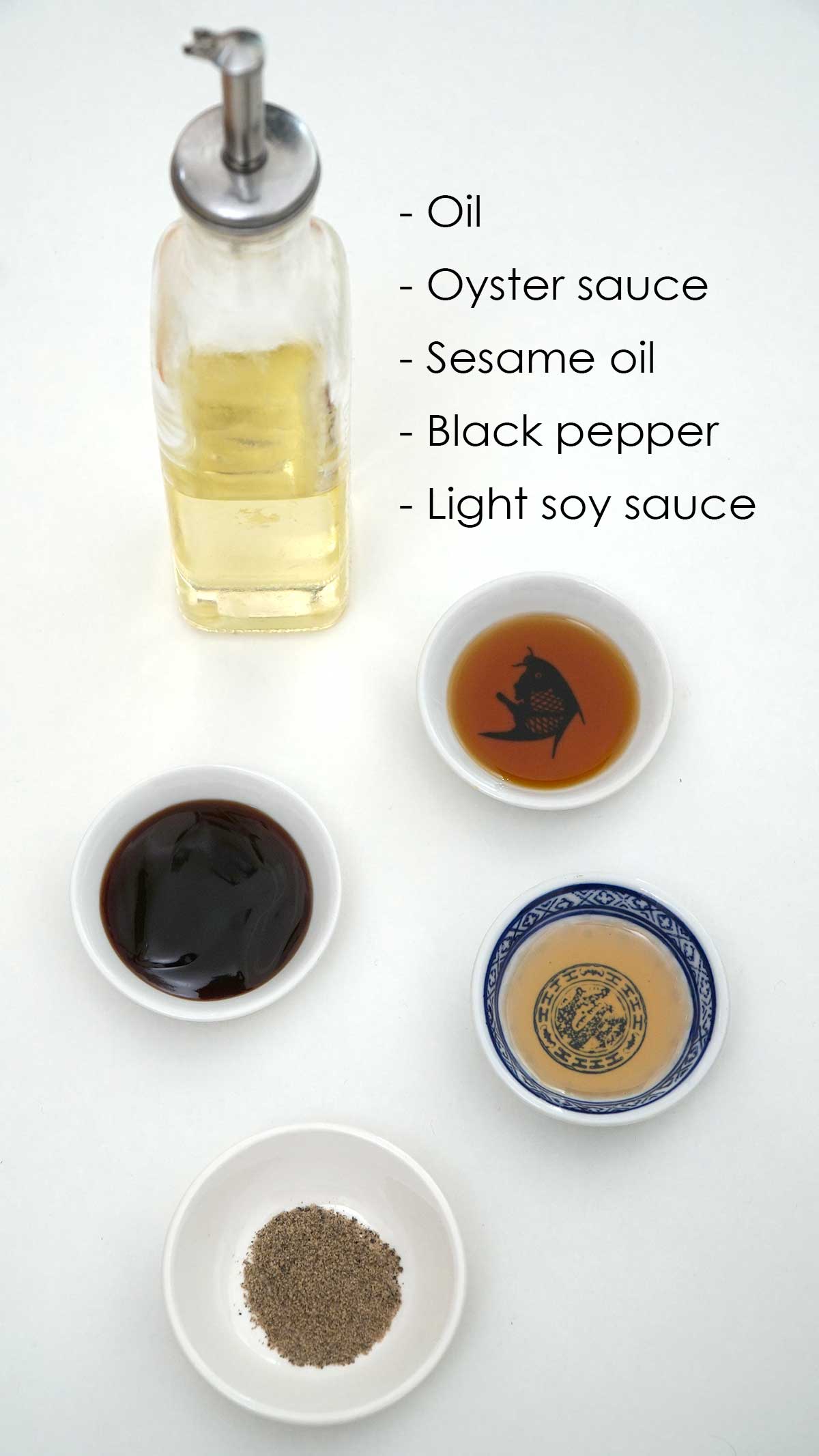 Deep Frying Oil: To deep fry the prawn rolls, you need to fill the frying pan about 2″ with vegetable oil. Or use any neutral flavour oil like, canola, grapeseed, sunflower or peanut oil.
If you wish to bake it or air-fry, don't forget to spray cooking oil on the prawn rolls and bake until crispy golden brown.
How to make Thai Prawn Spring Rolls: If you love Thai-style prawn spring rolls, you can add fish sauce instead of soy sauce, and add chopped coriander stems together with garlic it the fillings. Pre-soaked glass noodles can also be added too.
How to serve this dish
You can simply serve on its own or serve with sweet chilli sauce, hot chilli sauce, or any of your favourite dipping sauce.
More of our family's favourite Chinese recipes:
You can pair with these dishes and make it an awesome banquet dinner: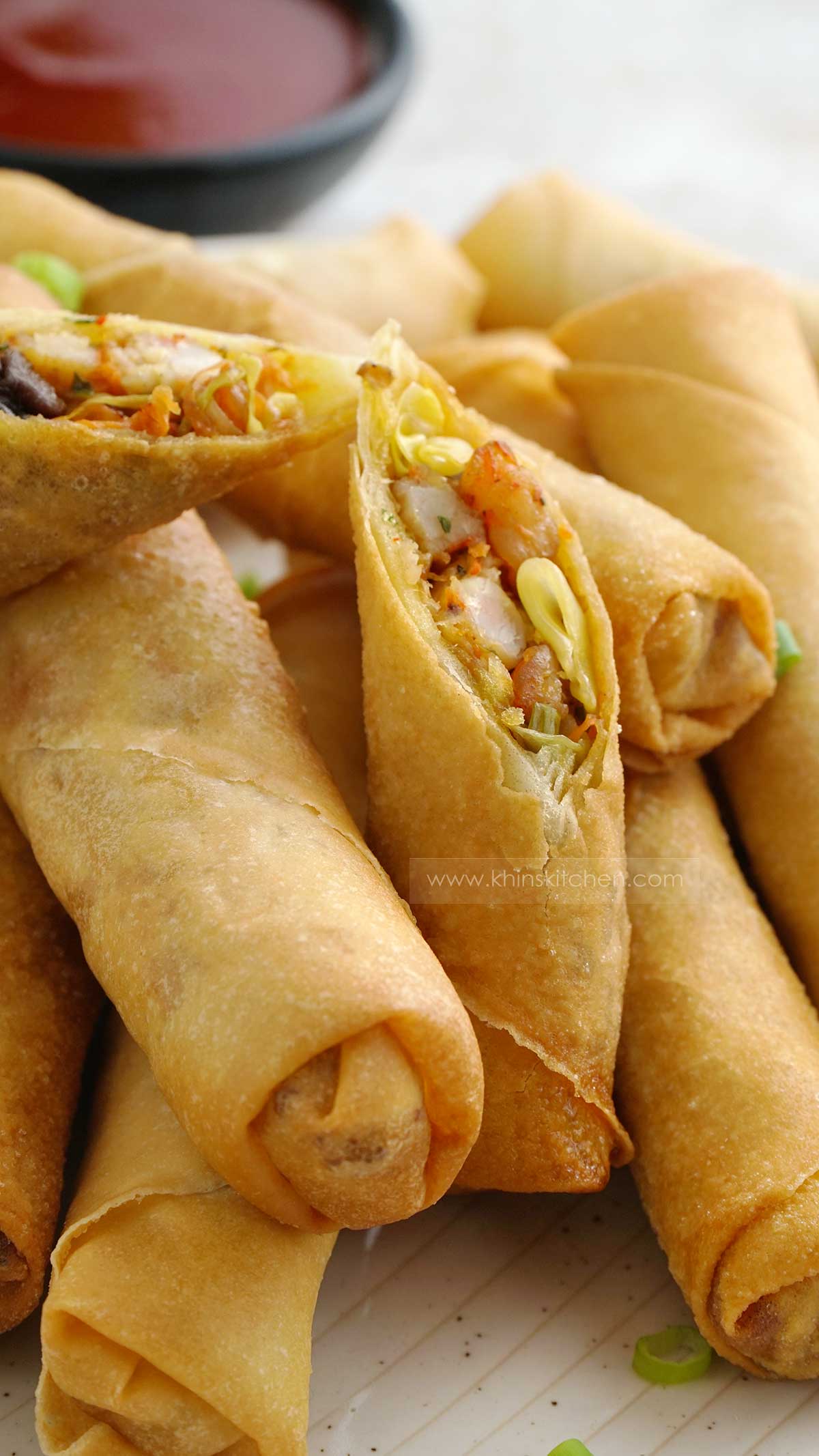 If you enjoy our recipe, please leave a comment and give us a rating! If you've tried this recipe, tag me on social media, I would love to see your creations! Follow me on social media Facebook, Instagram and Pinterest for the latest updates.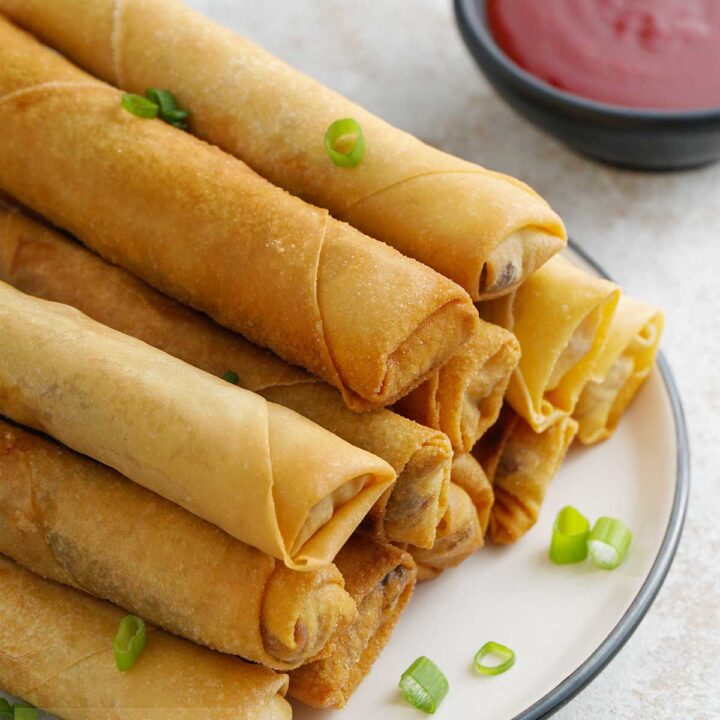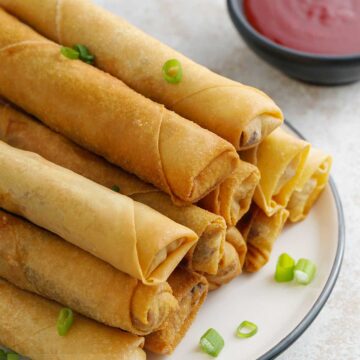 Prawn Spring Rolls
Easy Prawn Spring Rolls recipe with prawns, cabbage, carrot, shiitake mushroom and simple seasonings. Crispy golden skin outside and juicy fillings inside. Perfect appetizer for parties and gartherings!
Print
Pin
Rate
Ingredients
150-200

g

Prawns/Shrimp

(about 5.3 oz) peeled and devained, roughly chopped

15

sheets

Spring roll paper

10-15 sheets, ( square 250mm x 250mm ) see details in note

200

g

Cabbage

Shredded ( about 2-3 cup ), use Chinese cabbage or sweetheart cabbage

3-4

Dried shiitake mushroom

pre-soaked in warm water for 15 minutes

100

g

Carrot

Shredded ( about 1 cup )

1

tbsp

Garlic

finely chopped

3-4

Spring Onions

thin slices

1

tbsp

Vegetable oil

or any neutral flavour oil ( for stir-frying fillings )

Vegetable oil for deep frying

Or any neutral flavour frying oil

1

tbsp

Plain flour

( mixed with 2 tbsp water ) flour glue to seal the wrappers
Seasonings
1

tbsp

Soy sauce

All purpose soy sauce or Light soy sauce

1

tbsp

Oyster sauce

1

tsp

Sesame oil

¼

tsp

Black pepper

( or white pepper )
Instructions
Roughly chop the prawns and thinly shred the carrot and cabbage. Pre-soaked the dry shiitake mushroom in warm water for 15 minutes, then gently squeeze the water out and cut into small pieces.

Heat the large wok/pan over medium high heat, drizzle 2 tablespoon of vegetable oil, add the chopped garlic and stir for few seconds.

Add prawns and stir for few seconds, then follow with the mushroom and shredded carrots. Stir fry for few seconds and add the shredded cabbage then follow with spring onions. ( Stir fry over medium-high heat. )

Season with soy sauce, oyster sauce, sesame oil and black pepper. Continue stir fry for another 2-3 minutes until the vegetables are wilted and tender.

Transfer to large tray or plate and let it completely cool down.

Tips: If there is any liquid from vegetables left in the fillings, place the fillings over the strainer and drain all the liquid out.
Wrapping Spring rolls
To wrap the spring rolls, scoop 2-3 tablespoon of fillings on one side of the wrapper. Fold away from your side like an envelope. Seal it up with the plain flour and water mixture glue. Repeat the process to all rolls until the fillings runs out. ( see instrutions in the recipe video. )
Deep Frying
Heat the vegetable oil or neutral flavour oil into high heat about 340-350°F. Deep fry the spring rolls for 5-6 minutes, or until crispy golden brown. ( Do not overcrowd the oil and keep the temperature into high-heat to prevent the spring rolls from greasy and soggy. )

Remove from oil and transfer to cooling rack. Simply serve with your favourite dipping sauce, hot chilli sauce or sweet chilli sauce.
Baking Option
Place the spring rolls on the wire rack, over the baking tray. Brush or spray generous amount of vegetable oil on both sides. Pre-heat the oven or air-fryer about 400°F, bake until crispy golden about 18-20 minutes. Turn sides halfway through.
Notes
Spring rolls paper – Also called spring rolls wrapper/pastry/sheets. You can find it in most supermarkets or Asian grocery stores frozen sections. I used TYJ brand square sheets ( 250mm × 250mm ).
Protein & Vegetables –  You don't need to use the exact same protein or vegetables. You can swap prawns with crab meat, chicken, tofu, eggs, or any protein. Vegetables like bean sprouts, sweet corns, mushrooms, spring onions can be added according to your taste. 
Salt – Make a taste test before you wrap the fillings, sprinkle some salt or pepper according to your taste. 
Nutrition
Calories:
60
kcal
|
Carbohydrates:
10
g
|
Protein:
2
g
|
Fat:
1
g
|
Saturated Fat:
1
g
|
Cholesterol:
1
mg
|
Sodium:
182
mg
|
Potassium:
71
mg
|
Fiber:
1
g
|
Sugar:
1
g
|
Vitamin A:
1153
IU
|
Vitamin C:
6
mg
|
Calcium:
17
mg
|
Iron:
1
mg