UK Takeaway-Style Chinese Salt and Pepper Chips recipe - potato chips fried to perfection and tossed with aromatic salt and pepper powder mix. Made with simple ingredients and incredibly easy to make at home.
These chips are spicy, salty, peppery, and packed with flavours of Chinese five spices. Fantastic for all your parties, gatherings and also great as a starter or savoury snack. One of the most popular chip recipes and you can find it in the menu of most UK Chinese takeaway shops. Salt and Chilli Chicken is my favourite takeaway dish that I never get tired but for the days that I don't want to eat meat, I'd order salt and pepper chips.
Is this dish authentic Chinese? It's not an authentic Chinese dish, it's British-inspired Chinese chips that all British and Asians love.
What are your favourite finger foods to serve at your party? Our favourites are the Salt and Pepper Chicken, Prawns, Beef, and Wings dishes. All these recipes are family, friends and our viewers approved! They are all insanely easy to make and you need to use only one all-purpose Magic Seasoning Mix.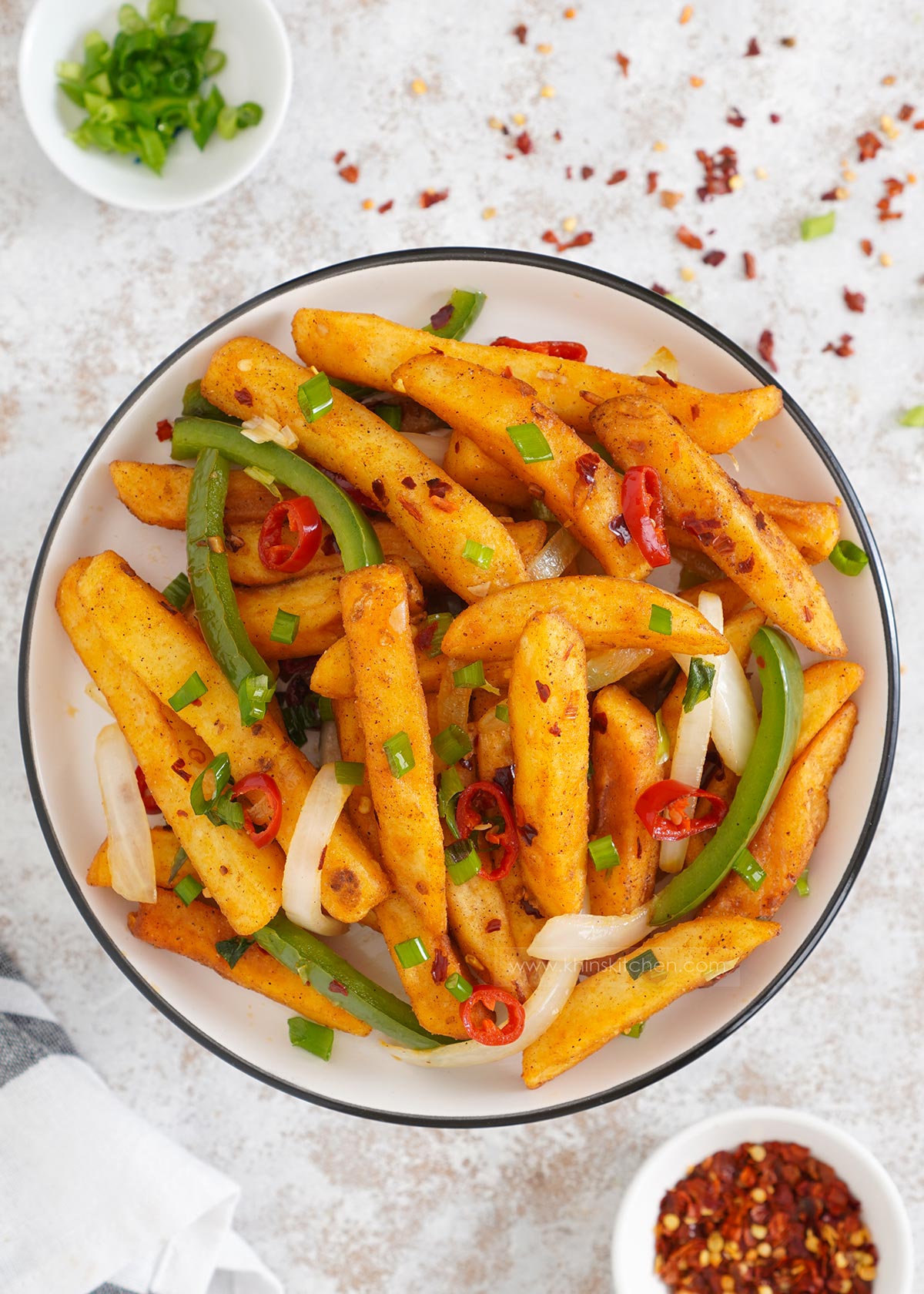 Simple Ingredients You Will Need
Chips
I use frozen straight cut chips in this recipe. As this is a very versatile dish you can use any of your favourite frozen or fresh chips.
Vegetables
Peppers, onions and spring onions are classic vegetables that's usually add in takeaways. Add extra fresh chillies and crushed chillies for a kick of spicy flavour. Extra vegetables like carrots strips, zucchini strips goes well too.
Seasoning Spice Mix
This seasoning powder is the key to the whole dish. You will need fine salt, white pepper powder and Chinese five spices powder as a base. Add a bit of chicken powder if you want to taste exactly like your favourite takeout chips. Some like to add caster sugar but I prefer chicken powder for this recipe. For vegetarian option, you can use dashi vegetarian seasoning powder or msg. But these powders are totally optional if you prefer to make it with a base seasoning mix, it's perfectly fine.
You can make this seasoning mix in a large batch and keep it in an air-tight container, you can sprinkle it over the fried prawns, fish, squid, chicken or even in your stir fry dishes.
Spice variations - to make it a Sichuan style salt and chilli chips, add finely ground Sichuan peppercorns and chilli pepper flakes in the spice mix.
What is Chinese five spices ? It is a perfect combination of cinnamon, star anise, cloves, Sichuan peppercorns, and fennel seeds. Warm, sweet, toasty, distinct flavour and brings the dish super flavouful. You need a very little amount to use as it can overpower the dish if you add a lot.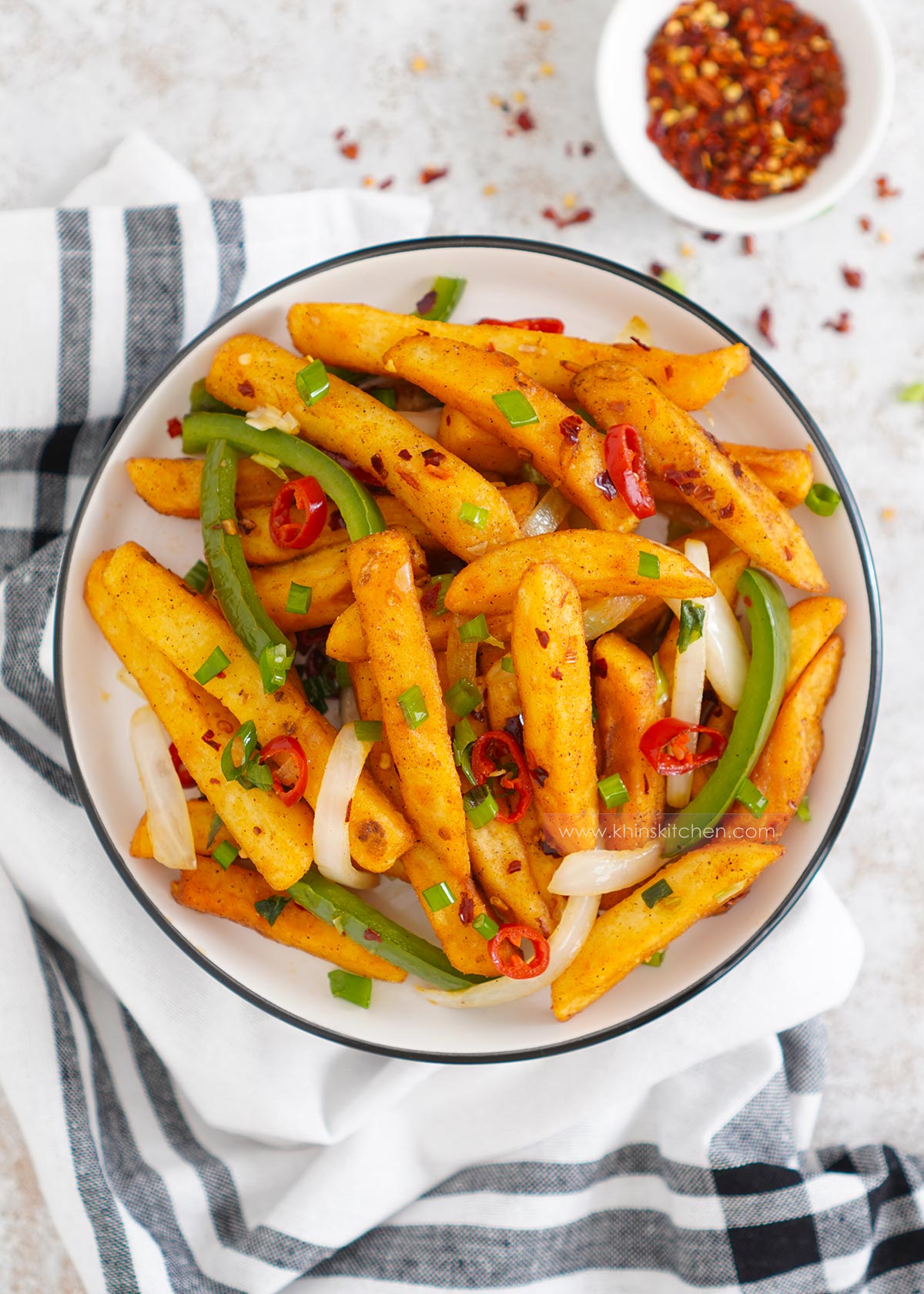 How To Make Chinese Salt and Pepper Chips At Home
Here is the 3 simple steps :
Mix all the spice mix ingredients in a mixing bowl and prepare the vegetables. Set aside.
Fry or bake the chips according to the packet instructions.
Toss the vegetable slices and chips with the seasoning mix. Ready to serve!
Deep Fry or Air Fry ?
I love the deep-fried effect crispy chips, however, you can bake in the oven or air fry it according to the packet instructions.
Which oil is best for deep frying? Use neutral flavour oil like, sunflower, peanut, canola, or vegetable oil. Spray a bit of oil on the chips if you are baking in oven to achieve the perfectly golden texture.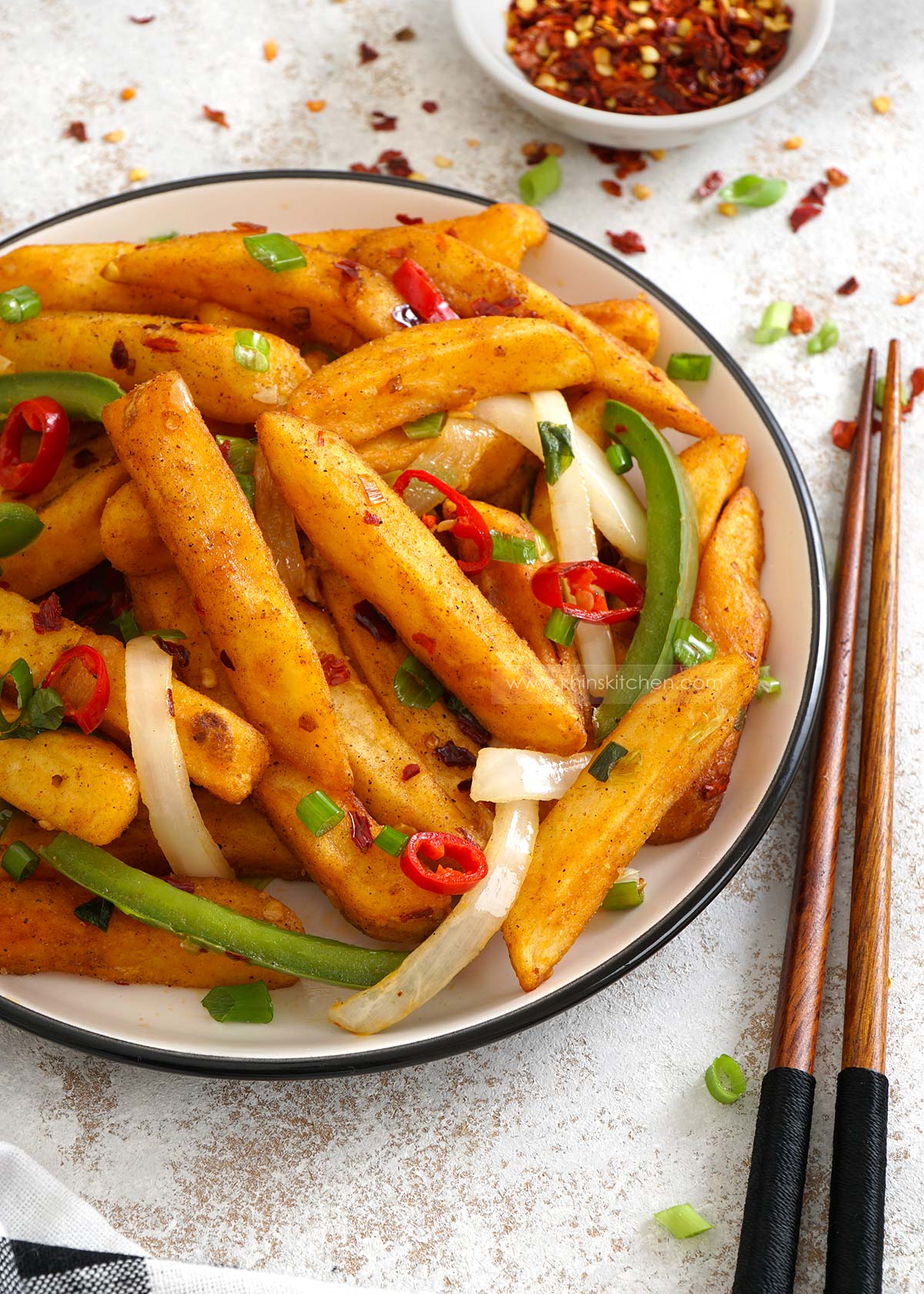 How To Serve This Dish
Simply serve it on its own with a cup of jasmine tea or a can of cold drink. Or you can serve over the simple Egg Fried Rice Or Noodles. We love to make Chinese takeaway style recipes at home, here is a handful of recipes one our website you might like :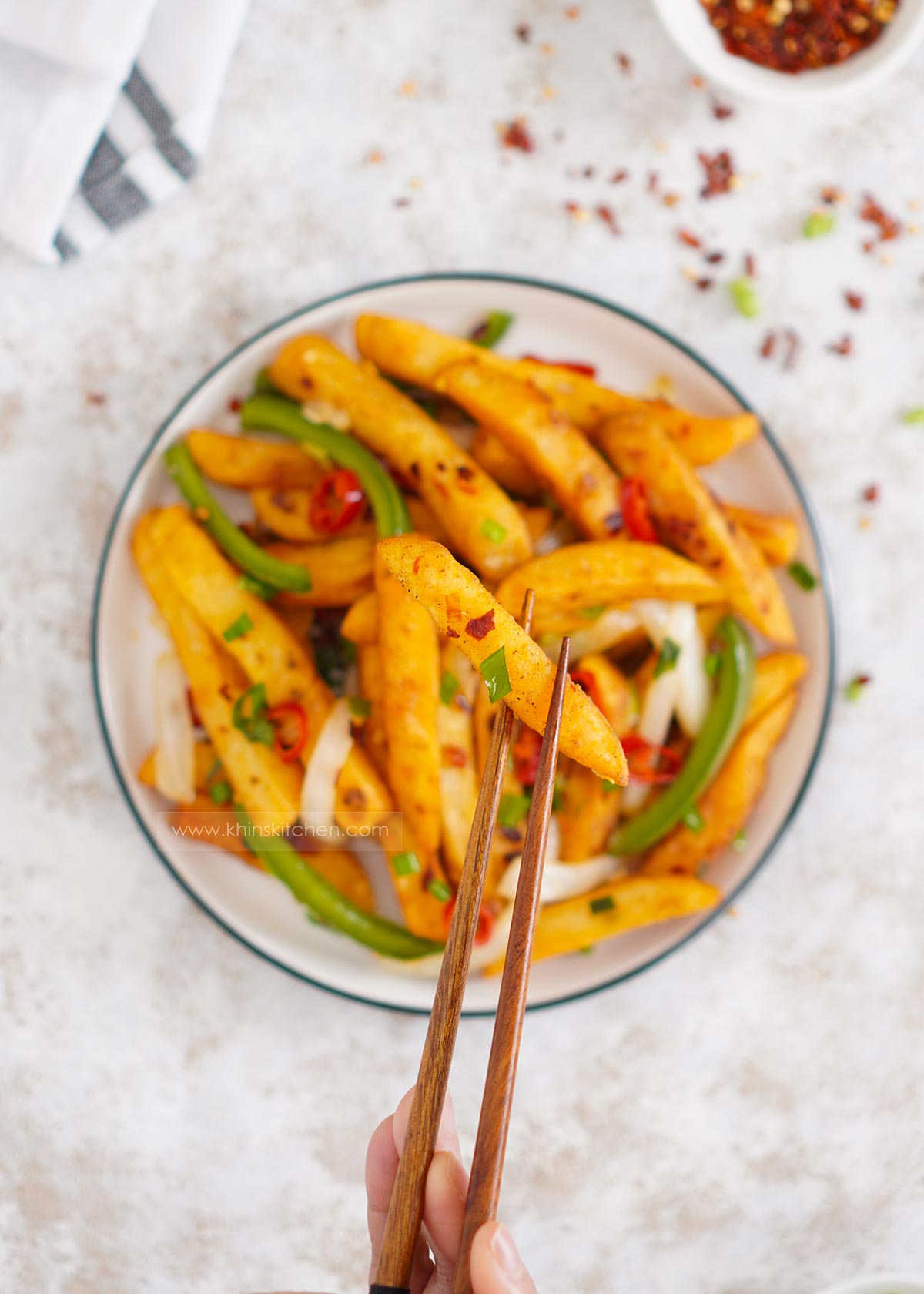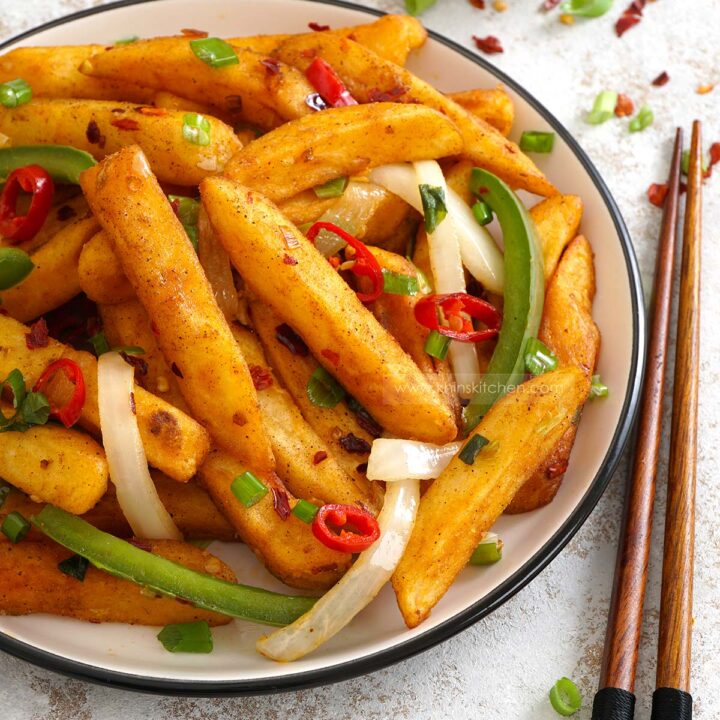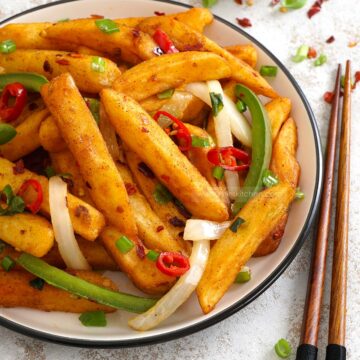 Chinese Salt and Pepper Chips
Crispy potato chips, peppers, onions, spring onions and chilli slices with homemade seasoning mix. Super quick and easy to make at home!
Print
Pin
Rate
Ingredients
300

g

Chips

( Use any frozen or fresh chips )( about 8.8 oz )

½

Onion

( Cut in slices ) Large sweet or white onion

½

Bell Pepper

( Cut in slices )

1

Red Chilli

( Cut in slices ) Optional

2

Cloves

Garlic

( Fine chopped )

½

tsp

Crushed chilli flakes

Optional
Seasoning Powder Mix
½

tsp

Salt

( Use fine salt )

½

tsp

White pepper powder

( Or black pepper powder )

½

tsp

Chinese five spices powder

( See detials in note )

½

tsp

Chicken Powder

Optional ( see details in note )
Instructions
Add salt, white pepper powder, Chinese five spices powder and chicken powder in a small mixing bowl. Mix it well and set aside.

Prepare all the vegetables buy cut the onions, peppers, spring onion and chilli into thin slices. Finely chop the garlic and set aside.

To deep fry the chips, heat the vegetable oil to high heat about 350° F and fry the chips until crispy but make sure not to over-cook. ( Or you can fry it according to the package instructions. If you wish to bake or air fry it, spray a bit oil on the chips to achieve a crispy nice golden colour and texture. )

Remove from oil and transfer to paper towel and set aside.

In a large wok or pan, heat a tablespoon of vegetable oil over medium heat. Add onion slices and stir for few seconds and follow with the chopped garlic.

Stir for few seconds and add bell pepper, chilli slices and crush chilli flakes. Place the fried chips back in, sprinkle the seasoning powder mix. Toss all ingredients evenly for 1-2 minutes.

Add sliced spring onions and mix well.

Remove from heat and transfer to serving plate. Serve immediately.
Notes
Chinese Five Spices Powder – is a powder mixture of cinnamon, star anise, cloves, Sichuan peppercorns, and fennel. You can find it in most Chinese/Oriental grocery stores or Amazon online. 
Chicken Powder - is an optional ingredient. You can add chicken powder if you want to taste your chips like your favourite takeaway shop. Vegetarian seasoning powder, msg, fine caster sugar or dashi powder can be substitute. 
White Pepper - Recommend to use white pepper powder to taste like Auntheic Chinese flavour but if you don't have white pepper in hand, substitute with black pepper powder. 
You can serve up to 4 persons as a side dish or appetizer and serve 2 persons as a main meal. 
Nutrition
Calories:
425
kcal
|
Carbohydrates:
53
g
|
Protein:
6
g
|
Fat:
23
g
|
Saturated Fat:
7
g
|
Cholesterol:
1
mg
|
Sodium:
1441
mg
|
Potassium:
834
mg
|
Fiber:
8
g
|
Sugar:
4
g
|
Vitamin A:
1147
IU
|
Vitamin C:
83
mg
|
Calcium:
32
mg
|
Iron:
2
mg
If you enjoy our recipe, please leave a comment and give us a rating! If you've tried this recipe, tag me on social media, I would love to see your creations! Follow me on social media Facebook, Instagram and Pinterest for the latest updates.