Chicken corn soup is one of the most ordered takeaway favourites that is very sweet, creamy, and hearty. This homemade chicken corn soup can be prepared with simple everyday ingredients with minimum effort.
This soup is one of our family's go-to recipes that everyone loves. My mom used to make this soup for us with crab meat and prawns when we were in Rangoon, as the seafood was very fresh and a lot cheaper than in the UK. But in this recipe, I made it with chicken and corn, which can buy at any supermarket or grocery store.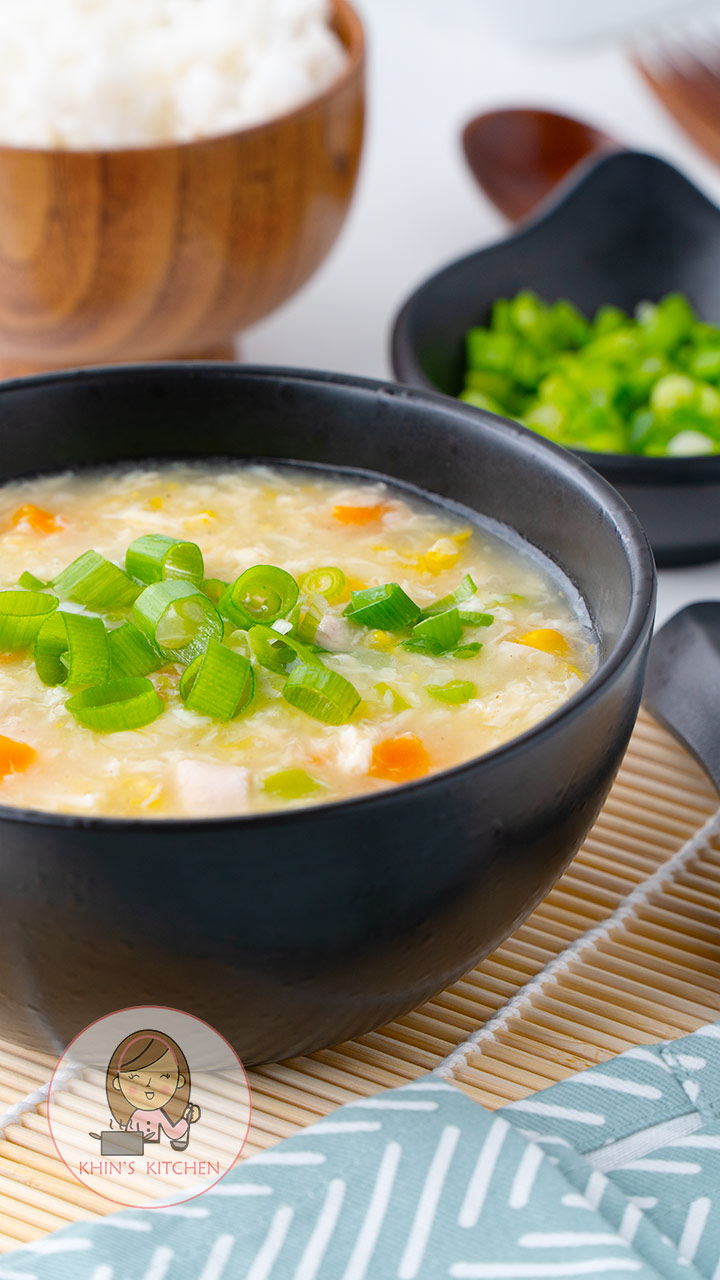 This soup is my all-time favourite comfort soup, so warm and satisfying for chilly days. You can make your homemade chicken soup from scratch with this easy to follow recipe. Hearty, budget-friendly, so satisfying, and filling! If you haven't tried this Chinese chicken corn soup, I highly recommend to try at home! You will be amazed by how quick and delicious this hearty soup turns out.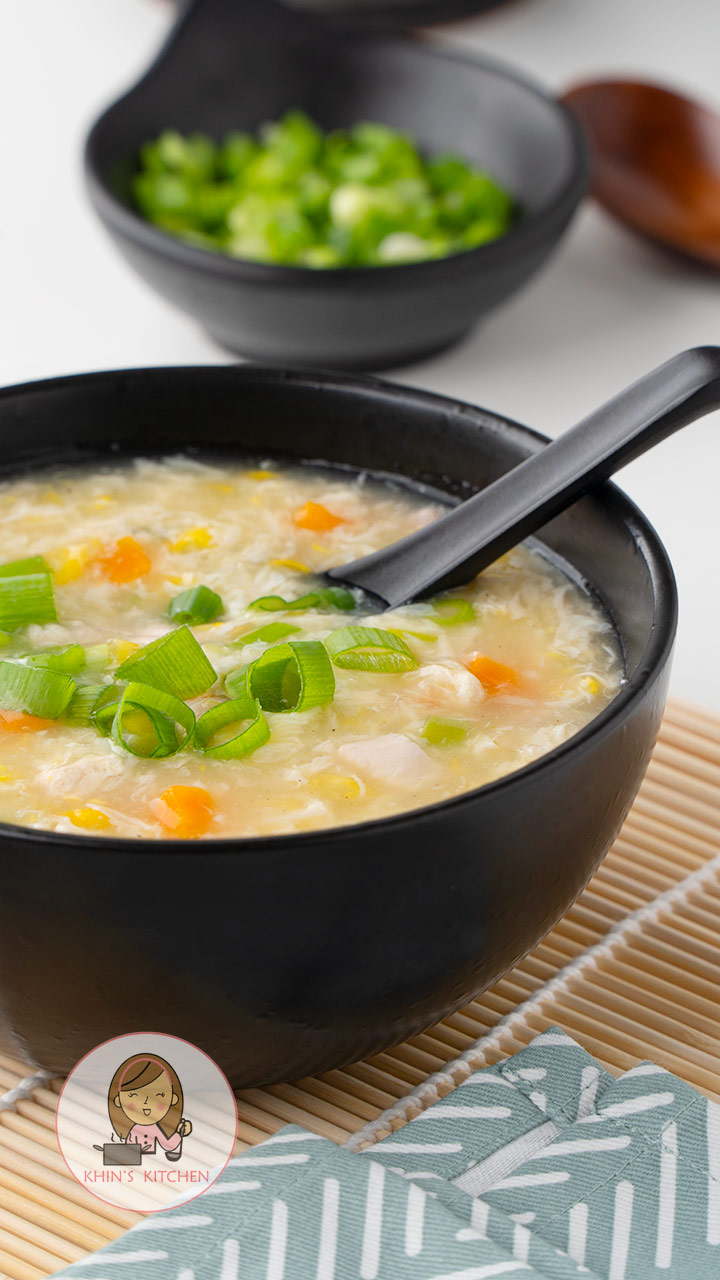 How To Make Perfect Chicken Corn Soup
Basically, this soup is a rich, thick chicken broth loaded with small chicken pieces and sweet corns. This soup recipe is very similar to egg drop soup but contains more sweetness from the sweetcorn and chicken. You can customize the soup by adding your favourite protein and vegetables.
Ingredients you will need
Protein: I use chicken breast in this recipe, chicken thigh, prawns/shrimp, crab meat, any seafood or tender meat goes for this recipe. You can cut them into small dices or thin slices.
Egg : You will need one beaten egg to create the silky egg ribbons in the soup. Pour the egg slowly when the soup start to thick and stir gently in circular motion.
Sweet Corn ( Corn Kernels ): Finely chop the half cup of sweet corn kernels until mashed or blend it in the food processor. The sweetness of the mashed corn will blend in nicely and create a thick soup broth. If you use the frozen one, you can place them in a strainer under running water until thawed. Drain the water out and ready to chop. Add the other half cup of sweet corn seeds on its own.
Other Vegetables: Small dices of carrots and fine chopped spring onions are ideal for this soup. Extra mushroom or tofu pieces goes well too.
The Soup Broth: You can simply add the low sodium chicken stock, vegetables stock or homemade chicken stock as a base. Add corn starch and water mixture to create a thick silky texture. To bring more flavour to it, season with chopped garlic, sesame oil, white pepper and salt to taste.
Simple Cooking Process
I prepare all the chicken and vegetables first as everything is cook very fast in this soup. Then I boil the chicken stock in a medium size pot. As soon as it star to boil add the garlic and chicken, follow with the rest of vegetables and cook for few minutes until the vegetables are a bit soften. Pour the corn starch water mixture and follow with the egg. Season with sesame oil, white pepper and salt. You can adjust the seasoning according to your taste. Add spring onions after you turn off the heat.
How to serve this soup
You can have it on its own as a starter or have it as a side soup. Pair it with other dishes and create a full family banquet dinner. Here is more of our family favourite Chinese dishes you can try out: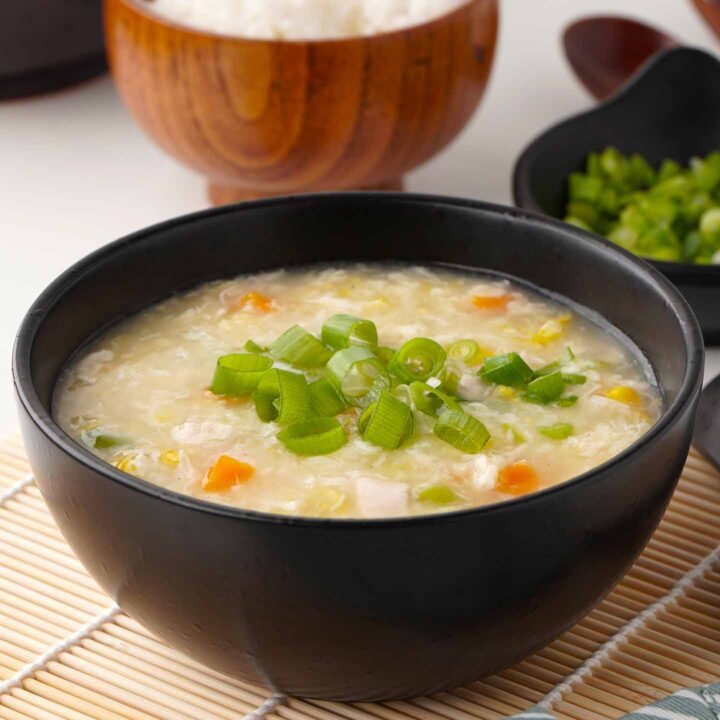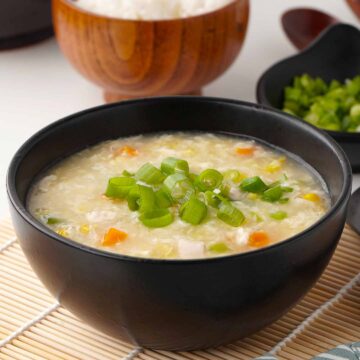 Ingredients
100

g

Boneless chicken thigh/breast

( cut small dices )

4

cup

Chicken stock

( or Vegetable stock )

½

cup

Sweet corn

( frozen or tin or fresh)

½

cup

Sweet corn ( mashed )

½

Carrot

1

tsp

Garlic (fine chopped)

1-2

eggs

2

tbsp

Corn starch(flour)

¼

cup

Water
Seasonings
½

tsp

Salt

( or salt to taste )

¼

tsp

White pepper

1

tsp

Sesame oil
Instructions
First cut the chicken and carrot into small dices. Finely chop the garlic cloves and ½ cup of sweet corn. Cut spring onions into thin slices and set aside.

In a medium pot, pour the chicken stock in, bring it boil with medium heat.

Add the chopped garlic and chicken pieces stir well, then follow with the carrot cubes, sweet corns and mashed sweet corn. Close the lid the simmer with medium heat for 5-6 minutes.

Combine 2 tablespoon of corn starch(flour) with ¼ cup water. Beat 2 eggs and season with a sprinkle of salt.

Pour the corn starch water in and stir well. When the soup start to get thicken, pour the egg slowly and stir gently in the same direction. Season with salt, white pepper and sesame oil. Turn off the heat and add chopped spring onions.

Make a taste test and add more salt or pepper according to your taste.

Transfer to serving bowl and garnish with chopped spring onions.

You can serve up to 4 persons as a side. Enjoy!
If you enjoy our recipe, please leave a comment and give us a rating! If you've tried this recipe, tag me on social medias, I would love to see your creations! Follow me on social medias Facebook, Instagram and Pinterest for latest updates.