This ultimate Chinese Chicken Balls with Sweet and Sour is a highly requested recipe on the blog. This recipe brings together a Chinese restaurant-style battered chicken with homemade sweet and tangy dipping sauce!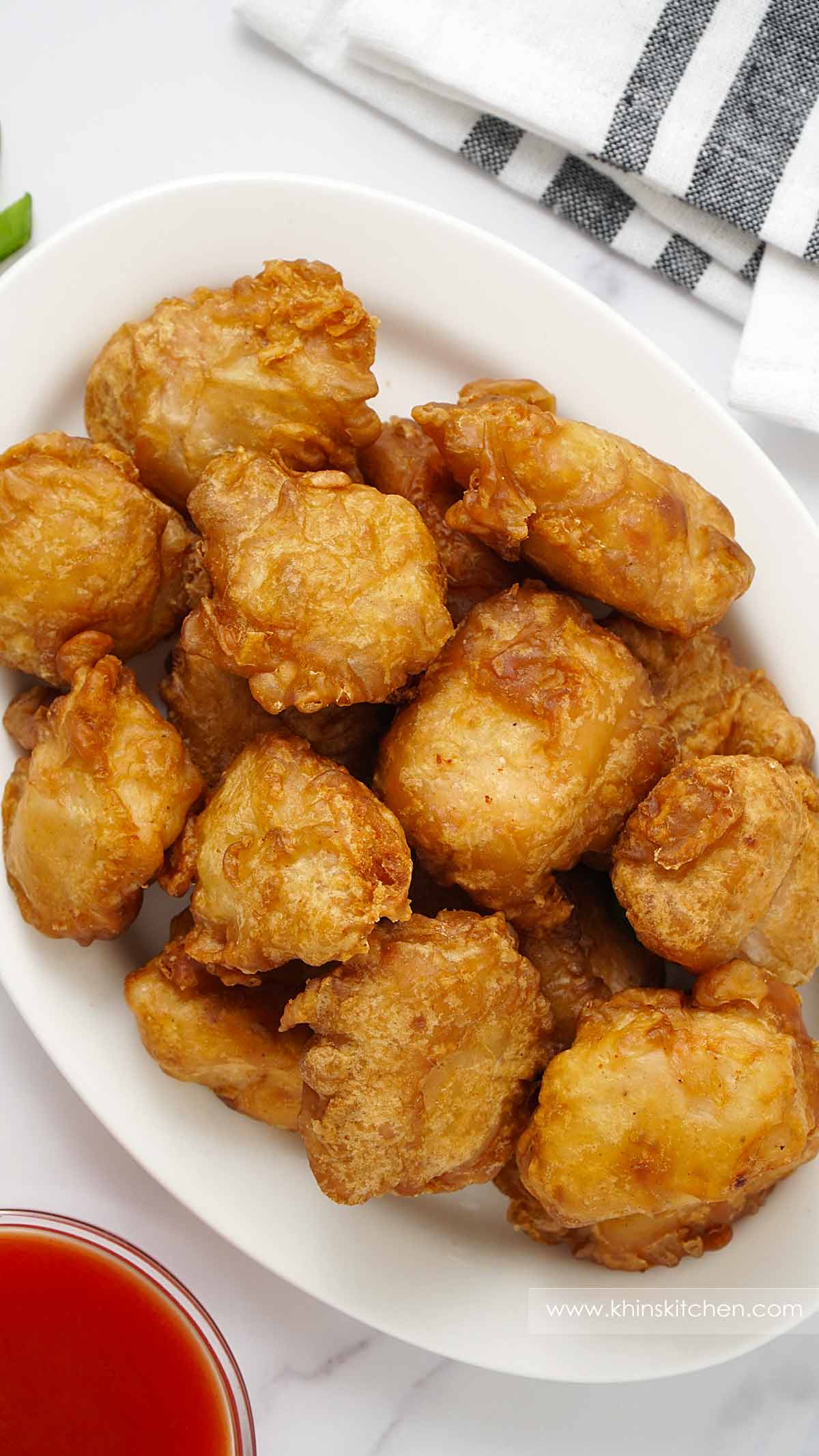 Jump to:
With our simple tips, you can make very fluffy, crispy, non-greasy, chicken balls with simple ingredients in no time!
You can find this dish on the menu of every Chinese restaurant and takeaway in the UK. If you are a seafood fan, you might also like our favourite Crispy Sweet and Sour Prawn Balls recipe, made with king prawns and homemade sauce!
Why you need to try this recipe
These chicken balls are classic Chinese appetizers that all kids and adults love. Perfect as a starter, main meal, finger food, or party snack. Your dinner guests will definitely love it!
Super addictive, easy to make, and budget-friendly!
If you can make it right, it is faster and tastes way better than ordering from a Chinese restaurant/takeaway!
Ingredients explained & variations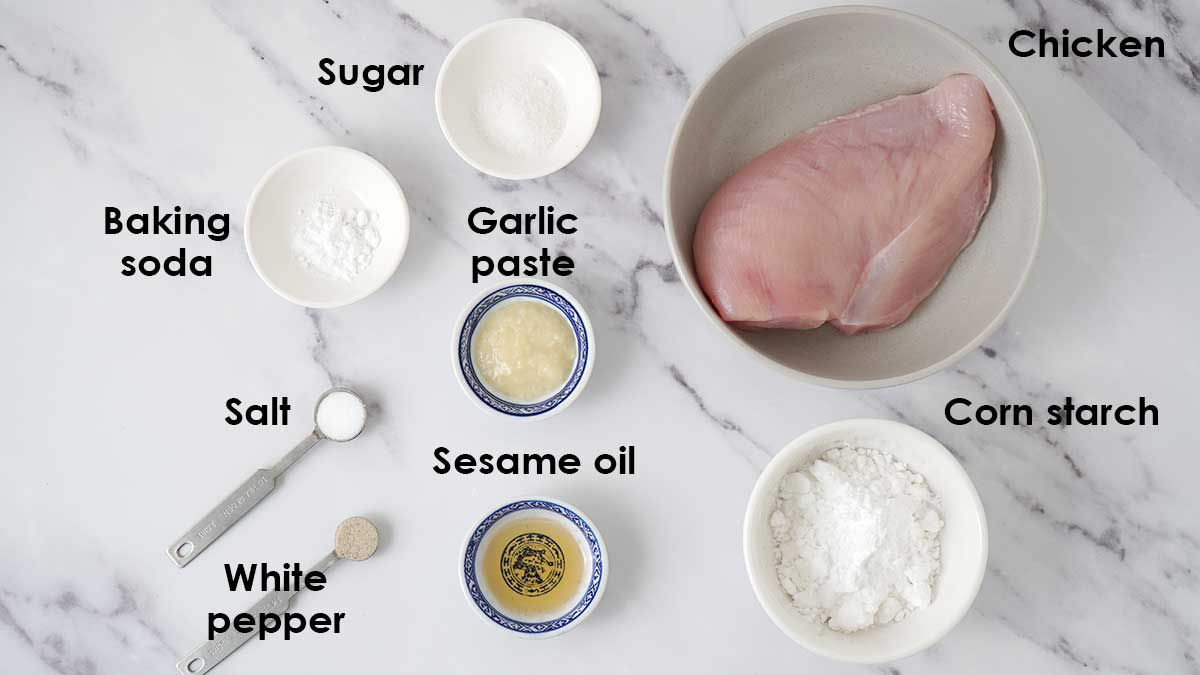 Chicken: Ideal to make with boneless chicken breast, but you can also try it with boneless chicken thigh or prawns.
For vegetarian options, use tofu or cauliflower heads, cut into 1" cubes and skip the marinade part. Season with seasoning ingredients and coat with the batter straight away.
Batter: I use plain flour, corn starch, baking soda, salt and water. The batter consistency should be medium thick, not too thick not too watery. If you prefer thick batter, reduce the water amount and create a thick batter.
Can I use self-raising flour? If you have self-raising flour in hand, you can add self-raising flour and corn starch ( flour to corn starch ratio is 1 : ½ ). Skip the salt and baking soda if they are already in self-raising flour.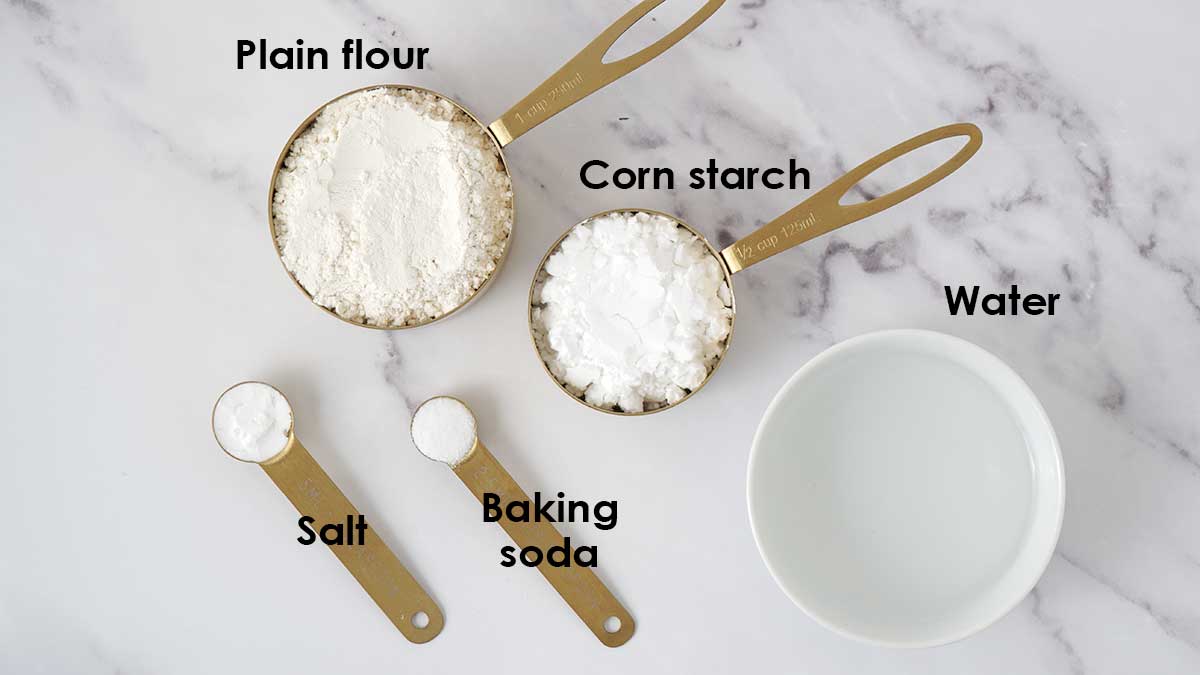 Dipping Sauce: Ketchup, white vinegar, and sugar are the 3 essential ingredients to make sweet and sour. I add tomato puree to bring more red colour, if you don't have it in hand you can skip it and add tomato ketchup instead. You will also need a pinch of salt to taste and cornstarch to thicken the sauce.
You can add extra lemon juice or pineapple juice to bring more flavour. Some restaurants add msg in their sauce, but we don't think it is necessary because it has already sugar inside and perfectly taste great on its own.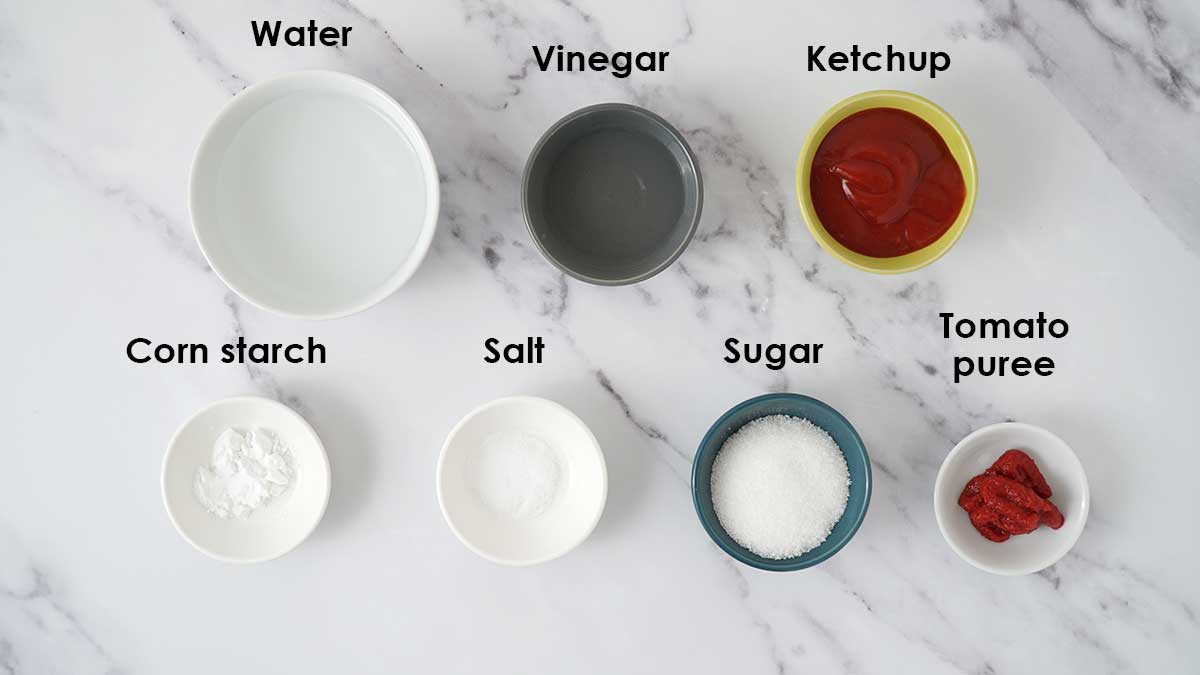 How to make sweet and sour chicken balls
You'll need 4 simple steps to make:
First marinate the chicken dices.
Coat the marinated chicken pieces with constarch and batter.
Double fry until crispy golden brown.
Make the sweet and tangy dipping sauce.
Chicken Marinade
Marinating is the most important part that you can't skip. Simply season with salt, white pepper, sesame oil, sugar, baking soda, garlic paste, and cornstarch.
Mix it well with your hands and let it sit and marinate for at least 30 minutes to 1 hour. Adding a pinch of baking soda and cornstarch is a secret of Chinese cooking that keeps the meat moist and tender when you fry with high heat.

Batter for Chicken Balls
This recipe is adapted from our friend, a Chinese chef. Authentic Chinese restaurant chicken cubes are coated with quite a lot of batter and fluffy. But I prefer my homemade recipe with less batter, so ours is a bit lighter and crisper coating texture.
To make the batter mix, you will need plain flour ( all-purpose flour ), corn starch, salt, baking soda, and water. Adding baking soda to the mixture creates a puffy, crispy texture. Plain flour and corn starch together make the perfect golden colour.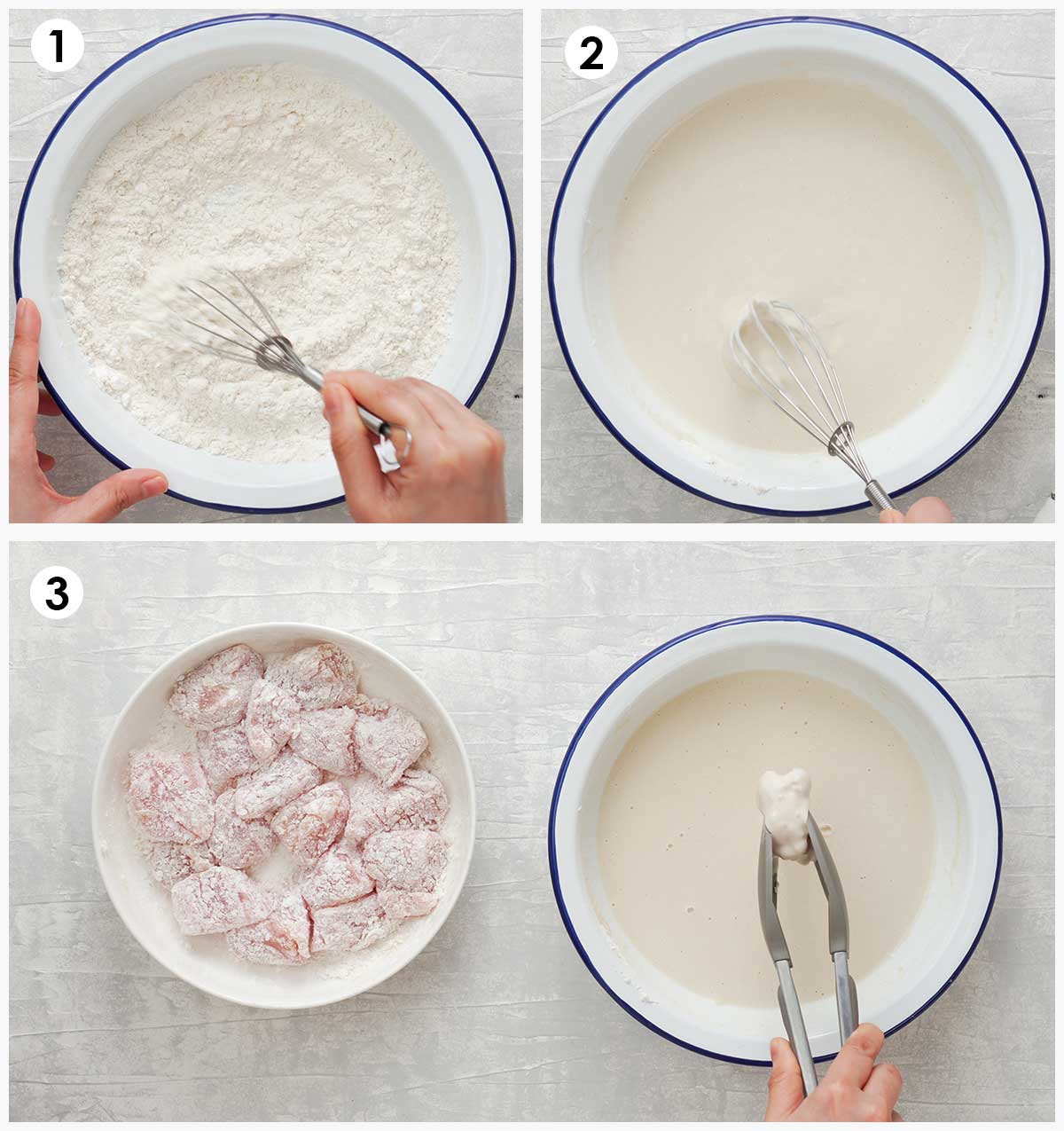 Deep Frying
Deep frying is the best method to achieve crispy, airy, perfectly golden chicken balls. Highly recommend deep fry instead of shallow fry or air-fry.
Why double fry? Double frying is crucial to create a crispy batter and juicy chicken meat inside. The coating will stay crispy for hours, less greasy, and airy.
Temperature for frying? You need to fry with high heat between 340-350'F, you can check with a food thermometer or wooden chopstick. If the oil bubbles are sizzling steadily, it's ready to fry. Or add a splash of batter in the hot oil, if the batters float and sizzle straightaways, it's ready to fry.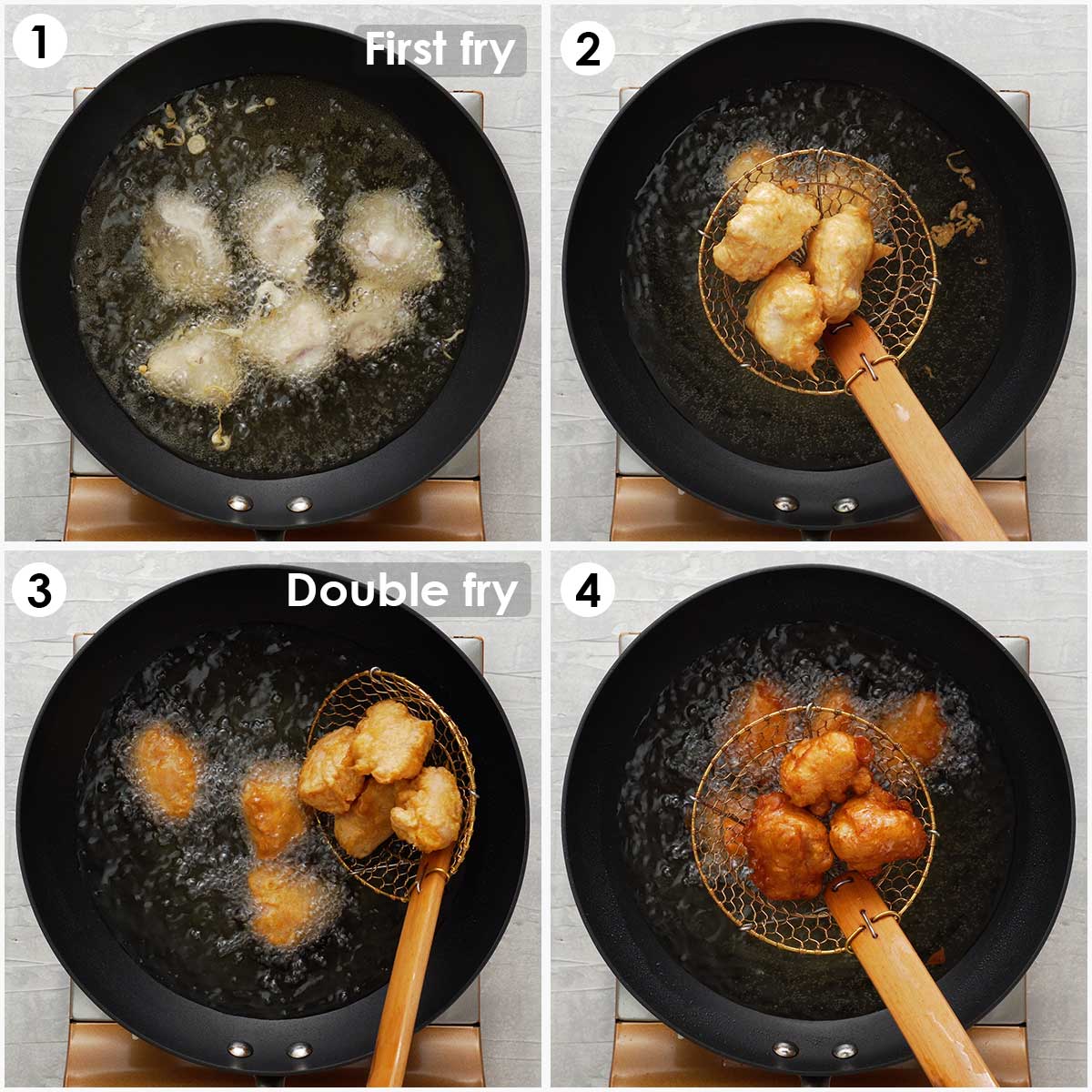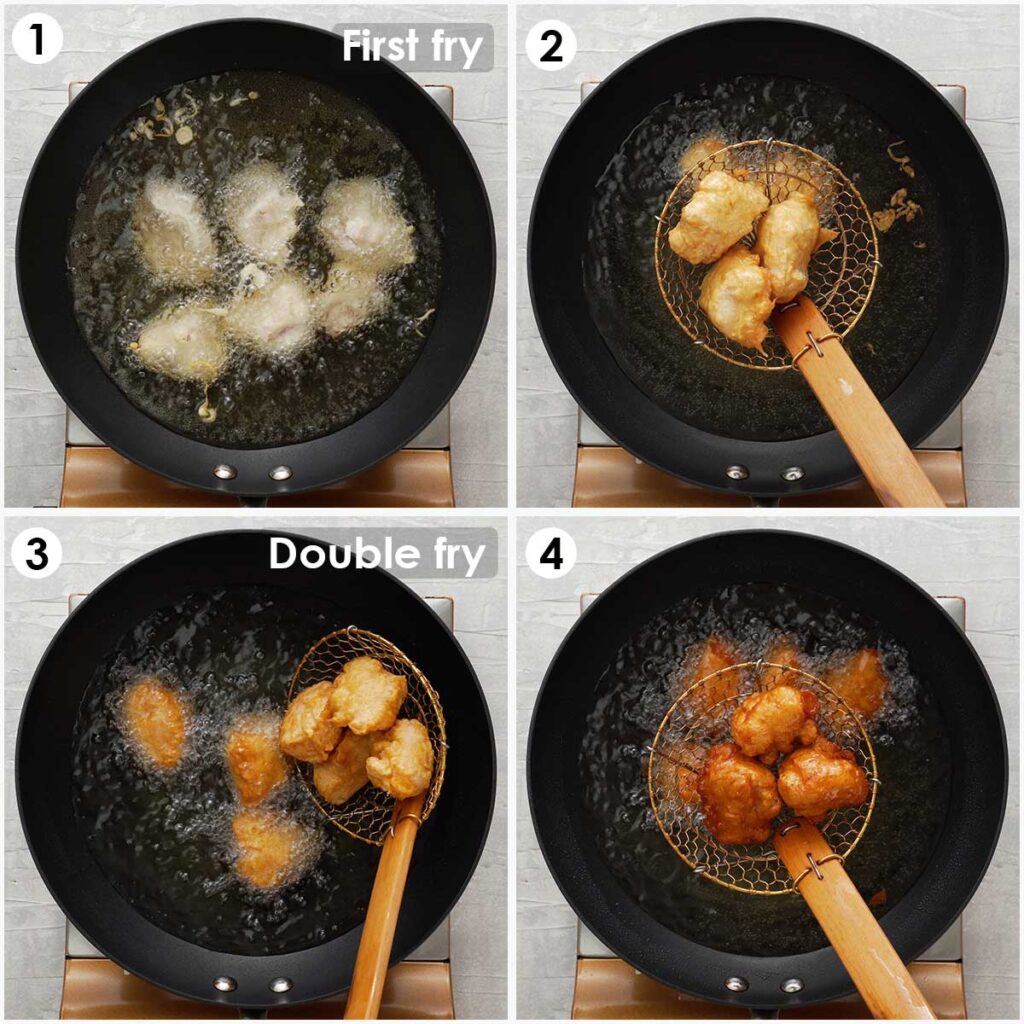 Which oil to use? Vegetable oil or other neutral flavour oil like canola, grapeseed, sunflower oil is best for deep frying for this recipe.
Can you resue the fried oil? We reuse the fried oil by clearing out the crumbs with a mesh strainer once it cools down. Keep in air-tight containers or jars and use in other stir fry dishes or curries.
Sweet and Sour Sauce
Sweet and sour sauce is an ideal dipping sauce to serve with Chinese chicken balls. It's so easy to make at home and tastes just like the sauce you've had at a Chinese restaurant. You can serve the sauce and fried chicken separately or tossed the fried chicken with the sauce and coat them with the sauce completely and serve.
Combine all the ketchup, tomato puree, vinegar, sugar, cornstarch, water, and salt in a small saucepan and simmer with low heat until slightly thick. Or you can adjust to your desire consistency by adding more or less water.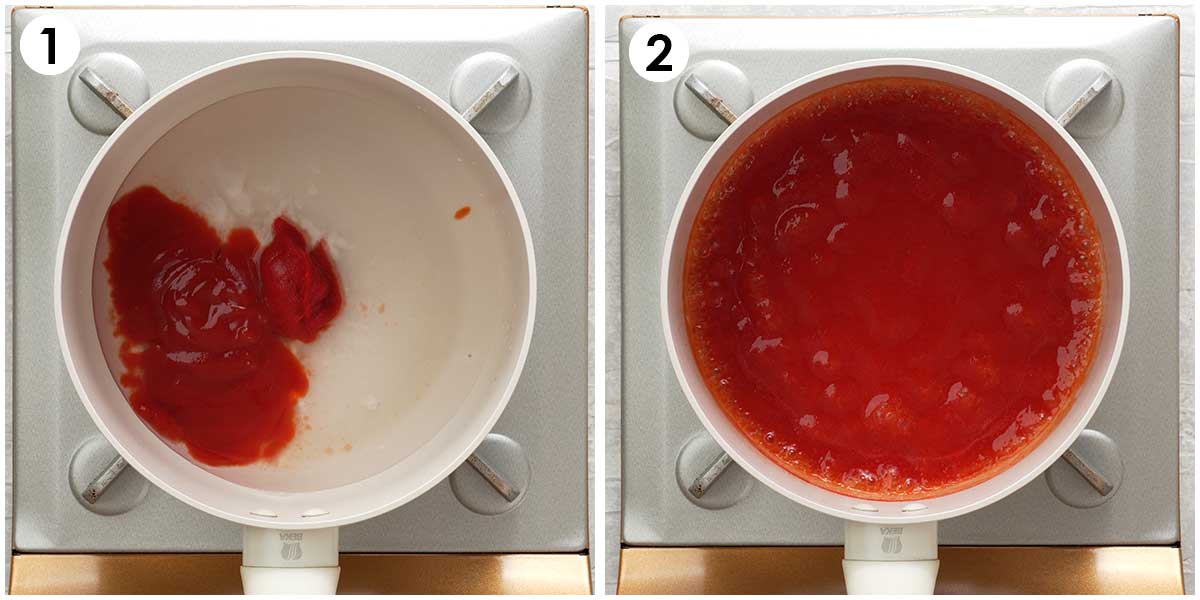 Frequently asked questions
How many calories are in Chinese sweet and sour chicken balls?
368 kcal for 1 serving. This is an approximate amount, nutritional facts can be slightly different.
What is Chinese batter?
Chinese batter is usually made of plain flour, cornstarch, baking soda and water. Can be seasoned with salt, pepper, and garlic powder. You can make battered chicken, prawns, or pork with this recipe.
Can you freeze or reheat?
I do not recommend freezing or reheat the double-fried chicken balls as reheating can change the texture and crispiness. You can freeze single-fried ones, fry them for 2-3 minutes until lightly golden. Let them cool down, and store in air-tight bags or containers. To reheat, deep fry or air fry them from frozen until crispy golden brown for 2-3 minutes just before serving.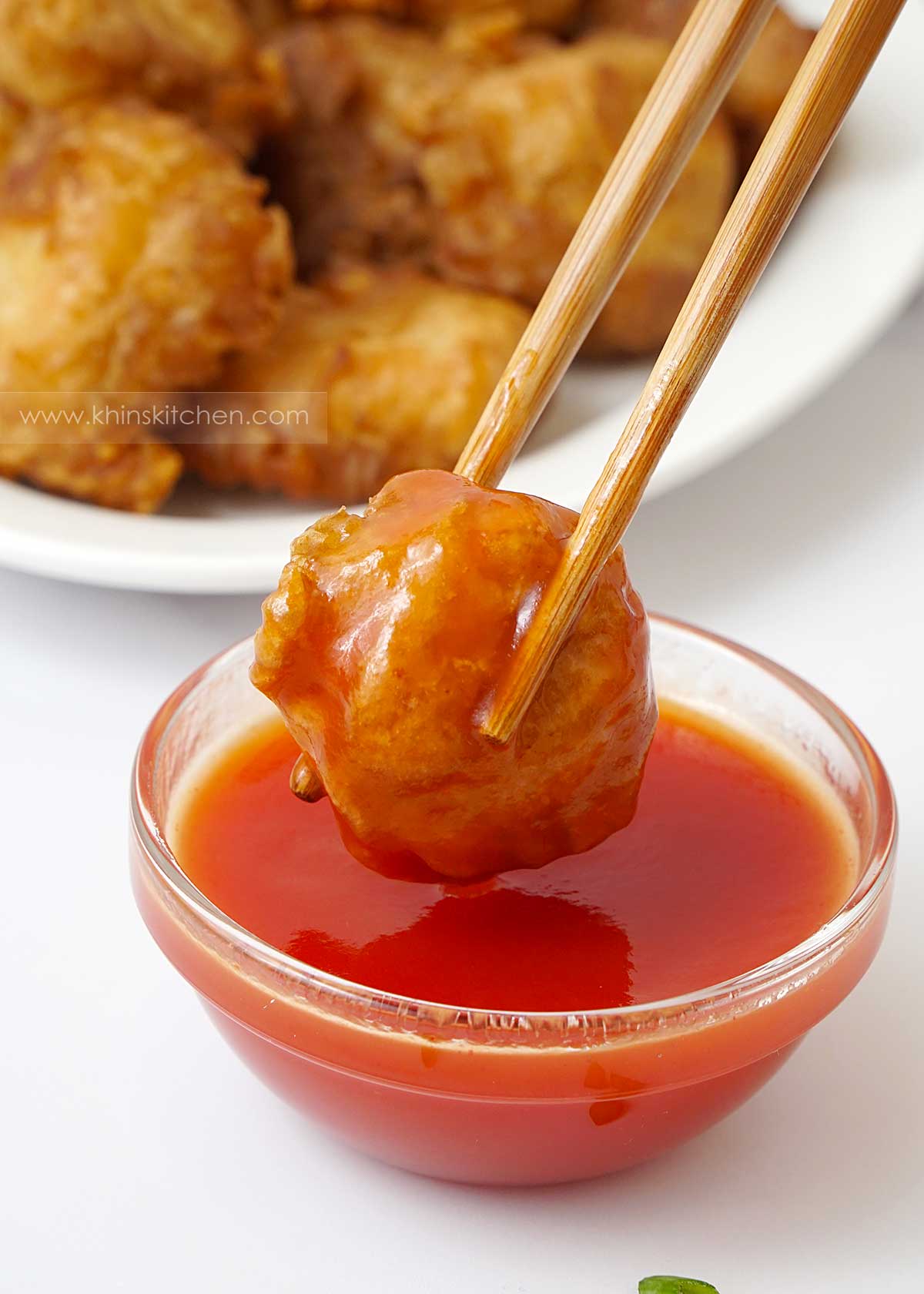 Watch How To Make It Recipe Video
What to serve with this dish
You can serve this dish on its own with sweet and sour sauce, or a choice of dipping sauce. We love to have with sweet chilli sauce and Thai Sariracha sauce too. Or you can pair it with other Chinese dishes and make it a perfect fakeaway dinner! Here is a handful of our favourite classic Chinese recipes you might like to try out:
Stay updated on new recipes:
We are on social media Facebook, Instagram, YouTube ( New recipe video every week ) and Pinterest ( Pin your favourite recipes ). If you've tried this recipe, please share your comment or post on social media and tag me. I would love to see your creations and feedback.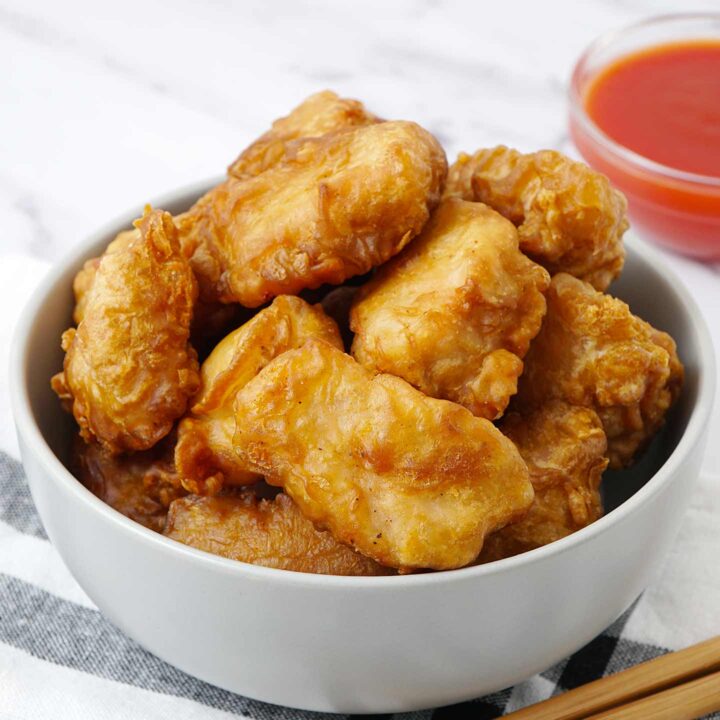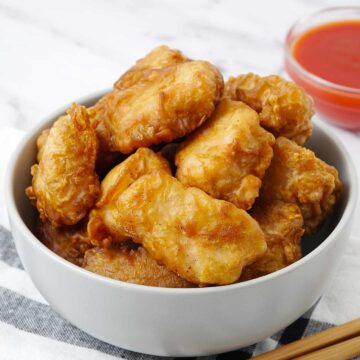 Chicken Balls with Sweet and Sour Sauce
Restaurant-style Fried Chinese Chicken Balls with Sweet and Sauce recipe. Made with simple cupboard-friendly ingredients. Perfect as an appetizer or party snack!
Print
Pin
Rate
Ingredients
500

g

Chicken breast

About 18 oz ( Boneless skinless chicken breast ) Cut in 1" cubes.

½

cup

Corn starch

Vegetable oil for deep frying

Or canola, sunflower, grapeseed oil, or any neutral flavour oil
Chicken Marinade
2

tsp

Sugar

1

tsp

Salt

¼

tsp

White pepper

1

tsp

Sesame oil

1

tbsp

Garlic paste

( Finely grated garlic ) Or 1tsp garlic powder

½

tsp

Baking Soda

1

tsp

Cornstarch
Batter
1

cup

Plain flour

Or all purpose flour

½

cup

Cornstarch

Or potato starch

1

tsp

Baking soda

Or Bicarbonate of soda

½

tsp

Salt

1

cup

Water

Add more water if needed
Dipping Sauce
4

tbsp

Ketchup

1

tbsp

Tomato Puree

Or tomato concentrate

4

tbsp

White vinegar

3

tbsp

Sugar

½

cup

Water

1

tsp

Cornstarch

½

tsp

Salt
Instructions
Marinade the chicken
Cut the chicken breast into 1" dices. Place them in a large mixing bowl and add all the seasoning ingredients, salt, sugar, white pepper, sesame oil, garlic paste, corn starch, and baking soda. Mix well, set aside, and marinate for 15-30 minutes. ( If you have more time you can leave it for 1 hour. )
Make Sweet and Sour Sauce
In a small saucepan, combine all the sweet and sour sauce ingredients, ketchup, vinegar, sugar, tomato puree, water, corn starch and salt. Mix well until corn starch dissolved, then turn on the heat to low-medium. Stir continuously until the sauce is thicken to desire consistency. Turn off the heat and let it cool down.
Batter and Frying
Combine plain flour, corn starch, baking soda, and salt in a large bowl. Pour the cold water in, whisk well and make it into smooth batter. ( The batter should be medium thick. Add more water if needed. )

Add ½ cup of corn starch in the chicken marinade, coat each chicken piece with the corn starch. Then dip into the batter and turn to coat evenly.

Fry the battered chicken pieces with pre-heated high heat oil for 2-3 minutes until light brown. ( about 350° F/ 180° C ) Remove from oil and set aside for 4-5 minutes. Repeat the process to remaining chicken pieces.

Then reheat the oil back to 350° F/ 180° C , fry the chicken 2nd time for 2-3 minutes until crispy golden brown. Remove from oil and transfer to cooling rack or paper towel.
Notes
Frying Tips
Do not overcrowd the oil because overcrowding can drop down the oil temperature and the chicken balls can get greasy. Fry with batches if needed. 
After frying each batch, clear the oil with a mesh strainer to prevent the oil get burnt and cloudy. 
Baking Or Air Frying Option
Deep frying creates the best result however if you wish to bake or air fry the chicken balls, shallow fry them with less oil until light brown then bakes in a pre-heated oven or air-fryer until crispy golden brown. 
Can you make it ahead?
You can prep everything ahead and single fry the chicken balls for 2-3 minutes until lightly golden. Let them cool down, and store them in the fridge. Deep fry until crispy golden brown for 2-3 minutes until golden brown just before serving. 
Tips and storage for dipping sauce 
You can make an extra sauce and store it in an air-tight container for later use with other recipes like spring rolls or wontons. 
The level of sweetness or sourness can be adjusted by adding more or less sugar and white vinegar. 
Nutrition
Calories:
368
kcal
|
Carbohydrates:
56
g
|
Protein:
24
g
|
Fat:
4
g
|
Saturated Fat:
1
g
|
Polyunsaturated Fat:
1
g
|
Monounsaturated Fat:
1
g
|
Trans Fat:
1
g
|
Cholesterol:
64
mg
|
Sodium:
1492
mg
|
Potassium:
462
mg
|
Fiber:
1
g
|
Sugar:
12
g
|
Vitamin A:
108
IU
|
Vitamin C:
3
mg
|
Calcium:
21
mg
|
Iron:
2
mg