Japanese Teriyaki Chicken recipe with succulent pan-fried chicken glazed with flavourful homemade teriyaki sauce. This is a quick and simple recipe that you can easily make at home. Perfect weekday lunch or weeknight dinner that all kids and adults love!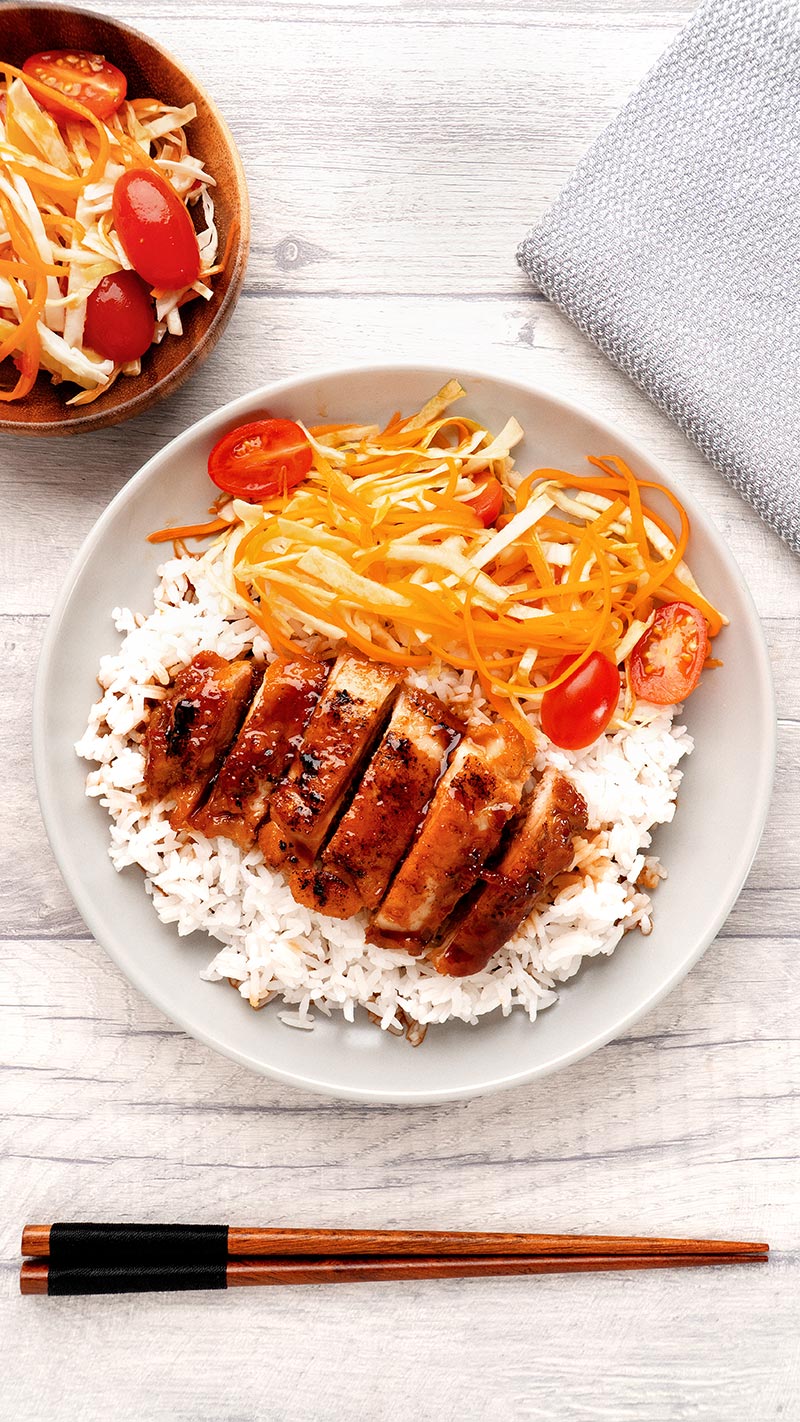 What is Teriyaki Chicken?
Japan has hundreds of years old practice of cooking meat and fish in soy sauce and sugar mixture as one of the traditional cooking ways. Teriyaki is a name for Japanese cooking techniques where your choice of meat and fish is grilled or pan-fried and glazed in the delicious Japanese sauce.
In Japanese, Yaki means grilled and Teri simply means shiny. That means the sauce must be cooked until it looks shiny like lacquer and glazed on the grilled meat. Instead of using the store-bought bottle of teriyaki sauce, I prefer to make it at home in the easiest and authentic way.
You are good to go with just light soy sauce, sake, mirin, and sugar! Detailed cooking methods, extra tips, and ingredient substitutes are also explained down below.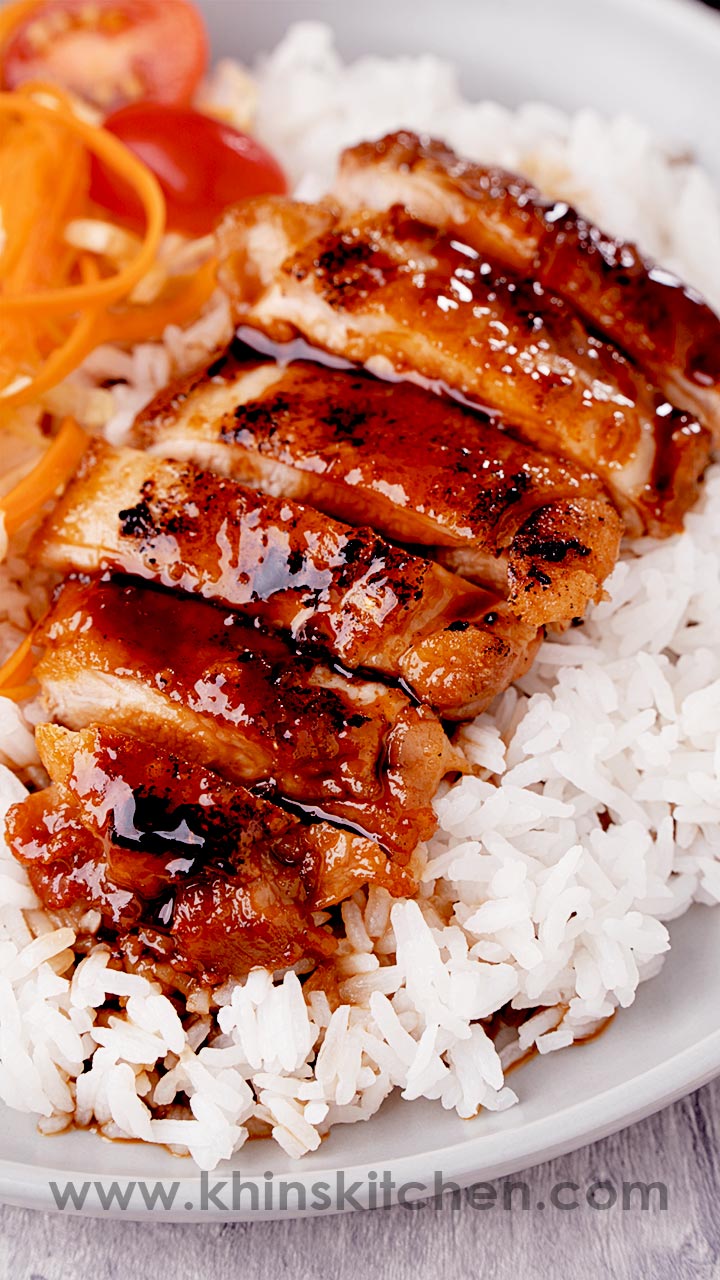 Ingredients you need
Protein:
I'm using boneless chicken thigh with skin-on for this recipe because the skin can keep the moisture of the meat while being pan-fried until it is brown and also keep it juicy. If you prefer lean meat, you can also use chicken breast but I find it slightly dry for this recipe. Salmon fillets and beef tender cuts such as rib-eye, sirloin, and tenderloin go well with teriyaki sauce too. I will share my teriyaki beef recipe very soon!
Teriyaki Sauce:
Traditionally, homemade Japanese teriyaki sauce is made with soy sauce, mirin (Japanese cooking wine), sake (fermented Japanese beverage), and sugar. I use water instead of sake in this recipe, you can use sake for more umami flavour.
Soy sauce - Use all-purpose Japanese soy sauce or light soy sauce for this recipe. To taste authentic Japanese flavour, Japanese soy sauce brands like Kikkoman, Yamasa, and Marukin are ideal to add. But if you get it easily, use any light soy sauce available at your local stores.
Mirin - Mirin is a Japanese cooking wine, very similar to sake and rice wine. It has a subtle sweet flavour and very low in alcohol percentage. Used in Japanese cooking, marinades, and sauces.
Sake - Sake is a Japanese rice wine, made from fermented rice. You can use cooking sake or any sake. I use water instead of sake in this recipe, you can use sake for a more authentic Japanese flavour.
Here is the simple cooking process:
You need only 3 simple steps to make this dish.
1. Gather all the sauce ingredients into a small bowl, mix well and set aside.
2. Pan Fry the chicken skin side first, then turn sides.
3. Pour the sauce mix and let the sauce reduce and thicken. That's it! Serve with a bowl of steamed rice.
How to serve teriyaki chicken?
It's absolutely light and delicious on its own but I love to serve with rice and salad on the side. Perfect with Japanese rice or Thai jasmine rice but you can simply serve with any cooked rice of your choice. Steamed vegetables or salad on the side are perfectly match too.
Once you know how to cook the teriyaki chicken, you can also easily prepare teriyaki chicken don or donburi. Donburi is a Japanese Rice Bowl dish where warm-cooked rice is served with meat or seafood with sauce and vegetables on top.
If you are a fan of wings, you can prepare the juicy teriyaki chicken wings by tossing the fried wings with this homemade teriyaki sauce.
If you are a fan of Japanese dishes, here are more delicious Japanese dishes on our blog :
If you enjoy our recipe, please leave a comment and give us a rating! If you've tried this recipe, tag me on social media, I would love to see your creations! Follow me on social media Facebook, Instagram and Pinterest for the latest updates.
Watch how to make teriyaki chicken recipe video: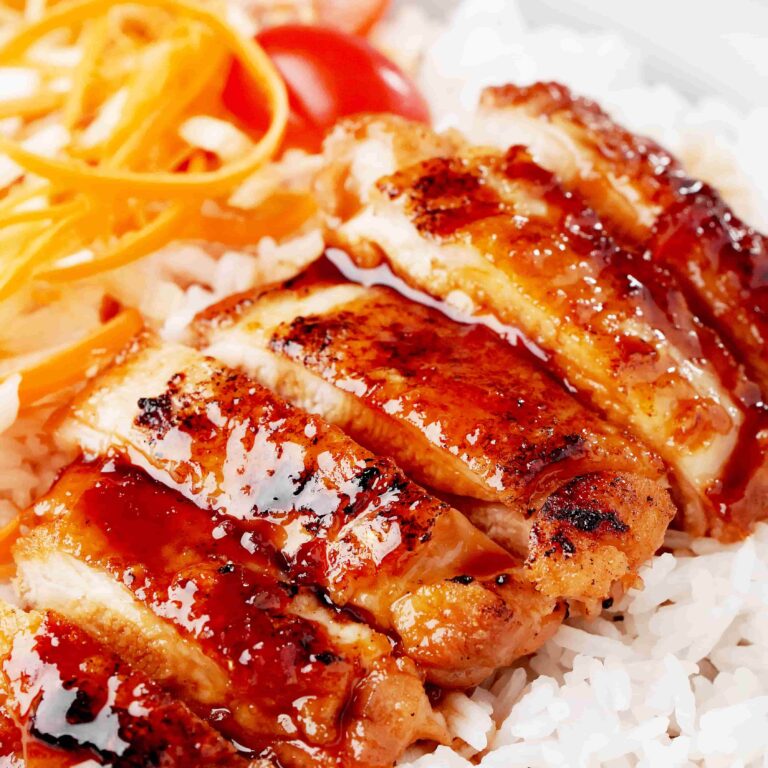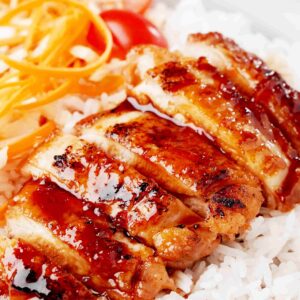 Ingredients
2

Boneless chicken thigh with skin

about 450 g

2

tsp

Vegetable oil
Teriyaki Sauce
3

tbsp

Light soy sauce

3

tbsp

Mirin ( Japanese rice cooking wine )

(see details in note)

1

tbsp

Water

( or you can add Japanese Sake )

1

tbsp

Brown/White Sugar

½

tsp

Ginger paste
Salad Ingredients
1

cup

Shredded cabbage

( a handful )

1

cup

Shredded carrot

( a handful )

5-6

Cherry tomatoes

1

tbsp

Sweet chilli sauce

1

tsp

Sesame oil
Instructions
In a small bowl, add all the teriyaki sauce ingredients, mix it well and set aside.

Pat dry the chicken thigh with paper towel, poke the chicken skin with fork or knife tip to achieve the crispy skin.

Heat 2 tsp of oil in a non-stick pan or skillet over medium heat. Place the chicken skin side down. Cook for 3-4 minutes until the chicken skin become crispy golden brown.

Flip the chicken and cook for another 3 minutes. Wipe off the excess oil from the pan with the paper towel.

Pour the sauce in and cook with medium heat until the sauce reduce and gets thicken. ( You can use splatter guard to prevent the sauce splatter. )

You can prepare the salad while waiting for the sauce to reduce. Shred the cabbage and carrot into thin strips. Cut cherry tomatoes into half. Mix all the vegetable with sweet chilli sauce and sesame oil. Set aside.

Remove the chicken from the pan and cut into thin slices.

Place the chicken over rice, pour the remaining sauce over the chicken . Topped the salad on the side. (You can serve chicken on its own with salad without rice.)

Serve immediately! Enjoy!
Notes
Mirin: Mirin is a Japanese cooking rice wine, widely used in marinade and sauces. You can find mirin at Oriental/Asian groceries or supermarket Asian aisle.
Highly recommend to add mirin for this recipe but if you cannot find it, you can substitute with dry sherry, or rice wine vinegar.
If you wish to make halal or non-alcohol version, you can mix sugar syrup/honey + rice vinegar/water. ( ratio is

½ + ½ ) Taste won't be exactly same with mirin but these substitute options can give the nearest result. 
Soy sauce: Japanese soy sauce is mostly use for this recipe but if you cannot find Japanese soy sauce brand, you can use any light soy sauce available at your local store. ( I usually use Kikkoman all purpose soy sauce. )
Sake: Sake is a fermented Japanese beverage made from rice. Sake is used in meat marinate and sauces in Japanese cooking. It has sweet and acidic flavour and higher alcohol content than mirin. 
You can mostly buy sake bottles or cooking sake at Oriental/Asian supermarkets. To make the dish more authentic way of cooking, you can add sake. If you don't wish to add sake, you can omit it or substitute with water for this recipe.