Pan-Fried teriyaki salmon recipe with delicious homemade teriyaki sauce. Super quick and easy to make with few simple ingredients. Serve over hot steamed rice and vegetables and make it an incredible teriyaki salmon rice bowl!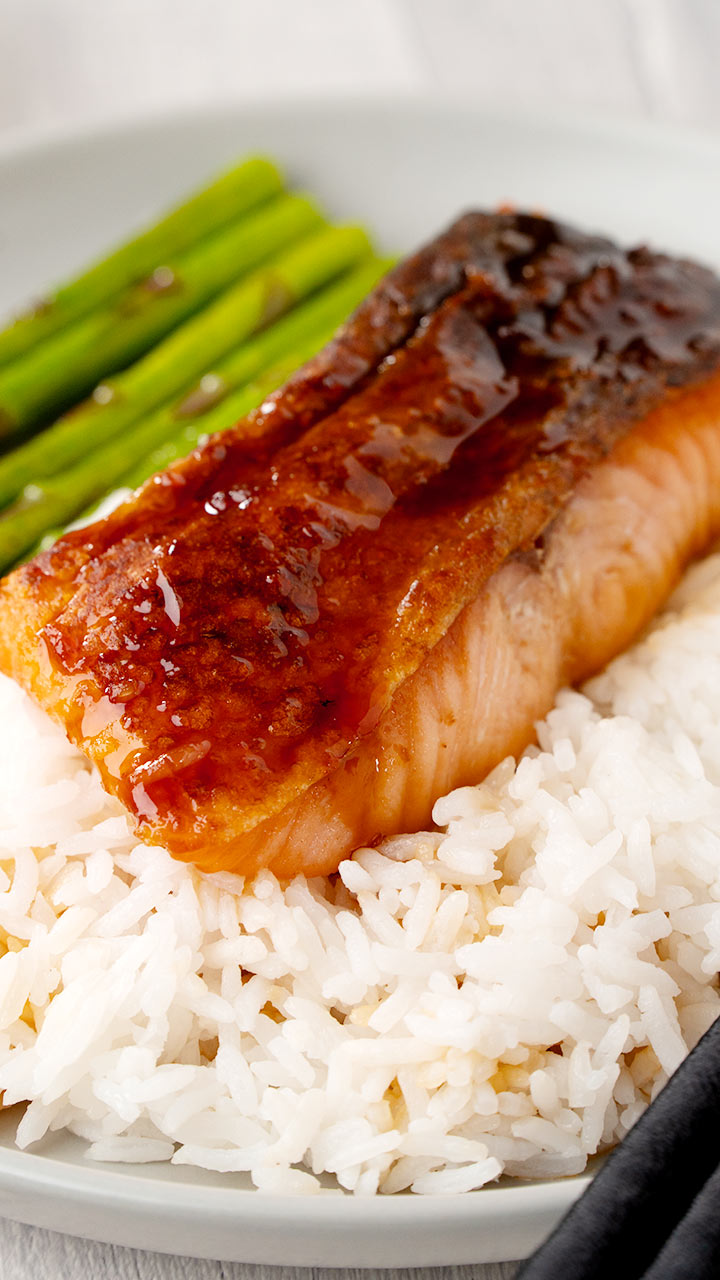 Japanese are known to have a healthy living style and their daily meals are one of the reasons for the long and healthy living. As we all know, Japanese people love to eat small amount at each meal but it contains the right amount of rice, protein and vegetables.
Salmon teriyaki is one of the healthiest Japanese dishes where the grilled or pan-fried salmon is glazed with the signature sauce which can easily be made at home. It's served mostly on top of steamed rice with vegetables on the side. This salmon dish is very easy to prepare and doesn't need a long marinating time. Best for a busy day's quick lunch or dinner as well.
It is healthy and you can adjust the taste of the sauce according to your preference from strong to light. It's diet-friendly and loved by fitness junkies. It's also perfect for meal preps by matching with lots of different fresh or grilled vegetables and brown rice.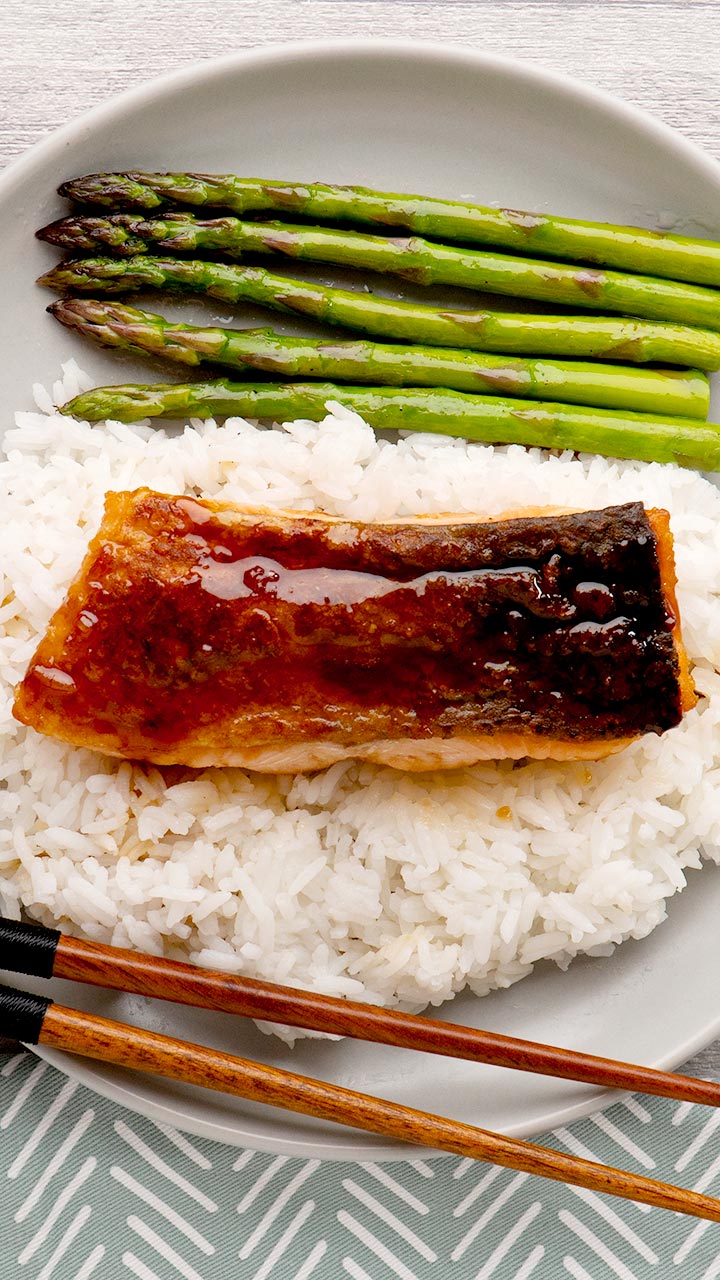 HOW TO MAKE HOMEMADE TERIYAKI SAUCE
Instead of using the store-bought bottle of teriyaki sauce, I prefer to make it at home. This recipe is the easiest and authentic way. You are good to go with just light soy sauce, sake, mirin, and sugar. In Japanese, Yaki means grilled and Teri simply means shiny. The sauce needs to cook until shiny like lacquer and glazed on the grilled meat.
How to store it? You can make the sauce in a large batch and keep it in the air-tight jar or bottle. You can store the bottle in the fridge and use it anytime to glaze on top of any dishes you like. Teriyaki sauce tastes really good on chicken, beef, prawns, and grilled vegetables as well.
SIMPLE STEPS TO MAKE TERIYAKI SALMON
As salmon has loads of health benefits, I love to cook salmon in many different ways. In this recipe, we going to cook the salmon in the Japanese way, with no marinade, no baking.
Here is the 3 simple steps you need to make :
1. Lightly dust the salmon skin side with all-purpose flour.
2. Pan-fry the salmon with a non-stick pan or skillet until the skin side is crispy golden, then turn side and cook for another 1-2 minutes and pour the teriyaki sauce in.
3. When the sauce is reduced and start to get thick, its ready to serve!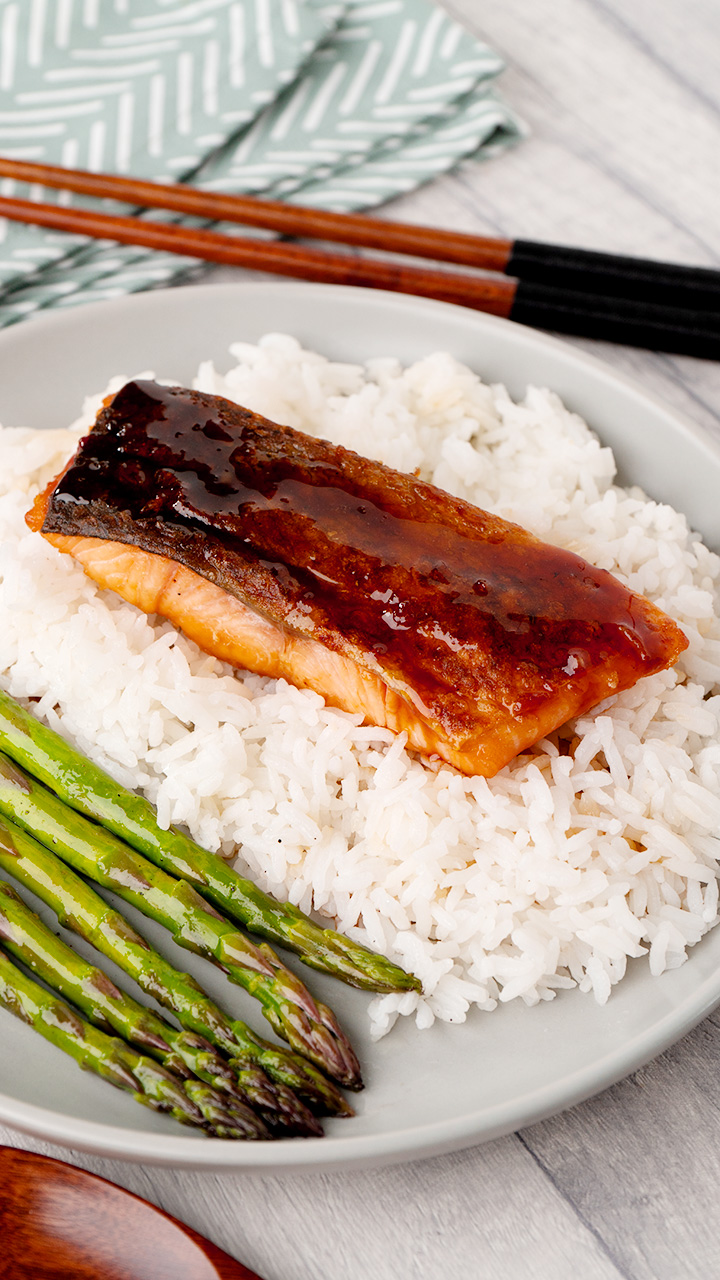 Can you bake teriyaki salmon in the oven? Authentic Japanese way is the pan-fry method but if you are making for a crowd you can bake them. Spray the salmon fillets with cooking oil. Place the salmon fillets on the baking sheet, bake at 400 F preheated oven for 10-15 minutes until cooked. Add the sauce mix in the saucepan, stir and reduce the sauce until thick and glossy. Pour the sauce over the salmon and ready to serve..
WHAT TO SERVE WITH TERIYAKI SALMON
I usually love to serve with Japanese rice or jasmine rice and alongside with salad or stir fry greens. You can serve with any of your favourite rice and, vegetables and make it your own style delicious teriyaki rice bowl.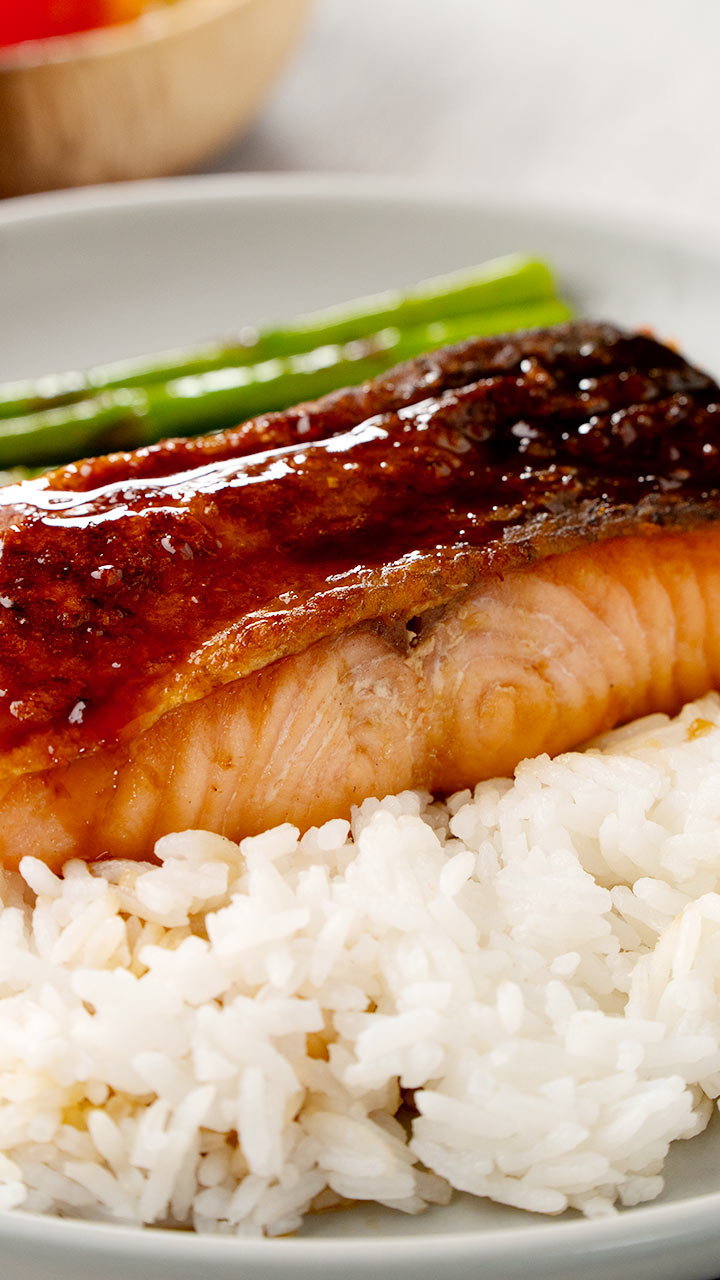 More of our family's favourite Japanese recipes you can try out:
Watch how to make Teriyaki Salmon recipe video
I hope you enjoy our recipe. If you've tried this recipe please leave a comment and give us a rating! Tag me on social media, I would love to see your creations! Follow me on social media Facebook, Instagram and Pinterest for the latest updates.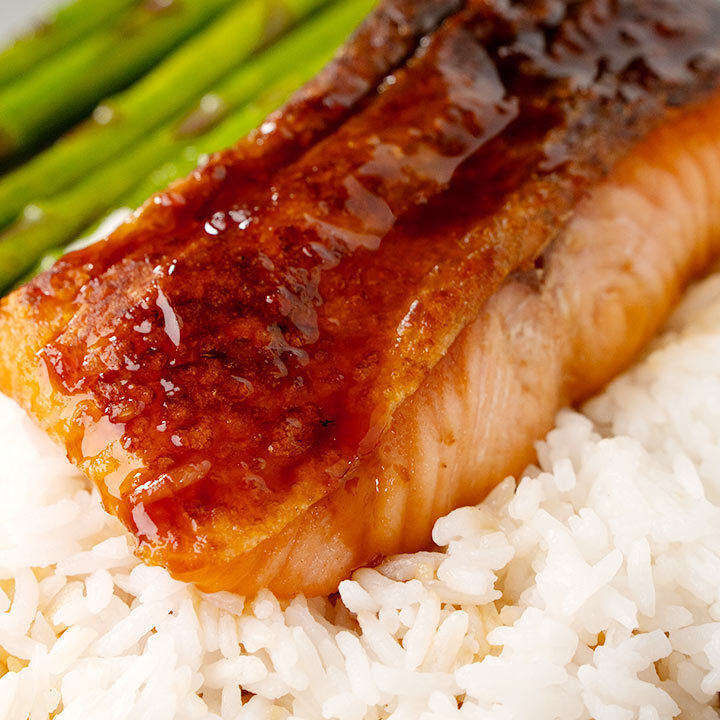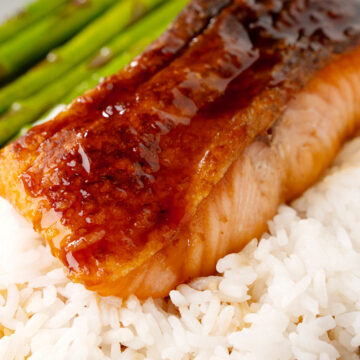 Teriyaki Salmon
Pan-fried salmon glazed with delicious homemade teriyaki sauce.
Print
Pin
Rate
Ingredients
2

Salmon fillets with skin

(about 150 g each)

1

tbsp

Plain flour ( all purpose flour )

1

tbsp

Vegetable oil

Asparagus to serve

(Or any stir fry vegetables)
Teriyaki Sauce
3

tbsp

Light soy sauce

3

tbsp

Mirin (Japanese cooking wine)

1

tbsp

Water

( Or Japanese Sake )

1

tbsp

Brown/White sugar

½

tsp

Ginger paste
Instructions
In a small bowl, add all the teriyaki sauce ingredients, mix it well and set aside.

Pat dry the salmon fillets with paper towel, dust the skin side with all purpose flour. Toss the excess flour out before frying.

Heat 1 tablespoon of oil in a non-stick pan or skillet over medium heat. Place the salmon fillets skin side down. Cook for 2-3 minutes until the skin become crispy golden.

Flip the salmon and cook for another 2 minutes. Wipe off the excess oil from the pan with the paper towel.

Pour the sauce in and cook with medium heat until the sauce reduce and gets thicken.

You can prepare the vegetables white waiting for the sauce to reduce. Saute` the asparagus with a bit of vegetable oil and season with salt and pepper to taste.

Place the salmon fillet over rice, pour the remaining sauce over the it and place the asparagus on the side.

Serve immediately! Enjoy!
Notes
Mirin: 
Mirin is a Japanese cooking rice wine, widely used in marinade and sauces. You can find mirin at Oriental/Asian groceries or supermarket Asian aisle.
Highly recommend to add mirin for this recipe but if you cannot find it, you can substitute with dry sherry, or rice wine vinegar.
If you wish to make halal or non-alcohol version, you can mix sugar syrup/honey + rice vinegar/water. ( ratio is 

½ + ½ ) Taste won't be exactly same with mirin but these substitute options can give the nearest result. 
Soy sauce: Japanese soy sauce is mostly use for this recipe but if you cannot find Japanese soy sauce brand, you can use any light soy sauce available at your local store. ( I usually use Kikkoman all purpose soy sauce. )
Sake: Sake is a fermented Japanese beverage made from rice. Sake is used in meat marinate and sauces in Japanese cooking. It has sweet and acidic flavour and higher alcohol content than mirin. You can mostly buy sake bottles or cooking sake at Oriental/Asian supermarkets. To make the dish more authentic way of cooking, you can add sake. If you don't wish to add sake, you can omit it or substitute with water for this recipe.