Yakisoba ( Stir Fried Japanese Noodles ) is one of the most popular classic noodle dish in Japan and across the world. Super easy and satisfying one-pan dish. I usually made with tender chicken pieces, fresh crisp vegetables and homemade yakisoba sauce.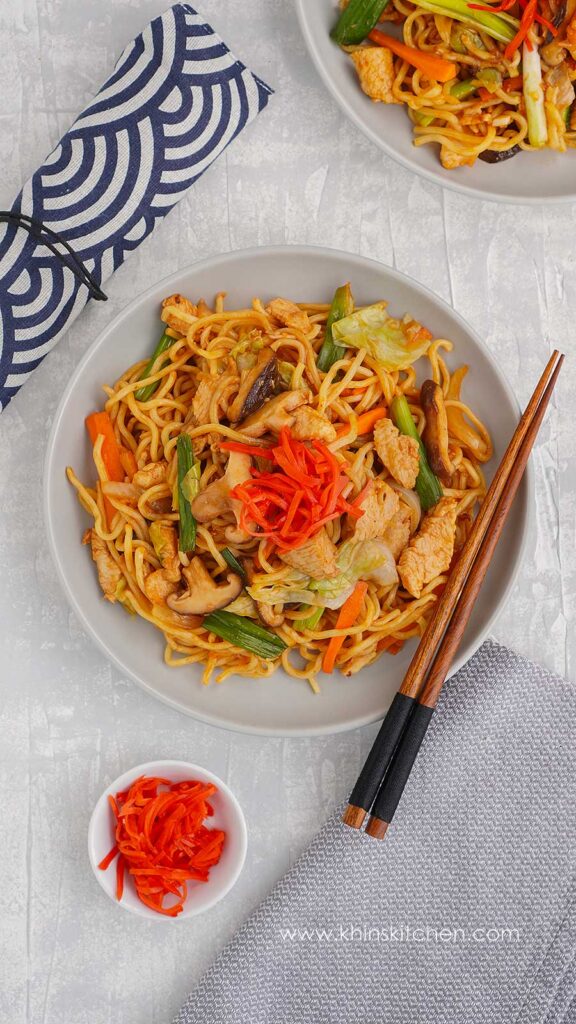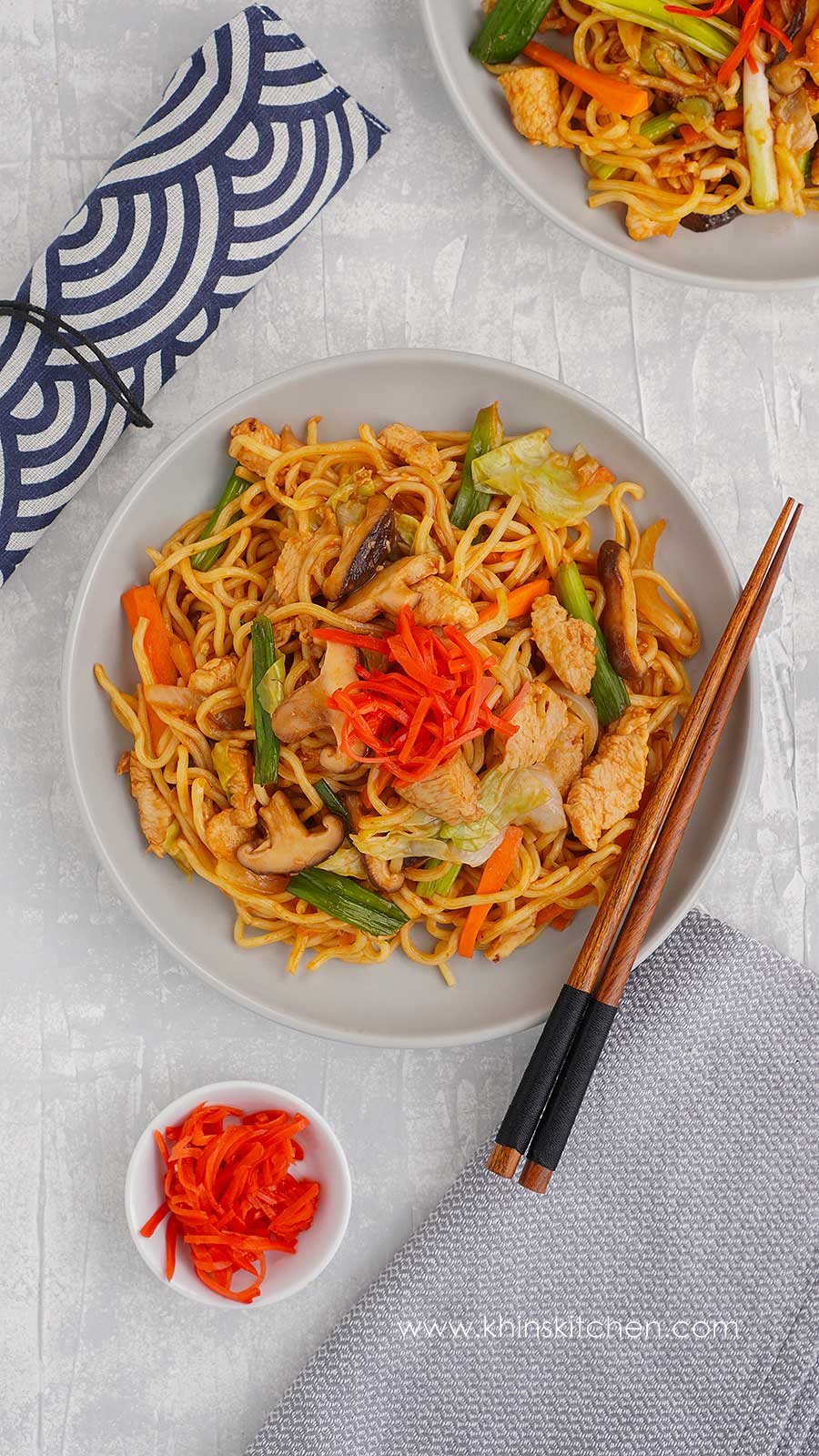 Japanese food are very light, healthy and satisfying and I love to make them quite often. Here is a handful of our family's favourite Japanese recipes :
What is Yakisoba
Yakisoba is a classic Japanese street food, traditionally make it over the tappenyaki pan ( large Japanese grill pan ). You can find Yakisoba in the menu of every Japanese restaurants across the world. Very similar to Chinese chow mein noodles and has a sweet and savoury taste.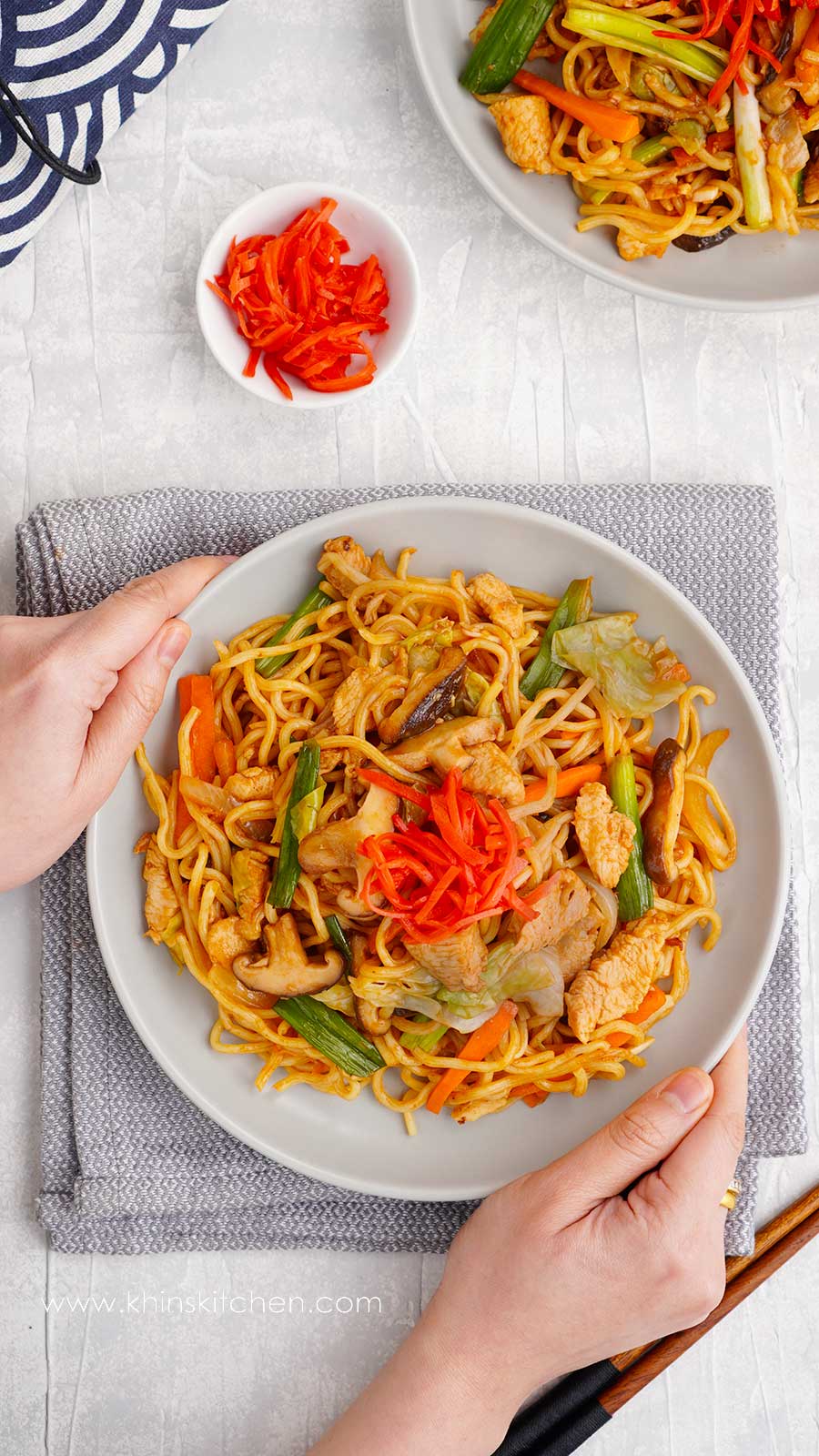 What goes in the dish?
Like many other stir fry dishes, you can throw in any protein or vegetables left in your fridge. One of the best ways to use up the noodle packets left in your pantry. Perfect for making a lunch box and meal prep. Here are the details of the ingredients that I used in this recipe.
Noodles
Yakisoba noodles are made from wheat flour, most packets are steamed and packed in one serving each. You can add the noodles straight to pan or prepare according to packet instructions.
Tips: As the noodles can break easy, I highly recommend to loosen the noodles. Add noodles in the warm water and loosen it gently and drain water out to prevent from breaking up.
What can you substitute Yakisoba noodles?
You can buy yakisoba noodles in most Oriental or Japanese supermarkets. If you cannot get it easily, you can substitute with wheat noodles, ramen noodles or egg noodles.
Meat
In this recipe, I make with chicken slices. Swap with any of your favourite tender meat slices, bacon and create your own-style yakisoba. Option for vegetarians, omit meat and add firm tofu.
Vegetables
Cabbage, carrot, shiitake mushroom, and spring onions are ideal to make yakisoba. These vegetables can be replaced with any of your favourite stir fry vegetables.
Sauce
Homemade yakisoba sauce is the best! I've tried many different store-bought sauces and none of them were satisfactory. That's the reason I tried testing at home and succeeded in my very first attempt. You can make it from scratch with simple ingredients. You will need Worcestershire sauce, oyster sauce, soy sauce, and ketchup. Add a bit of sugar to balance the sweet and sour taste. Recommend to use Japanese Bulldog Worcestershire sauce in this recipe, which is thicker, sweeter, and more fruity flavour.
Making for a crowd? Here is my tips :
If you have gatherings or many guests to impress, you can make the preparation ahead, make the sauce in a large batch, and store it in an air-tight container. It lasts in the fridge for a minimum of 4-5 days.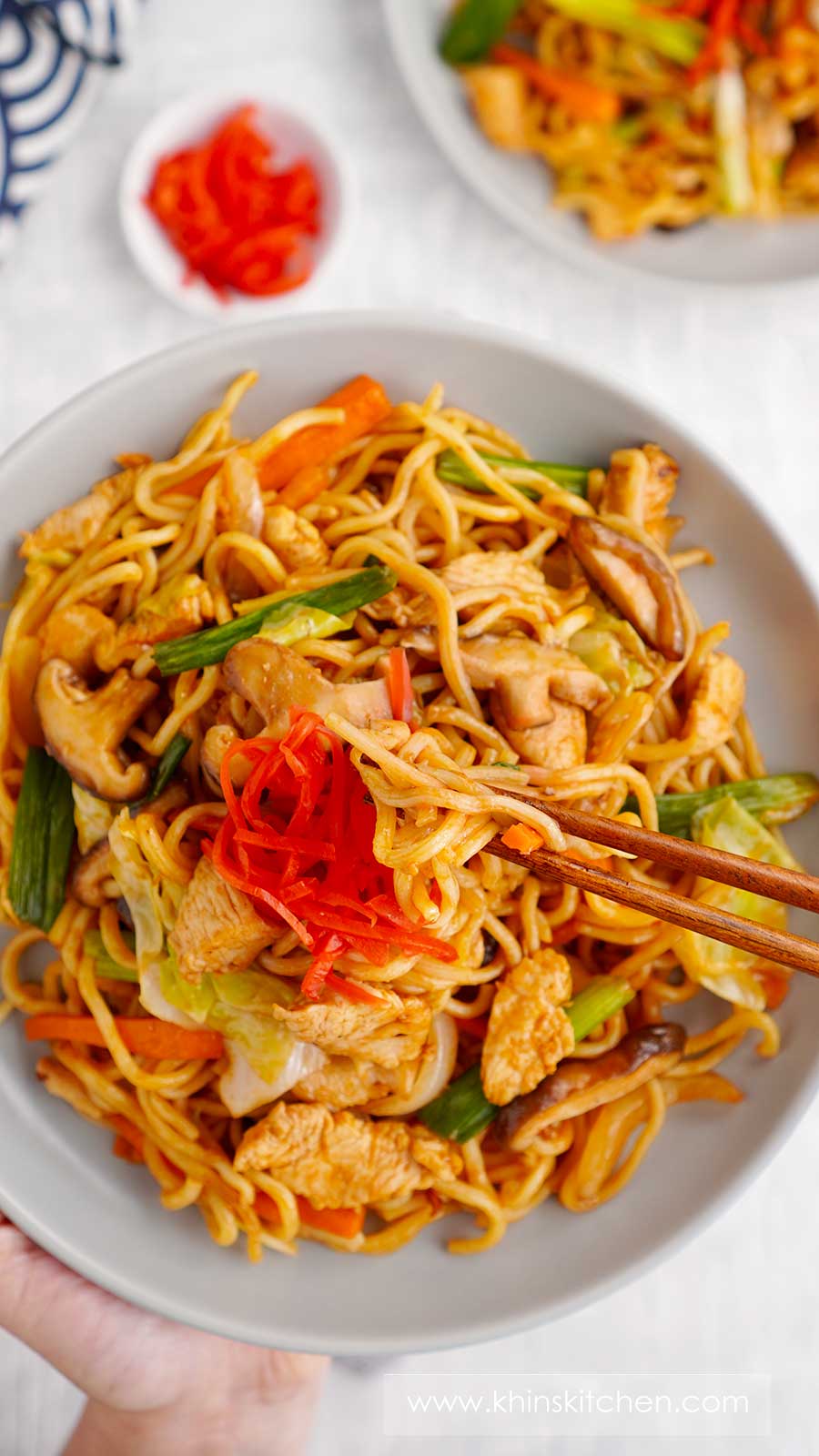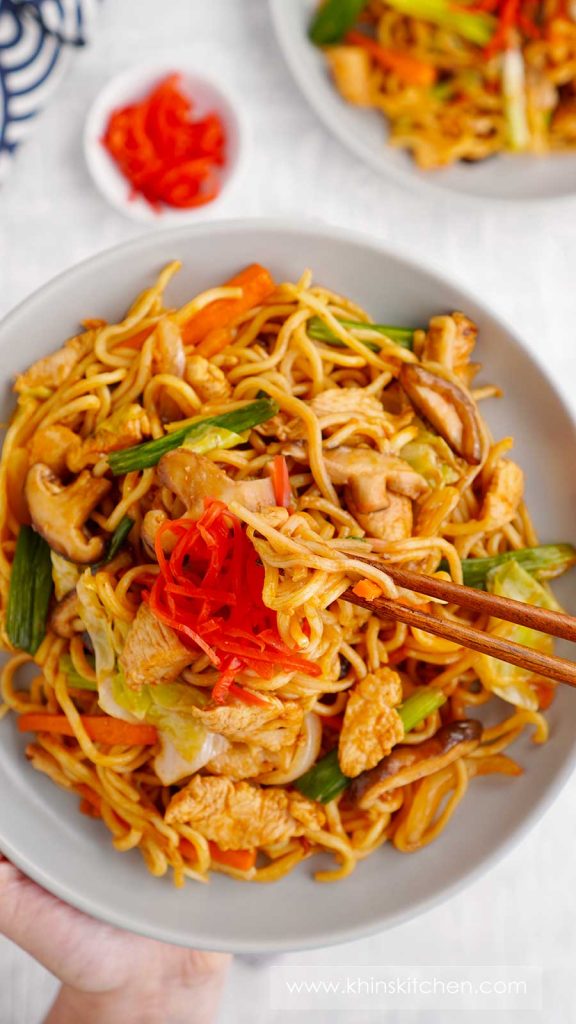 If you tried this stir fried Japanese noodles recipe at home, let me know how it turns out. I'd love to see your creations, so don't forget to tag me if you upload photos on social medias. Follow me on Facebook, Instagram and Pinterest for latest recipe updates.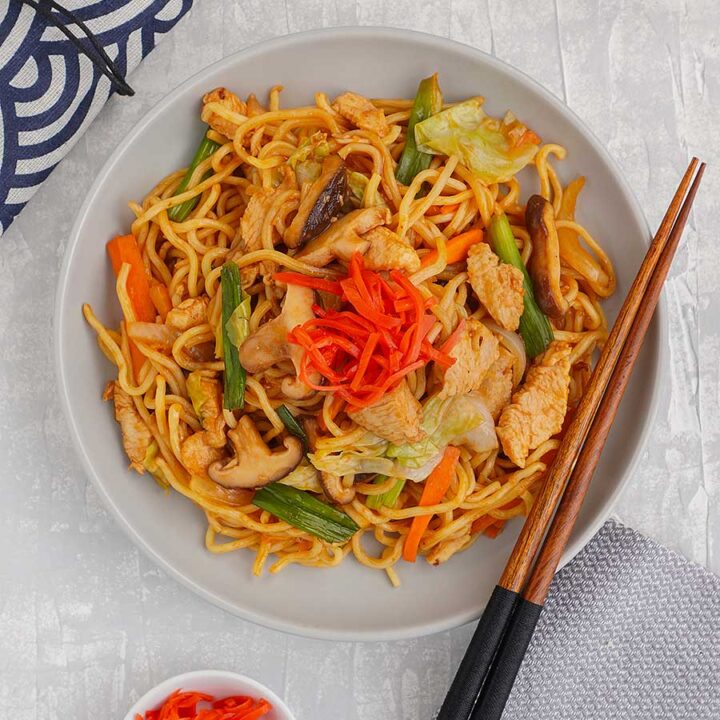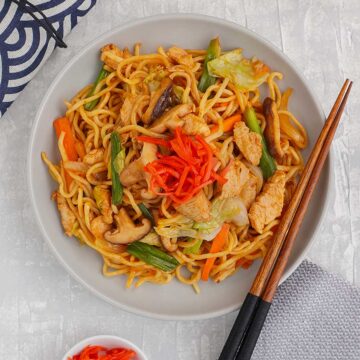 Yakisoba ( Stir Fried Japanese Noodles )
Perfect combination of Japanese noodles, tender meat slices, colourful crisp vegetables and homemade yakisoba sauce.
Print
Pin
Rate
Ingredients
150

g

(5.5 oz) Boneless chicken breast/thigh

300

g

(10.5 oz) Yakisoba noodles

( or 2 servings )

½

Onion

1

Small carrot

3

Cabbage leave

3-4

Shiitake mushroom

2-3

Spring onions

2

tbsp

Vegetable oil

( canola, peanut, sunflower or vegetable oil )

Salt to taste

Pepper to taste
Yakisoba Sauce
3

tbsp

Worcestershire sauce ( Japanese Bulldog Brand )

( see details in note )

2

tbsp

Oyster sauce

1

tbsp

Soy sauce

1

tbsp

Ketchup

1

tsp

Sugar

1

tbsp

Water
To Serve
Japanese red ginger pickle
Instructions
First of all, pour warm water in the noodles for 1 minute, loosen the noodles gently and drain the water out. Set aside.

Mix all the yakisoba sauce ingredients in a small bowl and set aside.

Cut the chicken breast into thin slices. Julienne the carrot and cut the shiitake mushroom, onion into thin slices. Cut the cabbage leaves into square pieces and spring onions into 2" pieces.

Heat the large skillet pan or wok into medium-high heat, drizzle 2 tablespoon of oil. Add the chicken pieces and stir fry for 1-2 minutes until the chicken is cooked through.

Then add the carrot, onion and shiitake mushroom and stir fry for 1 minute.

Then add the noodles and pour the sauce over the noodles. Stir fry for another 1-2 minutes. Add spring onions and combine all ingredients evenly.

Make a taste test and add salt and pepper to taste.

Transfer to serving plate and topped with Japanese red ginger pickle. Serve immediately!
Notes
Japanese Worcestershire sauce ( Bulldog brand ) can buy at Oriental/ Japanese supermarkets or Amazon online. 
Or you can substitute with Lea & Perrins Worcestershire sauce.