Chicken Katsu Burger - Japanese famous burger recipe made with juicy tender chicken breast and crispy panko coating, sandwiched between a toasted brioche bun. Learn how to make at home perfectly with our easy to follow instructions!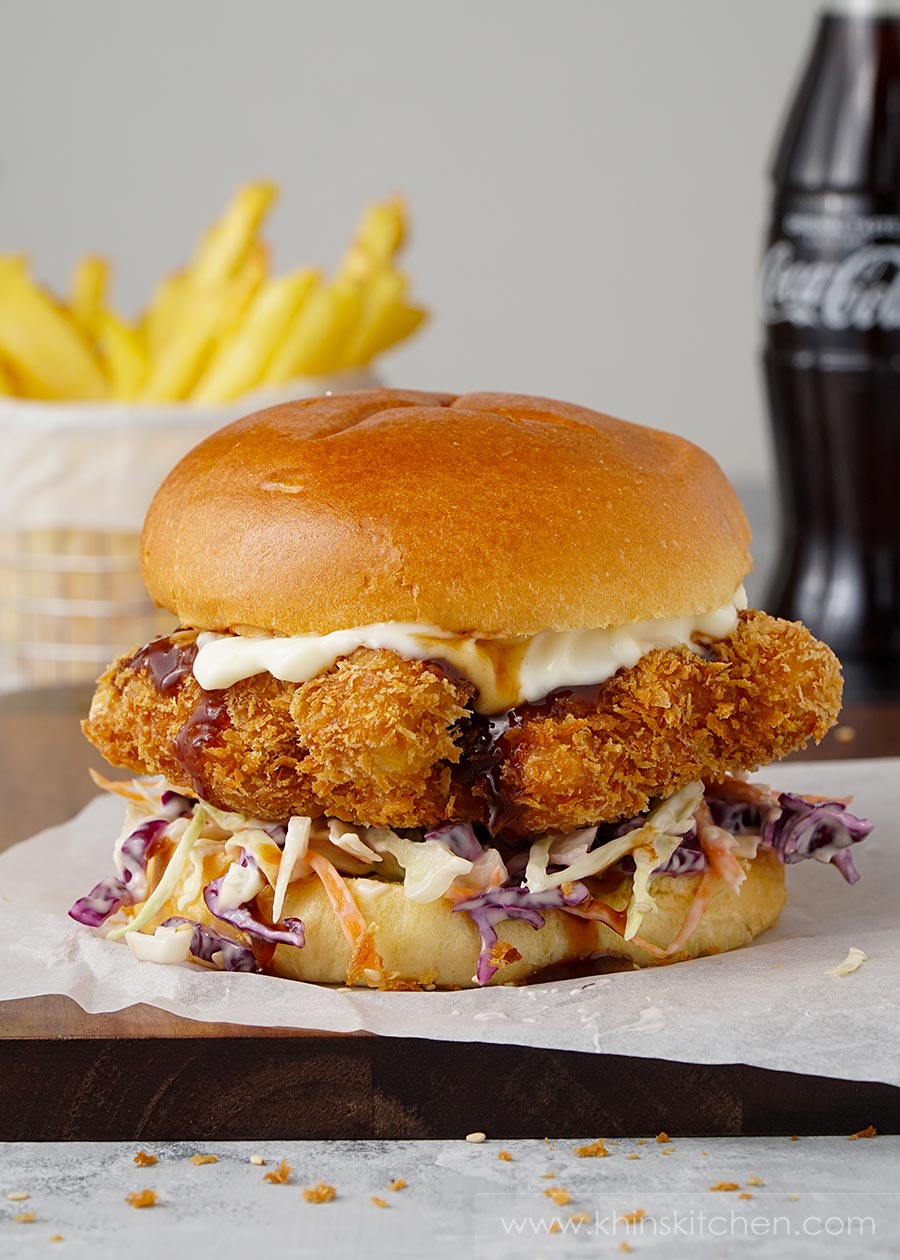 Who doesn't love a homemade crispy chicken burger? These homemade burgers are super quick, easy and budget-friendly too! Perfect crowd-pleasing burger recipe you can make for gatherings, parties and great for meal prep too.
This is one of our family's favourite crispy chicken burger recipes and way better and tastier than any takeout burgers. If you are a fan of Japanese chicken katsu, you will definitely love this katsu burger recipe.
Here is popular Japanese recipes on our website you might enjoy: Karaage Chicken (Japanese fried chicken), Yakisoba ( Stir Fried Japanese Noodles ), Teriyaki Chicken and Teriyaki Salmon.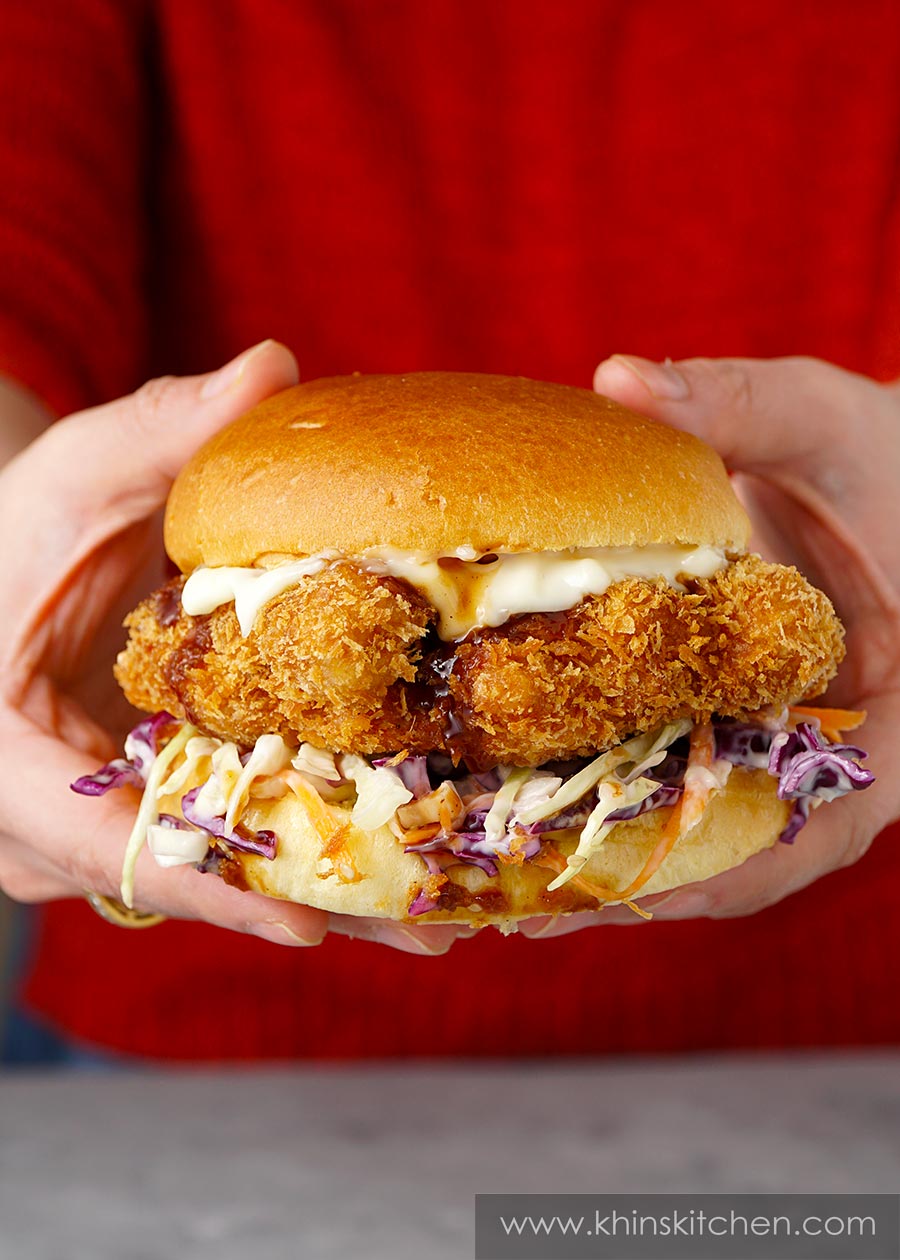 How to make Crispy Chicken Katsu Burger
Here is the few simple steps to make a perfect crisp chicken katsu burger.
1. Season the chicken breast
Delicious katsu burger starts with perfectly fried crispy chicken cutlets. Slice the chicken breast into half lengthways and flatten it with a meat tenderizer hammer or rolling pin. And cut each cutlet into half and make it into 4 pieces. Simply season with salt and fresh ground black pepper on both sides of cutlets.

2. Chicken Coating
Traditionally katsu chicken is coated with eggs, flour, and Japanese panko breadcrumbs. You will need to place the eggs, flour mix, and panko breadcrumbs in three different bowls or trays. Whisk two eggs in a medium bowl. Mix all-purpose flour, corn starch, and baking soda in a large bowl. Place the breadcrumbs in the large wide bowl or tray. Dredge the seasoned chicken cutlets in the flour mix then dip in eggs and repeat the process for one more time. Then dip in breadcrumbs and set aside.
3. Deep Frying
Deep fry the coated chicken pieces until crispy golden brown on both sides. Oil temperature should be kept medium heat between 300°-325° F, to prevent the crust from burning quickly. Use neutral flavoured oil like sunflower, canola, peanut or vegetable oil for deep frying. Place the fried chicken cutlets on the wire rack instead to keep the crispy coating texture.
Can you bake it? If you wish to bake in the oven, spray or brush the coated chicken pieces on both sides, place them over a wire rack. Bake in preheated oven about 320° F for 20-25 minutes until crispy golden brown. Flip in half way through.
4. Ingredients to Assemble Katsu Burger
Buns - I used toasted brioche buns in this recipe, you can use any of your favourite burger buns. To make a toasted brioche bun, you can brush them with a bit of melted butter. Toast in a preheated oven about 350 F for 2-3 minutes until slightly crispy. You can toast the whole bun or you can only toast the cut side up.
Shredded Cabbage Mix - Shredded cabbage is traditionally used in Japanese burgers and sandwiches. In this recipe, I mix green cabbage, red cabbage and shredded carrots. Mix all the shredded vegetables with a bit of mayonnaise and ready to sandwich in burger.
Sauces and Mustard - Use Japanese mayo and Japanese tonkatsu sauce to taste real Japanese burger flavour. Don't forget to spread whole grain mustard on the toasted bun too!
If you enjoy our recipe, please leave a comment and give us a rating! If you've tried this recipe, tag me on social medias, I would love to see your creations! Follow me on social media Facebook, Instagram and Pinterest for latest updates.
Here is more Asian Starter and Snacks Recipes you can try :
Gyoza | Pan Fried Dumplings ( Japanese Potstickers )
Spring Roll ( Easy homemade chicken and vegetable rolls )
Salt and Pepper Chicken Wings ( Crunchy Asian Wings )
Crispy Fried Wonton ( With juicy fillings! )
Watch How To Make It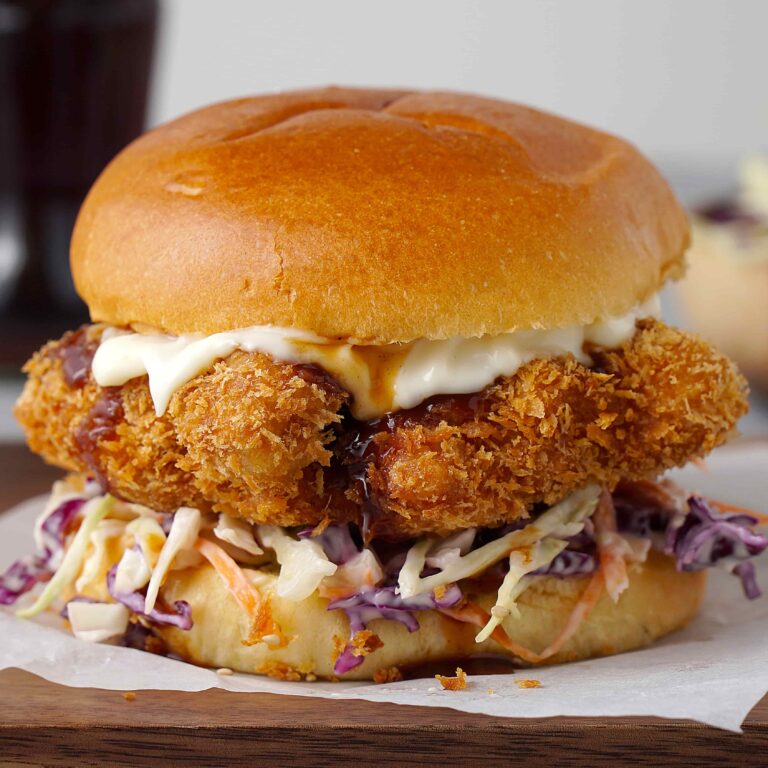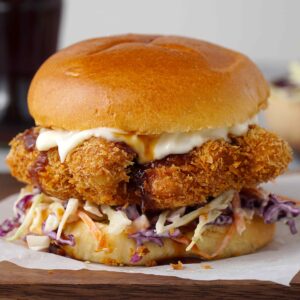 Chicken Katsu Burger
Crispy fried chicken katsu sandwiched in toasted brioche bun. Layered with shredded cabbage, carrots and topped with Japanese mayo and tonkatsu sauce.
Print
Pin
Rate
Ingredients
400

g

(14 oz) Chicken Breast

½

tsp

Salt

¼

tsp

Black pepper

Vegetable oil
Chicken Coating
2

cup

Panko breadcrumbs

1

cup

Plain flour

¼

cup

Corn starch

½

tsp

Baking soda

2

eggs
To Serve
4

Brioche burger buns

Shredded green cabbage

Shredded red cabbage

Shredded carrot

Japanese mayonnise

Or regular mayonnise

Japanese Tonkatsu sauce

Wholegrain mustard

Or Dijon mustard
Instructions
Cover the chopping board with cling film, and place the chicken breast into half then cut each pieces it into half lengthways. Cover the chicken cutlets with cling film and pound it with meat tenderizer or rolling pin.

Season the chicken slices with simple salt and fresh ground black pepper. Set aside.

Mix the shredded cabbage and carrot with 1-2 tablespoon of mayonnaise and set aside.

In a large bowl mix the plain flour, corn starch and baking soda evenly. Whisk two eggs in another bowl. Place the panko breadcrumbs in a large shallow plate or bowl.

Dredge the seasoned chicken cutlets with flour mix, then dip in whisked egg and re-dip in flour mix and egg. Then dredge in panko breadcrumbs, press gently on both sides. Repeat process to remaining chicken cutlets and set aside

Heat the vegetable oil into medium heat 300°-325° F. Fry the coated chicken pieces for 2-3 minutes on both sides until crispy golden brown.

Remove from oil and transfer to wire rack.

To assemble the burger, spread the mustard on the burger bun bottom, place the shredded cabbage salad mix, then place the fried chicken. Topped with Japanese mayo and tonkatsu sauce and burger bun top part.
Notes
Japanese Mayonnaise and Tonkatsu sauce can be found at Japanese/Oriental supermarket or Amazon online.