Karaage is a Japanese friend chicken loved by many pepople across the world. Well marinated with simple ingredients ginger, garlic, mirin and double fried to achieve crispy result. Great as starter or savoury snack for parties and gatherings.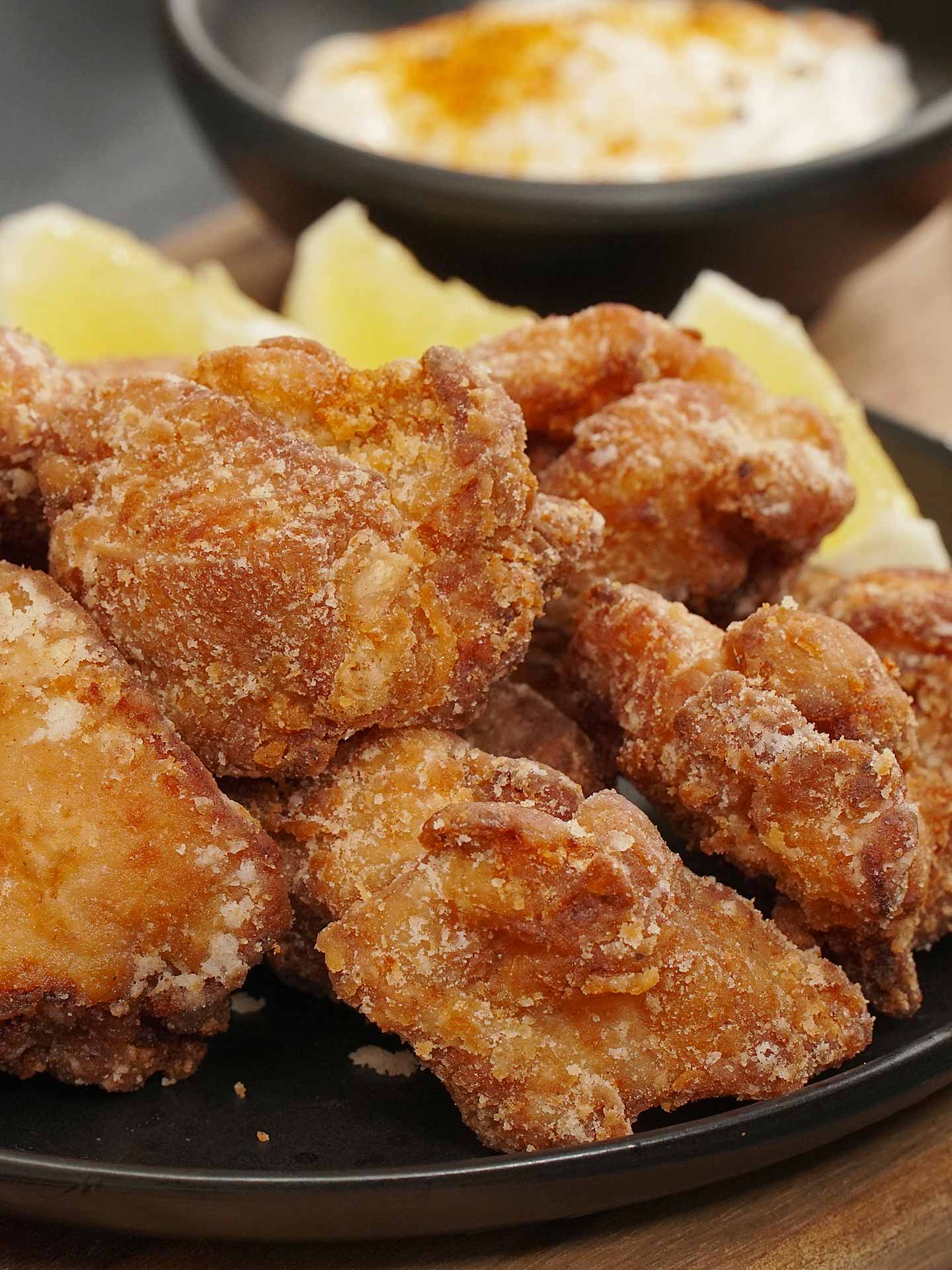 What is Karaage Chicken?
Succulent fried chicken bites, marinated with Japanese simple seasonings and super crispy coating. This Japanese fried chicken is loved by everyone in Japan and overseas. You can find karaage in the menu of Japanese restaurants across the world. It can be served as appetizer, savoury snack or serve as a main meal over a bed steamed rice. Perfect with a can of cold drink.
How to Make it perfectly?
Chicken: Use boneless chicken thigh to achieve the succulent fried chicken result. If you prefer with skin-on, you can use boneless skin-on chicken thigh or breast.
Marinade: Traditionally chicken marinade includes, sake, mirin, ginger paste and Japanese soy sauce. It can be slightly different depend on the chef. In this recipe, I used mirin, ginger garlic paste, soy sauce, salt and fresh ground black pepper.
Coating: You can use potato starch or corn starch to coat the chicken pieces. Corn/potato starch is more starchy and gives the crispy coating texture. You can find potato/corn starch in Oriental supermarkets or Amazon online. .
Frying: Recommend to use neutral flavoured vegetable oil like, canola, sunflower or peanut oil. Fry with high heat and double frying gives the extra-crispy result.
STEP BY STEP PHOTO INSTRUCTIONS:
Cut the chicken into bite size pieces. Add chicken pieces in a large bowl and add all the ingredients in the marinate list. Mix all the ingredients and rub it to chicken wings well. Set aside and marinate for 30 mins.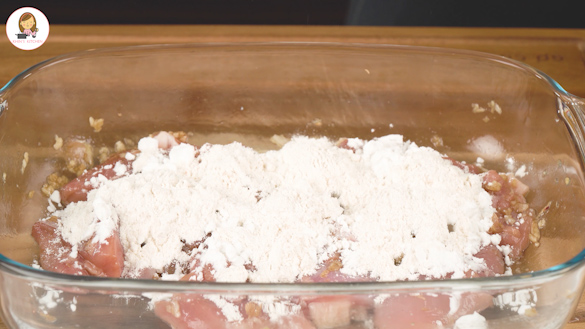 Mix the marinated chicken pieces with the potato starch and plain flour mix. Coat the chicken pieces well and toss the excess flour out before frying.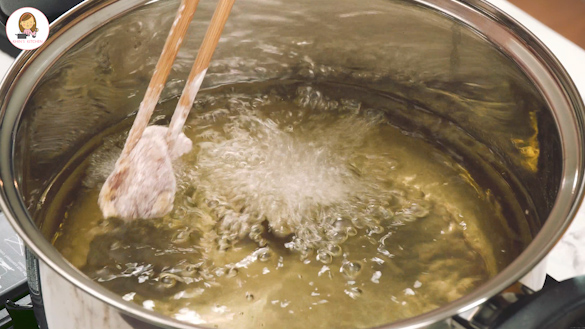 Heat the oil into high heat about 350 F. Add the coated chicken pieces and deep fry for 2-3 mins till chicken start floating on the oil. Remove from oil and set aside for 1-2 mins.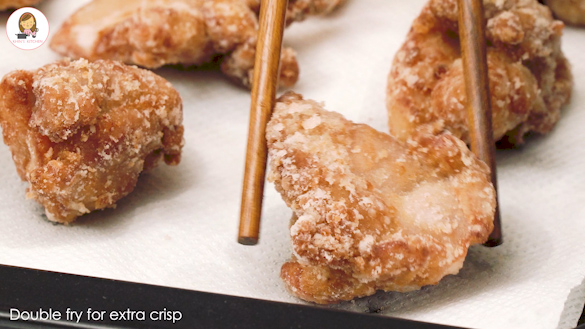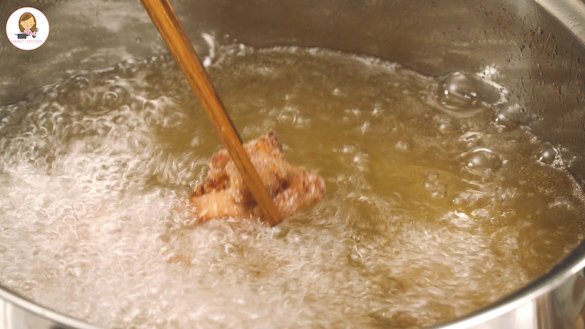 Then reheat the oil to high heat and deep fry the wings again till the color changed into nice golden brown. ( Double frying make the chicken more crispy)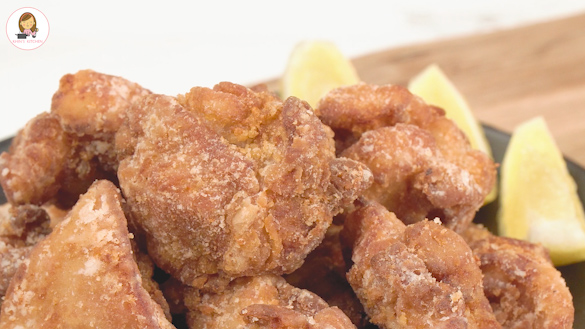 Transfer the fried chicken pieces to the serving plate. Garnish with Lemon wedges and serve with Japanese Mayonese. Serve immediately while hot.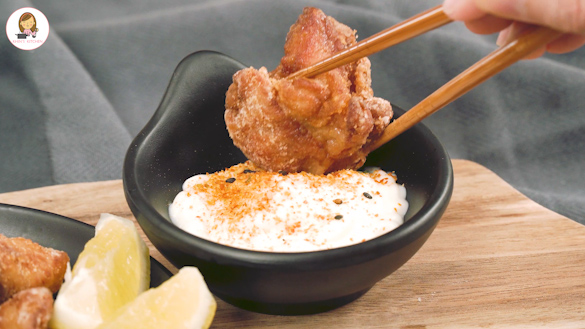 Sprinkle Japanese Shichimi chilli pepper mix on the Mayonese ( Optional ). Crispy Japanese Fried Chicken is ready!
Video instruction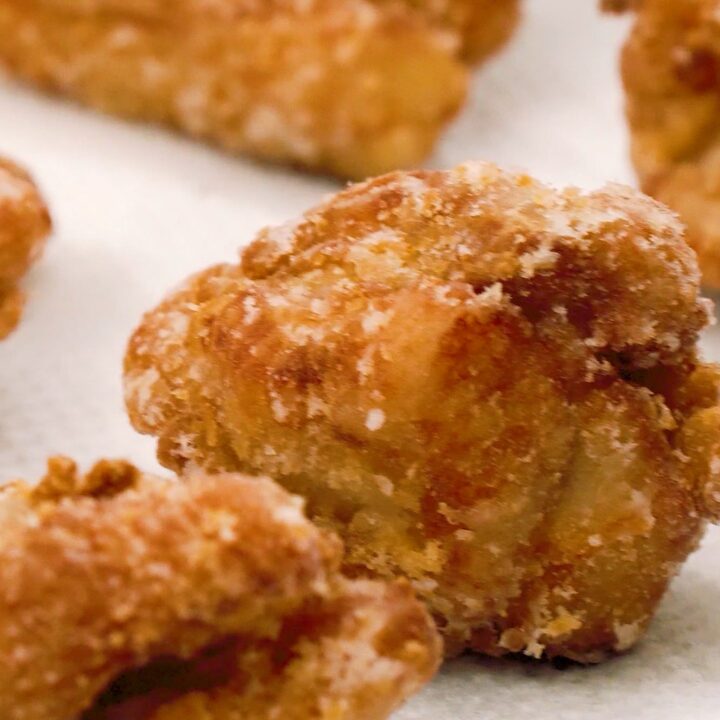 Ingredients
INGREDIENTS 
300

g

Boneless chicken thigh 

½

cup

Potato/Corn flour

⅓

cup

Plain Flour

2-3

wedges

Lemon

To garnish

Japanese mayonese/ regular mayonese

Oil for frying

Shichimi Japanese chilli powder

optional
Marinate for Chicken
½

tsp

Ginger Paste

½

tsp

Garlic Paste

½

tsp

Salt 

½

tsp

Light soy sauce

1

tsp

Mirin

½

tsp

Black pepper
Instructions
Cut the chicken into bite size pieces. Add chicken pieces in a large bowl and add all the ingredients in the marinate list.

Mix all the ingredients and rub it to chicken wings well. Set aside and marinate for 30 mins.

Mix the marinated chicken pieces with the potato starch and plain flour mix. Coat the chicken pieces well and toss the excess flour out before frying.

Heat the oil into high heat about 350 F. Add the coated chicken pieces  and deep fry for 2-3 mins till chicken start floating on the oil. Remove from oil and set aside for 1-2 mins.

Then reheat the oil to high heat and deep fry the wings again till the color changed into nice golden brown. ( Double frying make the chicken more crispy)

Transfer the fried chicken pieces to the serving plate.

Garnish with Lemon wedges and serve with Japanese Mayonese. Serve immediately while hot.

Sprinkle Japanese Shichimi chilli pepper mix on the Mayonese. ( Optional )
Nutrition
Calories:
357
kcal
|
Carbohydrates:
32
g
|
Protein:
18
g
|
Fat:
17
g
|
Saturated Fat:
5
g
|
Polyunsaturated Fat:
4
g
|
Monounsaturated Fat:
7
g
|
Trans Fat:
1
g
|
Cholesterol:
98
mg
|
Sodium:
536
mg
|
Potassium:
231
mg
|
Fiber:
1
g
|
Sugar:
1
g
|
Vitamin A:
80
IU
|
Vitamin C:
1
mg
|
Calcium:
14
mg
|
Iron:
1
mg