Super quick and delicious chicken fried rice recipe that every family member loves. Juicy tender chicken pieces, colourful vegetables and the delicious homemade stir fry sauce. This recipe takes under 30 minutes and you will amazed by how simple and easy to make this restaurant-quality.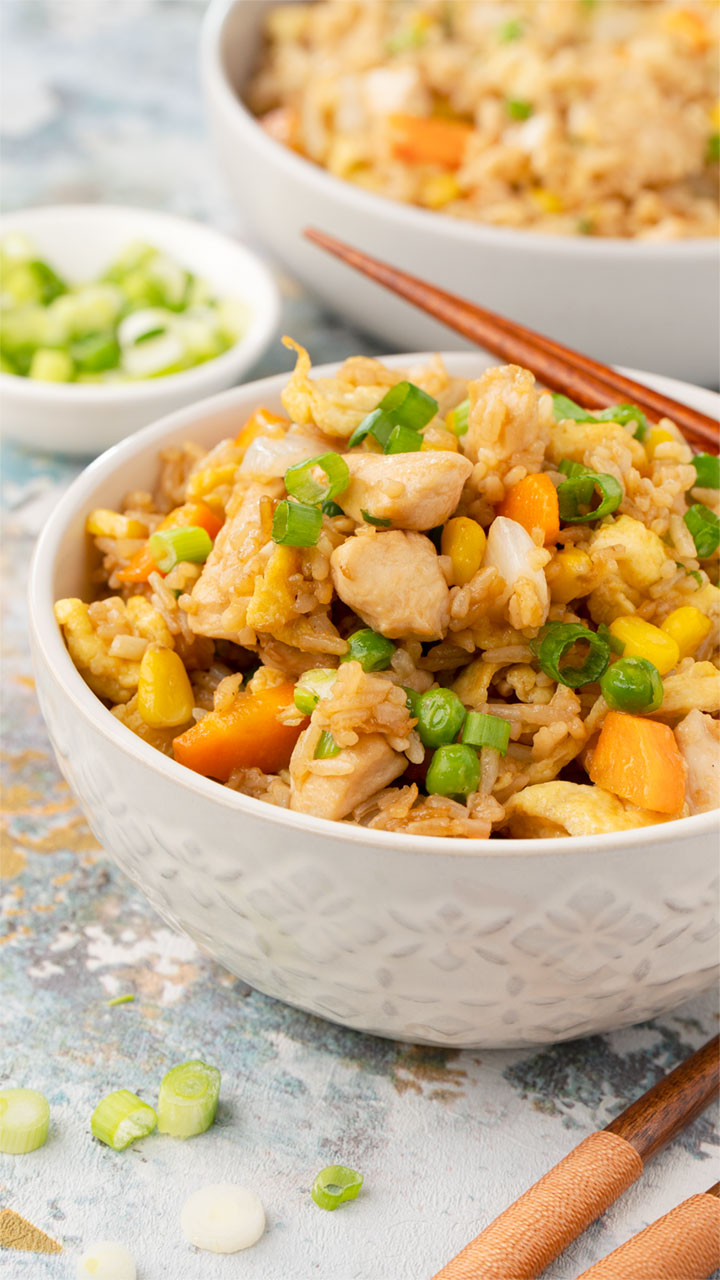 For the days I can't think of what to cook for dinner, I make chicken fried rice.
You can also try more of our family's favourite Sausage Fried Rice, Garlic Fried Rice, Beef fried rice and Spicy Fried Rice recipes.
Ingredients you will need :
Protein:
I use boneless skinless chicken breast in the recipe. You can either use boneless chicken thigh, shrimp, beefsteak, or any tender meat for this recipe. Cut the meat in small dices or thin for the quick cooking process and don't need a long hour to marinate. Season the chicken dices with a splash of light soy sauce creates the nice the flavour.

Vegetables:
You can add any of your favorite stir fry vegetables cut into small cubes. I usually love to make with carrot, onion, green peas, sweet corns and spring onions. My tips is not to put all the vegetables at one time, add them in order by hard vegetables to softer ones.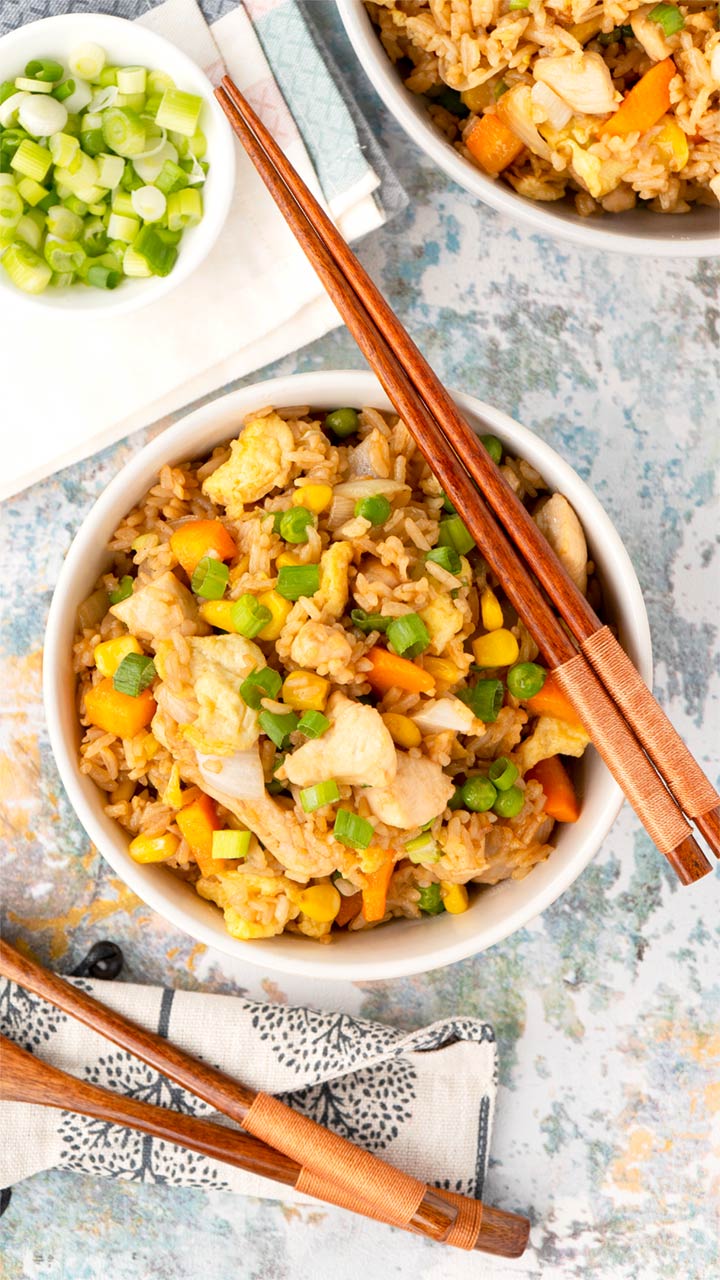 Rice:
A day old leftover rice is ideal for this recipe. As it is drier and harder than freshly cooked rice and less likely to get mushy when you add in stir fries.
Which rice is best for fried rice?
I would recommend using jasmine rice or medium-grain rice. But you can use any of your favorite cooked rice, brown rice, basmati rice, etc.
Stir Fry Sauce :
You need very few simple ingredients to make the delicious sauce. I made the sauce with light soy sauce, oyster sauce, sesame oil and white pepper. Dark soy sauce is added to bring a bit of colour, if you like lighter colour, you can omit dark soy sauce in this recipe. For a bit of peppery flavour I add white pepper, but its totally fine to substitute with black pepper.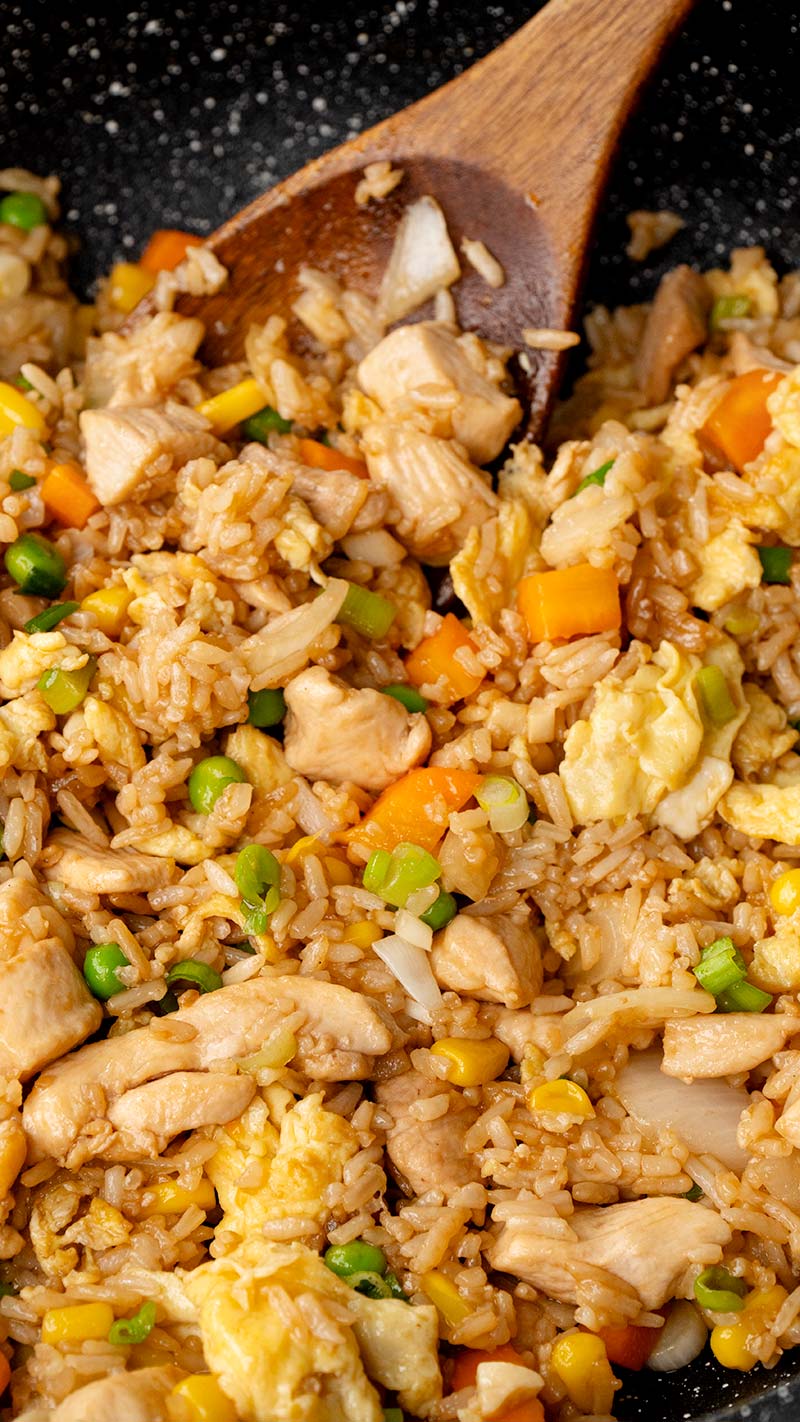 Wok or Pan ?
Most Chinese stir fry dishes are prepared on high heat wok to sear the meat. But for home cooking, we can make it happen with any skillet or non-stick pan we already have in our kitchen. You just need to make sure to cook it on medium to high heat, based on the pan and stove you use.
If you are a special wok flavour fan, you can use a traditional wok, like carbon steel wok. The wok should be well-seasoned prior using according to the instructions. I use both non-stick wok and carbon steel wok for my stir-fries depend on how much cleaning and wok seasoning time I got.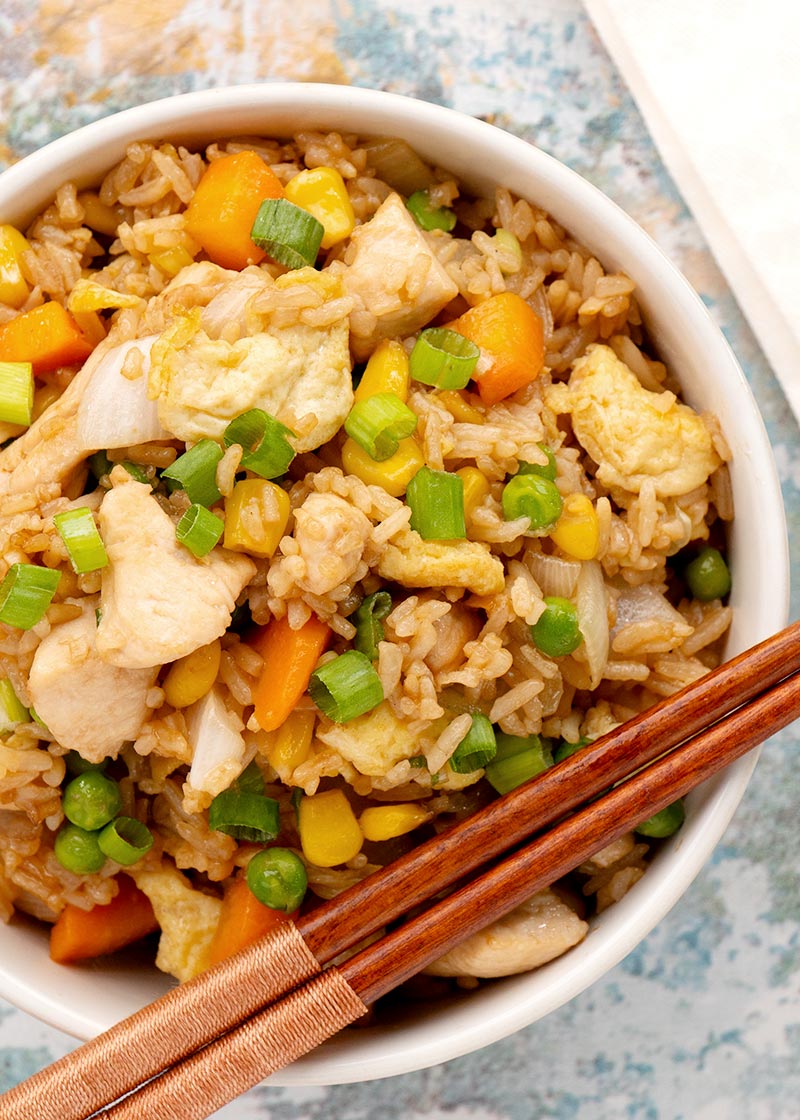 Watch How to Make Chicken Fried Rice Recipe Video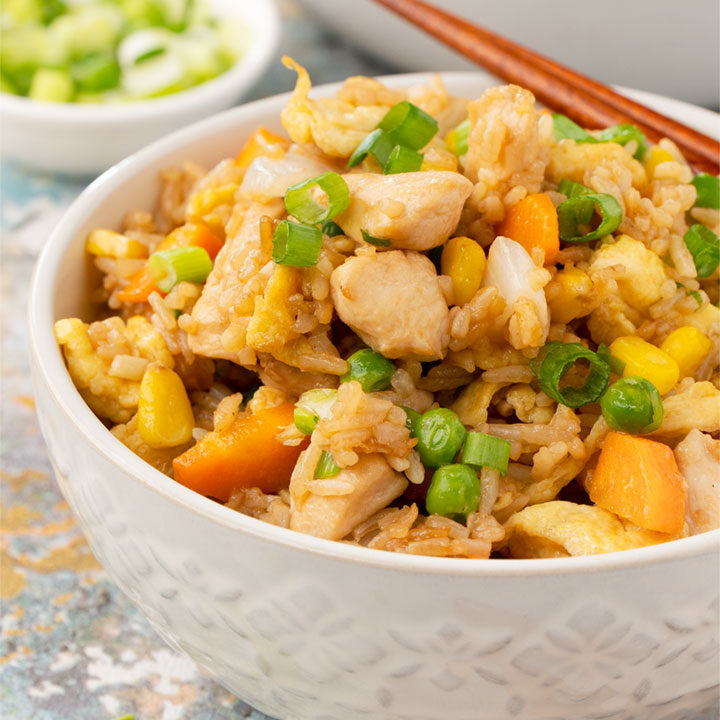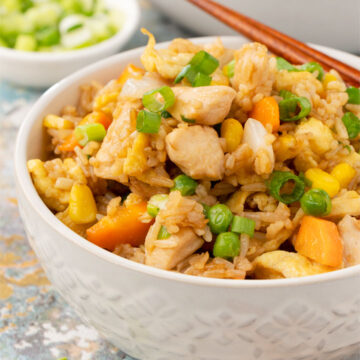 Ingredients
200

g

Boneless chicken breast/thigh

2

tsp

Light soy sauce

(for chicken seasoning)

4

cup

Cooked rice (details in note)

(about 2 small bowls of rice)

2

Eggs

2

cloves

Garlic (fine chopped)

½

cup

Carrot (small diced)

½

cup

Onion (small diced)

⅓

cup

Frozen green peas

⅓

cup

Frozen sweet corn

2-3

Spring Onion (cut thin slices)

3-4

tbsp

Oil

( vegetable, peanut, sunflower or canola oil )
Sauce
3

tbsp

Light soy sauce

2

tbsp

Oyster sauce

1

tsp

Sesame oil

¼

tsp

White pepper

(Or black pepper)

½

tsp

Dark soy sauce
Instructions
Dice the chicken into small cubes. Season the chicken pieces with 2 teaspoon of light soy sauce, mix well and set aside.

Cut the carrot and onion into small dices. Finely chop the garlic cloves, cut spring onions into thin slices.

In a small mixing bowl, add all the sauce ingredients, mix well and set aside.

Whisk two eggs and set aside.

Heat 1 tablespoon oil in a wok/pan, pour the egg in, once the egg is almost set, break into small pieces. Remove from wok and set aside.

In the same wok, drizzle 2-3 tablespoon of oil, add the chicken pieces and stir fry with medium-high heat until the chicken is almost cooked. Then push the chicken one side and add the chopped garlic, stir fry for few seconds.

Add the diced onions, stir for few seconds, then follow with the carrots, green peas and sweet corn. Stir fry for 2-3 mins until the vegetables are tender-crisp. ( If you like your vegetables soft, you can stir fry until they are tender soft. )

Next, add the rice, pour the sauce in. Stir very fast 1 to 2 minutes, to combine all ingredients. ( to evaporate the sauce and moisture quicker, fry with high heat after you pour the sauce in. )

After the sauce and all ingredients are evenly mixed, add the fried egg and spring onions. Stir and cook for another 1 mins, remove from heat and transfer to serving plate.

You can garnish with chopped spring onions and if you like it spicy, you can add some chilli oil on the top. Enjoy!
Notes
Rice: A day old, leftover rice is ideal for fried rice. You can use fresh cooked rice, but sometimes the texture can be mushy when you stir fry it. A day old rice is drier and harder than a fresh cooked rice.
Which rice is best for fried rice?
For Chinese style fried rice recipes, I would recommend to use jasmine rice or medium grain rice. But you can use any of your favourite cooked rice, brown rice, basmati rice, etc.
Serving: Serving is for 2 person as a main dish. If you serve with other dishes you can serve up to 4 person as a side dish. 
If you enjoy our recipe, please leave a comment and give us a rating! If you've tried this recipe, tag me on social medias, I would love to see your creations! Follow me on social medias Facebook, Instagram and Pinterest for latest updates.