Taiwanese Popcorn Chicken Recipe with juicy chicken pieces, crispy coating, aromatic basil, and seasoning salt mix. One of the best Asian popcorn chicken recipes that all kids and adults enjoy! Perfect appetizer for all occasions.
Taiwanese fried chicken is one of the most popular street food in Taiwan. Also known as Taiwanese salt and pepper fried chicken and can be found in the menu of Taiwanese restaurants and takeout across the world. Crispy chicken tossed with basil and seasoning powder mix.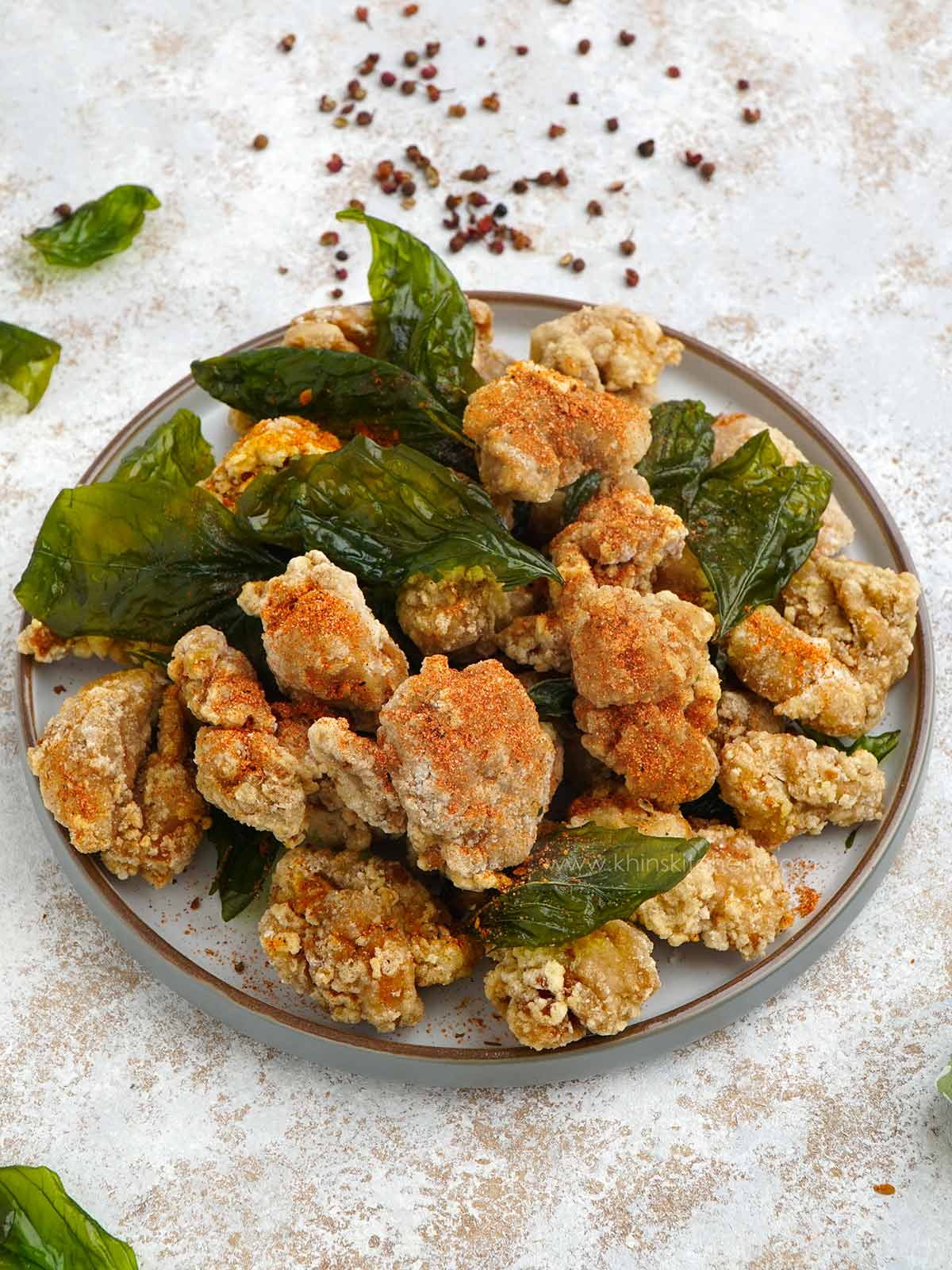 What is the difference between Chinese salt and pepper chicken and Taiwanese fried chicken?
Both are very similar in the cooking process but the coating and seasoning are slightly different.
Chinese Salt and Pepper chicken is basically made with medium bite-size chicken pieces, marinate in sesame oil, ginger garlic paste, salt, and black pepper. Fry until crispy golden brown and tossed with onions, peppers, and salt, pepper, and Chinese five spices seasoning mix.
If you love Chinese Takeaway style recipes, you will definitely like our viewer's favourite popular Salt and Pepper Chicken and Crispy Salt and Chilli Chicken recipes.
Taiwanese Fried Chicken
Sweet Potato Starch(flour): Authentic Taiwanese recipes use thick sweet potato flour which is a key ingredient for this particular recipe. It creates an extra crunchy texture and that stays crispy for few hours after you fried them.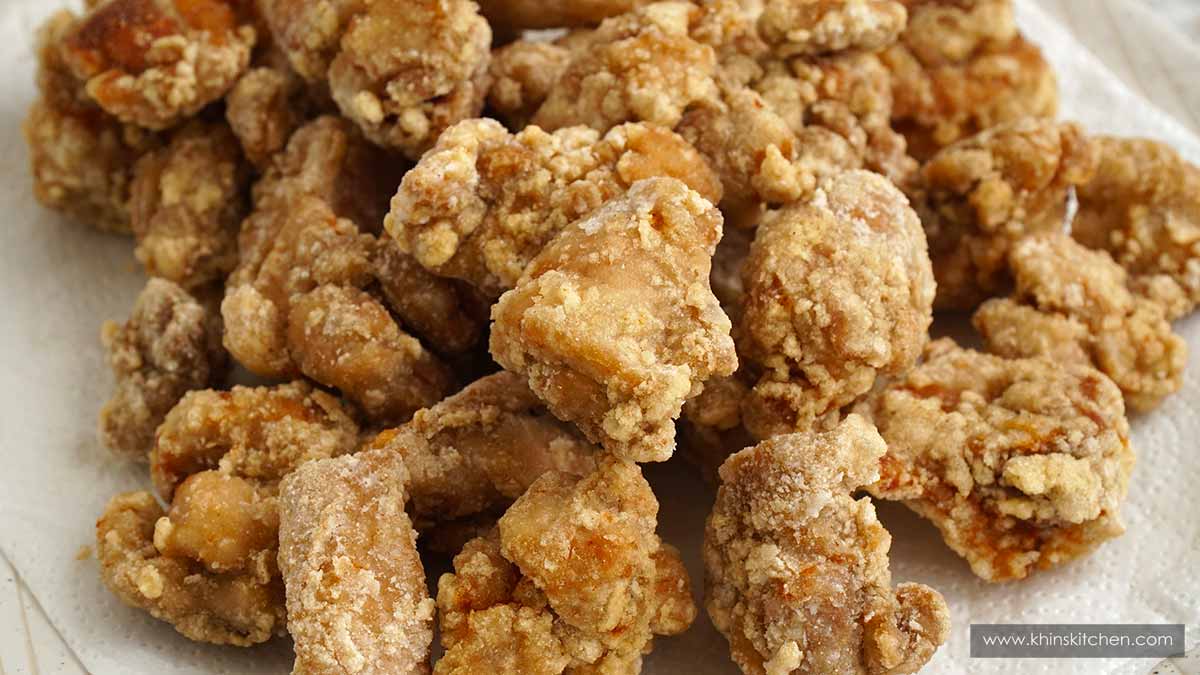 Break one egg into the chicken marinade before you dust in the flour, to keep the flour stick to the chicken pieces.
Basil: Another essential ingredient is basil leaves. Thai basil is ideal to add to this recipe but if you cannot get Thai basil, Italian basil or sweet basil can be substituted. You will need a handful of basil leaves and fry them in hot oil until crispy. Nice basil aroma will come out straight away!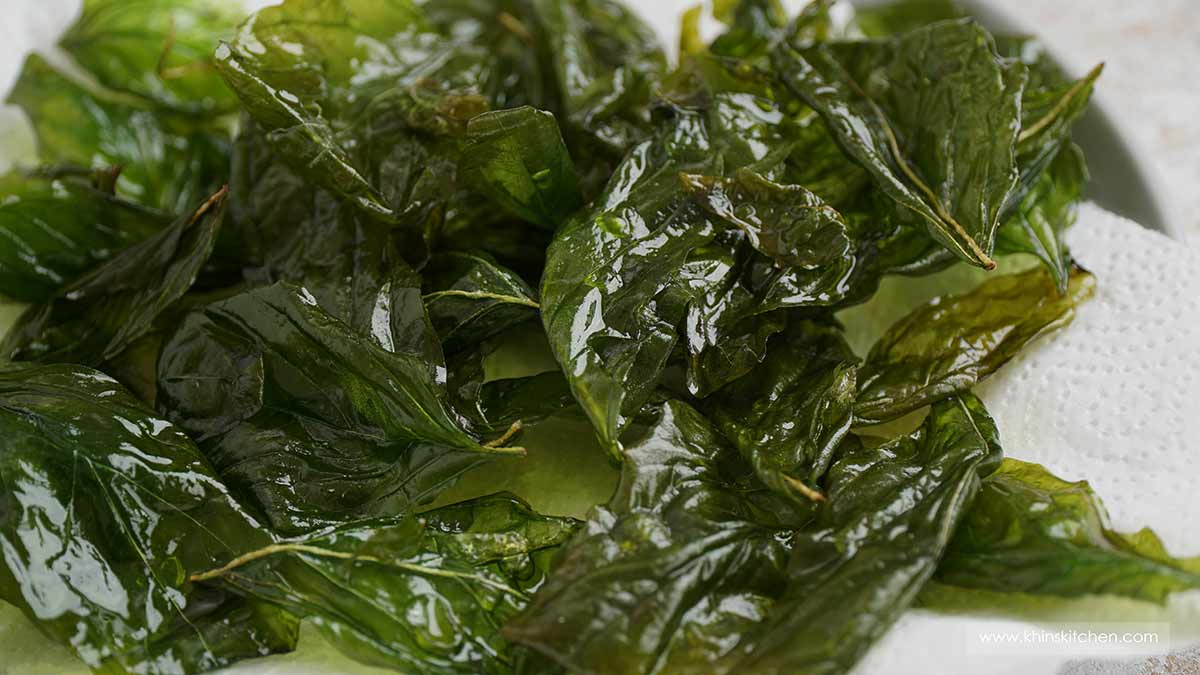 Homemade Chilli Salt Seasoning: This seasoning chilli salt is way better than store-bought ones and you need very few simple ingredients. You will need, salt, white pepper, paprika powder, ground Sichuan peppercorns. The key ingredient is the Sichuan peppercorns and it has a bit of numbing unique sensation. Toast the peppercorns before you grind it into a fine coarse.
Toasting and grinding peppercorns might look like an extra step. But trust me, the result is definitely worth your effort!
You can make an extra chilli salt mix and store it in an air-tight jar, it usually lasts for a couple of months. Add as a seasoning powder for fried chicken, chips, or anything of your favourite fries you wish.
There are few ingredients you can add extra in the salt mix. Those are garlic powder and dry red chilli flakes which I love to add in my seasoning sometimes.
Fermented Bean Curd: Every family and restaurant has its own version of recipes. Some add fermented bean curd in the chicken marinade. As this is an easy recipe, I tried to use ingredients as little as possible. No fermented bean curd is used in the marinade. If you wish you add it, add a tablespoon of fermented bean curd in the marinade.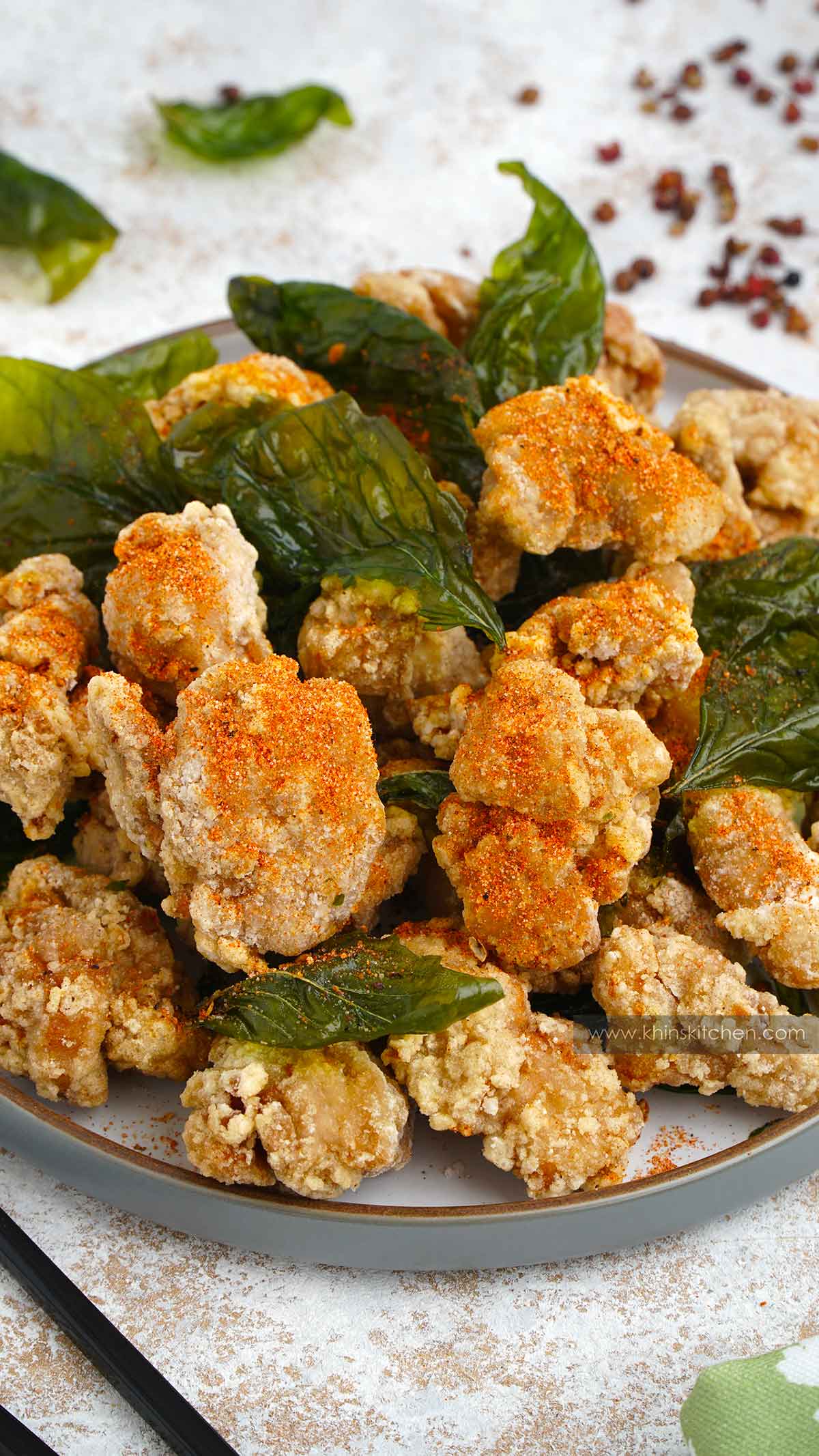 4 Simple Tips
1. Use sweet potato starch(flour) to taste exactly like authentic Taiwanese street food popcorn chicken.
2. Double fry the chicken to achieve a crispy, non-greasy coating over medium-high heat oil.
3. Strain the oil with a fine-mesh strainer after frying each batch. That will keep the oil clean and prevent the crumbs get burnt.
4. Do not wash the basil leaves if not necessary as the moisture from the leaves splat a lot. If you are washing them, pat dry with a kitchen towel and let them air dry for few hours before frying. Or you can use a splatter guard to prevent the splattering oil.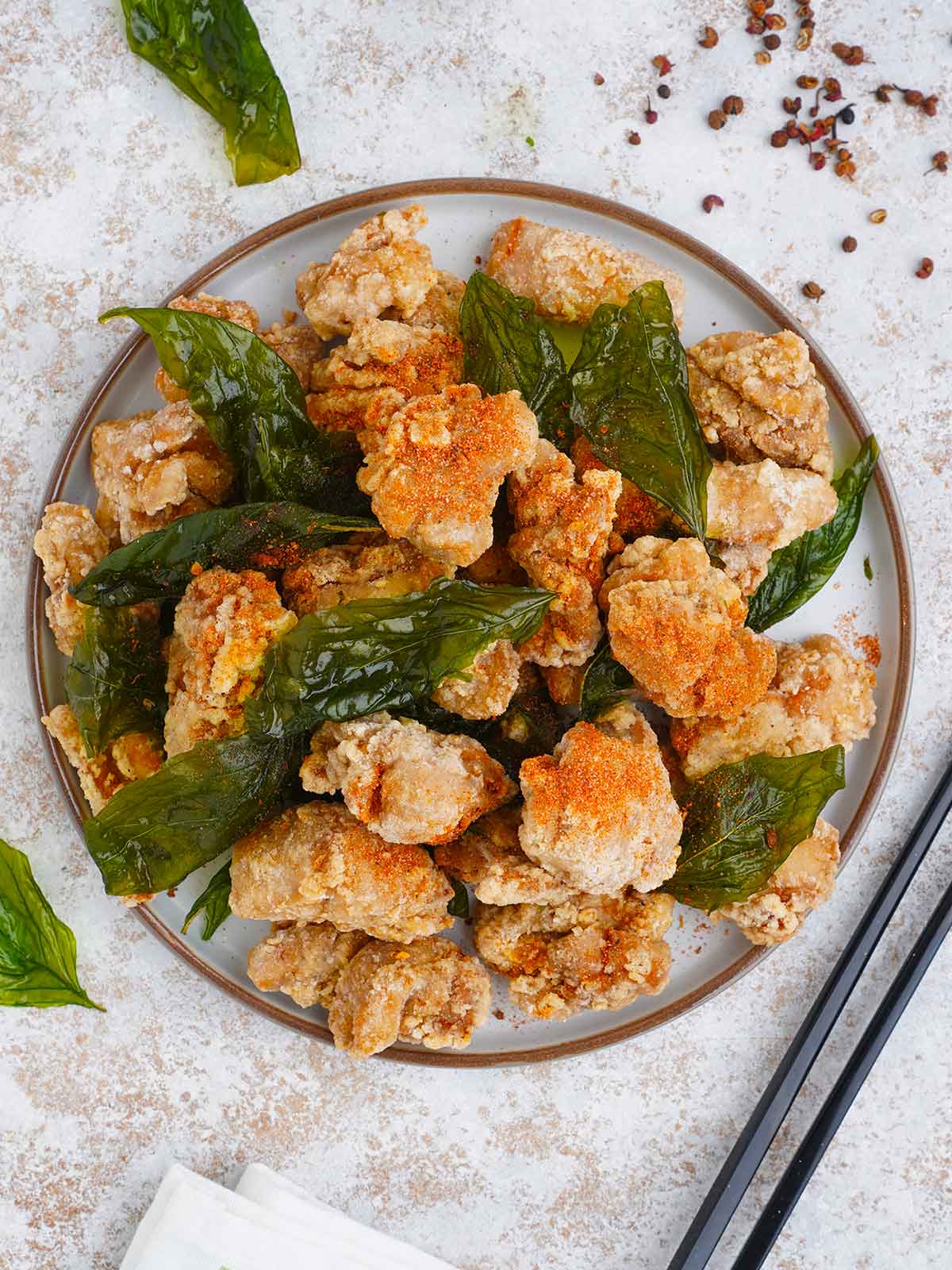 Frequently asked questions
Can I bake it? Can I air fry it? Deep frying tastes best but if you wish to make it using less oil, you can air fry or bake in the oven.
Spray or brush cooking oil on the coated chicken pieces generously, place them over a wire rack. Bake in preheated oven/air fryer about 320° F for 20-25 minutes or until crispy golden brown. Flip halfway through.
Which oil is best for deep frying?
Neutral flavour frying oil are best for deep frying. We usually use sunflower, canola, grapeseed, peanut or vegetable oil for deep frying recipes.
Do you reuse the frying oil? How to store it?
Yes, I do reuse the frying oil. Once the oil is cool down strain all the crumbs out with a fine mesh strainer to clear the oil. Store in an airtight jar or container in a cool and dry place. I usually reuse it in my stir-fries and curry dishes. Do not reuse, if the oil is too dark and thick.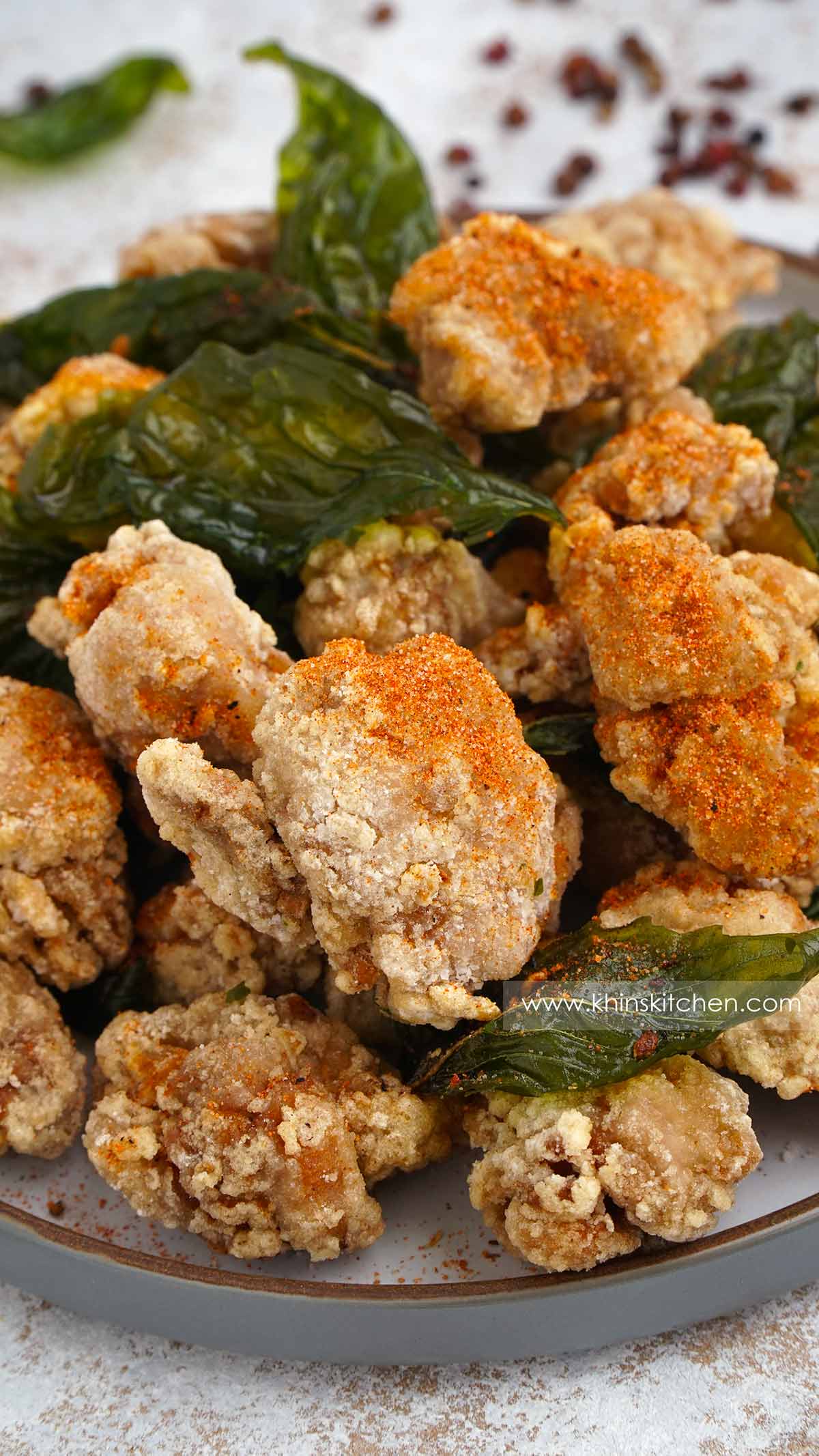 How To Serve This Dish
This dish is perfectly great on its own with Chinese tea, green tea, beer, cold drink, or any of your favourite drinks. You can pair this dish with Hot and Sour Soup, Beef and Noodles Stir Fry, Garlic Fried Rice, or Soy Sauce Chicken Noodles and make it a wholesome dinner.
More of our family's favourite Asian crispy chicken recipes you can try out: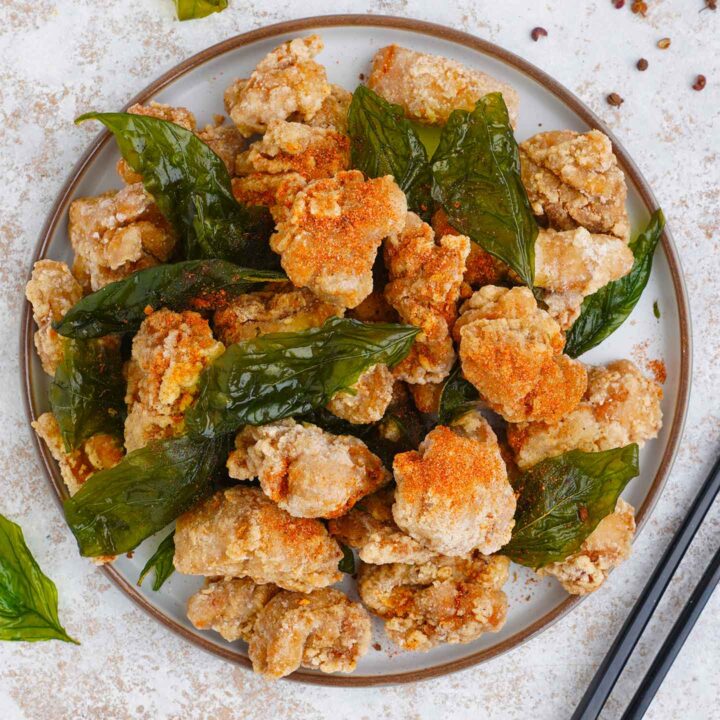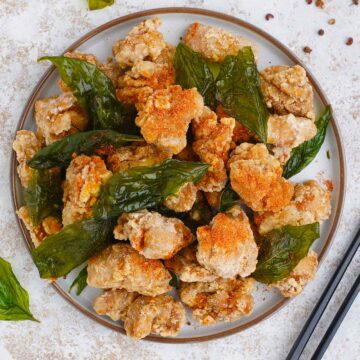 Taiwanese Popcorn Chicken
Moist and juicy chicken pieces with crunchy coating, aromatic basil flavour. Sprinkle Sichuan peppercorns, salt and chilli seasonings on top! Perfect party food that you can simply make at home with minimum budget!
Print
Pin
Rate
Ingredients
1

lb

Boneless Chicken Thigh

( about 450g ) Or Chicken breast

1½

cup

Sweet potato flour

(about 200g) ( or potato/corn starch )

Basil leaves

A handful ( Thai/Sweet/Italian Basil )

Oil

For frying ( Vegetable or neutral flavoured oil )
Marinade
1

tbsp

Soy sauce

( Light soy sauce/ all purpose soy sauce )

1

tbsp

Shao Xing Wine

( Chinese Cooking Rice Wine ) see details in note

1

tbsp

Grated garlic

or garlic paste

½

tsp

White pepper powder

½

tsp

Chinese five spices

See details in note

1

Egg white
Salt Mix
1

tsp

Sichuan peppercorns

( toasted, finely ground ) See details in note

1

tsp

White pepper powder

½

tsp

Salt

½

tsp

Paprika
Instructions
Cut the chicken thigh into medium bite-size pieces. Marinade the chicken pieces with soy sauce, Shao Xing wine, garlic paste, white pepper and Chinese five spices. Mix well and set it aside for 15 minutes. Or you can leave it overnight in fridge with air-tight container.

Finely grind the roasted Sichuan peppercorns and mix it with white pepper powder, salt and paprika powder. Set it aside.

Break one egg white into the marinated chicken pieces and mix it well.

Place the sweet potato flour/ potato starch in a large bowl. Add 3-4 chicken pieces in the flour, dredge and press gently to coat evenly. Toss the excess flour out before frying.

Heat the vegetable oil or neutral flavour oil to medium-high heat about 320-330°F. ( Fill the oil over 2 inch. )

Add the coated chicken pieces and fry for 2-3 minutes. Once the chicken pieces start to float remove from oil and set aside for 2-3 minutes. ( Fry with batches if needed, do not overcrowd the oil. Skim the fried crumbs out with mesh strainer after frying each batch. )

Place the fried chicken back in the oil and fry for another 2-3 minutes, or until the coating is crispy. Remove from oil and transfer to kitchen towel or cooling rack.

Fry the basil leaves in the remaining oil for 1-2 minutes until crispy. Place the fried basil leaves over the kitchen towel.

Mix fried chicken pieces and basil leaves, sprinkle the salt seasoning mix on top. ( Or you can toss everything in a large mixing bowl. )

Transfer to serving plate and serve immediately.
Notes
Basil Leaves – Pat dry or air dry the basil leaves before frying to prevent splattering oil.
Sweet Potato Flour/Starch – Medium-thick sweet potato flour is ideal for this recipe but you can substitute it with potato starch or corn starch if you cannot get sweet potato starch. 
Shao Xing Wine – is a Chinese cooking rice wine, you can omit it or substitute it with Japanese mirin or dry sherry.
Chinese Five Spices – consists of cinnamon, star anise, cloves, Sichuan peppercorns, and fennel seeds powder. It has a warm, toasty, distinct flavour.
Sichuan Peppercorns – is ideal to add to the seasoning salt mix. If you don't like the numbing taste of Sichuan peppercorns, add black pepper as a substitute. 
Where to buy these ingredients? You can buy at most Chinese/Oriental grocery stores, supermarket Asian aisles, or Amazon online. 
Nutrition
Calories:
260
kcal
|
Carbohydrates:
1
g
|
Protein:
20
g
|
Fat:
19
g
|
Saturated Fat:
5
g
|
Trans Fat:
1
g
|
Cholesterol:
111
mg
|
Sodium:
642
mg
|
Potassium:
257
mg
|
Fiber:
1
g
|
Sugar:
1
g
|
Vitamin A:
108
IU
|
Vitamin C:
1
mg
|
Calcium:
11
mg
|
Iron:
1
mg
If you enjoy our recipe, please leave a comment and give us a rating! If you've tried this recipe, tag me on social medias, I would love to see your creations! Follow me on social medias Facebook, Instagram and Pinterest for latest updates.