Chicken Katsu Curry Burger Recipe - succulent chicken breast with crispy panko coating, crisp cabbage salad, topped with katsu curry gravy, and Shichimi chilli powder. Perfect crispy chicken burger recipe to try out if you are a fan of Japanese Chicken Katsu curry!
We love Japanese curry and it's always on our family meal rotation. It's so easy to make at home with simple everyday cupboard-friendly ingredients. Here are our favourite Japanese Chicken Curry and Chicken Katsu Curry recipes you might like.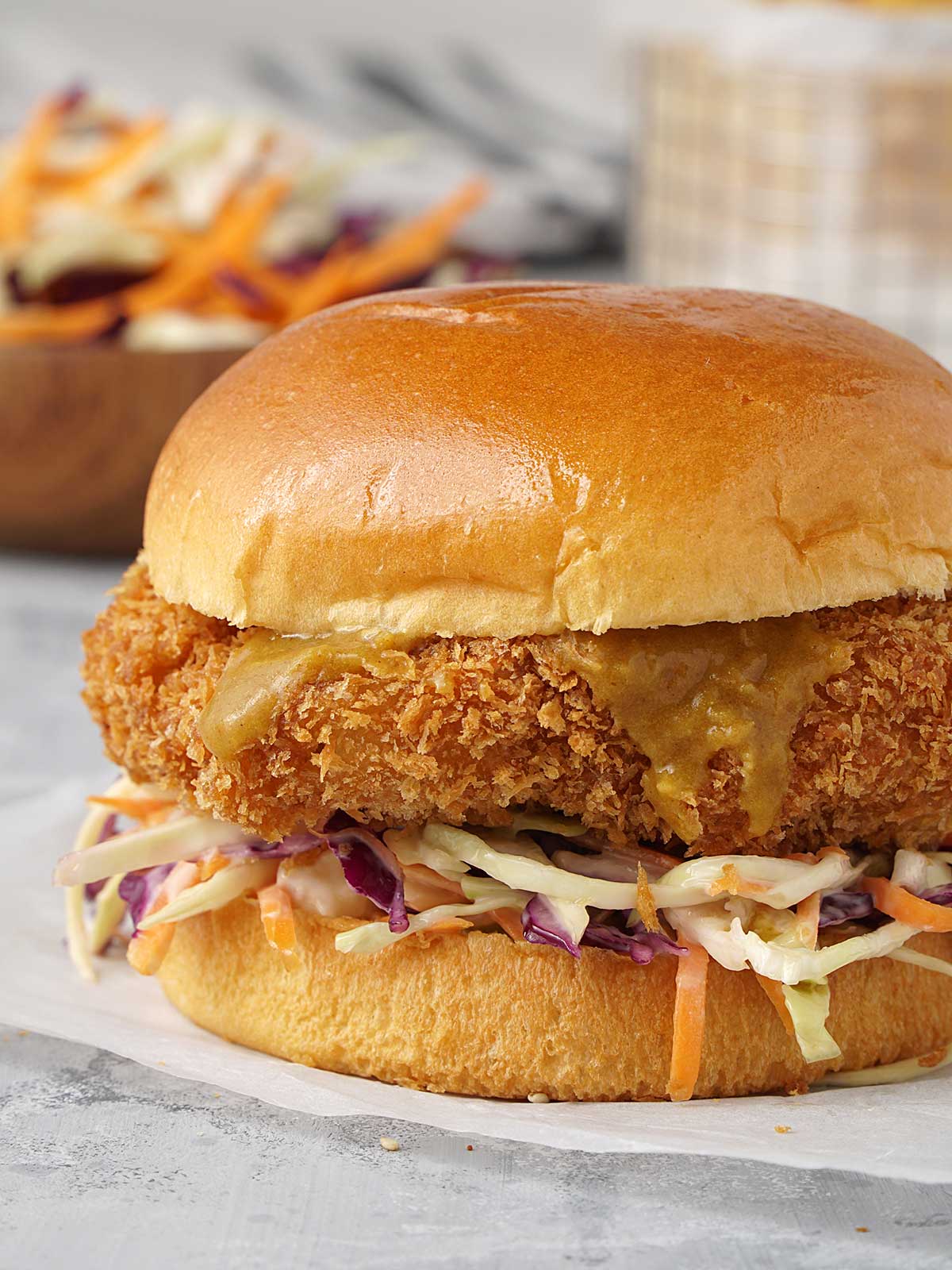 What is Katsu Curry Burger?
Basically, it's a crispy chicken burger with flavourful thick Japanese curry sauce. Authentic Crispy Katsu Chicken is served with curry sauce and rice but in this recipe, we are going to be creative! We are serving with burger buns. Learn how to make this delicious burger at home with our simple tips!
How To Make It
You will need simple ingredients, chicken breast, eggs, flour, Japanese curry roux block, mayonnaise, cabbage, etc. Here are 3 simple steps to make it perfectly:
1. Make Curry Sauce
I use readymade S&B Japanese curry block for this recipe, as it is available in most UK supermarkets and Asian groceries. Dissolve the curry block with water or chicken stock on the stove until it becomes smooth gravy.
You need to add water according to the packet instructions or adjust according to your desire consistency.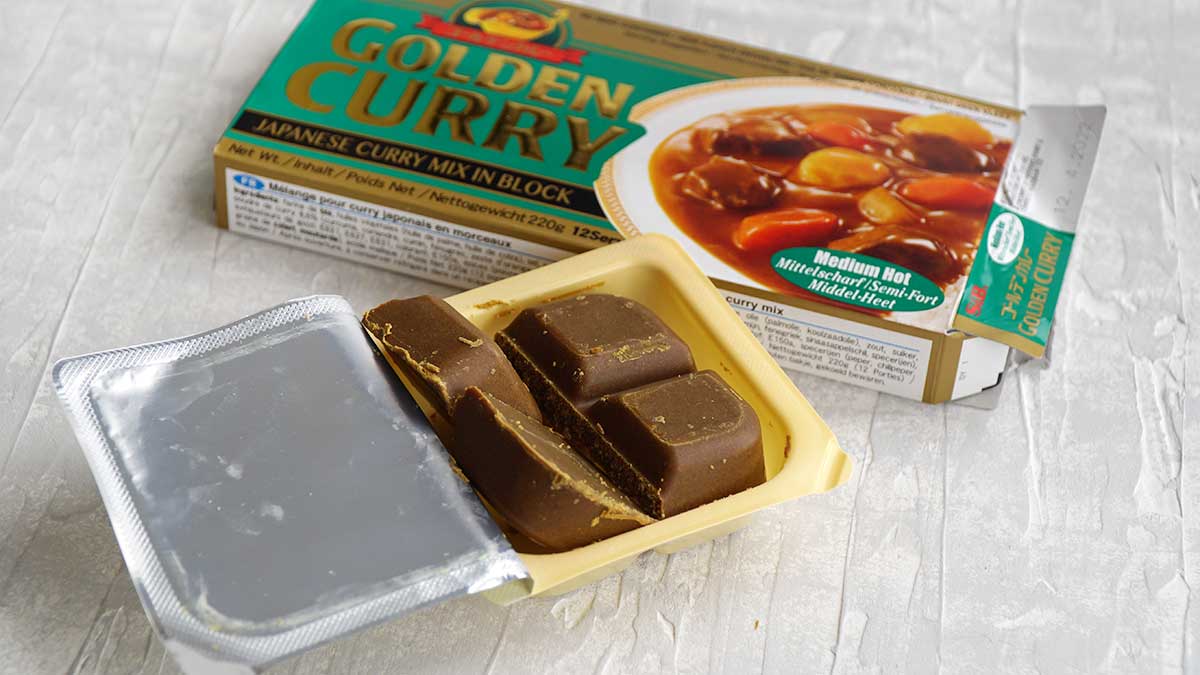 How to make curry sauce from scratch?
As some of you cannot get ready-made curry block easily. I'll also share our easy homemade recipe.
You will need butter, curry powder, plain flour, salt, and sugar. Add chicken stock or vegetables. instead of water to achieve the umami flavour.
You need to melt the butter then stir in the plain flour, salt, and sugar. Then add chicken stock and cook until the gravy becomes smooth. That's it! How simple and easy!
2. Prepare Fried Chicken and Salad
Flatten the chicken breasts and season with salt and pepper. Then coat the chicken fillets with egg, flour mix, and panko. Deep fry with medium-high heat to a golden brown.
Can you bake it? If you wish to bake it, spray a generous amount of cooking oil on the panko-coated chicken and bake in the preheated oven about 320° F for 20-25 minutes until crispy golden brown. Flip halfway through.
To make a cabbage salad, mix shredded cabbage and carrots with Japanese mayonnaise. If you don't have Japanese mayo, you can use regular mayonnaise instead.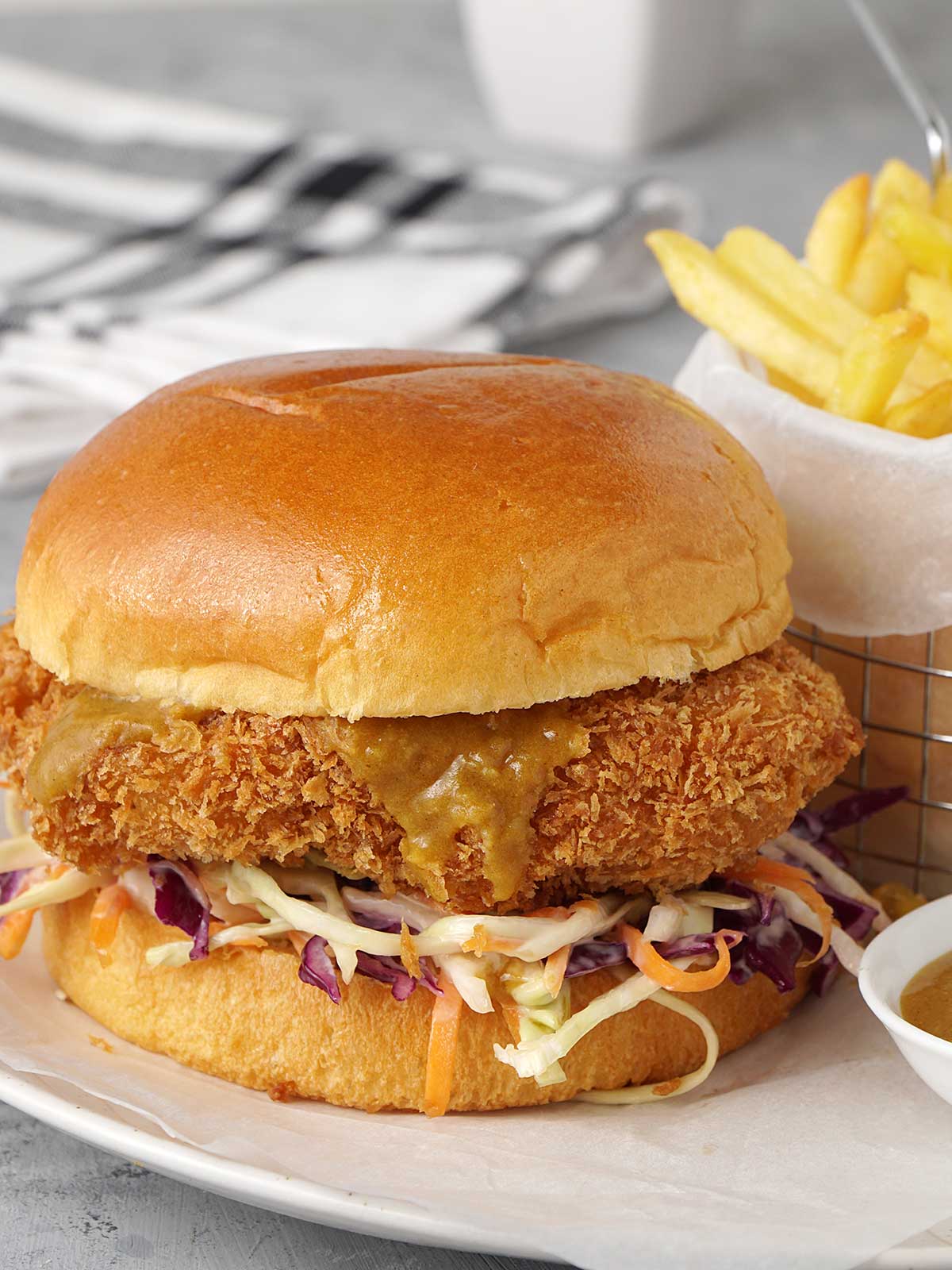 3. Assemble the Burger
I use brioche buns in this recipe, you can add any burger buns of your choice. Slightly toast the buns to get the toasty flavour. Brush melted butter on the buns before toasting.
Place the cabbage salad on the burger bun bottom, then place the fried chicken fillet, topped with curry sauce, Shichimi chilli powder and burger bun top!
What is Shichimi?
Shichimi is a Japanese chilli powder mix also known as Shichimi Togarashi. Consists of seven spices, chilli flakes, orange zest, Sancho(Sichuan peppercorns), dried seaweed, black sesame seed, white sesame seed, and ginger.
You can buy it in most Japanese or Oriental Asian grocery stores. S&B Shichimi powder is widely available in supermarket's Asian aisle and Amazon online.
You can sprinkle it over the noodles, soups, tempura, salads, curries, or any dish you wish. It goes well with Japanese or non-Japanese recipes.
Shichimi Substitute - There is no exact same substitute as this chilli powder mix has a unique flavour of 7 spices. But if you wish to make it happen with what you've got at home. Mix the same amount of dried chilli flakes, sesame seeds, and seaweed sheet/flakes.
Here is how to make quick chilli powder: Toast the chilli flakes and sesame seeds in the pan with low heat for 1-2 minutes. ( Make sure not to burn. ) Then let it cool down completely and add the seaweed sheet/flakes. Grind it into coarse or medium-fine powder. Keep it in an air-tight jar for later use, if you've got leftover chilli powder mix.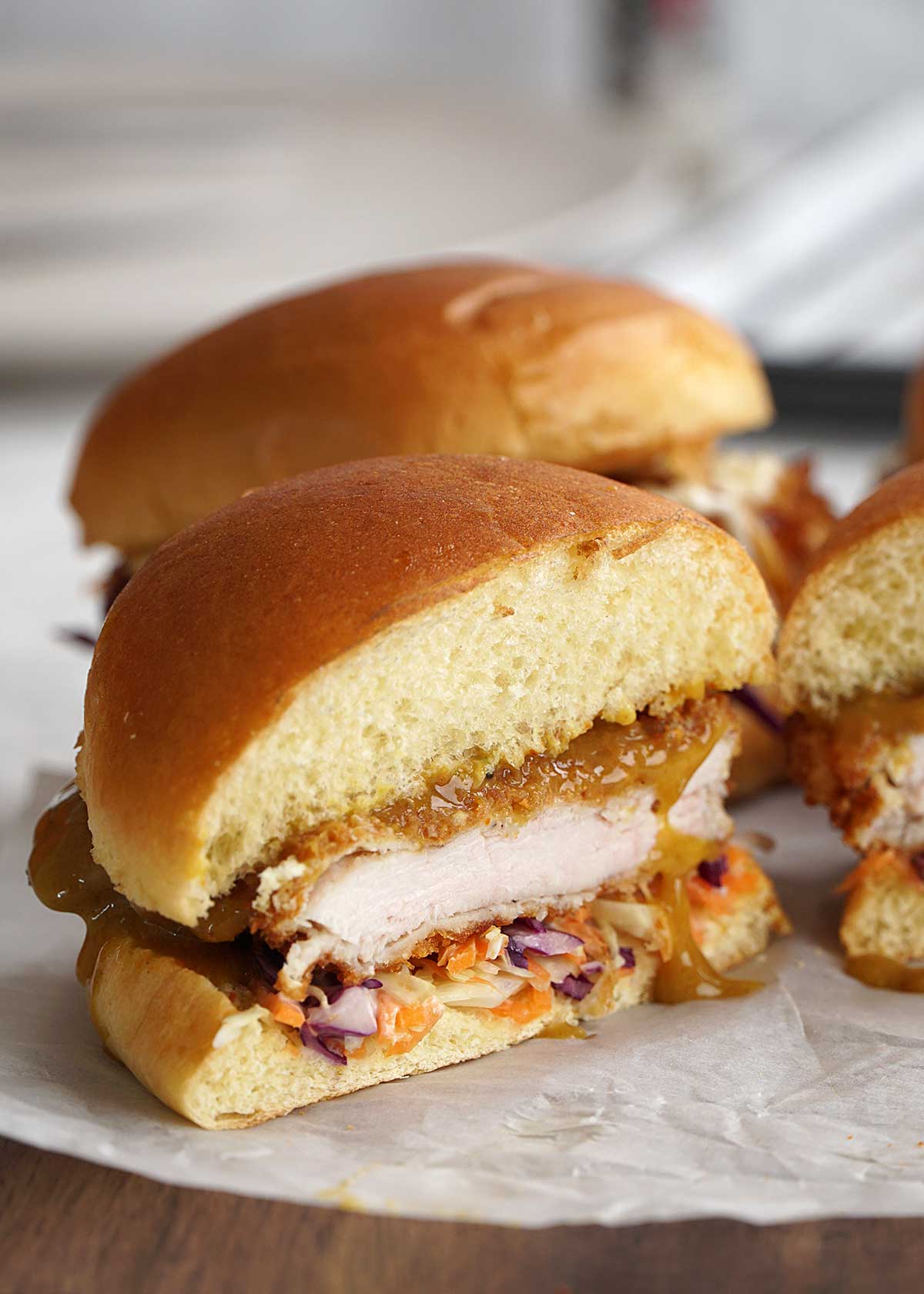 Popular Japanese Recipes on our website:
If you enjoy our recipe, please leave a comment and give us a rating! If you've tried this recipe, tag me on social medias, I would love to see your creations! Follow me on social media Facebook, Instagram and Pinterest for latest updates.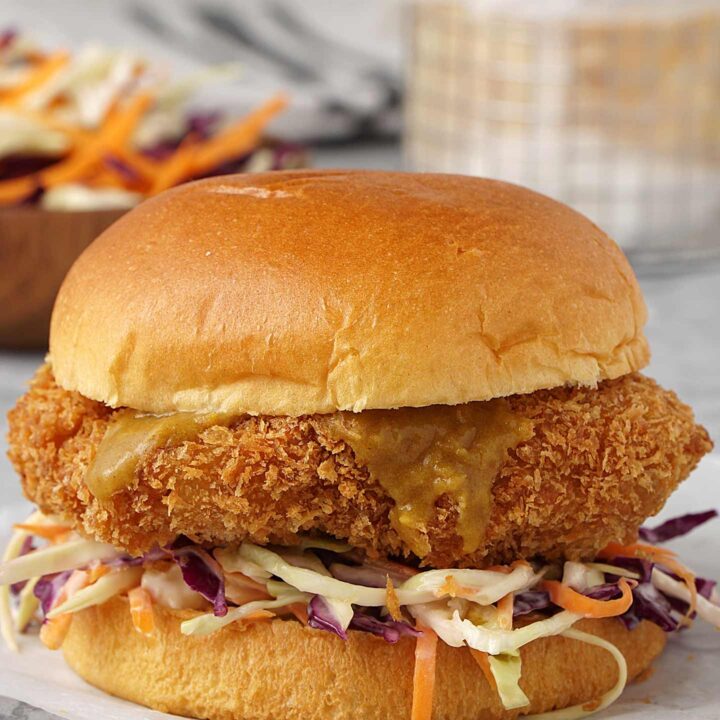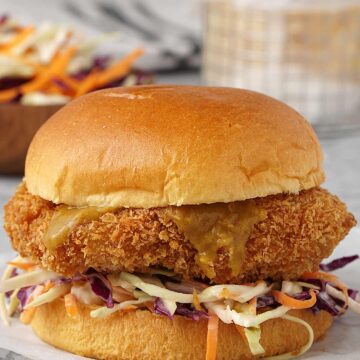 Chicken Katsu Curry Burger
Japanese-style crispy chicken burger with curry sauce, shredded cabbage salad. Must-try recipe for chicken katsu curry lovers!
Print
Pin
Rate
Ingredients
400

g

(14 oz) Chicken Breast

½

tsp

Salt

¼

tsp

Black pepper

Vegetable oil

1

block

Japanese curry roux block

1½

cup

Water

( or chicken stock )
Chicken Coating
2

cup

Panko breadcrumbs

1

cup

Plain flour

¼

cup

Corn starch

½

tsp

Baking soda

2

eggs
To Serve
4

Brioche burger buns

Or any burger buns

Shredded green & red cabbage

Shredded carrot

Japanese mayonnise

Or regular mayonnise

Shichimi Togarashi

( Japanese Chilli Powder Mix )
Instructions
To make curry sauce
In a medium-size saucepan, add water and one curry block. Stir continuously and cook with medium heat for 4-5 minutes until it become smooth, medium-thick gravy. Remove from heat and keep it warm. ( Add more or less water according to the packet instructions or the amount of curry block you use. If the gravy is too thick, add a bit more water. )
How to make crispy Katsu Chicken
Cover the chopping board with cling film, and place the chicken breast into half then cut each pieces it into half lengthways. Cover the chicken cutlets with cling film and pound it with meat tenderizer or rolling pin.

Season the chicken slices with simple salt and fresh ground black pepper. Set aside.

Mix the shredded cabbage and carrot with 1-2 tablespoon of mayonnaise and set aside.

In a large bowl mix the plain flour, corn starch and baking soda evenly. Whisk two eggs in another bowl. Place the panko breadcrumbs in a large shallow plate or bowl.

Dredge the seasoned chicken cutlets with flour mix, then dip in whisked egg and re-dip in flour mix and egg. Then dredge in panko breadcrumbs, press gently on both sides. Repeat process to remaining chicken cutlets and set aside

Heat the vegetable oil into medium heat 300°-325° F. Fry the coated chicken pieces for 2-3 minutes on both sides until crispy golden brown.

Remove from oil and transfer to wire rack.
To Assamble the Burger
Mix the shredded cabbage and carrot with generous amount of mayonnaise. Set aside.

Place cabbage salad on the burger bun bottom, topped with fried chicken, curry sauce, Shichimi powder and burger bun top.

( Optional : Brush melted butter on the brioche buns and slightly toast in oven before assembling the burger. )
Nutrition
Calories:
295
kcal
|
Carbohydrates:
53
g
|
Protein:
10
g
|
Fat:
4
g
|
Saturated Fat:
1
g
|
Trans Fat:
1
g
|
Cholesterol:
82
mg
|
Sodium:
684
mg
|
Potassium:
125
mg
|
Fiber:
2
g
|
Sugar:
2
g
|
Vitamin A:
119
IU
|
Calcium:
75
mg
|
Iron:
3
mg