Tired of regular fried chicken? It's time to try out this Taiwanese Style Crispy Asian Fried Chicken! Crispy fried chicken cutlets with Chinese salt and chilli seasonings and aromatic basil flavour. Easy to make at home and incredibly delicious!
If you are a fan of Asian crispy chicken, you will definitely like our viewer's favourite Chinese Takeaway recipes: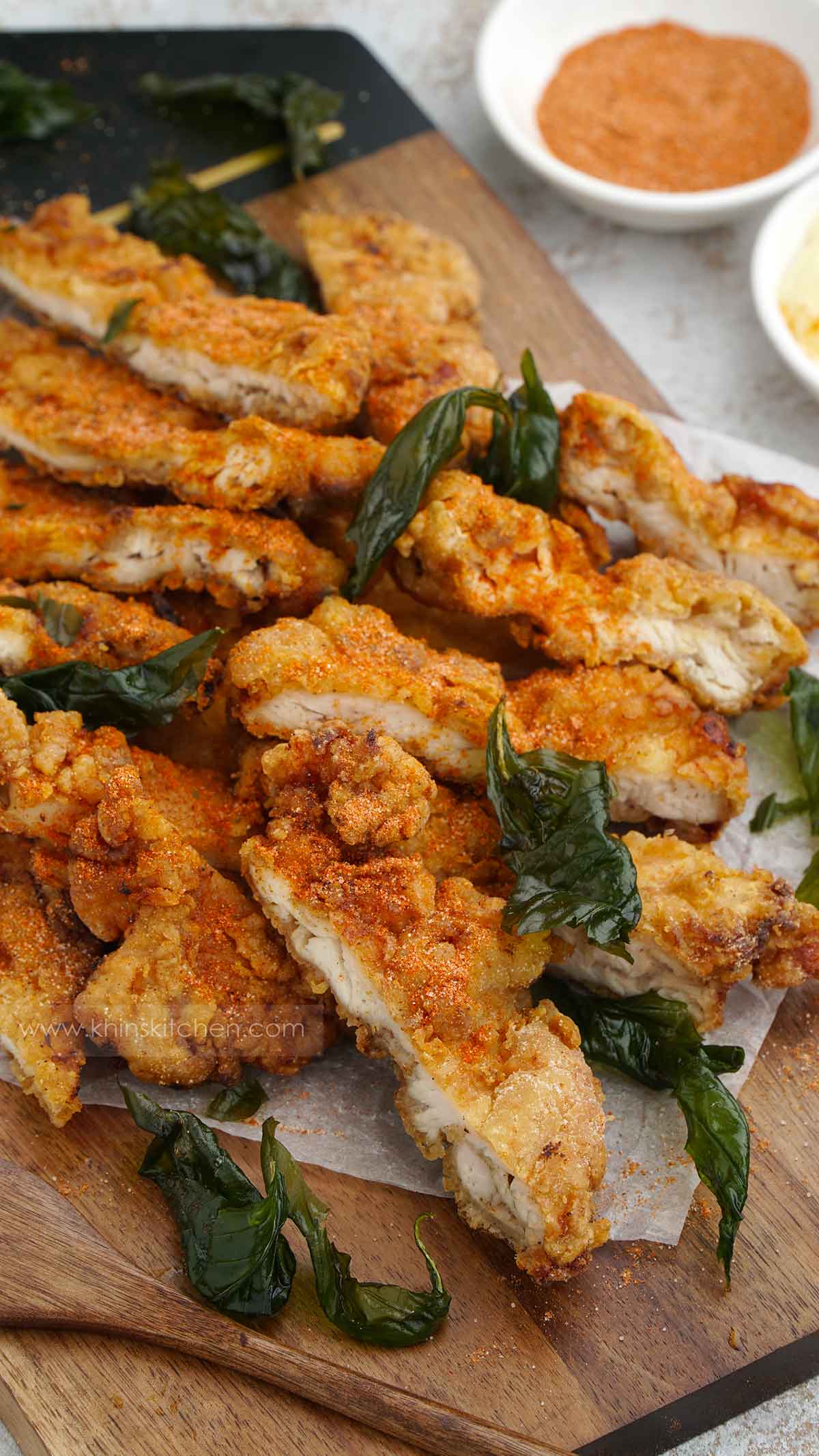 Taiwanese Street Food Fried Chicken
Taiwanese Popcorn Chicken and Taiwanese XL Fried Chicken are very popular street food in Taiwan. Crispy chicken with sweet potato flour coating, tossed with flavourful chilli salt and fried basil leaves.
I've learned this recipe from my Taiwanese friend, this is how her family used to make at home. I love the authentic flavours and simplicity of this fried chicken that her mom made for us. One of the best Asian fried chicken recipe that I've ever tried.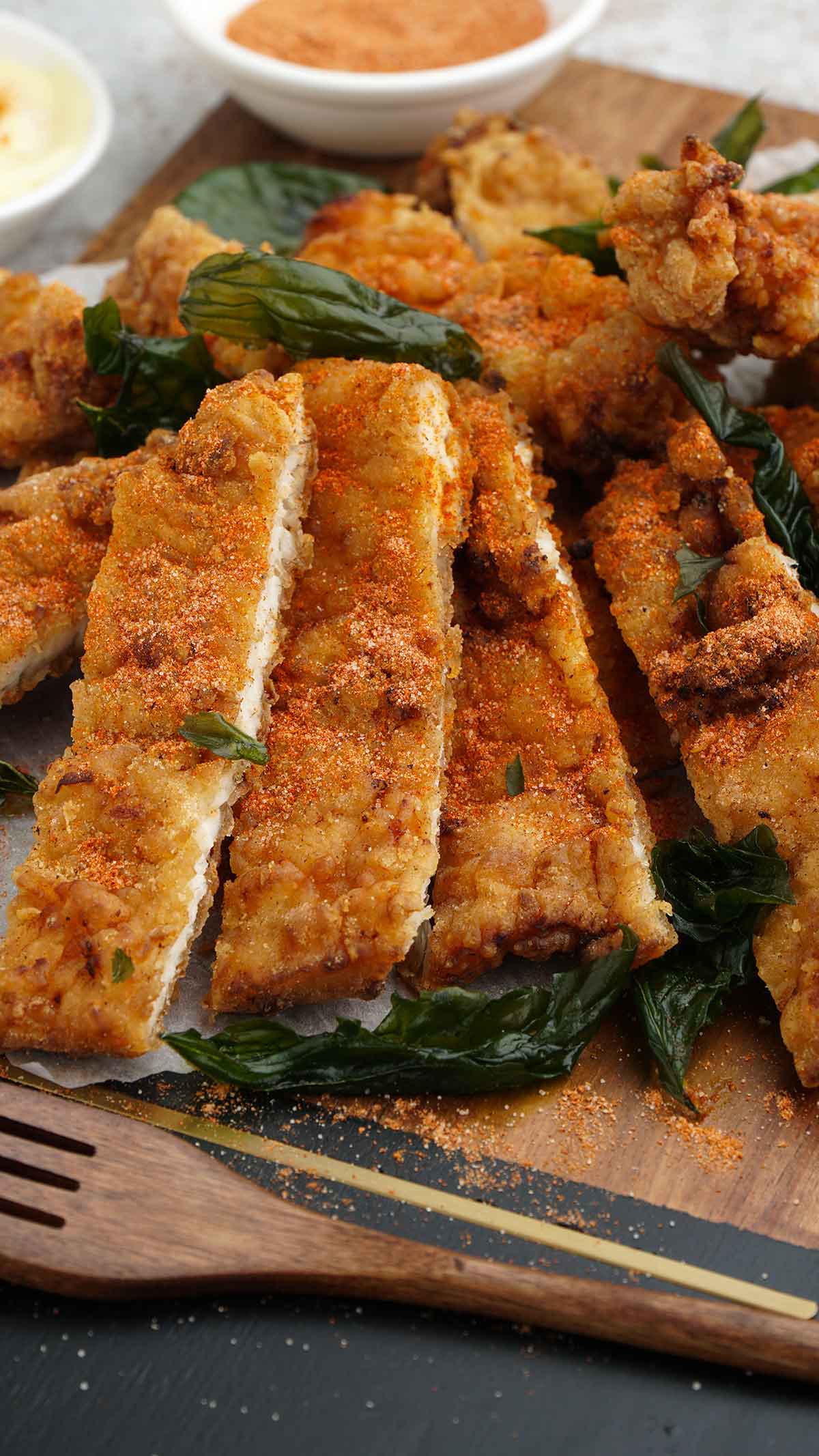 I made some adjustment of family liking and everyone loves it! My picky pre-schooler said this fried chicken is his new favourite. 🤗🤩
If you haven't try this crispy chicken recipe, I highly recommend to try at home. You can customize the spices, salt or any ingredients according to your preference when you make at home. It's so much easier than you've imagined. In this recipe we'll be sharing our homemade Taiwanese Style Large Fried Chicken with chicken cutlets.
When you make at home you can customize just how much spices, chilli and vegetables you want. Learn our simple tips and make your own salt and chilli chicken better than restaurant. You will find it much easier than you have imagined.
Here is the simple few steps you need to make:
Marinate the chicken cutlets with Shao Xing wine, soy sauce, garlic, sugar and Chinese five spices.
Coat with egg and sweet potato flour coating mixture.
Double fry until crispy golden brown.
Sprinkle chilli salt seasonings and crispy fried basil.
Simple Tips To Make it
Two simple tips to make the chicken extra crispy. You will need sweet potato starch and double frying the chicken!
Sweet Potato Flour ( Starch ): Is very similar to tapioca starch, which is made from starch of sweet potato and widely used in Chinese and Asian cooking.
What is the substitute for sweet potato starch? Thick sweet potato starch is ideal to use in this recipe, but if you cannot find it, substitute with potato starch or tapioca starch.
Double Frying Method: Top Tips – Don't skip the double frying! Double frying creates the airy, crispy coating texture that lasts for few hours after you fried it. Fry the coating chicken cutlets in hot oil for 3-4 minutes, until it floats above the oil, remove from oil and set it aside for 3-4 minutes. Then fry it again in hot oil for 2-3 minutes or until the coating is crispy golden brown.
Why this fried chicken is so special?
It's a perfect crow pealing snack that all kids and adults enjoy. Your party guests will definitely love it! I can guaranteed that!
Sweet potato flour coating is extremely crispy outside and moist and juicy chicken inside.
Easy to make at home without much hassle.
Super addictive and you can't stop for another bite! Soon to be your favourite Asian fried chicken!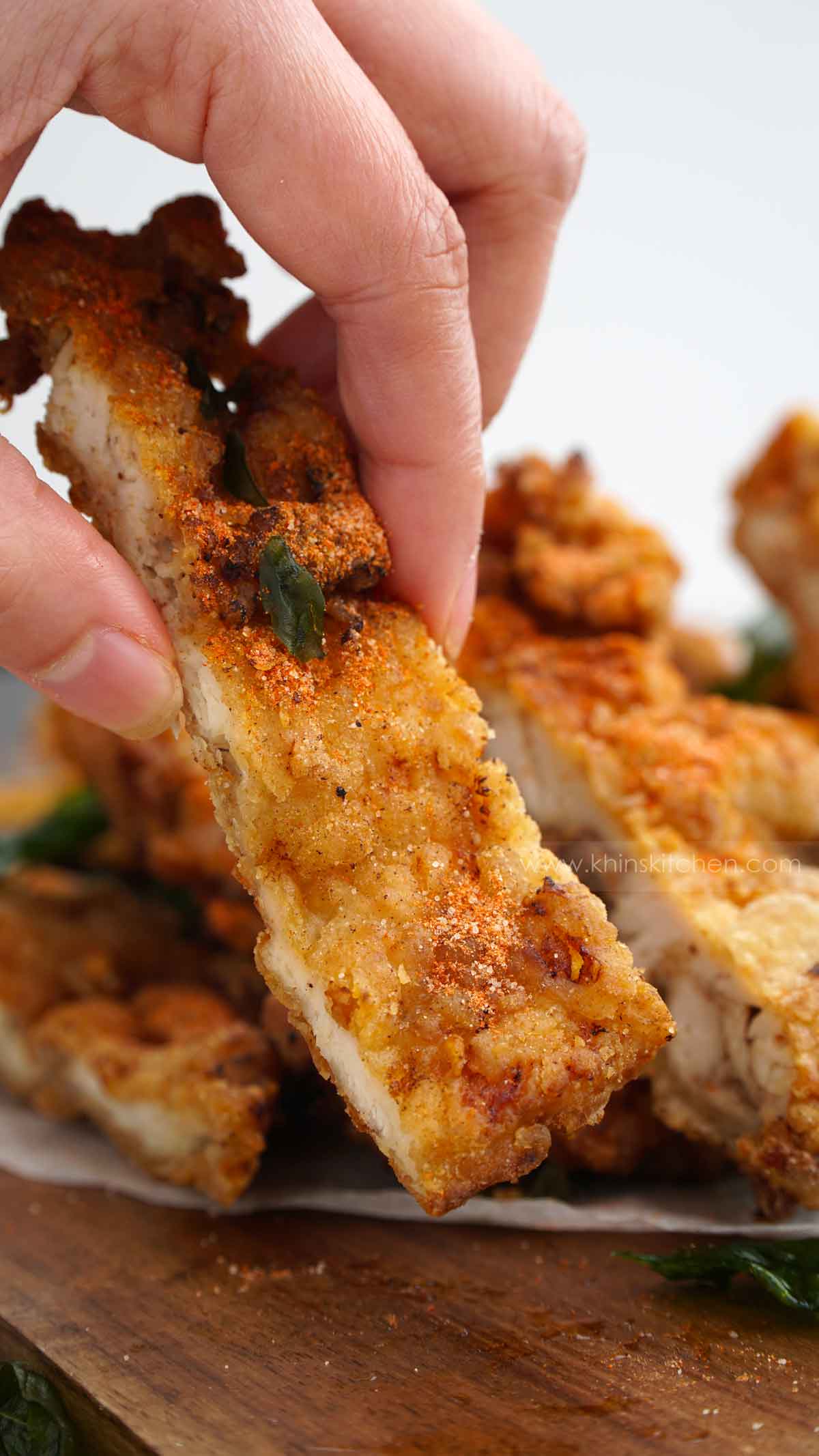 It tastes best to serve freshly fried, you can serve on its own, just sprinkle with chilli salt seasonings. Or you can serve with your favourite dipping sauce. We love to serve with spicy mayo dipping sauce. And here is how to make it at home :
Spicy Mayo Dipping Sauce
Mix two tablespoon of Japanese mayonnaise (or regular mayonnaise) and one teaspoon of hot chilli sauce in a small bowl. Sprinkle Japanese Shichimi chilli powder or hot red chilli flakes. That's it!
If you enjoy our recipe, please leave a comment and give us a rating! If you've tried this recipe, tag me on social media, I would love to see your creations! Follow me on social media Facebook, Instagram and Pinterest for the latest updates.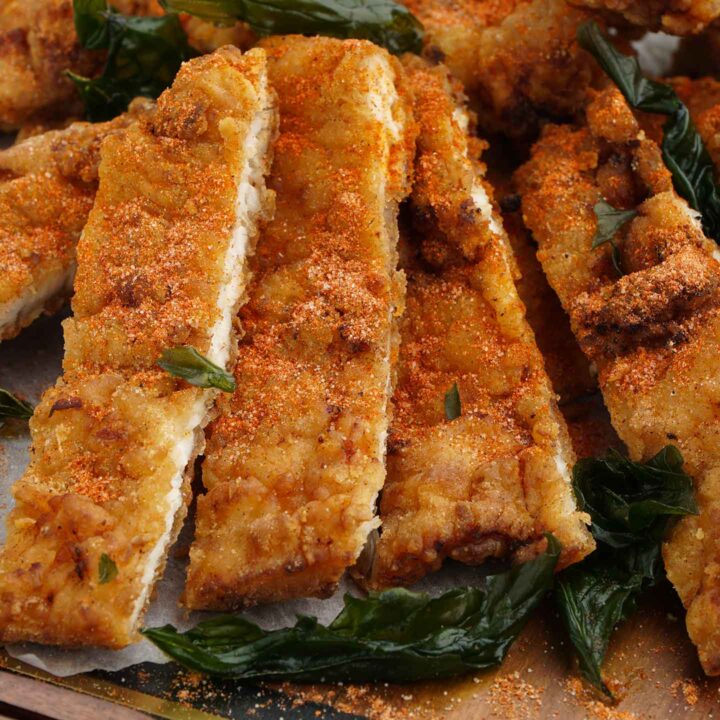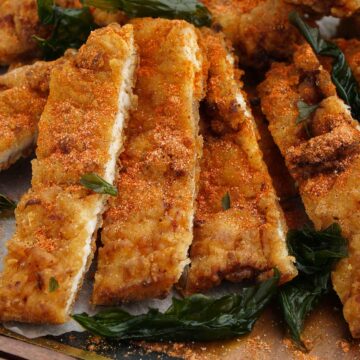 Crispy Asian Fried Chicken Recipe Taiwanese Style
Taiwanese version of Crispy airy, non-greasy fried chicken cutlets and sprinkle generous amount of flavourful Chinese salt and chilli seasonings. Add crisp basil leaves to bring more flavour to the dish.
Print
Pin
Rate
Ingredients
500

g

Chicken breast

( 2 large chicken breast about 500-600 g )

1

cup

Sweet potato starch

Or Potato starch/ tapioca starch

¼

cup

Plain flour

Or all purpose flour

½

tsp

Baking soda

2

Egg

handful

Basil leaves

Thai, Italian or Regular Basil ( Optional )

Oil for frying

( vegetable oil, canola, grapeseed, sunflower or any neutral flavour oil )
Marinade
2

tbsp

Soy sauce

1

tbsp

Shao Xing wine

1

tbsp

Garlic

Grated garlic/garlic paste

1

tbsp

Sugar

1

tsp

White pepper

1

tsp

Chinese five spices
Chilli Salt Mix
½

tsp

Garlic powder

½

tsp

Paprika powder

½

tsp

White pepper

¼

tsp

Fine salt
Instructions
Cover the chopping board with cling film, cut chicken breasts into half lengthways. Cover the chicken cutlets with cling film and flatten it by pounding with rolling pin or meat tenderizer.

Mix all the chilli salt seasoning ingredients in a bowl and set it aside.

Mix the chicken cutlets well with soy sauce, garlic paste, white pepper, Shao Xing wine, Chinese five spices and sugar. Let it set aside and marinade for at least 30 minutes to 1 hour. If you have more time you can place it in a fridge overnight in an airtight container.

Beat two eggs in large tray or bowl and set aside. Mix sweet potato starch, plain flour, and baking soda in a large bowl and set aside.

Dip the marinated chicken cutlet in the egg first, then dredge in the flour mix. Press gently to coat the chicken evenly and toss the excess flour out before frying.

Heat the vegetable oil to high heat about 225-250° F. Deep fry the coated chicken for 3-4 minutes until the chicken start to float. Once it float, remove from oil and set it aside for 3-4 minutes. Then double fry it again until crispy golden brown. Remove from oil and place it over the cooling rack.

Fry the bail leaves in the oil for 2-3 minutes until crispy. Remove from oil and place it over the paper towel.

To Serve the fried chicken, cut the chicken cutlets in the medium bite size slices, or pieces. Sprinkle the chilli salt seasonings and crispy basil leaves on top. You can simply serve on its own or serve with spicy mayo or any your favourite dipping sauce.
Notes
How to make Spicy Mayo Dipping Sauce? Here is our simple homemade spicy mayo dipping sauce that need 3 simple ingredients. Japanese mayo ( or regular mayonnaise), hot chilli sauce ( or Sriracha chilli sauce), and Japanese Shichimi chilli powder ( or paprika powder ). Mix 2 tablespoon of Japanese mayo, 1 teaspoon of hot chilli sauce and sprinkle Japanese Shichimi chilli powder. You can adjust the chilli sauce amount according to your preference. 
Shao Xing Wine – Is a Chinese cooking rice wine, you can find it in Chinese and Oriental Asian grocery stores or supermarket Asian aisle. If you cannot get Shao Xing Wine, you can add Japanese mirin, or dry sherry. If you wish to make non-alcohol version you can omit it add a splash of rice vinegar. 
Chinese Five Spices – is a powder mixture of cloves, Sichuan peppercorns, cinnamon, star anise, and fennel. Available in Chinese grocery stores or Amazon online. 
Basil Leaves – Don't skip frying basil leaves if you like the authentic Taiwanese style flavour. If you are not a basil fan, you can skip adding basil leaves. 
Nutrition
Calories:
421
kcal
|
Carbohydrates:
62
g
|
Protein:
29
g
|
Fat:
5
g
|
Saturated Fat:
1
g
|
Trans Fat:
1
g
|
Cholesterol:
154
mg
|
Sodium:
948
mg
|
Potassium:
490
mg
|
Fiber:
2
g
|
Sugar:
3
g
|
Vitamin A:
153
IU
|
Vitamin C:
2
mg
|
Calcium:
39
mg
|
Iron:
2
mg