Ginger Beef Stir Fry with juicy tender beef steak, crisp veggies and fresh ginger tossed in flavourful stir fry sauce. Super quick, easy, delicious and taste just like you've had at your favourite Chinese restaurant!
I love to make restaurant-style dishes at home and share it with my friends. Here is more of our tried and tested viewers' favourite stir fry steak recipes you might like to try out :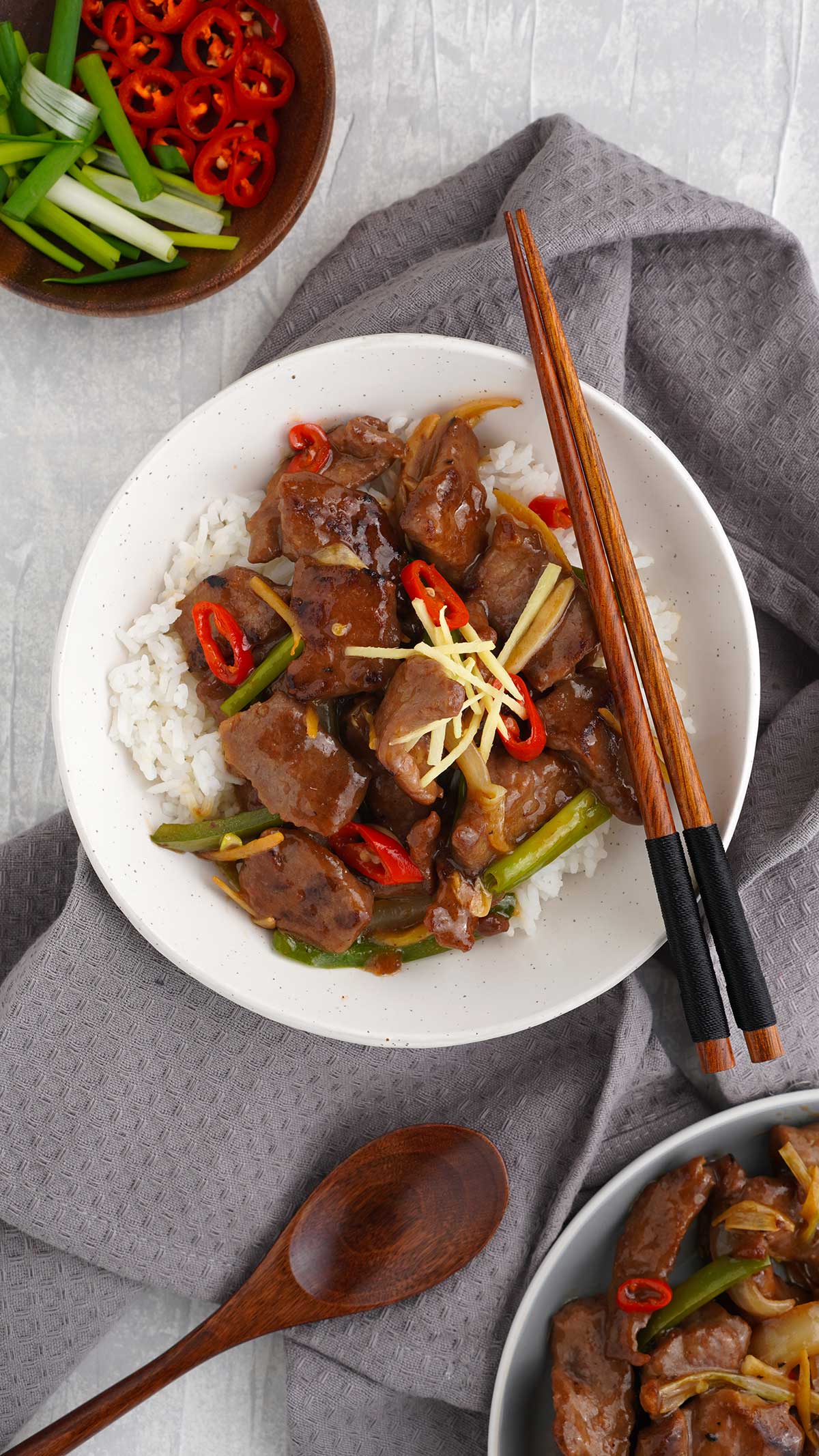 Anyone can make at home without much hassle with our easy-to-follow recipe. This stir fry is very versatile and you can prepare for under 20 minutes. You can add any vegetables you have in your pantry and the taste will definitely turn out amazing!
Stir fry dishes are staple in our family meal and everyone love it. Even my fussy little boy enjoys most of my stir fry recipes. Highly recommend to try this ginger beef recipe at home, your guest and family members will be definitely impressed by your Chinese cooking skills.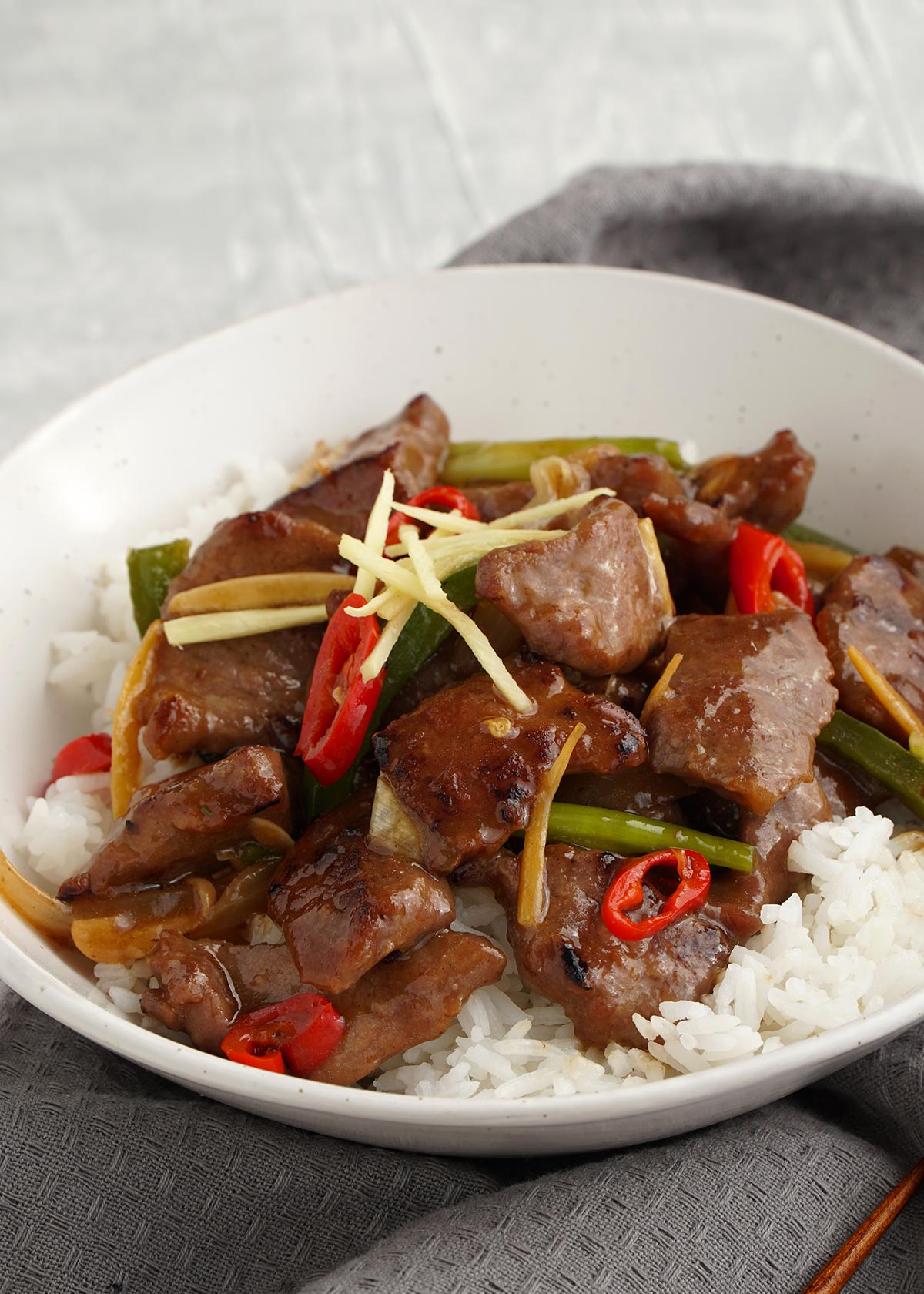 How To Make Perfect Chinese Ginger Beef Stir Fry?
Beef
Marinade - Marinade the beef slices with soy sauce, baking soda, corn starch, sugar, and sesame oil. Baking soda and corn starch in the marinade keep the meat slices moist and tender result when you stir fry with high heat. It's a Chinese method of tenderizing meat and also known as meat velveting.

Which cut is best for Chinese beef stir fry? Use nice tender steak cut like ribeye, sirloin, tenderloin, rump, etc for this recipe. Tender steak cut creates melt-in-mouth beef stir fry result.
How to cut the beefsteak? Always cut meat against the grain. Check the direction of the meat grain direction first, then slice it against the grain into thin slices.
You can swap beef with chicken breast/thigh, lamb, prawns, or any protein you wish. Simply season the meat slices with soy sauce, baking soda, corn starch, and a bit of sugar. If you would like to go with chicken, feel free to check out chicken with ginger and spring onions recipe.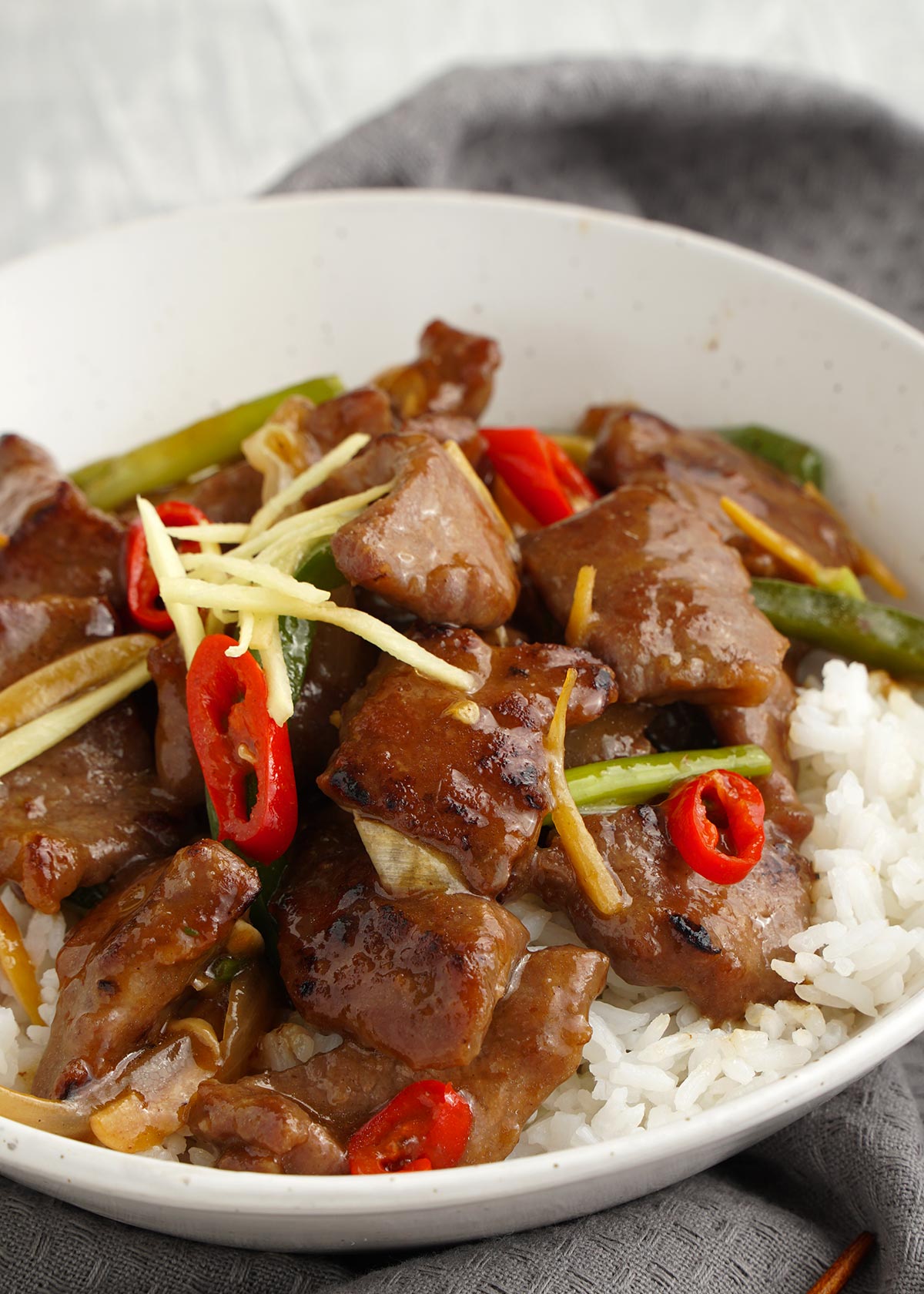 Vegetables
As this dish is very versatile you can use up any stir fry vegetables that can cook quickly over high heat wok/pan. I usually add, onion, bell peppers, spring onions, and fresh chilli for a kick of spice. Avoid chilli if you want to make it a kid-friendly version. You can also pair it with broccoli or tender stem broccoli and make it a ginger beef and broccoli stir fry! Other green veggies like kai lan ( Chinese broccoli ), pak choy, bok choy, snow peas, carrot, baby corn go well too.
If you are a fan of Chinese restaurant-style beef and broccoli, here is our recipe for how to make it at home: Beef and Broccoli Recipe.
For the vegetarian option, swap steak with firm tofu or Quorn vegan steak for an alternative and use vegetarian oyster sauce in the sauce mixture.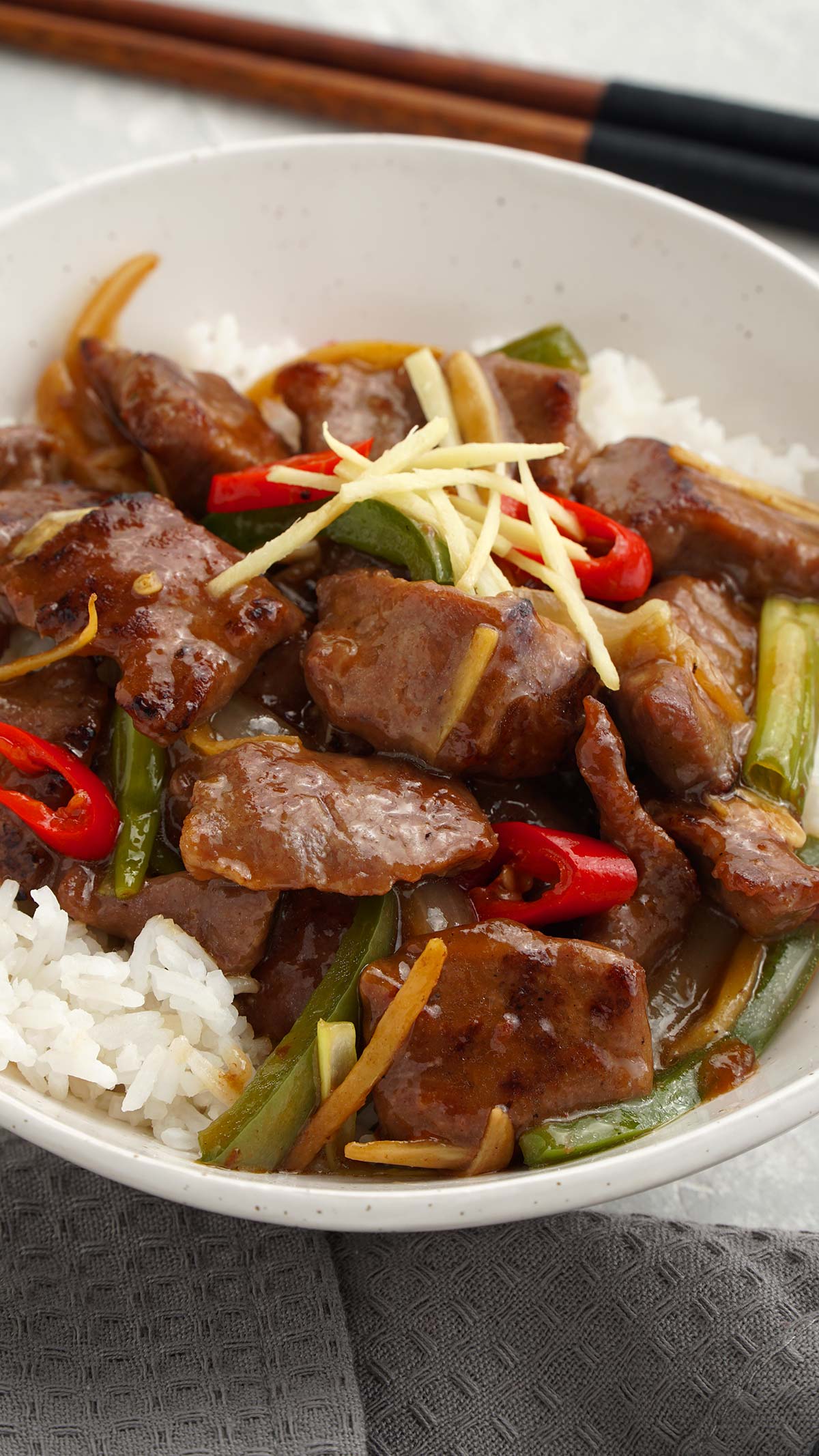 Ginger Beef Sauce
If you have tried my previous stir fry recipes, you will find the sauce mix are very similar to one another. This is a basic stir fry sauce mix that we add to most of our Chinese stir fry dishes. Simple, well balanced with sweet and savoury taste.
To create this sauce mix you will need light soy sauce, oyster sauce, rice or white vinegar, sesame oil, sugar and white pepper. Use Shaoxing Chinese cooking rice wine instead of rice vinegar for more authentic Chinese flavour. Add extra dark soy sauce to bring more colour, if you prefer a lighter colour you can omit dark soy in your sauces.
You can make extra sauce and store it in an airtight container for future use. It lasts in the fridge for up to 7 days.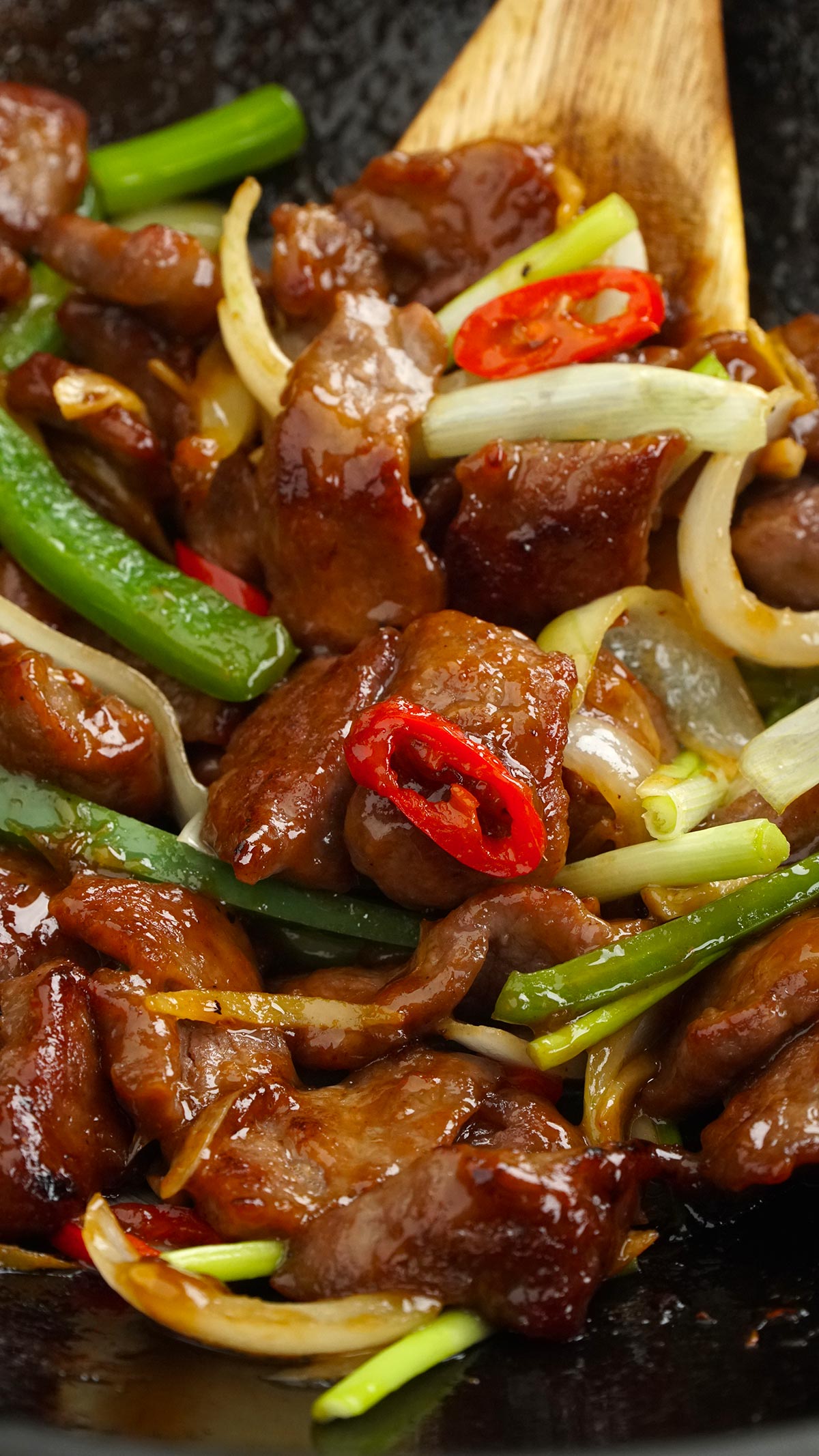 Cookware - Wok or Pan?
You don't need to be a master in wok skills to create a perfect ginger beef. You can cook with the pan or skillet you already have in your kitchen. I use both non-stick wok and carbon steel wok for my stir-fries depend on how much cleaning and wok seasoning time I got. Make sure to cook with over medium-high heat or high heat depend on the your stove you use. Sear beef slices for 2-3 minutes and creates a nice charred colour then stir through.
If you are a fan wok hei ( wok flavour ) you can use traditional well-seasoned Chinese wok like carbon steel wok. It can stick sometimes depend on the ingredients you fry, you need to add a bit more oil than a regular non-stick pan.
How to serve this dish
You can simply serve over hot steamed rice or serve it with fried rice or noodles and makes a perfect meal. You can also pair it with Crispy Fried Wonton, Hot and Sour Soup, and Crispy Orange Chicken for an ultimate Chinese banquet dinner.
Can I reheat or make ahead? It tastes best when you serve immediately like other stir fry dishes. However, you can keep the leftover in a fridge for up to one day. Reheat in the microwave until piping hot just before serving.
Here is the quick cooking process
Find the printable full detailed steps in the recipe card.
1. Marinade the beef slices with corn starch, baking soda, sesame oil, sugar, and soy sauce.
2. Stir fry the beef slices on the pre-heated wok/pan with medium-high heat.
3. Follow with the onion, ginger, garlic, vegetables and pour the sauce in.
4. Toss well and cook for 2-3 minutes until cook through. Serve over hot steamed rice and topped with ginger slices.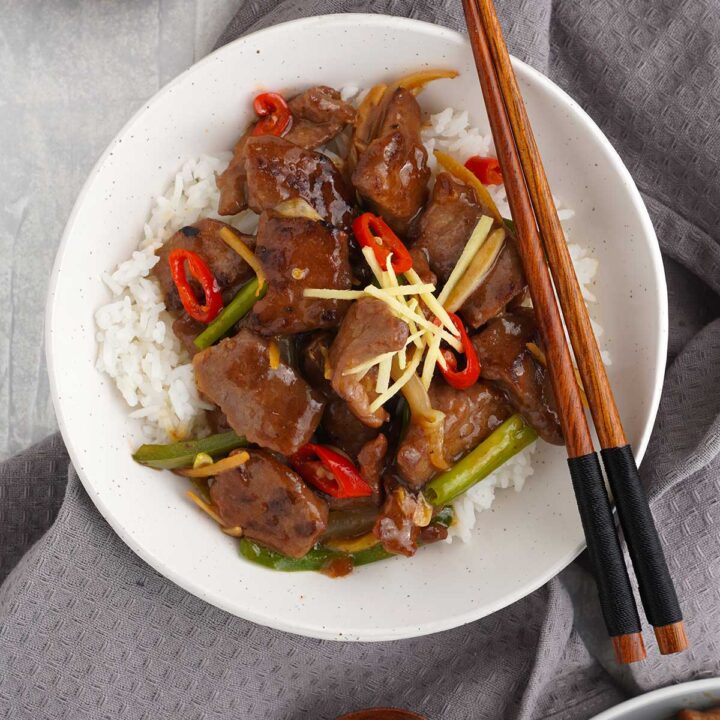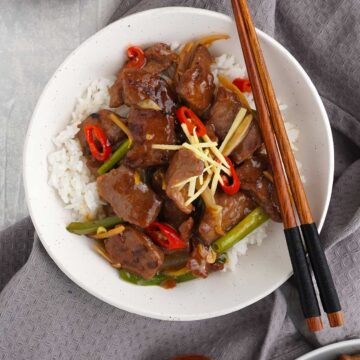 Ginger Beef Stir Fry
Juicy tender steak slices and colourful crisp vegetables tossed in delicious homemade stir fry sauce. Super quick, easy and way better than regular takeout!
Print
Pin
Rate
Ingredients
10.5

oz

Beef steak

( ribeye, rump, sirloin or tenderloin ) ( about 300 gram )

2

cloves

Garlic

( chopped ) about 1 tablespoon

5

slices

Ginger

( cut in thin matchstick sizes )

½

Bell pepper

½

Onion

( large sweet/white onion )

3

Spring onion

( cut into 2" pieces )

1

Fresh chilli

( cut thin slices )

3

tbsp

vegetable oil
Beef Marinade
1

tsp

Corn starch

1

tsp

Sesame oil

1

tsp

Sugar

¼

tsp

Baking soda

1

tsp

Light soy sauce
Sauce Mixture
2

tbsp

Oyster sauce

1

tbsp

Light soy sauce

1

tbsp

Vinegar

( Rice vinegar or regular white vinegar )

1

tsp

Sugar

1

tsp

Corn starch

¼

tsp

White pepper
Instructions
Prepare all the vegetables buy cut them into thin slices and cut the beef steak into thin slices. Cut the beef against the grain to achieve the tender result. Marinade the beef slices with corn starch, sesame oil, sugar, baking soda and light soy sauce. Mix it well with hand and set aside for at least 10 to 15 minutes.

In a small mixing bowl add the oyster sauce, light soy, sesame oil, sugar, corn starch, white pepper and rice vinegar. Mix well until sugar and con starch dissolve in the sauce and set aside.

Heat the large wok/pan over medium-high heat, drizzle 2 tablespoons of vegetable oil and sear the beef for 2-3 minutes and stir through and cook for another 1-2 minutes.

Push the beef one side of the pan, drizzle 1 tablespoon of oil and add the onion, ginger, garlic and stir fry for few seconds.

Follow with the pepper slices and continue cook for another 1-2 minutes. Pour the sauce mixture in.

Add the spring onions and toss well to combine all ingredients and sauce evenly.

Remove from heat and transfer to serving plate. Garnish with fresh ginger shredded or chopped spring onions.

Serve over hot steamed rice, fried rice or noodles.
Nutrition
Calories:
302
kcal
|
Carbohydrates:
22
g
|
Protein:
4
g
|
Fat:
24
g
|
Saturated Fat:
17
g
|
Sodium:
1313
mg
|
Potassium:
545
mg
|
Fiber:
3
g
|
Sugar:
11
g
|
Vitamin A:
2351
IU
|
Vitamin C:
65
mg
|
Calcium:
45
mg
|
Iron:
1
mg
If you enjoy our recipe, please leave a comment and give us a rating! If you've tried this recipe, tag me on social media, I would love to see your creations! Follow me on social media Facebook, Instagram and Pinterest for the latest updates.