Quick and easy stir-fry prawns & broccoli recipe, you can make in 20 minutes. Cooked in sweet & savoury sauce with a kick of bird eye chilli. You can serve it over a bowl of steamed rice or stir fry noodles. Perfect weeknight dinner option!
Chinese Prawn Stir Fry
Stir fry dishes and are a staple in Asian families and it takes very little time to prepare. You can add any seafood, protein, or vegetables left in your fridge and make it a stir fry. And all the seasoning sauces used are cupboard-friendly and available in most supermarkets. You just need to pair it with a bowl of simple cooked rice, egg fried rice, or noodle to serve together.
Prawn stir fry is one of the quickest and easiest stir fry dishes that I love to make when we are on a busy schedule. As this is a very versatile dish every restaurant, takeaway, and family has their own version of it. With this recipe, you can create your own restaurant-style prawn stir fry at home with minimum effort. Super budget-friendly and a lot faster and tastier than ordering from your nearest takeaway!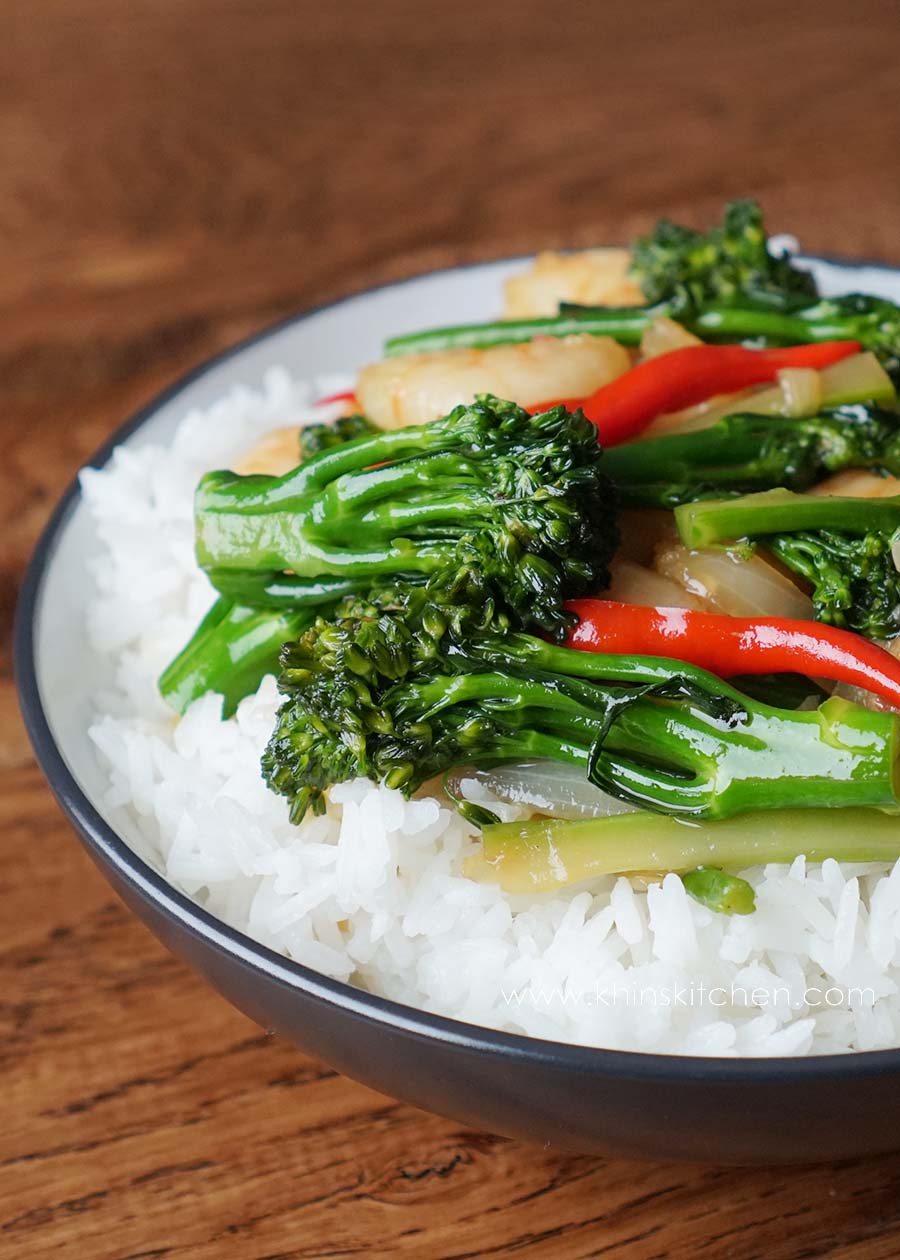 Simple ingredients you will need
King Prawns
Can you use cooked prawns in a stir fry? Yes, you do and I've used cooked king prawns for this recipe, but you can try with fresh peeled and deveined prawns. Cooked prawns take less time to cook, you just need to toss it with high-heat until piping hot. You can also swap it with squid, mixed seafood, chicken, or any of your favourite protein. If you wish to make it with beef, check out our Quick Beef and Broccoli Recipe and learn how to make tender beef stir fry.
Vegetables
Use any stir fry greens or vegetables that you love. I love to make with tender stem broccoli as it is a lot faster to cook then regular broccoli head. But it is totally fine to use broccoli head, kai lan ( Chinese broccoli ), pak choy, bok choy, choy sum, or asparagus. Mushrooms, bell peppers, onions and spring onions are perfect to add too!
If you want to learn how to make prawn stir fry noodles, check out our Shanghai Style Prawn Stir Fry With Noodles and Malaysian style prawns noodles Mee Goreng recipe.
Stir Fry Sauce :
You need only two simple sauces, soy sauce, oyster sauce, and a splash of sesame oil. To create a glossy stir fry sauce, add corn starch water slurry.
Traditional Wok or Non-stick Wok?
Traditionally Chinese stir fry dishes are prepared on high heat wok to but for home cooking, we can make it happen with any wok, pan, non-stick, or skillet we already have in hand. You just need to make sure to cook it on medium or high heat, based on the pan and stove you use. I use both non-stick wok and carbon steel wok for my stir-fries depend on how much cleaning and wok seasoning time I have.
We use carbon steel wok sometimes as my husband really likes the wok char flavour but for the days that I don't have much time for cleaning or seasoning the wok I just use my non-stick wok. I used a non-stick wok for this recipe and my prawns & broccoli turn out really well!
How to serve this dish?
You can simply serve this dish with cooked rice, noodles, or fried rice. I usually serve over hot steamed rice, topped with extra toasted sesame seeds, spring onions, and crispy chilli oil. Pair it with Hot and Sour Soup, Crispy Fried Wonton, or Chicken Fried Rice and make it a perfect family dinner.
Simple Cooking Steps
Gather and prepare the tender stem broccoli, garlic, chilli and onion.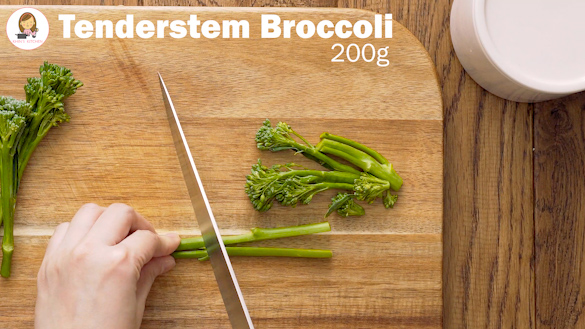 Stir fry the garlic with medium heat and follow with the onion slices.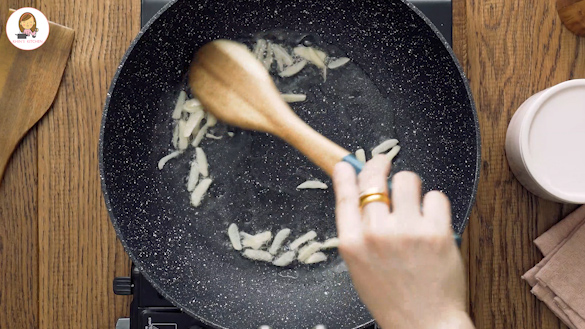 When the onion slices are tender add the king prawns and stir fry with medium-high heat for 1-2 mins.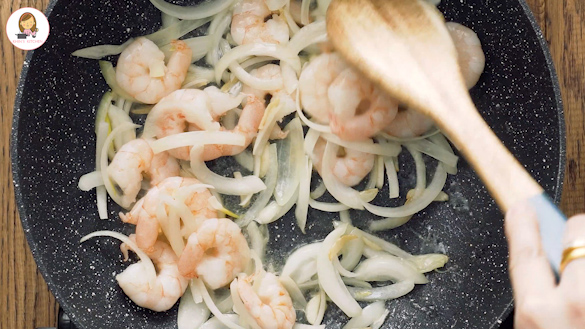 Follow with the broccoli pieces and pour soy sauce and oyster sauce in. Add the cut chillies and continue stir fry for 4-5 minutes, until the broccoli are tender.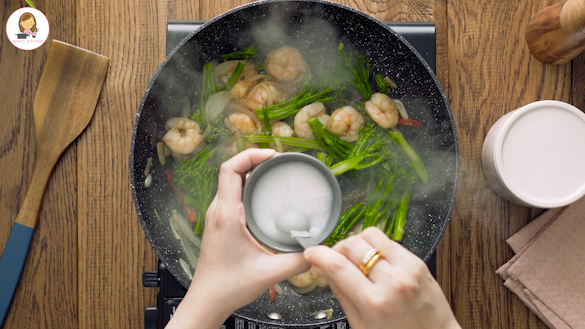 Pour the corn starch slurry in, stir well for a few seconds.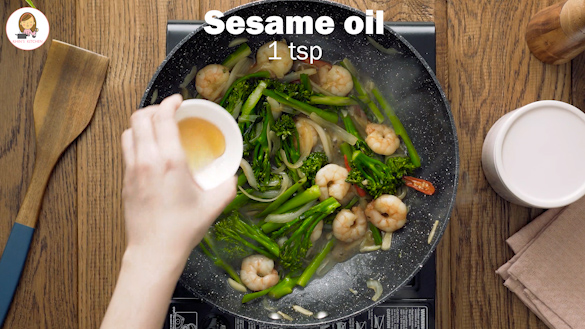 Add sesame oil, black pepper and salt to taste. Continue stir for 1-2 minutes. Transfer to a serving plate.
Perfect with a bowl of steamed rice or a simple stir fry noodle. Enjoy!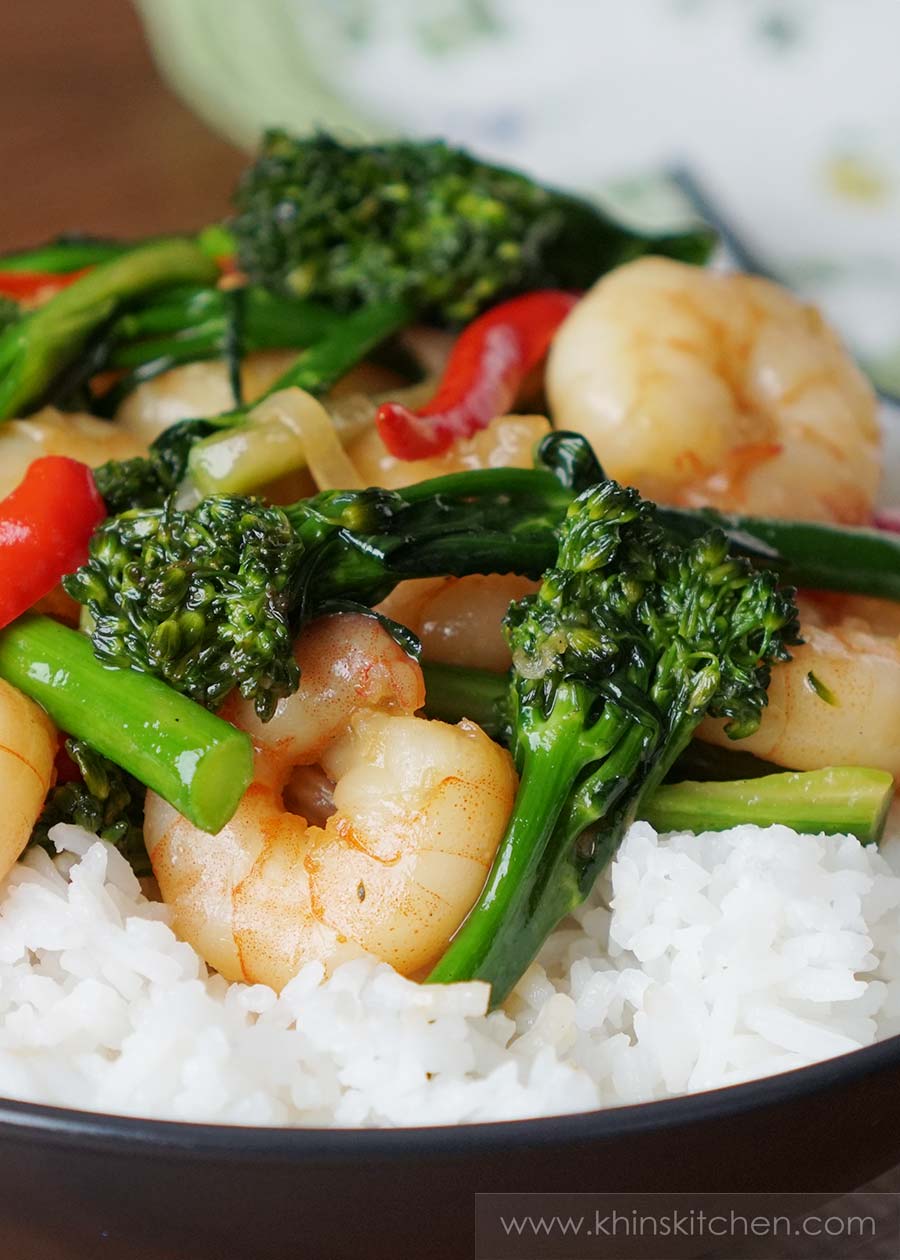 Watch how to make King Prawn Stir Fry recipe video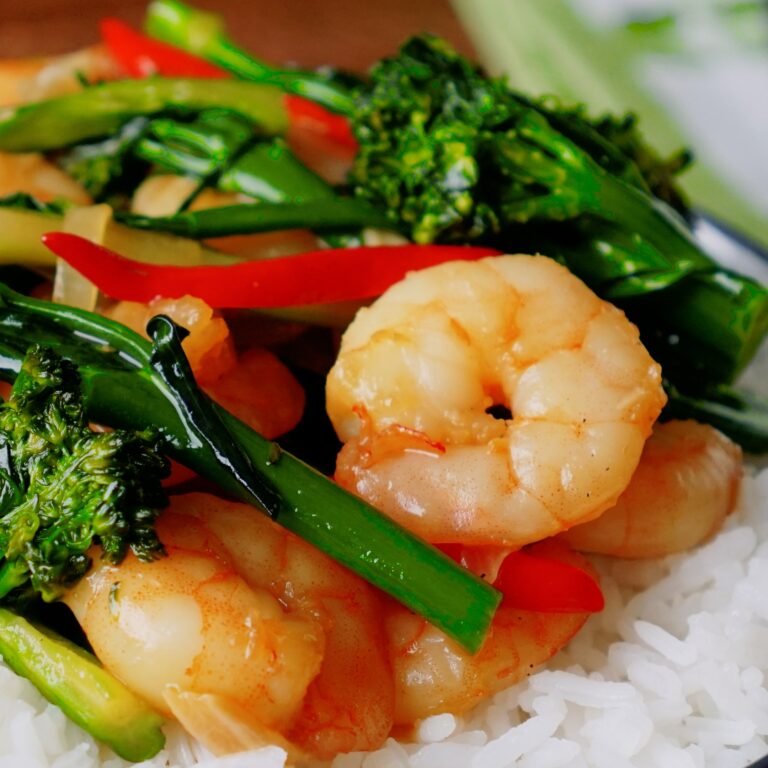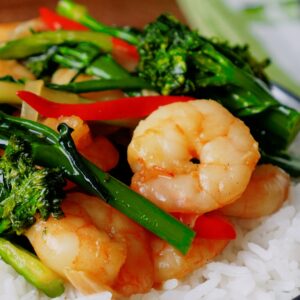 Ingredients
Ingredients
180

g

Cooked king prawns

200

g

Tenderstem Broccoli

3

cloves

Garlic

3-4

Bird eye/ hot chilli

½

Sweet onion

2

tbsp

Oil 

1

tbsp

Light soy sauce

1

tbsp

oyster sauce

1

tsp

Sesame oil

1

tsp

Corn/potato flour + water 3 tbsp
Instructions
Cut the garlic and onion into thin slices. Cut the tenderstem broccoli into 2" pieces, cut the stem part into half lengthways . Cut the chillies into half lengthways. ( Scrape the chilli seeds out if you don't like too spicy. )

Heat the pan into medium heat, drizzle 2 tbsp oil. Add the garlic and stir for a few seconds. Then add the onion slices and stir for a few seconds.

Add the king prawns and stir fry with medium high heat for 1-2 mins.

Add the broccoli pieces and pour soy sauce and oyster sauce in. Then add the cut chillies. Continue stir fry until the broccoli is nearly softened.

Add the corn flour and water mixture in, stir well for a few seconds.

Add sesame oil, black pepper and salt to taste. When the broccoli is tender, transfer to a serving plate.

Simply delicious King Prawn and broccoli is ready. Perfect with a bowl of steamed rice or a simple stir fry noodle. Enjoy!
Nutrition
Calories:
185
kcal
|
Carbohydrates:
9
g
|
Protein:
2
g
|
Fat:
16
g
|
Saturated Fat:
1
g
|
Trans Fat:
1
g
|
Sodium:
756
mg
|
Potassium:
140
mg
|
Fiber:
1
g
|
Sugar:
4
g
|
Vitamin A:
1
IU
|
Vitamin C:
5
mg
|
Calcium:
29
mg
|
Iron:
1
mg
If you enjoy our recipe, please leave a comment and give us a rating! If you've tried this recipe, tag me on social media, I would love to see your creations! Follow me on social media Facebook, Instagram, and Pinterest for the latest recipe updates.