Best Asian Crispy Honey Shrimp ( Prawns ) with lightly battered king prawns in sweet and savoury honey garlic sauce. Create super light, crispy, airy, non-greasy fried prawns at home with our simple recipe tips in under 30 minutes!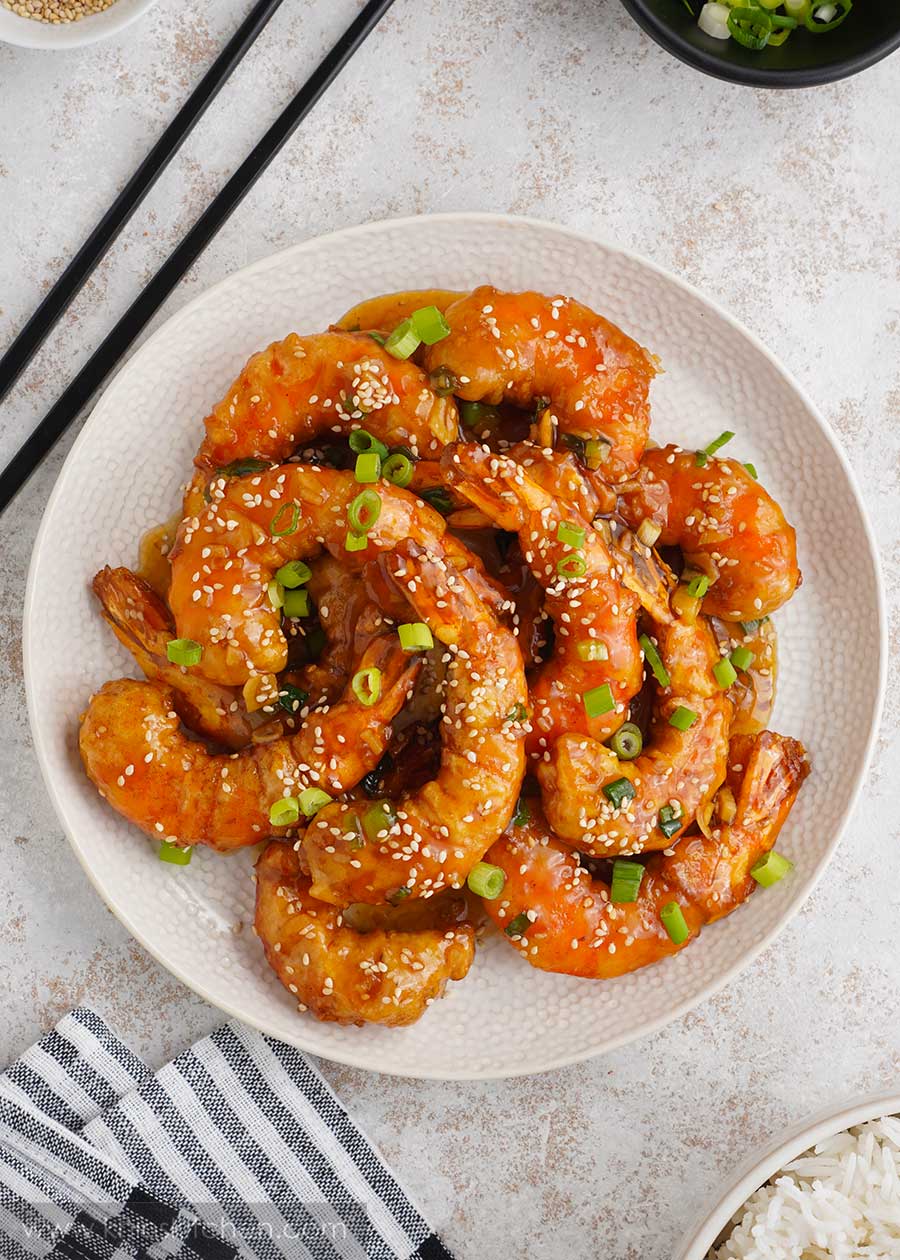 If you are a fan of PF Chang's Honey Shrimp or Dynamite Shrimp you will definitely love this Chinese Honey Shrimp recipe!
These crispy fried prawns tossed in sweet, sticky honey sauce are lip smacking good and taste just like you've had at your favourite Chinese/Thai restaurant.
How To Make Perfect Crispy Honey Shrimp
Here is our few simple tips to make the best honey glazed fried shrimp at home with everyday cupboard friendly ingredients!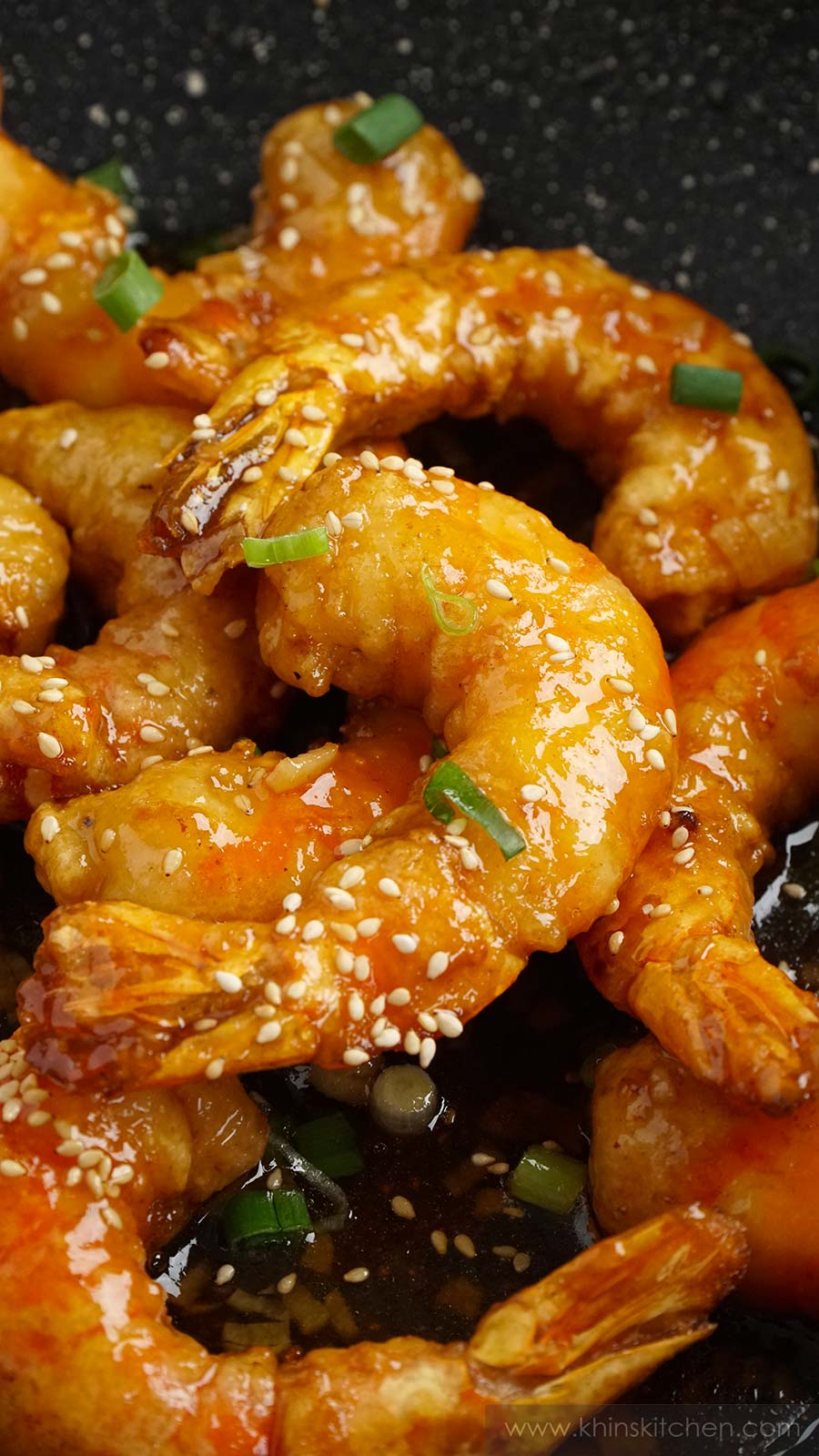 1. Lets start with the crispy airy coating!
This prawn coating is super crispy and retains its texture even after you tossed it with the honey sauce. There are the essential ingredients to make the airy, crispy, non-greasy prawn coating.
Corn starch, Flour, and Baking Soda: Mix corn starch and regular plain flour with a pinch of baking soda. Corn starch will keep the coating texture crispy, plain flour and baking soda create a fluffy batter that doesn't tear apart. Break one egg white into the seasoned prawns before you dust it in the flour mix, which will keep the flour mix stick to the prawns.
Prawns/Shrimp - I usually love to make this dish with large king prawns/shrimp, peeled and deveined and tails on. You can remove tails, it's totally optional.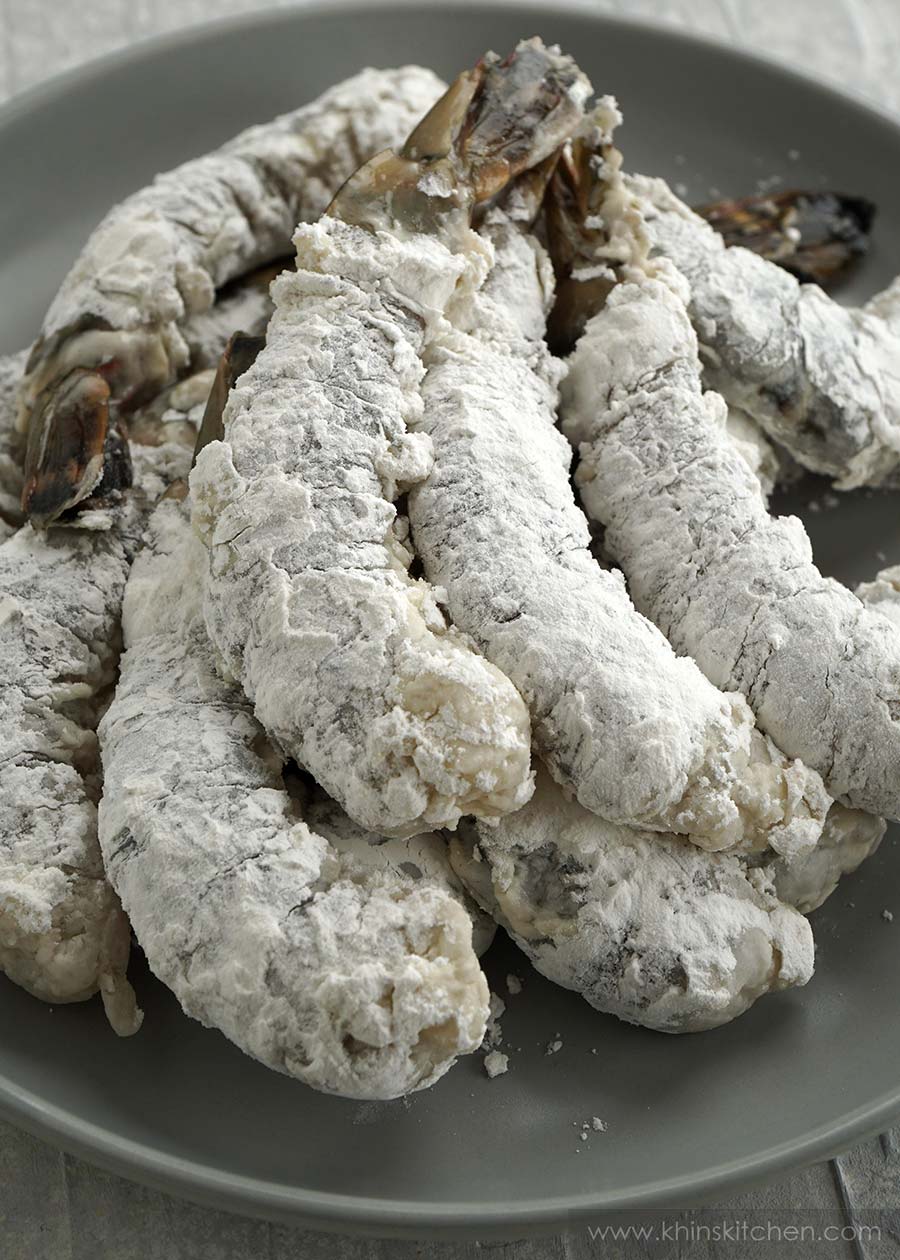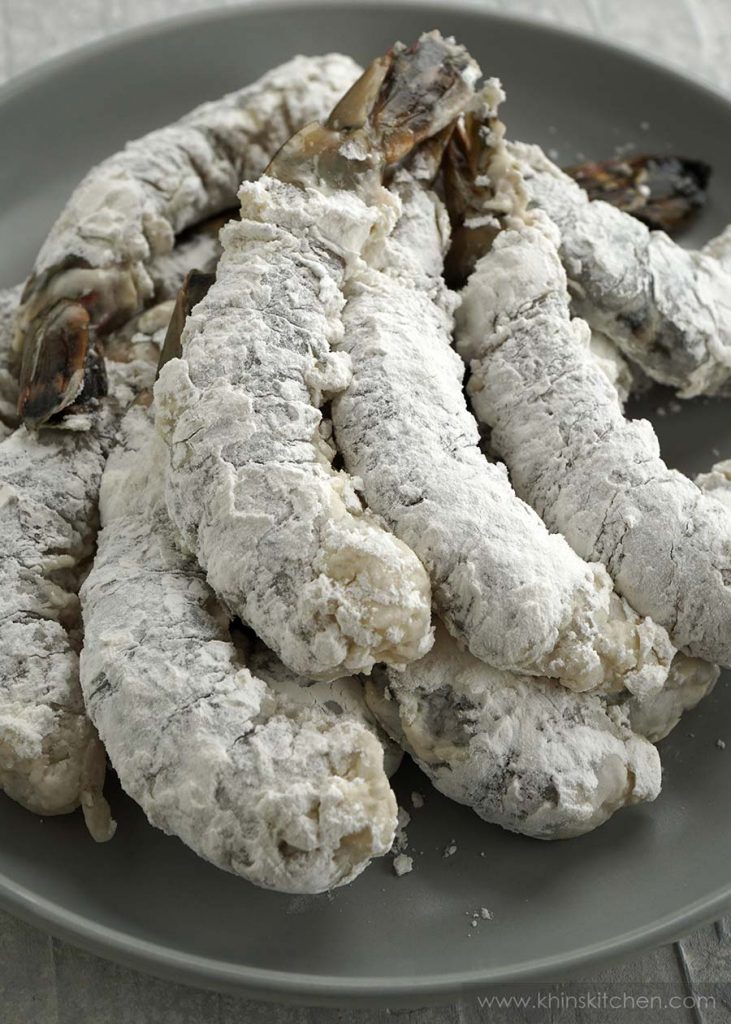 2. Deep Frying
Fry with high-temperature vegetable oil to prevent the coating from greasy. The temperature should be around 350F. Test with a food thermometer or with a wooden chopstick. If the oil bubbles are fizzing fast and steadily, it's ready to fry the prawns. Fry until crispy golden brown and let it sit on the cooling wire rack to remain its crispy texture.
Can I bake it?
Highly recommend frying in oil for the best result but if you prefer to avoid deep frying. You can bake or air fry the coated shrimps. Spray cooking oil on both side of coated shrimp, place them on the baking sheet, and bake in preheated oven at 400˚F for 15 to 20 minutes. Turn sides on halfway through. Or you can fry with preheated air fryer at 400˚F for 8 to 10 minutes and flip sides on halfway.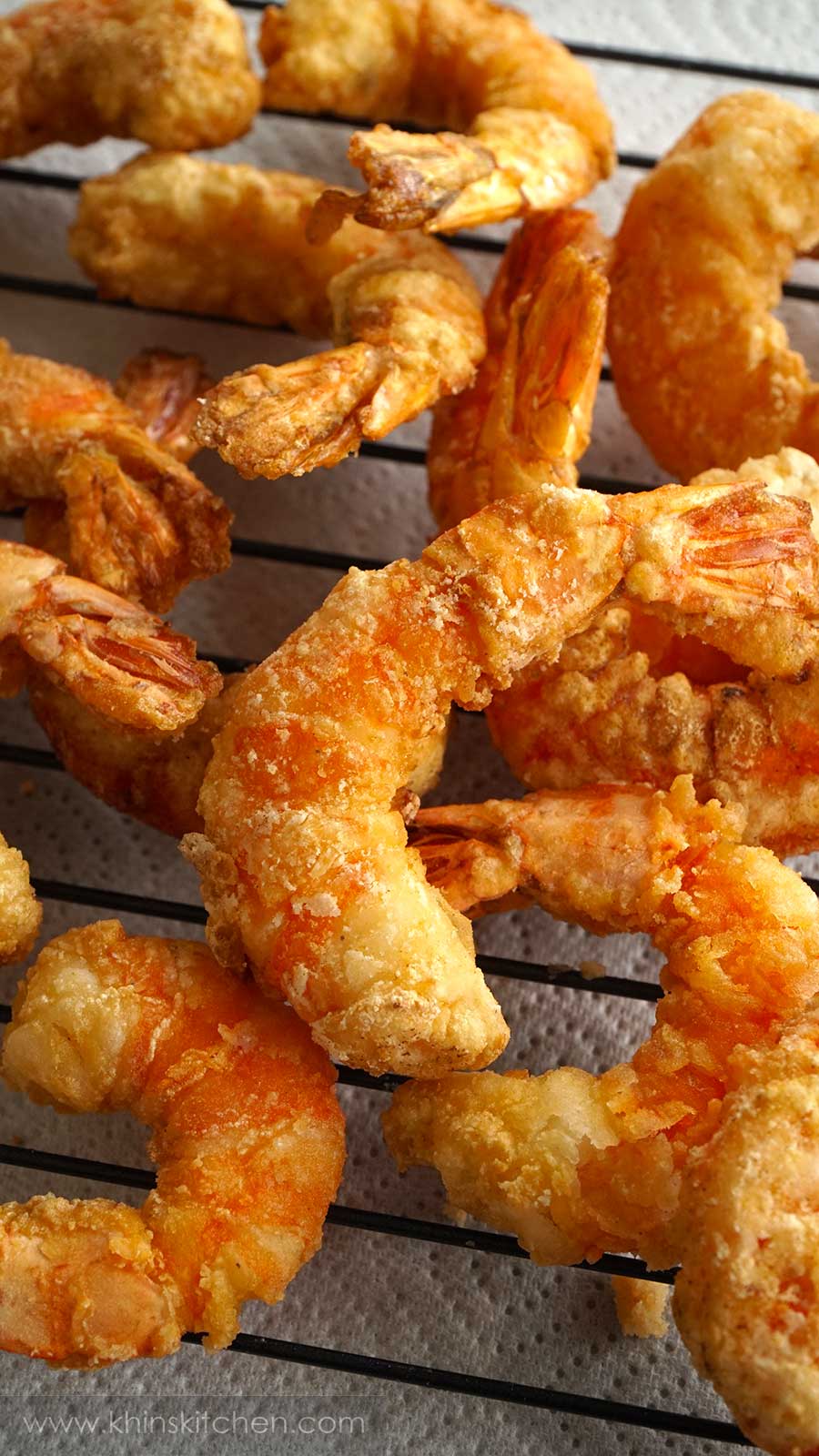 3. Sticky Honey Sauce
This honey sauce is a well-balanced combination of sweet and savoury taste. You will need honey, light soy sauce, sugar, lemon juice, and chicken stock as a base.
Add corn starch to slightly thicken the sauce and create a glossy texture. A dash of sesame oil brings the toasted sesame flavour to the dish. Reduce the sauce with the medium heat until slightly thicken and then you are ready to toss your fried prawns.
You can add this honey sauce in different varieties of stir fry dishes like crispy honey chicken, squid, or even taste great with crispy tender steak. If you prefer your sauce with a kick of chilli taste, add a bit of sweet chilli sauce or crushed chilli flakes to the sauce mixture.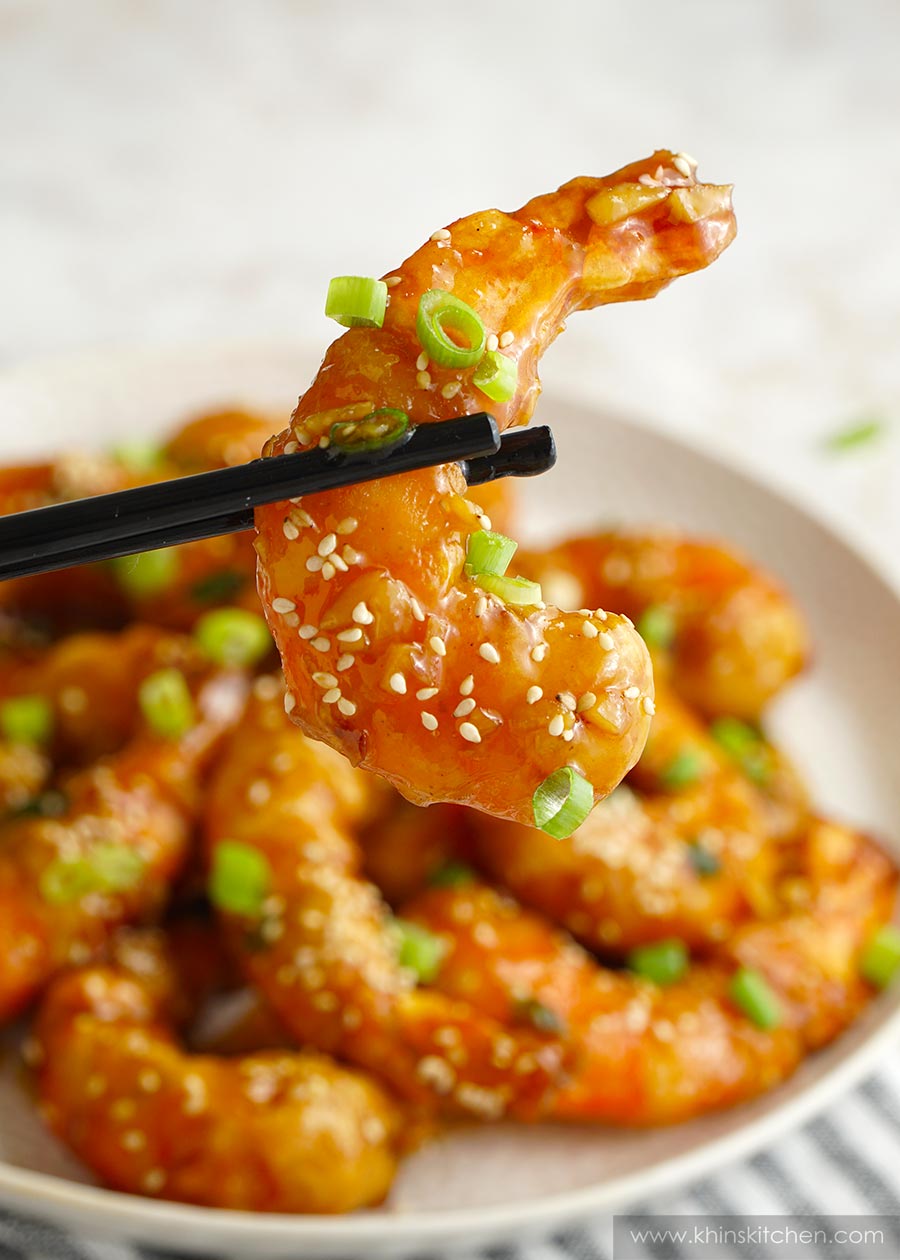 Simple Cooking Tips
Use large shrimp or prawns as they can shrink a bit when you deep fry them.
Leave the tails on when you peel it as it is easy to grab from the tail when you coat in the flour mix and adding in hot oil.
Don't skip the pat drying step! Place the cleaned, peeled prawns over the paper towel and cover with more paper towels and press gently with hands to pat dry.
Use enough oil about 2 inches in the medium pot, to achieve the crunchy, airy coating.
Keep the oil clean while frying by pick up the crumbs with a strainer between batches to keep the oil clear.
For frying oil, use a flavorless vegetable oil like sunflower, corn, peanut, canola, etc. As vegetable oil has a neutral flavour it doesn't overpower or change the dish's taste and aroma.
How to serve this dish?
You can simply serve this dish with simply steamed rice, noodles, fried rice, vegetable salad or steamed. I usually serve over hot steamed rice, topped with extra toasted sesame seeds, spring onions, and crispy chilli oil as I love a kick of chilli with my prawns. This dish is super addictive and my family never seem to have enough of these Honey Prawns whenever I make it at home. So I had to always make extra! Hope you like it too!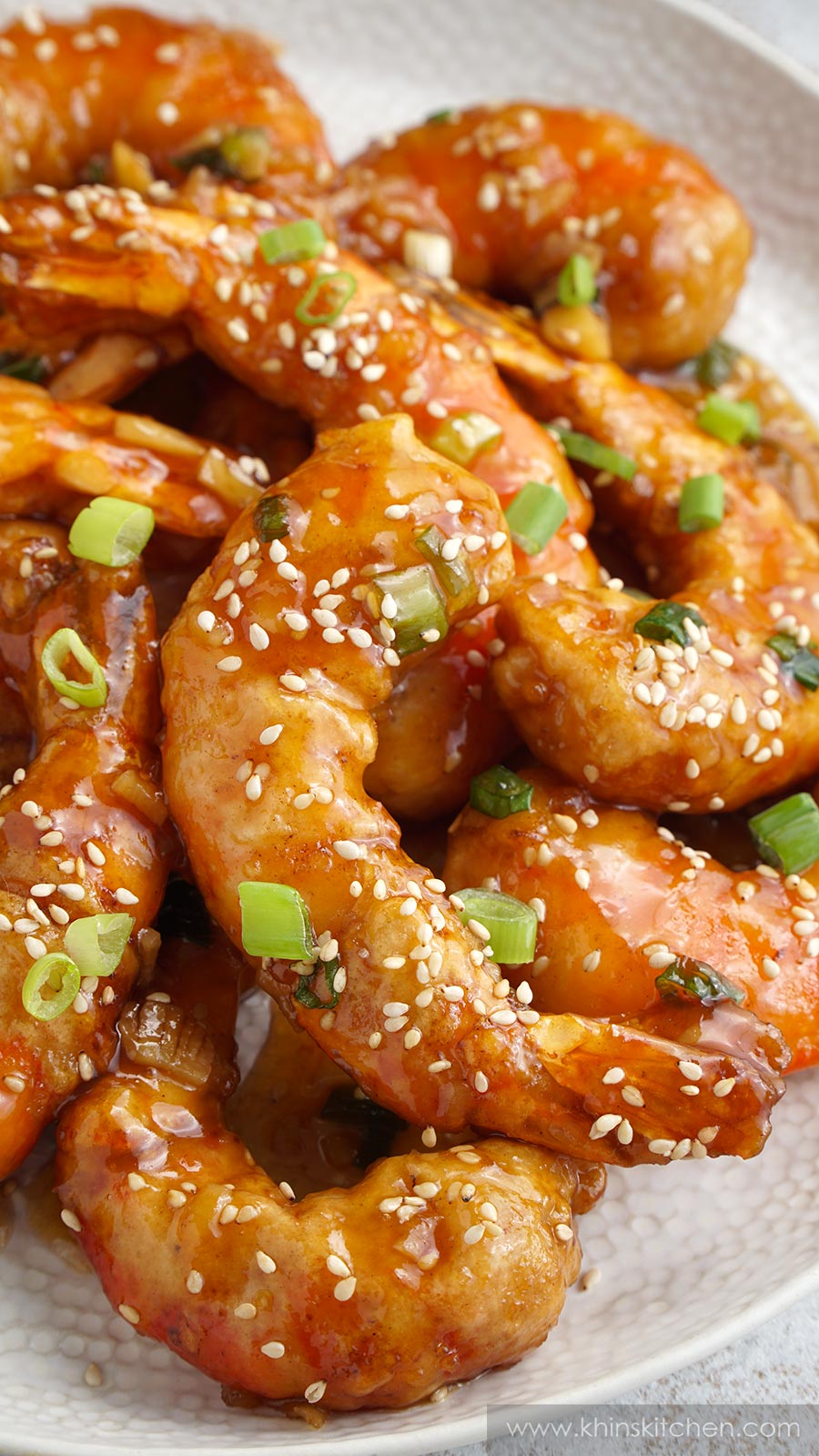 Here is more of our favourite Asian prawns/shrimp recipes you might like to try: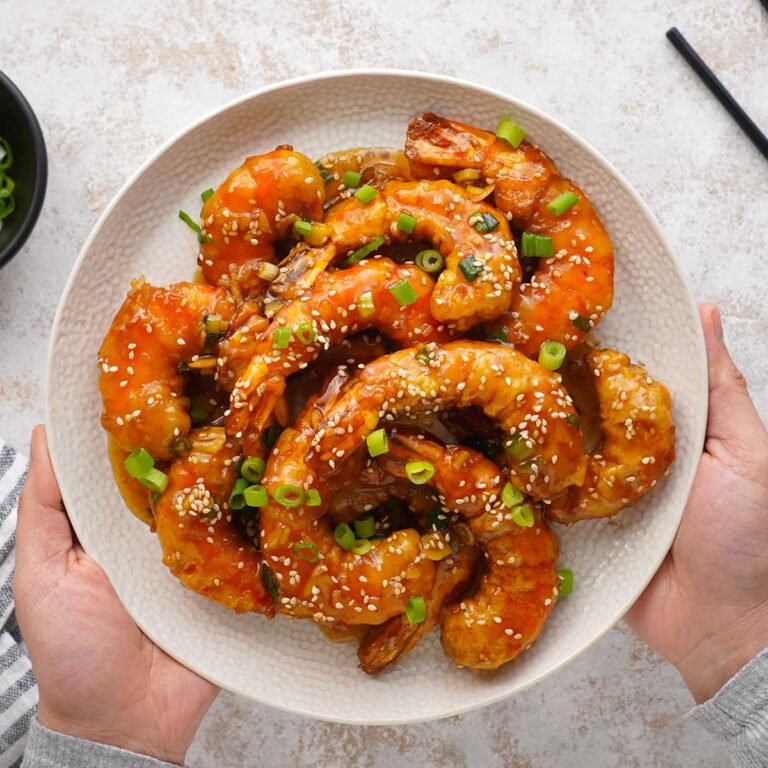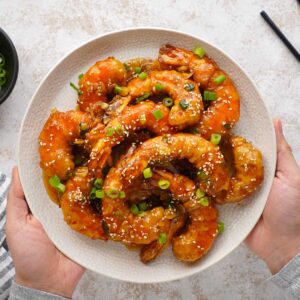 Crispy Honey Shrimp
Lightly battered crispy fried shrimp/prawns glazed with sweet and savoury honey garlic sauce.
Print
Pin
Rate
Ingredients
12

oz

Prawns

( About 350 g, Peeled and devenied )

2

cloves

Garlic

( Fine chopped )

2

Spring onions

( green onions ) cut thin slices

Toasted sesame seeds

( To serve )

¼

tsp

Salt

¼

tsp

Black pepper

1

tsp

Sesame oil

Vegetable oil

( sunflower, peanut, canola, or any neutral flavoured vegetable oil )

1

Egg
Coating Flour Mix
1

cup

Corn Starch

( Or potato starch/flour )

⅓

cup

Plain flour

( All purpose flour )

¼

tsp

Baking Soda
Honey Sauce
2

tbsp

Honey

2

tbsp

Soy sauce

1

tbsp

Sugar

1

tsp

Corn starch

( or potato starch/ flour )

1

tsp

Sesame oil

1

tbsp

Lemon Juice

( Or lime/orange juice )

¼

cup

Chicken stock

( or vegetable stock / water )
Instructions
Pat dry the king prawns/shrimp with paper towel. Season with simple salt, black pepper and sesame oil. Mix well and set aside.

In a small mixing bowl add honey, soy sauce, sugar, corn starch, chicken stock, sesame oil and lemon juice. Mix until the sugar and corn starch dissolve well.

Mix the corn starch, plain flour and baking soda in a large mixing bowl. Mix well to combine all ingredients evenly.

Break one egg white into the seasoned prawns, mix it well.

Dredge the prawns in the flour mix, dip and press gently to coat evenly. Place the coated prawns on the tray and repeat the process to the remaining prawns. Toss the excess flour out before frying.

Heat the vegetable oil to high heat about 340° - 350° F and fry the prawns about 2 minutes until crispy. Remove from oil and transfer to cooling rack or paper towel.

In a large wok/pan, drizzle 1 tablespoon of vegetable oil and fry the chopped garlic for few seconds and pour the honey sauce mixture in. Stir continuously until the sauce start to get thicken.

Place the fried prawns in the sauce and toss well to combine the sauce and prawns evenly.

Turn off the heat and sprinkle the chopped spring onions and toasted sesame seeds in.

Transfer to serving plate and serve immediately.
Nutrition
Calories:
680
kcal
|
Carbohydrates:
103
g
|
Protein:
43
g
|
Fat:
9
g
|
Saturated Fat:
2
g
|
Polyunsaturated Fat:
3
g
|
Monounsaturated Fat:
3
g
|
Trans Fat:
1
g
|
Cholesterol:
511
mg
|
Sodium:
2838
mg
|
Potassium:
328
mg
|
Fiber:
2
g
|
Sugar:
25
g
|
Vitamin A:
241
IU
|
Vitamin C:
13
mg
|
Calcium:
285
mg
|
Iron:
6
mg
If you enjoy our recipe, please leave a comment and give us a rating! If you've tried this recipe, tag me on social media, I would love to see your creations! Follow me on social media Facebook, Instagram and Pinterest for the latest updates.