Family favourite Crispy Szechuan Tofu Stir Fry recipe with crispy tofu and vegetables in a spicy, Sichuan style delicious sauce. This classic Chinese tofu is better than takeout and is ready in 30 minutes!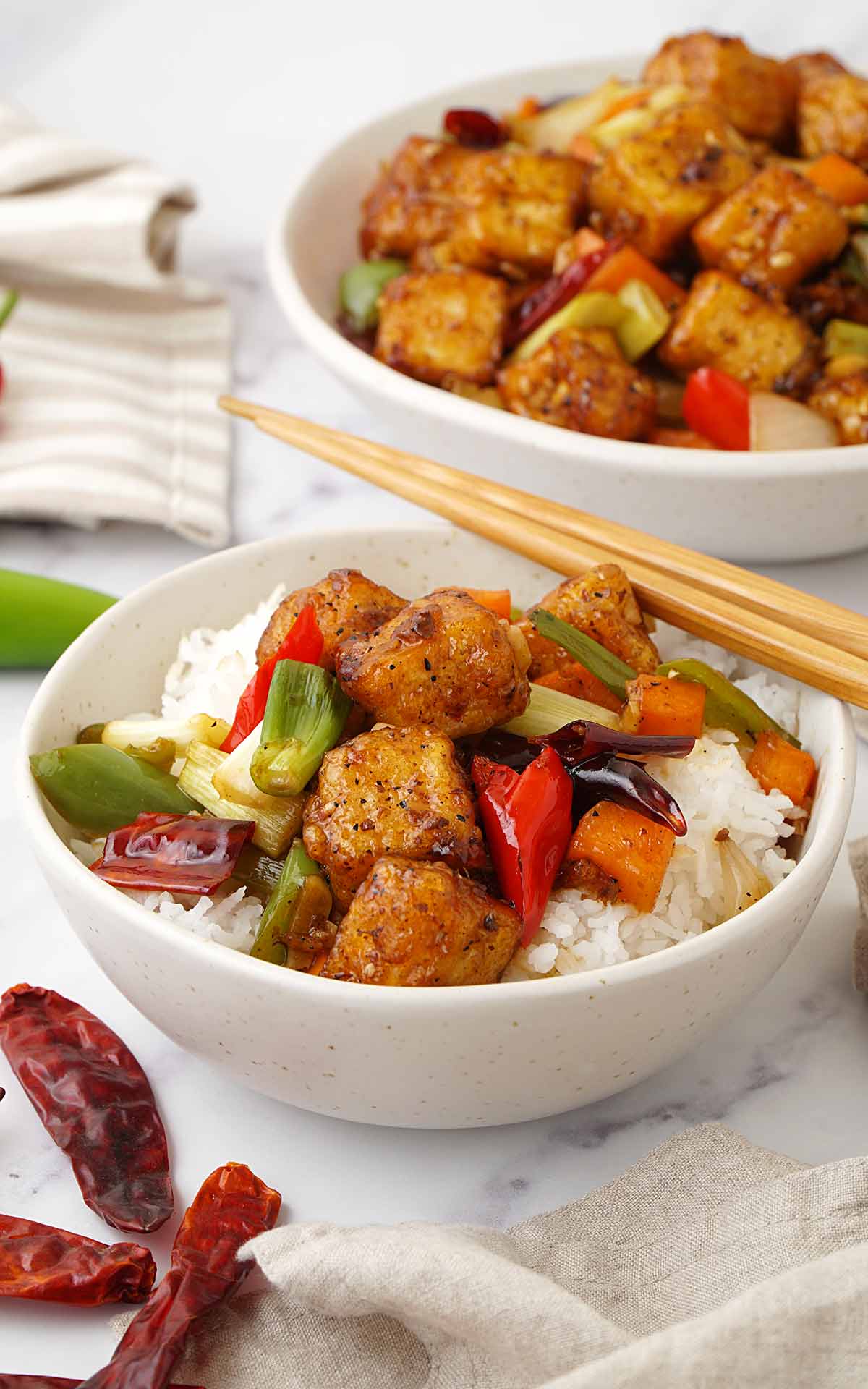 Just like other Szechuan dishes, it is packed with savoury, numbing hot, mouth-watering flavors. If you love spicy Szechuan Chinese cuisines like me, you will definitely like our Szechuan Chicken and Homemade Sichuan Style Chilli Oil recipes.
Jump to:
What is Tofu Szechuan Style?
This Szechuan style bean curd dish is also known as Sichuan tofu and originated in Chongqing, China. Like Mala chicken or Chongqing chicken stir fry this dish is made with fried tofu tossed with spicy Sichuan chillies, peppercorns, and savoury sauce. Do not mistake this dish for Sichuan Mapo Tofu which is made with silken tofu with minced meat and sauce.
In East Asia, Tofu is greatly consumed and can be found in every market. It is loved by both adults and kids and is also one of the main sources of protein for those who don't consume meat. We put it in a soup, cook it with curry sauce, steam, deep-fry, or stir-fry. There are still more ways to have tofu than these I've mentioned. Tofu is very versatile and can be prepared in many different dishes.
In this Szechuan tofu recipe, firm tofu is cut into cubes and stir-fried until crisp with classic Szechuan ingredients. It tastes so flavorsome that you can have it as a main dish over a bed of steamed rice and not just as an aside.
Why you would love this dish
Budget-friendly - since tofu is not as costly as seafood, or meat. A great protein-rich stir fry dish for vegetarians and vegans.
Time-saving - requires lesser preparation and cooking time.
Versatile dish - when you make it at home you can adjust the spices and vegetables to your preference.
Packed with authentic flavours - can experience authentic Szechuan flavors at home with minimum pantry-friendly ingredients.
What do we need?
To make this, you will need firm tofu, Szechuan Peppercorns, and Sichuan dry chilies specially and the rest will be your regular cupboard and fridge-friendly ingredients. It is one of my favorite picks on days I don't feel like having any meat or seafood. My recipe for Szechuan tofu is tested until the outcome is almost identical to those from Sichuan Chinese restaurants.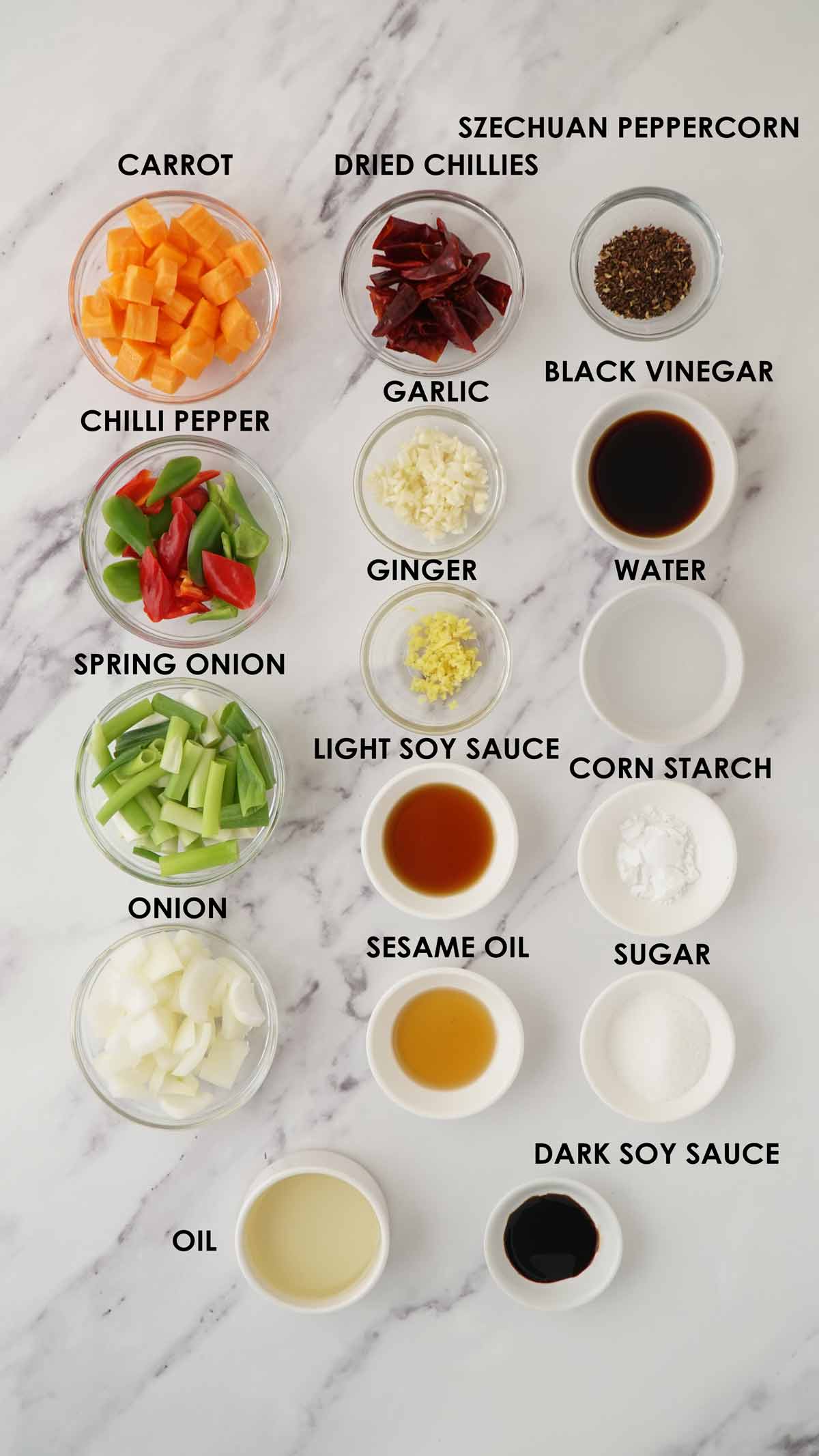 Sichuan Peppercorns

- Widely used in Sichuan cuisines and has a subtle tingling, numbing, pungent taste. It is called Hua Jiao in the Chinese language. I haven't found any ingredients that are quite similar to Sichuan peppercorns, but if you cannot get it, you can simply add crushed or ground black pepper to taste. But please beware that Sichuan peppercorn is the heart of this dish and without it, the result will be not the same.

Sichuan Dry Red Chilli - Fragrant, citrusy, medium-hot chilli pepper with thin skin. If you cannot get Sichuan chillies, you can substitute them with any medium-hot and dried long red chilies.
Chinese Black Rice Vinegar - is called Chinkaing vinegar, it has a subtly sweet, sour, fruity flavour and is slightly similar to balsamic vinegar. Instead of Chinkaing vinegar, regular rice white vinegar or apple cider vinegar can be used.
Ingredient add-ons - If you love toasty sesame flavour, you can also add a drizzle of toasted sesame oil and sesame seeds just right before serving.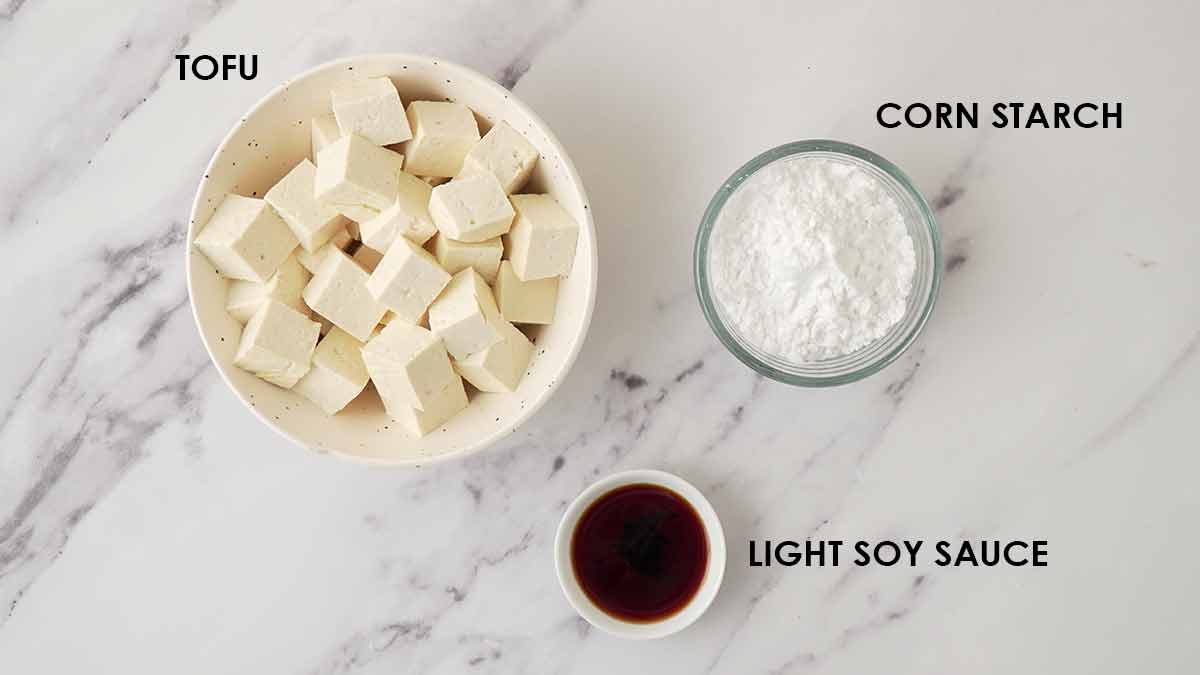 Tofu – Use firm tofu or extra firm tofu with the least water content. This tofu is easy to slice and firm enough to hold the shapes of the cubes during the stir fry. Simply season the tofu cubes with soy sauce for flavour. You can either use corn starch or potato starch to coat the tofu cubes.
How to prepare tofu and sauce
Before cooking, we need to remove water from tofu even when we are using the firm one. An easy way is to gently press the tofu from the top with your hands by wrapping it in a paper kitchen towel or cloth. It will help drain the extra water out partially.
Another way to fully drain the water is to wrap the tofu in a cloth, put it in the colander or strainer, press it with a heavy substance from the top, and leave for about 30 minutes. The purpose of removing water is to fix the spongy texture of the tofu.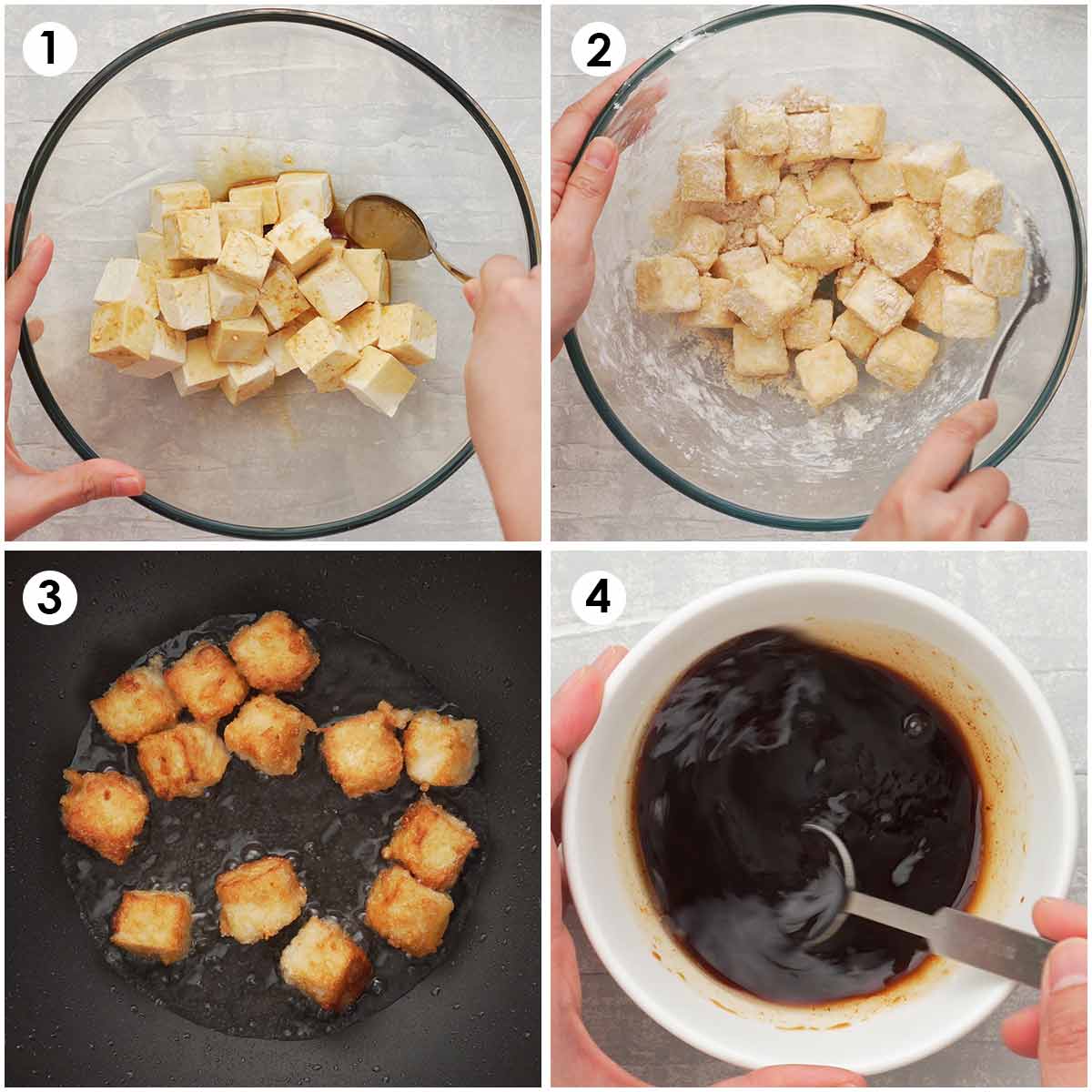 Dice the tofu into square 1-inch block pieces, place them in a bowl, and season with soy sauce. Toss gently and set it aside.
Then coat each tofu cube with a generous amount of corn starch and toss the excess flour out before frying.
Shallow fry the tofu cubes until crispy golden brown. Remove from oil and place it over the wire rack or paper towel.
Add all the stir-fry sauce ingredients to a bowl and set it aside. Whisk it well before pouring it into the stir fry.
How to make a stir fry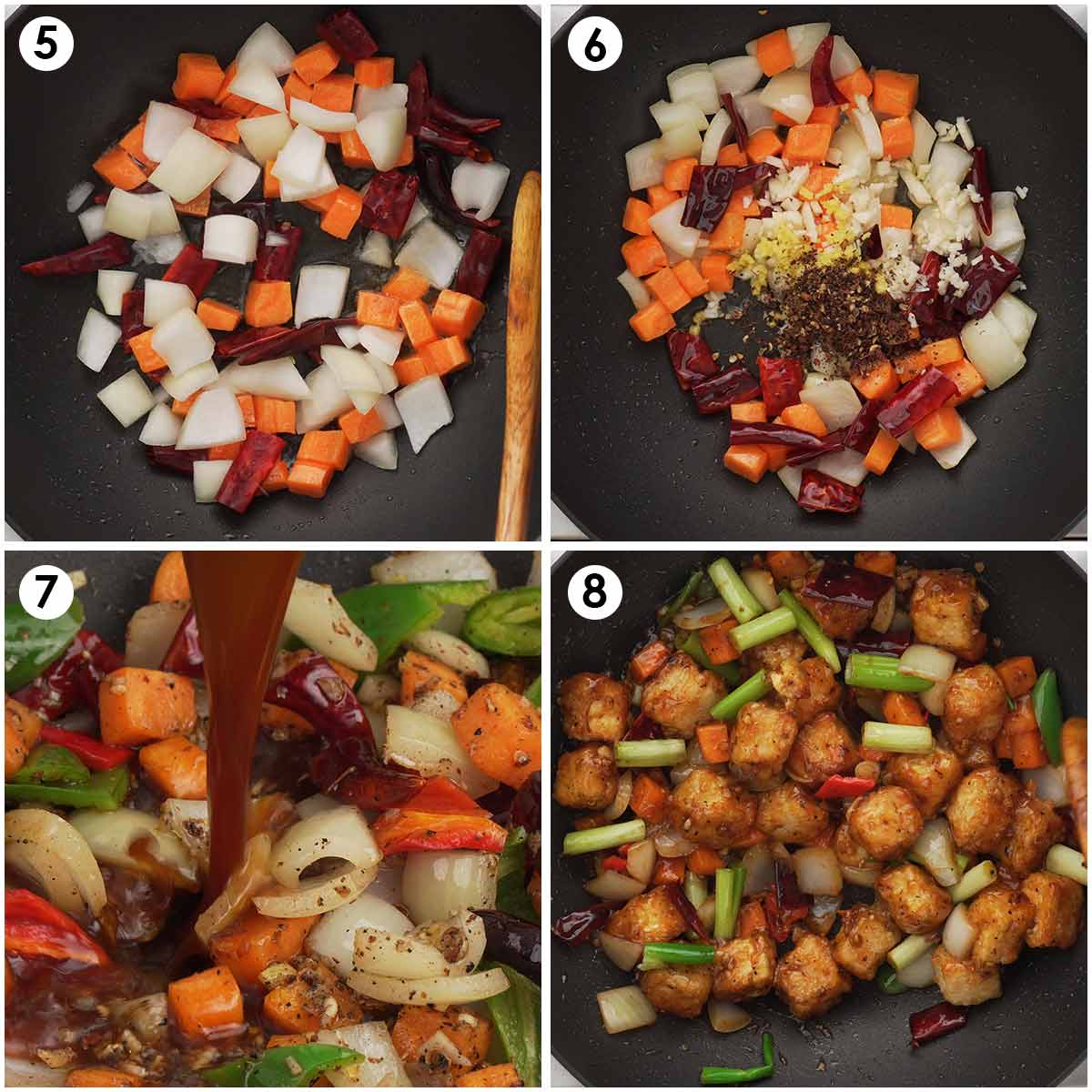 Prepare and gather all the vegetables before heating the wok.

Heat the large wok, skillet, or non-stick pan over medium-high heat and add cooking oil.

Add carrots and stir fry for a few seconds, followed by the onions and dry chillies.
Next, add crushed Sichuan peppercorns, minced ginger, and garlic. Toss for a few seconds, until fragrant. Then add fresh chilli pepper and another quick toss.
Pour the sauce in and add fried tofu cubes, combine everything until the sauce is glossy, and coat the tofu well.
Finish with chopped spring onions. Served immediately over a bed of rice or noodles.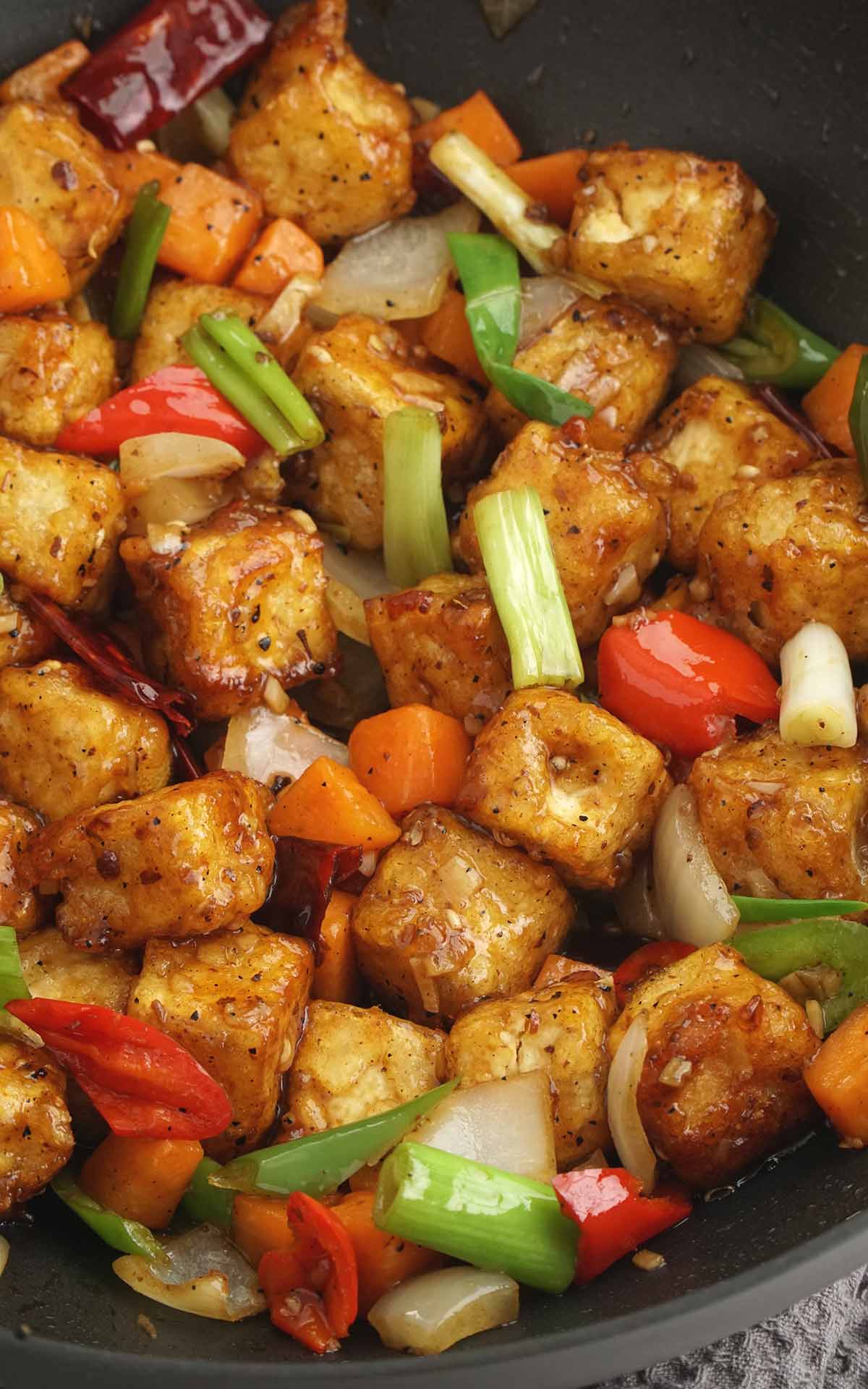 Frequently Asked Questions
What flavour is Szechuan cuisine?
Szechuan dishes are mostly hot, savory, numbing, immensely flavorful, and spicy. Szechuan peppercorns and Szechuan dry chilies are mostly essential for Szechuan dishes.
What is the difference between Mapo Tofu and Szechuan Tofu stir fry?
Sichuan Mapo tofu is also another popular tofu dish from Sichuan province, China. Mapo tofu is soft tofu cooked together with mincemeat, fermented bean paste along with other ingredients. Schezwan tofu stir fry is not a saucy dish and is more like a dry stir fry with crisp vegetables.
Can you bake or air-fry tofu?
Shallow fry or deep frying is the best option to crisp up the tofu coating texture. However, you can bake it in a pre-heated 350°F( 177° C) oven or air-fry it in an air fryer, until crispy.
Can you reheat it?
It tastes best when freshly cooked. If you have any leftovers, you can simply reheat them over the stovetop or in a microwave until hot. But the tofu texture might not be as crispy as freshly cooked.
More Delicious Tofu & Szechuan Cuisines
Stay updated on new recipes:
We are on social media Facebook, Instagram, YouTube ( New recipe video every week ), and Pinterest ( Pin your favourite recipes ). If you've tried this recipe, please share your comment or post on social media and tag me. I would love to see your creations and feedback.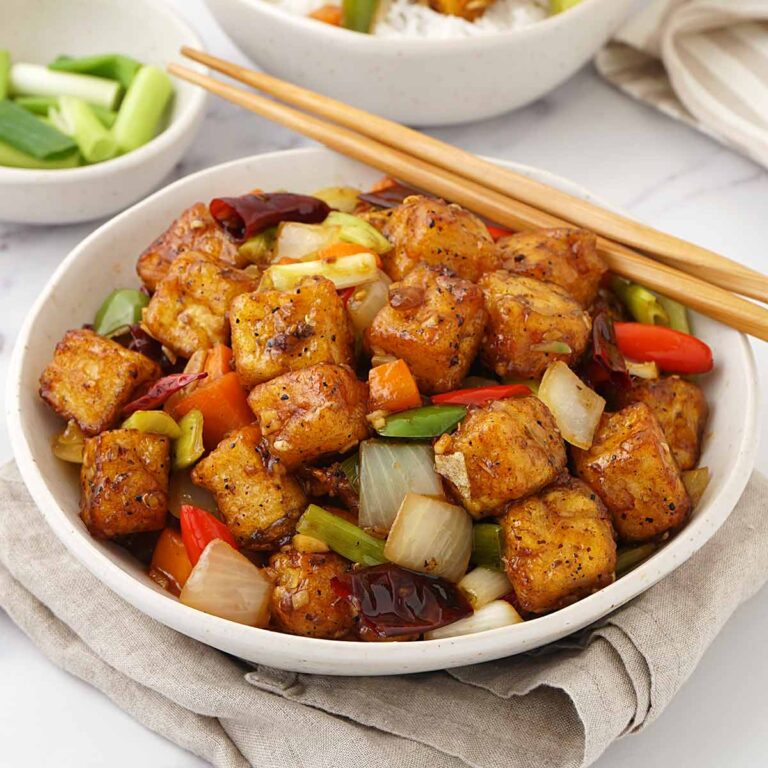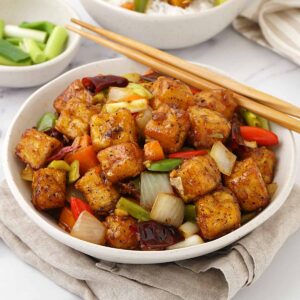 Szechuan Tofu
Szechuan Style Tofu Stir fry recipe with fried tofu and vegetables tossed in delicious spicy savoury sauce.
Print
Pin
Rate
Ingredients
400

gram

Firm tofu

About 14oz, Firm or extra firm tofu cut into 1-inch dices.

½

Onion

Cut small dices

1

Green chilli pepper

Or bell pepper cut small pieces

1

Red chilli pepper

Or bell pepper cut small pieces

1

Carrot

Cut 1-cm cubes

1

tbsp

Garlic

Finely chopped/minced

½

tbsp

Ginger

Finely chopped/minced

5-6

Dry long red chilli

Sichuan chilli or choice of dry chilli mild/hot

1

tbsp

Sichuan peppercorns

Roasted and crushed into medium coarse

Vegetable oil for frying

Or neutral flavour oil
Tofu Seasonings and Coating
1

tbsp

Soy sauce

Light soy sauce or regular all-purpose soy sauce

8-10

tbsp

Corn starch

About ½ cup, corn or potato starch
Sauce
2

tbsp

Light soy sauce

Or all-purpose soy sauce

½

tsp

Dark soy sauce

1

tbsp

Sugar

1

tbsp

Chinese black rice vinegar

Or rice vinegar

1

tsp

Sesame oil

1

tsp

Corn starch

2

tbsp

Water
Instructions
How to Prepare Tofu
Wrap the tofu block with a paper towel or clean kitchen towel and gently press the excess water out. Pat dry the tofu and cut it into 1-inch size cubes.

Place the tofu cubes in a large bowl, and season with soy sauce. Stir it gently and set it aside for 10 minutes.

Add corn starch in the marinated tofu, toss and coat each tofu piece. Toss the excess flour out before frying.

Heat the pan over medium-high heat. Fill enough oil to shallow fry the tofu cubes. Once the oil is hot, add the tofu cubes, flip sides and fry until the coating is crispy golden brown.

Remove from oil and place it over the paper towel.
How to Make a Stir Fry
Combine all the stir fry sauce ingredients in a small bowl and set it aside.

Leave 2-3 tablespoons of oil in the wok/pan. Heat the pan over medium-high heat. Add the carrots and stir for a few seconds.

Next, add the onions, and dried chillies, and toss them well. Follow with ginger, garlic, Sichuan peppercorns, and chilli peppers.

Pour the sauce in and follow with the fried tofu pieces.

Combine everything well until the sauce is thick and glossy. Turn off the heat and add spring onions.

Remove from heat and transfer to serving plate.

Serve with plain jasmine rice or noodles.
Notes
Hard Tofu - Use firm or extra firm tofu. Do not recommend soft tofu for this recipe. You can find firm tofu at Chinese/Korean or Oriental Asian grocery stores or in the Supermarket fridge section. 
Tofu substitute - Instead of tofu, you can also use paneer ( Indian cottage cheese ). For vegetarians, cauliflower florets or Quorn vegetarian meat are great options. 
Air fryer option - Place the coated tofu cubes over the baking tray/rack. Spray cooking oil over the coated tofu cubes. Air fry it in a pre-heated air fryer  350°F( 177° C) for about 8-10 minutes or until crispy. 
Vegetables - Customize the vegetables by adding your favourite stir fry vegetables like mushroom, green/red bell pepper, baby corn, zucchini, etc. 
Oil for frying - Vegetable, sunflower, canola, groundnut/peanut oil, or neutral flavour oil are ideal for Chinese stir-fries. You can reuse the tofu fried oil in other dishes. 
Chinese black rice vinegar substitute - Chinkiang Chinese black vinegar has a unique sweet, sour taste. If you cannot find it, you can swap it with regular white rice vinegar, apple cider vinegar, or lime juice. 
Nutritional information is calculated per serving approximately without rice or noodles and can be varied by a number of factors.
Nutrition
Calories:
207
kcal
|
Carbohydrates:
28
g
|
Protein:
11
g
|
Fat:
6
g
|
Saturated Fat:
1
g
|
Polyunsaturated Fat:
3
g
|
Monounsaturated Fat:
2
g
|
Sodium:
811
mg
|
Potassium:
191
mg
|
Fiber:
3
g
|
Sugar:
6
g
|
Vitamin A:
2834
IU
|
Vitamin C:
20
mg
|
Calcium:
153
mg
|
Iron:
2
mg