Chicken & Mushroom Stir Fry recipe with tender chicken slices, mushroom, and veggies tossed with quick homemade stir fry sauce. Easy weeknight dinner ready in 20 minutes and incredibly delicious!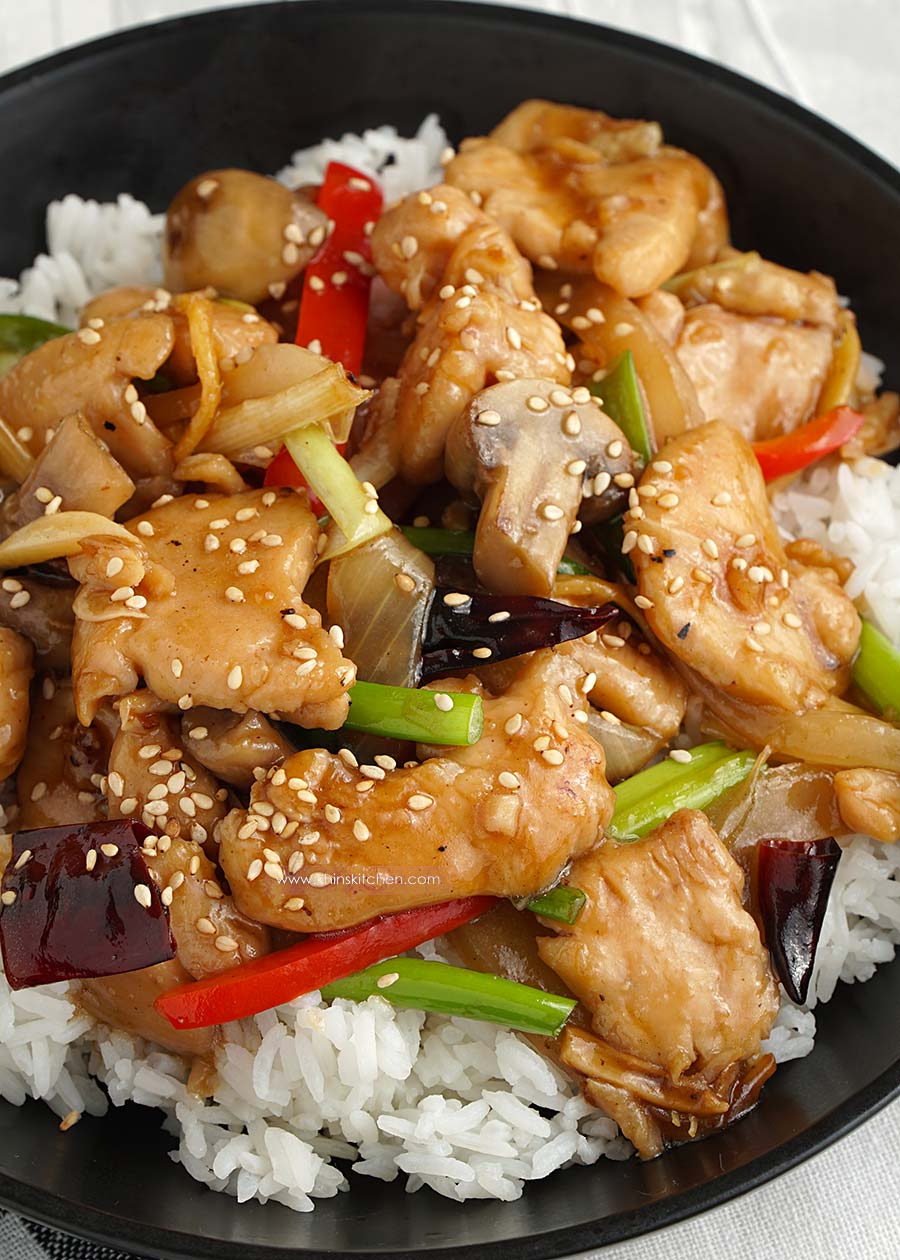 Stir fry dishes and are a staple in our Asian households and it takes no time to make and very versatile. You can add any meat or vegetables left in your fridge and make it a stir fry. And all the seasoning sauces used are cupboard-friendly. Perfect for a weeknight dinner or a quick meal for any time of the day. You just need to pair it with a bowl of simple cooked rice or noodle to serve together.
We can find this type of stir fry chicken dishes in most Chinese restaurants and takeaways. Every restaurant and family has their own version of it. In this recipe, I'll share my homemade version of chicken and mushroom stir fry with simple steps! Tastes just like you've had at your favourite Chinese restaurant!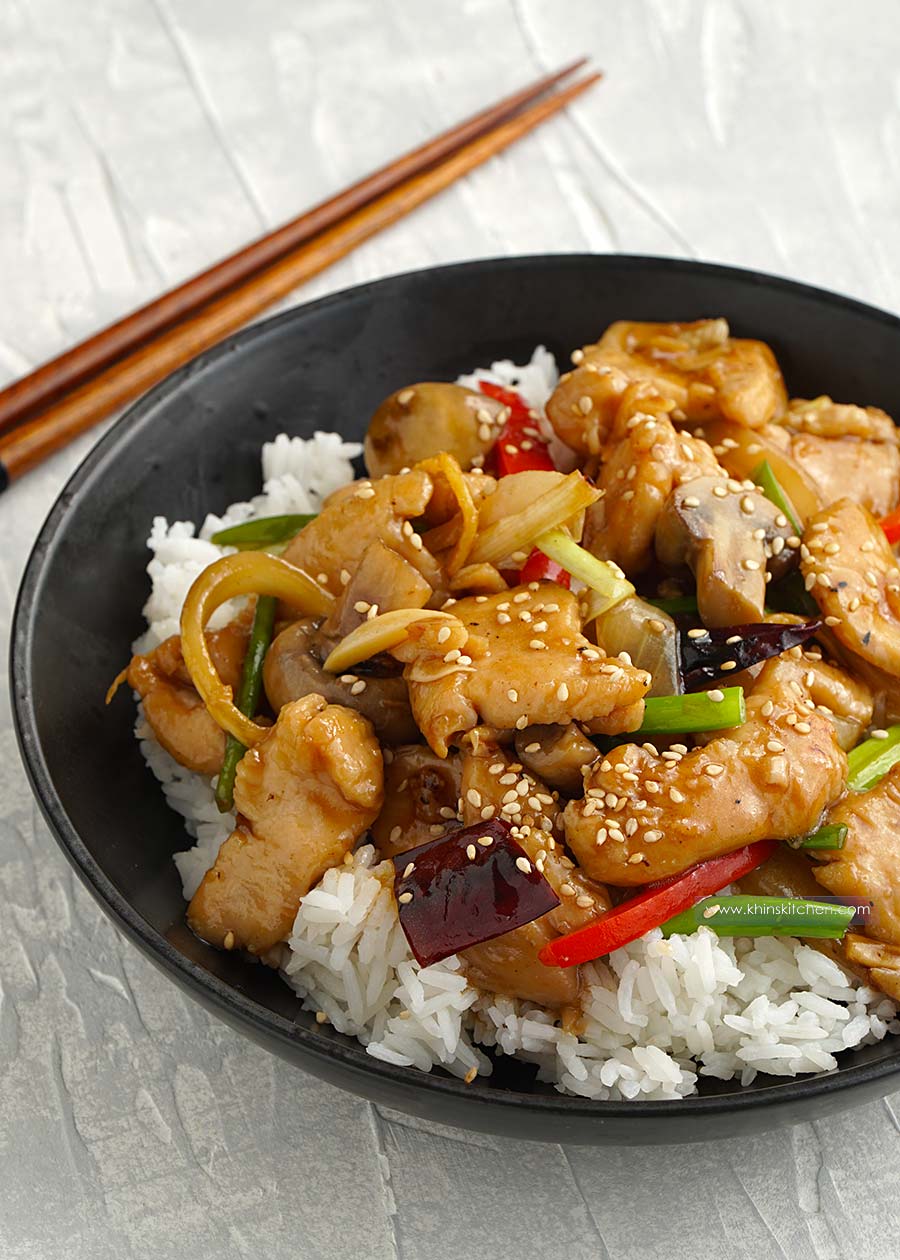 Simple ingredients you will need
Chicken & Marinade
I used chicken breast in this recipe, but you can swap it with chicken thigh, lamb, beef, prawns or any protein you wish. If you wish to make it with beef, use a tender steak cut like sirloin, rib-eye. Rump or flank steak goes well too. You can simply season the meat slices with soy sauce, baking soda, corn starch and a bit of sugar.
Baking soda and corn starch in the marinade keep the meat slices moist and tender result when you stir fry with high heat.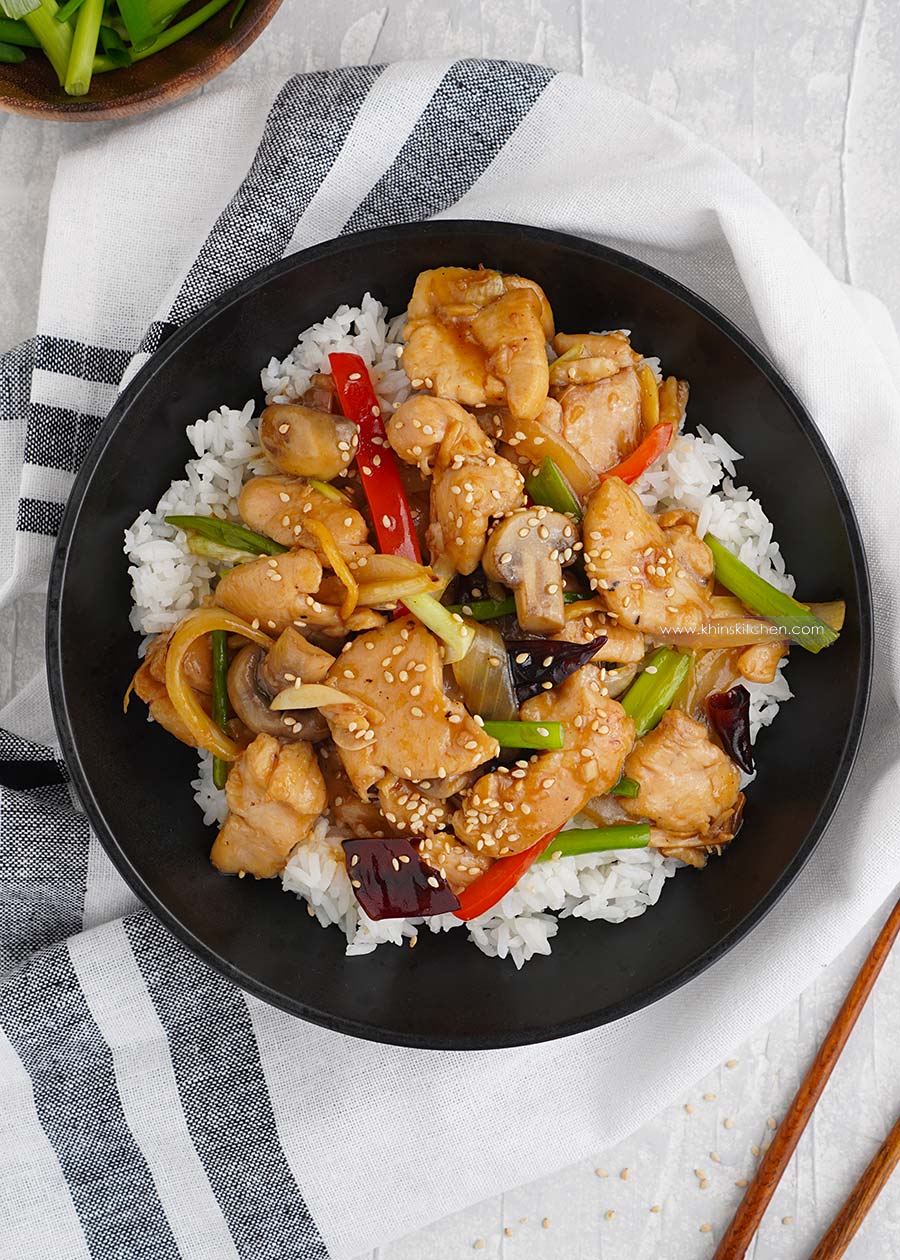 Vegetables that you can swap or add extra
Use any stir fry vegetables that can cook quickly over high heat wok/pan. I love to add button mushrooms, bell peppers, onions, and spring onions. Other vegetables like, broccoli, kai lan ( Chinese broccoli ), snow peas, baby corn, carrot, bamboo shoots goes well too. Chinese-style chicken and asparagus stir fry is one of our family's favourite too!
For vegetarian option, swap the chicken or meat with for tofu for an alternative. If you are a tofu stir fry fan, you can try out my Spicy Tofu Stir Fry recipe.
Stir Fry Sauce :
Like most Chinese stir fry sauce, this sauce is simply mixed with light soy sauce, oyster sauce, vinegar, sesame oil, sugar, and white pepper. This homemade sauce mix tastes better than any store-bought stir fry sauce you have ever tried! It tastes sweet and savoury same time and gives the dish a mouth-watering result. Make the extra sauce and keep in the fridge and use it in any of your stir-fries like fried rice, fried noodles, stir fry chicken, or vegetables. In an airtight container, it lasts in the fridge for up to 7 days.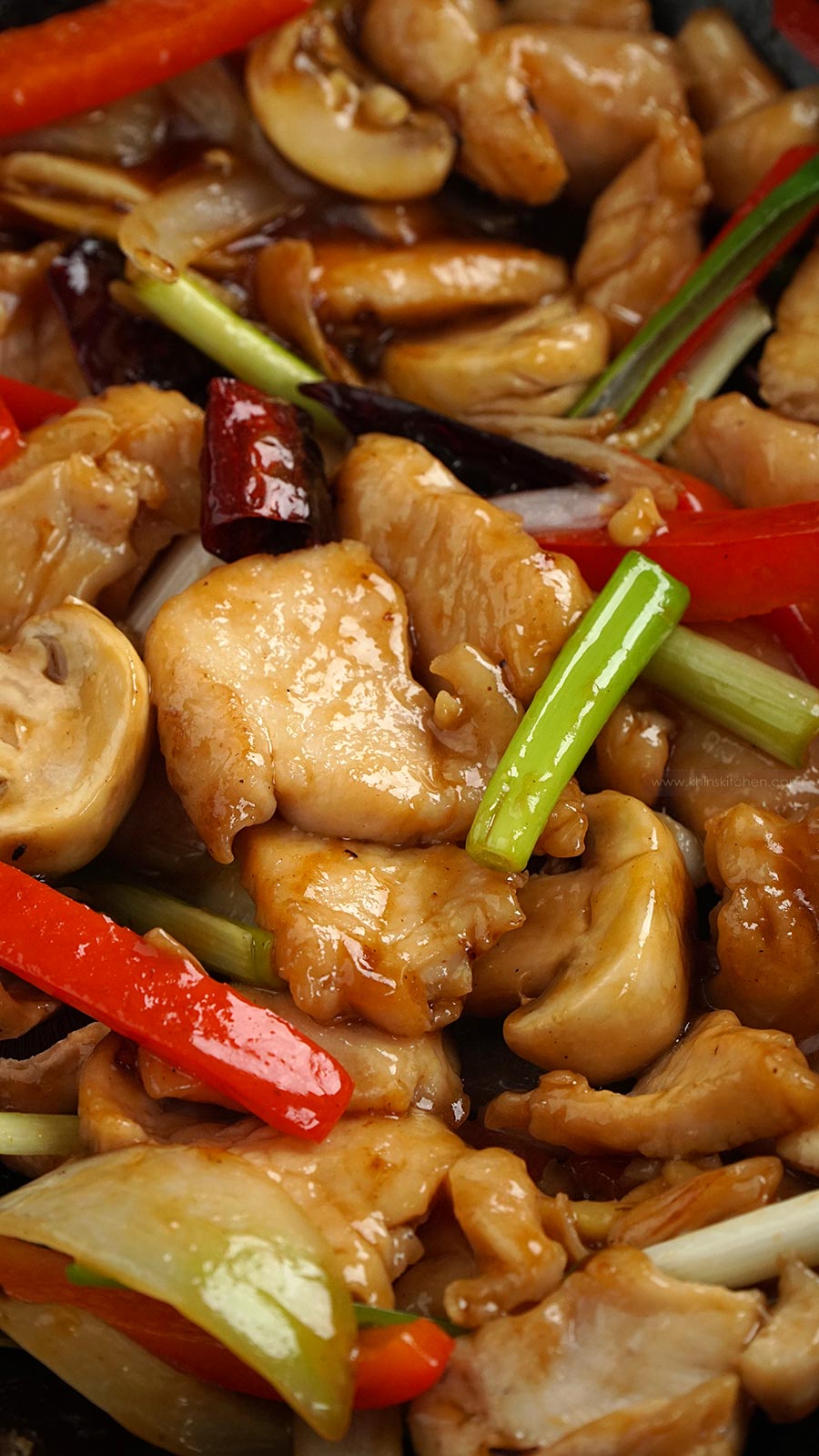 Quick Cooking Process
Once the pan is heated up everything cook very quickly, you need to prepare all ingredients and stir fry sauce ahead.
Marinade the chicken slices with cornstarch, soy sauce, baking soda, and sugar, then fry in wok/skillet pan with vegetable oil until chicken cooked through. Take the chicken slices out and set aside before stir-frying the vegetables to prevent it from overcooking. If the chicken stick to the pan, remove the crusts and add a drizzle a bit more oil before you add the vegetables.
Add dry chillies, onion slices for few seconds first, and add mushroom and bell peppers in.
Toss everything together with medium-high heat for 1-2 minutes, place the cooked chicken slices back in the wok, pour the sauce mixture. Continue stir fry for another 1-2 minutes, add the spring onions, and combine all ingredients evenly.
Traditional Wok or Non-stick Wok?
Traditionally Chinese stir fry dishes are prepared on high heat wok to sear the meat. But for home cooking we can make it happen with any pan, non-stick, or skillet we already have in our kitchen. You just need to make sure to cook it on medium or high heat, based on the pan and stove you use. I use both non-stick wok and carbon steel wok for my stir-fries depend on how much cleaning and wok seasoning time I got.
Non-stick wok/pan transfer heat quicker and less likely the food from sticking to the pan. You can use less oil in a non-stick wok/pan than a traditional wok. Cleaning time is super fast as you don't need to season like traditional wok after cleaning.
If you a fan of unique wok flavour you can use traditional well-seasoned Chinese wok like carbon steel wok. It can stick sometimes depend on the ingredients you use, you need to add a bit more oil than a regular non-stick pan. We use carbon steel wok sometimes as my husband really likes the wok char flavour but for the days that I don't have much time for cleaning or seasoning the wok I just use my non-stick wok.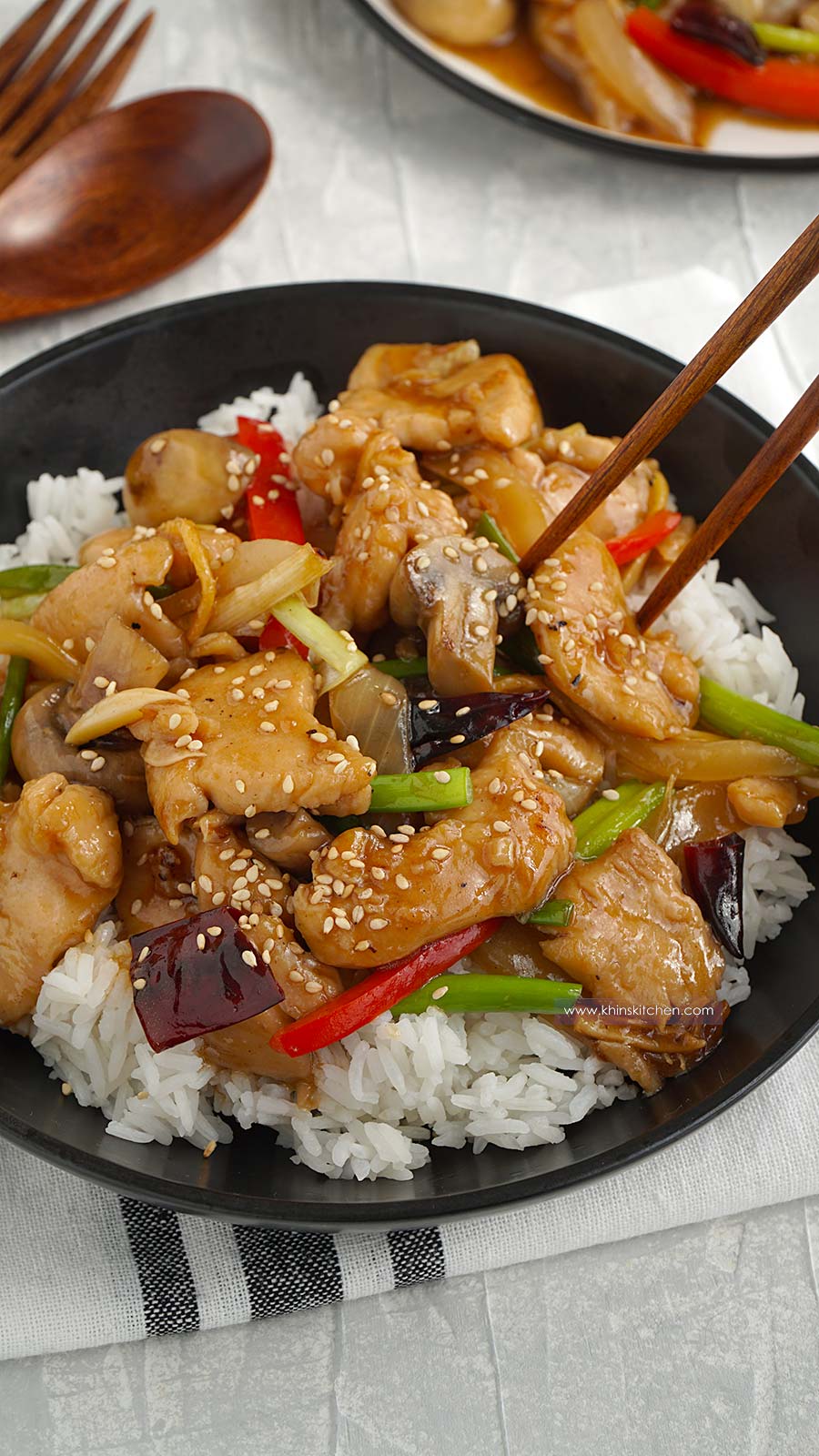 How to serve this dish?
You can simply serve this dish with cooked rice, noodles or fried rice. I usually serve over hot steamed rice, topped with extra toasted sesame seeds, spring onions, and crispy chilli oil. Pair it with Hot and Sour Soup, Crispy Fried Wonton, Basic Egg Fried Rice & Fried Noodles and make it a perfect family dinner.
The Best Chinese Takeout Recipes On Our Website:
If you enjoy our recipe, please leave a comment and give us a rating! If you've tried this recipe, tag me on social medias, I would love to see your creations! Follow me on social media Facebook, Instagram and Pinterest for the latest updates.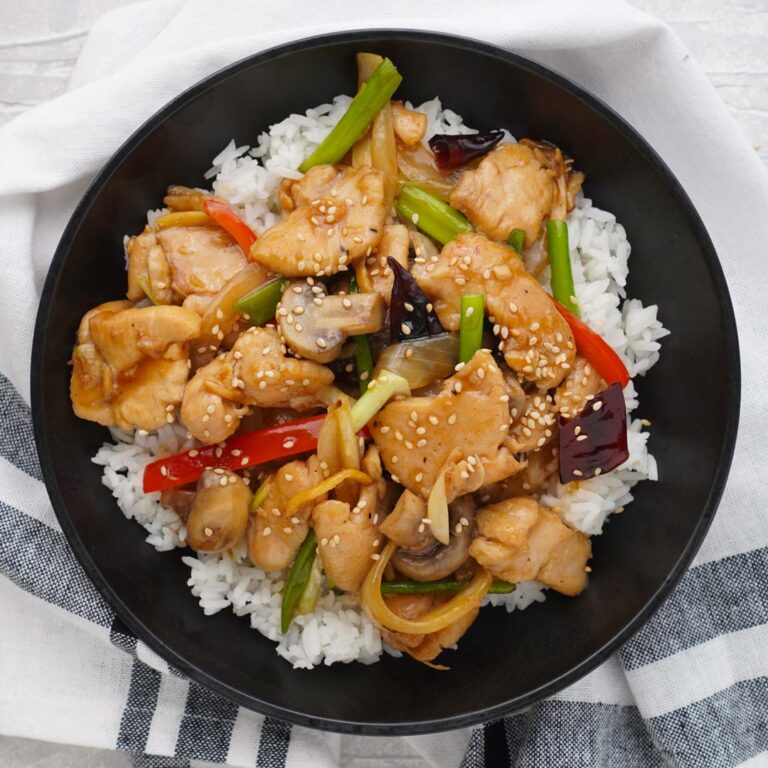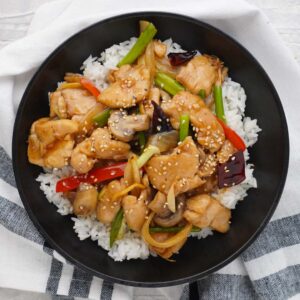 Chicken & Mushroom Stir Fry
Chinese chicken stir fry with chicken breast slices, button mushroom, colourful crisp veggies and homemade savoury stir fry sauce.
Print
Pin
Rate
Equipment
Carbon steel wok or non-stick wok
Ingredients
10.5

oz

Chicken breast

about 300 g ( cut thin slices )

3

Dry red chillies

cut slices ( optional )

2

cloves

Garlic

thin slices

2

slices

Ginger

cut thin strips

10

Mushroom

cut small cubes or slices

½

Bell pepper

thin slices

½

Sweet onion

thin slices

2

Spring onion

cut 2" pieces

3

tbsp

Vegetable oil

Toasted sesame seeds

to garnish
Chicken Marinade
1

tsp

Corn starch

1

tsp

Sesame oil

1

tsp

Sugar

1

tsp

Light soy sauce

¼

tsp

Baking soda
Sauce Mix
2

tbsp

Oyster sauce

1

tbsp

Light soy sauce

1

tsp

Sesame oil

1

tbsp

Rice vinegar

or white vinegar

1

tsp

Sugar

1

tsp

Corn starch

¼

tsp

White pepper
Instructions
Prepare all the vegetables buy cut them into thin slices and cut the chicken breast into thin slices. Marinade the chicken slices with corn starch, sesame oil, sugar, baking soda and light soy sauce. Mix it well with hand and set aside for 10 to 15 minutes.

In a small mixing bowl add the oyster sauce, light soy, sesame oil, sugar, corn starch, white pepper and vinegar. Mix well until sugar and con starch dissolve and set aside.

Heat the large wok/pan into medium-high heat, drizzle 2 tablespoons of vegetable oil and stir fry the chicken slices 2-4 minutes until cooked through. Remove the chicken from pan and set aside.

Clean the remaining crust from the pan, drizzle 1 tablespoon of oil, add onion slices and dry chillies and stir fry for few seconds, follow with the garlic slices, mushroom, and bell pepper slices. Continue cook for another 1-2 minutes and place the chicken slices back in.

Pour the sauce mixture and toss well to combine the sauce and the ingredients evenly. Stir in the spring onions.

Turn off heat and transfer to serving plate. Garnish with toasted sesame seeds and extra chopped spring onions. Perfect to serve together with hot steamed rice or stir fry noodles.
Nutrition
Calories:
495
kcal
|
Carbohydrates:
22
g
|
Protein:
38
g
|
Fat:
29
g
|
Saturated Fat:
19
g
|
Cholesterol:
95
mg
|
Sodium:
1488
mg
|
Potassium:
1082
mg
|
Fiber:
3
g
|
Sugar:
12
g
|
Vitamin A:
1096
IU
|
Vitamin C:
49
mg
|
Calcium:
44
mg
|
Iron:
2
mg