Super quick and delicious Asian meatballs two ways, fried chicken meatballs and meatballs in flavourful tomato sauce. Packed with flavours, anyone can make at home with simple ingredients.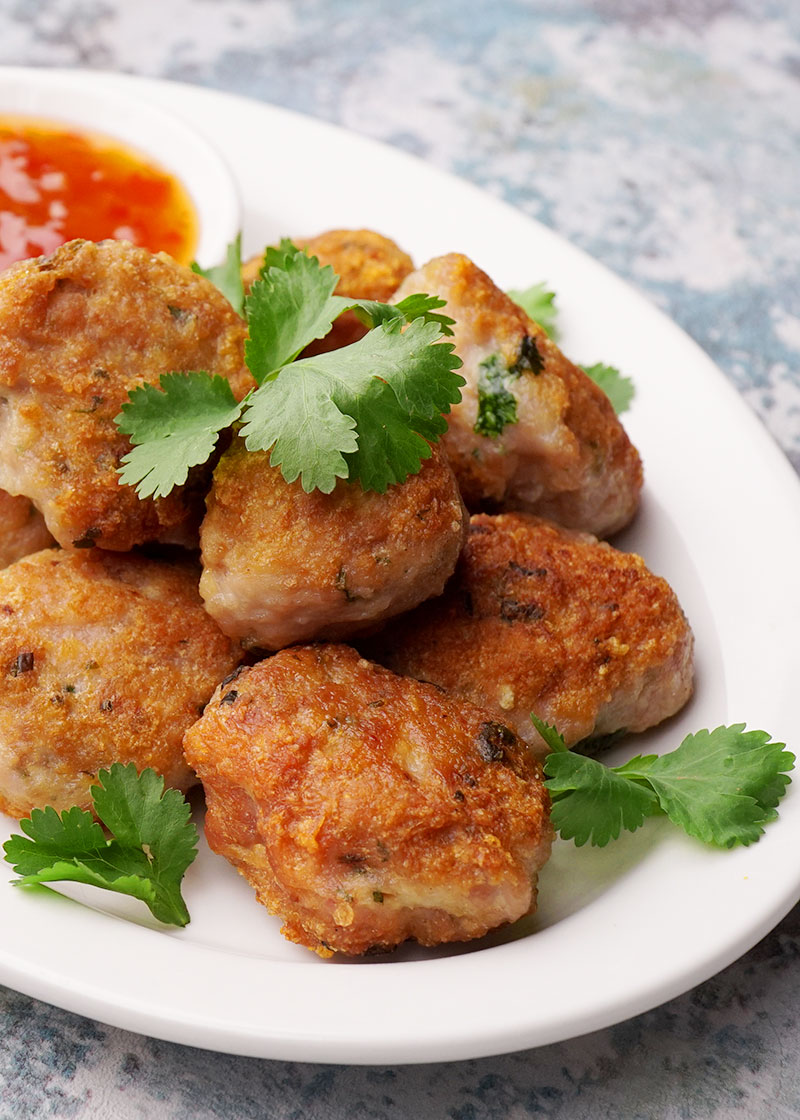 My mom used to make for us and we loved having these small meatball bites with chilli sauce. These dishes can serve as appetizers, savoury snacks, or great as a main meal. Serve over rice or you can add the fried meatballs in between wraps or bread, with your favourite sauce and salad.
How to make the Asian fried meatballs?
1. Crispy Coating
This prawn coating will stays crispy even after you tossed with the sauce. You will need these following ingredients to make the airy, crispy, non-greasy prawn balls.
Corn starch and Flour : Mix corn starch and regular plain flour with a bit of baking soda. Adding corn starch will keeps the coating crispy, plain flour with the help of baking soda will makes the fluffy batter that doesn't tear apart. Don't forget to break one egg white into the seasoned prawns before you dust it in the flour mix, to keep the coating flour mix stick to the prawns.
2. Homemade Sweet and Sour Sauce
This sauce recipe may look one more extra step. But trust me, the result will worth your effort!
Here is the simple ingredients to make the best homemade sauce, that doesn't make the prawn balls soggy.
Ketchup, vinegar, sugar, chicken stock, corn starch and salt to taste! I add tomato concentrate to bring extra colour and tangy flavour to the sauce. The key of this recipe is to reduce the sauce by half before you toss with the prawn balls and keep the sauce warm.
This sweet and sour sauce is a basic sauce that you can add in different varieties of stir fry dishes. You can make a large batch in store in air tight container, it last for a couple of week in a fridge. If you are a spicy food fan, you can create Thai sweet and sour prawns by adding a tablespoon of fish sauce and chopped fresh bird-eye chillies in the sauce mix.
3. Deep Frying
It's very important to fry with the high temperature oil to prevent the prawn balls from greasy and soggy. Temperature should be around 350 F and you can test with a wooden chopstick. If the oil bubbles are fizzing fast and steadily, its ready to fry. Fry until crispy light brown, you don't need to double fry or fry until golden brown as the prawns are cooked very fast.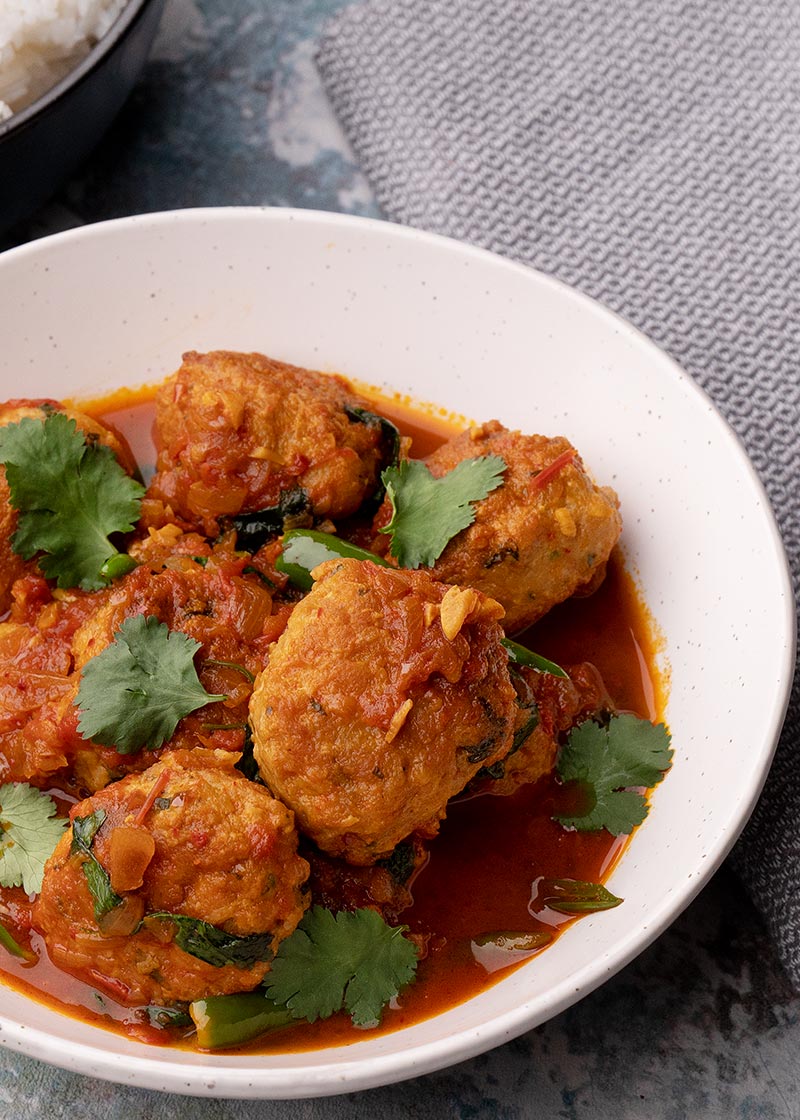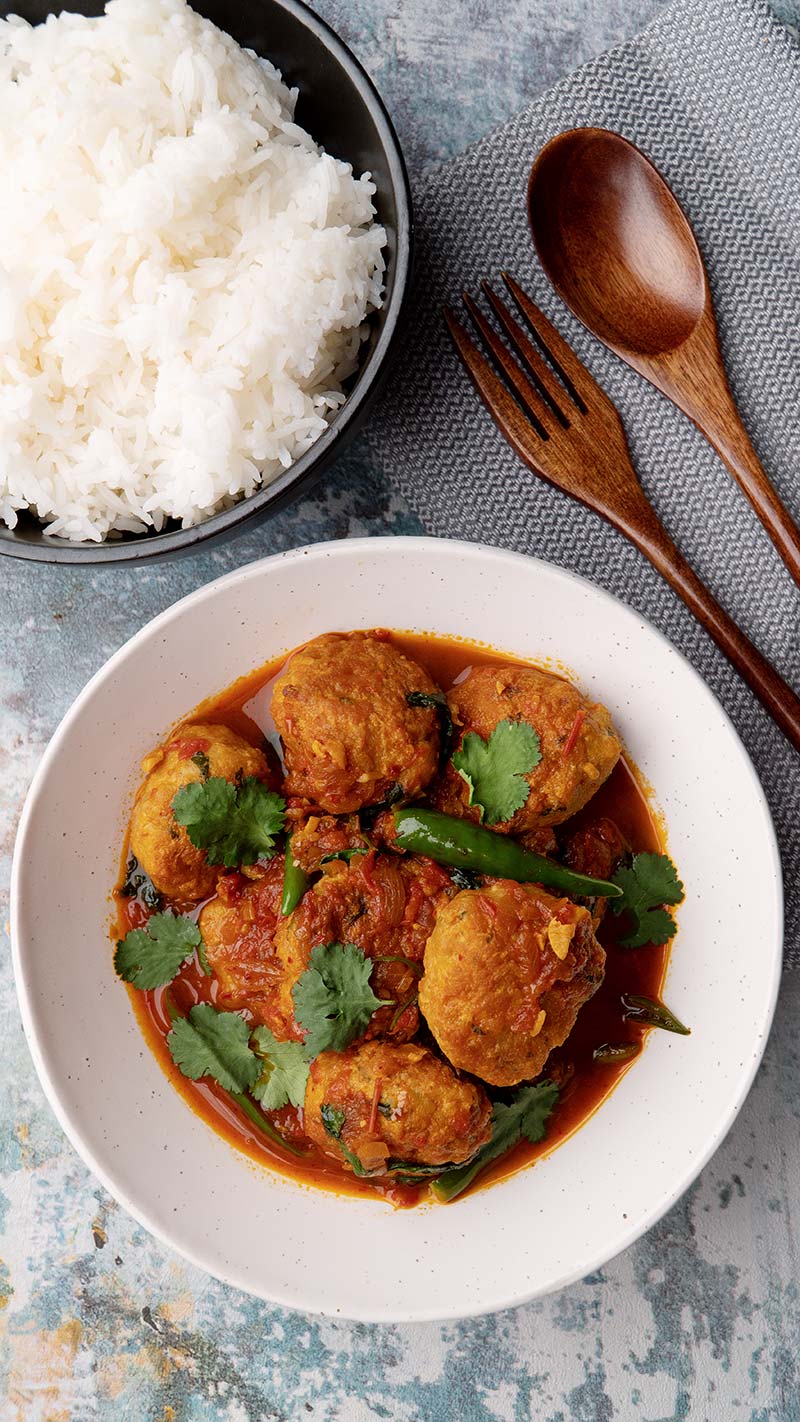 What I love about these meatballs are, you can freeze them and save it for busy days. You can create your own style by adding chicken or prawn mince or add both. I used chicken thigh mince in this recipe.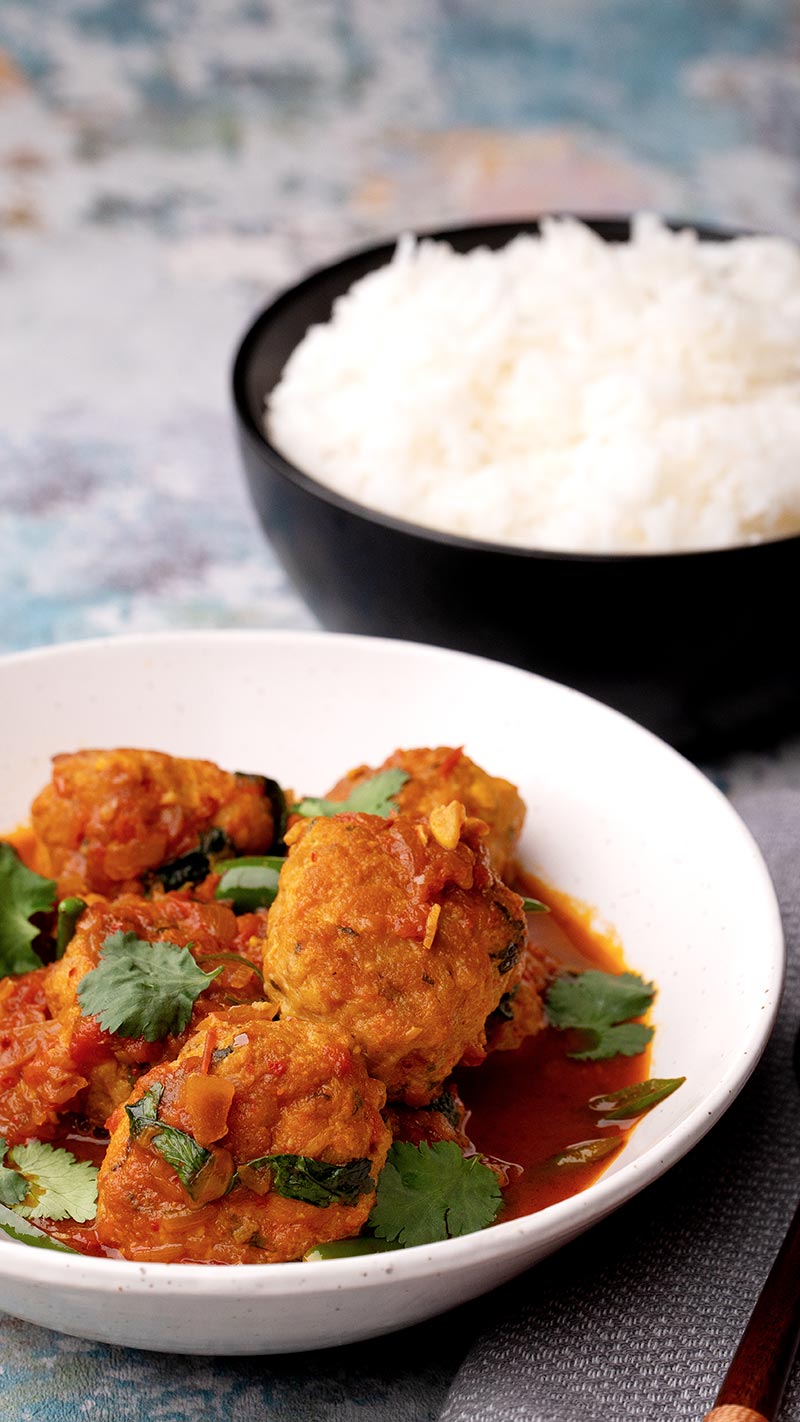 If you enjoy our recipe, please leave a comment and give us a rating! If you've tried this recipe, tag me on social medias, I would love to see your creations! Follow me on social medias Facebook, Instagram and Pinterest for latest updates.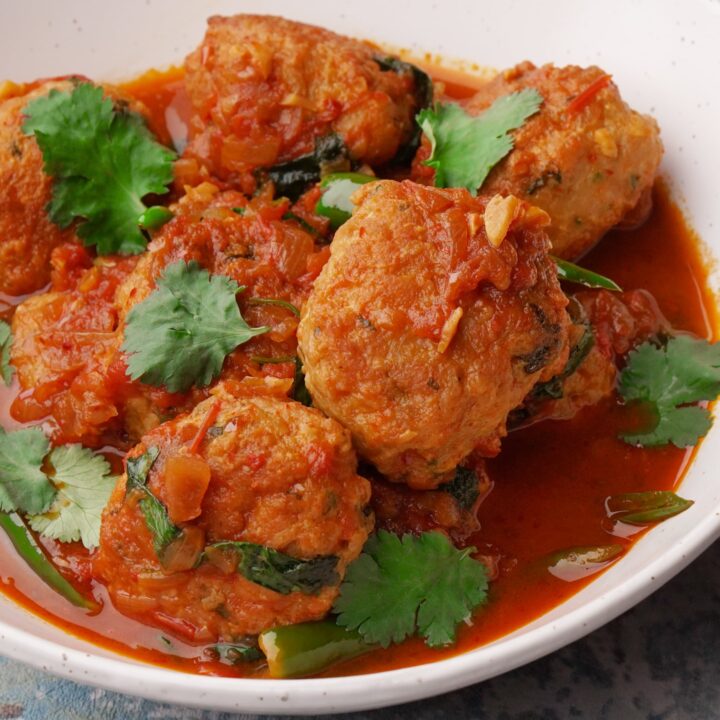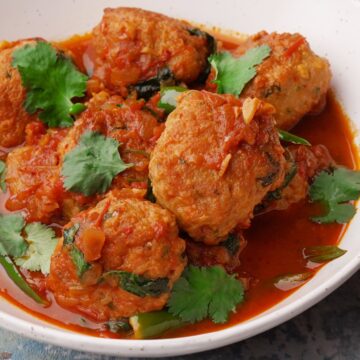 Ingredients
400

g

Chicken thigh mince

2

tbsp

Oil

vegetable or peanut/sunflower/canola oil
Meatballs Ingredients
1

tsp

Ginger paste/finely grated

1

tsp

Garlic paste/finely grated

⅓

cup

Chopped coriander

(a handful of chopped coriander)

1

tsp

Salt

¼

tsp

Black pepper

2

tbsp

Corn/potato flour(starch)

1

Egg

1-2

tbsp

Breadcrumbs ( optional )

If the mixture is too soft to roll, you can add extra breadcrumbs.
Tomato Sauce Ingredients
2

Ripen vine tomatoes

finely chopped

2-3

Shallots onions

finely chopped

3

cloves

Garlic

finely chopped

1

tsp

Salt

1

tsp

Paprika/chilli powder

1

tsp

Turmeric

1

cup

Warm water/ chicken stock

2-3

Green chillies

sliced

Coriander

for garnish

1-2

tbsp

Oil
Instructions
Fried Meatballs
In a large mixing bowl, combine chicken mince and all the mince ingredients. Using your hand or fork , mix well until all ingredients are evenly combine.

To make meatballs, wet hands with water or oil. Scoop one tablespoon of chicken mixture and roll it between your palm. Place the rolled meatball in tray. Repeat process to remaining chicken mixture.

In a large pan, heat two tablespoon of oil into medium heat. Add the meatballs and fry for 2-3 mins, turn sides until the meatballs are golden brown.

When the meatballs are fully cooked, remove from pan and transfer to paper towel.

Transfer to serving plate and serve with sweet chilli sauce or your choice of favourite dipping sauce.
Tomato Sauce
In the same pan, add another one to two tablespoon of oil. Add chopped garlic and stir fry for few seconds then follow with the chopped shallots.

Stir fry the shallots until brown and crispy, then add the chopped tomatoes. Stir for one minute, add salt, turmeric and paprika powder. Saute` the ingredients until it become smooth paste.

Pour one cup of warm water in and simmer for 1 min and place the fried meatballs back in. Cook for another 1-2 minute, sprinkle chillies and coriander and stir well. ( Optional : You can add chicken stock/broth instead of water for more taste and flavour. )

Try taste test and adjust adding extra salt according to your taste.

Transfer to serving plate and garnish with fresh coriander and green chillies.

Delicious meatball in tomato sauce is ready! Enjoy!