Chicken Chop Suey - Quick and Easy Chicken Chop Suey recipe with juicy tender chicken slices, colourful vegetables in a delicious thick sauce. Learn how to make at home in 20 minutes with our easy-to-follow instructions.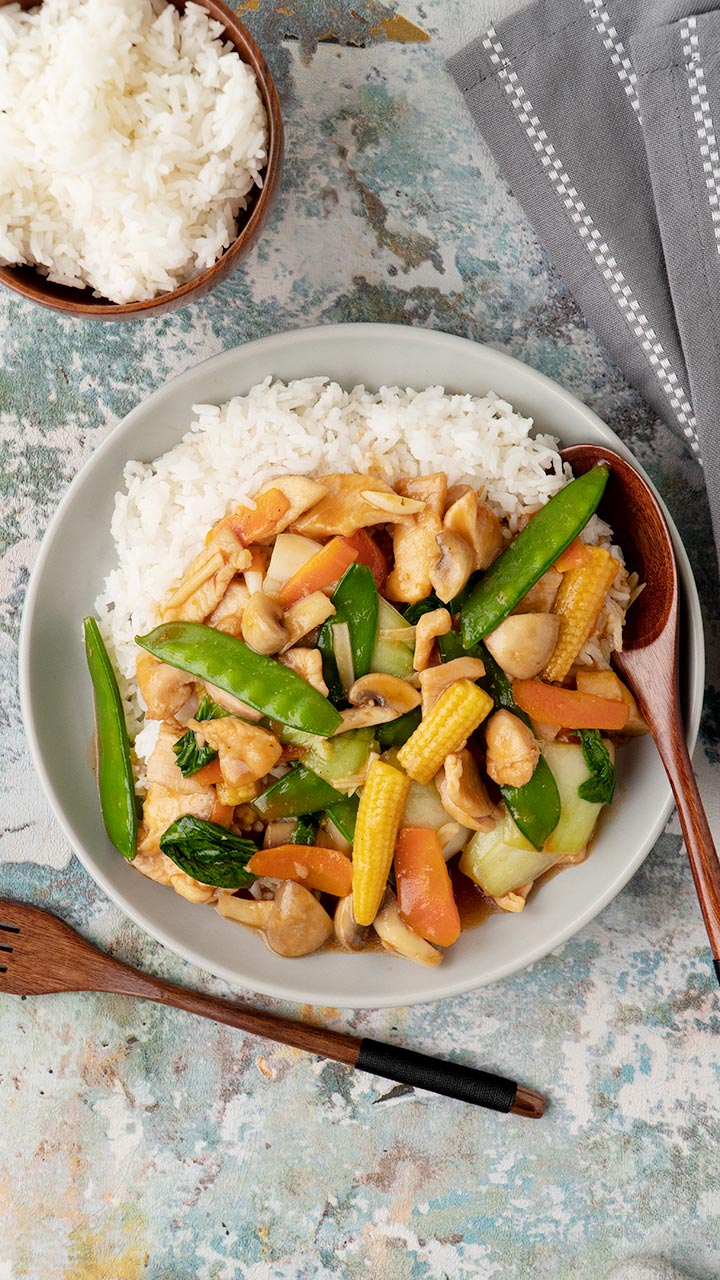 What is Chop Suey?
Chop Suey is a very popular American-Chinese cuisine usually made of meat, seafood, and vegetables in thick starchy sauce. Every country has its own version of Chop Suey. In Burma, we called it " Htamin Paung " and you can find it in all most all Chinese restaurants across Burma. In Rangoon-style Chop Suey, we usually add extra tofu and quail eggs. I'll share my Rangoon Chop Suey recipe soon on the website. So please stay tuned!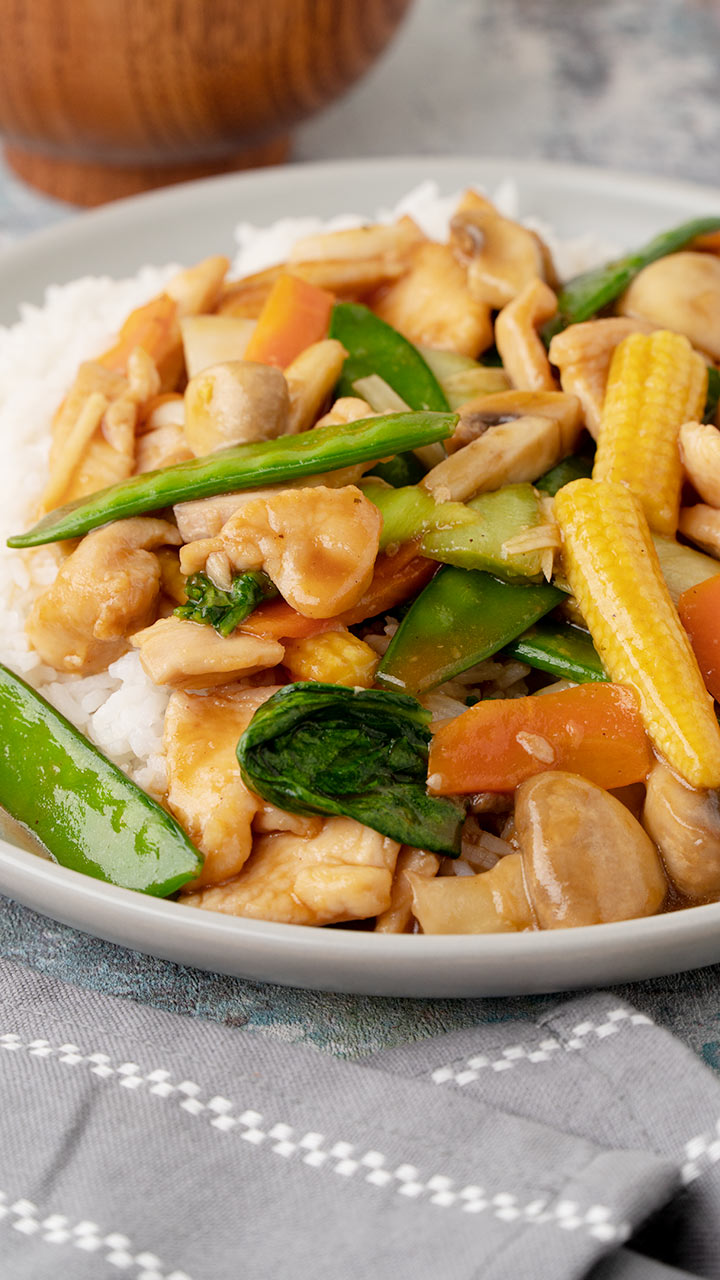 What I love about this dish is, I can put any of my favourite vegetables and protein. That is one of the best ways to use up all the leftover vegetables from the fridge.
Chop Suey is one of our family's go-to easy stir fry recipes that everyone loves. I learned this recipe from my dad, and he usually made it with loads of prawns, vegetables, and boiled quail eggs for us. When I was a kid I didn't eat many vegetables but when my dad make chop suey at home, I can eat up every bit of it. This dish is so satisfying and filling and if you haven't tried it at home, I highly recommend trying it at least once. You will be amazed by how easy and tasty the results come out!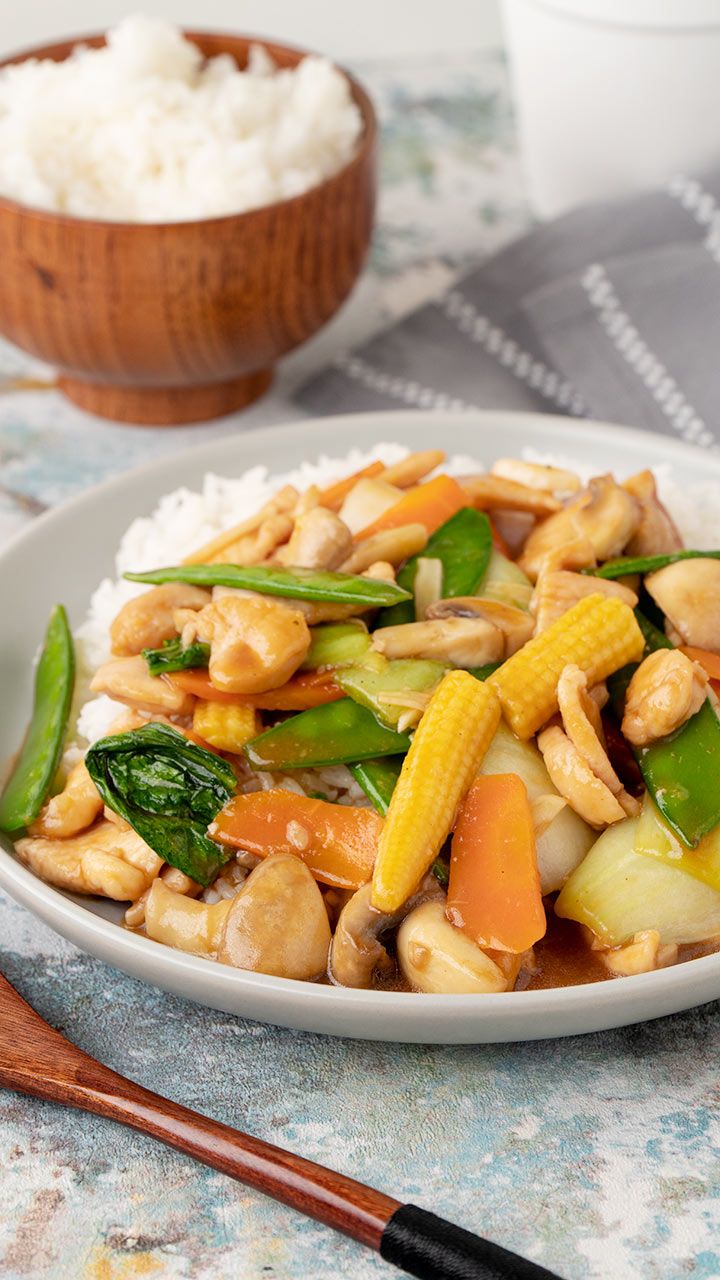 What goes in the dish:
Protein:
I usually like to make this dish with chicken, prawns or beef. Beef chop suey and Prawn Chop Suey are also our readers' favourite chop suey recipes you might also like. I used chicken breast meat in this recipe. You can use chicken thighs, prawns, squid, or any of your favourite meat. To keep the meat moist and tender, use the Chinese velveting method by marinating it with light soy sauce, sesame oil, corn starch and baking soda.
Vegetables:
In most restaurants button mushrooms, baby corn, carrot, snap peas, pak choy, bok choy, and bean sprouts are mostly added. If you can't find all vegetables, don't worry. Feel free to add any of your favourite stir fry vegetables.
Sauce:
Thick starchy delicious stir fry sauce is the key part of the dish. You will need a few simple seasonings sauces, I usually add light soy sauce, oyster sauce, sesame oil, and white pepper. Add chicken stock to bring more umami flour to the sauce. You can use corn starch or potato starch(flour) or tapioca starch to thicken the gravy. If you don't have chicken stock in hand, you can add vegetable stock or water to the sauce. Make sure to mix all the sauce ingredients in one bowl before you start your stir fry.
You can add a tablespoon of Chinese Shaoxing wine in the sauce mix to taste more flavour to the dish but it's optional in this recipe.
Vegetarian:
For the vegetarian option, you can use firm tofu instead of meat. Cut tofu into small cubes. First, saute` the tofu cubes 2-3 minutes until light brown, then you can add in stir fry. In the Chop Suey sauce, you can use vegetarian oyster sauce or mushroom sauce instead of oyster sauce. You can also substitute vegetable stock instead of chicken stock.
How to make it
As this dish is a fast stir fry dish, gather all the ingredients, and prepare before you start frying. First, start with the chicken marinade and mix all the chop suey sauce in a bowl. Stir fry the chicken slices and follow with garlic and vegetables. ( Add the hard vegetables first then follow with the soft ones. ) Pour the sauce mixture and be ready to serve when the sauce starts to get thick and glossy.
To Serve
Simply serve overcooked rice or stir-fry soy sauce noodles or crispy fried noodles. I love to have a bit of chilli oil on the side.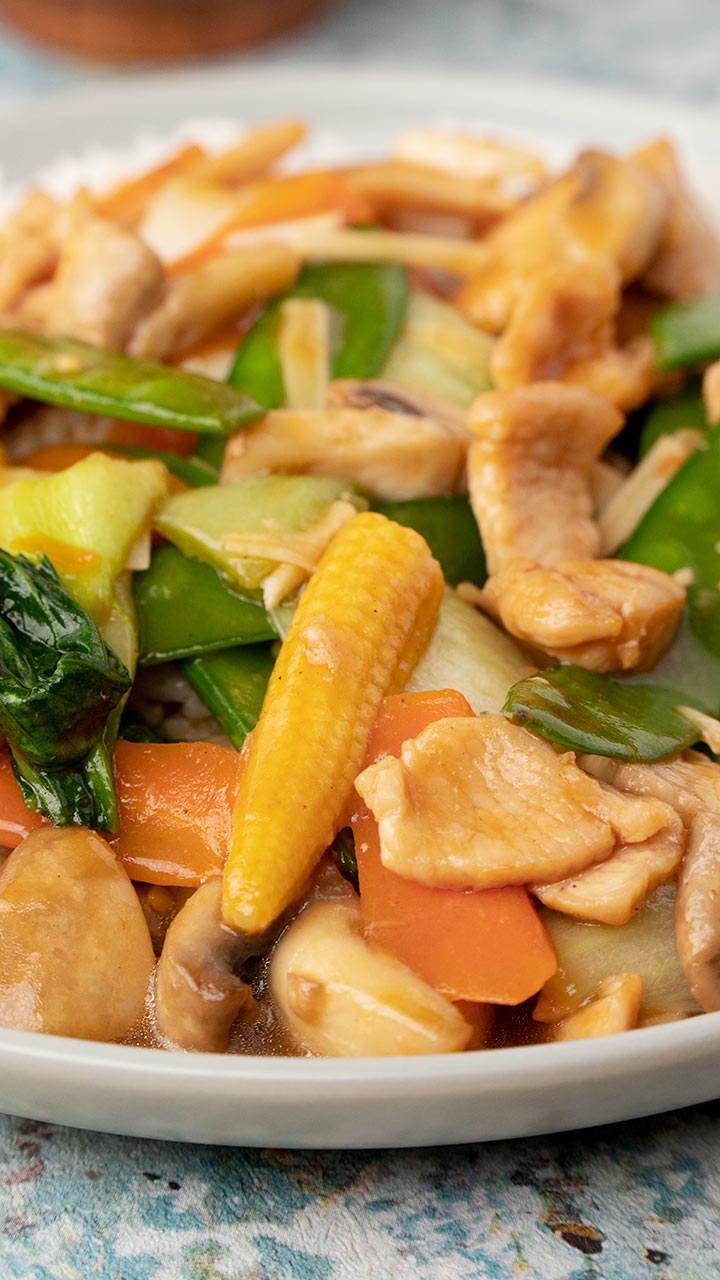 Storing Leftovers
Chicken chop suey tastes best when freshly cooked and served immediately but you can also store the leftovers. Here are some tips to store it properly.
Allow the chicken chop suey to cool down completely at room temperature before transferring it to the storage container.
Divide the remaining leftovers into individual portions. So, you can reheat the desired amount separately.
Store it in airtight containers or resealable fridge/freezer food bags. Keeping it in airtight packaging helps maintain freshness.
Freezing option: I personally do not like freezing chop suey but if you wish to extend the storage period freezing is the second option. You can store them in freezer-safe bags or containers for later use. It usually lasts in the fridge for up to three months. However, keep in mind that freezing and reheating cooked vegetables and meat may affect their texture and flavour.
Add label: It's important to label each container with the name of the contents and the date of storage. This helps you to track the stored date easily.
Reheating: You can reheat it over a stovetop or in the microwave until it reaches the desired temperature. Stir everything well occasionally to be heated evenly.
Make sure to use your judgement before having leftovers. If you notice any unusual smell or texture, discard it to avoid the risk of food poisoning.
What is the difference between chop suey and chow mein?
Both chop suey and chow mein are popular Chinese-inspired dishes in the US, UK, Australia, and many Western countries but they are different in prepartion, ingredients, serving, and presentation. Chop suey usually consists of fried vegetables, meat or seafood and a savoury thick sauce and is served over rice. On the other hand, chow mein features stir-fried noodles with chicken, prawns, vegetables, and seasoning sauces. While chop suey is saucy and served with rice, chow mein is usually a dry stir fry dish and highlights the noodles.
Stay updated on new recipes:
We are on social media Facebook, Instagram, YouTube ( New recipe video every week ), and Pinterest ( Pin your favourite recipes ). If you've tried this recipe, please share your comment or post on social media and tag me. I would love to see your creations and feedback.
More Delicious Chinese Recipes
Here are more Chinese soups and appetizers that you can pair with this dish to create a complete family dinner.
Chicken Corn Soup or Hot and Sour Soup
Salt and Pepper Beef or Crispy Shredded Beef Recipe
Wonton in Chilli Oil or Crispy Fried Wonton
King Prawn Chop Suey or King Prawn Chow Mein
Watch how to make recipe video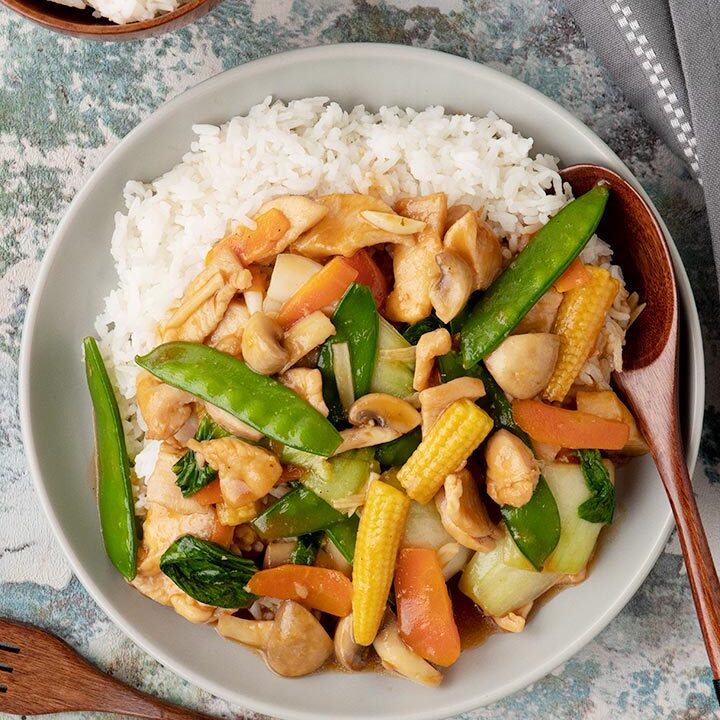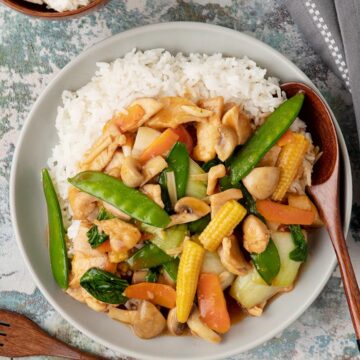 Chicken Chop Suey Recipe
Quick and easy chicken chop suey recipe with juicy tender chicken slices and colourful vegetables in a delicious thick savoury sauce. Serve over a bed of rice, delicious dinner ready in 20 minutes!
Print
Pin
Rate
Ingredients
200

g

Boneless chicken thigh/breast

2

tbsp

Oil

( vegetable/peanut/canola or sunflower oil )

3

cloves

Garlic ( thin slices )

4-5

Baby corn ( sliced )

1

Carrot ( sliced )

4-5

Mushroom ( sliced )

½

Sweet Onion ( sliced )

8-10

Snow peas ( mangetout )

1

head

Pak Choy ( cut and separate leaves and stalks )
Chop Suey Sauce
1

tbsp

Light soy sauce

2

tbsp

Oyster Sauce

1

tsp

Sesame oil

¼

tsp

White pepper

½

cup

Chicken stock ( or water )

1

tsp

Sugar

1

tsp

Corn flour
Chicken Marinade
1

tsp

Soy sauce

1

tsp

Sesame oil

1

tsp

Corn flour

¼

tsp

Baking soda
Instructions
Firstly, cut the chicken into thin slices. In a mixing bowl, add the chicken slices and marinade ingredients, mix well and set aside for 10-15 minutes.

In a small bowl, combine the chop suey sauce ingredients, mix well and set aside.

In a large wok/pan, add 2 tablespoon of oil, stir fry the chicken slices with medium high heat for 2-3 minutes. Then push the chicken to one side and add the garlic slices and stir for few seconds.

Add carrot and baby corn stir for few seconds, then follow with the mushroom, snow pea, pak choy stem part. Stir fry for 1 minute.

Then add the pak choy leaves and pour the sauce in.

Stir well to combine the sauce and ingredients evenly. When the sauce is reduced and start to thick, its ready.

Place over hot steamed rice and serve immediately! Enjoy!
Nutrition
Calories:
411
kcal
|
Carbohydrates:
23
g
|
Protein:
29
g
|
Fat:
24
g
|
Saturated Fat:
3
g
|
Polyunsaturated Fat:
6
g
|
Monounsaturated Fat:
13
g
|
Trans Fat:
1
g
|
Cholesterol:
65
mg
|
Sodium:
1460
mg
|
Potassium:
821
mg
|
Fiber:
3
g
|
Sugar:
8
g
|
Vitamin A:
5232
IU
|
Vitamin C:
10
mg
|
Calcium:
44
mg
|
Iron:
2
mg