Fluffy Chinese stir fry tomato egg recipe made with only two simple ingredients, eggs, and tomatoes. Super quick and easy one-pan stir fry dinner that is ready in 10 minutes. Pair it with a bowl of jasmine rice to compliment the dish!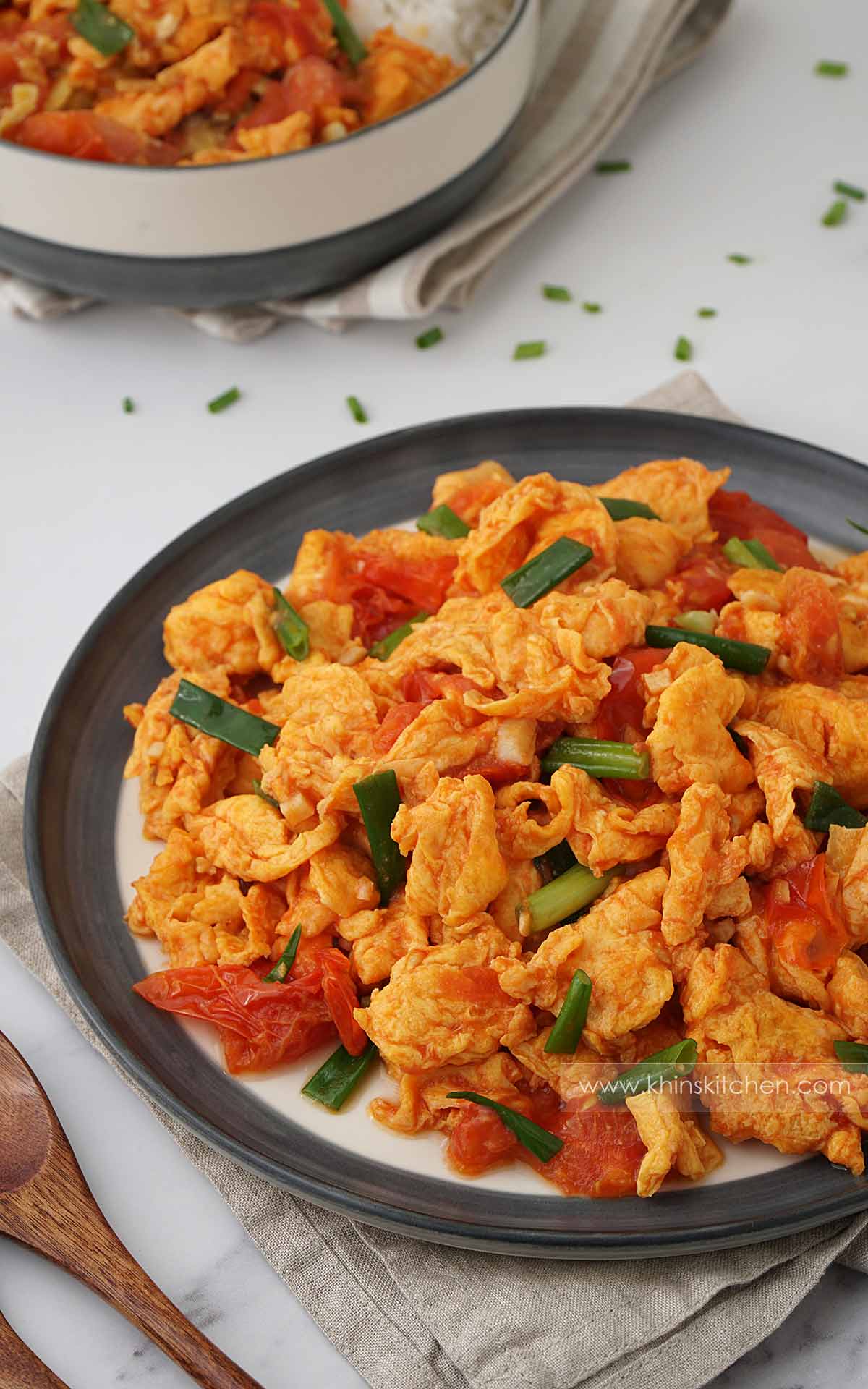 This dish is also known as Chinese egg with tomato and Hong Kong tomato egg recipe, basically a stir fried mixture of soft tomatoes and scrambled eggs.
If you love Chinese egg recipes, you will definitely like our Chinese Omelette ( Egg Foo Young ) Tomato Egg Drop Soup and Sweetcorn Egg Drop Soup or you would love to try easy Chicken Omelette recipe.
Jump to:
What is Chinese tomato egg stir fry?
This egg and tomato stir fry are one of the easiest and simplest Classic Chinese dishes that you can find in Chinese households. A delicious staple comfort dish that is budget-friendly and yet nutritious. The recipe is simple but the taste is not bland, packed with sweet, tangy, savoury flavour.
A bowl of jasmine rice with a Chinese tomato egg is a perfect match and it's so satisfying. You can serve it as a quick lunch, light dinner, or even great to have at breakfast. This is one of my go-to quick stir fries for busy weekdays.
Why you would love this simple recipe
You can make it with ingredients that you already have in your pantry. No need for a trip to a Chinese supermarket or an Asian grocery.
Simple cooking steps that even teenagers and students can enjoy making at hostels or at home.
Preparation and cooking, everything comes together in ten minutes. Cleaning up is super fast too. You just need one non-stick pan to clean up.
A hearty, nutritious guilt-free Chinese stir fry recipe that doesn't contain loads of oil or fat.
Ingredients we need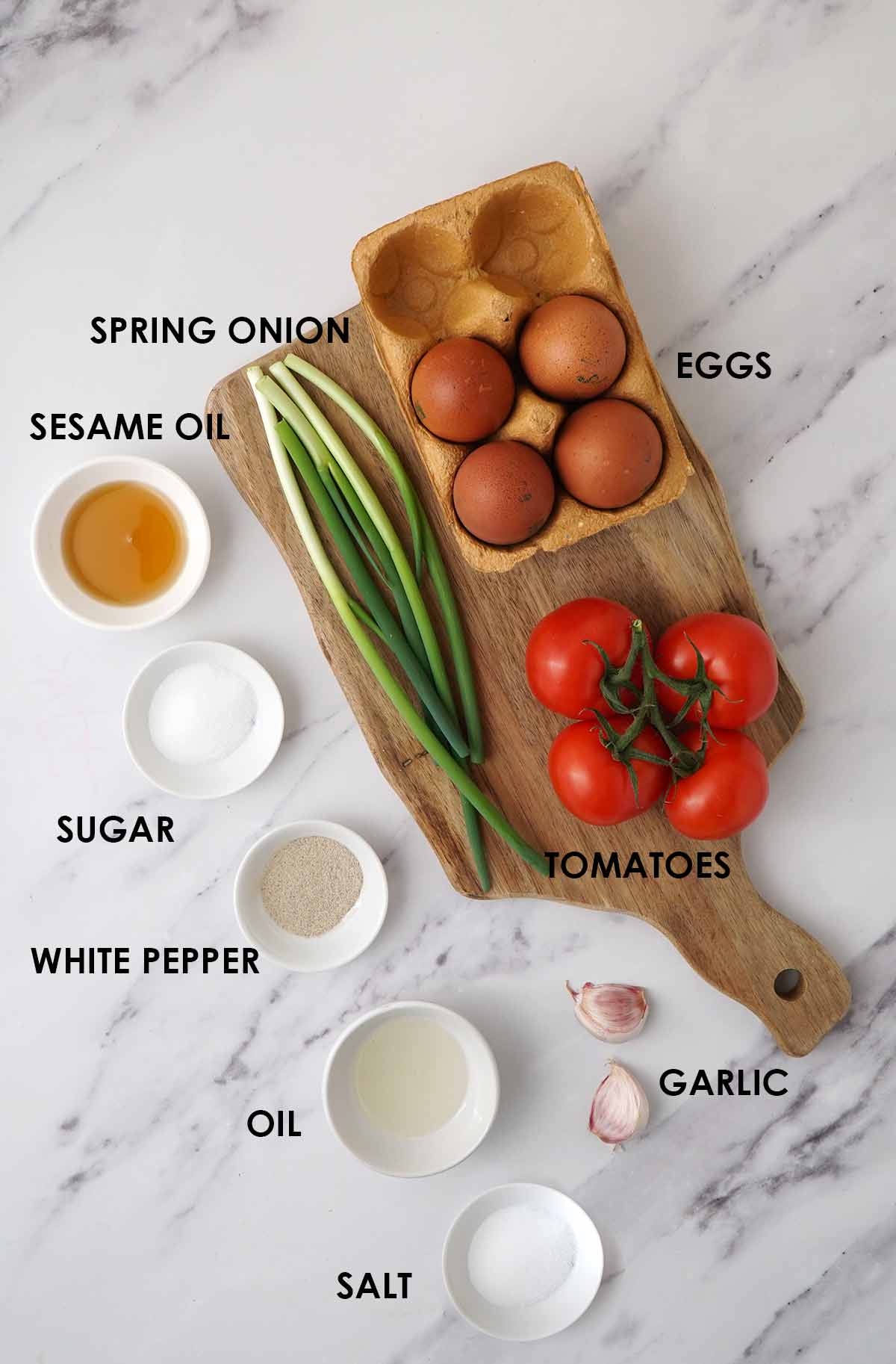 Egg - I used 4 large eggs with golden egg yolks. You can use any large chicken or duck eggs of your choice. All of these eggs' nutrition is similar in general.
Tomatoes - Vine ripe tomatoes are ideal for this recipe which has a sweet, tangy, rich tomatoey flavour.
Spring Onions - You can either use spring onions or coriander/cilantro/ green onion for the subtle fresh aroma.
Garlic - Add two cloves of garlic to bring garlicky flavor to the stir fry.
Seasonings - Simply season with salt, white pepper, sugar, and sesame oil.
White pepper - Add white pepper to get authentic Chinese flavour. White pepper is hotter, more pungent, and musty than black pepper. Commonly used in Chinese cuisine, stir-fries, soups like Hot and Sour Soup, and sauces.
Sugar - I love to add a dash of sugar to balance the tangy tomatoes' taste, but it's totally optional. You can omit the sugar.
Sesame oil - Drizzle a dash of toasted sesame oil in finishing, for a mild toasty nutty flavour.
How to make it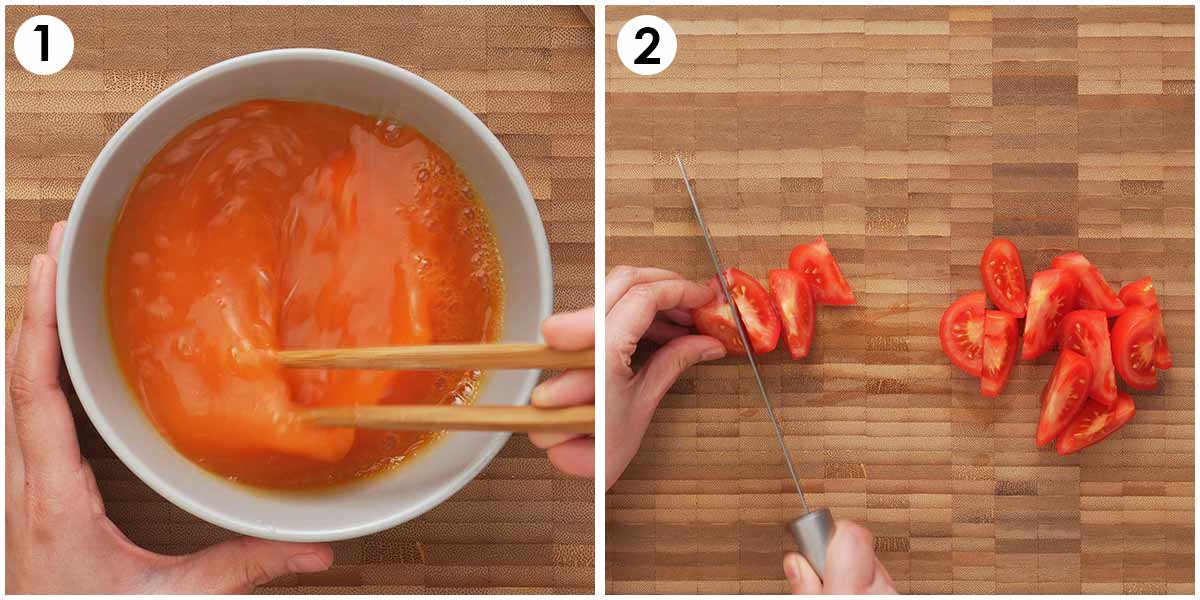 Start with whisking the egg and season with salt and white pepper. Cut the tomatoes into wedges and cut spring onions into 1-inch pieces.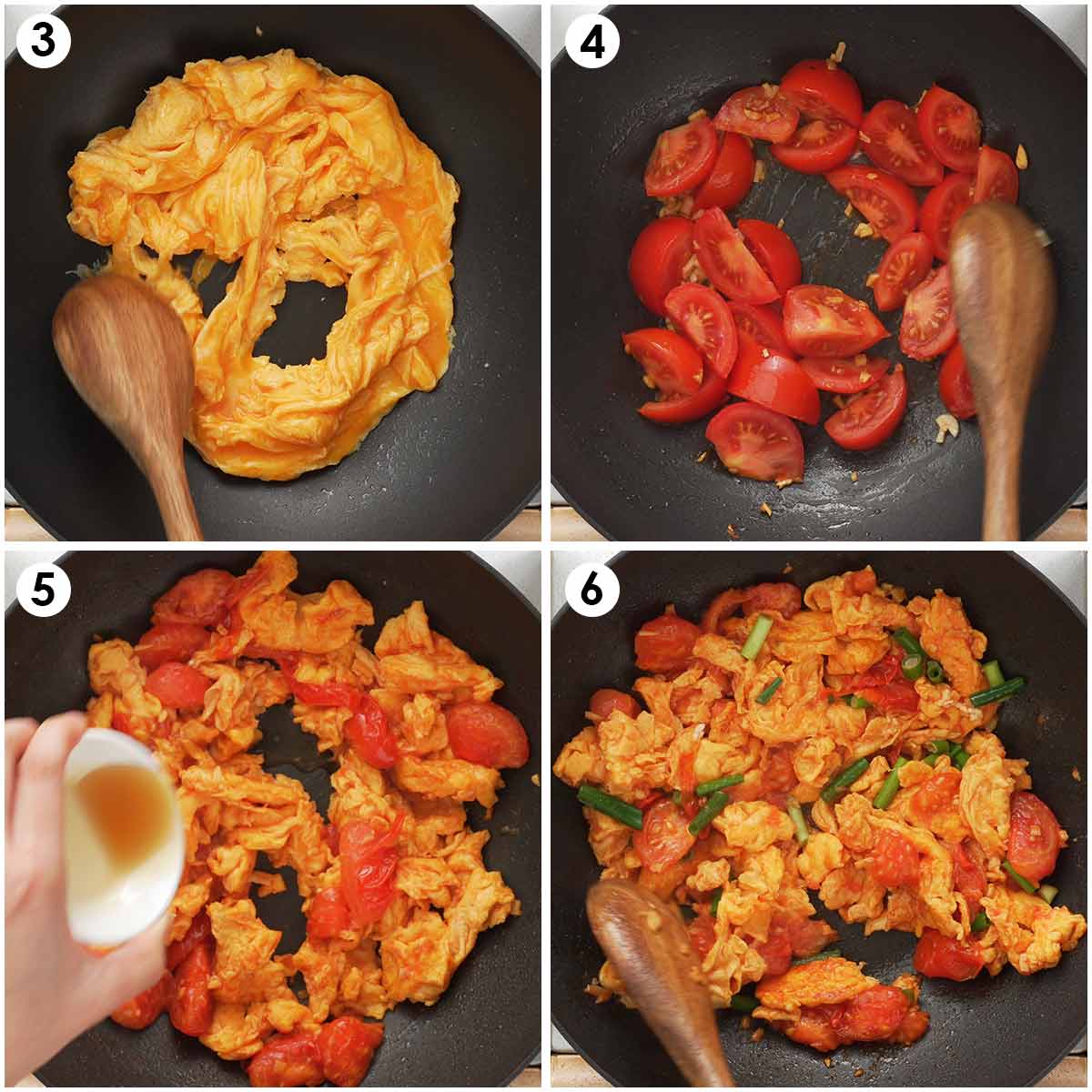 Heat the large wok or pan over medium-high heat, add the whisked egg and let it set for a few seconds. Then stir it gently and scramble it with a spatula. Remove from pan and set it aside.
In the remaining pan, drizzle a bit more oil and stir fry the chopped garlic until fragrant.
Next, add the tomatoes and cook with medium heat for 1-2 minutes until soft. Season with salt and sugar.
Once the tomatoes are soft, place the scrambled eggs back in the pan. Stir in spring onions and finish with sesame oil. Combine everything evenly and transfer to the serving plate.
Serve with steamed rice, fried rice, or stir fry noodles.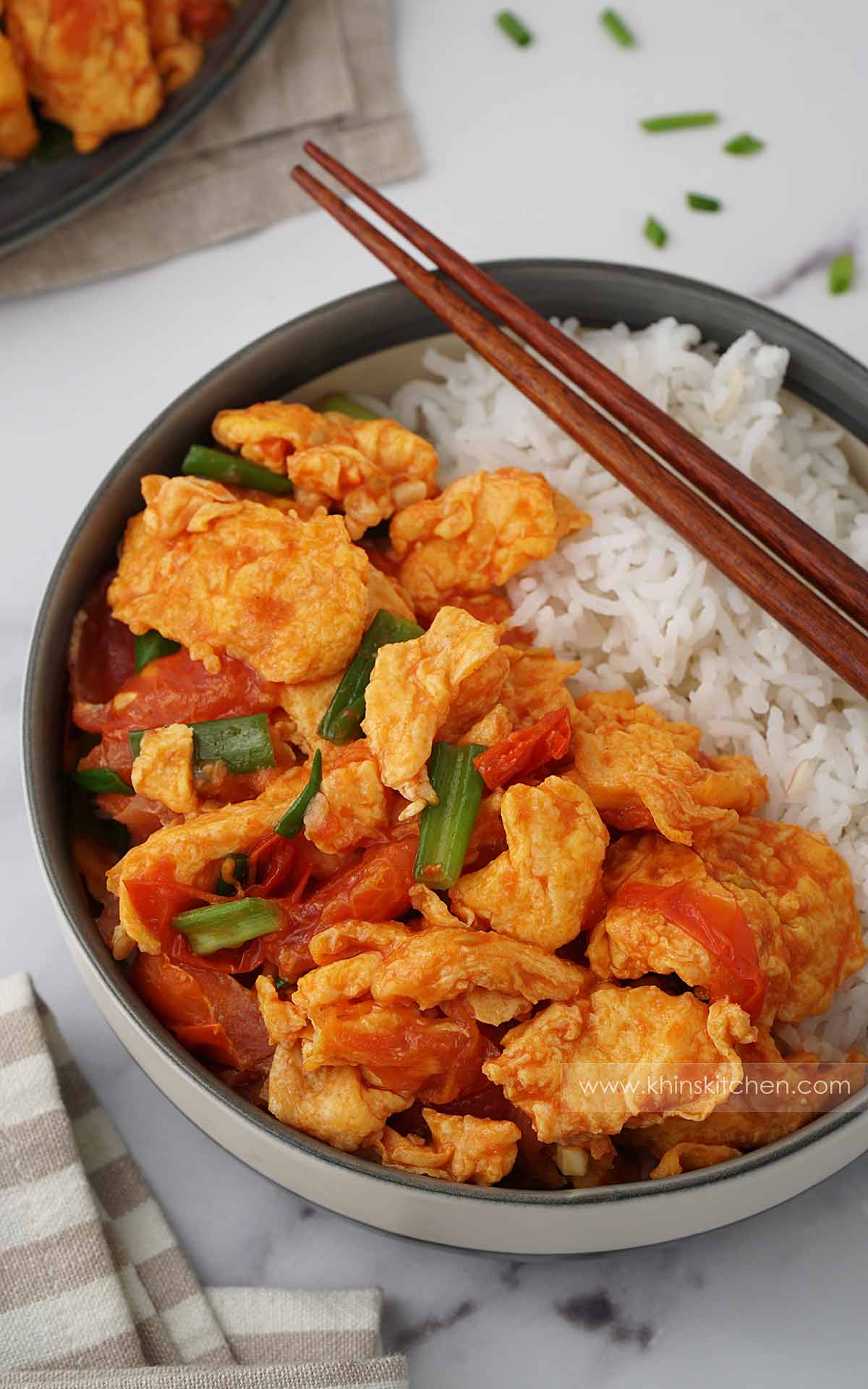 Top tip
Use a large non-stick wok or pan which is easy to clean up and needs less oil.
Make your own style tomato egg stir fry by adding other proteins and stir fry vegetables.
If you don't like tomato skins, you can blanch the tomatoes in the hot boiling water for 30 seconds to 1 minute. Then transfer to icy cold water and wait until cool. Then you can easily peel off the skin and then cut it into chunks.
Frequently Asked Questions
What to serve with tomato egg stir fry?
You can just serve it up with leftover cooked rice, freshly cooked jasmine rice, basmati rice, brown rice, cauliflower rice, or noodles.
What other ingredients can you add?
Minced meat, prawns/shrimp, bacon, sausage, shredded cabbage, carrot, or any stir fry vegetables can be also added.
How to make it vegetarian?
For vegans and vegetarians, chicken eggs can be swapped with vegan eggless eggs or mashed firm tofu as an egg substitute.
More Easy Chinese Stir Fry Recipes
Stay updated on new recipes:
We are on social media Facebook, Instagram, YouTube ( New recipe video every week ), and Pinterest ( Pin your favourite recipes ). If you've tried this recipe, please share your comment or post on social media and tag me. I would love to see your creations and feedback.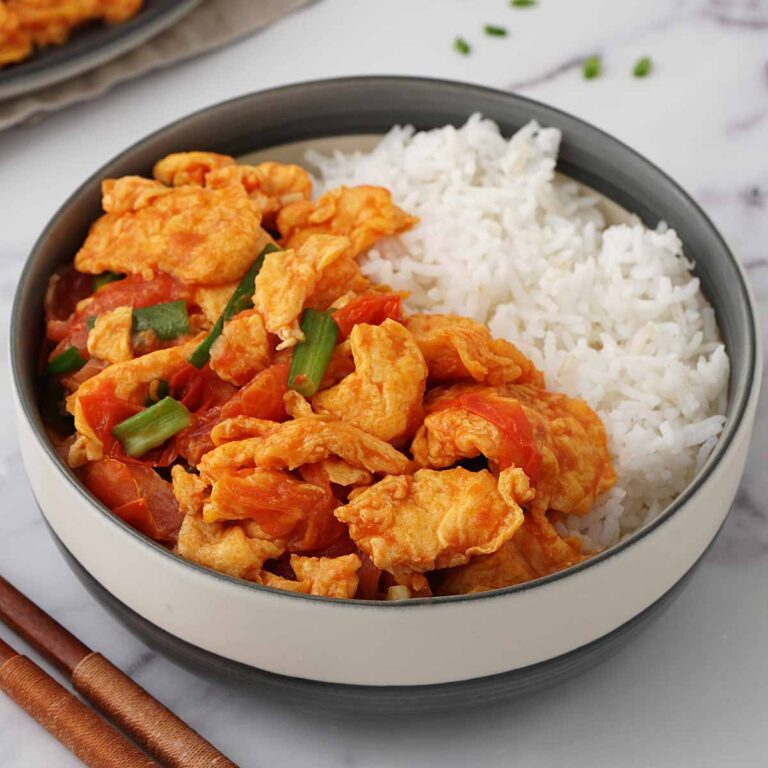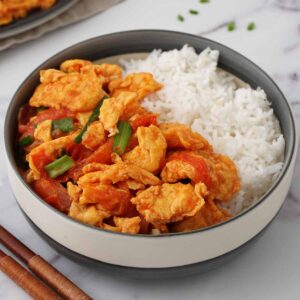 10-minute Easy Chinese Tomato Egg Stir Fry
Quick and easy Chinese tomato egg stir fry recipe that you can cook in 10 minutes with simple cupboard-friendly ingredients. Classic Chinese home style egg stir fry that the whole family can enjoy with minimum budget. Pair it with plain rice or noodles and make a delicious meal!
Print
Pin
Rate
Equipment
Large non-stick wok

Or use any large wok or pan
Ingredients
4

Tomatoes

4-5 Large vine ripe tomatoes, cut into wedges or chunks

4

Eggs

4-5 Large eggs

2

cloves

Garlic

Finely chopped/minced

3

Spring Onions

Cut 1 inch pieces or cut thin slices

1

tsp

Salt

Or adjust salt to your taste

¼

tsp

White pepper

Or black pepper

1

tsp

Sugar

Optional

1

tsp

Sesame oil

Toasted sesame oil

2

tbsp

Vegetable oil

Or neutral flavoured oil
Instructions
Beat the eggs in a medium-size bowl and season with salt and white pepper. Cut the tomatoes into wedges and dice the spring onion and gather all the ingredients and seasonings.

Heat the large wok or pan into medium-high heat and drizzle one tablespoon of oil. Add the whisked egg and let it set for a few seconds, then stir it gently and crumble it into medium bite size pieces. Remove from pan, set it aside. Keep it warm.

In the remaining pan, drizzle another tablespoon of oil, stir fry the garlic with medium heat until fragrant.

Then add the tomato wedges and cook until soft. Stir occasionally and season with salt and sugar.

Next, add the crumbled eggs and follow with spring onions. Drizzle a teaspoon of sesame oil. Make a taste test and adjust more salt or sugar to your taste.

Remove from heat and transfer to plate. Serve immediately over a bed of warm rice or stir fry noodles.
Notes
White pepper - Season the eggs with white pepper instead of regular black pepper to taste like authentic Chinese home cooking flavour. White pepper has a musty, peppery flavour and is hotter than black pepper. You can find it in Chinese or Asian grocery stores. 
Toasted sesame oil - Recommend adding toasted sesame oil to the finishing to bring a toasty, nutty flavour. 
Do I need to peel the tomatoes? It is not necessary to peel the tomatoes but if you don't like the skins, you can peel them before you stir-frying. 
Ingredients add-ons - Even though this dish is simply made with two simple ingredients, tomatoes and eggs, you can be creative by adding your choice of protein and vegetables. Minced chicken, bacon, prawns/shrimp, onions, are great options. 
Can you reheat it? This dish tastes best when freshly cooked, but if you have any leftovers, simply reheat in the microwave or stovetop until hot. 
How to serve this dish? Serve it over a bed of plain rice, fried rice, stir fried noodles or pair it with other noodle soups and make a wholesome meal. 
Can you make it spicy? You can add some fresh chilli slices to the stir fry or sprinkle some crispy chilli oil in the finishing. 
Nutrition
Calories:
103
kcal
|
Carbohydrates:
7
g
|
Protein:
7
g
|
Fat:
5
g
|
Saturated Fat:
2
g
|
Polyunsaturated Fat:
1
g
|
Monounsaturated Fat:
2
g
|
Trans Fat:
1
g
|
Cholesterol:
164
mg
|
Sodium:
652
mg
|
Potassium:
383
mg
|
Fiber:
2
g
|
Sugar:
5
g
|
Vitamin A:
1352
IU
|
Vitamin C:
19
mg
|
Calcium:
47
mg
|
Iron:
1
mg