Easy Chinese Omelette ( Egg Foo Young ) recipe filled with chicken, prawns, vegetables and fluffy egg. Serve over a bed of rice and topped with delicious foo young sauce. Simple quick and delicious brunch you can prepare in 15 minutes!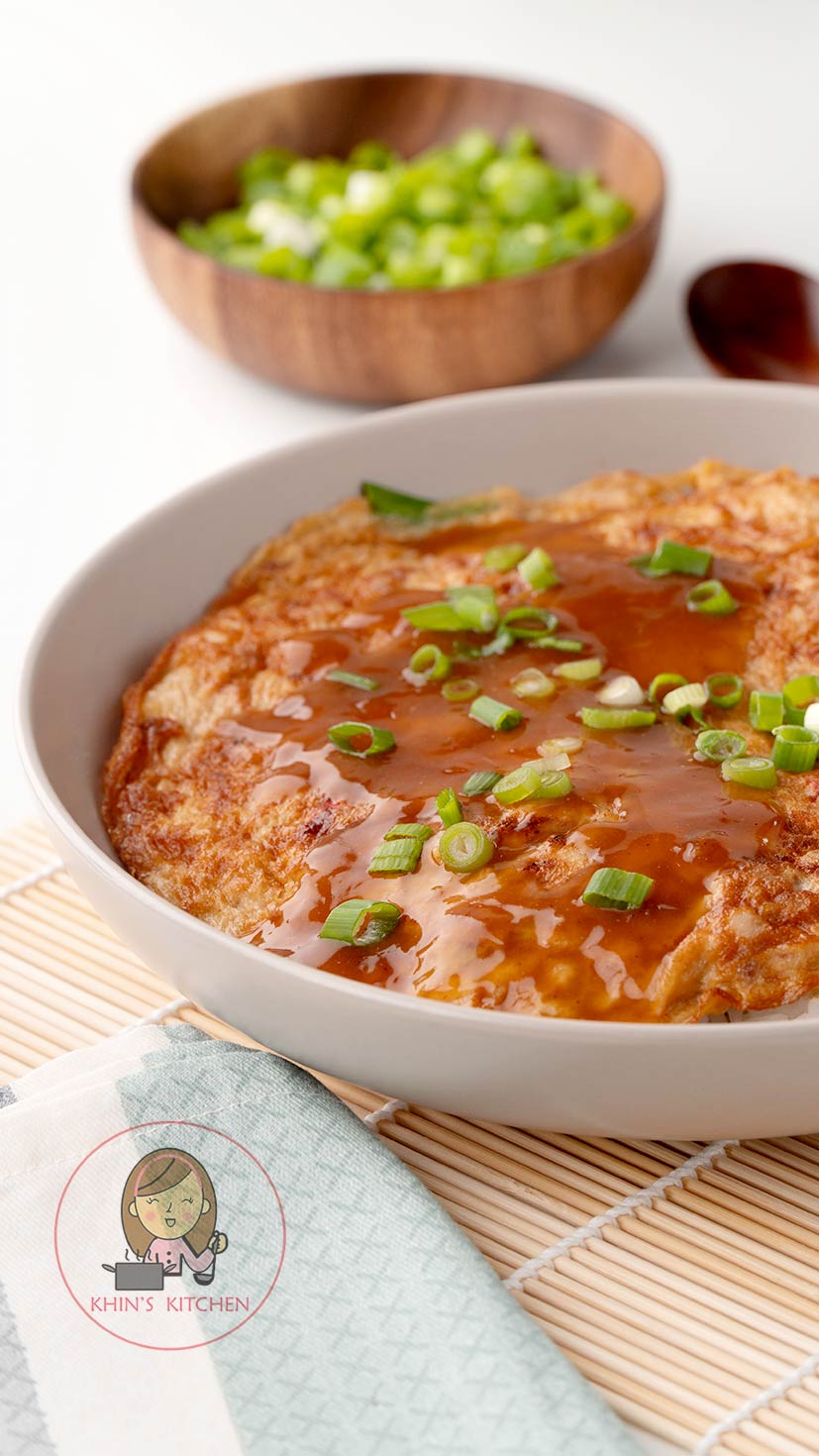 This omelette is one of our family's go-to fried egg recipes that everyone loves. My mom used to make this omelette as a lunch box for us on her busy days or the days she can't go grocery shopping. The perfect way to use up the vegetables left in your fridge, ideal for meal prep and lunch box too. This dish is it's loaded with protein, vegetables, budget-friendly, yet so satisfying, and filling! If you haven't tried this Chinese version of an omelette, I highly recommend trying it at home!
If you love quick and easy Chinese stir fry recipes, you will definitely like our viewers' favourite Singapore Fried Rice and Chicken and Rice Noodle Stir-Fry recipes.
Jump to:
WHAT IS CHINESE OMELETTE
Chinese Omelette is also known as Egg Foo Young and Fu Young Hai in Indo-Chinese. It is a very popular American-Chinese dish, originated in Shanghai, China, basically made of egg, mincemeat, prawns, and vegetables. Serve with brown thick gravy made of chicken stock and corn starch. It is not only quick and easy to prepare but also nutritious and healthy since it includes a good amount of protein and lots of vegetables at the same time.
Very similar to crispy Thai omelette Khai Jiao, which is usually made with minced pork and fish sauce in the seasonings. Thai crab meat omelette and oyster omelette are my favourites Asian street food and I will share my recipe very soon. Every country has its own version of this omelette dish and in this post, I am sharing my version of the classic Egg Foo Young recipe.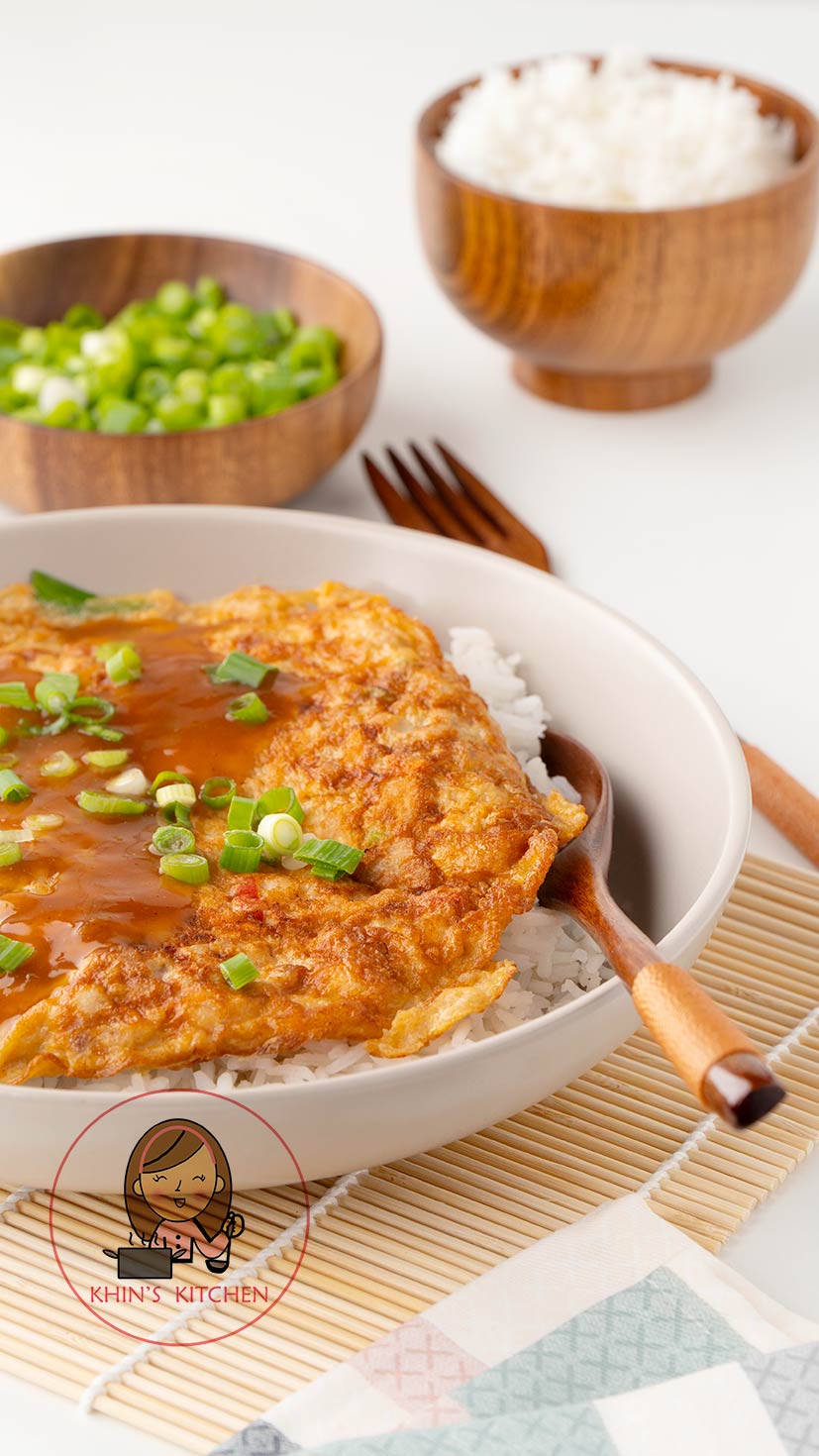 What do we need:
Protein: I used four large eggs, minced chicken thigh, and minced prawns. Other minced meats and turkey, pork, ham, sausage, spam, crab meat are ideal for this omelette. Also, you can use small cut meat if you prefer the diced meat texture. Stir fry the meat for 2-3 minutes, and let it chill for a few minutes before you add in the egg mix.
Can you make it meat-free? Add mushroom, firm tofu, or plant-based mincemeat like Quorn mince instead of chicken and prawns. Oyster sauce can be swapped with vegetarian stir fry sauce.
Vegetables: I add shredded carrots, chopped spring onions, and red chilli in this recipe. Many stir-fry friendly vegetables like cabbage, mushroom, bell pepper and onions would go well too. Just make sure you chop them finely into small slices or small pieces.
Chinese omelette sauce: I made the gravy using chicken stock, oyster sauce, light soy sauce, and white pepper. To thicken the gravy and make it glossy, I added a teaspoon of corn starch.
HOW TO MAKE IT
First, prepare the meat and vegetables. Cut the prawns into small dices, thinly slice or shred the vegetables.
In a large wok/pan stir fry the chicken mince with high heat for 1-2 minutes, then add the chopped garlic and stir for few seconds.
Next add the prawns and continue cook for another 1-2 minutes.
Remove from pan and set it aside to keep it cool down.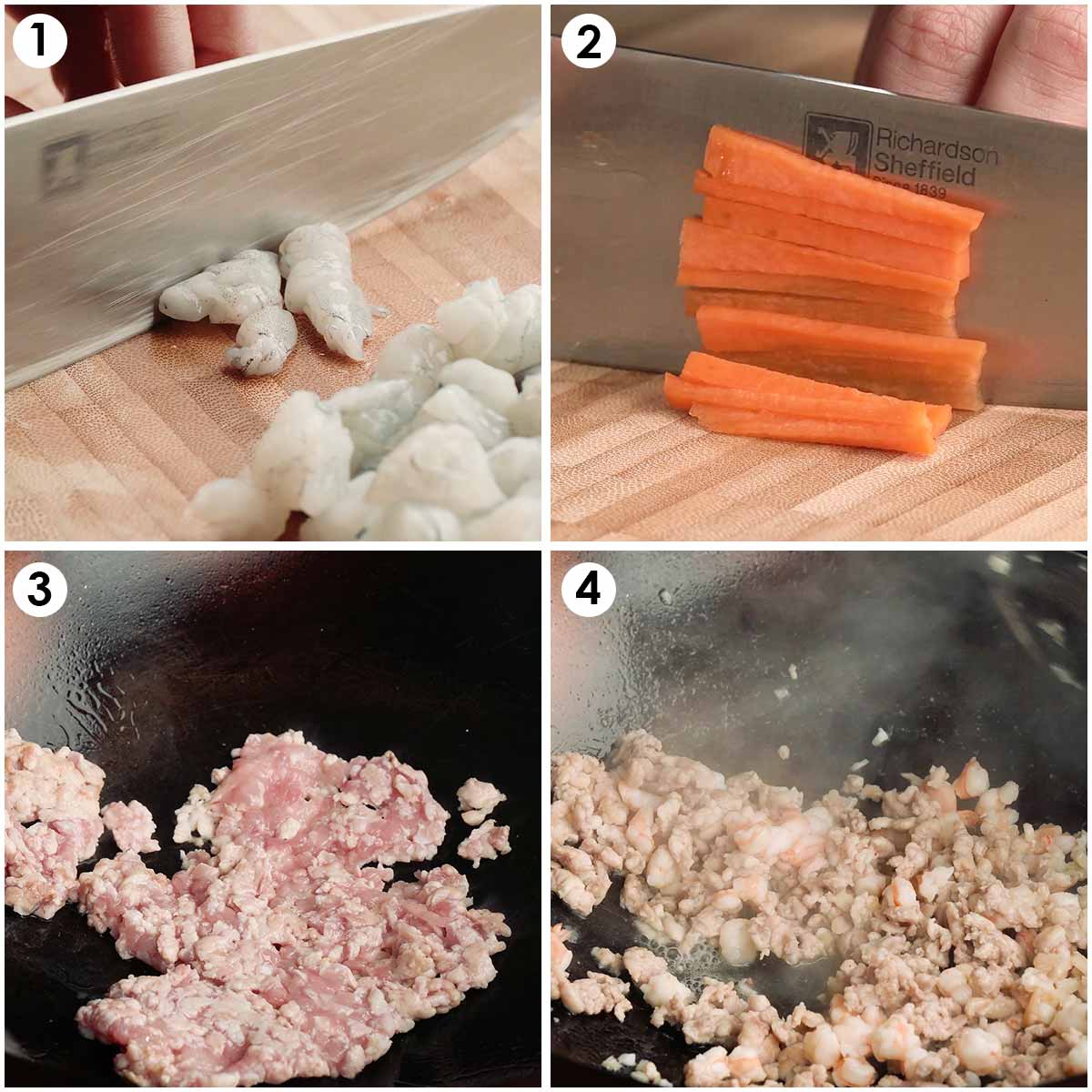 Add the eggs in a large mixing bowl, whisk it well. Add the spring onions, shredded carrot, chilli slices, and cooked chicken and prawns.
Season with soy sauce, oyster sauce, white pepper, salt and sesame oil. Mix well to combine all ingredients evenly.
Heat the large pan to medium-high heat, drizzle 1 tablespoon of oil and pour half of the the egg mixture in. Cook for 2-3 minutes and once the egg is set and crisp, flip gently and cook for another 1-2 minutes, until cooked through.
And repeat the process to another omelette.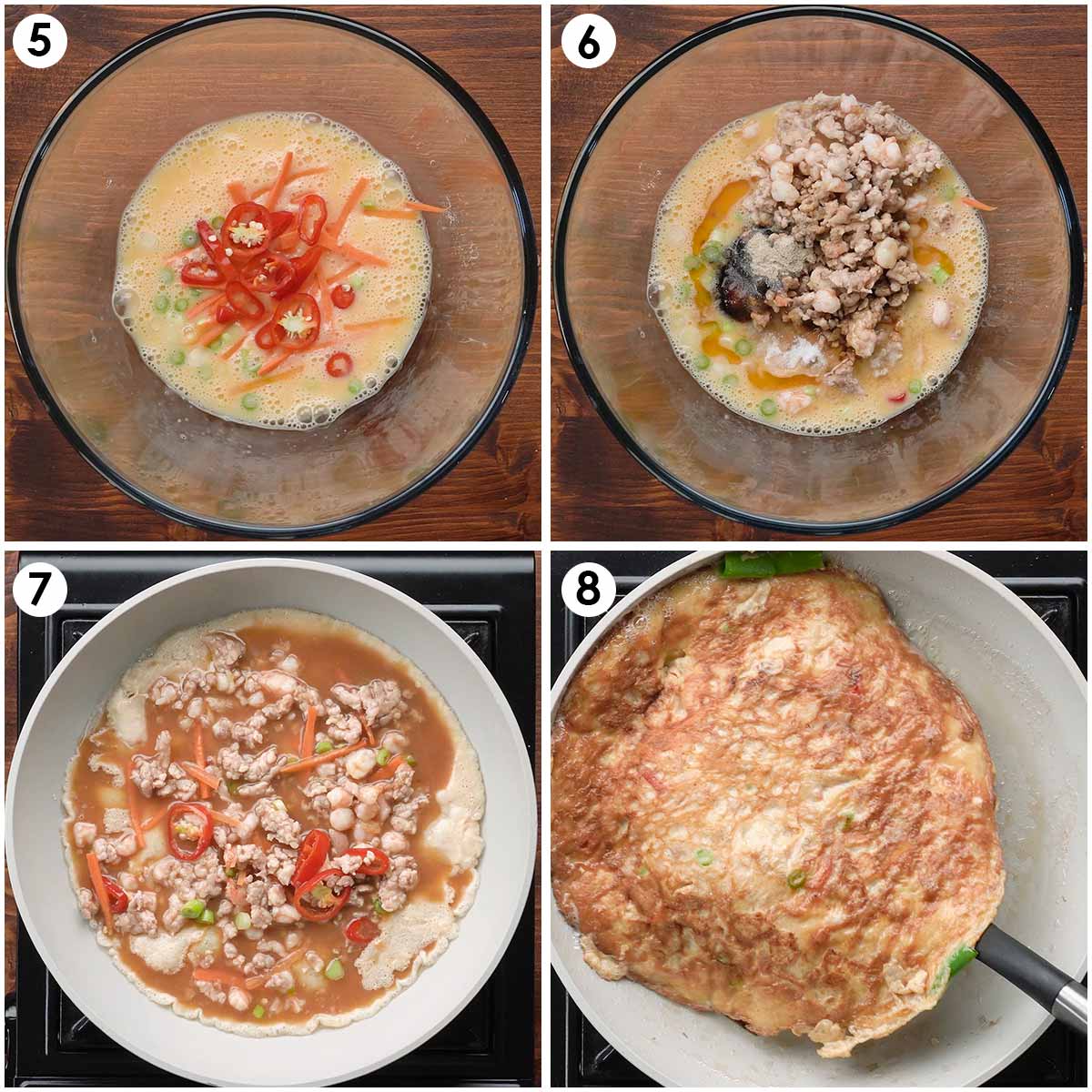 Chinese Omelette Sauce
This omelette is perfect to serve with foo young sauce and plain rice.
To make the sauce, add the chicken stock/broth, oyster sauce, soy sauce, corn starch and a dash of white pepper in a pan. Stir it well and cook with medium heat until the sauce become thick and glossy.
To serve, place the rice in a bowl, topped with fried omelette and pour the sauce over it. Serve immediately while hot.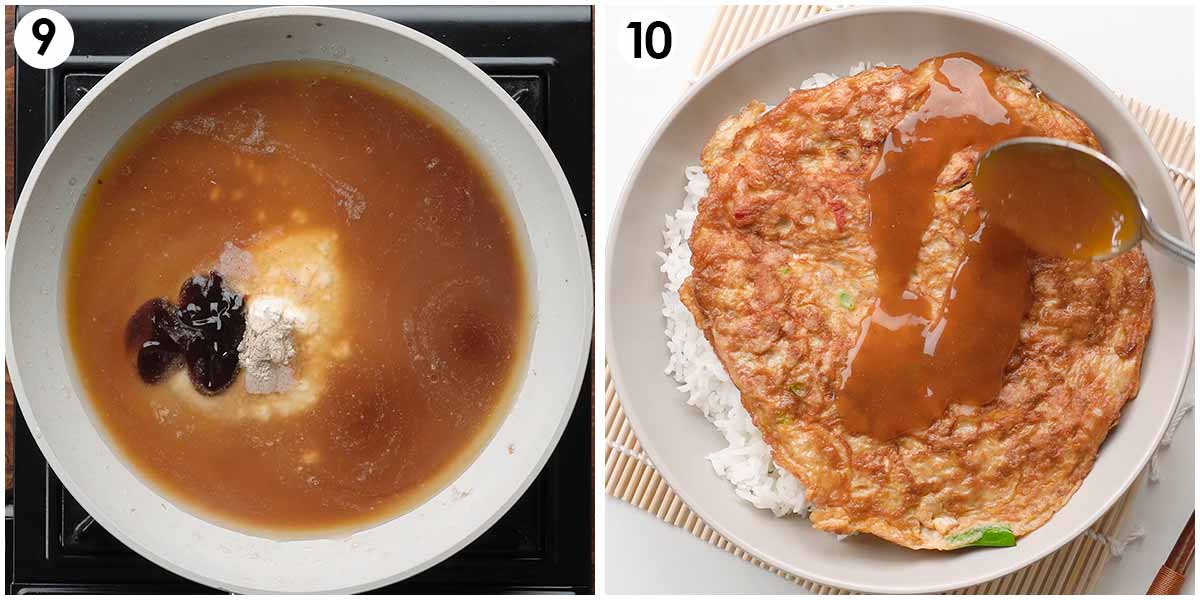 FAQ
What to serve with Chinese Omelette?
Traditionally, it's prepared to have together with a bowl of hot steamed rice, but you can either have it with fried rice, fried noodles or serve it on its own as a light meal. To make it an American-Chinese style omelette, don't forget to top it with a delicious thick gravy that enhances the look and taste of the dish.
What is the difference between a regular omelette and a Chinese omelette?
You can easily tell a difference after having a taste of the gravy sauce topped on the omelette since it totally tastes like a Chinese sauce. And this omelette itself includes not only meat and ham but also includes a mixed variety of vegetables and Asian seasonings.
More Delicious Chinese Recipes
Stay updated with new recipes
If you enjoy our recipe, please leave a comment and give us a rating! If you've tried this recipe, tag me on social media, I would love to see your creations! Follow me on social media Facebook, Instagram and Pinterest for the latest updates.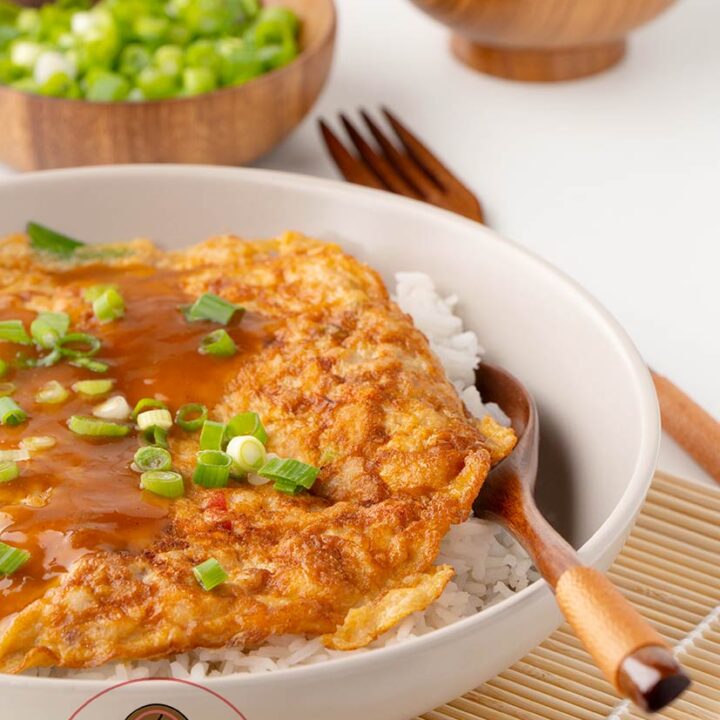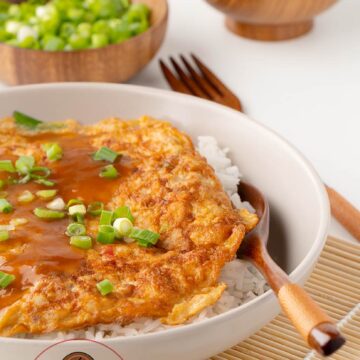 Egg Foo Young
Chinese omelette dish loaded with chicken mince, prawn mice and colourful vegetables.
Print
Pin
Rate
Ingredients
Omelette
4

Eggs

100

g

Chicken mince

50

g

Prawn mince

(or small chopped)

4-5

Spring onion ( cut thin slices )

½

Carrot ( julienne)

1-2

cloves

Garlic ( finely chopped )

1

Chilli pepper ( cut thin slices )

( optional )

1

tbsp

Oyster sauce

1

tbsp

Light soy sauce

¼

tsp

White pepper

½

tsp

Salt

(or salt to taste)

1

tsp

Sesame oil

2-3

tbsp

Vegetable oil

( peanut, canola, sunflower or any neutral flavoured vegetable oil )
Sauce for Egg Foo Young
1

cup

Chicken or Vegetable stock

1

tbsp

Corn starch(flour)

1

tbsp

Oyster sauce

1

tbsp

Light soy sauce

⅛ - ¼

tsp

White pepper
Instructions
First chop the prawns into small pieces. I am using chicken mince in this recipe. ( If you are using chicken meat, you can chop the chicken into small pieces.)

To prepare the vegetables, finely chop the garlic cloves, julienne the carrot, cut the spring onion and chilli into thin slices.

Heat a wok or pan into high heat, add 1 tablespoon of vegetable of oil. Stir fry the chicken mince for 1-2 minutes then add the chop garlic and stir for few seconds and follow with the prawns. Cook for another 1-2 minutes. Remove from wok and let it cool down for few minutes.

Beat the eggs in a large bowl. Add all the cut vegetables, cooked chicken and prawn mince. Season with soy sauce, oyster sauce, white pepper, sesame oil and salt to taste. ( If you don't have white pepper, you can add black pepper instead. ) Mix well to combine all ingredients evenly.

In a wok or pan, heat 2 tablespoon of oil into medium-high heat, add half of the egg mixture. Once the omelette is set and crispy, flip gently and fry for another 1-2 minutes until cook through. Repeat process to another omelette.
Sauce
To make the sauce, add all the sauce ingredients in the pan. Stir well until the corn starch dissolved, then turn on the heat into medium. Stir continuously until the sauce become thick and glossy. Turn off the heat and pour over omelettes. Serve immediately. Enjoy!

I usually love to serve over rice. Place the omelette over rice, pour the sauce on top, garnish with extra chopped spring onions. This recipe is for 2 servings as a main meal or you can serve up to 4 person as a side dish.