This easy Brinjal Bhaji recipe is a mixture of aubergine with onions, tomatoes, and a handful of pantry-friendly spices, suitable for vegan lovers. A must-try healthy veggie curry that your whole family can enjoy!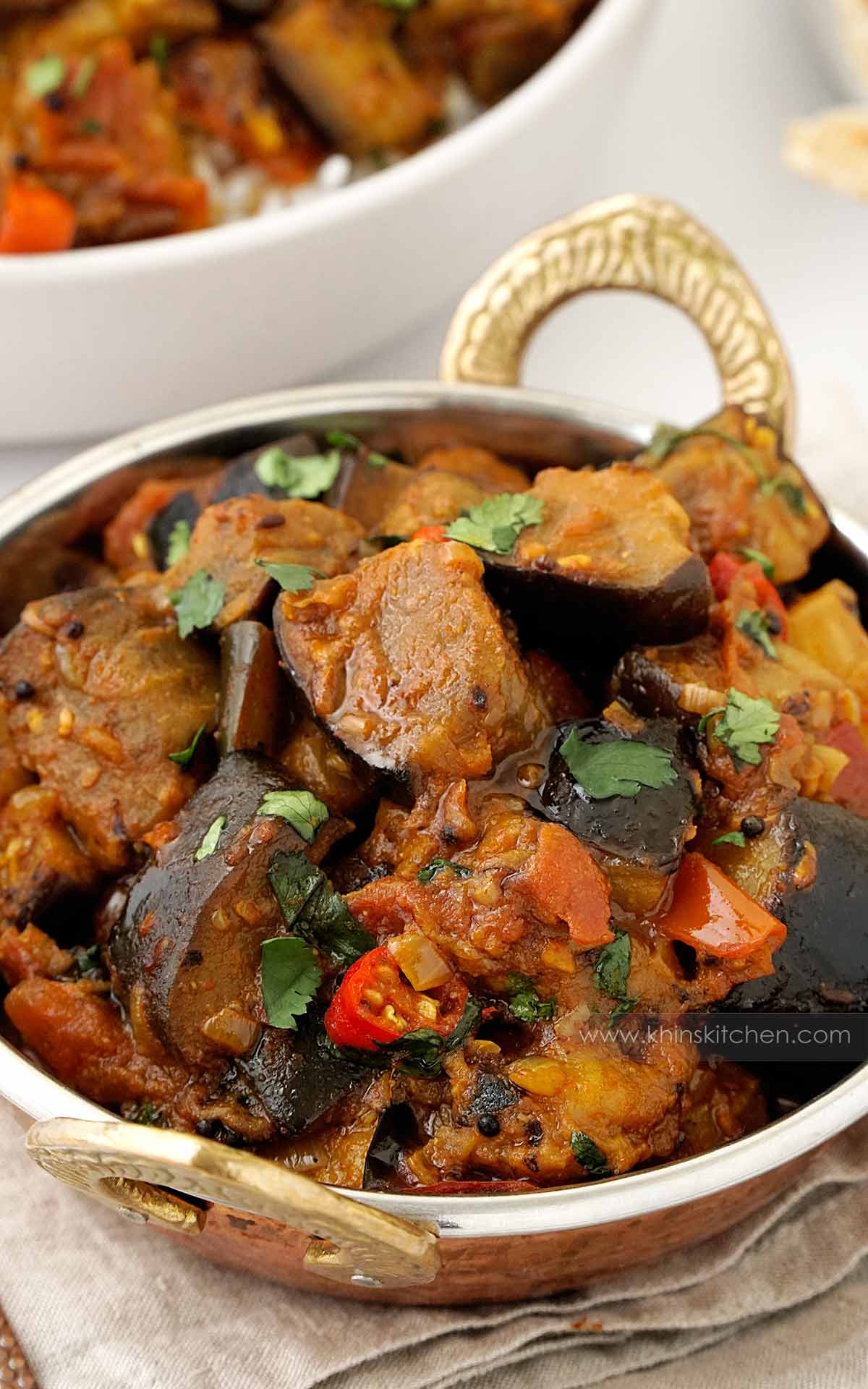 Jump to:
We love to cook Indian restaurant-style curries and appetizers at home. If you are also an Indian takeaway fan, you will also like our family's favorite Lamb Karahi and Lamb korma recipes.
What is Brinjal Bhaji?
Brinjal Bhaji is a famous vegetable dish also known as ' Aubergine Bhaji ' or ' Eggplant Bhaji ', and it is originated in India. Now this authentic dish is loved by all over the world and is 100% vegan. You can also find it as a side dish at Indian restaurants' menus in the UK, US, Europe, and Western countries. Also available in local Indian takeaways.
Basically, a dry Indian aubergine curry cooked with tomatoes, onion, chilli powder, garam masala, and aromatic spices.
You can either serve it as a main dish or pair it with other curries and serve it as a side dish. This aromatic eggplant bhaji is best served with naan, chapati, or flatbread. Fluffy basmati rice or pulao rice is also great to be paired with.
Why do we love this recipe?
It is very easy to cook with pantry-friendly ingredients.
A nutritious vegetable curry that is great for health, as aubergines are rich in antioxidants, vitamins, minerals, and dietary fiber.
It is budget-friendly and suitable for batch cooking and your whole family can enjoy it.
You also can make it ahead and store it in the fridge or freezer for busy days. Great for meal prep!
Ingredients you'll need
The ingredients used in this dish are very simple and can be easily found at local grocery stores and supermarkets. Here are some useful tips you need to take note of before buying aubergine.
Aubergine: Authentic Indian brinjal bhaji recipe is made from long slender purple Asian eggplant. But here in the UK, I usually use oval dark-purple aubergines, which are commonly found in UK supermarkets. You can also try this recipe with Asian brinjal which can you buy at Indian groceries or any large aubergine.
Aubergine is spongy and meaty in texture and there are a few types of different aubergines (eggplants), such as Chinese eggplant, Indian brinjal, Japanese eggplant, Italian or English aubergine, etc. They can be cooked quickly and are suitable for roasts, stir-fries, or curries, and can be blended well with any flavor pairings.
Vegetables: You might also need a few handfuls of veggies like onions, fresh tomatoes, garlic, coriander, fresh chilies (optional).
Spices and Herbs: Mustard seeds and cumin seeds are game-changers that I highly recommend adding to this recipe. Whole mustard seeds have a mild nutty pungent aroma and cumin seeds have a warming sweet flavour which is perfectly great for this aubergine curry.
Dried chillies: Stir-frying in the medium-heat oil brings out the best result of dried chilies. Add the whole dried chilies or cut them into small pieces and remove the seeds. Use any mild or hot dried long red chilies or Kashmiri chili.
Cooking Oil: Use vegetable, neutral oil, or ghee. I do not recommend using olive oil or other cooking oils with strong scents.
How to make it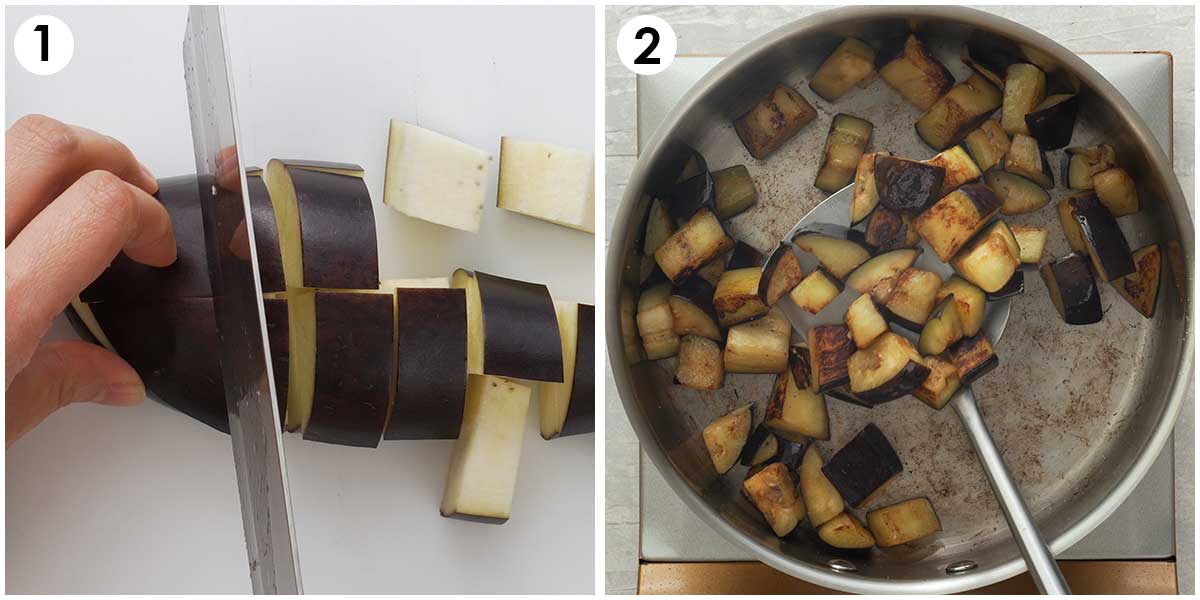 Cut the aubergine into medium dices and gather all ingredients.
Saute the aubergine dices with a drizzle of oil for a few minutes. Season with the pinch of salt. When the aubergines become brown, remove from pan and set aside.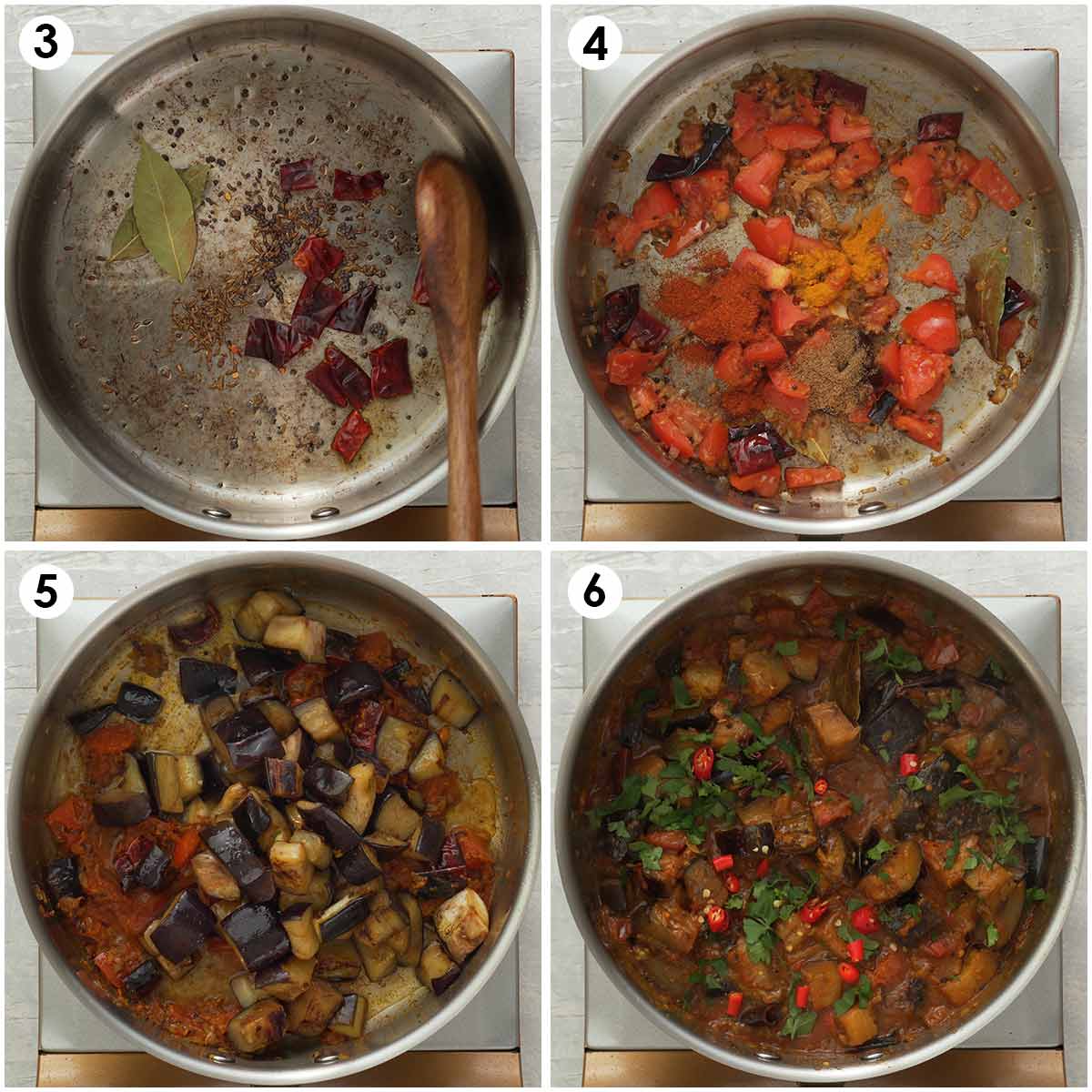 In the remaining pan, drizzle oil and heat into medium heat. Add mustard seeds, cumin seeds, and bay leaves. After the spices sizzled for a few seconds, add dried chilies and follow with chopped onions.
Once the onions are soft and translucent, add garlic stir for a few seconds. Then add chopped tomatoes and cook until soft. Season with turmeric, chili powder, coriander powder, and garam masala.
Then place the sauteed aubergine back in the pan and pour the water in and season with salt.
Stir occasionally, continue cooking until the aubergines become soft and the curry starts to get thick. ( Add a splash of warm water if needed. )
Turn off the heat, sprinkle chopped coriander and green chilies.
Cooking Tips
Mustard seeds, cumin seeds and other spices are used in varieties of Indian cuisines. If you are an Indian food lover, you can store these spices in your pantry for future use. Keep them in airtight jars or containers in a cool and dry place. They last for ages!
How to choose the best aubergines? Always check the texture and colour first. Choose the glossy purple skin ones, with a heavy firm textures and not the light, shrink ones.
Although I use aubergine as the main ingredient, you can combine it with other vegetables and make your own vegetable bhaji curry.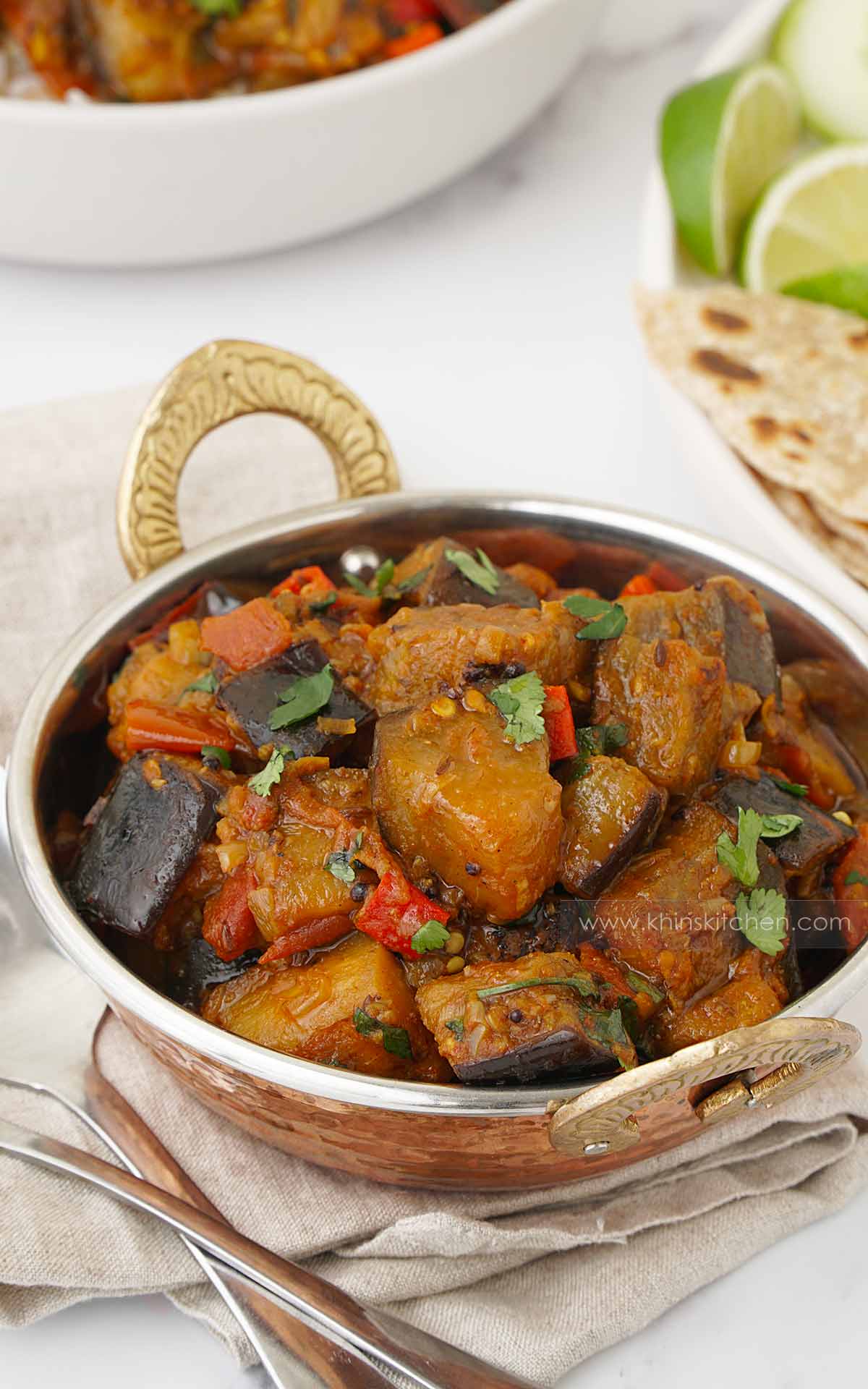 F A Q
Can you freeze brinjal bhaji?
Yes, you can store your leftovers in the fridge or freezer. The flavour may get more intense because the ingredients could mix and blend with each other more. If you have cooking for meal prep, do not add coriander and fresh chillies. Add reheating them up again on the stovetop or microwave, topped with freshly chopped coriander, and green chillies.

Can I add other protein or vegetables to this dish?
I love to cook simply with aubergine with tomatoes and onions. But you can be creative by adding potatoes, carrots, minced meat, eggs, or a choice of protein and meat.
What does ' Bhaji ' mean?
' Bhaji ' is an Indian word, that means ' fried vegetables ' in English. You can either deep fry vegetables and make them into fried bhaji or stir fry them with curry sauce and make bhaji curry.
More Delicious Indian Recipes
Stay updated on new recipes:
We are on social media Facebook, Instagram, YouTube ( New recipe video every week ), and Pinterest ( Pin your favourite recipes ). If you've tried this recipe, please share your comment or post on social media and tag me. I would love to see your creations and feedback.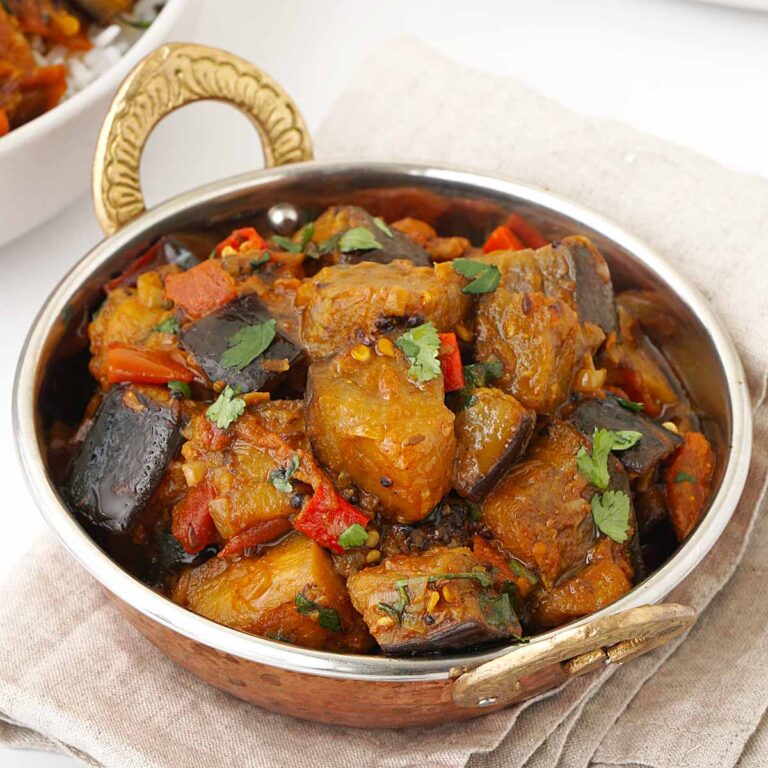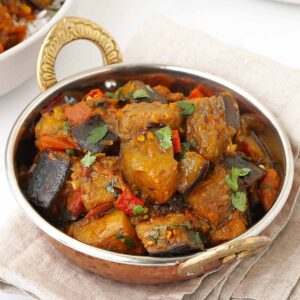 Brinjal Bhaji (Aubergine Bhaji)
Simple, quick brinjal bhaji recipe made with aubergines, tomatoes, onions, and a handful of aromatic Indian spices. Create this classic Indian vegetable side dish at home in 30 minutes. Serve with plain naan, chapati or fluffy basmati rice.
Print
Pin
Rate
Ingredients
2

Aubergine

2 large aubergine about 200 gram each ( Aubergine/Eggplant/Brinjal ), cut small dices

1

Onion

Shallot or Brown onion, finely chopped

2

Tomatoes

Large vine ripened tomatoes, cut small dices

3

cloves

Garlic

Finely chopped/grated

3-4

Dry chili

Dried red chilli, deseeded and cut small pieces

3-4

Fresh chilli

Fresh green/red chillies ( optional ) , cut thin slices

2-3

tbsp

Vegetable oil

Sunflower or neutral flavour oil

Handful

Coriander

Roughly chopped

1

tsp

Salt

Or salt to taste

1½

cup

Water

Add more water if needed
Spices
1

tsp

Turmeric

1

tsp

Chilli powder

1

tsp

Garam masala

½

tsp

Coriander powder

1

tsp

Cumin seeds

2

Bay leaves

1

tsp

Mustard seeds
Instructions
Heat the large pan into medium heat, drizzle 1 tbsp of oil. Add aubergine dices, season with ½ tsp of salt, and saute for 2-3 minutes until brown. Then remove from heat and set it aside.

In the remaining pan, drizzle 2 tbsp of oil and heat the oil into medium heat. Add mustard seeds, cumin seeds, and bay leaves. Once they start to sizzle and pop, add chopped onions. Saute the onions until translucent, then add the chopped garlic and cook until the onions and garlic are slightly brown.

Then add the tomatoes and cook until the tomatoes are soft and colour changed. Add turmeric, chilli powder, garam masala, and coriander powder and quickly stir for few seconds.

Next, add the fried aubergine dices back in the pan, and pour the water in. Add ½ tsp of salt.

Bring it to simmer and reduce the heat to low. Close the lid and cook for 15-20 minutes or until the aubergine is tender and the curry sauce is thick. Stir occasionally and add more water if needed. Make a taste test and adjust salt to taste.

Once the aubergine is cooked, turn off the heat. Sprinkle freshly chopped coriander and chillies. Transfer to serving plate and serve with naan or rice.
Notes
Aubergine - Aubergine is also called brinjal or eggplant in some countries. Use any large aubergine cut into small dice. Do not use Thai small green/white aubergine or pea aubergine for this recipe. 
Tips - Buy aubergine that has glossy smooth skin, and has weight. The texture should be firm but not too hard.
Dried chillies - You can skip dried chillies or they can be substituted with half a teaspoon of crushed chillies flakes. 
Vegetable variation - You can also add other vegetables like, potatoes or carrots, cut into small cubes. 
Black mustard seeds - black mustard seed has an aromatic, pungent, nutty flavour. Ideal to add to this recipe. You can find mustard seeds in local Indian grocery stores or supermarket Asian aisles. 
Can you reheat it? This recipe freezes and reheat well. Once it cools down, store in an airtight container and keep in fridge or freezer for later use. Reheat over stovetop or microwave until piping hot. Add 2-3 tbsp of water if needed. Add freshly chopped coriander and green chilies on top before serving. 
You can serve up to 4 people as a side dish or pair it with basmati rice or naan and serve it as a main dish. 
Nutritional facts is calculated without naan or rice and can be varied by a number of factors. 
Nutrition
Calories:
109
kcal
|
Carbohydrates:
24
g
|
Protein:
4
g
|
Fat:
1
g
|
Saturated Fat:
1
g
|
Polyunsaturated Fat:
1
g
|
Monounsaturated Fat:
1
g
|
Sodium:
608
mg
|
Potassium:
875
mg
|
Fiber:
10
g
|
Sugar:
13
g
|
Vitamin A:
1144
IU
|
Vitamin C:
65
mg
|
Calcium:
56
mg
|
Iron:
2
mg