Easy Homemade Chicken Hyderabadi recipe made with marinated tender chicken and slow-cooked with yogurt, fried onions, and aromatic classic Indian spices. Learn how to make traditional South Indian restaurant-style chicken curry at home from scratch with our simple cooking tips!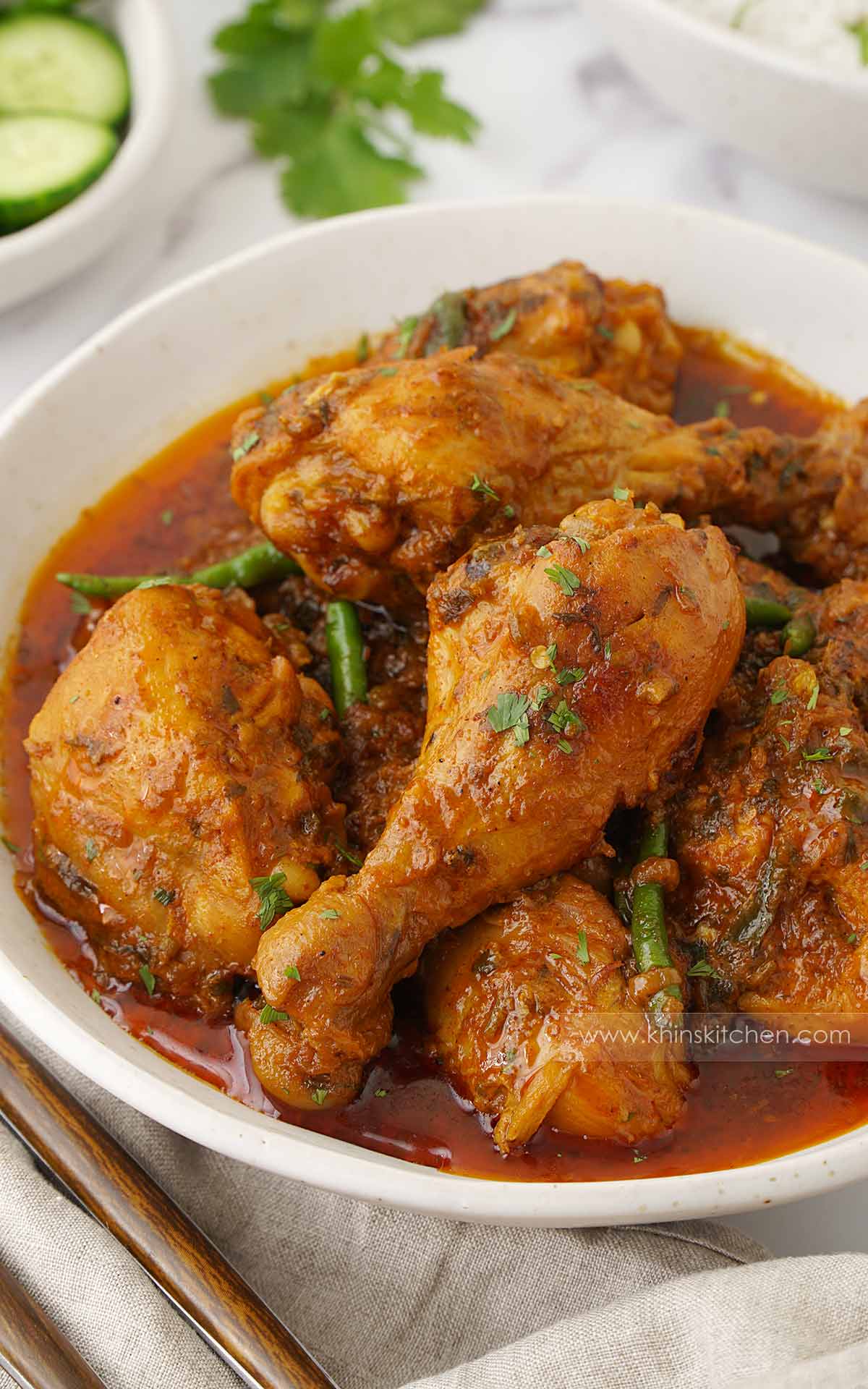 If you are a devoted Indian chicken curry fan like us, you will definitely like our family favourite Homemade Chicken Tikka Masala and Murgh Masala ( Chicken Masala ) recipes.
What is Chicken Hyderabadi?
This dish is also called Dum Ka Hyderabadi chicken curry, and the meaning is Hyderabad style slow-cooked chicken curry.
Indian main dishes are served with a creamy and spicy curry base. But there are many different cooking methods to cook the curry sauce. Popular Indian chicken dishes such as, Madras, Jalfrezi, Karahi, and Korma recipes are very similar in general.
But Hyderabadi curry has a different cooking process. Traditionally bone-in chicken pieces are marinated with yoghurt and spices. Then slow-cooked in a curry with low-medium fire in a tight-lidded pot together with fried onions and coriander. If you cook this curry together with rice, it will be a Hyderabadi Chicken Biryani.
Why you would love this curry dish?
You can prepare an authentic Indian restaurant-style dinner at home just by using simple ingredients.
It has a rich aroma and flavorful taste and will make everyone at the table happy.
Can be prepared in large batches and kept in the fridge for busy days.
Fewer chores for cleaning since the whole cooking process can be done in one pot.
Delicious classic chicken curry suitable to serve at family dinners or any special occasion.
What do we need?
The following is a quick guide on the ingredients. The detailed measurements will be on the recipe card at the bottom of the page.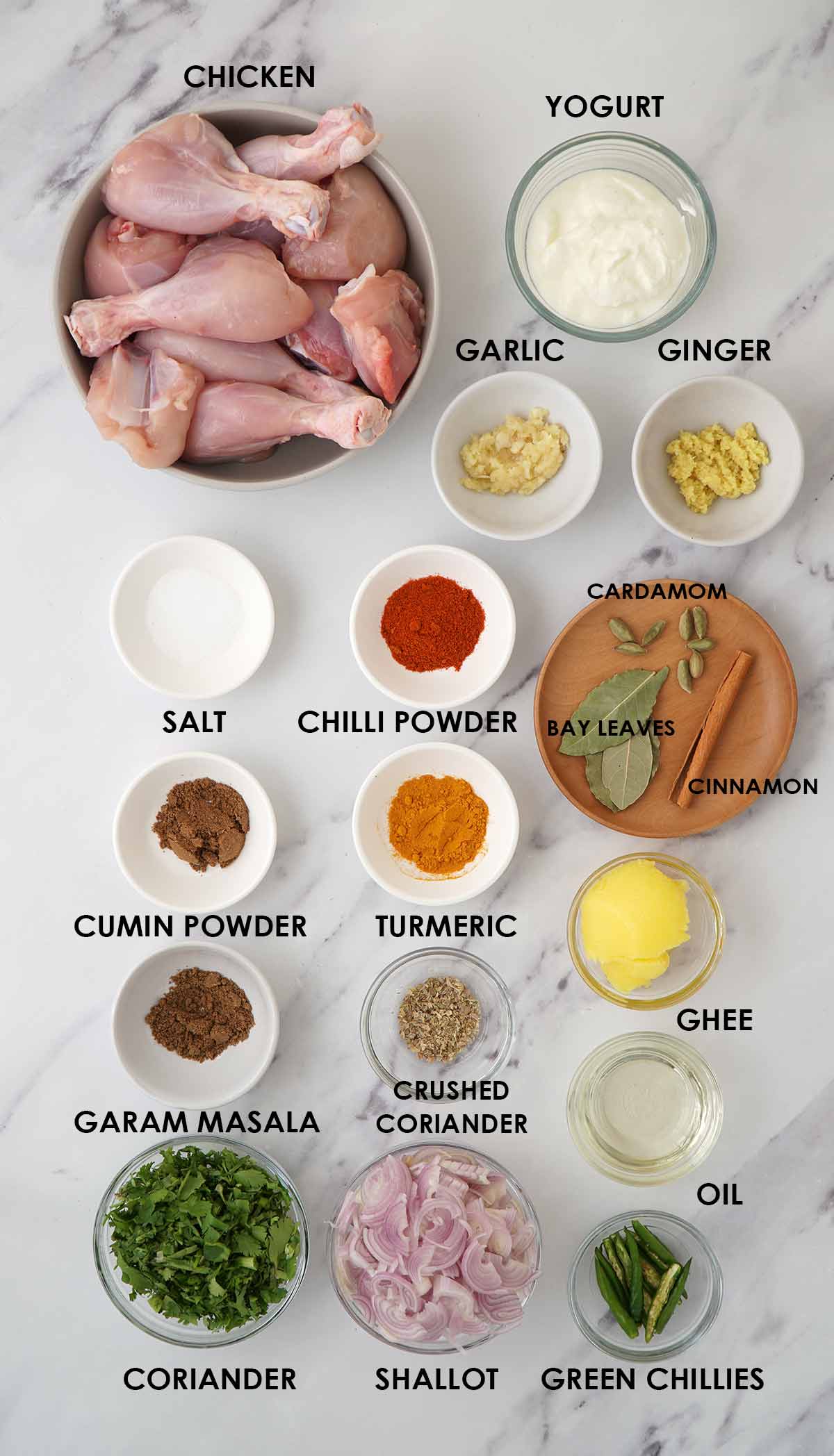 Why bone-in chicken? I usually use boneless chicken thigh or breast, but for this recipe, it is better to use chicken cut with bones. The bones in the meat bring more flavour and that's how the authentic Hyderabadi chicken should exactly taste like.
If you wish you make it with boneless chicken pieces, feel free to use it. You might want to reduce the cooking time as the boneless chicken needs lesser time to be cooked through.
Curry paste from scratch: Curry paste plays the main role in this recipe. It is a mixture of fried onions, freshly chopped coriander, green chili, and both ground and whole spices such as chilli powder, garam masala, turmeric, cinnamon, bay leaves, cardamom pods, etc.
How to make it?
Marinating the chicken
Start with marinating the chicken in yogurt, ginger garlic paste, and spices. Combine everything well and let it marinate for at least 30 minutes.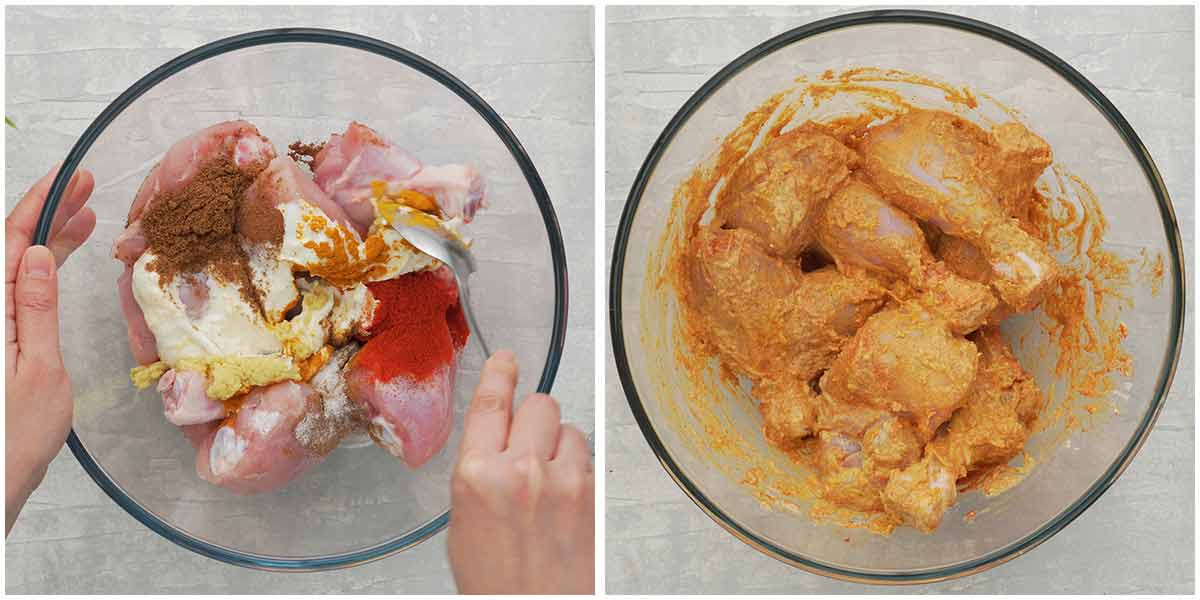 Frying the onions
Fry the evenly sliced onions with melted ghee and oil, until brown with medium heat.
Turn off the heat and remove the pan immediately from the heat to prevent the onions from turning black. Strain the fried onions with a mesh strainer and set it aside.
Frying the curry is a major part of the cooking process because golden brown crispy onions play the important role in making the curry thick and flavorful. Can use store-bought fried onions too if you want to save time. But freshly fried onions will give better texture and flavor to the curry.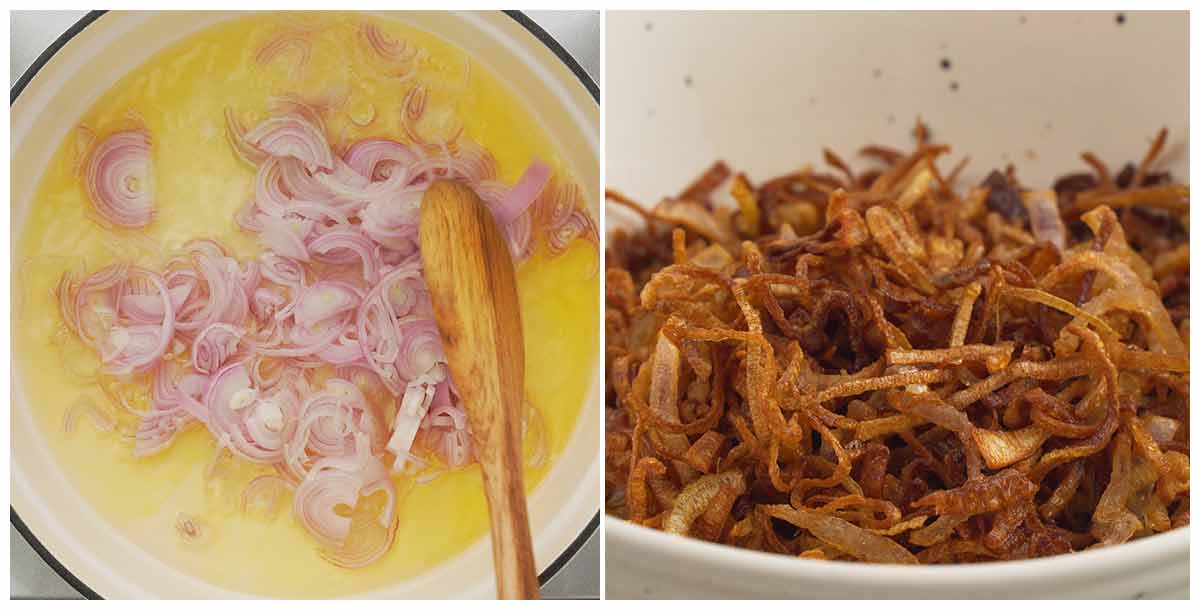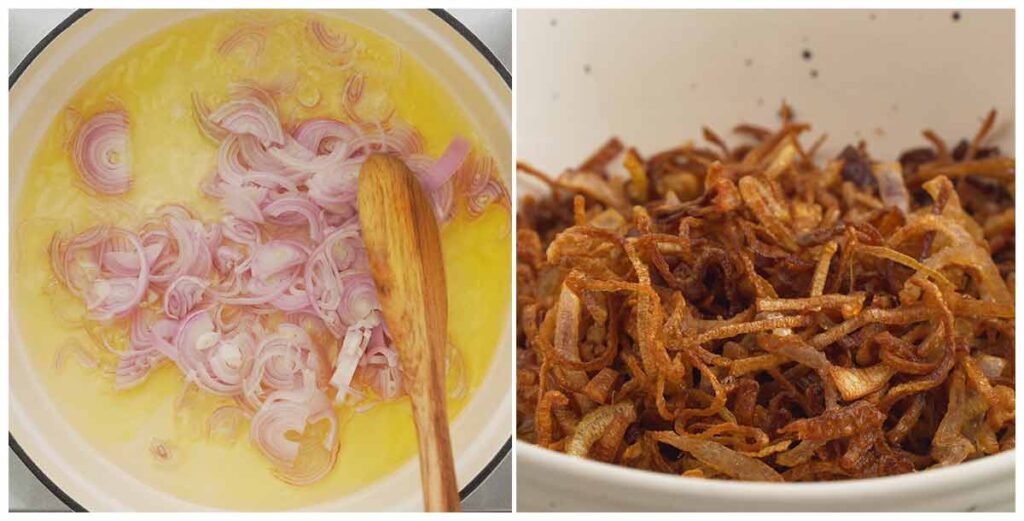 Making curry
In the remaining pan, sautee bay leaves, cardamom, cinnamon, and crushed coriander seeds for a few seconds.

Then add the marinated chicken pieces and cook with medium-high heat for 2-3 minutes. Pour the warm water in, follow with chilli powder, chopped coriander, fried onions, and sprinkle salt to taste.
Reduce the heat close the lid and simmer for 20-30 minutes or until the chicken is tender.
Sprinkle a teaspoon of garam masala and stir in green chillies. Turn off the heat.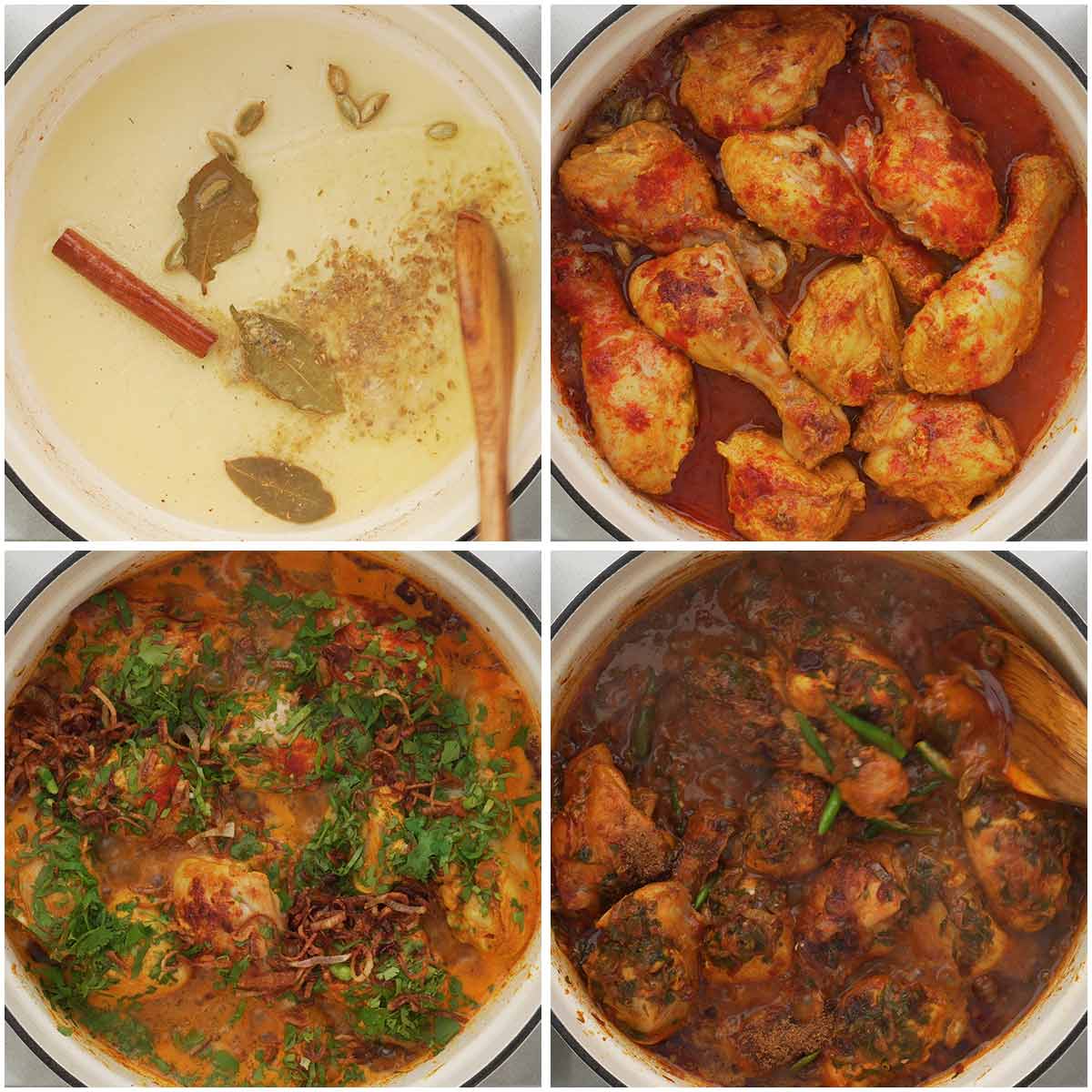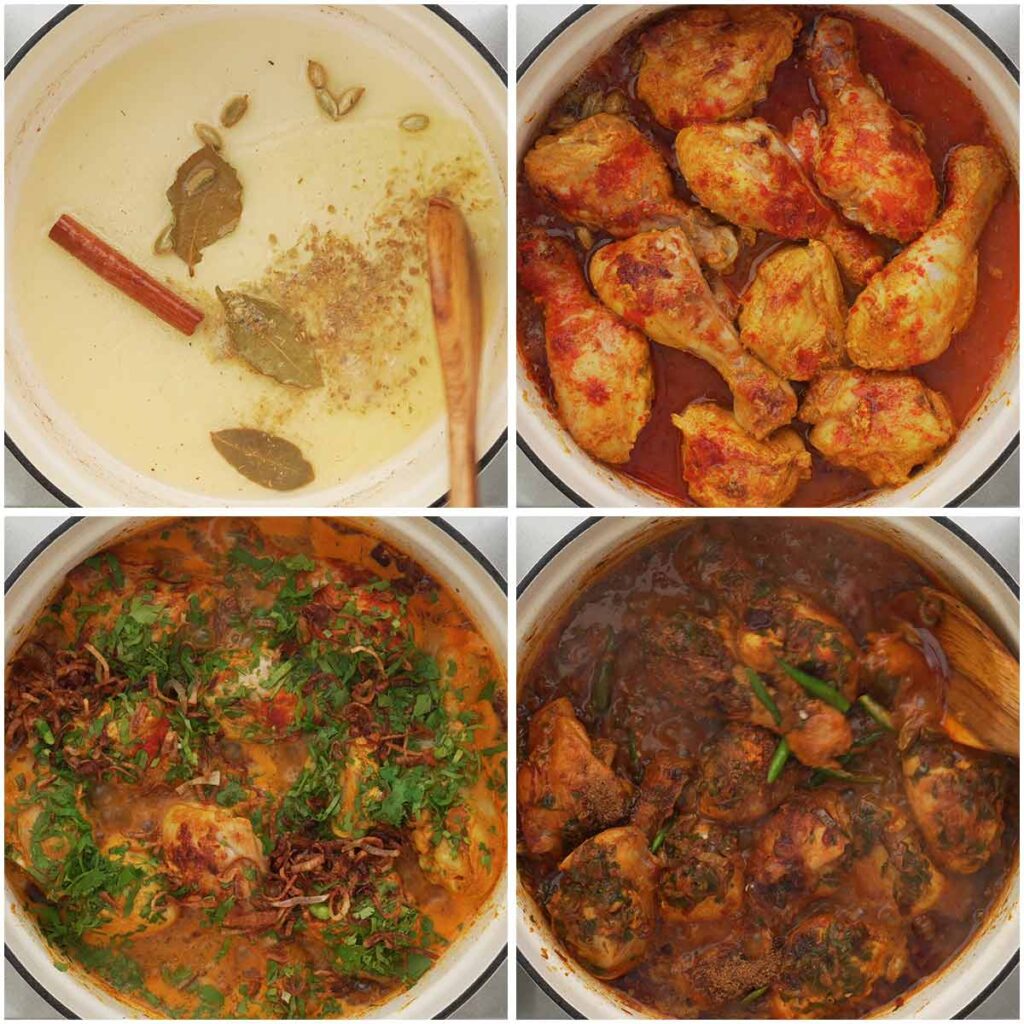 Top Tips
While frying the onions, don't wait until the onions turn dark brown because it will shortly turn into black color and the curry will taste bitter.
Normally, it's better to marinate the chicken an hour or two before cooking. But if you are busy, you can do this marinating process one day ahead and keep it in the fridge overnight.
If you use frozen chicken make sure the chicken is fully defrosted before cooking.
For less hassle, you can fry onions in the same pot which is going to be used for cooking the chicken curry.
Adding Garam masala and ground spices should be enough for the flavor if you cannot find other whole spices easily.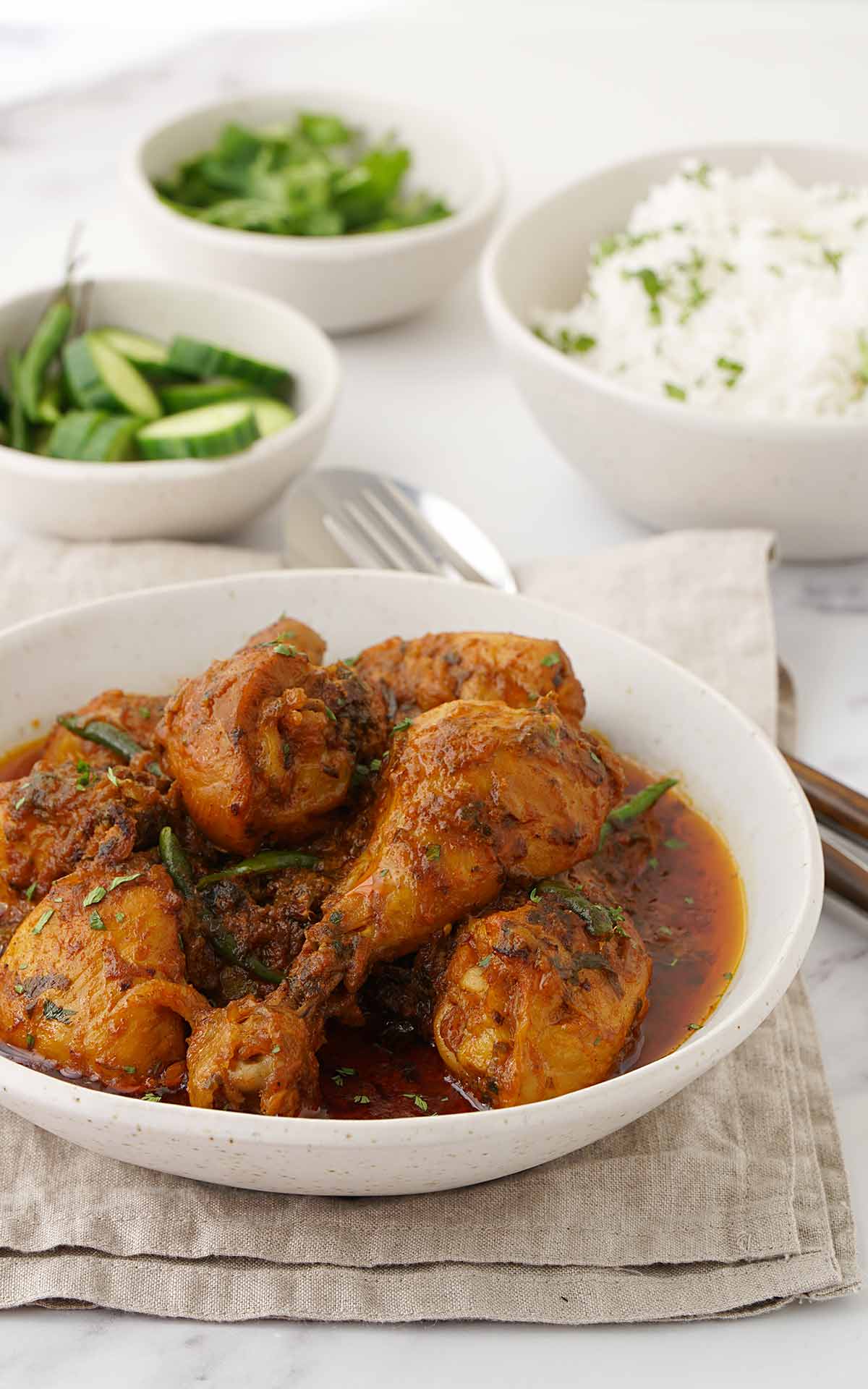 Frequently Asked Questions
Is Chicken Hyderabadi spicy?
This dish is moderate hot with chilli powder and fresh green chillies inside. You can adjust the spice level by reducing the chilli amount or substitute with mild paprika to your taste.
How to serve this dish?
Hyderabadi curry perfectly goes well with plain fluffy basmati rice, vegetable pulao rice, coconut rice, plain naan, chapati or flat bread. Pair it with Indian onion and mint salad for a fresh taste bud.
Can this curry be stored for long-term and reheated?
This curry freeze and reheat well. If you have any leftovers, you can store it in an air-tight container in the fridge or freezer. It usually last in the fridge for 2-3 days and in the freezer for a couple of months. Simply reheat it over the stovetop or in the microwave until piping hot. Add a tablespoon of water if the curry sauce is too thick.
More Delicious Curry Recipes
Stay updated on new recipes:
We are on social media Facebook, Instagram, YouTube ( New recipe video every week ), and Pinterest ( Pin your favourite recipes ). If you've tried this recipe, please share your comment or post on social media and tag me. I would love to see your creations and feedback.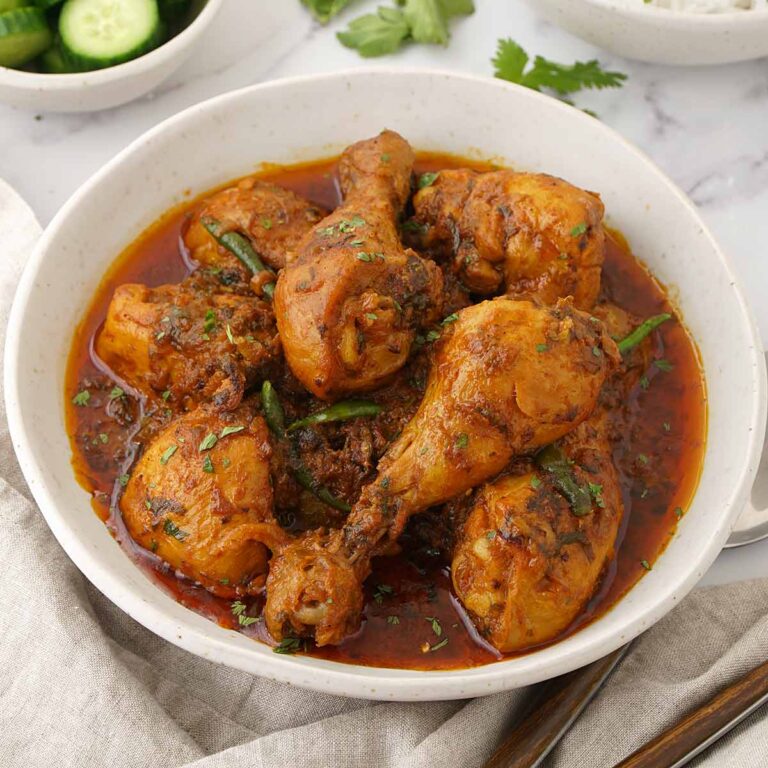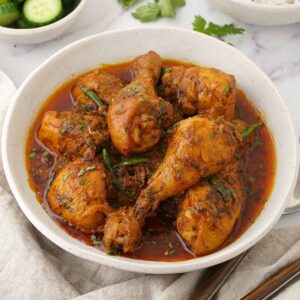 Hyderabadi Chicken
South Indian Homestyle Chicken Hyderabadi masala curry recipe made with bone-in chicken pieces, and aromatic curry sauce. Made it with simple ingredients and cupboard-friendly spices.
Aromatic rich chicken curry can be served at special occasions. Perfect with fluffy basmati rice or plain naan.
Print
Pin
Rate
Ingredients
Chicken and marinade
700

gram

Chicken

About 25oz, Bone-in chicken pieces

1

tsp

Turmeric

1

tsp

Chilli powder

Or paprika powder

1

tsp

Salt

1

tsp

Garam masala

1

tbsp

Ginger paste

1

tbsp

Garlic paste

½

tsp

Cumin powder

Or Jeera/zeera powder

3

tbsp

Plain yoghurt

Plain or natural yoghurt
For Curry
4-5

Shallot onions

cut thin slices

2

Bay leaf

4-5

pods

Cardamom

Green cardamom

1

stick

Cinnamon

½

tsp

Coriander seeds

Crushed or add in whole ( optional )

1

tsp

Chilli powder

Or Paprika powder

1

tsp

Garam masala

3

tbsp

Vegetable oil

or neutral flavour oil

2

tbsp

Ghee

1½

cup

Warm water

About 350 ml , Add more if needed

handful

Coriander

Finely chopped

½

tsp

Salt

Or salt to taste

5-6

Green chilli

Cut thin slices or halves
Instructions
Add the chicken pieces and marinade ingredients in a mixing bowl. Combine well and marinate for at least 30 minutes to 1 hour.

Heat the heavy-bottom pot/pan into medium heat, add ghee and oil. Add the onion slices and fry for 2-3 minutes or until brown. Strain the fried onions from pan and set it aside.

In the remaining oil, add bay leaves, cardamom, cinnamon, coriander seeds and sautee for a few seconds.

Next, add the marinated chicken pieces and cook with medium-high heat for 2-3 minutes. Then pour the warm water in, add chilli powder, chopped coriander, fried onions, and salt to taste.

Reduce the heat the low-medium heat, close the lid and cook for 20-30 minutes or until the chicken is tender. Stir occasionally, make a taste test and add more salt and water if needed.

Finish with a teaspoon of garam masala and green chillies. Stir it well, turn off the heat and transfer a serving plate. Garnish with coriander and green chillies.
Notes
Chicken - Use bone-in chicken thigh, drumsticks, or a choice of chicken pieces.
Ginger & garlic paste - Add freshly grated ginger paste and garlic paste for the best curry taste.
Frying onions - Recommend using shallot onions as they are less watery and have less frying time. Do not fry the onions with high heat as they can burn easily. Fry with medium heat and stir continuously to be cooked evenly.  
Can I use readymade fried onions? - Do not recommend readymade fried onions in the curry, as they can be gooey and stick at the bottom of the pan. 
Ghee - Has a nutty rich flavour which is ideal for this Hyderabadi homestyle curry. Instead of ghee, you can add unsalted butter. 
Chilli powder - You can adjust the spiciness by adding mild or hot chilli powder to your preference. Instead of chilli powder, you can add paprika powder. 
Whole spices - Cinnamon, cardamom, and bay leaves bring extra flavour to the curry sauce. Highly recommend adding these spices. 
Cooking Time - Can be slightly varied according to the chicken cut you use. Cook with low-medium heat for 30-45 mins until the chicken is tender. 
Nutritional facts are calculated approximately per serving without rice or naan and it can be varied by the number of different factors.
Nutrition
Calories:
325
kcal
|
Carbohydrates:
15
g
|
Protein:
18
g
|
Fat:
21
g
|
Saturated Fat:
9
g
|
Polyunsaturated Fat:
3
g
|
Monounsaturated Fat:
8
g
|
Trans Fat:
1
g
|
Cholesterol:
84
mg
|
Sodium:
966
mg
|
Potassium:
408
mg
|
Fiber:
4
g
|
Sugar:
6
g
|
Vitamin A:
437
IU
|
Vitamin C:
11
mg
|
Calcium:
82
mg
|
Iron:
2
mg