Easy duck chow mein recipe with crispy duck, egg noodles, and delicious stir fry sauce. Learn how to make Chinese roast duck noodles at your home with our simple steps.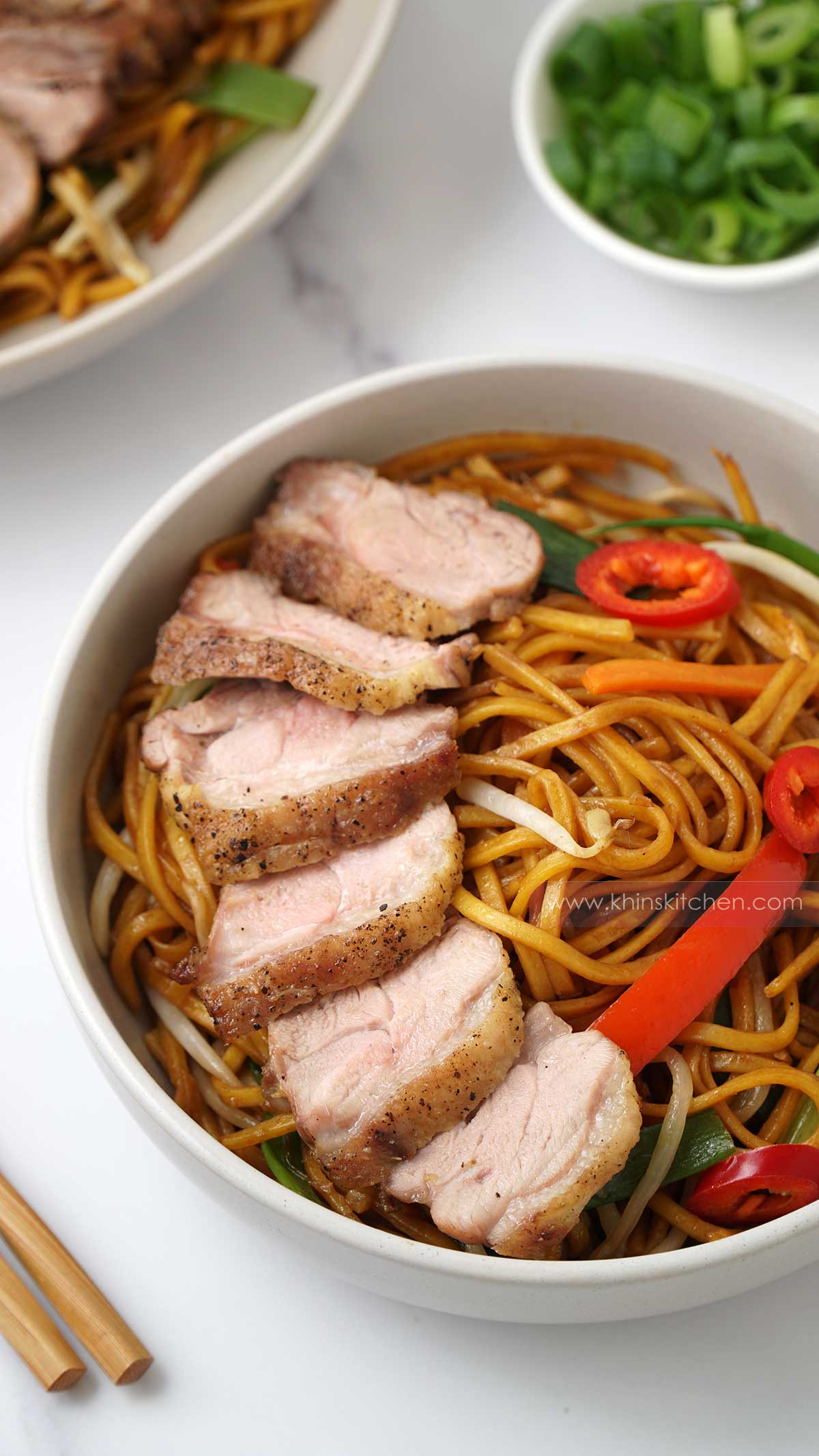 Jump to:
What is duck chow mein?
Chinese restaurant-style duck chow mein recipes are usually made with Peking style roasted duck slices and stir fry chow mein noodles with vegetables. In some restaurants, it's also written as shredded duck chow mein in their menu.
You can find this dish in most Chinese restaurants and takeaways in the UK. One the most delicious stir fry noodles that we love to order again and again. I tried and tested it at our home and it tastes way better than duck chow mein takeaway! This recipe is a perfect combination of moist and juicy duck meat, crispy skin and delicious noodles.
Why you will love this recipe
Made with simple pantry-friendly seasoning ingredients and sauces.
No special equipments ( woks ) or cooking skill needed.
You get loads of duck when you make at home, without spending much.
Roasting duck seems lots of work but trust me it worths the effort! And you will be master in no time!
When you make at home you can customize the vegetables and stir fry sauce according to your preference.
Your dinner guests will definitely be impressed with your chow mein cooking skills!
If you love Chinese takeaway recipes, you will definitely love our Special chow mein with beef and Chicken chow mein recipes.
Ingredients we need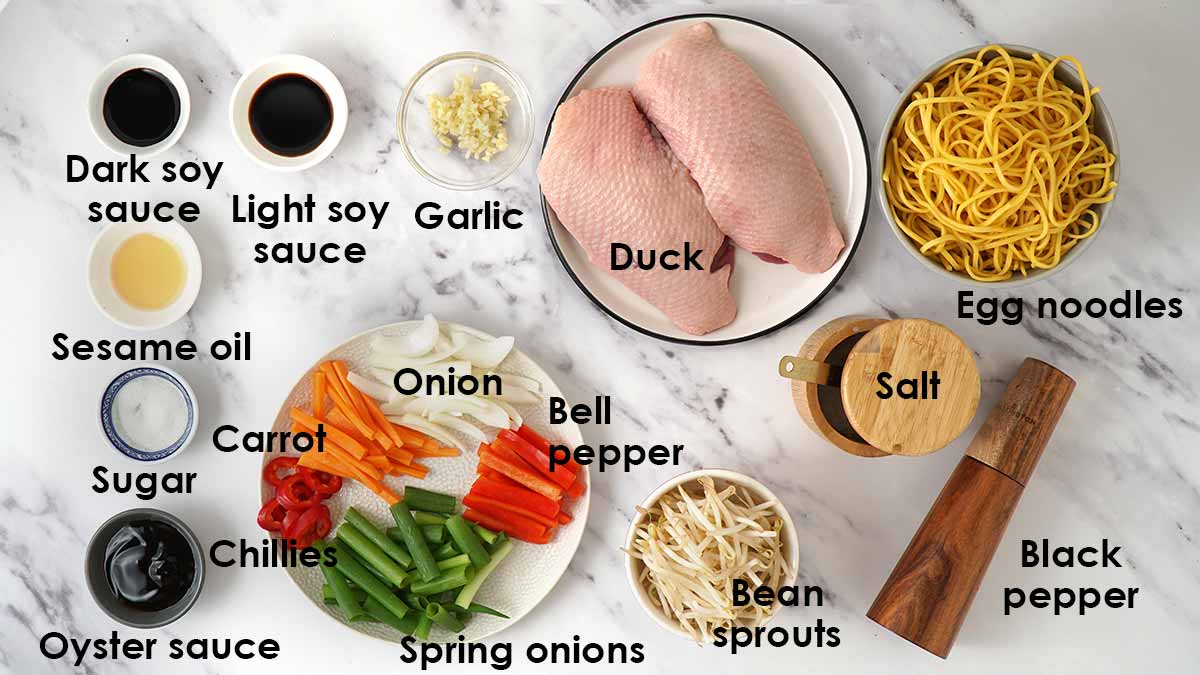 Duck - I used boneless duck thigh in this recipe. You can use skin-on duck breast, chicken or turkey, according to your preference.
Vegetables - I add carrot, spring onions, onion, bell pepper, bean sprout, and chilli pepper. Feel free to add any of your favourite stir fry vegetables. Mangetout, baby corn, cabbage, mushroom, tender stem broccoli, pak choi, or bok choy works well too.
Chow mein sauce - Mix oyster sauce, light soy sauce, dark soy sauce, sugar, and sesame oil in a small bowl to create a quick homemade chow mein sauce.
How to make duck stir fry noodles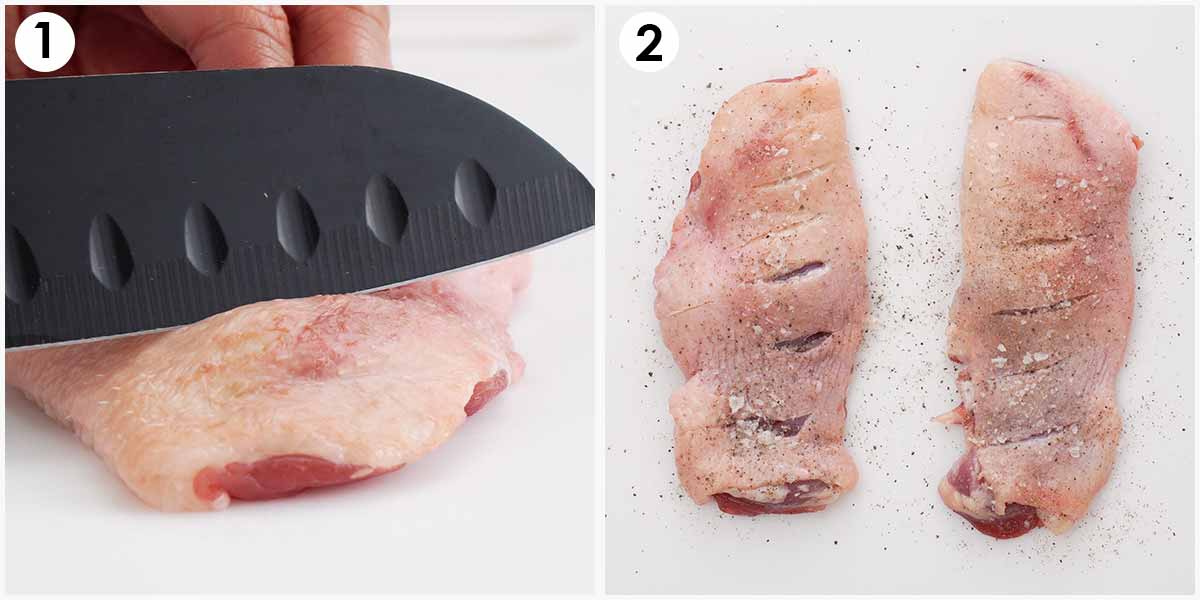 1. Pat dry the duck with a paper towel and lightly score the skin side.
2. Simply season with salt and fresh ground black pepper on both sides.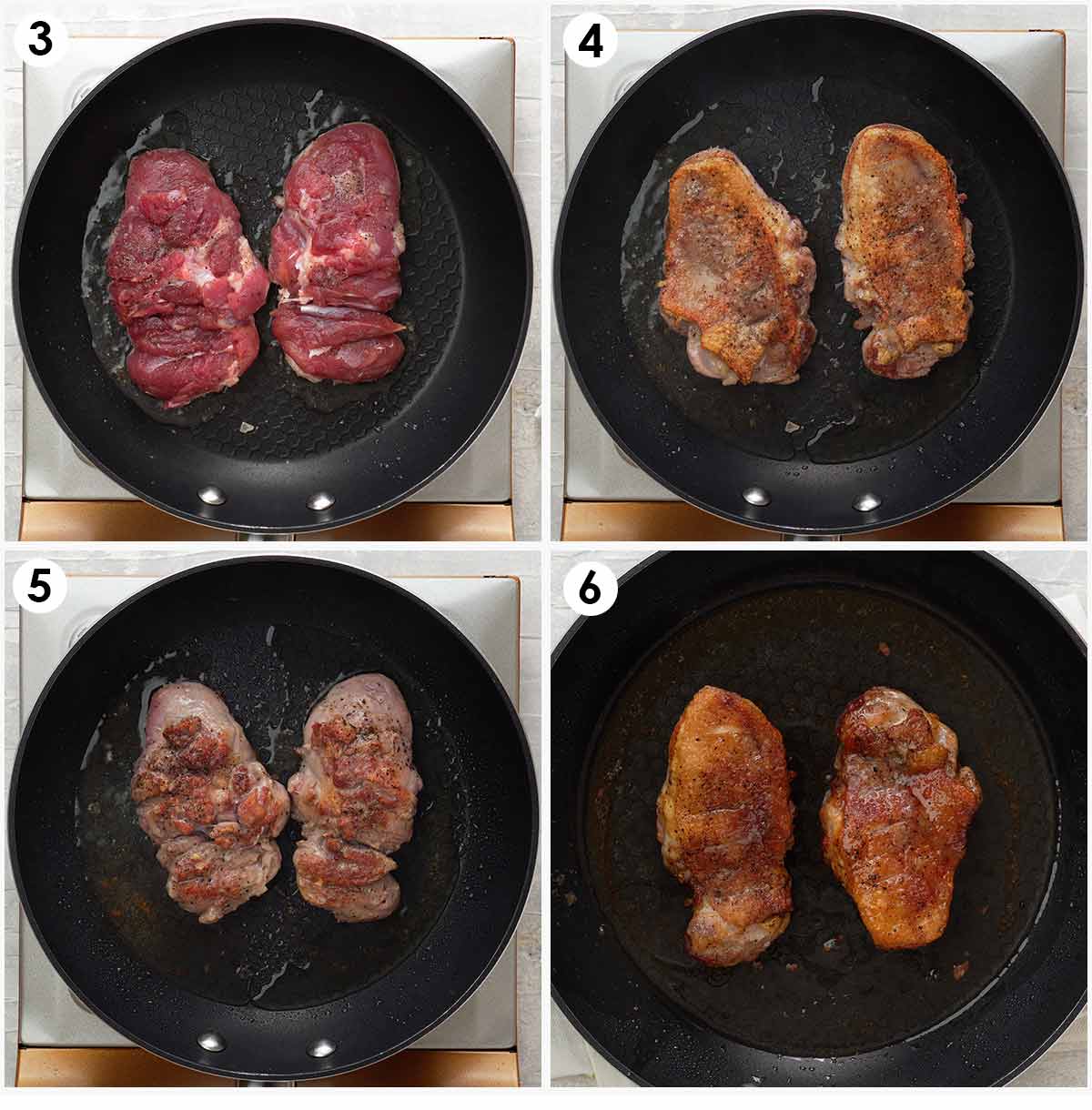 3. Place the duck skin-side down on the cold pan. Heat the pan into low-medium heat and render out the skin fat for 6-8 minutes until the skin turns brown.
4. Turn the side and sear it for 1 minute.
5. Flip the duck skin-side down and bake in the pre-heated oven 200°C. Roast for 6-8 minutes or roast another 2 more minutes if you prefer it well done. Flip halfway through.
6. Remove from oven and let it sit aside for 6-8 minutes, then slice up into thin or medium-thick slices according to your preference.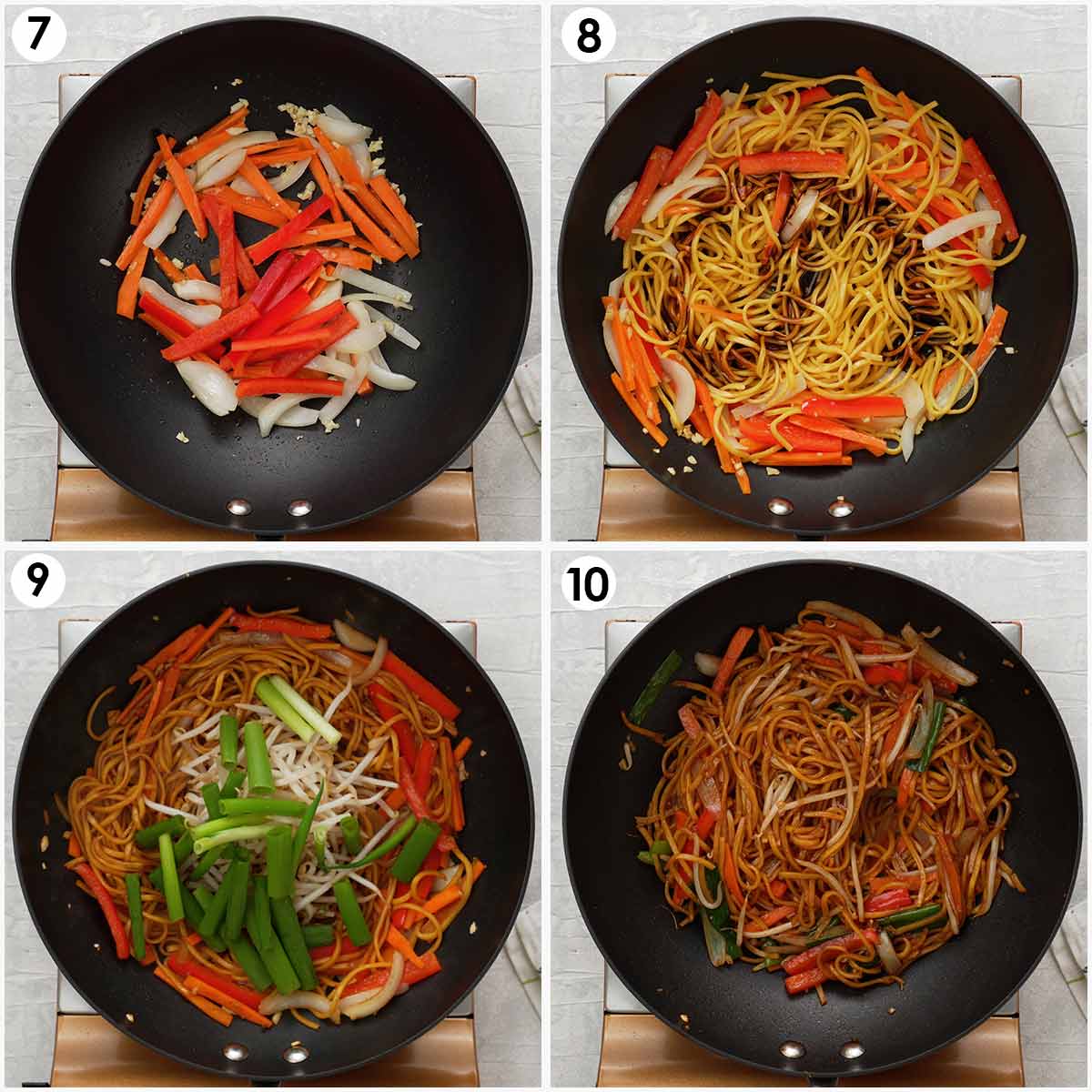 7. Meanwhile, the duck is in the oven, you can stir fry the noodles. Heat to wok to medium-high heat, add the finely chopped garlic and stir fry for few seconds, then follow with the onion, and stir fry few seconds. Next, add the carrot cook for 1 minute and follow with the bell pepper.
8. Now place the egg noodles in the wok and pour the stir fry sauce in. Toss well and cook for 1-2 minutes.
9. Stir in spring onions, and bean sprouts.
10. Combine everything evenly and cook for another 1-2 minutes over medium-high heat.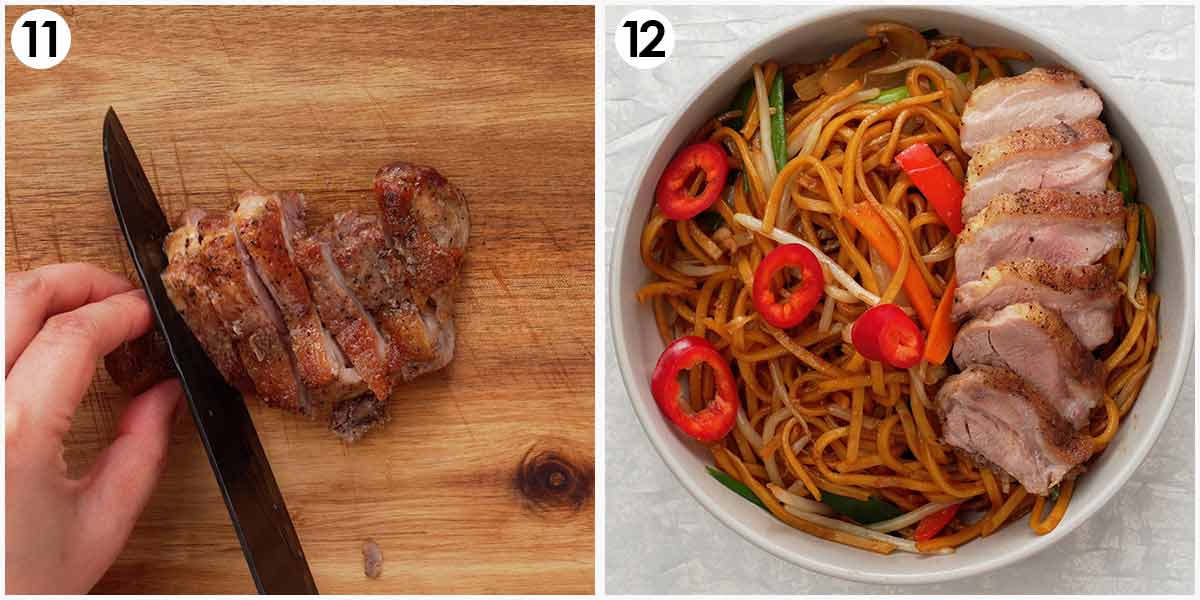 11. Slice the roasted duck with a sharp knife.
12. Place the chow mein in a bowl, topped with roast duck slices and fresh chilli slices or chopped spring onions.
Cooking tips
If you have any leftover roasted duck, peking duck, or rotisserie chicken, you can add in your stir fry noodles.
Do not overcook the duck as it is very easy get tough and rubbery.
Important to start with cold pan and cook with low-medium heat to render out the duck fat.
Rest the duck before slicing up to balance the temparature and keeps the meat moist and juicy.
The renderd duck fat can be stored in air tight jars and store it for later use in other recipes. You can add in our roasted potatoes, wedges or fries.
Frequently asked questions
Can you reheat crispy duck noodles?
You can reheat in microwave or stovetop until piping hot but the skin texture won't be crispy. It tastes best to serve while freshly cooked.
How many calories are in duck chow mein?
This recipe is 738kcal per person approximately. The nutritional facts may be varied by a number of factors depend on the different ingredients used.
Can I use stir fry duck instead of roasted duck?
Yes, you can use skinless duck breast or thigh cut into thin slices, season with salt and pepper. Stir fry it for 4-5 minutes or until cooked through. Remove from pan and set aside. After cooking the vegetables and noodles, place the duck slices back in and combine well with everything.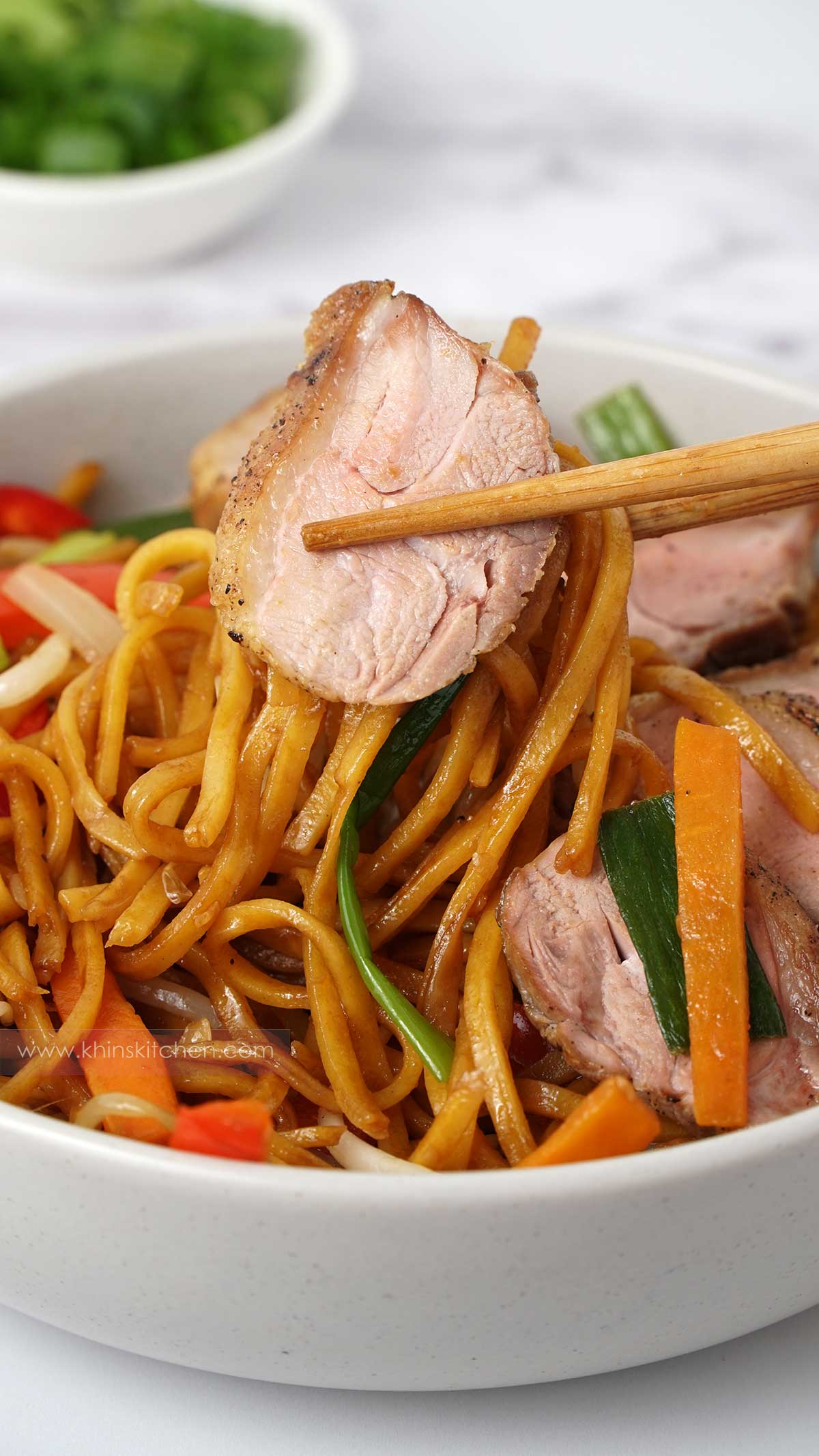 What to serve with this dish?
You can simply serve with chilli oil on the side or pair it with Corn Soup, Spring Rolls, Beef with oyster, or Black Bean Beef and make it a wholesome banquet dinner.
More Delicious Chinese Recipes
Stay updated on new recipes:
We are on social media Facebook, Instagram, YouTube ( New recipe video every week ), and Pinterest ( Pin your favourite recipes ). If you've tried this recipe, please share your comment or post on social media and tag me. I would love to see your creations and feedback.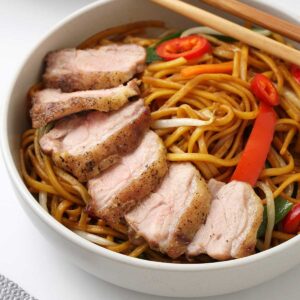 Duck Chow Mein
Easy duck noodle recipe with crispy roasted duck, egg noodles, vegetables and delicious chow mein sauce. Learn how to make at home with our simple steps. Tastier and healthier than regular takeaway!
Print
Pin
Rate
Ingredients
2

Duck thigh/breast

Around 150g/5.3oz each breast ( Boneless, skin-on )

300

g

Egg noodles

Fresh egg noodles or boiled/cooked

2

cloves

Garlic

Finely chopped

½

Onion

Cut thin slices

1

Carrot

Julienne

½

Bell pepper

Julienne

4

Spring onions

Cut 2" pieces

100

g

Bean sprouts

2

tbsp

Oil

Vegetable or neutral flavour oil
Duck seasonings
1

tsp

Sea salt

Or fine salt

½

tsp

Black pepper

Freshly ground
Stir Fry Sauce
4

tbsp

Oyster sauce

2

tbsp

Light soy sauce

2

tsp

Dark soy sauce

1

tsp

Sesame oil

1

tbsp

Sugar
Garnish
Fresh chilli slices

optional

Chopped spring onions

optional
Instructions
How to prepare duck
Pat dry the duck breast/thigh with paper towel. Slightly score the skin and season with sea salt and pepper on both sides.

Place the duck skin-side down on the cold pan. Heat the pan into medium-low heat and render out the duck fat for 6-8 minutes until crispy golden.

Flip and seal the meat sides for about 1 minute. Then bake in the pre-heated oven 200°C ( 400°F/ Gas 6 ), skin side down for 6-8 minutes. Flip halfway through. ( If you use an oven safe pan you can add in oven straight away. If you are not, place the duck in the baking tray. )

Remove from pan and let it sit aside for 8-10 minutes. Then slice into thin slices or according to your preference.
Stir fry noodles
Meanwhile the duck in is the oven, you can prepare the stir fry noodles. Mix all the stir fry sauce ingredients in a small bowl and prepare the vegetables.

Heat the wok over medium-high heat, drizzle two tablespoon of oil. Saute the garlic for few seconds and follow with the onion slices.

Next add the carrot and cook for 1 min, then add the bell pepper slices stir for another few seconds.

Place the noodles and pour the sauce mixture in. Toss well to combine and cook for 1-2 minutes.

Now sprinkle in the spring onion and bean sprouts. Combine everything evenly and continure stir fry for 1-2 minutes.
To serve
Place the noodles in the serving plate and topped with roasted duck slices and garnish with chopped chilli slices or spring onions.

Serve immediately while hot.
Notes
Duck - Use boneless skin on duck breast or thigh for moist and tender results. 
Egg Noodles - You can use fresh or dry egg noodles, straight to wok noodles, rice noodles, or udon noodles for this recipe. If you use dried noodles, boil the noodles per packet instructions, then rinse in cold water and drizzle a bit of sesame oil or vegetable oil and toss the noodles. It will prevent the noodles from sticking to each other when you make stir fry.
Vegetables - Onion, bean sprouts, and spring onions are ideal for chow mein, but you can customize with your favourite vegetables. 
Chow Mein Sauce - Make this simple sauce mixture at home, instead of using the ready-made store-bought chow mein sauce. You can make extra sauce, place it in a jar and keep it in the fridge for later use for stir fry dishes.  You will find it so much better and tastier. 
Sides and dippings - Drizzle a bit of crispy chilli oil if you like to bring some heat to the dish.  
Nutritional facts are calculated approximately, it can be varied by a number of factors. 
Nutrition
Calories:
738
kcal
|
Carbohydrates:
87
g
|
Protein:
48
g
|
Fat:
22
g
|
Saturated Fat:
4
g
|
Polyunsaturated Fat:
6
g
|
Monounsaturated Fat:
10
g
|
Trans Fat:
1
g
|
Cholesterol:
200
mg
|
Sodium:
2616
mg
|
Potassium:
922
mg
|
Fiber:
6
g
|
Sugar:
10
g
|
Vitamin A:
4327
IU
|
Vitamin C:
45
mg
|
Calcium:
82
mg
|
Iron:
10
mg