This easy Thai red prawn curry is a fantastic combination of king prawns, vegetables, coconut milk, and creamy curry sauce. With this fast and simple recipe, you can make restaurant-quality delicious prawn red curry in 30 minutes without much hassle!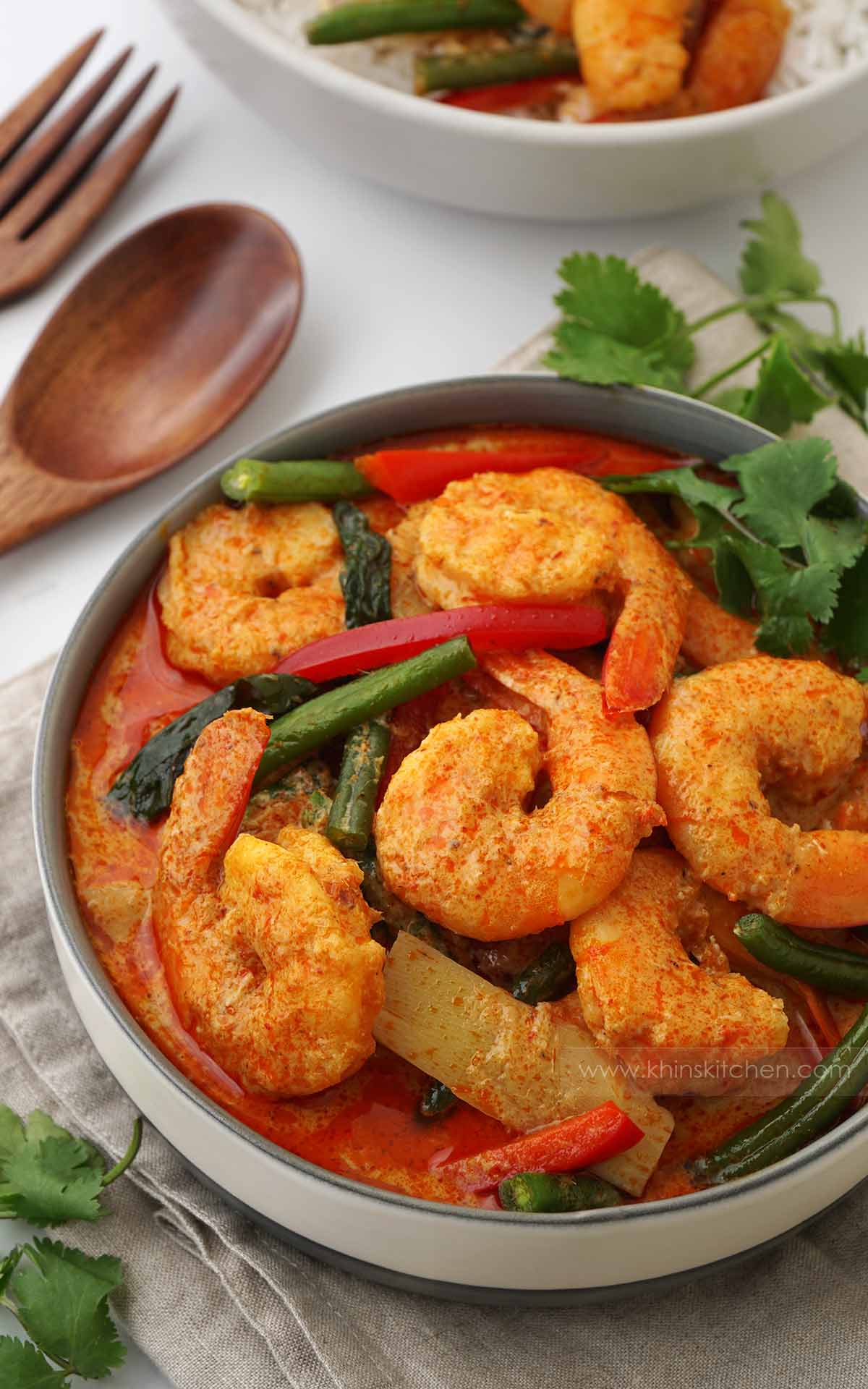 If you are a devoted Thai food lover like me, I'm pretty sure that you don't want to miss the recipes of Thai-style Chicken Satay Skewers with Peanut Sauce, and Easy Thai Green Curry.
Jump to:
Authentic Thai red curry is also known as ''Kaeng Phet''. It is a very famous and well-known traditional cuisine in Thailand. Prawn Thai red curry is also one of the most popular trademarks of Thailand's food and culture.
This dish has become famous all over the world. Whenever we visit Thai restaurants, it is one of the first recommended cuisines on menus. They are also popular at food courts, food festivals, and takeaways too.
Traditionally, Thai prawn red curry is cooked with Thai river prawns, homemade red curry paste, and fresh coconut milk. Perfectly balanced spicy, sweet, salty, umami flavours packed together in one dish. Thinking about this dish even makes my mouth water!
Why you would love this dish
Simple and easy - As this recipe is made with ready-made curry paste, you don't need plenty of time to make the red curry paste from scratch.
Perfect for batch cooking - Perfect as a main dish for dinner and occasions and you can prep everything one day ahead.
Fridge and freezer friendly - You can keep the leftovers in the freezer or fridge. Reheat it with a splash of water and enjoy.
A versatile dish - Do not need to add the same products that I've used. Prawns and vegetables in this recipe can be simply swapped with your choice of protein and vegetables.
The ingredients contained in this cuisine are not very difficult to find at local grocery stores or supermarkets. Following is a quick guide and detailed measurements are available on the recipe card at the bottom of the page.
What do we need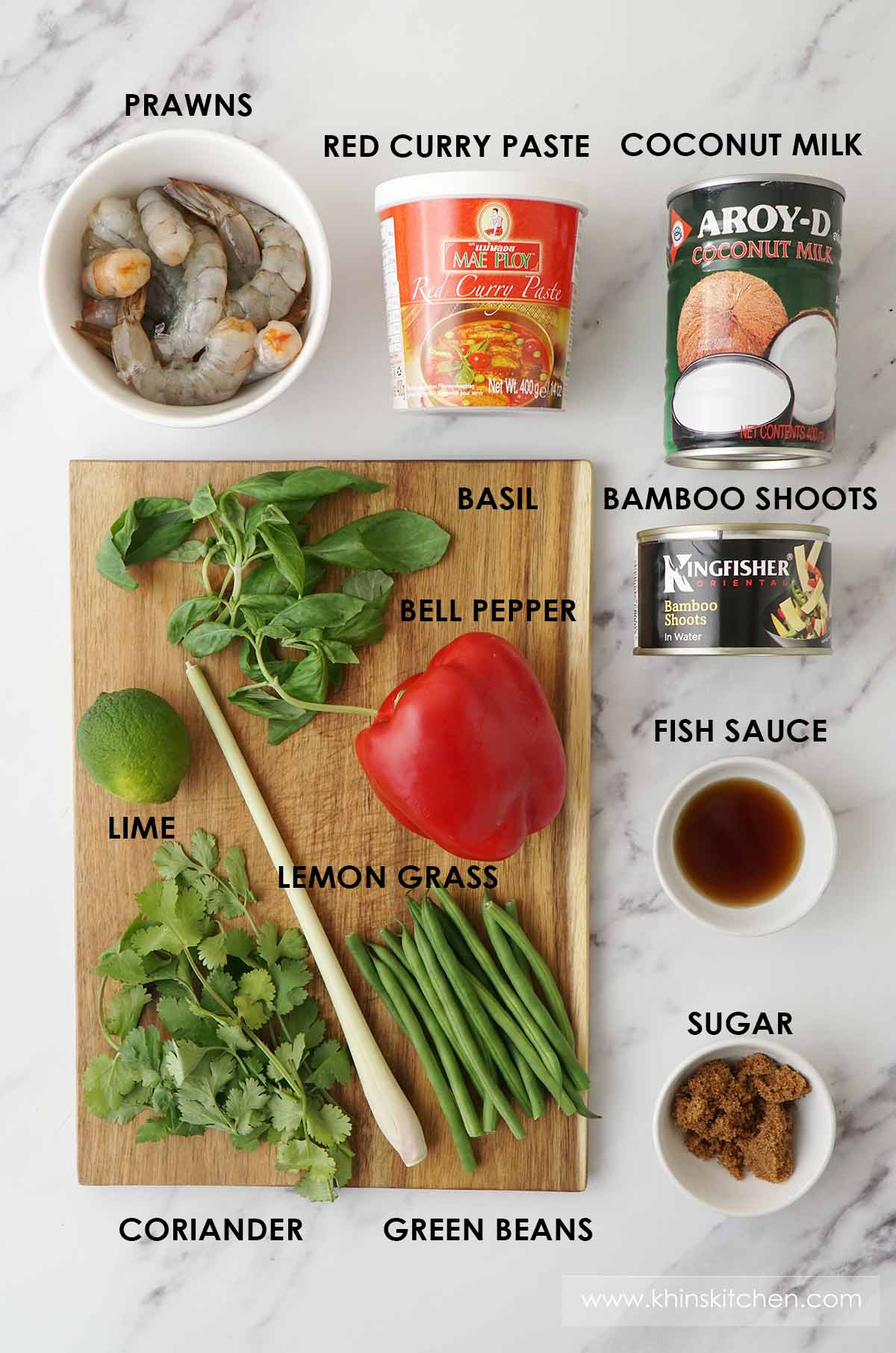 Prawns: I love to use jumbo king prawns as the size of prawns can be slightly shrunk when they are cooked. Feel free to use any prawns or shrimp of your choice.
Tiger prawns, white prawns, shrimps, clams, crabs, fish fillets, or even taste great with mini prawns. Seafood cooked in coconut milk and Thai red curry sauce is also known as Choo Chee Curry. You can also be creative by cooking with lobster and making it a posh prawn red curry.
Red Curry Paste: I use store-bought Mae Ploy Thai red curry paste in this recipe. This red curry paste is available at most supermarkets or grocery stores at a reasonable price in the UK. It's flavourful and tastes great too. You don't need loads of extra fresh herbs and spices if you use add this curry paste.
You can also try out with any of your favourite red curry paste brands. If you cannot find it at your local stores, it's also available on Amazon online.
Vegetables: Bell pepper, onions, mangetout, green beans, bamboo shoot, and baby corn are ideal to add. Feel free to customize the vegetables to your preference.
Spices and Herbs: All the essential herbs and spices are included in the red curry paste, we do not need loads of fresh herbs. I am adding lemongrass and basil for an extra fresh aroma.
Add a dash of kaffir lime zest, lime zest, or kaffir lime leaves for a fresh zesty flavour.
Thai Basil: Fresh Thai basil has a unique fragrance and is ideal for this red curry and most Thai cuisines. But it's barely available in the UK supermarkets and groceries. So we usually add Italian basil or regular English basil as a substitute. The fragrant might not be strong like Thai basil but you will get a somewhat basil aroma.
Coconut milk: Coconut milk is one of the major ingredients in this dish. I usually use Thai coconut milk brands like Chaokoh or Aroy-D Thai coconut milk which are so rich and creamy. I stock up on these coconut milk tins whenever I found at our local stores. If you cannot find these brands, you don't need to worry. Use any full fat or full cream coconut milk.
Fish sauce: Highly recommend adding fish sauce to season the dish. The fish sauce has a distinct salty, sweet, earthy taste and it brings more umami sweetness to the dish. And I promise you won't get any fishy smell. The smell of tablespoon two of fish sauce completely disappears in the creamy coconut curry. You will only get the delicious taste of it.
If you are not a fish sauce fan, simply season the dish with salt to taste.
How to make it
First, cook the red curry paste with half of the coconut milk with low-medium heat. Stir well and cook until the coconut milk reduce.
Once the curry paste is thick and coconut oil starts to separate, add the rest of the coconut milk and water.
Bring it to simmer and add lemongrass. Season with sugar and fish sauce.
Next add the prawns, together with hard vegetables, and cook with medium heat for 3-4 minutes or until cooked through.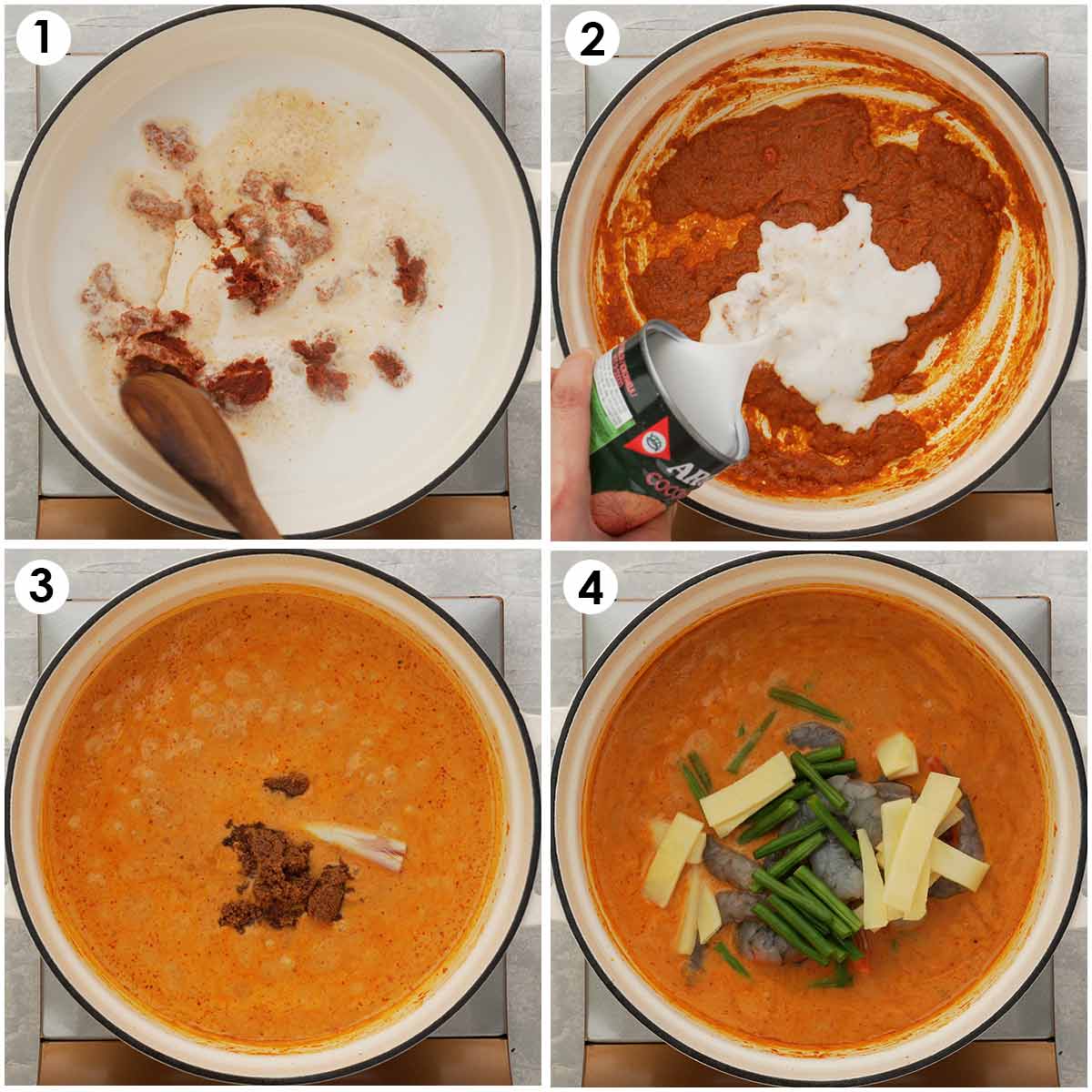 Add the lime zest, bell pepper and stir for a few seconds.

Turn off the heat and stir in basil leaves. Make a taste test and adjust the fish sauce and sugar.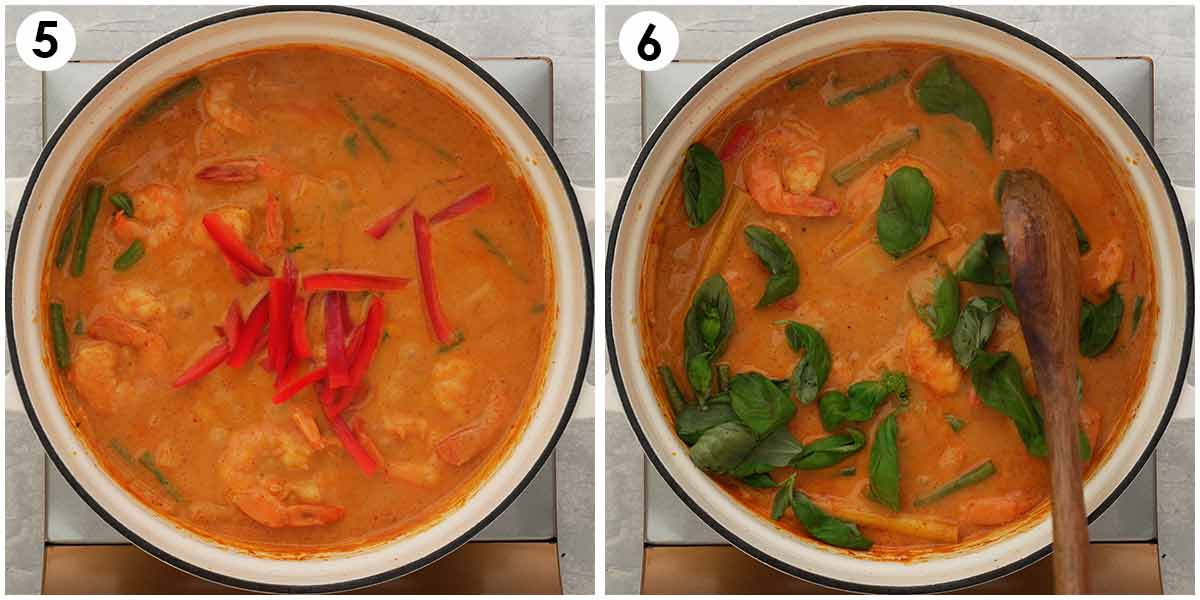 Top Tips
Make sure to make a taste test before you season the dish with fish sauce or salt because some of the red curry pastes already contain salt. So you don't need to add extra salt or fish sauce.
If you keep a small bottle of fish sauce at home, you can use it in many famous Southeast Asian dishes.
Adjust the curry sauce consistency. If you like the thick curry sauce reduce the water and if you love the runny soup-like texture, add more water.
For a more intense rich flavour, add low-sodium chicken stock or broth instead of water.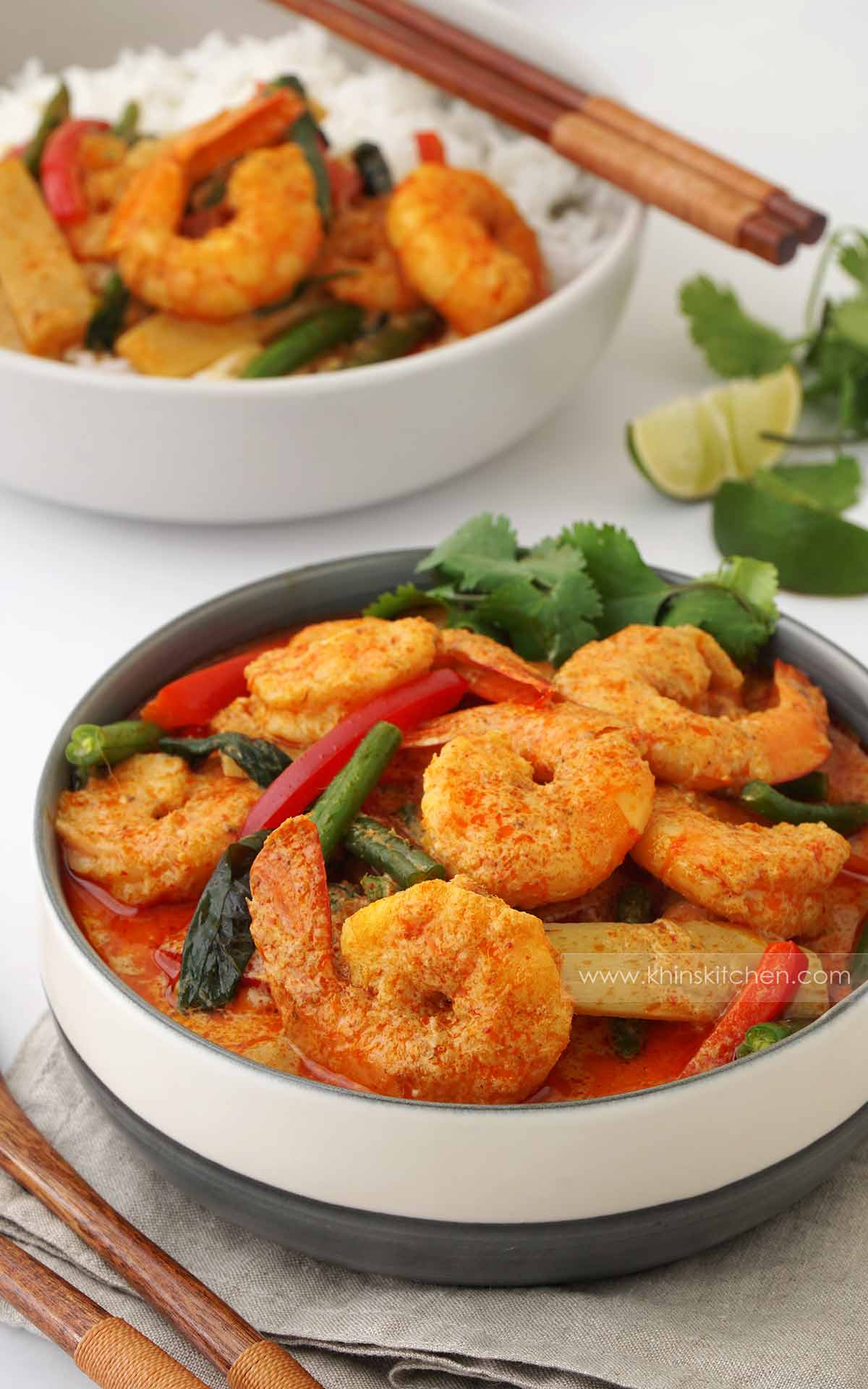 Frequently Asked Questions
Is Thai prawn red curry so spicy?
It's moderate hot and spicy because of its colour alone, but actually, it's not as spicy as many people might think. It looks very red because of the curry paste's colour, not because of the taste. Thai red curry is less spicy than green curry and green curry paste is made from fresh hot green chillies.
What is red curry paste made of?
Thai red curry paste usually consists of dried chillies, garlic, shallot, lemongrass, galangal, coriander root, kaffir lime zest, and shrimp paste. All of these ingredients are pounded into a paste with a mortar pestle. Every family and restaurant has its own recipes and it can be always customized to your own taste if you make it from scratch.
What to serve with red Thai curry prawns?
A bowl of steamed jasmine rice is a perfect match, but it also tastes great with rice noodles, basmati rice, or coconut rice.
More delicious Thai recipes
If you love this Thai prawn curry recipe, you will definitely like our family's favourite classic Thai noodle, stir fry, curry and appetizer recipes.
Stay updated on new recipes:
We are on social media Facebook, Instagram, YouTube ( New recipe video every week ), and Pinterest ( Pin your favourite recipes ). If you've tried this recipe, please share your comment or post on social media and tag me. I would love to see your creations and feedback.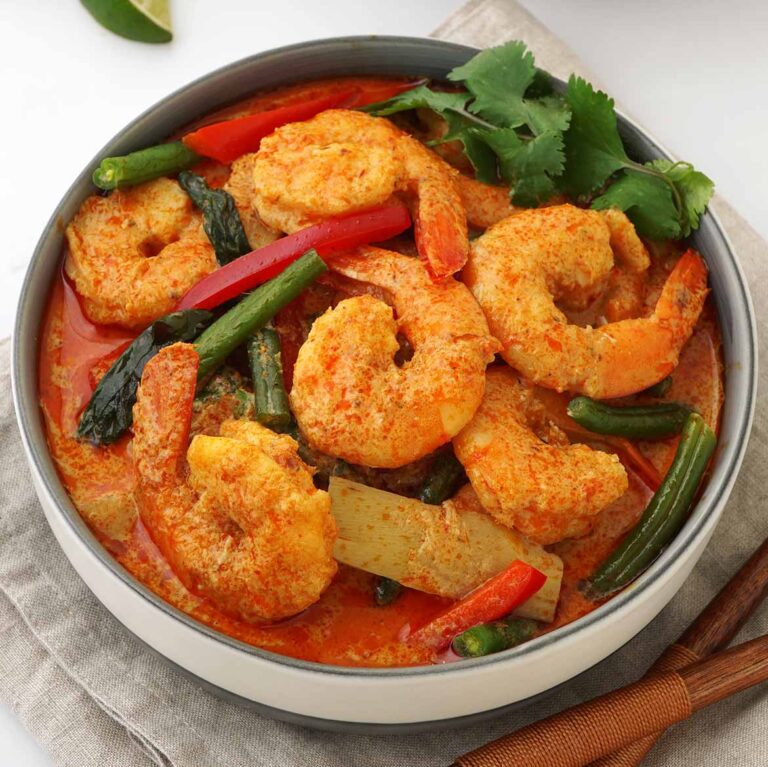 Thai Red Prawn Curry
This quick and easy Thai red curry prawn recipe made with king prawns, vegetables, coconut milk, and red curry paste. So creamy, aromatic and packed with authentic flavour. Pair it with a bowl of jasmine rice to complement the dish. If you are Thai food lover you will like this recipe with no doubt!
Print
Pin
Rate
Ingredients
400

gram

Prawns

About 14oz prawns/shrimp, peeled & deveined.

400

ml

Coconut milk

Divided in 200ml, see details in note

3-4

tbsp

Red curry paste

See details in note

250

ml

Water

About 1 cup, add more or less to desire consistency

2

tbsp

Fish sauce

Or salt to taste

1

stalk

Lemongrass

Bruised

2

tbsp

Brown sugar

Or palm sugar or white sugar

½

Bell pepper

Red bell pepper, cut thin slices

100

gram

Bamboo shoots

Canned/tinned bamboo shoots (3.5oz)

Handful

Basil leaves

Thai / Italian or Regular Basil

100

gram

Green beans

Or long beans (3.5oz)

1

tsp

Lime zest

Or 3 kaffier lime leaf
Instructions
Heat the pan into low-medium heat. Add 200ml coconut milk ( half tin ) and bring it to simmer. Next add the red curry paste, stir it well and cook for 2-3 minutes until the coconut milk reduce and the oil starts to separate.

Then pour in the rest of coconut milk ( 200 ml ) and water. Bring it to simmer and add the lemongrass. Season with fish sauce and brown sugar.

Add prawns, bamboo shoots, and green beans. Cook for another 2-3 minutes with medium heat, until prawns are cooked through.

Next add the lime zest, bell peppers and stir for few seconds.

Turn off the heat and stir in, basil leaves. Combine everything evenly and transfer to serving plate.

Garnish with fresh coriander and lime wedges. Serve with plain jasmine rice or coconut rice.
Notes
Prawns - You can also use king prawns, tiger prawns, shrimp, white prawns, fish fillets, or any seafood of your choice.
Can I use frozen prawns? - Yes, defrost the prawns overnight in the fridge section before cooking. 
Can I use cooked prawns? Yes, you can use cooked prawns but highly recommend using uncooked prawns. Cooked prawns won't be as sweet as fresh/uncooked prawns. 
How to store leftover Thai red curry paste? Store it in a clean air-tight jar or container in the fridge. It usually lasts in the fridge for a month. Always scoop the curry paste with a dry clean spoon.
How to make it extra spicy? Add Thai bird eye chillies or long red chilli peppers mild or hot to your taste. 
What to serve with this dish? Serve with Thai jasmine rice, basmati rice, coconut rice, or thin rice noodles. 
Adjust the water - If you like the thick curry sauce, you can reduce the water. If you like thin sauce, add more water to your preference. 
Nutrition
Calories:
337
kcal
|
Carbohydrates:
14
g
|
Protein:
24
g
|
Fat:
23
g
|
Saturated Fat:
19
g
|
Polyunsaturated Fat:
1
g
|
Monounsaturated Fat:
1
g
|
Trans Fat:
1
g
|
Cholesterol:
161
mg
|
Sodium:
847
mg
|
Potassium:
623
mg
|
Fiber:
2
g
|
Sugar:
9
g
|
Vitamin A:
2415
IU
|
Vitamin C:
24
mg
|
Calcium:
121
mg
|
Iron:
5
mg