This simple garlic prawn pasta recipe is what exactly you need for your relaxing weekend night's dinner at home. Ready in 20 minutes and it is so good that you will end up slurping down everything in a minute!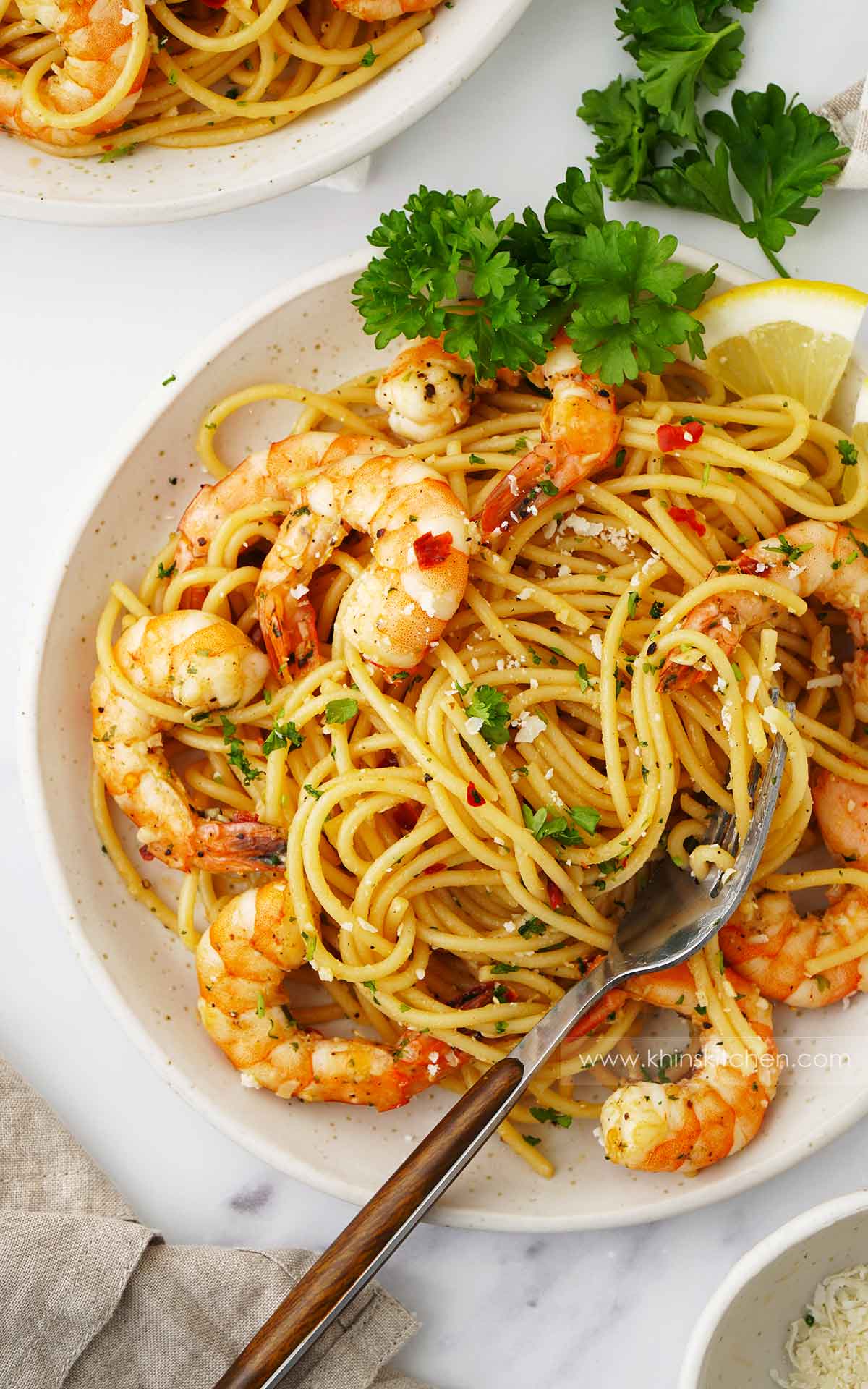 If you are finding simple and quick pasta dinner ideas, I'm sure you will also enjoy trying out my other Prawn and Chorizo Pasta and Spicy Chicken Pasta recipes.
Jump to:
I have tried and tested different versions of garlic prawn spaghetti at home. The recipe I'm making today is garlic prawn pasta healthy version without heavy cream. One of the quickest and simplest pasta recipe you can whip up everything in one pan.
It is a quick and delicious dish that doesn't need a lot of ingredients. All you need to prepare is basic ingredients such as pasta, garlic, butter, chili flakes and prawns (shrimp), etc. Grab a glass of your favorite drink together with this pasta to enjoy the night in a more luxurious sense. Make sure you make extra portions because this garlic butter prawn pasta is super addictive.
Why you would love this prawn spaghetti
You can make an Italian restaurant-style pasta at home in under 20 minutes.
The ingredients are also simple and easy to get your local supermarket and grocery stores.
Perfect recipe to cook for romantic date night dinner or any occasions.
It is also loved by kids and thus you can cook this one for everyone at home.
Healthy and budget-friendly pasta dish and is also tastier than regular restaurant prawn spaghetti.
Ingredients you will need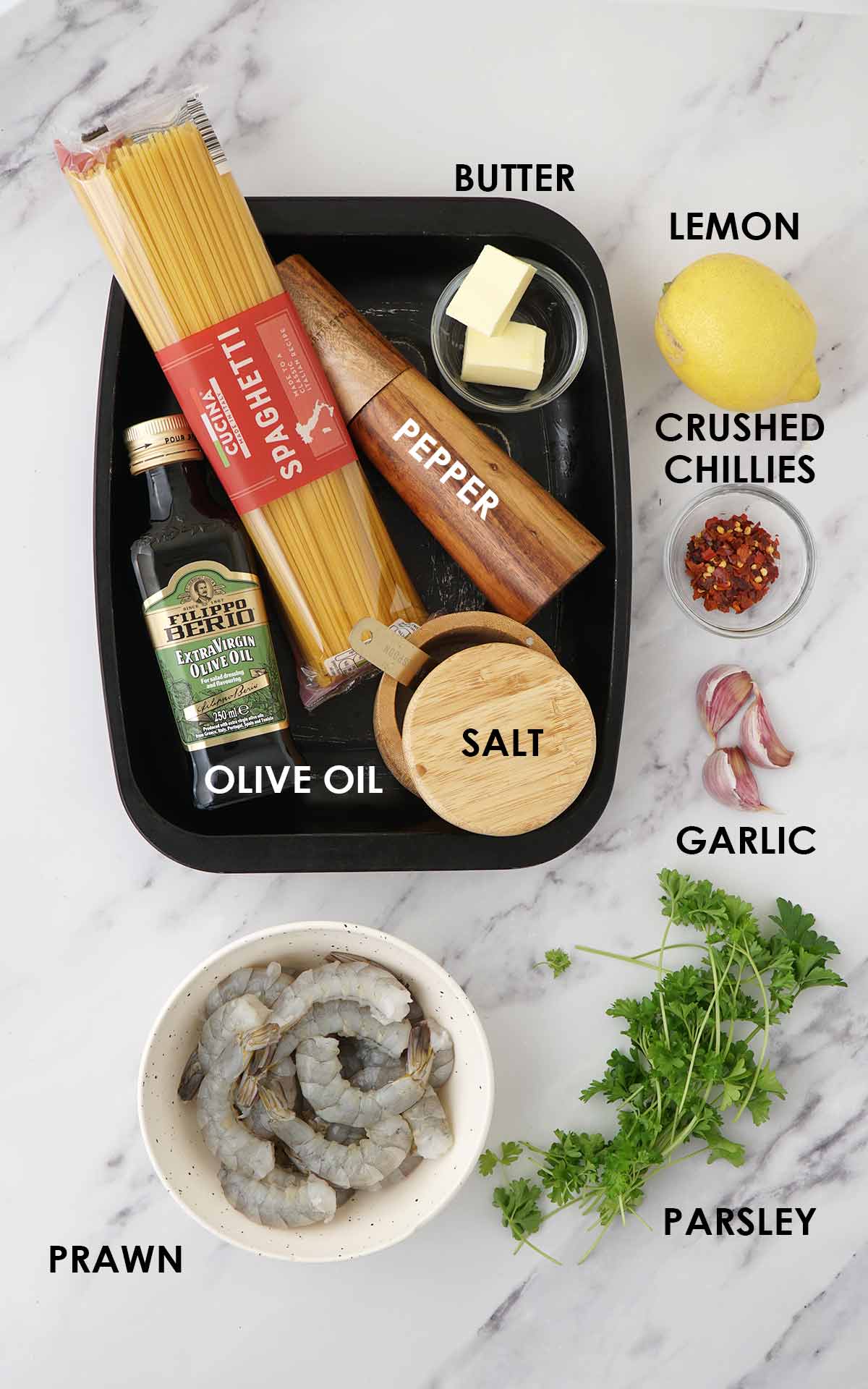 Prawns/Shrimp – Peel and devein the prawns before cooking. If you are using frozen prawns, make sure they are thawed perfectly. I love to use medium king prawn for this dish. Unpeeled prawns can also be used for this recipe.
Pasta – I'm using spaghetti noodles here. It matches perfectly with the garlic and chilli flakes.
Garlic cloves – We love to add generous amount of chopped garlic for the aromatic garlicky flavour. But you can adjust the amount of garlic to your liking.
Butter – For the cooking process, I'm using unsalted butter instead of olive oil or any other cooking oil. Add good amount of butter for the buttery, rich flavour.
Lemon juice - Add a splash of lemon juice or a dash of lemon zest for a kick of zesty flavour.
Parsley – Freshly chopped parsley is an undeniable companion for a garlicky shrimp pasta. Add the just right before serving and also sprinke some as a garnish.
Chilli flakes - Dry chilli flakes bring a kick heat and enhance the flavor of the pasta. If you are making kid-friendly or mild version, you can omit chilli flakes.
Grated Cheese – I always love to add grated parmesan over my pasta for extra creamy rich, umami flavour.
Pasta Water – I add this in the ingredients list since it is very essential in cooking pasta. It is a starchy salted pasta cooking water that remained after the pasta is boiled and removed from the pot.
3 Simple Steps To Make Garlic Prawn Pasta
Prepare the pasta noodles
Bring the water to boil, add 2 portions of pasta, and season the water with good amount of salt. Add spaghetti noodles into the boiling water and follow packet instructions for the cooking time. Once the noodles are at the right texture, drain the water. Reserve a cup or a bowl of pasta water for later use.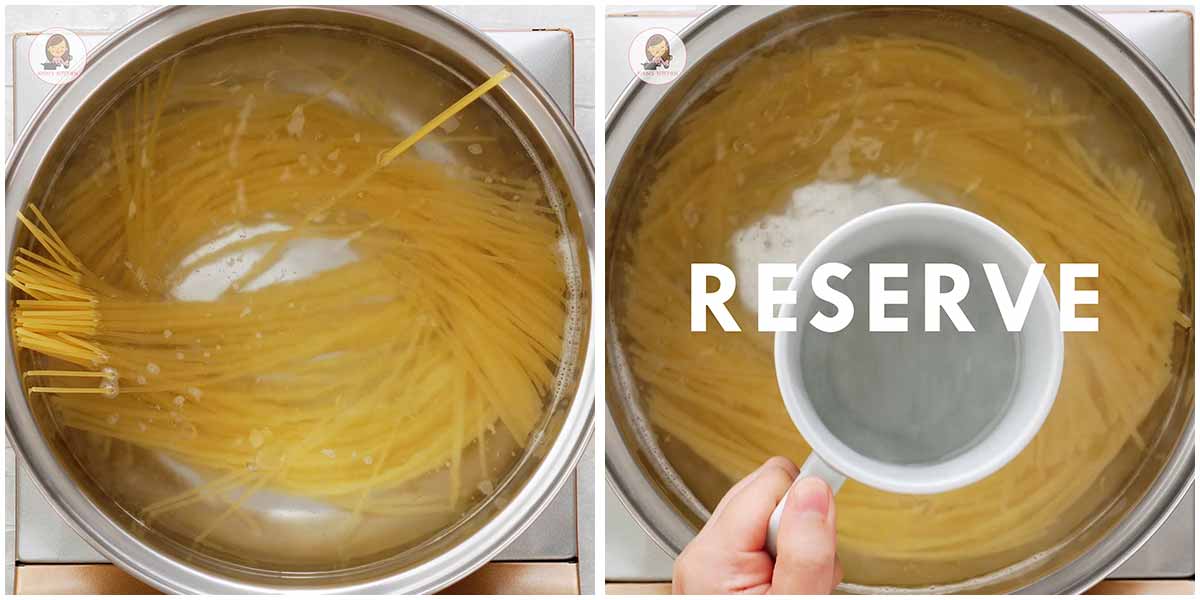 Cook the prawns
Meanwhile the pasta is boiling, prepare the prawns. Heat the large pan or skillet over medium-high heat. Add butter and cook the prawns. Once the prawns turn pink or cooked through, remove from pan and set them aside.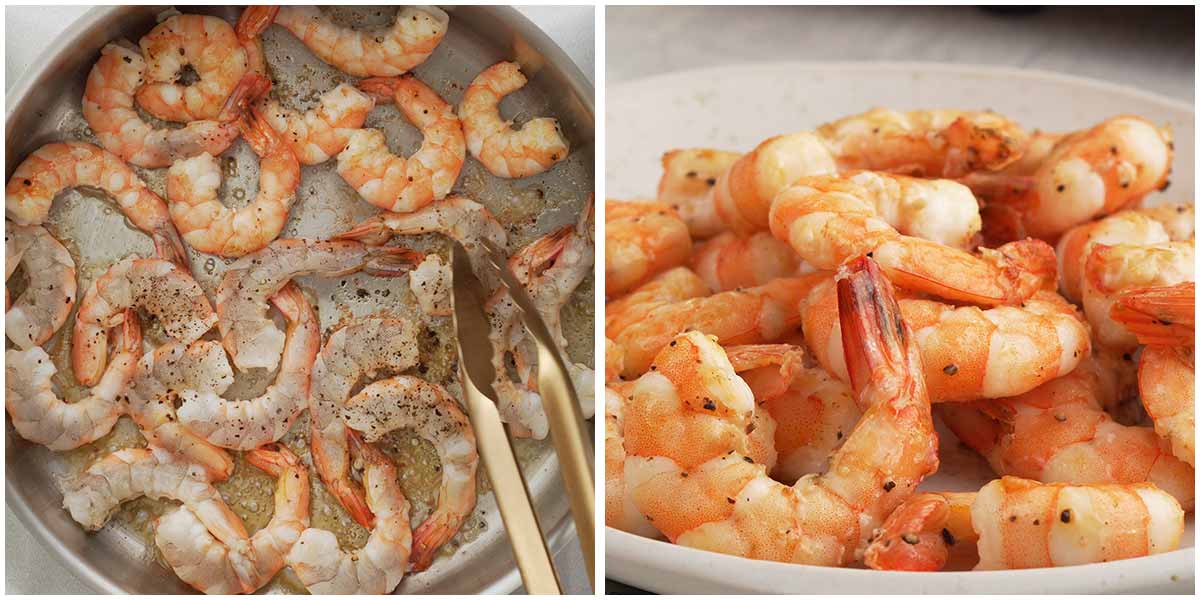 Toss everything together
In the remaining pan, add more butter and sauté the chopped garlic with low-medium for a few seconds. Follow with the dried chilli flakes. Place the cooked spaghetti noodles and pour half cup of reserved pasta water in. Season with salt and black pepper.

Add the cooked prawns back in the pan, and add lemon juice. Toss everything evenly. Finish with a drizzle of olive oil and chopped parsley.
Transfer to serving plate and garnish with grated parmesan cheese and parsley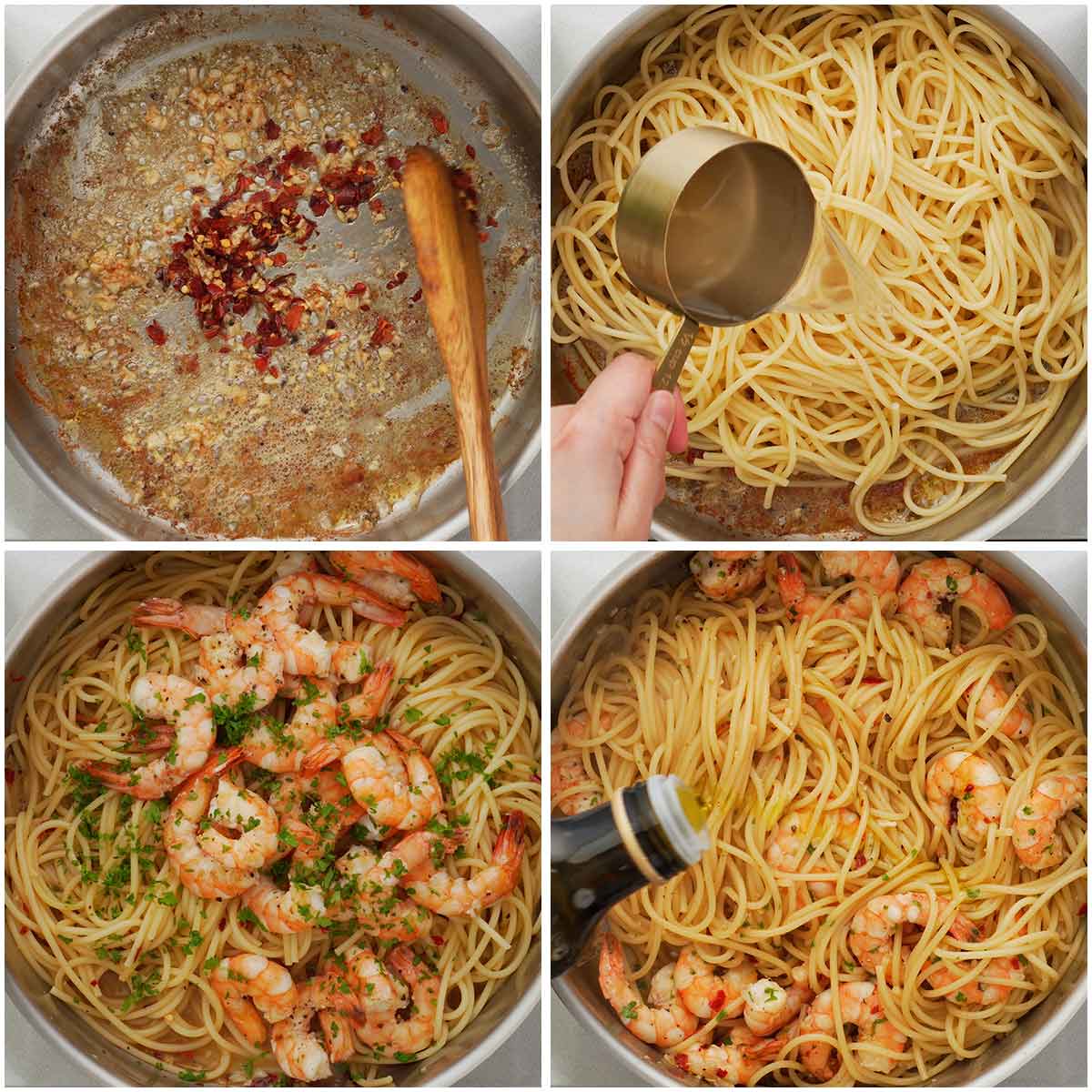 Recipe Tips
Raw prawns are highly recommend to use as the sweetness of the prawns makes the pasta dish more tasty.
Do not recommend adding cooked prawns as the cooked prawns can be a bit rubbery and tasteless when you cook together with pasta.
You can either use linguine, fettuchi, angel hair pasta, or choice of pasta. For low-carb options, you can cook with your choice of wholemeal pasta.
Don't forget to keep one cup of pasta boiling water just right before draining the water out. The starchy salted water help the flavors adhere better to the noodles and richen the taste.
If you don't have crushed chilli fakes, you can cut whole dry chillies into small flakes. Discard the seeds and add only the chilli flakes. You can also use paprika powder or fresh chillies to your preference.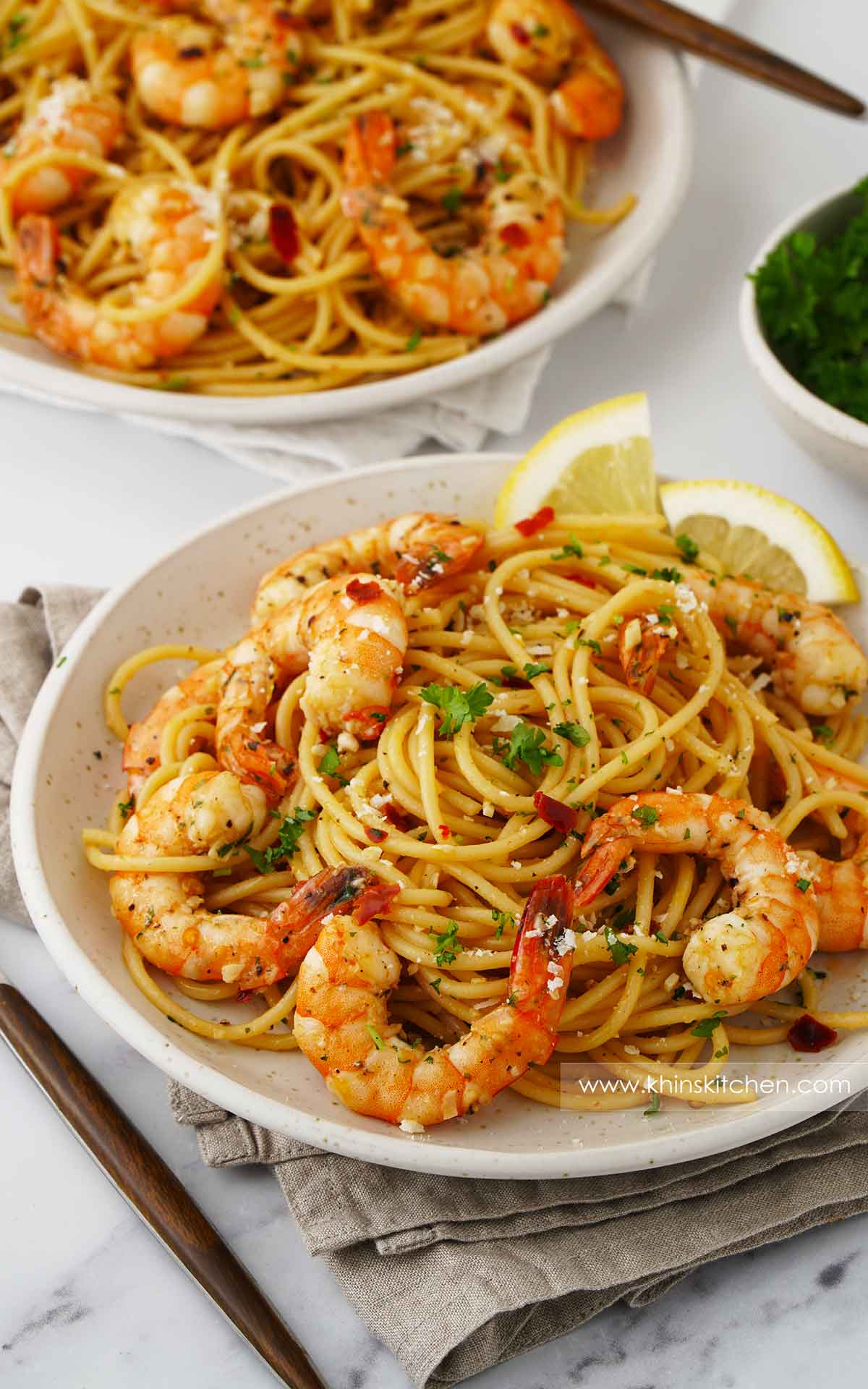 Frequently Asked Q & A
Can I make it creamy?
You can make it a creamy garlic prawn pasta by adding heavy cream ( double cream ) during the cooking process. A cup of heavy cream is enough for 2 servings and you can add just right after sauting the garlic and chilli flakes. Once the cream is thick and creamy, you can add the cooked spaghetti.
What other pasta noodles I can use for this recipe?
Linguine, fettuccine, and penne will be good substitutes for spaghetti.
How much salt should I put into pasta boiling water?
You don't really need to add exact amount of salt to pasta water. Boil the pasta in the with plenty of water and add the salt until the water is salty.
Can you freeze it or reheat it?
Do not recommending freezing but if you have any leftover prawn pasta, you can store it in an air-tight container in the fridge for a couple of days. Reheat it over a stovetop or in the mircowave with a splash of water until pipping hot just right before serving. Freshen up the dish with chopped parsely, fresh squeeze lemon juice, and grated cheese.
What to serve with this dish
Simply serve this prawn spaghetti on it's own with choice of cold drink. You can pair it with grilled asparagus, steamed broccoli, roasted potatoes, avocado salad or choice of side dish and make it a wholesome dinner.
More Fantastic Pasta/Noodle Recipes with Prawns
Stay updated on new recipes:
We are on social media Facebook, Instagram, YouTube ( New recipe video every week ) , and Pinterest ( Pin your favourite recipes ). If you've tried this recipe, please share your comment or post on social media and tag me. I would love to see your creations and feedback.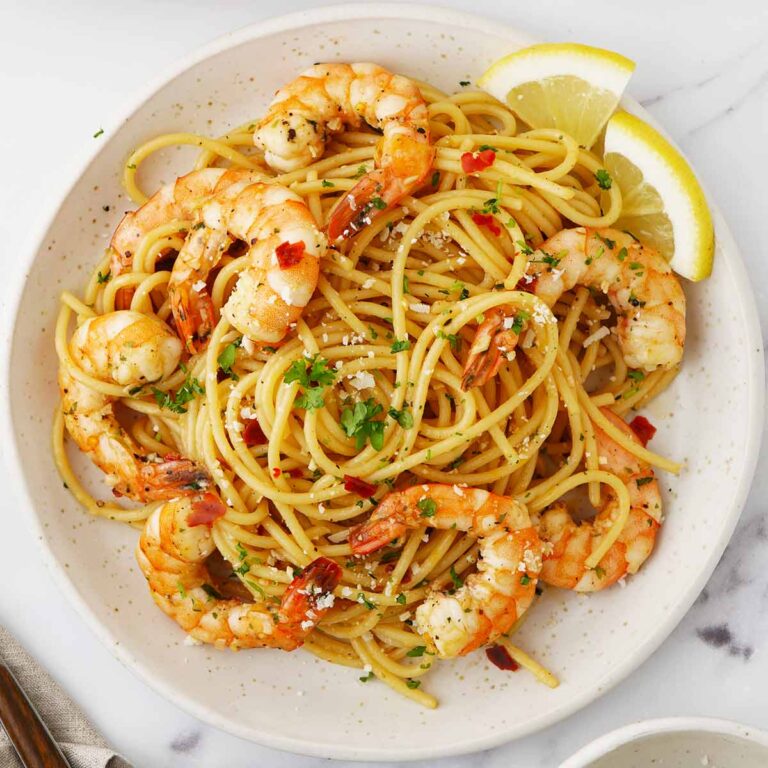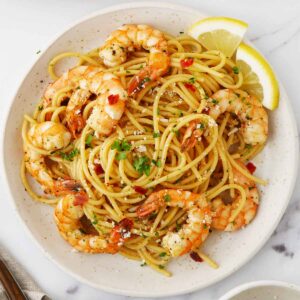 Spicy Garlic Prawn Pasta
Easy homemade butter garlic prawn pasta recipe that will give you an experience of Italian restaurant tastes. Perfect for relaxing weekend dinner time and busy weekday lunch. You can make in 20 minutes with simple ingredients, effortlessly.
Print
Pin
Rate
Equipment
Pasta boiling pot

Large pan or skillet
Ingredients
150

gram

Spaghetti

About 5.3 oz

200

gram

Prawns

About 7oz, King prawns, tiger prawns, or shrimp. Peeled and deveined.

3

clove

Garlic

Finely chopped

1

tsp

Chilli flakes

Dried crushed chillies, Adjust amount to taste

2

tbsp

Butter

Unsalted butter

1

tbsp

Olive oil

2-3

tbsp

Parsely

Finely chopped

1

tbsp

Lemon juice

Freshly squeeze lemon juice

1

tsp

Salt

Or salt to taste

½

tsp

Black pepper

Or add to your taste

1

cup

Reserved pasta water

Boiled pasta cooking water
To serve
3-4

tbsp

Parmesan

Or choice of hard cheese, finely grated
Instructions
First, boil the spaghetti with salted boiling water. Boil according to the packet instructions. Reserve one cup of pasta water. Once the pasta is cooked through drain the water out.

Meanwhile the pasta is boiling, cook the prawns. Saute the prawns with melted butter until the prawns turn pink. Season with salt and pepper. Remove from pan and set them aside.

In the same pan, add more butter and sauté the garlic with low-medium heat for a few seconds and follow with the chilli flakes. Place the cooked spaghetti and add half cup of reserved pasta water. Sprinkle salt and pepper to taste.

Add the cooked prawns back in the pan and combine everything evenly. Finish with olive oil and finely chopped parsley.

Transfer to serving plate and sprinkle grated cheese and parsley.
Notes
Pasta - you can also use linguine, fettuccine, angel hair, or a choice of pasta. Always check the packet instructions, as the cooking time can be varied. 
Reserve one cup of pasta water but you don't need to add all of it. I added about a half cup of it. But you might want to add more or reduce to your preference. 
How to make salted pasta water? Add a good amount of salt to the pasta boiling. If you taste the water, the water should taste salty. 
Prawns - Add peeled and deveined raw prawns ( uncooked ) for the best flavour. 
How to prepare for large batch? This recipe is for 2 servings but if you are serving for crowd, you can simply double or triple the ingredients. 
Nutritional facts are calculated approximately and can be varied by a number of different factors. 
Nutrition
Calories:
510
kcal
|
Carbohydrates:
59
g
|
Protein:
33
g
|
Fat:
16
g
|
Saturated Fat:
9
g
|
Polyunsaturated Fat:
1
g
|
Monounsaturated Fat:
4
g
|
Trans Fat:
1
g
|
Cholesterol:
196
mg
|
Sodium:
2157
mg
|
Potassium:
489
mg
|
Fiber:
3
g
|
Sugar:
2
g
|
Vitamin A:
722
IU
|
Vitamin C:
4
mg
|
Calcium:
187
mg
|
Iron:
2
mg