A restaurant quality easy Butter Chicken recipe you can make at your own! If you are a curry fan, I am sure you will definitely love this recipe. Impress your friends and family with this simple, creamy, aromatic famous Indian curry dish!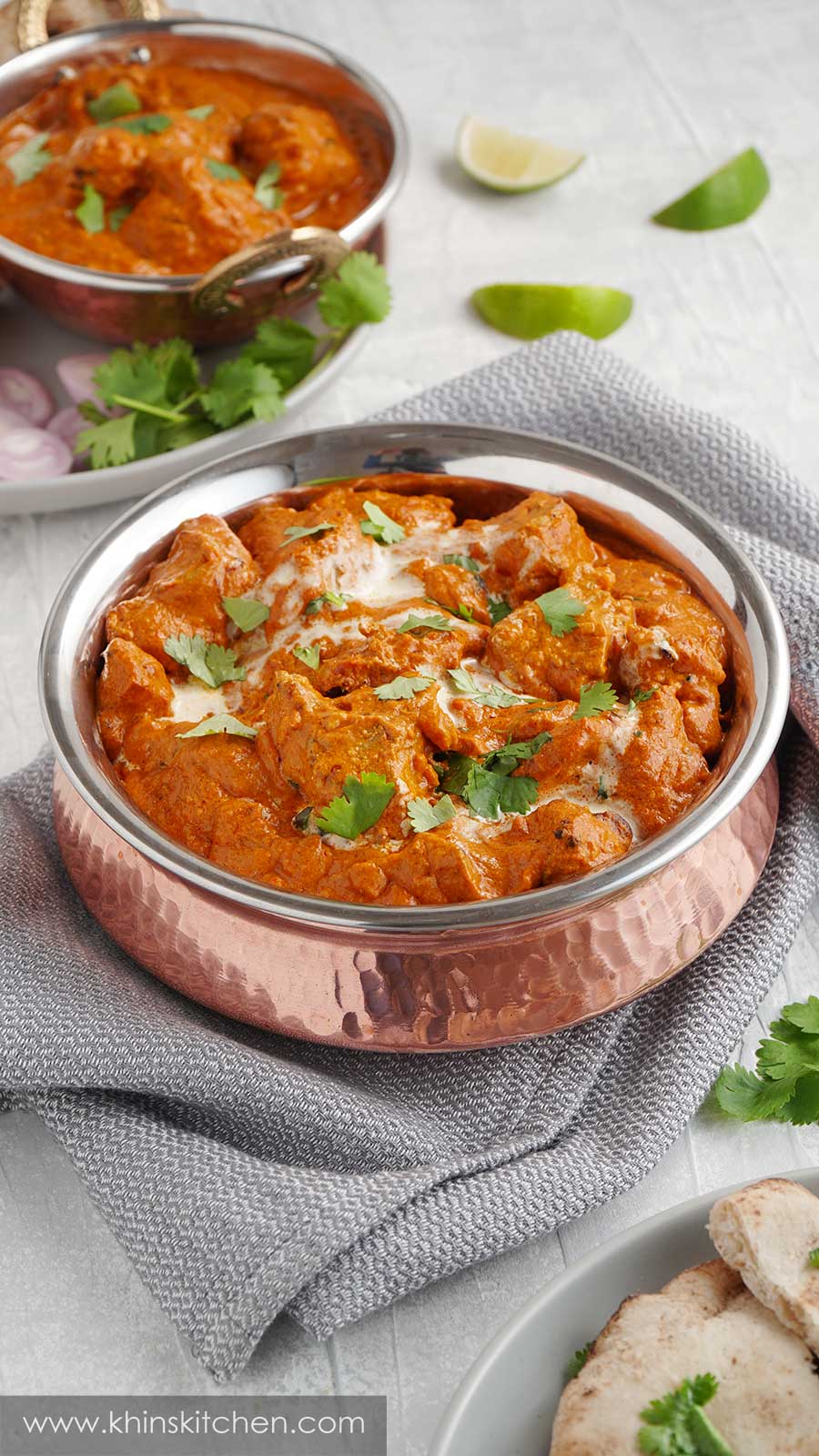 We love to make Indian dishes at home, more of our family's favourite are Chicken Biryani, Chicken and Chickpea curry, Brinjal Bhaji, Murgh masala, Dal curry, Kofta and Samosa! I shared my Homemade Chicken Tikka Masala recipe few weeks ago and many of my friends requested me this recipe. So I decided to share my homemade butter chicken curry with simple ingredients.
What Is Authentic Butter Chicken
It is originated in India, modified and recreated by Indian chef in England and Western countries. It's is one of the most loved Indian curry across the world. You will find it as Murg Makhani in the menu of Indian restaurants, perfect combination of charcoal grilled chicken and aromatic creamy curry sauce. Traditionally the chicken is cooked in Tandoor ( clay oven ) before adding to sauce, but for home cook like us, we can make it happen by using our oven or grill pan. In this recipe, you will learn how to make the British Indian restaurant-style easy butter chicken recipe with our simple tips.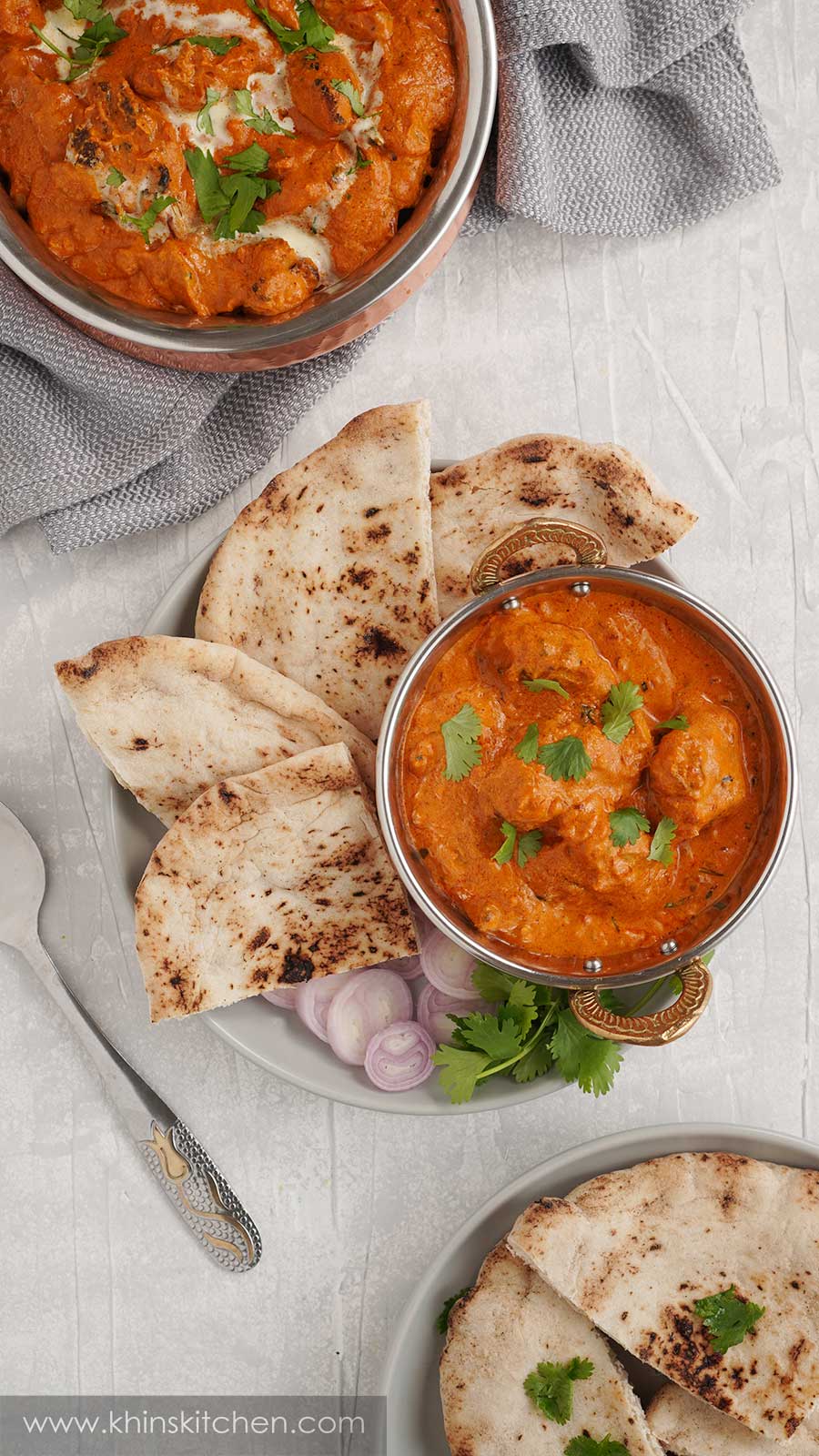 I am sure you love this Western version of Butter Chicken Curry because :
- All ingredients are pantry friendly and you can easily buy in any supermarket or grocery stores.
- Less time consuming.
- Can create smooth rich creamy sauce without much hassle.
- You can serve the crowd with minimum budget.
- Seriously tasty! You will even hope for leftover sauce after having dinner.
What Goes In The Dish
Meat : Recommend to use chicken thigh as thigh meat has more fat content than chicken breast and perfect for grilling. But its totally fine to use chicken breast or lamb for this recipe.
Spices: You will need 3 simple spices, turmeric, paprika and garam masala. Those are key spices that makes the dish aromatic. Is butter chicken spicy? Its one of the mildest Indian curry dish and it totally depend on the amount of chilli or paprika you used. You can always adjust the spices according your preference. As paprika is a very mild chilli taste, even my 4 years old fussy boy enjoyed it.
Sauce : My simple tips to make perfect butter chicken sauce are
1. Use shallot onions and brown them until they are caramelized so it will melt in the sauce easily.
2. Highly recommend used tomato puree instead of chopped tomato. It saves lots of time from blending it in the food processor into a smooth paste.
3. Use double cream(heavy cream) and cashew nut paste for rich creamy sauce. ( How to make cashew nut paste is in recipe note.)
Can you make it into dairy free butter chicken without cream? Absolutely you can! Swap the butter with cooking oil and substitute the cream with coconut cream or cashew nut cream.
How to make it from scratch
Marinade : Moist juicy tender chicken pieces are all about a good marinade. Marinate the cut chicken pieces in a good amount of yoghurt and spices for at least 15 minutes. If you have more time you can cover lid and leave in fridge for longer, 1-2 hour.
Grilling : Use a grill pan or skillet to brown the chicken pieces or you can cook in pre-heated oven for 15-20 minutes at 500°F.

Cook the sauce : Use good amount of unsalted butter instead of oil and fry the chopped shallots until they are caramelized and brown. Then follow with the ginger, garlic paste for more flavour. Add tomato puree and spices, sauté for 1-2 minutes until dry and the nice fragrant come out. Then pour water, cream and cashew paste in. You can adjust the sauce thickness by adding more or less water according to your preference. Place the grilled chicken back in, cook for another 2-3 minutes , sprinkle dried fenugreek and chopped coriander.
What to serve with Butter Chicken?
You can serve up with simple plain naan, garlic naan, chapati, roti, flat bread or cooked basmati rice. Side with simple onion and cucumber salad or with slices of onions and lime wedges. Perfect dinner option when you have guest to impress, your date night or family gatherings. If you are making for crowd, you can easily double or triple the amount of this recipe.

How to make tandoori charcoal flavour? If you want to get the tandoori charcoal flavour here is the little trick you can make. Heat one charcoal over the gas using a heat-proof tong until red. Add the charcoal in the small steel cup or heat-proof bowl and place it in the middle of the cooked chicken pan. Pour 1 tablespoon of ghee or butter over the charcoal, close the lid and let it sit for 1-2 minutes. Then remove the charcoal cup and your dish is ready to serve! ( exactly like you had at your favourite Indian restaurant. )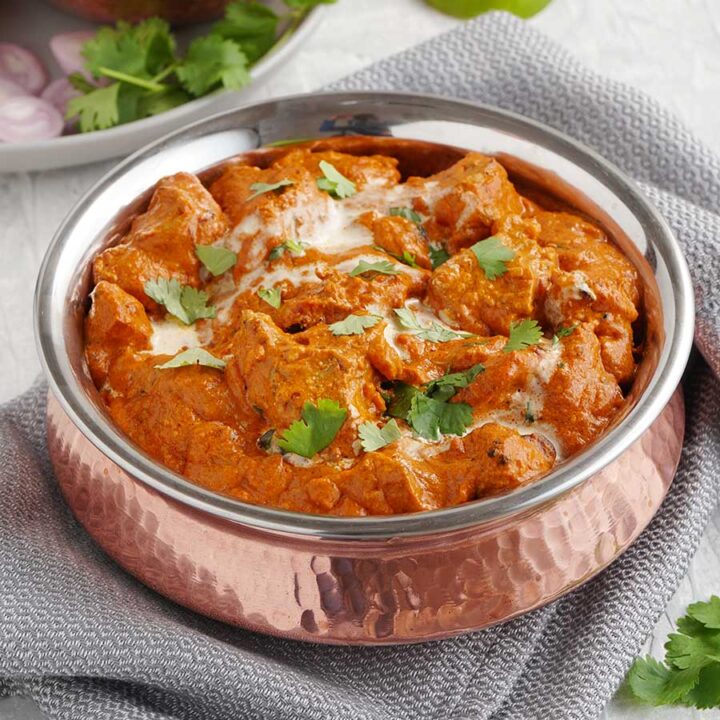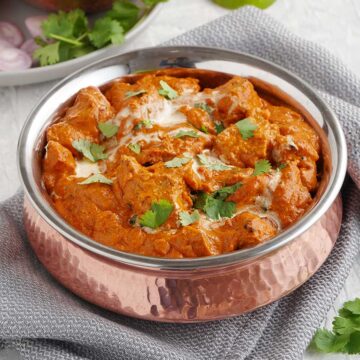 Easy Butter Chicken Recipe
Tender chicken cooked with butter and aromatic, creamy curry sauce. Serve with naan or basmati rice to make a perfect Indian dinner.
Print
Pin
Rate
Ingredients
Ingredients
17.5

oz

Boneless chicken thigh

or breast

3-4

tbsp

Unsalted Butter

1

tbsp

Oil

( for grilling chicken )

1

tsp

Dry fenugreek leaves

Kasuri Methi ( optional )

Fresh coriander

chopped ( optional )

1

Cup

Water

( add more water if needed )
Chicken Marinade
½

tsp

Salt

½

tsp

Ginger paste

½

tsp

Garlic paste

½

tsp

Paprika powder

½

tsp

Turmeric powder

½

tsp

Garam masala

3

tbsp

Plain yogurt
For Curry Sauce
2

Medium shallots

( finely chopped )

1

tsp

Garlic paste

1

tsp

Ginger paste

½

cup

Tomato puree

( plain, un-salted, unflavoured ) ( see details in note )

½

cup

Heavy cream

( double cream )

3

tbsp

Cashew nut paste

( Optional )( see details in note )

½

tsp

Turmeric powder

1

tsp

Paprika

1

tsp

Garam masala

1

tsp

Salt
To Serve
Cooked basmati rice or naan
Instructions
First of all cut the chicken into medium bite-size pieces. Marinate the chicken with the ingredients from the chicken marinade list. Mix well to coat the each chicken pieces evenly. Set aside and marinate for 15 minutes. ( If you have time, you can marinate for longer. )

In the meantime, finely chop the shallots, garlic cloves and coriander.

Heat the grill pan/skillet over medium-high heat, drizzle 1 tablespoon of oil and grill the marinated chicken pieces 1-2 minutes until it gets the nice golden colour, then turn sides and cook for another 1-2 minutes. Remove from pan and set aside.

To cook the butter sauce, add 3 tablespoon of unsalted butter in the pan, fry the chopped shallots with medium heat until brown. Then add the garlic paste, onion paste and stir fry few seconds.

Follow with the tomato puree, turmeric, paprika, garam masala and salt to taste. Stir for few seconds.

Pour the water, cream and cashew nut paste in and cook for another 1 minute.

Place the cooked chicken back in and stir well to combine with the sauce. Add more water if needed.

Close the lid and cook for another 2-3 minutes. Sprinkle the dried fenugreek leaves and chopped coriander.

Remove from heat and transfer to serving plate.

Serve with cooked basmati rice, naan or flat bread. Enjoy!
Notes
How to make cashew nut paste - to make the cashew nut paste, soak about 2-3 tablespoons of cashew nuts in the water for 30 minutes and drain the water out. Place the cashew nuts in the blender/food processor and add 1-2 tablespoon of water and blend it into a smooth paste. ( add more water if needed. )
Spices - You can buy all spices in supermarket spice counter or Asian aisle. 
Tomato Puree - Strained, skinned tomatoes, thick in consistency, also called tomato concentrate. It comes with tin, can or tubes. You can easily buy in most supermarket pasta or sauces aisle.
If you wish to use Italian Passata or fresh tomato puree, it will take more time the sauce to reduce. You can cook the sauce until it becomes thick and reduced by half to achieve the perfect curry sauce. 
Double Cream ( Heavy Cream ) - can be substitute with coconut milk/cream or cashew nut cream. 
Shallot onions - Suggest to use shallot onions for curry dishes as they can be easily browned and melt in the sauces. ( Shallots will save lots of your time from blending the onions and cleaning the food processor. )
Nutrition
Calories:
685
kcal
|
Carbohydrates:
8
g
|
Protein:
30
g
|
Fat:
59
g
|
Saturated Fat:
25
g
|
Cholesterol:
250
mg
|
Sodium:
1331
mg
|
Potassium:
594
mg
|
Fiber:
1
g
|
Sugar:
3
g
|
Vitamin A:
1357
IU
|
Vitamin C:
7
mg
|
Calcium:
75
mg
|
Iron:
2
mg
More delicious chicken dinner recipes
If you've tried this recipe, please leave a comment and give rating! I would love to see your creations, tag me on social medias and follow me on social medias Facebook, Instagram and Pinterest for latest updates.