This Thai Morning Glory stir fry or Thai Pad Pak Boong Fai Daeng recipe is made with crunchy morning glory and hot, savoury, sweet, umami sauce. Morning glory itself tastes very tempting and it gets irresistible when garlic and chilies are added.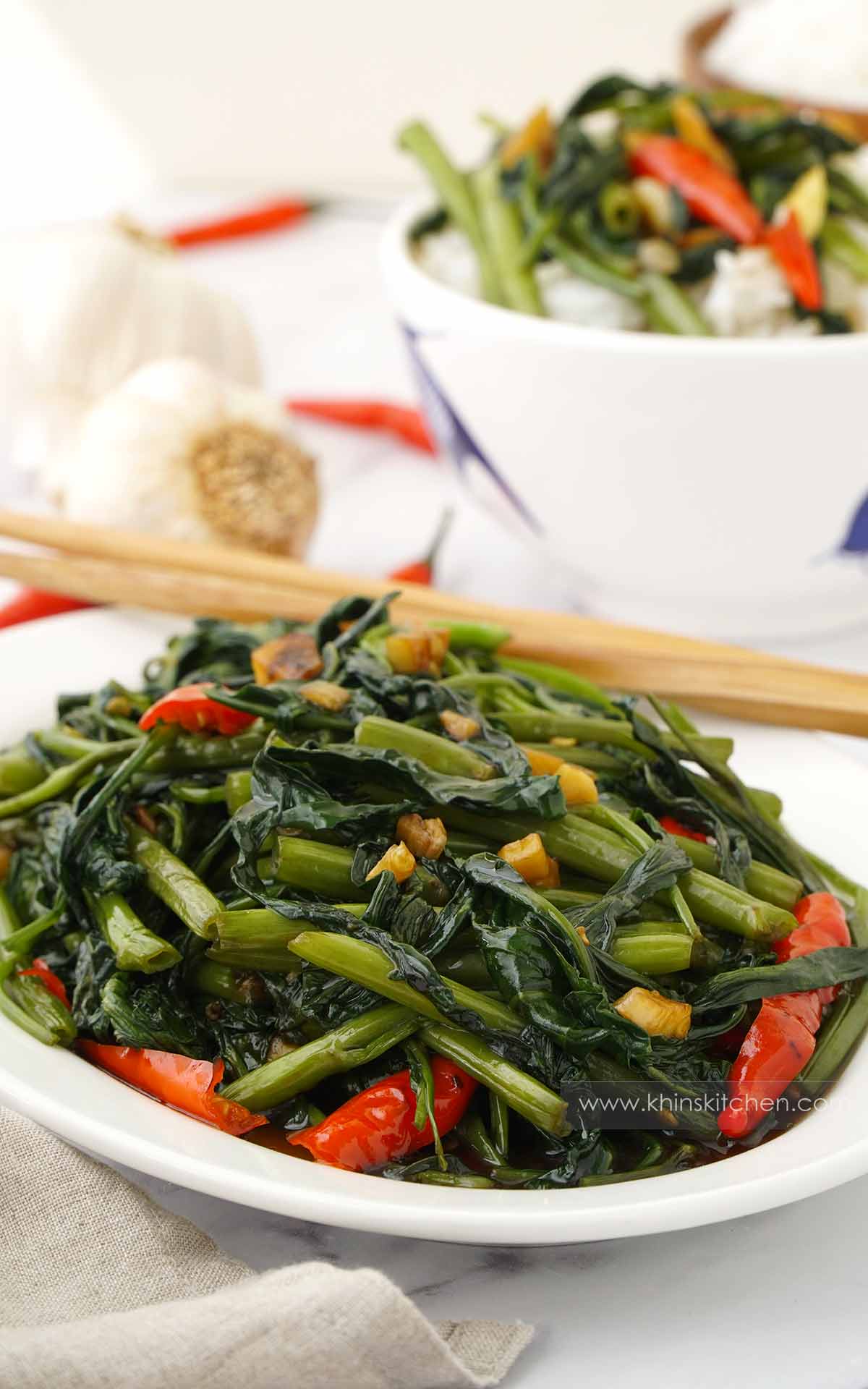 Even vegetable haters will love this savoury Thai morning glory vegetable stir fry. In this recipe, I cooked with a traditional wok to get the wok hei flavour, just like we have had from restaurants. All you need is 15 minutes to make this popular Thai-style dish with authentic flavors at home.
Thai and Chinese stir fry dishes are always on our family's meal rotation and we never get bored of them. If you love quick Asian stir-fries like us, you might want to try out our Thai Cashew Chicken Stir Fry and Ginger Beef Stir Fry recipes. So easy to make at home and super addictive!
Jump to:
What is Morning Glory
Morning glory or water spinach is widely available in Southeast Asia. In Thailand, it's called Pak Boong and in other places, it's called water spinach, Chinese spinach, river spinach, Ong Choy, Kazun, Kangkong, or Kangkung. Almost the same ingredients are added in Burmese, Vietnamese, and Cambodian stir-fried morning glory recipes. But you will need shrimp paste to make Sambal Kangkong, which is another popular water spinach stir fry dish in Asia. I recommend cooking it at home to find out why this is greatly loved by most Asians.
Why would you love this dish
Morning glory has rich vitamins and antioxidants which are good for health.
Easy to prepare, require only a few ingredients, and is ready in less than 15 minutes.
It can be served not only as a side dish but also as a main dish over cooked rice.
What do we need
You don't need a lot of ingredients to prepare. The following is a quick guide on the ingredients and detailed measurements will be on the recipe card at the bottom of the page.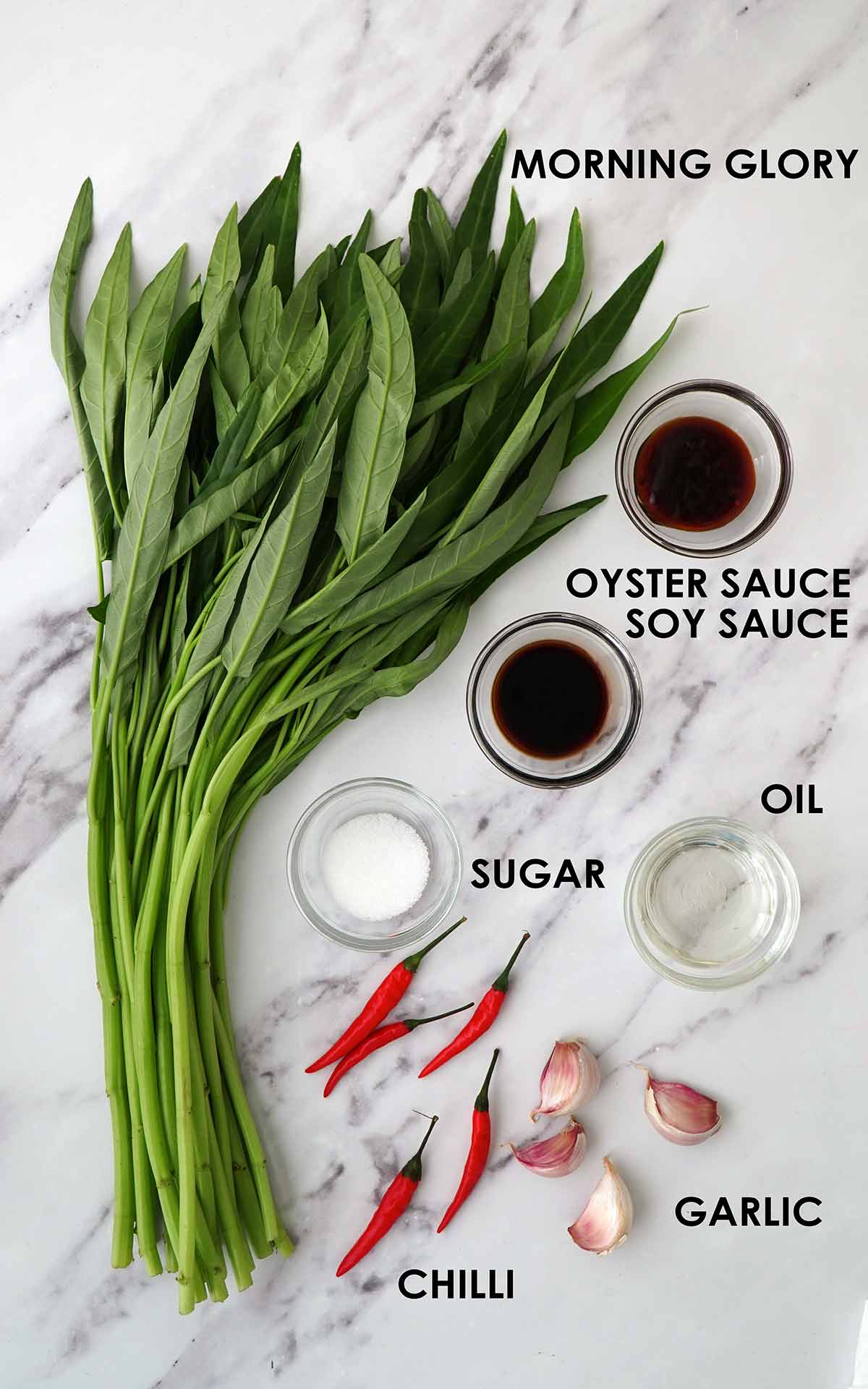 Morning glory - You can use both stems and leaves from one whole bunch. You might find it with a different name as water spinach, water morning glory, Kangkong, or Ong Choy at the Chinese, Korean, or Oriental supermarkets.
Red chilies - The hot Thai bird-eye chilies are ideal for this dish but you can use any other hot or mild fresh chilies.
Soy Sauce - Light soy sauce adds salty umami flavor and color to the dish. I recommend adding a tablespoon of it because you don't want the plain pale look. But if you don't have it and still want to cook, you can just use regular salt, Himalayan salt, or a pinch of soybean paste or bean paste. Fish sauce is added for some morning glory Thai cooking. If you are using fish sauce, you can omit soy sauce.
Oyster Sauce - Just like soy sauce, oyster sauce enhance the flavor and color of the dish. It is okay to omit but if you use it, your stir fry will taste more like Thai.
Garlic cloves - It is an important ingredient in this dish. Without garlic, you can't call it a Thai-style morning glory stir-fry at all, but you can always adjust the garlic amount to your taste.
Sugar - Sugar balance the salty, and savoury taste of the sauce but makes sure not to add too much.
How to make it?
1. Prepare morning glory
Wash the morning glory thoroughly with water 2-3 times. Drain and shake the excess water out. Place it over the paper towel or clean kitchen cloth to absorb excess moisture.
Cut the stems into bite-size lengths or 3-inch pieces. Place the stems and leaves separately.
Garlic is not necessary to chop into even sizes. Just smash it with the cleaver or knife and chop it roughly to release the fragrance. The aromatic roughly crushed garlic is what to want in this dish.
Cut red chilies into half lengthways or chop them roughly. If you don't like it hot, you can just add the whole chilies without cutting or chopping.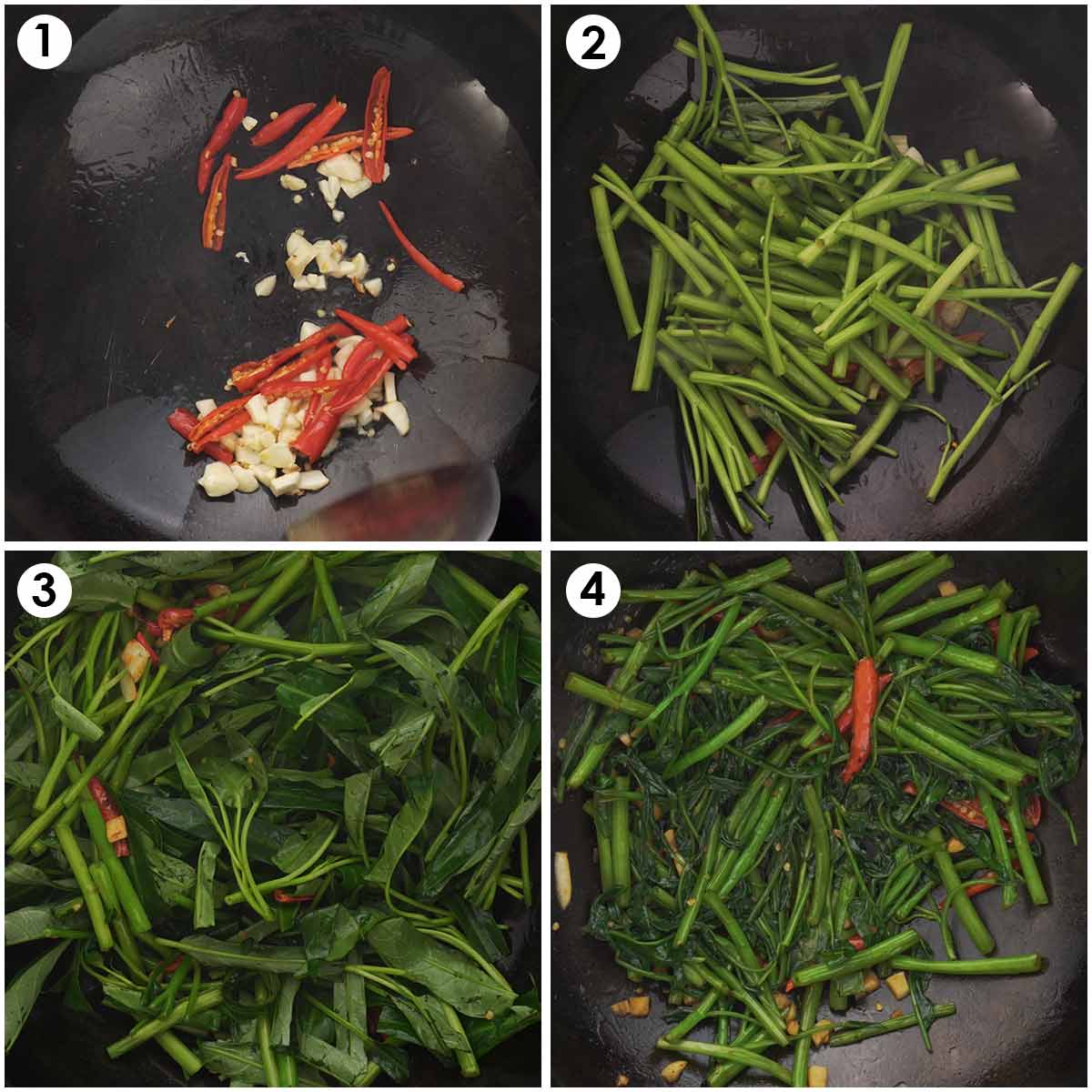 2. Make a stir fry
Heat oil in a wok or skillet over medium-high heat.
Add garlic and stir for a few seconds and follow with the red chillies.
Place morning glory stems first and toss them well for a few seconds.
Stir in the leaves and season with soy sauce, oyster sauce, and sugar. Keep tossing for another few seconds at high heat and we're done.
You don't need to add water during the process because the juice comes out from the leaves themselves.
Serve immediately in a bowl or plate itself or on a bed of cooked jasmine rice.
Quick tips
Always wash the morning glory with plenty of water to remove any trapped sand in the stems and leaves.
I used a traditional wok to get that smoky char flavor. You can create the char flavor with any skillet or non-stick pan by stir-frying at high heat.
Make sure the wok and oil are well heated before adding any ingredients.
Since you need to stir fry everything at high heat, it is important not to over-fry anything. The whole stir-fry process needs your continuous attention. Make sure to gather and prepare all ingredients before the cooking process started.
If you can't eat hot chilies, do not cut or smash them. You can just add them as a whole for colour and flavour.
Put the stems first in the stir fry process to get an even texture with the leaves.
It tastes best when served hot on the plate right after stir-frying.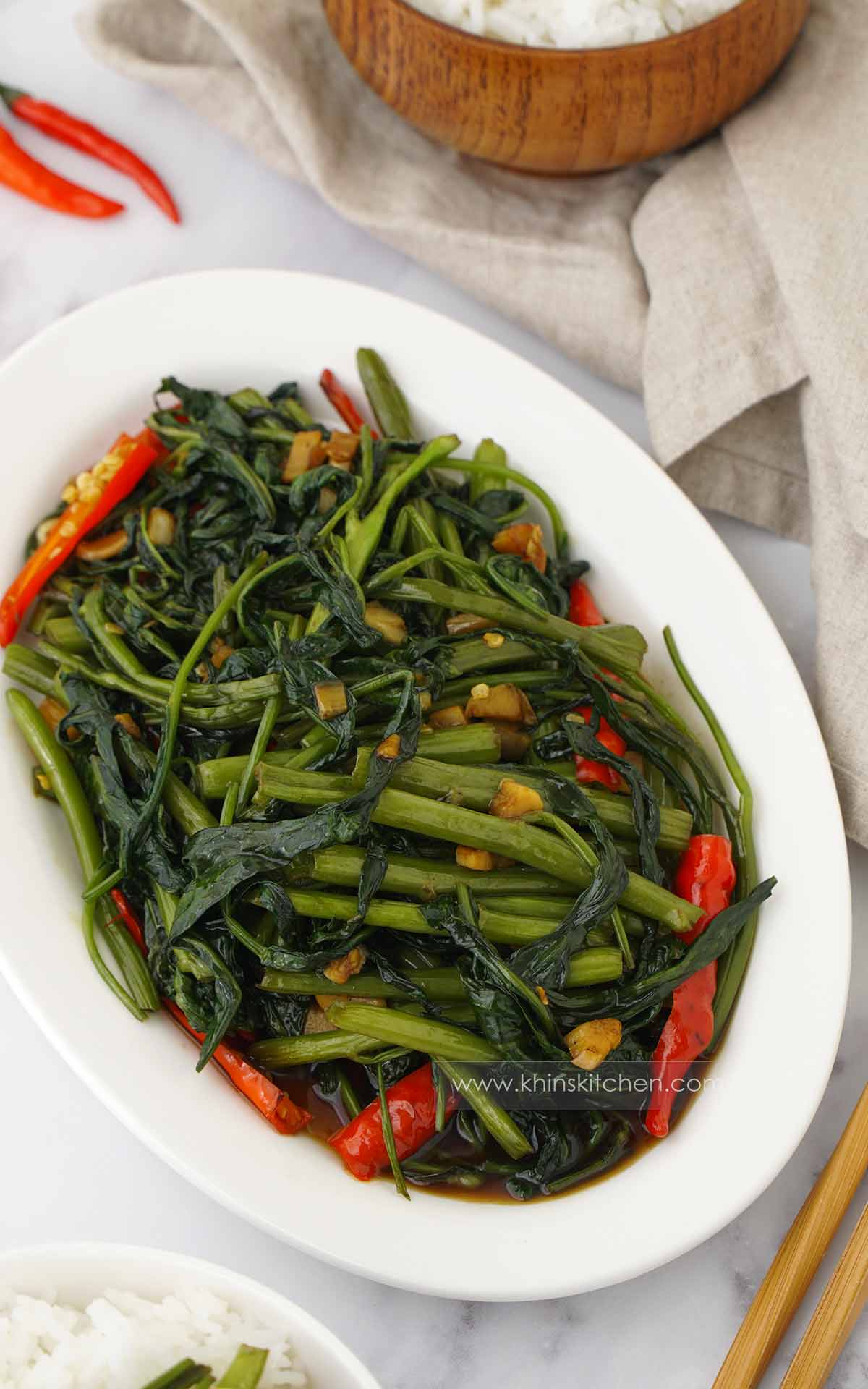 Frequently Asked Questions
What other vegetables can I use for this recipe?
You can use bok choy, pak choy, choy sum, spinach, tender stem broccoli ( broccolini ), kale, gai lan ( Chinese broccoli ) which don't need a long cooking time. These vegetables can be used instead of morning glory for this recipe.
Is this recipe the same as the Chinese morning glory recipe?
Yes, the Chinese Kangkon stir fry recipe is very similar in general but omits the Thai red hot chilies. Traditional Chinese kōng xīn cài stir fry also consists of fermented tofu and Shao Xing cooking rice wine. If you are making Sichuan-style water spinach stir fry, crushed Sichuan peppercorns and Sichuan dried chillies are must include.
Is morning glory vegetable easily found in UK and other Western countries?
Not widely everywhere but you can find it at Oriental Asian grocery stores or Asian corners at the Supermarkets.
More Fantastic Stir Fry Recipes
Stay updated on new recipes:
We are on social media Facebook, Instagram, YouTube ( New recipe video every week ), and Pinterest ( Pin your favourite recipes ). If you've tried this recipe, please share your comment or post on social media and tag me. I would love to see your creations and feedback.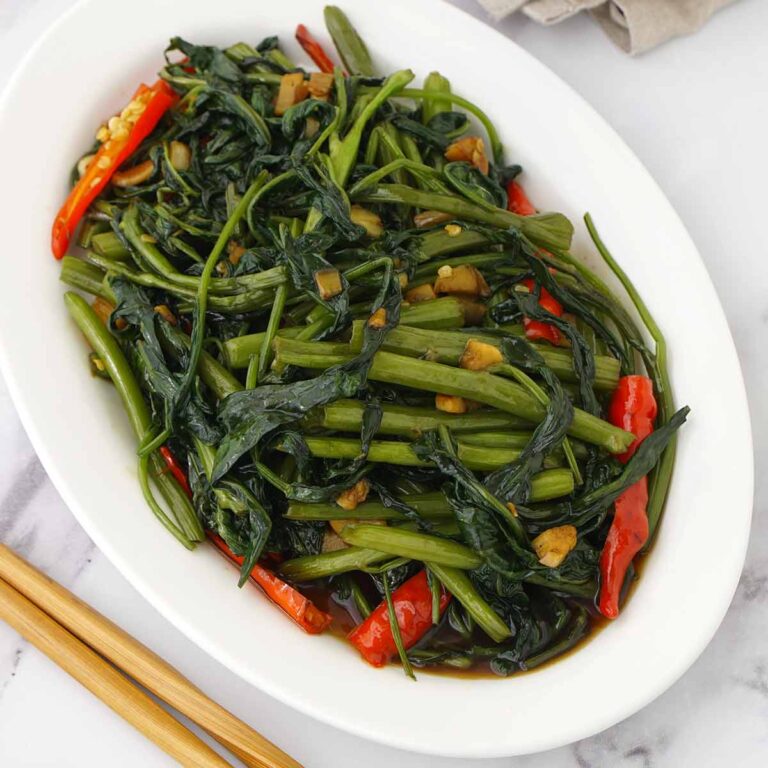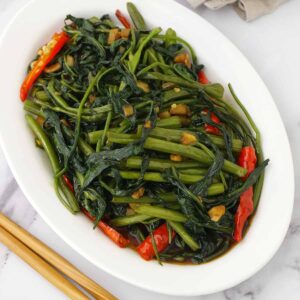 Morning Glory Stir Fry
Easy Thai Morning Glory Stir fry recipe ready in 15 minutes. Stir-fried morning glory ( water spinach ) seasoned with garlic, red chilies, soy sauce, oyster sauce, and sugar. Time-saving and delightful leafy green dish loved by Southeast Asians.
Print
Pin
Rate
Ingredients
2

bunch

Morning Glory

Water spinach/Kangkong/Pak Boong, About 400 gram ( 14 oz ), washed

4-5

cloves

Garlic

Roughly chopped

6-8

Red chilli

Bird-eye chilli or any hot red chilli

1

tbsp

Oyster sauce

Vegetarian stir fry sauce or Mushroom sauce

1

tbsp

Light soy sauce

Or all-purpose soy sauce

2

tsp

Sugar

1

tbsp

Vegetable oil

Peanut, canola, sunflower, or neutral flavour oil.
Instructions
First cut the morning glory into 3 inch pieces and separate the stems and leaves. Crush the garlic cloves and roughly chop it. Cut the red chillies into half lengthways.

Heat the wok over medium high heat and drizzle 1 tablespoon of vegetable oil.

Add chopped garlic and stir for 20 seconds and follow with red chillies and toss for few seconds.

Add the morning glory stems and stir it well and follow with the leaves.

Season with soy sauce, oyster sauce, and sugar.

Toss everything well for 1 minute. Turn off the heat and transfer to serving plate.
Notes
Oyster sauce - To make it vegetarian, swap regular oyster sauce with vegetarian stir fry sauce made with mushrooms. Available in Lee Kum Kee brand. 
Soy sauce - Add light soy sauce or regular all-purpose soy sauce. Instead of soy sauce, you can add fish sauce or salt to taste. 
Stir fry oil - Use neutral flavour vegetable oil like, peanut, canola or sunflower. Do not recommend olive oil for this recipe. 
Ingredients Add-on
Be creative and add your choice of minced meat or seafood. Stir-fried morning glory with pork mince and chicken mince are popular dishes too!
For vegetarians or vegans, mashed firm tofu, or Quorn mincemeat are great add-on options.
You can also add oyster mushrooms, king oysters, cremini, or shiitake mushrooms.
How to wash and prepare morning glory?
Wash the morning glory thoroughly with plenty of water 2-3 times. Drain and shake the excess water out to remove sands. Place it over the paper towel or clean kitchen cloth to absorb excess moisture. You can let it air-dry for 30 minutes - 1 hour or pat dry gently with a paper towel. 
How to serve this dish?
Serve immediately while hot with jasmine and serve it as a main meal. Or serve it as a side dish and pair it with other main dishes and soups.
Nutrition
Calories:
43
kcal
|
Carbohydrates:
9
g
|
Protein:
2
g
|
Fat:
1
g
|
Saturated Fat:
1
g
|
Polyunsaturated Fat:
1
g
|
Monounsaturated Fat:
1
g
|
Sodium:
381
mg
|
Potassium:
238
mg
|
Fiber:
1
g
|
Sugar:
6
g
|
Vitamin A:
643
IU
|
Vitamin C:
98
mg
|
Calcium:
16
mg
|
Iron:
1
mg