If you've ever visited a fish and chip shop in the UK, chances are you've come across battered sausage. This classic British delicacy is a staple on any traditional fish and chip menu, and for good reason - it's delicious!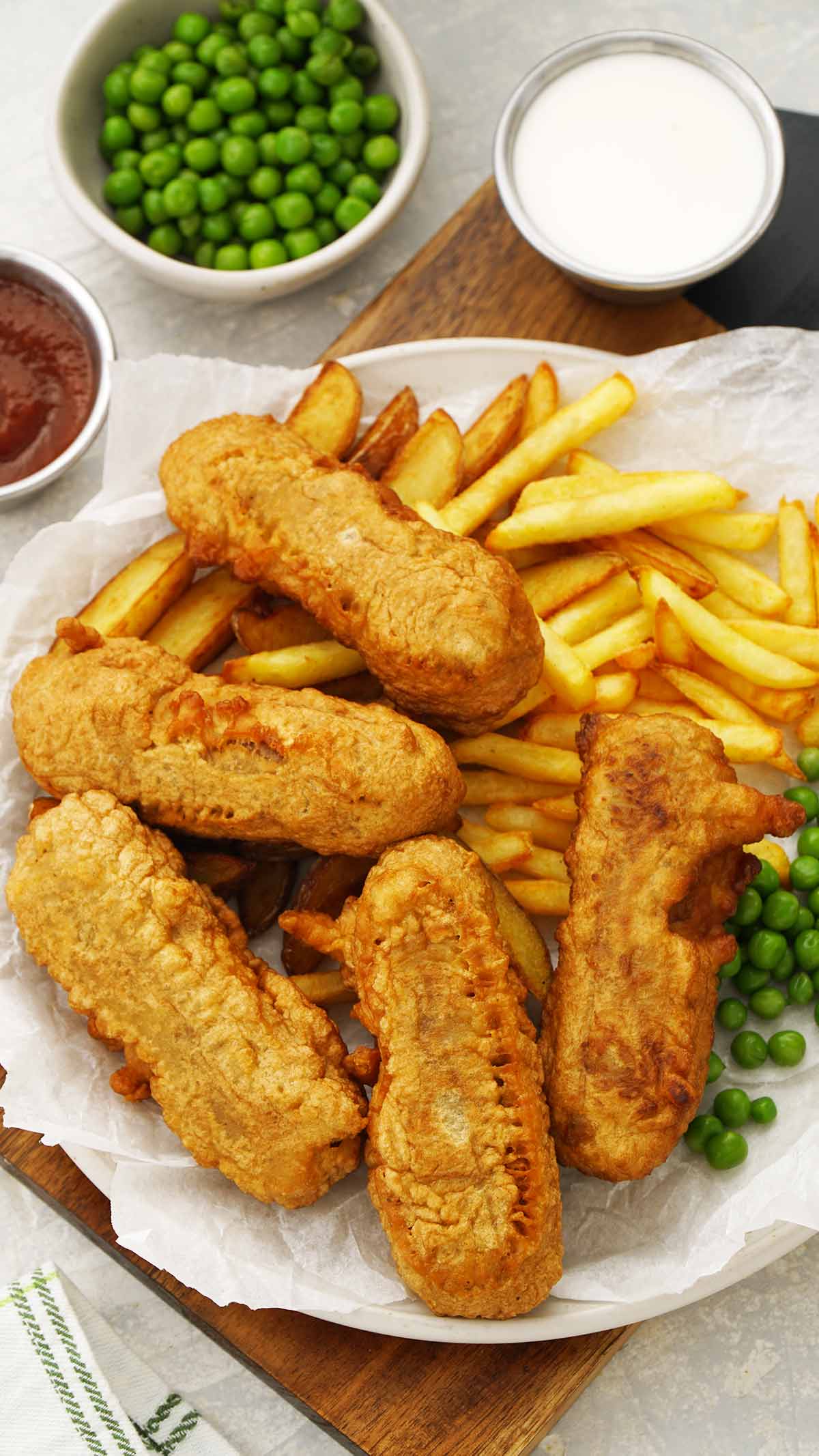 In this post, we are sharing our homemade crispy, non-greasy, ultimate battered sausage recipe with basic pantry-friendly ingredients. We love to cook sausages in many different ways and Curried Sausages and Sausage Fried Rice are our go-to recipes that you might also like to try out.
Jump to:
What is battered sausage?
Battered sausage is essentially a sausage that has been coated in a thick batter and deep-fried until golden brown. The sausage can be made from a variety of meats, such as pork, beef, or even vegetarian options like tofu or seitan. The batter is typically made from flour, egg, and milk, and seasoned with salt and pepper.
Battered sausage is often served as part of a traditional British fish and chip meal, alongside fish, chips, and mushy peas. However, it can also be enjoyed as a standalone snack or as part of a larger meal.
What ingredients do we need?
To make battered sausage, you'll need the following ingredients:
Battered sausage is a classic dish that is easy to make and perfect for any occasion. To make this dish, you will need a few simple ingredients, including beef or pork sausages, plain flour, baking powder, baking soda, water, egg white, salt, pepper, and oil for frying.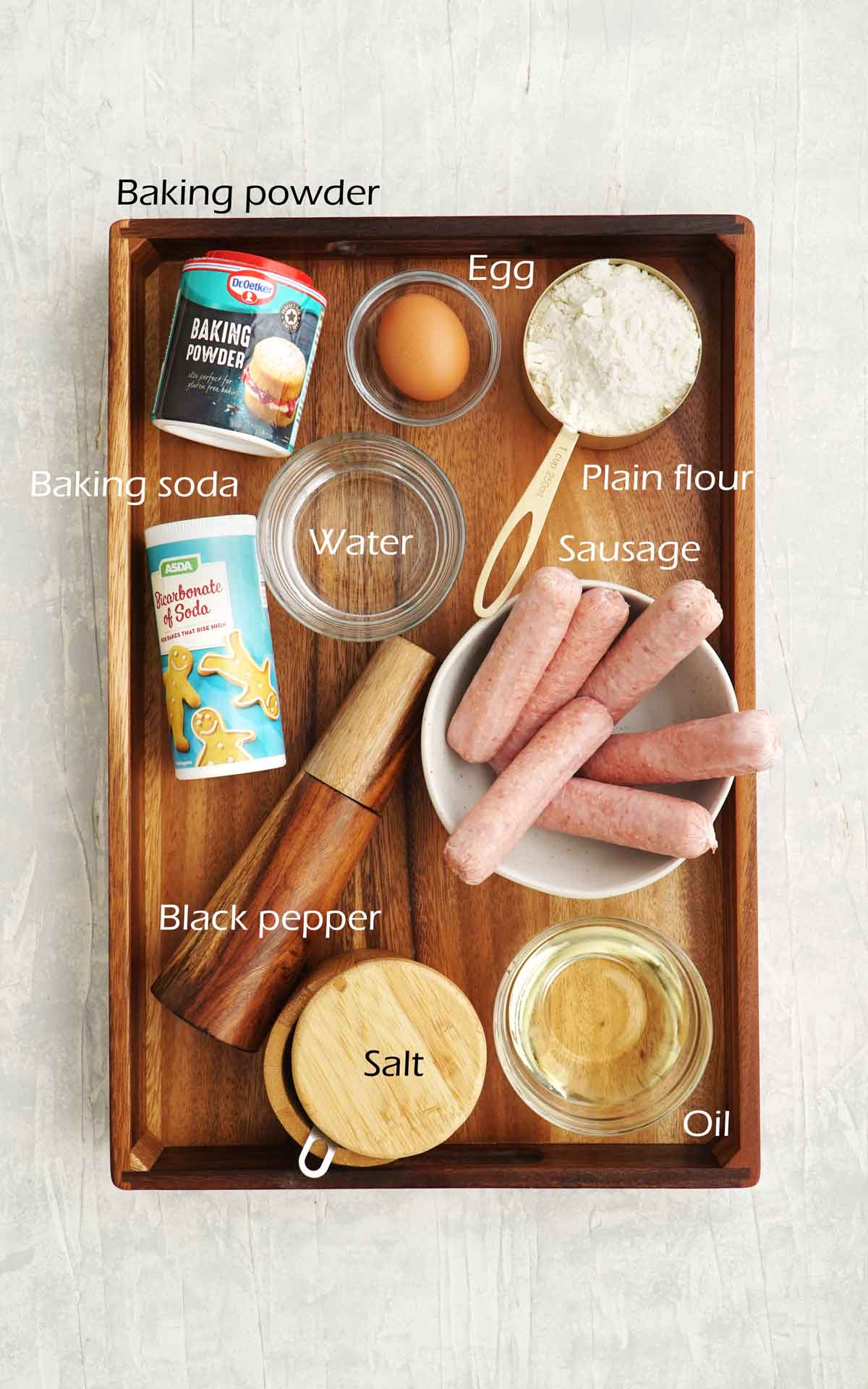 Beef or pork sausages are the main ingredients in this recipe. They are flavorful and provide the perfect base for the batter. You can use any type of sausage you prefer, such as bratwurst, Italian sausage, or chorizo.
Plain flour is used to make the batter. It is mixed with baking powder, baking soda, salt, and pepper to create a light and crispy coating for the sausages. The baking powder and baking soda help to create a fluffy texture and add volume to the batter.
Water is added to the dry ingredients to make a smooth batter. The egg white is then whisked until stiff peaks form and is folded into the batter. This helps to create a light and airy batter that will coat the sausages evenly.
Oil is used for frying the battered sausages. You can use any type of oil you prefer, such as vegetable oil, canola oil, or peanut oil. The oil should be heated to 375°F (190°C) before frying the sausages.
Overall, these ingredients come together to create a delicious and satisfying dish that is perfect for any occasion.
Step-by-step cooking instructions
Heat the oil in a deep fryer or large pot to 350°F (175°C).
In a mixing bowl, whisk together the flour, baking powder, baking soda, salt, and pepper.
In another bowl, whisk the egg white until stiff peaks form.
Gradually add the water to the dry ingredients and mix until a smooth batter forms.
Dip each sausage into the batter, making sure it is evenly coated.
Carefully place the sausage into the hot oil and fry for 3-4 minutes, or until the batter is golden brown and crispy.
Remove the sausage from the oil with a slotted spoon and place it on a paper towel to drain the excess oil.
Serve hot with your favourite dipping sauce and enjoy!
Tips for making battered sausage
Make sure your oil is hot enough before frying the sausage. If it's not hot enough, the batter will absorb more oil and become greasy.
Use a high-quality sausage for the best flavour.
You can add a bit of cornstarch to the flour mixture for an extra crispy batter.
Don't overcrowd the fryer or pot - this will lower the temperature of the oil and result in unevenly cooked sausage.
If you're making a large batch of battered sausage, you can keep them warm in a low-temperature oven until ready to serve.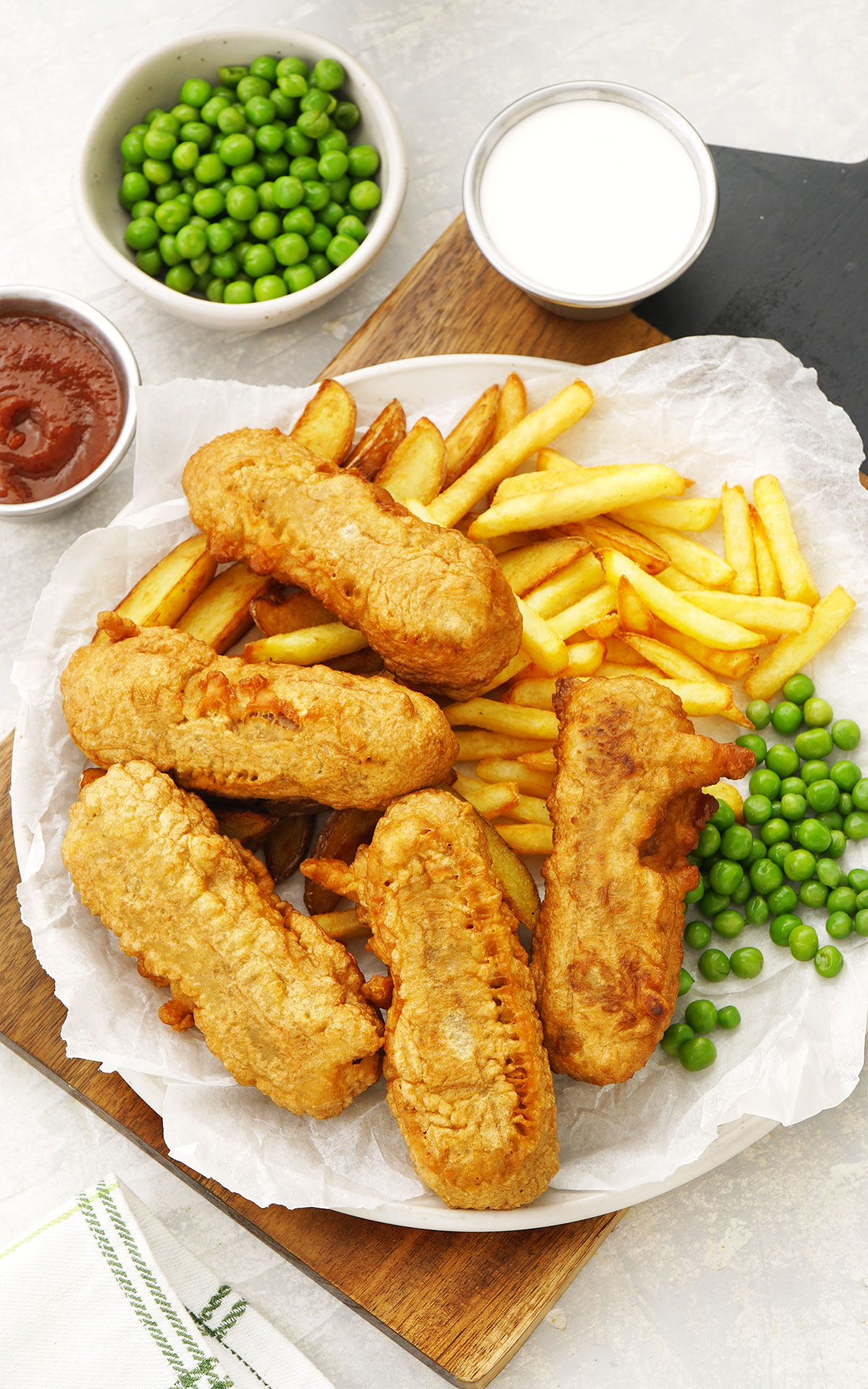 Ingredient variations
While traditional battered sausage is made with pork or beef sausage, there are plenty of ingredient variations you can try. Here are a few ideas:
Vegetarian sausage: For a meat-free option, try using a vegetarian sausage made from tofu or seitan.
Spicy sausage: Add some heat to your battered sausage by using a spicy sausage variety.
Cheese-filled sausage: For an extra indulgent treat, try using a cheese-filled sausage.
FAQ for a battered sausage
Can I make battered sausage in an air fryer?
es, you can! Simply follow the same steps as you would for deep frying, but place the battered sausage in the air fryer basket instead of the oil. Cook at 400°F for 10-12 minutes, flipping halfway through.
Can I freeze battered sausage?
Yes, you can freeze battered sausage. Once cooked, let the sausage cool completely, then wrap it tightly in plastic wrap or aluminium foil and place it in a freezer bag. It will keep in the freezer for up to 3 months
How to make it ahead?
If you want to make battered sausage ahead of time, it's best to prepare the sausage as usual and then freeze it until you're ready to use it. Once the sausage has been cooked and cooled, wrap it tightly in plastic wrap or aluminium foil and place it in the freezer.
How to reheat it?
When you're ready to eat, simply thaw the sausage in the refrigerator overnight and then deep fry it as you normally would. This is a great option for meal prep or for hosting events.
More delicious comfort food recipes
Stay updated on new recipes:
We are on social media Facebook, Instagram, YouTube ( New recipe video every week ) , and Pinterest ( Pin your favourite recipes ). If you've tried this recipe, please share your comment or post on social media and tag me. I would love to see your creations and feedback.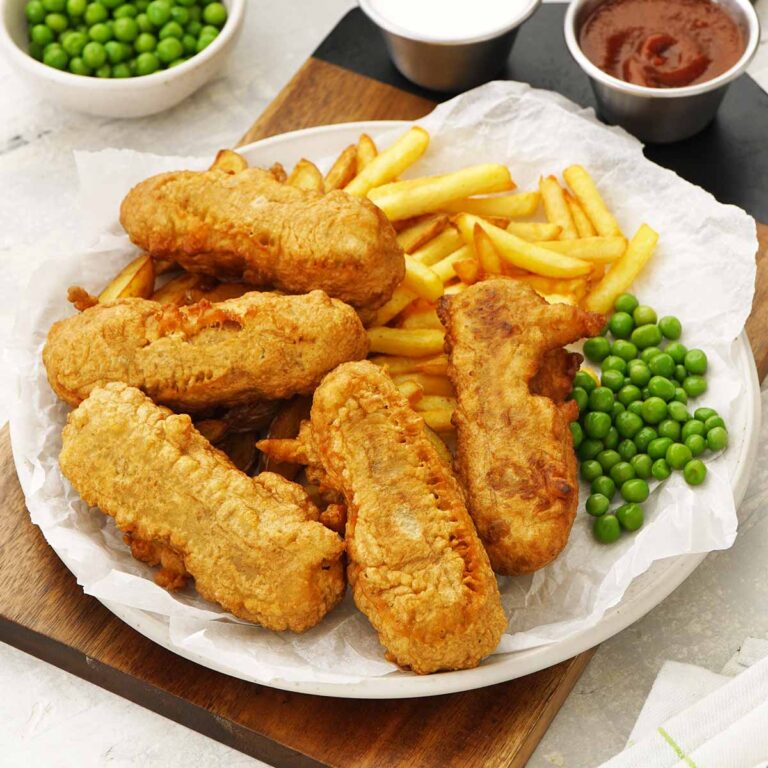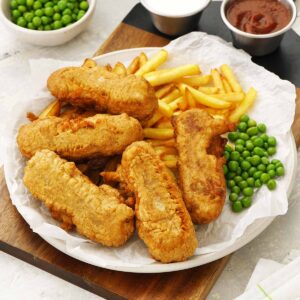 Battered Sausage
Delicious homemade fried battered sausage recipe made with beef sausages and crispy coating. Perfect for the days when you are craving fish and chip shop menu. Serve with fries, green peas, or a salad. Ready in 20 minutes!
Print
Pin
Rate
Servings:
6
Battered Sausage
Ingredients
6

Beef sausages

Defrosted beef, lamb, pork, chicken, or turkey sausages

2-3

tbsp

Plain flour

To coat the sausages

Oil for frying

Sunflower, canola, or vegetable oil, etc
Batter ingredients
200

gram

Plain flour

½

tsp

Baking powder

½

tsp

Baking soda

Bicarbonate of soda

1

Egg white

1

tsp

Salt

1

tsp

Black pepper

200

ml

Icy cold water

Add more or less water to adjust the batter consistency
Instructions
Heat the oil in a deep fryer or pot to 350°F (175°C).

In a large mixing bowl, combine plain flour, baking powder, baking soda, salt, and pepper. Mix everything well.

Add egg white into the flour mix and gradually pour the cold water in. Mix everything well until a smooth batter forms and set it asdie.

Now, dredge each sausage with the plain flour, then dip it into the batter. Make sure it is evenly coated.

Then gently drop the battered sausage in the pre-heated oil and fry for 3-4 minutes or until the coating is crispy golden brown.

Remove the fried sausages from the oil and place them over a paper towel or cooling rack.

Serve immediately while hot with fries and peas.
Notes
What to serve with this dish? Traditionally this dish is served with chips/fries and peas. Mushy peas, fried wedges, mashed potatoes, coleslaw, or a salad are also popular side options. 
Dipping sauce - Tomato ketchup, mustard, mayonnaise, brown sauce, bbq sauce, and tartar sauce are popular sauces. 
What type of sausages can be used? Pork sausages are used in traditional British chip shop battered sausage. Apart from pork sausages, you can use beef, chicken, lamb, or turkey sausages for a different taste profile. Cumberland sausages, frankfurters, or even vegetarian sausages can be also used for your experiment.
Batter consistency - It's important to add water gradually to adjust the consistency of the batter. The batter texture should be smooth and thick enough to coat the sausages. Not too runny or not too thick. 
Plain flour variations - Instead of plain flour you can add self-rising flour. As self-rising flour contains baking powder and salt, you might want to omit baking powder and reduce the salt content. 
Cold water - The purpose of adding cold water to the batter is the create a light, crispy coating texture. It helps control the temperature and prevent the batter from getting warm and thick.
Frying oil - Recommend using high smoke point and neutral flavour oil like sunflower, canola, peanut, or vegetable oil. These oil does not burn quickly or do not contain unwanted flavours.
Oil temperature - It's important to maintain the oil temperature to prevent the batter from getting soggy and greasy. Around

350°F (175°C)

is an ideal temperature for deep frying. You can check the oil temperature by using a food thermometer or by using a deep-fryer with temperature control. 
Nutrition
Calories:
392
kcal
|
Carbohydrates:
27
g
|
Protein:
17
g
|
Fat:
23
g
|
Saturated Fat:
8
g
|
Polyunsaturated Fat:
3
g
|
Monounsaturated Fat:
10
g
|
Trans Fat:
0.2
g
|
Cholesterol:
61
mg
|
Sodium:
1453
mg
|
Potassium:
258
mg
|
Fiber:
1
g
|
Sugar:
0.1
g
|
Vitamin A:
64
IU
|
Vitamin C:
1
mg
|
Calcium:
34
mg
|
Iron:
3
mg