This Satay Chicken Curry recipe is one of the easiest and tastiest curry recipes on this blog. It's a Malaysian style creamy chicken curry with well-marinaded chicken thigh, peanut butter and coconut milk. Incredibly delicious!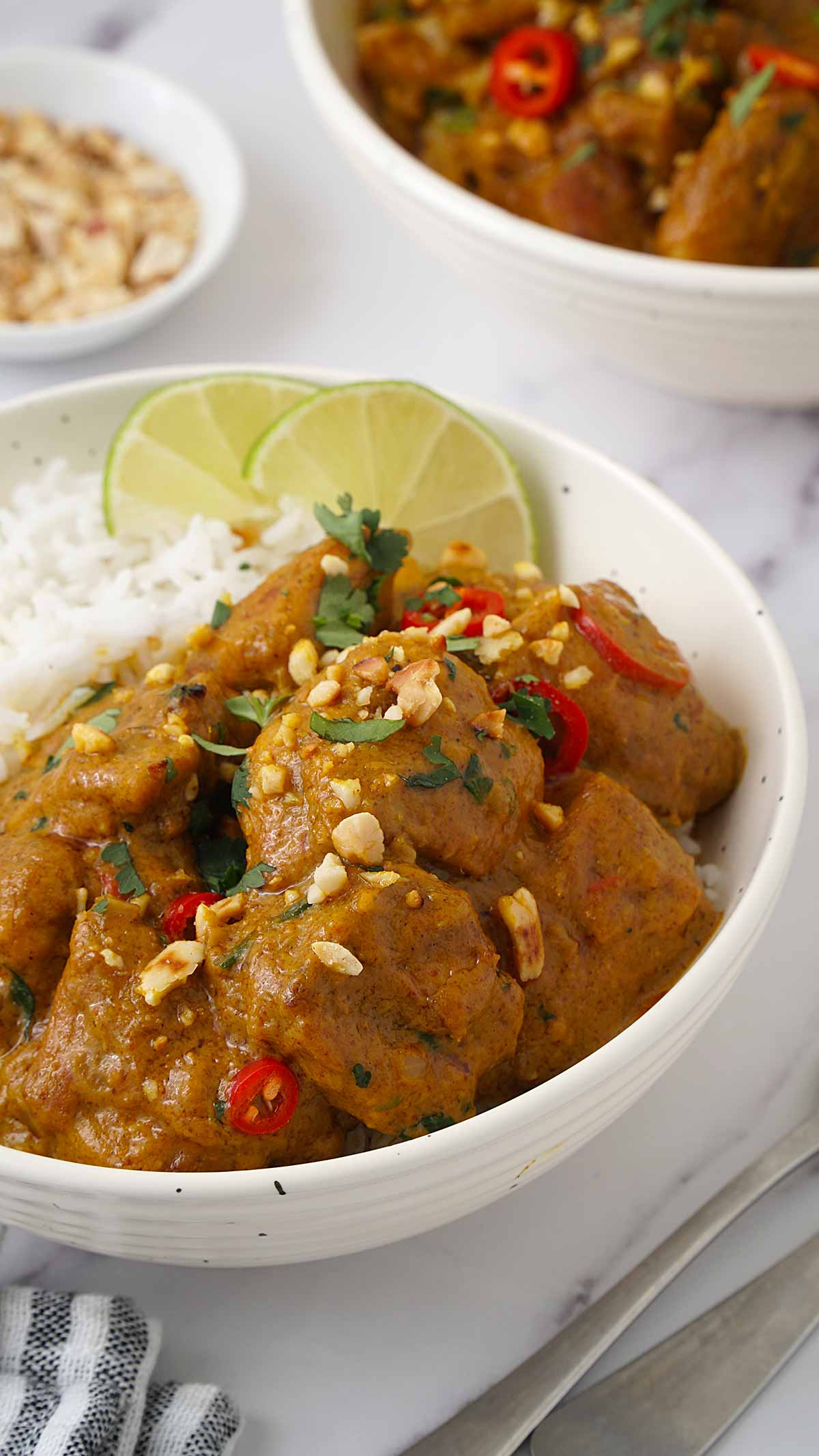 The best Chicken Satay Curry recipe, made with everyday cupboard-friendly ingredients that anyone can simply make at home. This satay sauce is perfectly balanced with a spicy, sweet, savoury flavour.
I've tried lots of curries but this satay curry sauce is one of my favourite creamy curries. Simply serve it with fluffy plain rice or coconut rice. This recipe is easily adaptable and customizable. You can swap chicken thigh with chicken breast or beef.
If you are a satay fan, you will definitely love our Thai Satay Chicken Skewers with Peanut Sauce made with Thai red curry paste and peanut dipping sauce.
Jump to:
What is Satay Chicken Curry?
Satay Chicken Curry is a Malaysian style chicken curry with coconut milk and peanut butter. Chicken is first marinated, then grilled, and cooked in curry sauce. It is also known as Peanut butter chicken curry in the UK.
Takeaway style chicken satay curry and stir fry are usually made with chicken breast, onions, bell peppers, curry powder, lemongrass and a ready-made Jimmy satay sauce. But readymade satay sauce is not available in some parts of countries and I've got many friends who wish to make this peanut sauce from scratch.
What do we need?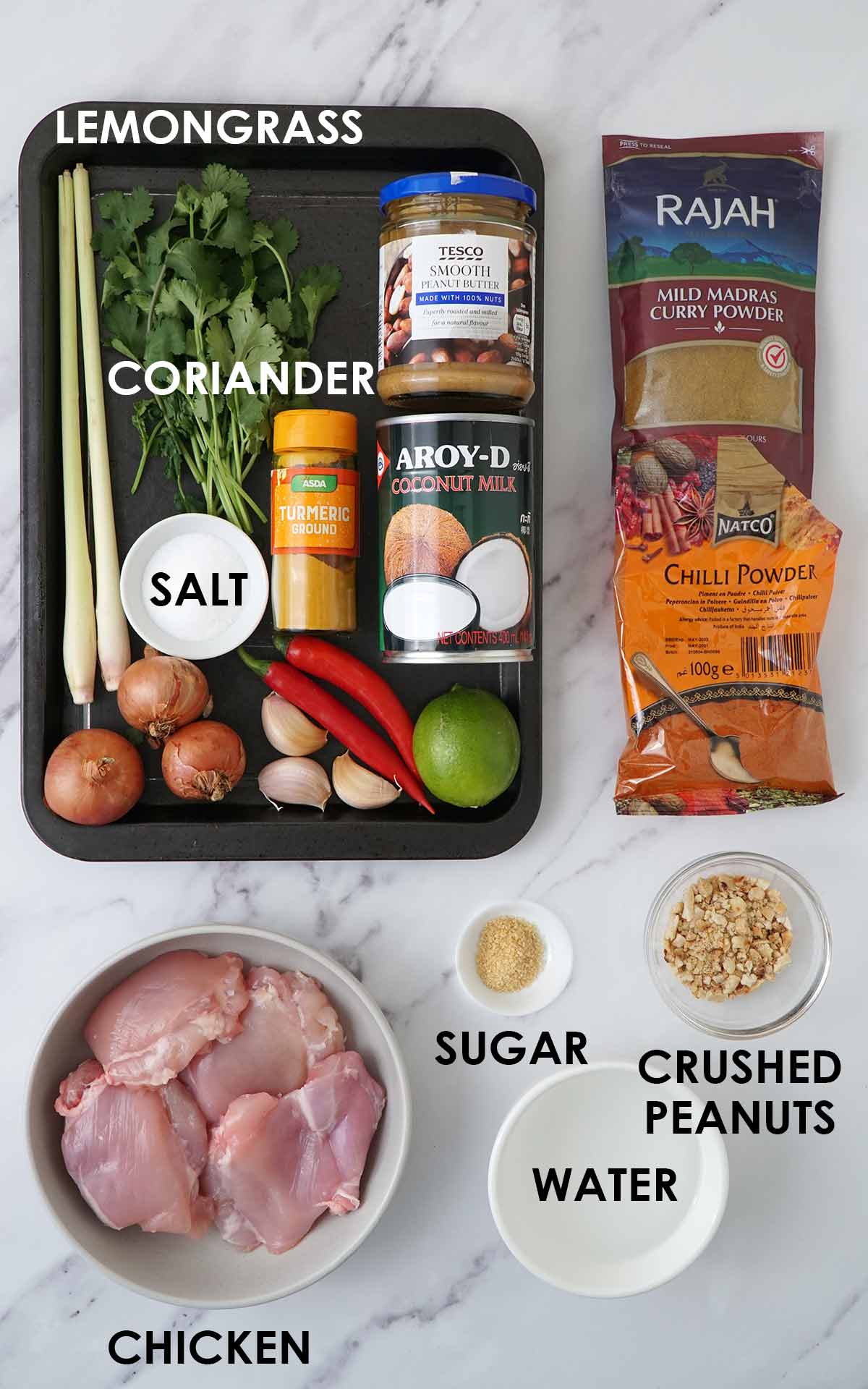 The key of satay curry is the sauce! It must be spicy, sweet and savoury taste. To achieve the perfectly balanced curry sauce, you will need chicken and few simple pantry-friendly ingredients.
Chicken - Use boneless skinless chicken thighs as you need to grill it first and then cook in the sauce. Chicken thigh contains more fat content than chicken breast and I prefer to add chicken to this recipe.
You can also try it out with boneless chicken breast, prawns or tender beef. If you use beef, cook more time with low heat until the beef is soft and tender.
For vegetarian options, you can add paneer, firm tofu, potato, sweet potato, or cauliflower instead of chicken.
Peanut Butter - To make the best satay peanut sauce, you will need creamy peanut butter. I usually use pure smooth peanut butter, no added sugar, no salt. It is totally fine to add the crunchy peanut butter if you love a bit of peanut crunch in the curry sauce.
Coconut Milk - Recommend using full fat or creamy coconut milk which has more coconut content percentage for a rich curry taste.
Curry Powder - Add any of your favourite mild or hot Indian-style curry powder. I usually add mild Madras curry powder to this recipe.
Chilli Powder - I usually use hot chilli powder to bring more colour and flavour to the dish. If you want to make it a milder or kid-friendly version, you can use paprika or mild chilli powder.
Lemongrass - Lemongrass is ideal for this Malaysian satay chicken curry marinade and curry sauce, it has a hint of lemon, mint, citrus flavour. To prepare the lemongrass, use the bottom part, remove any dry layers and chop it, or grind it into a finely grated texture.
If you cannot get lemongrass, you can add a teaspoon of lime zest in the curry sauce for a bit of zesty flavour.
Crushed Peanuts - Sprinkle some roasted crushed peanut as a garnish, just before serving.
Lime juice - I do not add lime juice to the curry sauce while cooking. I love to a queeze of fresh lime juice just right before serving.
Chilli and Coriander - Add a handful of chopped coriander and hot red chilli slices just before serving. Adjust the chilli amount according to your taste.
Salt or Soy sauce? I don't usually add soy sauce or fish sauce to this recipe. Simply season with salt for a perfectly balanced curry flavour.
HOW TO MAKE IT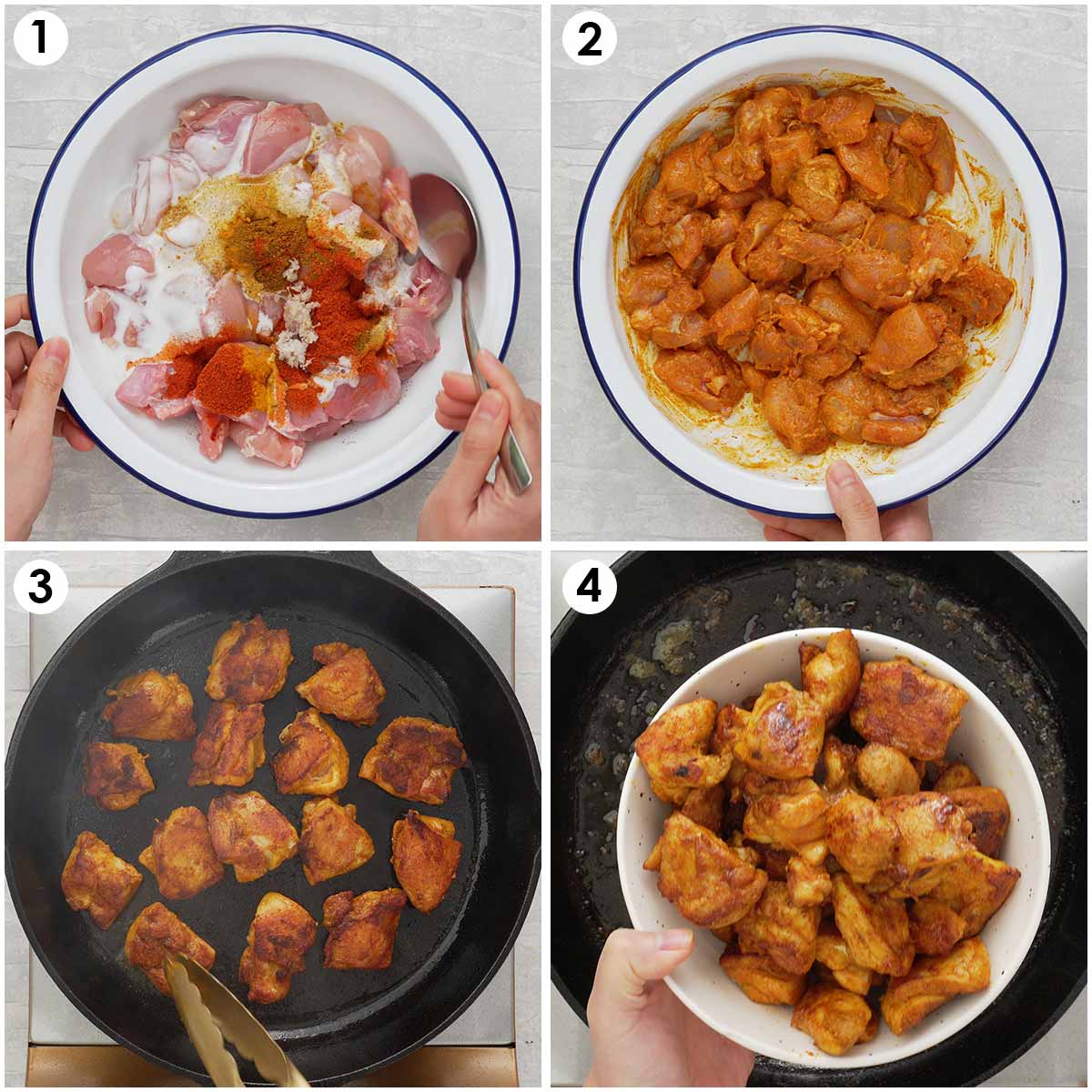 Mariante the chicken with spices and coconut milk.
Grill the marinated chicken pieces on the skillet or grill pan.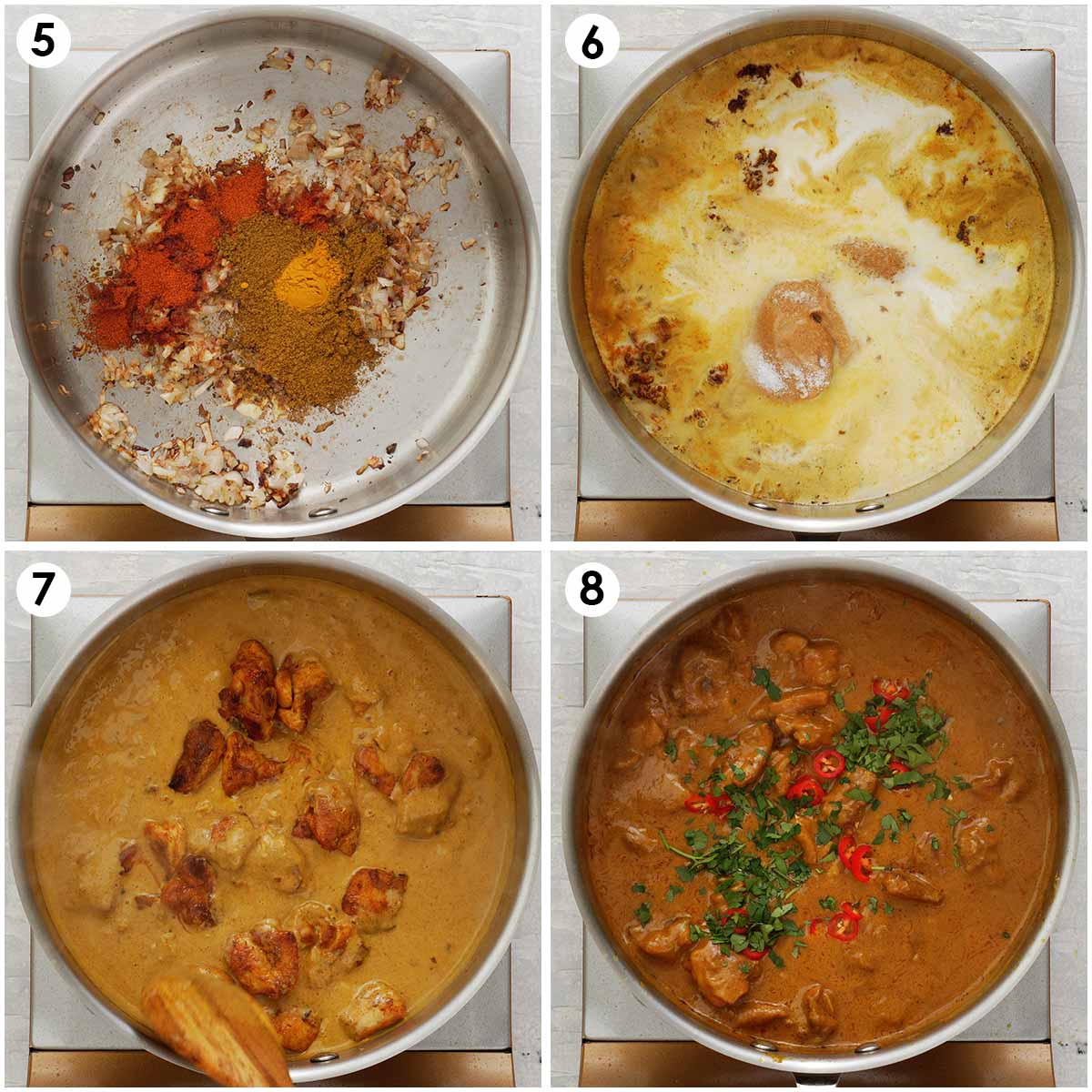 Saute the onions, garlic, lemongrass and follow with the spices.
Follow with coconut milk, peanut butter, and season with salt and sugar.
Bring it to simmer and add the grilled chicken pieces.
Combine the chicken with satay sauce evenly and continue cook for another 8-10 minutes.
Serve with plain rice and garnish with coriander, lime wedges, roasted crushed peanut.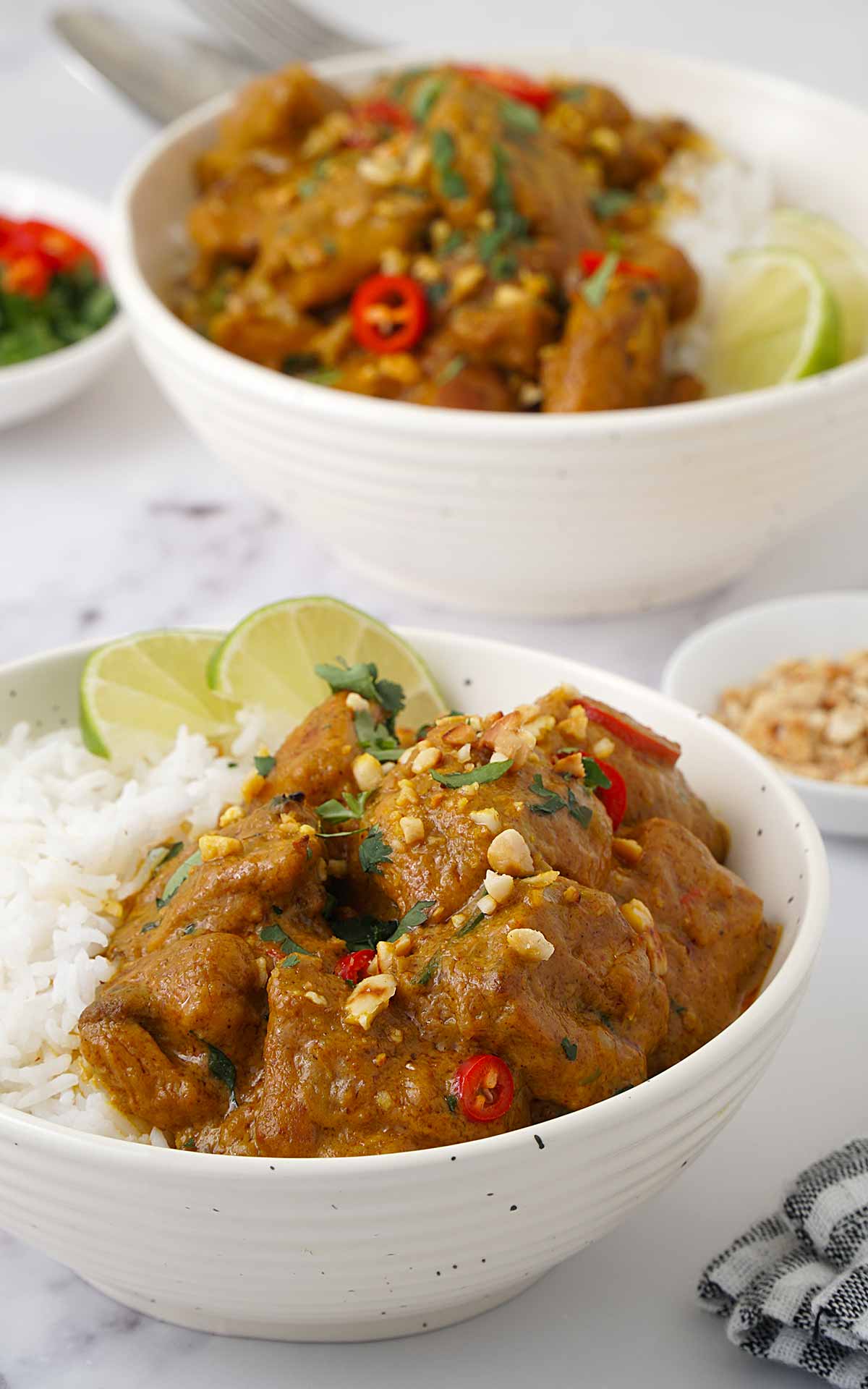 Cooking Tips
Do not overcook the chicken while grilling, as you need to add in the curry sauce. You will need only 2-3 minutes on each side to char the chicken pieces.
Important to add coconut milk in the chicken marinade to achieve the subtle aromatic moist chicken satay.
To prep-ahead or making for a crowd you can simply double or triple the amount of marinade and satay sauce ingredients. You can cook the satay curry one day ahead keep it cool in the fridge and reheat it until piping hot just before serving. Add a splash of water to prevent the sauce drying out.
FAQ
What to serve with satay chicken curry?
Simply serve it with basmati rice, jasmine rice, or a choice of plain rice. It also goes well with coconut rice, pulao rice, naan, chapati or flatbread. Add simple sides and salads like Indian-style onion and tomato salad, and lime wedges. You can also pair it with papadom, pakora, samosa, Chilli Chips, or lentil soup and make it a wholesome curry dinner.
What is the difference between Chinese satay curry sauce and Malaysian satay?
Chinese takeaways and restaurants chicken satay stir fry is milder and has less sauce than Malaysian satay curry sauce. Malaysian style satay curry is Chicken is grilled before adding to the sauce but Chinese satay chicken is tenderized with baking soda and added to the stir fry without grilling.
Is this dish healthy?
This curry is 588 kcal per serving and the nutritional data and slightly varied by the number of factors. This dish is rich in protein and contains peanuts in the sauce. If you have any particular nut allergy or dietary concerns, consult with your health adviser.
More Delicious Chicken Curry Recipes
Stay updated with new recipes
If you enjoy our recipe, please leave a comment and give us a rating! If you've tried this recipe, tag me on social media, I would love to see your creations! Follow me on social media Facebook, Instagram and Pinterest for the latest updates.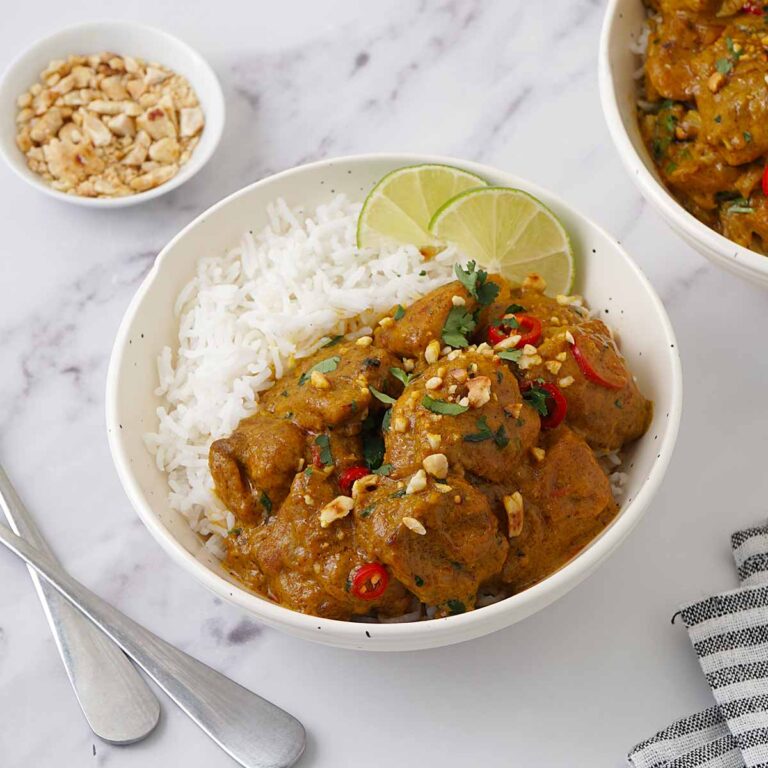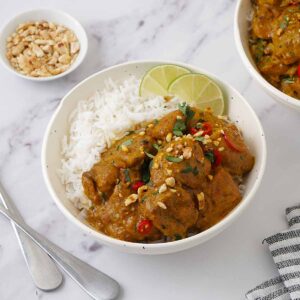 Ingredients
Chicken & Marinade
500

g

Chicken thigh

About 17.5oz, Boneless chicken thigh ( see details in note )

4

tbsp

Coconut milk

About 50 ml Creamy coconut milk ( see details in note )

1

tsp

Curry powder

( see details in note )

1

tsp

Chilli powder

Or paprika powder

½

tsp

Turmeric

1

tsp

Salt

1

tbsp

Lemongrass

Grated or finely chopped
Curry Sauce
3-4

Shallot

Or small baby onions

3

cloves

Garlic

Finely chopped or grated garlic

1

tbsp

Lemongrass

Finely chopped or grated

3

tbsp

Peanut butter

Natural smooth peanut butter, see details in note

350

g

Coconut milk

Creamy coconut milk

½

tsp

Turmeric

1

tsp

Chilli powder

1

tbsp

Curry powder

1

tsp

Salt

or salt to taste

1

tbsp

Sugar

1

cup

Water

2-3

tbsp

Vegetable oil

Sunflower, canola, rapeseed or vegetable oil.
To Serve
Roasted crushed peanut

Hot green chilli or birdeye chilli

Cut thin slices

Coriander

Roughly chopped

Lime wedges
Instructions
Cut the chicken with medium bite-size pieces. Season the chicken pieces with coconut milk, turmeric, chilli powder, curry powder, salt, and lemongrass. Mix well, set it aside and marinate for at least 1 hour. ( If you have more time you can leave it for more hours or keep it in the fridge overnight. )

Heat the skillet or grill pan over medium-high heat. Drizzle one tablespoon of oil and char the chicken for 2-3 minutes on each side. Set it aside and keep it warm.

Heat the pan into medium heat, add 2-3 tablespoons of oil, saute the onions until translucent, follow with chopped garlic and lemongrass and cook until the onions are slightly brown.

Then add the seasonings turmeric, chilli powder, and curry powder for few seconds.

Pour the coconut milk, water, and peanut butter. Season with salt and sugar. Stir it well and bring it to simmer.

Placed the grilled chicken pieces back in the curry sauce and cook with low-medium heat for 8-10 minutes until cooked through. ( If the sauce is too thick, add more water if needed. )

Make a taste test and add more salt or sugar to your taste.

Turn off the heat and add chopped spring onions and chilli slices.

Transfer to serving plate, topped with roasted crushed peanut, and chopped coriander. Simply serve it with plain rice, coconut rice, naan or flat bread.
Notes
Chicken thigh - Recommend using boneless skinless chicken thigh as the chicken thigh is less likely to dry out when you grill it and cook in the sauce. If you don't like chicken thigh, simply swap it with chicken breast, prawns, or beef. 
Coconut milk -  I usually use full fat or creamy Thai coconut milk in this recipe. You can swap coconut milk with heavy cream or double cream. 
Peanut Butter - Pure smooth peanut butter, no added sugar, and salt are used in this recipe. You can also try it out with crunchy peanut butter, almond butter, or cashew nut butter. If you use peanut butter containing sugar and salt, you can reduce the salt and sugar in the satay sauce. 
Curry powder - Use any mild or hot Indian curry powder of your choice. I used Madras curry powder in this recipe. 
Lemongrass - Add lemongrass for Authentic Malaysian-style curry flavour. You can find lemongrass in most supermarkets and grocery stores' herbs section. Finely chop or grate the bottom part of the lemongrass. 
Water - As sauce can be thicker while cooking, you can add a splash of more water if needed. 
Can you freeze it? Let it cool down completely and freeze it in an air-tight container for later use. Do not squeeze any lime juice in the curry sauce if you are planning to freeze. 
Can you reheat it? Reheat it in a microwave or over the stovetop until piping hot. Add a splash of water and stir it well before reheating if the gravy is thick. 
Adjust water - Add more water to your desired consistency and if the sauce is too thick.
Nutrition
Calories:
588
kcal
|
Carbohydrates:
15
g
|
Protein:
26
g
|
Fat:
49
g
|
Saturated Fat:
26
g
|
Polyunsaturated Fat:
6
g
|
Monounsaturated Fat:
13
g
|
Trans Fat:
1
g
|
Cholesterol:
123
mg
|
Sodium:
1351
mg
|
Potassium:
713
mg
|
Fiber:
2
g
|
Sugar:
6
g
|
Vitamin A:
415
IU
|
Vitamin C:
4
mg
|
Calcium:
63
mg
|
Iron:
6
mg