Easy Beef Lo Mein Recipe with lo mein noodles, juicy tender beef steak, crisp vegetables and seasoned with homemade stir fry sauce. Quick and easy dinner ready in 20 minutes and incredibly delicious!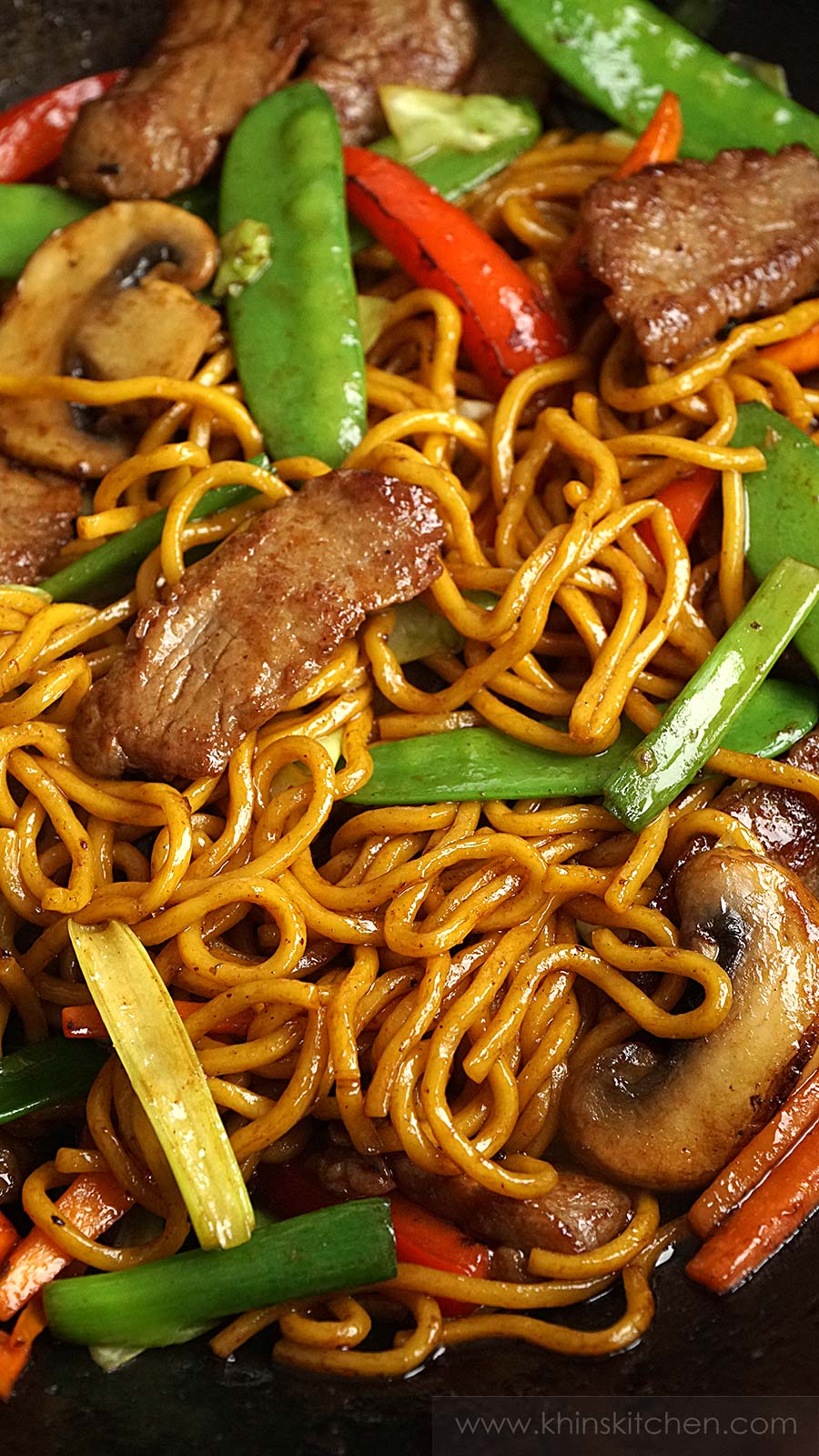 We can find this dish in most Chinese restaurants and one of the most popular noodles that we always loves to order again and again. In this recipe I'll share my homemade version of beef lo mein recipe with everyday simple ingredients but it tastes just like you've had at your favourite Chinese restaurant! Maybe better!
What is Lo Mein Noodles?
Lo Mein Noodles are basically made of flour and egg and thick round texture. In Cantonese, it means tossed noodles and you can add in your stir fry, soup or braised noodle dishes. The main difference with chow mein noodles is texture and preparation, chow mein noodles are thinner in texture and fried until slightly crisp. While lo mein is a wet stir fry dish tossed in loads of sauce, meat and vegetables.
You don't need any wok skills, special ingredients or equipment to create this dish. You can use wok, skillet or any large non-stick pan, just make sure your pan is hot and large enough to toss the noodles evenly. With our simple tips, you can create restaurant-quality beef lo mein, which taste way better than any takeout! Super fast and super budget-friendly too!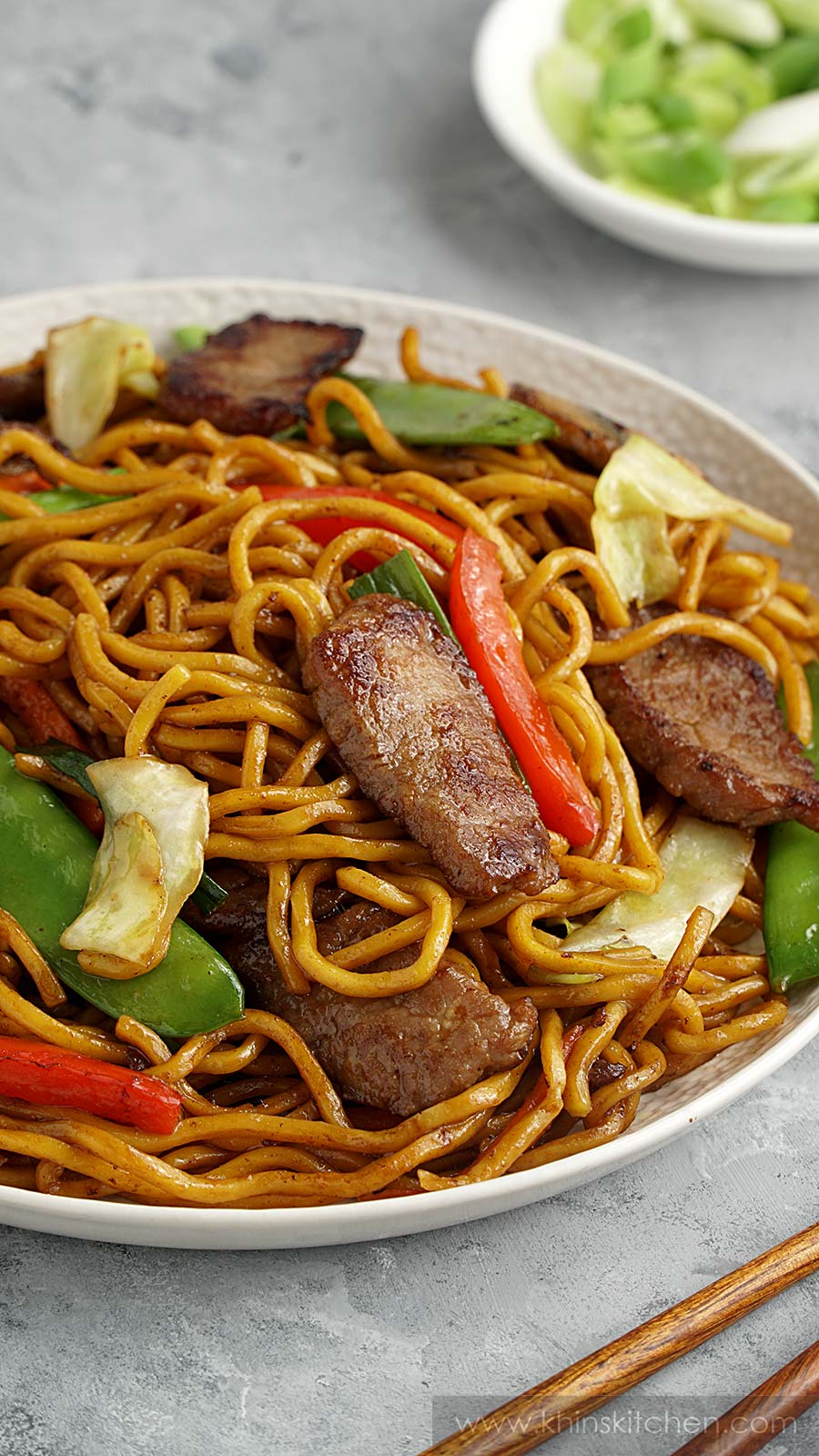 Ingredients you will need
Noodles :
Lo mein noodles are thick and chewy yellow noodles, made with egg, wheat flour and water. To taste like an authentic Chinese Lo Mein recipe, I recommend to use fresh lo mein noodles which can be find at Chinese/Oriental supermarkets fridge section. However, for those who can't get fresh lo mein, we can make it happen with the nearest substitute, like spaghetti, linguine, ramen, chow mein or any of your favourite egg noodles would works with this recipe. You just need to prepare the noodles by the packet instructions.
My tips to prepare noodles: if you use fresh noodles, blanch the noodles with hot water for 1-2 minutes and separate the noodles strands. Drizzle a bit of sesame or vegetable oil on the noodles, mix well and set aside. If you use dried noodles, boiling the noodles by the packet instructions, rinse with cold water, drizzle a bit of vegetable or sesame oil. Make sure you don't over boil them since they still need to be tossed with sauce later.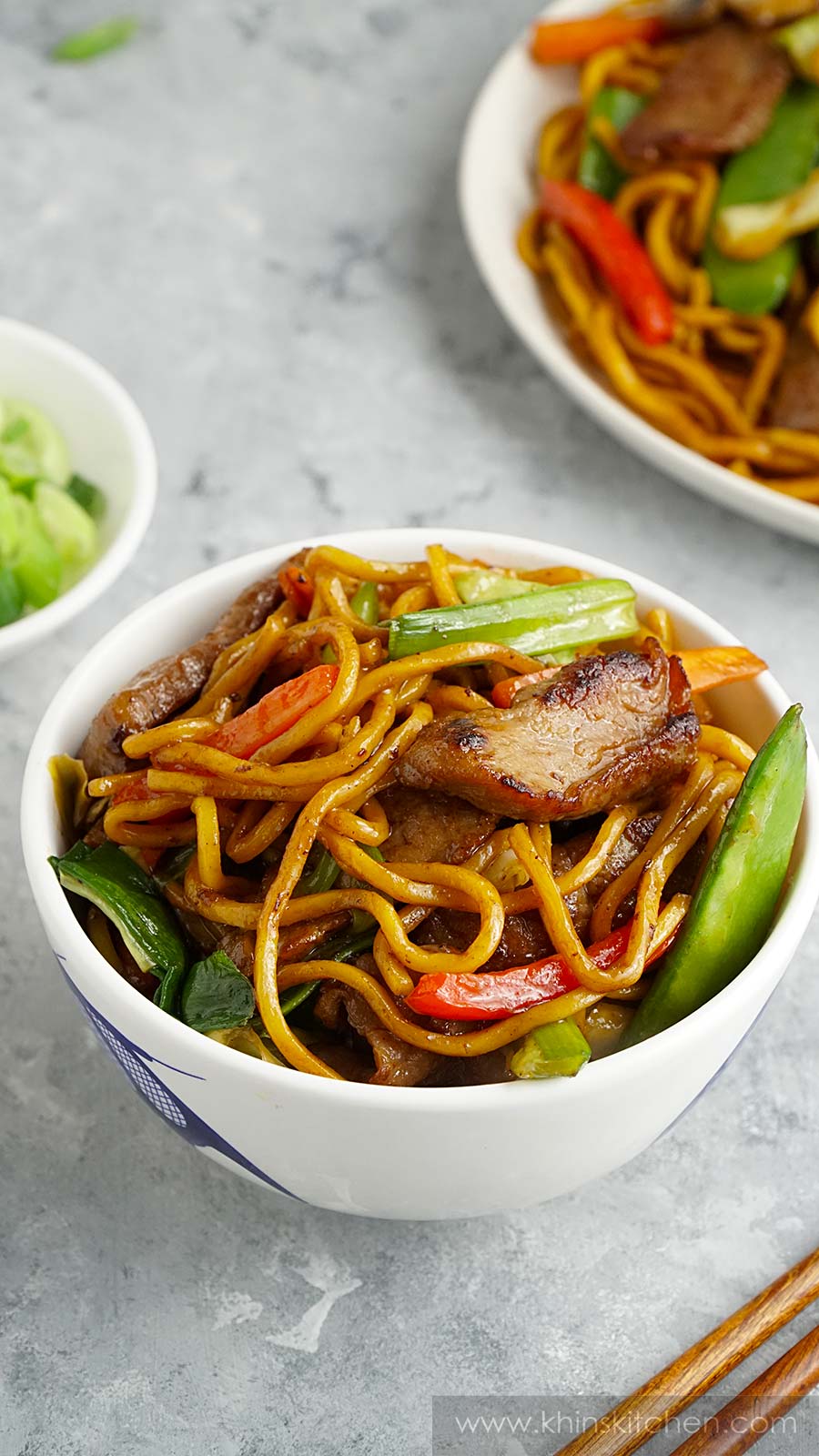 Protein :
I usually use sirloin or ribeye beef steak for this recipe. However, it's up to you to use any of your favourite tender beef, chicken or seafood for this recipe.
My simple tip is to cut the beef into thin slices, against the grain to achieve the juicy tender result.
Vegetables :
Use any stir fry vegetables that you have in your fridge. I usually love to add, cabbage, carrot, mushroom, sweet large onion, snow peas and bell peppers in my lo mein. Bok choy, napa cabbage, broccoli, baby corn goes well too!
Lo Mein Sauce :
Like most Chinese stir fry sauce, lo mein sauce is simply mixed with light soy sauce, oyster sauce, dark soy sauce, Shaoxing wine, sesame oil, sugar, and white pepper. It might look like you have to add loads of sauce ingredients but, this homemade sauce mix tastes better than any store-bought stir fry sauce you have ever tried! It tastes sweet and savoury same time and gives the dish a mouth-watering result.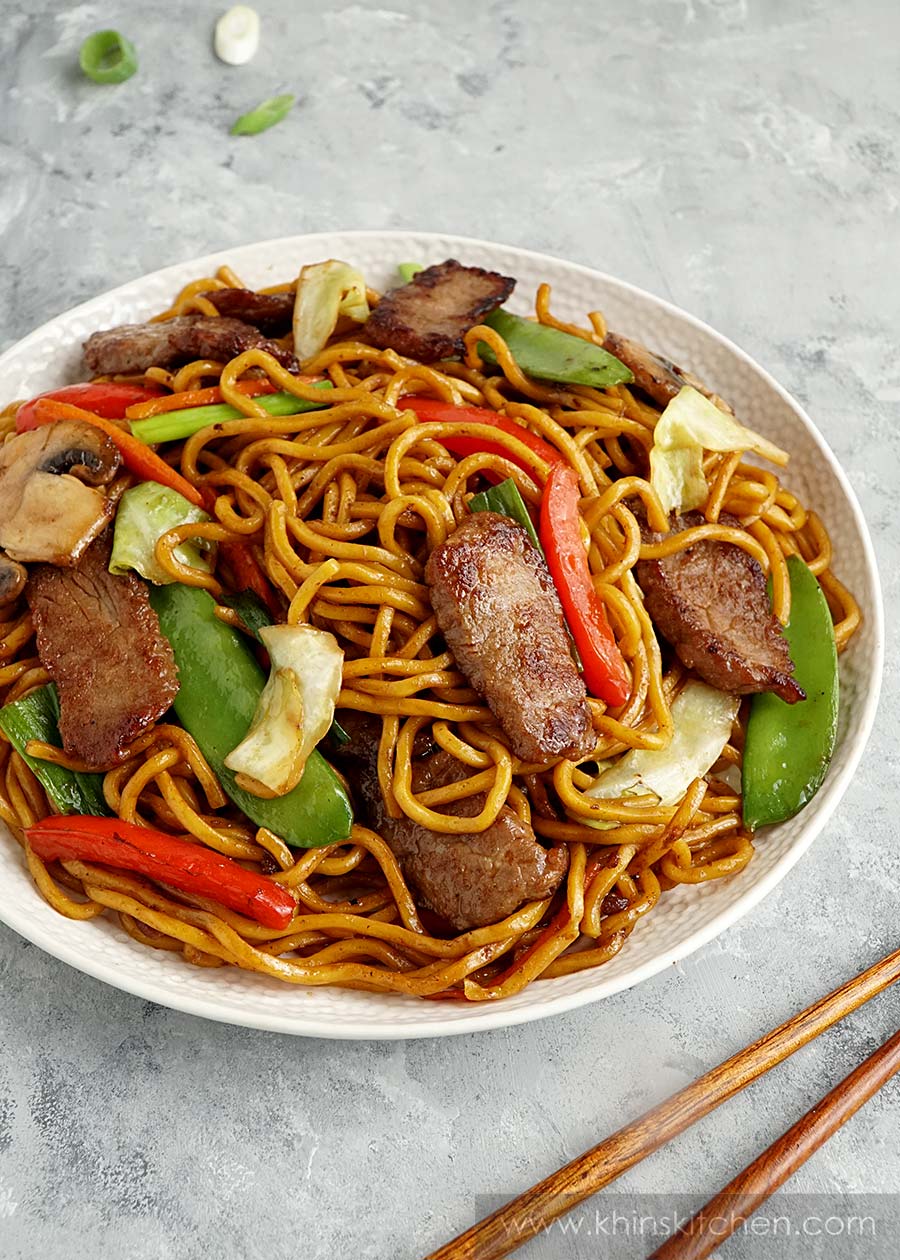 How to serve this dish
We normally have it crispy chilli oil and chopped spring onions on the sides. Pair it with Chicken Spring Roll or Crispy Fried Wonton as a starter and Hot and Sour Soup or Chicken Corn Soup and make it a delicious wholesome dinner. For drink, Chinese tea, jasmine tea or a can of cold drink would be perfect!
More of our family's favourite Chinese takeout recipes:
If you enjoy our recipe, please leave a comment and give us a rating! If you've tried this recipe, tag me on social medias, I would love to see your creations! Follow me on social medias Facebook, Instagram and Pinterest for latest updates.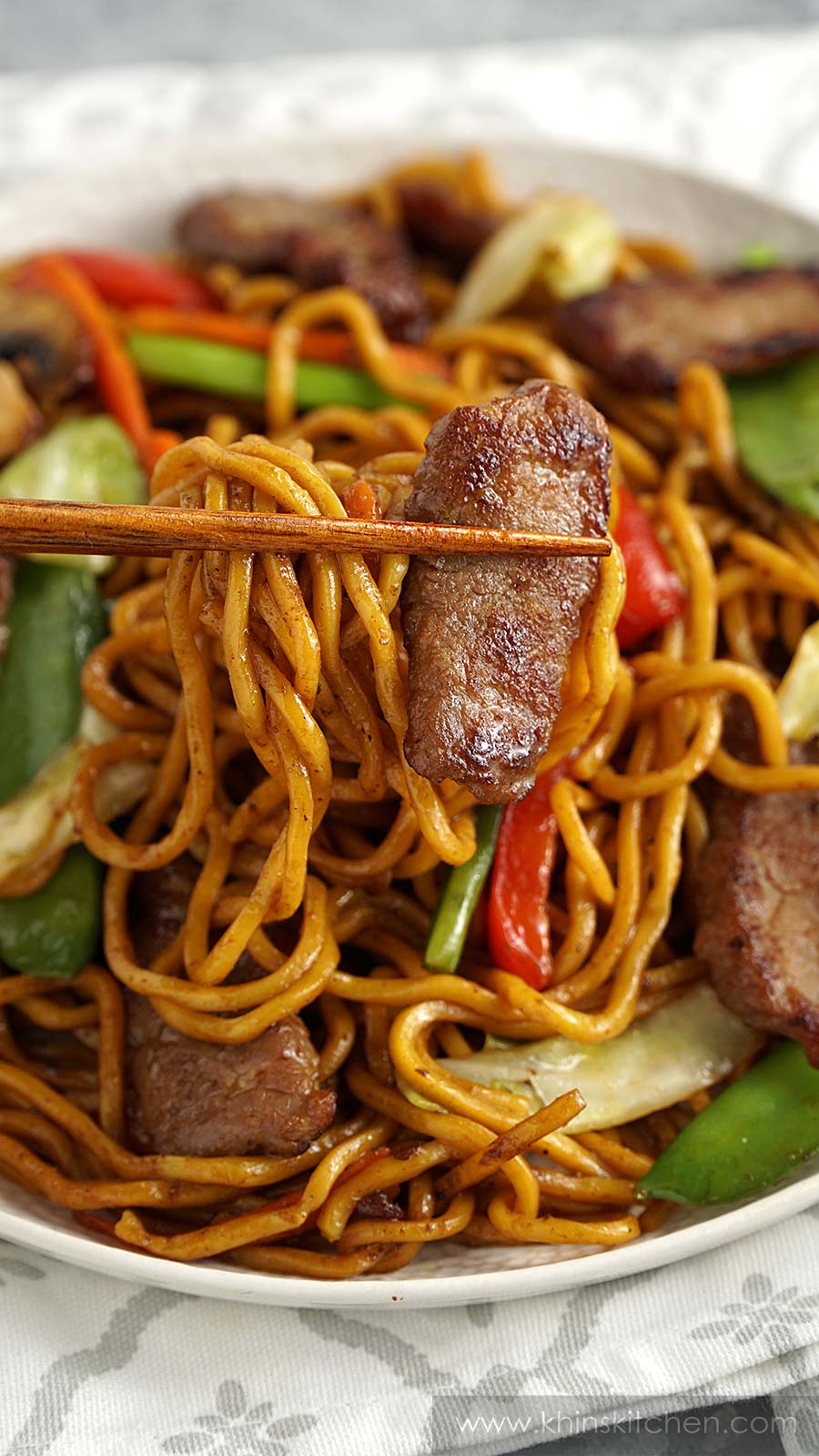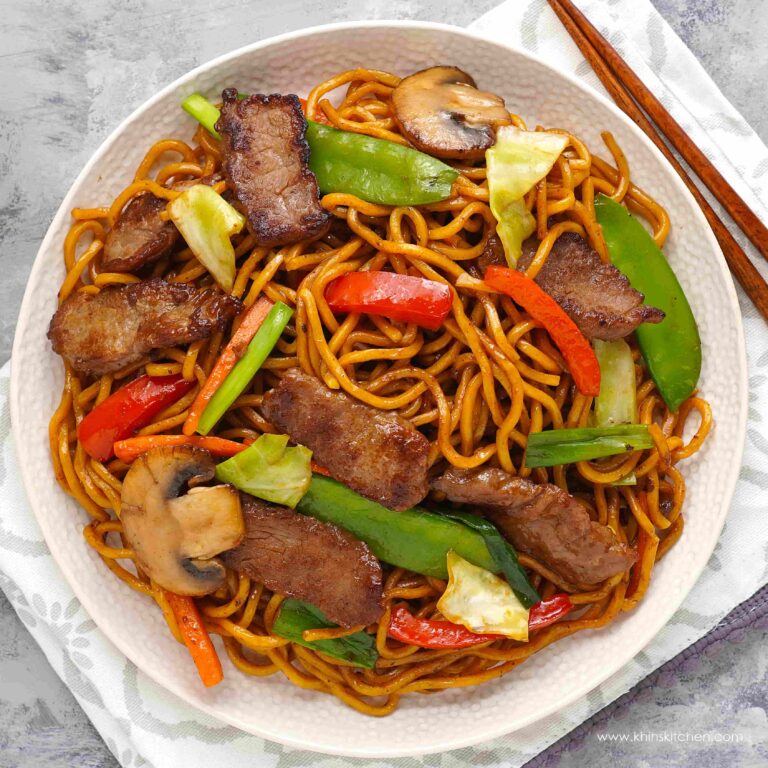 Beef Lo Mein
Lo Mein noodles with beef steak and vegetables, tossed in homemade stir fry sauce.
Print
Pin
Rate
Ingredients
400

gram

(14 oz) Fresh Lo Mein noodles

( or cooked egg noodles ) see in note

250

gram

(9 oz) Beef sirloin

tenderloin/rump or any tender meat cut

3-4

Mushrooms

(sliced)

2-3

Spring Onions

( cut 2" pieces )

1

Bell pepper

( julienned )

2-3

Cabbage leaves

( thin slices )

5-6

Snow Peas

1

Small carrot

( julienned )

2

tbsp

Vegetable oil
Sauce Mix
2

tbsp

Light soy sauce

1

tbsp

Sesame oil

2

tsp

Dark soy sauce

4

tbsp

Oyster sauce

1

tbsp

Sugar

1

tbsp

Shaoxing wine

(Or Water or Rice Vinegar) See in note

¼

tsp

White pepper
Beef Marinade
1

tbsp

Sauce Mix

1

tsp

Corn starch

¼

tsp

Baking soda
Instructions
Blanch the noodles with hot water for 1-2 minutes, drizzle a bit of sesame oil mix well and set aside.

Mix all the sauce ingredients in a small mixing bowl and set aside.

Prepare all the vegetables by wash and cut into slices. Cut the beef steak into thin slices against the grain.

Marinate the beef slices with a tablespoon of sauce mixture for 10-15 minutes and set aside.

Heat the wok or pan over medium-high heat, drizzle 2 tablespoon of oil, add the beef slices. Flatten the beef and sear for 1-2 minutes and continue stir fry for another 1-2 minutes.

Then follow with the vegetables, start adding from the hard one. Cook for 1-2 minutes.

Make a space in the middle of wok, add the noodles and pour the sauce mixture in.

Toss all the ingredients and noodles well to combine evenly for 2-3 minutes until cook through.

Remove from heat and transfer to serving plate. You can topped with extra chopped spring onions and chilli oil according to your taste. Serve immediately! Enjoy!
Notes
Lo Mein Noodles - you can buy fresh lo mein noodles in most Chinese/Oriental groceries fridge section. It's also known as Hokkien noodles in some of the packagings. You can use any fresh, frozen, or dry egg noodles for this recipe. Prepare by the packet instructions before adding in a stir fry.
Shaoxing Wine - is a Chinese cooking rice wine that brings more aroma to the noodles. As Shaoxing If you want to avoid cooking wine and make a non-alcohol version, you can substitute it with water or rice vinegar. 
Nutrition
Calories:
687
kcal
|
Carbohydrates:
78
g
|
Protein:
43
g
|
Fat:
23
g
|
Saturated Fat:
13
g
|
Cholesterol:
69
mg
|
Sodium:
2412
mg
|
Potassium:
800
mg
|
Fiber:
6
g
|
Sugar:
12
g
|
Vitamin A:
2099
IU
|
Vitamin C:
88
mg
|
Calcium:
67
mg
|
Iron:
3
mg